This is a comparison review, made necessary, by the failure of the very shoes I had intended to run with the incoming U.S. Air Force Half Marathon.
As you recall, the Brooks Adrenaline GTS 17 had won the hotly contested faceoff with the Asics Kayano 24, conducted by me only a month earlier…on this very site.
See review here: Faceoff in the American Heartland: Brooks Adrenaline GTS 17 vs. Asics Kayano 24
However while training for the big race I began to notice a hole developing in the upper, directly above the big toe of my left foot of the Brooks Adrenaline GTS 17.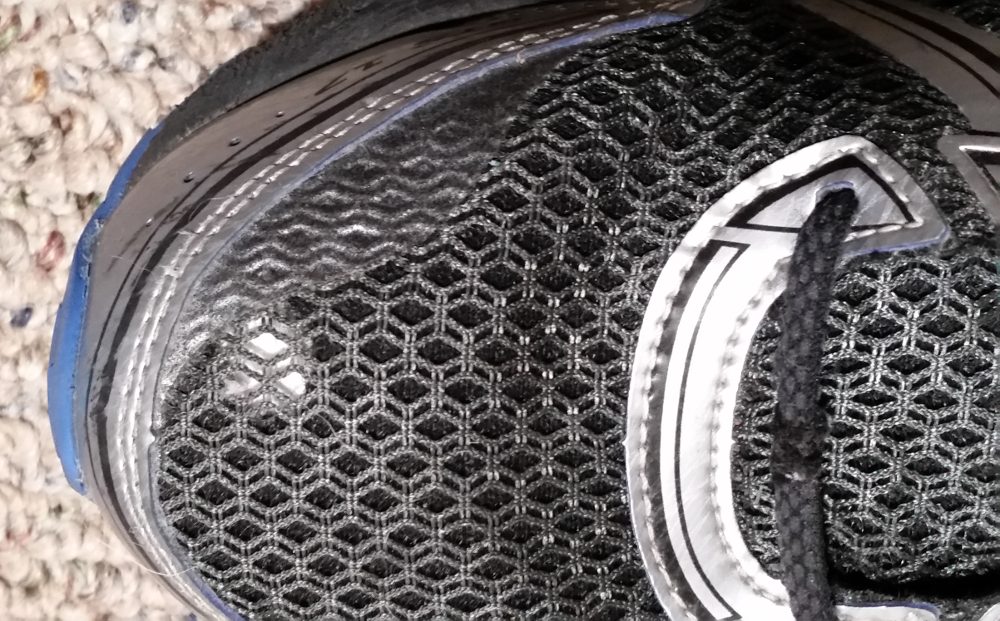 The Adrenaline GTS outer soles were yet to show wear but the uppers were worn out with only about 175 miles of easy running!
By comparison, I had a pair of Nike Flex run 2013 that lasted for 2 half marathons, many miles of training and then several years on the sales floor at work before crumbling, I expected more from the famous Brooks Adrenaline GTS.
Naturally, I was forced to select another pair of shoes for the big day, which was less than 2 weeks away. I couldn't possibly show up at the Air Force Base with my toes sticking out!
My options for race day seemed to be between the Brooks Launch 3 and the Brooks Revel.
Both shoes are neutral road shoes with the same reliable and proven BioMoGo-DNA midsole, both models also have a solid footprint where the rubber meets the road. And both came from the same neighborhood in Seattle, however, these two similar neutral brothers are quite different.
And both came from the same neighborhood in Seattle, however, these two similar neutral brothers are quite different.
The Launch 3 is the third go-around of this model and weighs in at just 28 grams less than the Revel. The Air Force race course is almost totally flat, without even a hint of a hill, a typical airbase, so the weight advantage of the Launch will be only slight.
The Revel frees you from the tethers of the 12 and 13-ounce shoes, with the Launch you begin to understand the term "turnover speed", possible only with a light shoe.
The Launch is also fairly quiet, nearly as quiet as the Brooks Ghost, running along smoothly and without surprises, hotspots or personality quirks.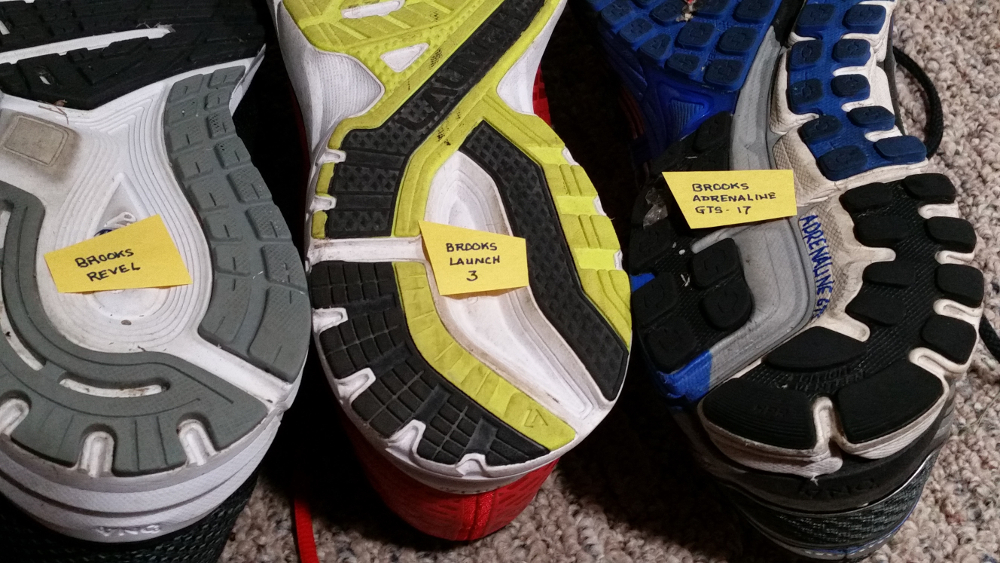 The aptly named Launch is so comfortable that you seem to almost "launch" yourself out the door and into a new running adventure.
Pros
Fast
Light
Smooth
Economical
Good looking
Cons
See through uppers could be cold in winter
Could use a little more cushioning in the forefoot
The Brooks Revel
A new model from Brooks, introduced July 1, 2017, and believed by many to be a prototype of the replacement for The Ghost, or perhaps Launch.
I think Brooks had a bunch of great new ideas, and materials, but would not allow them to be tried on any of their already proven, and successful, Ghost and Glycerin models. Hence, in an attempt to disclose these new products to the running world without risk to an already proven seller…The Revel appeared.
I discovered as it turns out, that The Revel is, in fact, a very capable and valid design with worthy innovations that would have been no risk to introduce in the Ghost.
The Revel is truly a combination of both function and versatility. This shoe is a great daily trainer that is at home in both the workplace and the café; after its retirement from running. You can also add your old Asics Nimbus or Kayano sock-liners with room to spare.
My Revels were subjected to regular use and abuse, with many miles of easy road running before finally being subjected to retail store duty that included more than one paint spill.
The Revel runs okay for me. They are very quiet, comfortable and surprisingly durable, very much like the Nike Pegasus.
The Revel uppers are a woven material that forms around my bony feet quite comfortably.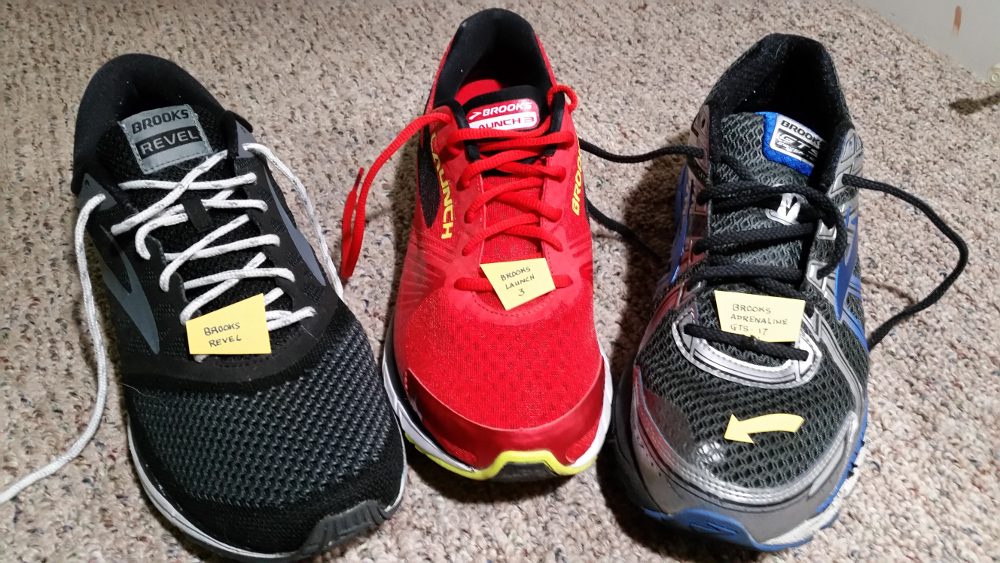 I would completely understand if Brooks announced that this woven upper material was to become the standard for all new models.
It seems the designers of The Revel have not sacrificed toe box space and forefoot roominess.
Pros
Quality
Durability
Great woven
Greatest laces
Cons
No zip, pop, zing or spring
The Numbers
Brooks Launch 3 Brooks Revel
Size tested 12 D U.S. 12D U.S.
Weight 340 gr. 368 gr.
Heel-toe drop 10 mm 11mm
Miles tested 110 155
Cost $100 $100
Arch med - high med - high
Value High High
Score 94 / 100 90 / 100
Summary & Conclusion
I am fairly familiar with both shoe models since first reviewing them and I wonder if the Launch may be too minimal for me at that distance.
The Revel, however, is missing some ingredient that makes a shoe go from nice & dependable to something that makes a user smile.
I have got to go with the Brooks Launch 3 and work on my form to minimize any discomfort at the half marathon distance, while hoping for sunshine and that those 3 hurricanes are not in Ohio on race day.
I might even get a PR, among my old Air Force mates? The Revel will be at home back to the workplace.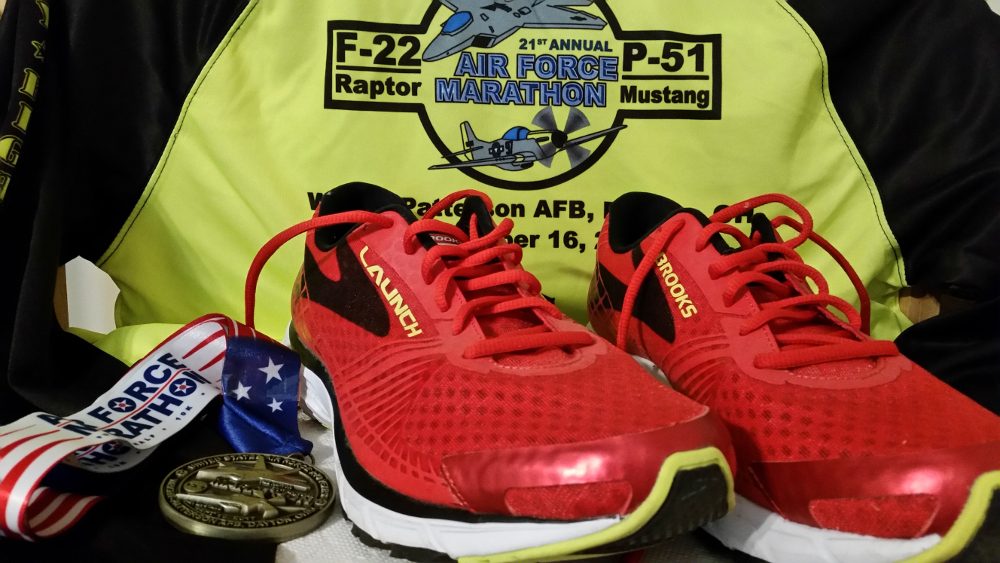 After the Race Report
The Air Force Half marathon was a great experience, I had underestimated the race course, it had some hills and broken and crumbling pavement. The Brooks Launch was a good choice but lacked cushioning for that distance. It is no wonder why there are so many runners wearing Asics at these races.
2017 Air Force Marathon Broll - Start/Finish Line
Thanks for stopping by, now go run!