Brooks Launch 4 Specs - 10mm drop, 7.5 oz weight (advertised – mine weigh 9.7 oz), have neutral support and are made to be used as daily trainers.
Competition: Adidas Boost, Saucony Kinvara, & Under Armor Gemini
I began using these shoes as I started to increase both my long run mileage and my weekly overall mileage as preparation for my first half-marathon.
After a little over a month, I broke the 100-mile mark on these shoes and I can say without a doubt that they feel even better than they did fresh out of the box – which was great, to begin with.
The redesigned 4 brings fresh cushioning under the forefoot and a stated redesign of the heel as compared to the Launch 3s. As a result, the shoes still feel comfortable when I go past 10 miles but they feel much more at home on speed work or tempo runs.
Weight
At only 9.7oz (according to my scale) the shoes feel light but the cushioning is still obvious.
This is nice in that they work well for hitting some fast speed work on the toe area & support well for going slightly slower as both areas are cushioned underneath and the heel is wrapped with a layer as well.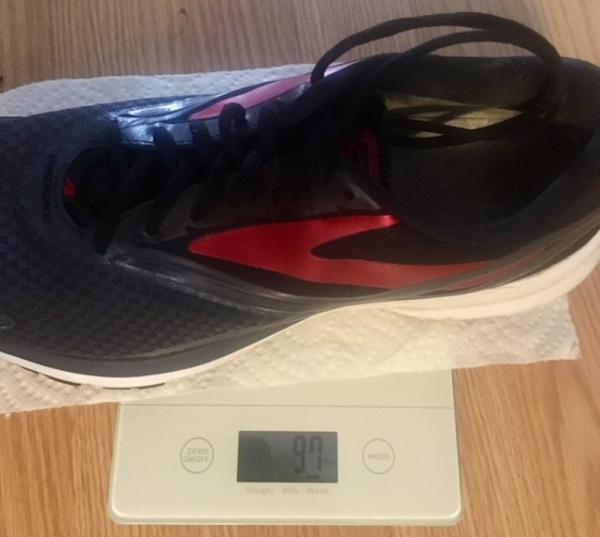 Arch Support
The arch support is good and I don't wish for anymore during any run. However, the cushioning in the heel area play negatively for sweaty purposes as it holds in moisture.
The toe box seems to do the same and I started noticing blisters near the area of my big toe. I should mention that I do sweat a good deal. Some glide worked well to prevent any further issues – so no real harm there.
Cushioning
Brooks used their DNA midsole cushioning and if you are familiar with Brooks then you are familiar with this as well. As the shoes get used, the midsole adapts more to your specific foot.
As you get more miles on the shoe, the midsole adapts more to your foot.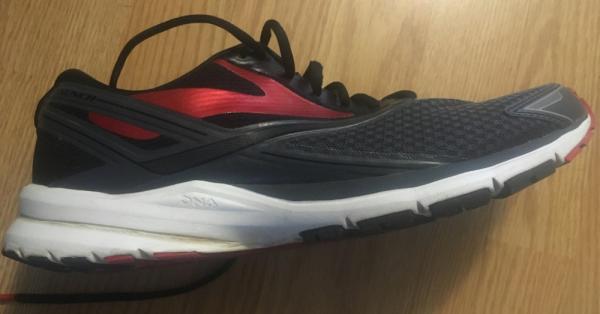 This is why the shoes became more comfortable to me when I started getting some mileage on them. They felt more natural on my foot.
The effect creates a smooth transition from heel to toe – though previous versions of Brooks did feel more natural to me in that regard. This is not a complaint so much as it is an observation.
Comfort & Upper Design
The toe-box is a bit wide for me but I knew this before I made the purchase.
My feet are narrow and Brooks naturally offer a wider toe box. However, I do appreciate this because it allows my toes to spread out.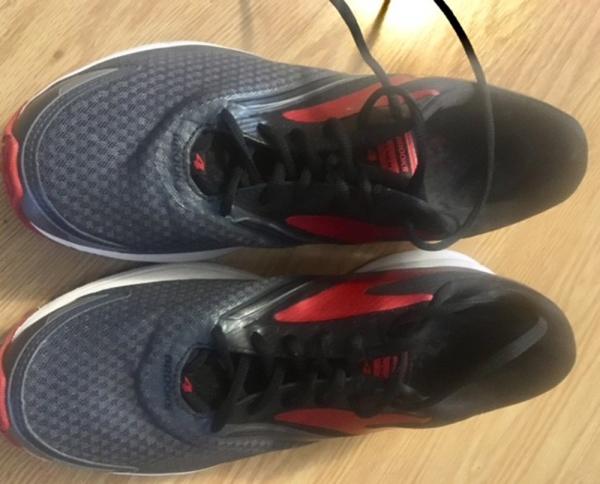 As compared to other Brooks, the toe box does seem deeper and this led to me having to really tighten down the laces to provide solid support in that area.
The tongue has a lace hole to help hold it in place and the laces offer a strong lock on the foot which prevents heel slipping without having to worry about using a lace lock. Also, I did not have the feeling of too much pressure from any part of the laces.
Breathability
Brooks uses 3D print and ventilated fabric to create a lightweight and breathable upper area.
This is one of my more favorite features because the shoes really do breathe quite well. When on a long run or a tempo run the shoes helped keep my feet from ever feeling hot.
The zoomed in picture shows just how breathable the upper mesh area is and gives an idea of the nice breezy feeling that I found while running.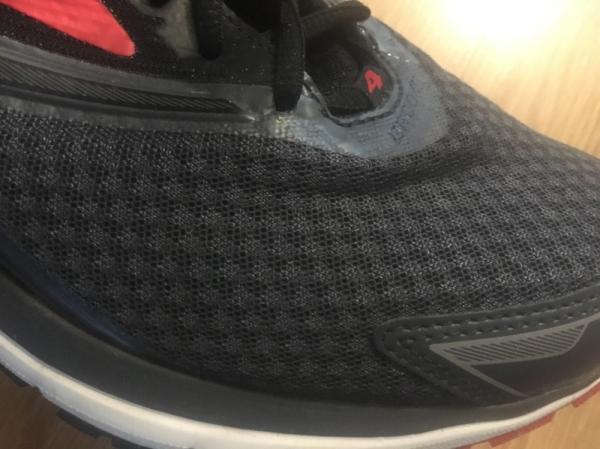 Tread
Perhaps my favorite part about these shoes is their tread. Considering these are meant more for road use the tread has played better than I thought it would on light trail runs.
Rocks and twigs aren't enough to create any pain and the tread is sufficient enough to provide a strong grip. Even on brick during a slight rain, my feet did not slide around or slip.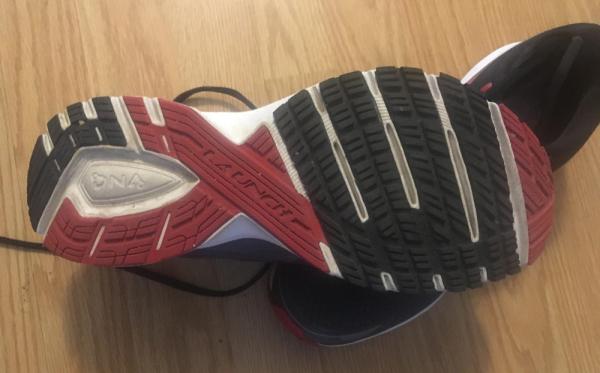 The wide toe area, groves, and material hold up well under any circumstance – though I would not suggest using them as a main trail running shoe.
That X design in the middle of the shoe is their "crash pad" and is meant to help the transition between heel and toe. I'm mostly a midfoot striker and perhaps this is why I felt that the landing zone was cushioned and responsive step for step.
Pros
Breathes well
Great for speed but cushioned enough for pace
Excellent tread work
Good support
Cons
Cushioning holds moisture
Early miles needed glide to prevent blister near the big toe/ball of foot
Toe box is deeper than other models
Overall
The Brooks Launch 4 breaths well, feels responsive and is great for tempo runs and speed work.
There are better options for longer distances but for 10+ miles the Launch seems to work just fine. Though I would prefer the cushioning to be better suited at drying, it does feel comfortable every time.
The DNA adapts well to the foot and with the tread design, the transitions are fairly smooth.