Verdict from 24 experts and +100 user reviews
8 reasons to buy
Cushioning: The soft and smooth ride of the GTS 20 lasts for long miles, as stated by hundreds of runners.
Stability: Plenty of wearers love how the shoe prevents overpronation without feeling too firm or intrusive.
Toe-off: For a stability running shoe, it has ample bounce in the forefoot, as stated by many users.
Step-in comfort: A great number of buyers rave about how nice and plush the shoe feels from the inside.
Heel lock: No slippage has been reported as a hard internal counter and a padded collar keep the rearfoot securely in place.
Durability: The Adrenaline 20 holds up well for hundreds of miles, according to some avid runners.
Toebox: There is plenty of room in the forefoot, which is welcomed by the wide-footed wearers. Wide and Extra Wide options are also available.
Traction: The runners had no issues with the shoe's grip, even on wet surfaces.
2 reasons not to buy
Weight: Most wearers agree that it is not the lightest running shoe, feeling a bit on the bulky side.
Not for faster paces: It can be hard to pick up the pace in the GTS 20 as it starts to feel clunky, as mentioned by several experts.
Bottom line
Meant as a "Go-To-Shoe," the GTS 20 from the Brooks Adrenaline series remains a staple stability model. Runners love how its gentle pronation control doesn't get in the way of natural movement.
It is a reliable daily trainer for easy recovery runs and moderate paces. While it's not a race day shoe, it provides consistent comfort for long distances up to a marathon. Many experts describe it as a stability version of the Brooks Ghost.
Those concerned with the bulk can check out the slightly lighter 21st edition.
Tip: see the best running shoes.
Our reviews
The Brooks Adrenaline GTS 20 is the best stability technology yet from Brooks, springy and solid responsive feel on the road, with equal plush cushioning than the Levitate or Ghost.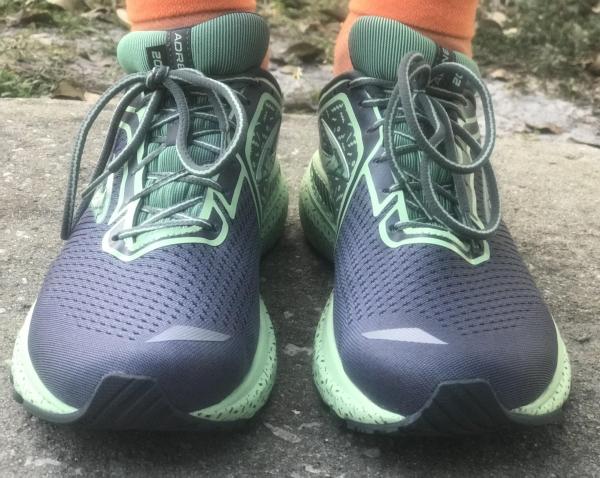 Having spoken with one of the developers of this update to the popular Brooks line, I learned it was modelled after the success of the Ghost 12.
After listening to runners the past several years, we clearly wanted more bounce, responsive foam and a supportive ride that was not heavy or clunky.
Viola! The Adrenaline GTS 20 appeared after a few years of R&D. This shoe provides exceptional stability support with "holistic" BioMoGo DNA & DNA LOFT with built-in GuideRails to support overpronation. It is an ideal all-around trainer for those who have overpronation or arch issues.
Details
Weight: 10.5oz, in both Women's 10.5(B) or Men's 9.5B (Narrow)
Drop height: 12mm midsole overall drop
Support: "Holistic GuideRails" all-around Support Technology, DNA LOFT & BioMoGo DNA
Upper: 3D Fit Print, cushioned heel and Achilles, light & breathable material
Low down & my shoe story
If I were to compare this to a car, it would be The TESLA of Support, with built-in speed & responsiveness. All that technology and attention to detail has once again paid off for Brooks, and us!
I just finished my first marathon in a decade in these, the Atlanta Marathon during the same weekend as the Olympic Trials. Most of the elite were wearing Alphafly or carbon plated technology, meant for max speed and not daily training.
For the rest of us, we need a shoe that helps us to prevent injury and feels good logging long miles, but light enough to race in. The Brooks Adrenaline update is a fantastic option for those of us that are slight overpronators (mild to moderate).
After suffering Achilles tendonitis and calf issues for the majority of my training, a friend of mine who is my local running store owner and technology guru suggested I add a bit of stability.
"Stability" sounded like a dirty word, for old men and injuries, so I was reluctant. However, I learned that this new technology is not the stability shoe of the '90s and '00s, or even a few years ago.
But, it is, in fact, more of a guidance system that does not add a significant amount of weight. It was definitely worth it for the few extra ounces over my go-to shoe, the Ghost 12.
This is Brooks' updated and newest stability shoe with GuideRails technology, which provides adequate support for pronators, while giving that cushy and responsive ride you've come to expect from Brooks recent breakthrough DNA BioMoGo & DNA Loft combination.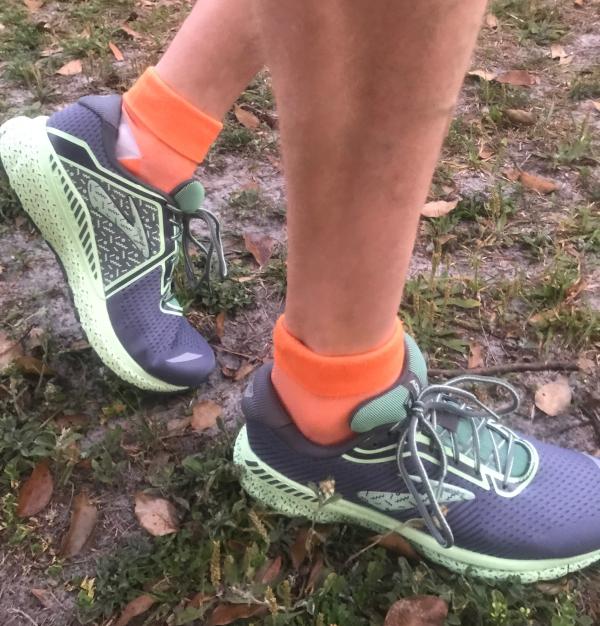 All of the above combine to produce a shoe that thankfully is not overly-plush/sinking cushion, and an extremely fun ride.
I took the Adrenaline GTX 20 out for many different runs, but most were longer road runs in my lead up to the marathon. It gave me the feeling of being on trails (which I love); it was so supportive and well-cushioned.
Having run in the Ghost 12 and Bedlam 2 recently, this one is the sweet spot right in the middle but leans more towards the ride feel of the Ghost, using the same sizing and similar amounts of comfort in the ankle and heel areas.
I can confirm that this is a much faster, more responsive ride with great transitions, while still supporting my overpronation. It keeps a secure and comfortable locked down heel that produced no knee pain or shin splints for me, even on long road runs.
I did break a cardinal rule and even bought a brand new pair the day before my target marathon performance (having run in this same shoe training the past few months), and it was perfect.
Not a blister or sore spots. What more could you ask for?
Ride, feel and flex
One of the major accomplishments of new EVA foam technology such as this (DNA LOFT) is that it is ultra-soft and responsive at the same time, without sacrificing durability.
As a moderate overpronator with flat feet, this shoe provides incredibly lightweight support while focusing on the overall stride feel, and details such as knees/hips alignment.
Brooks is a dedicated running shoe company and has paid attention to recent research showing that overpronation should not be corrected by hefty stability foam.
But, rather, the stability foam should gently guide the foot into holding the right position, leading to good overall alignment (hence the "Guide Rails" system moving to all-around support rather than just putting foam on the inside arch of the shoe).
The ride of this shoe is incredibly light for a support shoe. It is very smooth thanks to this GuideRails technology and new upper modelled after the popular "Ghost 11/12", featuring a supportive heel that is not a heavy or dense material (see photo).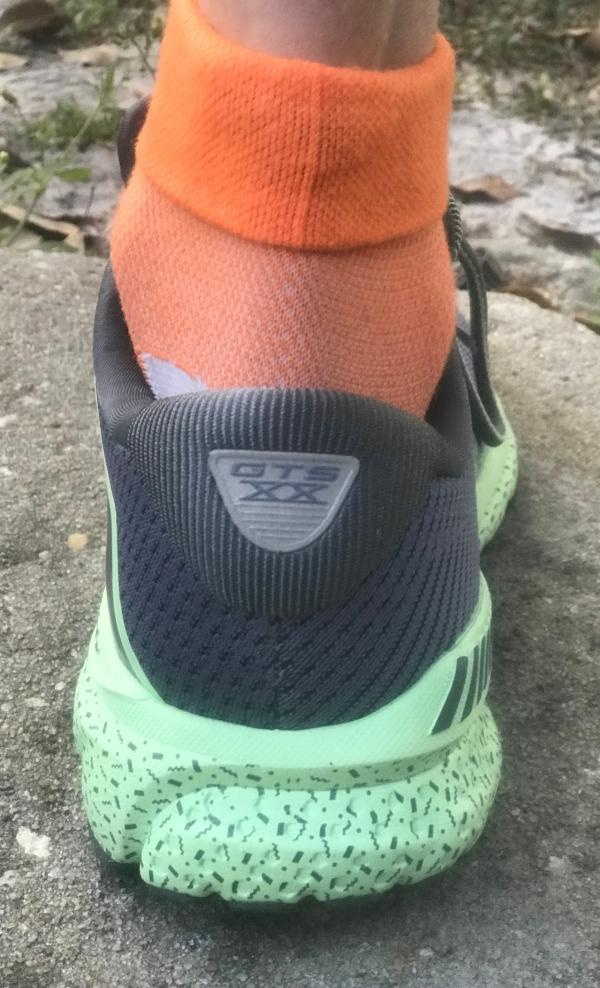 Those of us with overpronation (about 30% of runners) that has caused some nagging injuries or poor stride results will probably enjoy this fresh/minimalist approach to motion control.
It doesn't feel like your foot is being forced into a certain position or form every step, but is a much more natural feel. When I was putting in the long miles, it definitely made a difference that I could feel in my knees and calf/Achilles, and shorter recovery of problem areas.
It also has just enough cushion to allow more responsiveness/energy return than I've gotten from similar weight shoes. I felt it was easy on my legs at most distances' training, with a springier transition compared to other more cushioned shoes (Hoka Clifton, NB 1080) at runs of the same distance.
Lastly, no rubbing or friction points I could find.
DNA LOFT technology and weight
The new DNA LOFT midsole technology is wrapped around the entire shoe and provides a responsive and fast ride due to this construction as a new type of EVA foam.
The weight may be fractions of ounces heavier at 10.5 oz than the non-support models like Brooks Ghost in a comparable size, but I believe this is a small price to pay for great for training in general.
As mentioned previously, it is balanced with both a cushioned and springy responsiveness ride with good transition for midfoot to forefoot strikers, even at my 7:30 to 8 min/mile tempo pace.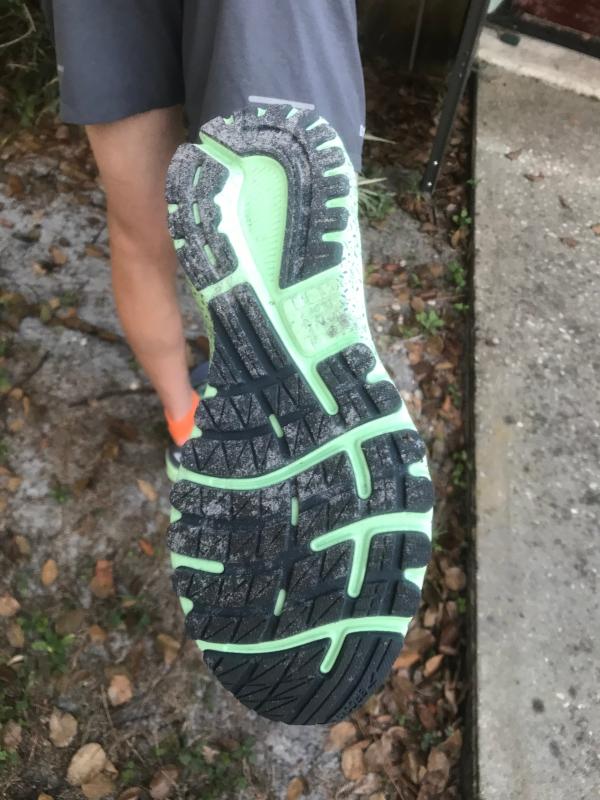 I could still feel the terrain and pavement well at race pace, which is part of the joy of running for me. More importantly, I never felt I was sinking into the midsole or that my shoes were getting stuck anywhere in the gait cycle, and this, to me, indicates good responsiveness.
Even more telling of the new EVA foams being developed, this responsiveness has continued to feel the same for me after a few hundred miles.
Style/sizing
With regards to style, they went all out to diversify and offer tons of cool patterns and colors for all runners' tastes. I especially liked the retro/throwback styles in both men's and women's.
Detailed photo on one of the retro styles below w/ inner arch GuideRails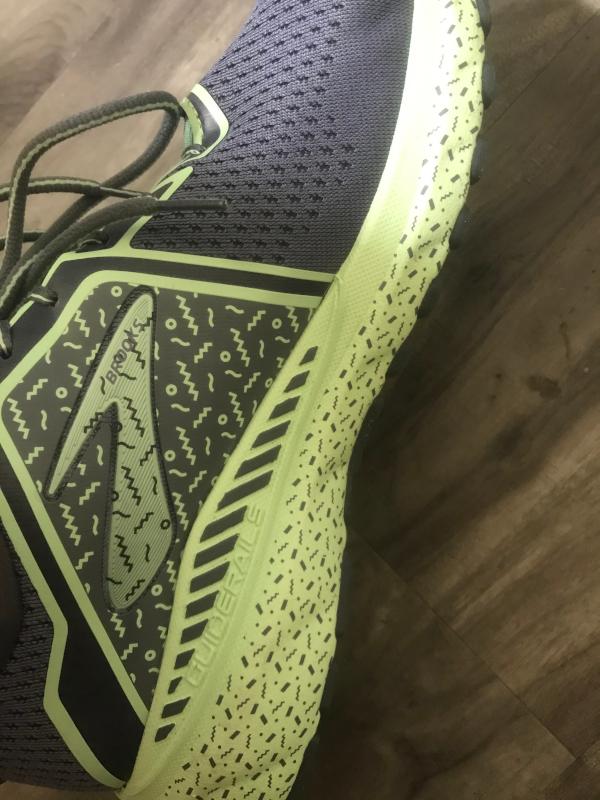 Also, the women's line has several "neutral" options that a narrower fit runner can easily slip into. Just remember to go one size up from your normal men's size.
So, a men's 9.5B (which is narrow for men) would be a women's 10.5 (B, the normal width for women), and so forth. For a foot on the narrower side, the B fit is snug and close to perfect (see photo below).
Fit of upper, tongue & laces
The "3D Fit Print" upper hugs the heels and wraps around the arch very securely, in the appropriate width and size. Sizing is very similar to other Brooks shoes, and therefore I needed a B width with my narrow feet.
The GTX 20 was still very roomy in the toe box due to the material and stretch, soft and thin yet has proven to be strong and durable! The outer mesh is completely lined with an underlay with large circular holes.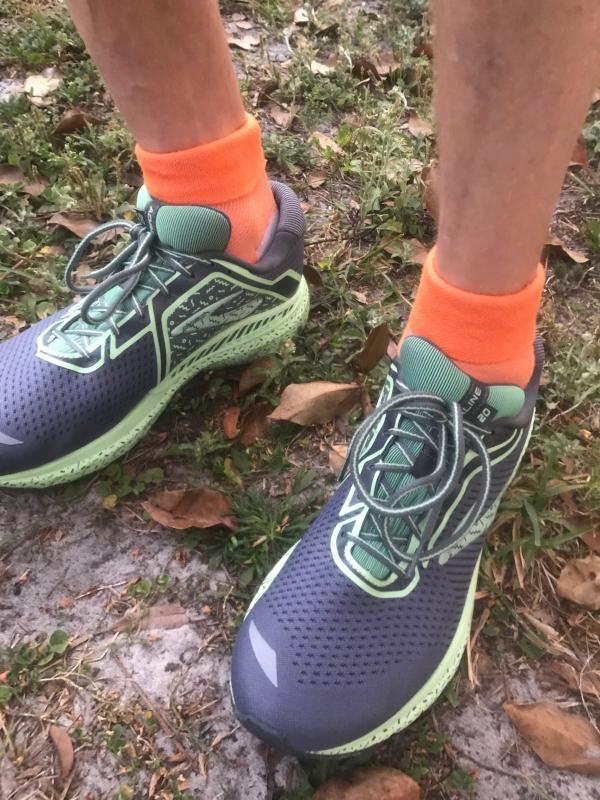 The heel area is supportive, and the Achilles has nice cushioned padding, similar to the Ghost 12. The tongue isn't built up and folds over the laces/eyelet area seamlessly, which I love as this is one of my biggest complaints in running shoes.
The laces are exceptional, durable and smooth, what I would call fitting for the Tesla of support shoes, glide very easily through lacelets and tie well, which also really cinch up well with the knit upper.
Another thing I do really like about this shoe (and the Bedlam/Ghost series) is that you can easily adjust the overall fit in just a few seconds. Therefore, if you go from a pleasant walk to a spontaneous gym visit or run, you can tighten/loosen them quickly.
Durability and on/off time
There are no issues at 200+ miles for me. I have no concerns at all with the durability of this shoe, and it has worn exceptionally well. It has a greater amount of rubber sole in key areas than other cushioned shoes in the Hoka line, for example.
This may not be an issue if most of your miles are on pavement, and depends on other factors of course—please note I am a 140 lb midfoot striker.
As a coach, I would recommend rotating them with another favorite shoe for speed workouts once a week, if you do them, for some "off time".
Conclusion
To paint a more concise picture, it was the best overall stability/supportive shoe of a dozen I have worn/tested, and a solid improvement on the Bedlam 2's use of GuideRails just this past year, which I reviewed as well.
This is a light and durable yet stylish shoe for walking or other types of cross-training as well, designed for mild-moderate overpronators. This shoe can do just about anything but is ideal for me on long runs and marathon/half marathon training.
The Adrenaline GTS 20 a decent stack height and drop (similar to the Ghost), but less than a traditional support shoe, and supports your body from the hips/knees down with Brook's newest technology, instead of focusing on the ankle and arches.
It has a good flex point midfoot in the shoe and provides a smooth ride with a good transition for me. The DNA LOFT and BioMoGo feel springy and responsive while making the road feel like soft trails.
The shoe is very breathable and flexible due to its 3D Fit knit upper and offers plenty of room in the toe box while hugging the heel and locking it down well.
If you are a diverse distance runner with overpronation looking for a supportive daily trainer and walking shoe combo and want a very versatile shoe that feels great all day, the Brooks Adrenaline GTS 20 is for you.
As mentioned in the title, this could be the best all-around shoe of the decade for efficiency and cost (think economy TESLA), and I'm sure Brooks will keep trying to improve upon it.
Overall, I'd say it's definitely worth a try to get a feel for this new option in stability technology and see if it works for you!
Pros
All-around "GuideRails" technology helps keep knee/hips/ankle alignment for pronation
Flexibility and breathability: New 3D Fit Print, Great for all weather runs with heel lockdown and Achilles area cushion.
DNA BioMoGo and DNA Loft (newest EVA Foams) offers balanced stability support with speedy responsiveness and lofty cushioning with for pavement, good transition, and an incredibly fast/light feeling ride for a support shoe
Color options! Brooks has dozens of colors, and this really cool '80s neon green spin
Great sole rubber coverage, even wear on tread after a few hundred miles
Wider widths are available in men's and women's
Cons
Smaller widths not available in men's currently (B width), Narrow runners should size one up for women's (in which the normal width is B)
For the first time ever, nothing else I can see
Are you an Injury Prone Runner who requires extra support and stability for your knees & hips? Or do you seek prevention from shin splints or back jarring?
Today, runners can actually beat the "1 in 4 odds of injury," especially if they replace old running shoes. Brooks, Inc.'s State-of-the-Art Technology can certainly help too! Take a peek at their latest "Adrenaline GTS 20's.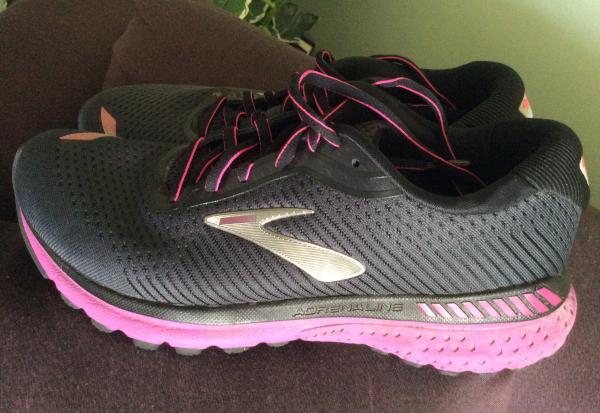 Stats
| | |
| --- | --- |
| TYPE | neutral road/track trainer |
| WEIGHT | 9.4 (women) 10.6 (men) |
| DROP | 12mm |
| ARCH | medium, flat |
| COLOR OPTIONS | 8 9woman) 6 (men) |
| PRICE | $130 |
Technology
"BioMoGo DNA" and "DNA Loft" Cushions Long Runs
Built-in "GuideRails®" Deflect Pronation
Flexible "3D Fit Print" Upper with Durable "Air Mesh" Material
Upper
Adrenaline 20 has a cushiony, comfortable feel as feet slide in effortlessly.
First, runners will notice smooth, high-quality material free from heavy overlays. Second, the breathable air mesh quickly whisks away moisture.
Finally, the high durability protects from the elements without any signs of ripping, fraying, or separating even after 300+ miles!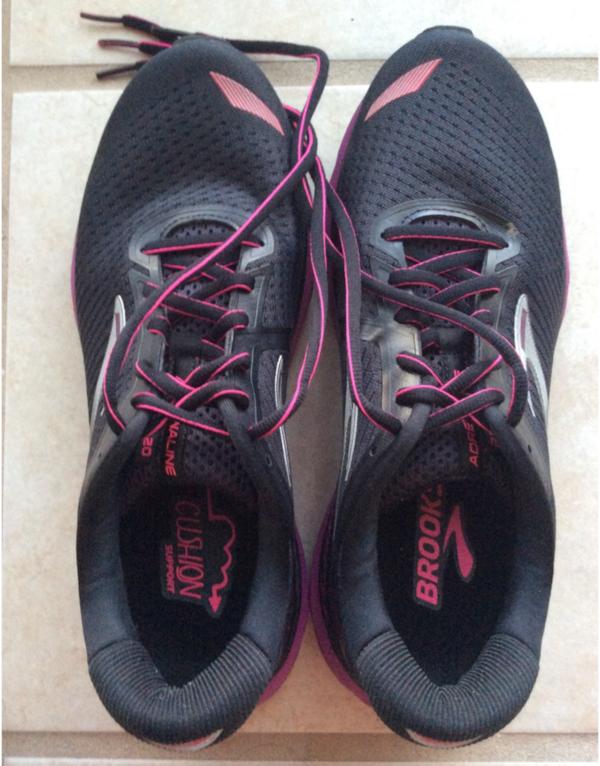 Runners will appreciate how the roomy toe-box will conform with superb flexibility in the perfect spots! Brooks calls this their "revolutionary 3D Fit screen-print shoe structure."
You can see below how my uppers are taking on my unique foot shape. Most impressive is no blisters or calluses! Bottom line, the flexibility and comfort level Scores a 10!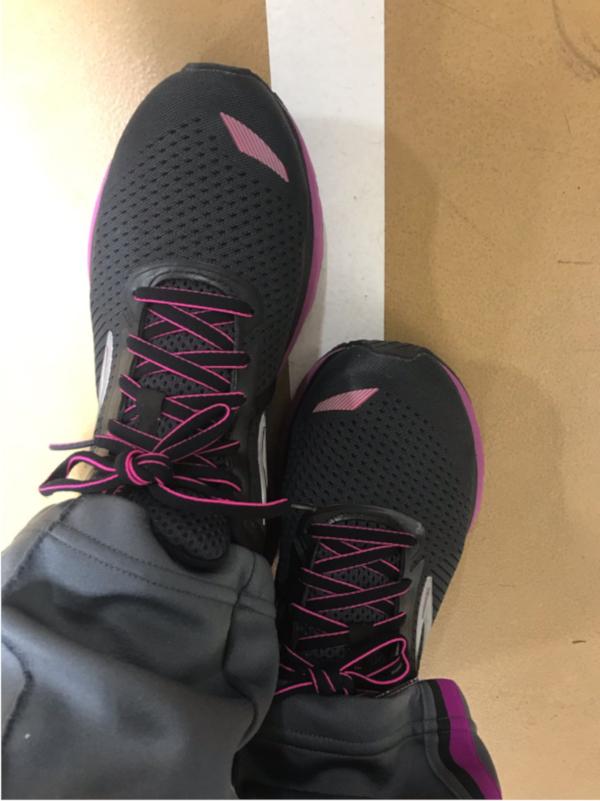 Brooks is known for wide, plush tongues which lay effortlessly across the forefoot. The tongues are longer in length than other brands.
This makes shoes easy to grab and pull on, especially in a hurry. When shopping for running shoes, never underestimate the importance of details.
Do you ever examine running shoe eyelets? Designers know each one contributes to the overall weight factor.
For this reason, Adrenaline's eyelets are basically non-existent and cut right into the shoes' material. Thanks to Brook's attention to detail, GTS 20's feel extremely lightweight.
Adrenaline's shoelaces are of high quality with an attractive design. They're round, thick, and best of all, super stretchy and extra long. Take a look!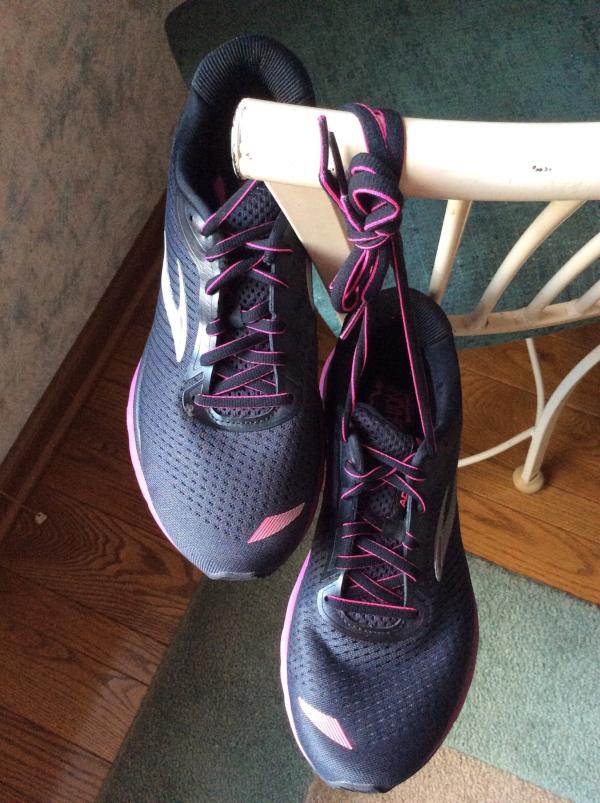 Midsole
Brooks created midsoles with "DNA" logistics. Interesting, because now I feel like my shoes are "self-replicating, living organisms!"
Basically, all Runners have to do is bring Adrenaline 20's to life!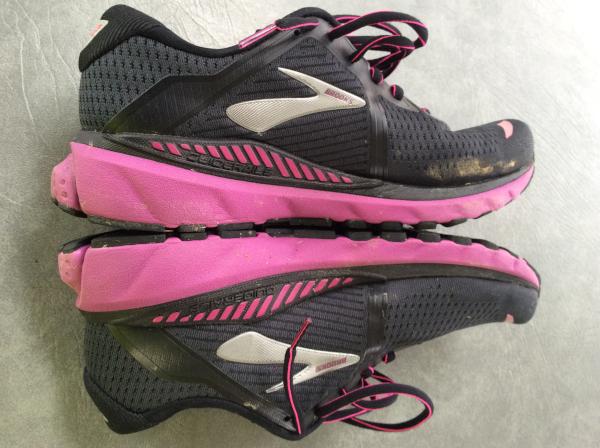 I slowly transitioned GTS 20's into my shoe rotation because of the 12-millimeter heel to toe drop. I'm used to the average 8-10 mm drop, so I discussed it with my physical therapist for approval first.
Abby Douek, owner and physical therapist of Run Raleigh Physical Therapy says, "Runners with tight calves and an aggressive heel strike should probably stay in a slightly higher-drop shoe, 10 to 12 millimeters."
Sounds like me and Adrenaline GTS 20 fits the bill! Brooks, Inc. understands great energy return is a runner's dream. Adrenaline delivers the perfect amount of cushion and spring to "propel you forward" on every run.
I believe Brooks created a masterpiece! Run after run, I feel strong and notice my stride quickening, which enables a 180 cadence goal.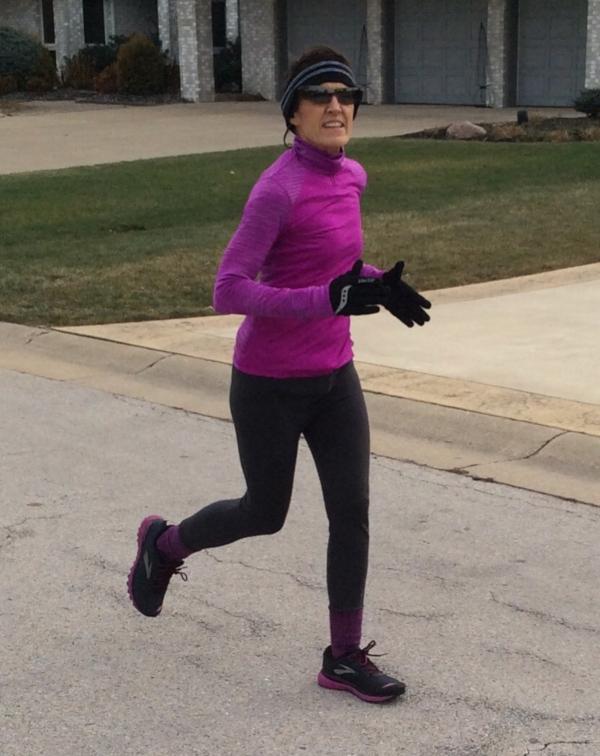 My favorite GTS 20 feature is how the midsoles absorb bodily shock and jarring. This ultra-smooth impact delivers a responsive, smooth stride.
One lady at the gym commented on how she couldn't hear me running up behind her. Little did she know that was a huge compliment because runners should be light on their feet!
After 300+ miles, I can barely feel the midsole breaking down. This makes me happy because I'm not ready to break the bank again or play injury roulette from running in old shoes.
If you look close, there are minimal signs of stress and cracking, but at this point, Adrenaline is still my first choice shoe. I have to force myself not to grab and go, so other rotation shoes have a chance!
Outsole
The poor outsoles beat against the pavement and take all the brunt. Turn over any pair of running shoes, and usually, the outsoles demonstrate longevity, but not anymore!
Leave it to Brooks to make one of the most durable outsoles I've ever seen!
The longer we run, the more running shoes we buy. Overtime runners know first hand which brands break down fastest.
Today, Brooks Technology assures runners can go the extra mile and will get their money's worth. However, one day I was shocked by Brooks.
Take a look below, and you'll see why!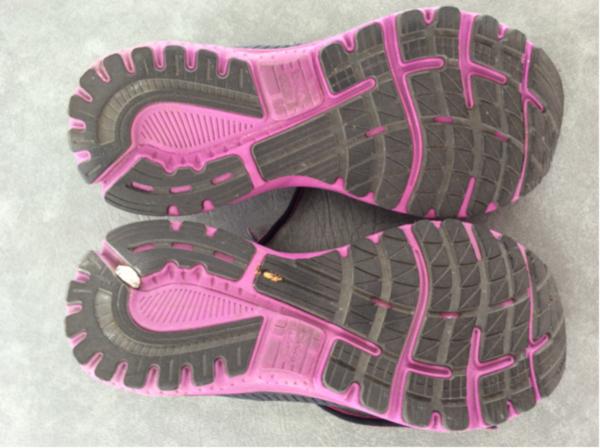 Luckily I wasn't racing, but kept hearing a clicking sound and felt something uncomfortable underfoot. If you're like me, we don't stop a run for much; not even a stone lodged into my tread!
I was hoping this stone would work itself out, but unfortunately, it never did. So now I have a souvenir!
Heel counter
GTS 20's have strong well-made heel counters. Runners won't have to worry about slippage because heels stay secure.
The foam padding places cushioning exactly where it is needed. I'm known to step on the backs occasionally, but you can't tell with these Brooks.
The inside foam hasn't moved at all, and their durability holds up. This says a lot about the quality of construction from both the inside and outside. Brooks does not try to cut costs whatsoever!
Scores
Adrenaline GTS 20 has earned 5-star reviews across the board! If Brooks entered "Running with the Stars" instead of "Dancing with the Stars," they would definitely win!
Fit/flexibility = 10
Cushion/comfort = 10
Performance/energy Return = 10
Conclusion
I highly recommend Adrenaline GTS 20's for an injury-free year!
Runners who log 35+ miles a week need all the help they can get! I found firsthand, Adrenaline's go easy on my knees, calves, hips, and back.
Today I'm beating the "1 in 4 odds of injury." Now this calls for a "kudos" to Brooks and a celebration for me because I found my go-to distance running shoe!
Take a look down at your next road race and look for the famous Brooks logo! Brook's name alone, "Adrenaline" starts pumping at the start line and follows through to the finish!
Could this be a psychological factor or did Brooks just create a State-of-the-Art long-distance running shoe to carry runners beyond the 23-mile pain threshold?
You be the judge and don't hold back from letting Brooks know. After all, one of their best sales techniques is their "True Blue Guarantee" where runners try for 90 days.
"If you are not 100% satisfied, return for free," but hopefully you'll never even consider!
I purchased Brooks Adrenaline GTS 20 (Poseidon/Peacoat/Grey) for the full price of $160. As of this review, I ran around 305 km on this shoe.
This is my first Brooks shoe, and before purchasing, I have spoken to quite a few runners who swear by the brand. I wanted to get a feel of what it has to offer.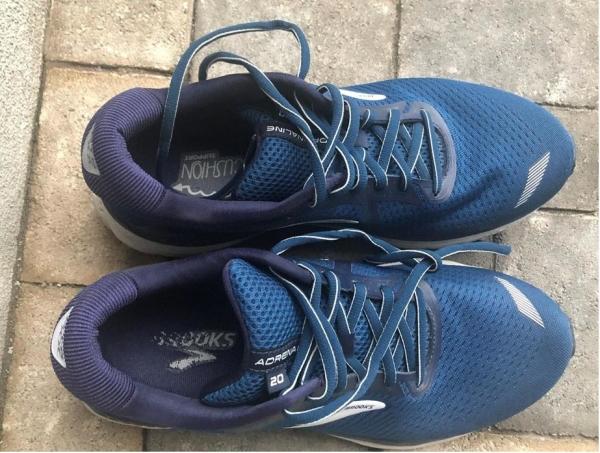 Key specs
Stability/support
12 mm offset (heel-to-toe drop)
Medium/high arch
Plush feel and lot of cushioning
Road running
Size & fit
Because I have ordered it online, I didn't get the chance to try it on. But when it arrived, it fit perfectly; I can say that the shoe fits true to size.
The outsole is loaded is with rubber, the grip it offers is unquestionable. Be it wet or slightly unpaved surface, you will conquer them all with this shoe.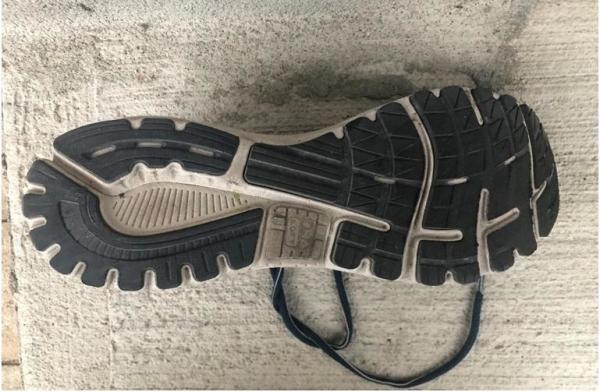 The rubber covers the entire forefoot and the heel is also circled with rubber. No technical terms here in the outsole.
Upper
Brooks terms the upper as an engineered mesh with 3D Fit Print. It is very breathable and likable that even when running on a hot day, you won't feel any discomfort. It is also effective in holding your midfoot, maximizing support.
The tongue has good padding for additional comfort and so does the heel collar.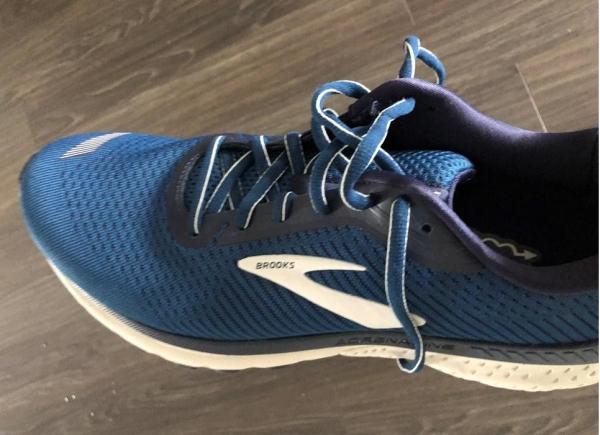 What impressed me is the lacing system. It may seem like the laces will come undone during the run, but believe me, I never faced such an issue. I must say, the tubular lacing (hearing it for the first time) is very cool and holds well.
Midsole
BioMoGo DNA makes up the midsole of the Adrenaline GTS 20. It sits on top of a softer DNA Loft, making a dual-layered midsole. Such construction helps sitting on top of softer DNA Loft, making it a two-layered midsole. Such construction provides a springy feel in your stride.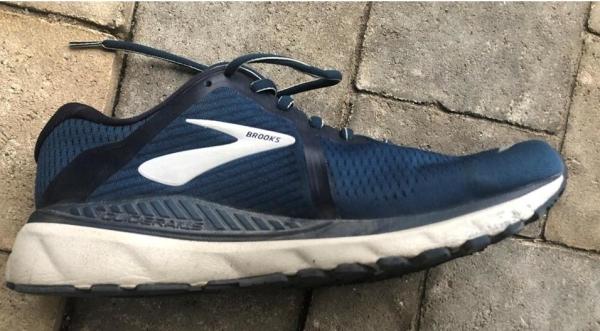 The key part of this stability shoe is the GuideRail technology which helps correct your pronation. The support it provides doesn't result in stiffness nor does it control motion too much. If you overpronate in one leg and not in another, the GuideRail activates only for the leg you pronate.
Let's see this as Lane Keep Assist in your car–it will assist when you stray from your lane and doesn't bother if you stay within. The GuideRail helps your comfort by checking against excessive movements.
Styling & durability
The shoe is well-constructed as it uses quality materials. Even after 300 km of pounding in smaller trails, paved, and unpaved roads, the outsole still looks intact. Without a doubt, I think this shoe will still be able to clock in more mileage.
The shoe doesn't look very stylish; no-frills design with a dedicated focus on running.
When it comes to coloring options, Brooks caters to the majority of buyers. For men's GTS 20, Brooks' website has 18 color options (some colors might give more stylish looks than others).
Running experience
The shoe's soft and cushioned feel gives a pleasant running experience. The midsole's plushness gives a comfortable ride on long runs.
The standout feature will be the GuideRail technology that gives you stability. Its positioning in the lateral edge helps exactly in your feet rotation.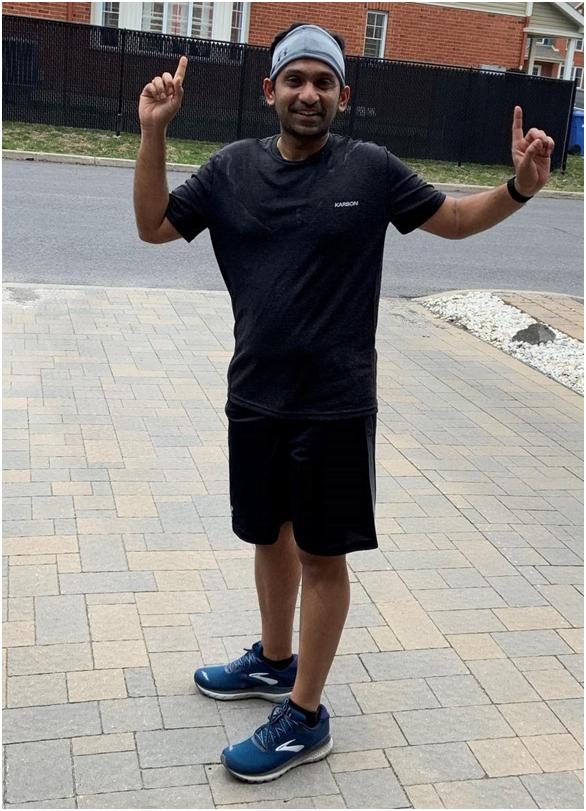 This shoe is not intended for speed/interval training and not aimed at beating your PRs. Sitting at 10.6 oz, this is not the lightest shoe nor the big guy.
It sits in the sweet spot for a daily trainer and for comfortable long-distance running. With a lack of bounce, you lose the speed aspect with this shoe.
I have tried this shoe with varied runs like speed training, daily rotation shoes, and it's a standout for easy and slow-paced runs.
My farthest run before this shoe was 15 km and after running in this for a week, I was able to push to my first half marathon and this shoe, for sure, played a part in my quick recovery. The cushioning and Brooks engineering helped in keeping my legs less tired.
Final thoughts
Who will like Brooks Adrenaline GTS 20:
Slight overpronator (Asics Gel Kayano is a better option if you want full stability)
Those who want to improve their weekly mileage and avoid frequent injuries
You want a plush feel during your run
Long-distance runners (not against time)
Those who want an addition to their rotation of recovery run shoes
Who should not buy Brooks Adrenaline GTS 20:
If you are chasing your PRs
Want to use this for interval/fartlek training
If you own a GTS 19
If you are not willing to spend the premium price
TLDR: These were my first ever pair of Brooks. As of writing this review, I have put 200+ miles on them and found them to be super stable and comfortable, but without being too cushy and clunky.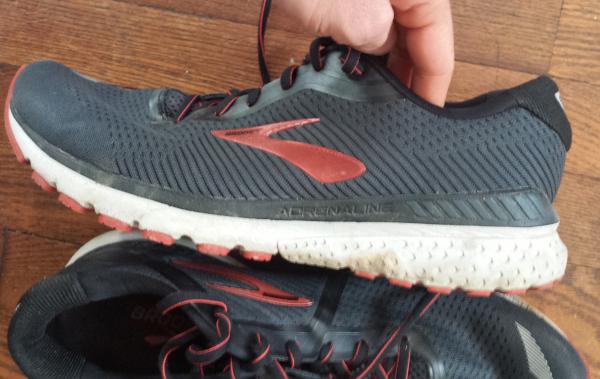 I would definitely recommend them for a daily road runner, including light gravel trails. The fit is average width, so if you have very narrow feet, the toe box may be a bit wide. And they look very classy, too!
Full version
I had the fortunate opportunity to review these shoes just as I was looking for a new road trainer. I prefer spending time on trails, but in the winter trails are just not a great option where I live.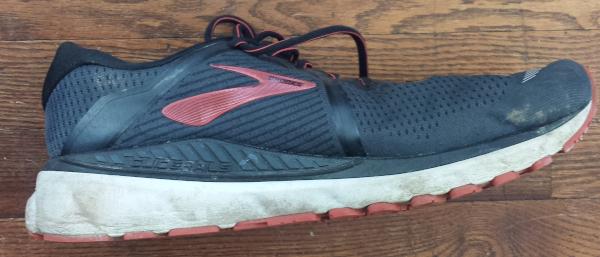 I needed a shoe that could take road mileage without giving my joints a beating and the Adrenaline GTS 20 fit the bill. I put this through (at this point) 200+ miles of easy runs, long slow distance, and speed work.
They've performed admirably on treadmills, roads, sidewalks and light trail (packed gravel bike trails).
Things I liked best about this shoe:
Cushioning: The forefoot cushioning is comfy without being too soft. It still has some responsiveness and feel but is definitely on the comfortable side.
This was just right for me, but if you prefer a minimalist feel; then this probably isn't going to be your shoe.
My other pair, Nike Air Zoom Elite 10, are slightly less cushy in the forefoot, and having the extra padding felt like good insurance for my sometimes sore joints.
Stability: It incorporates the Brooks Guiderail system and has a very wide base. I have not rolled my ankle once in 200 miles on variable quality roads and pavement. It's like driving a Cadillac on cruise control.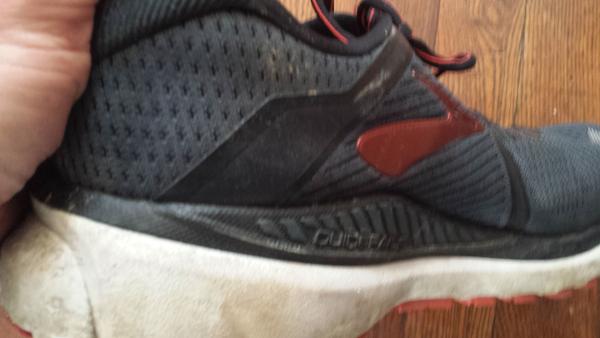 I have hopped off curbs into potholes while running in the dark and was grateful for the additional stability where I might have otherwise had a rough day.
Feel: The shoe has a very comfortable mesh upper. I have experienced zero blisters or hot spots with 20 mile long runs.
My feet do get cold, but that's because it is pretty cold around here, and I'm lazy about replacing my winter socks. In summer, they'd probably be perfect.
Laces and collar: The laces didn't come undone, not even once. I've found that I don't even have to double-knot with these, which is something I've done instinctively for the past 20 years.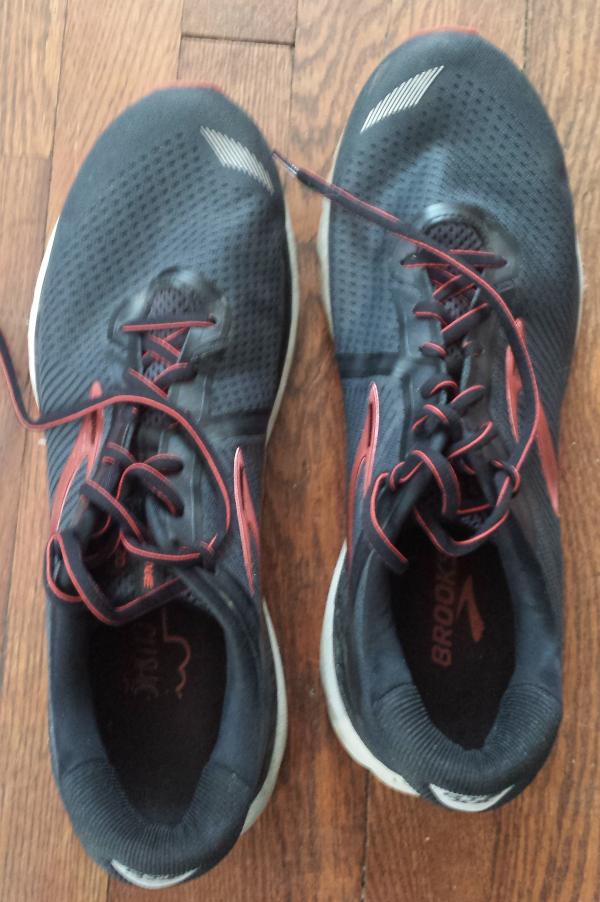 Meanwhile, the collar feels super soft and comfortable.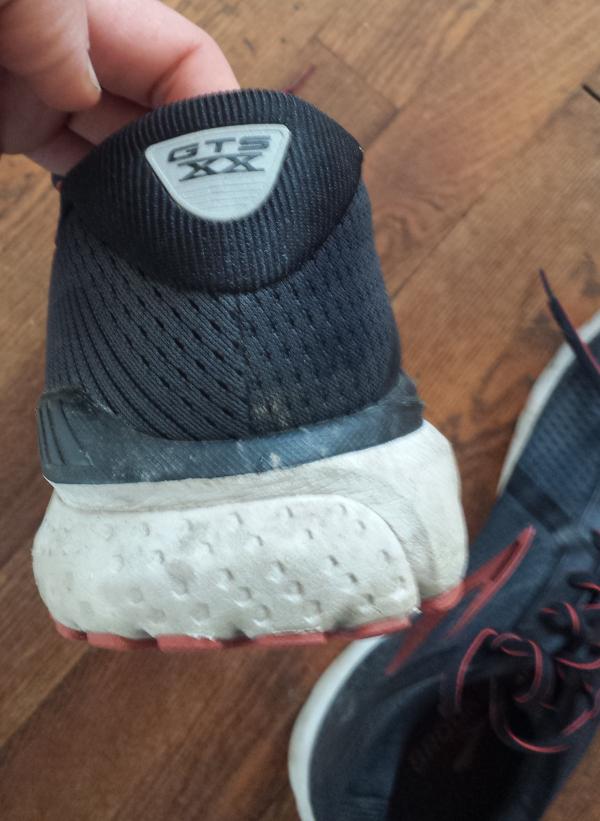 Durability: The tread is showing little to no signs of wear after 200+ miles.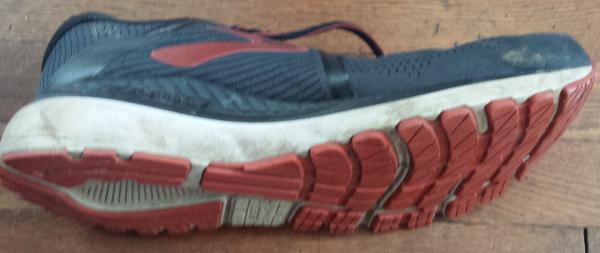 Looks: It is a very good-looking shoe. I had the dark red/rust and black/gray combination, and I will definitely use it for my casual sneaker once it has completed its running duties.
Things I didn't like about this shoe:
One of the few things I didn't 100% like was that the toe box was slightly large for my relatively narrow feet. If you have average feet, you're probably fine, and for me, it wasn't a significant issue.
While the tread is great for roads, it's not cut out for trails. It looks like a street tire and doesn't have a lot of grip for mud, ice, etc.
This isn't necessarily a criticism—This is just the design intent of the shoe. If I'm going out on trails, I wear a different shoe.
In summary, I would wholeheartedly recommend this shoe as a regular road trainer. It was comfortable, good looking and felt great to run in.
I will definitely add Brooks to my menu options in the future, and I'm happy to have had the chance to review this.
I was excited to try on a pair of the new Adrenaline GTS 20 from Brooks. I've worn many Brooks shoes, most recently the Ghost 12's. My last Adrenaline shoe was the 17's.
I was looking for a stability shoe and enjoyed the cushion that the Ghost's offered, so I gave these a try. I've also tried the Ravenna line, and loved the lightweight yet stable feel of those. In these, I found a cushioned stability shoe that's good on the joints and dynamic and responsive on the road.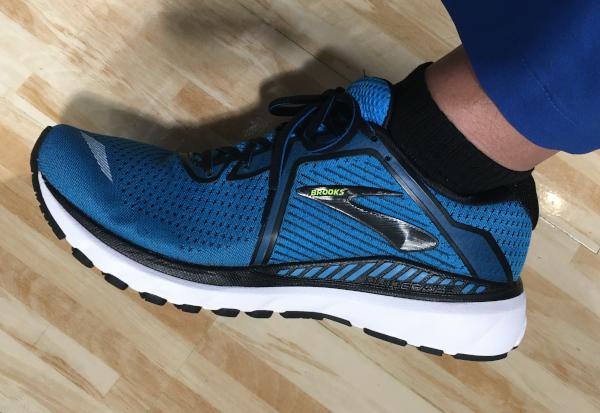 There are many color schemes to choose from, so even the pickiest of people should be able to find a suitable color. Out of the box, these look great.
Initial feel and first impression
I've always been impressed with the craftsmanship and quality of the materials Brooks shoes offers. These are no different. Everything seems solid and well made.
The 9.5 M slipped into my feet like a glove. They are true to size for me. I could feel the "Guiderails," the stability feature right away after putting these on.
Under the foot, they felt a tad bit more firm compared to the Ghost 12, and even though the numbers may not reflect it, I felt a bit closer to the ground compared to the Ghost's. The shoe did feel like it hugged my feet perfectly.
On to the road…
Performance and midsole feel
I've taken these out for several runs of various distances ranging from 5K to roughly 10K, and they felt great! They are plenty responsive, allowing for quick transitions.
To soften the cushion, Brooks has the DNA loft material in the mid-sole. The combination of foam, rubber, and air of this material gave the shoe a soft landing when running aggressively and especially on heel strikes.
If you are a midfoot to forefoot lander, you may not notice this material since it's mostly in the back of the shoe. Overall, the shoe felt firm and responsive. It was not too firm, however. I experienced no knee, ankle, or foot pain with these shoes.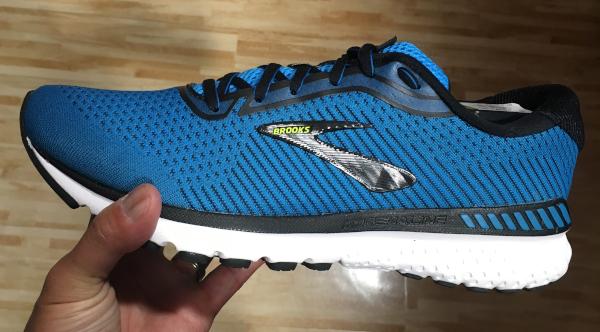 In terms of the newer Guiderail technology, for me, the verdict is still out. I didn't like them initially, but when running in them, it does seem to minimize any excess shift in my foot, in either direction, laterally or medially.
It doesn't correct overpronation as much, however. So if that is your main concern, just know that it seems like this is a shoe for mild overpronators, not severe overpronators, in my estimation.
Sole/tread
On the bottom of the shoe, you can see the segmented blown rubber tread. Nothing to complain about here. Very good traction. Only time will tell, but I have not been disappointed by Brooks in the past in terms of the tread.
You can visually see the DNA loft material, which occupies the bottom heel and midfoot area, mainly in the lateral aspect of the shoe. For a stability shoe, the tread pattern and bottom of the shoe is flexible.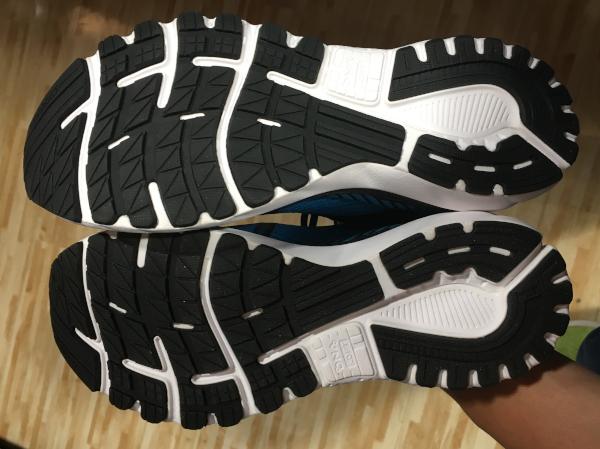 However, as a plantar fasciitis sufferer, it was stable enough to not exacerbate my fascia. It's certainly more flexible than the likes of the Asics Gel Kayano.
Overall
It's a solid everyday trainer. I'm confident I can tackle much longer distances with these. Not the lightest shoe out there, obviously, so I would still lean toward the Ravenna line for speed if that was a top priority.
But this shoe offers a great blend of stability and cushion, and it is not super heavy either. So, it's a good every day trainer. Good on your joints if that's a concern. Overall, it's a smooth ride that will likely last you many many miles. You can't go wrong with the new Brooks Adrenaline GTS 20.
Good to know
The Brooks Adrenaline GTS 20 is a stability running shoe, updated to become more breathable and lighter. Compared to Adrenaline's previous versions, this shoe offers a softer and springier ride to help reduce overpronation.
One of the noteworthy changes in this version is the use of overlays. Designers have stripped the midfoot overlays off the Adrenaline GTS 20's upper for a cleaner look.
Another update incorporated in this running gear is the ventilation system. The previous versions employed oval-shaped perforations while this year's version has more uniform openings over the forefoot area that switch into lines around the midfoot section.
Designers also enhanced the performance of the 20th edition of the Adrenaline GTS with the addition of the GuideRails® support system. This GuideRails® technology changes the focus of support from the foot to the knee.
The updated flex grooves in the outsole allow for flexibility. It encourages natural progression and smooth transitions without compromising durability.
The shoe is now lighter and more breathable with the addition of the brand-new dual-layer FlexFit upper. The engineered mesh upper has two components: the inner and outer layers.

The Brooks Adrenaline GTS 20 features stretchable laces for a more customized fit. The soft padded tongue and heel collar are the other components affecting the fit of the shoe.
This Brooks running shoe has a standard shoe length that guarantees to accommodate wearers with narrow to wide foot volume. However, it is recommended to test the shoe first or study user comments about sizing to ensure the right fit. The shoe is available in different sizes for both men and women versions.
Just like the other running shoes such as the New Balance 890 v6 and New Balance Fresh Foam 1080 v9, the outsole unit of the Brooks Adrenaline GTS 20 utilizes a blown rubber material. Blown rubber is an Air-injected rubber that is more flexible, lighter and softer than the traditional rubber materials. This component covers the entire outsole of the shoe, providing reliable protection against abrasion.
Omega Flex Grooves are placed strategically in the outsole and midsole units to allow the shoe to flex and move naturally with the foot. No matter how the foot lands, the flex grooves ensure flawless heel-to-heel transitions with every stride.
Providing excellent stability is the GuideRails® support system integrated into the midsole section of the Brooks Adrenaline GTS 20. The GuideRails® technology helps prevent overpronation by keeping the wearer's foot from excessive movements while running.
The GuideRails® support system fits both neutral runners and overpronators who experience poor running form. This component works like the bumpers on a bowling alley. When the foot attempts to move from side to side, the bumpers will guide the foot back to the middle of the shoe where the stride is more efficient.
The Brooks Adrenaline GTS 20 also features the DNA Loft foam in the midsole unit. Manufacturers packed the DNA loft foam into the crash pad that is located under the heel section. DNA Loft foam wraps around the outside of the shoe, while the BioMoGo DNA foam was used in the rest of the platform. Brooks combined the BioMoGo DNA foam and softer DNA Loft foam to provide superb cushioning and responsive performance, supporting the needs of every trail runner.
The segmented crash pad infused in the shoe enhances cushioning and support. The crash pad flexes with the foot to offer customized cushioning and stability for a smoother heel-to-toe transition for the whole running duration.
A well-structured heel cup is designed to provide a secure heel fit. It keeps the heel in place to prevent the foot from sliding up and down the shoe.
The Brooks Adrenaline GTS 20 uses a brand-new dual-layer FlexFit upper that offers a firm yet flexible fit to effectively prevent overpronation. The stretchy Engineered mesh upper has a lightweight structure that provides breathable comfort. The mesh upper also offers a roomier forefoot area enough to accommodate runners who are wider-footed.
The upper mesh has two components: the inner and outer layers, which are responsible for reducing the shoe's overall weight. The inner layer is thinner compared to the outer layer. It provides a sock-like fit, keeping the foot comfortable and protecting the foot from blisters. The outer layer, on the other hand, is thicker and more durable, keeping the shoe breathable.
The Adrenaline GTS 20 now features a cleaner look with a 3D Fit Printed upper design that provides structure and additional support.
A well-padded tongue is incorporated in the shoe to help distribute pressure across the top of the foot. It gives additional comfort and protection for the foot.
This running shoe uses more uniform openings over the forefoot that switch into lines around the midfoot. These openings vent the moisture and heat out of the shoe to keep the foot dry for a long period of time.
The traditional lacing system is used in the Brooks Adrenaline GTS 20. The tubular laces are a bit stretchy, allowing the user to adjust the tightness of the shoe for a more customized fit.
The Brooks Beast 18 is a motion control running shoe that is best for runners who exhibit moderate to severe overpronation, while the Brooks Adrenaline GTS 20 is stability running shoe that is designed to accommodate runners who exhibit mild to moderate overpronation.
In terms of technologies, both running shoes feature the DNA loft foam and crash pads into their midsole units to provide unparalleled cushioning and protection to the user. These shoes also utilize an engineered mesh upper that offers lightweight, breathable coverage.
In terms of running performance, The Brooks Adrenaline GTS 20 can offer a lighter and faster running experience because the shoe only weighs 302 grams which is lighter compared to the Brooks Beast 18 that weighs 377 grams.
Like the Brooks Adrenaline GTS 20, the Brooks Adrenaline GTS 19 is also a stability running shoe designed for runners who experience mild to moderate overpronation.
The improved Adrenaline GTS 20 is lighter than its predecessor, the Adrenaline GTS 19. The designers were able to reduce the weight of the latest version by omitting some of the stylistic add-ons in the upper mesh section.
In terms of performance, the 20th iteration has retained the responsive and cushioned ride, as well as the traction capacity and breathability of its predecessor.
How Adrenaline GTS 20 compares
Corescore: 54-57
3 shoes (0.32% of shoes)
Corescore: 58-61
4 shoes (0.43% of shoes)
Corescore: 62-65
16 shoes (2% of shoes)
Corescore: 66-69
18 shoes (2% of shoes)
Corescore: 70-73
53 shoes (6% of shoes)
Corescore: 74-77
101 shoes (11% of shoes)
Corescore: 78-81
245 shoes (26% of shoes)
Corescore: 82-85
240 shoes (26% of shoes)
Corescore: 86-89
196 shoes (21% of shoes)
Corescore: 90-94
61 shoes (7% of shoes)
Price: $40 - $70
114 shoes (12% of shoes)
Price: $71 - $101
269 shoes (29% of shoes)
Price: $102 - $132
273 shoes (29% of shoes)
Price: $133 - $163
170 shoes (18% of shoes)
Price: $164 - $194
60 shoes (6% of shoes)
Price: $195 - $225
37 shoes (4% of shoes)
Price: $226 - $256
10 shoes (1% of shoes)
Price: $257 - $287
1 shoes (0.11% of shoes)
Price: $288 - $318
2 shoes (0.21% of shoes)
Price: $319 - $350
1 shoes (0.11% of shoes)
Weight: 3.5oz - 4.6oz
6 shoes (0.77% of shoes)
Weight: 4.7oz - 5.8oz
16 shoes (2% of shoes)
Weight: 5.9oz - 7oz
41 shoes (5% of shoes)
Weight: 7.1oz - 8.2oz
114 shoes (15% of shoes)
Weight: 8.3oz - 9.4oz
192 shoes (25% of shoes)
Weight: 9.5oz - 10.5oz
193 shoes (25% of shoes)
Weight: 10.6oz - 11.7oz
153 shoes (20% of shoes)
Weight: 11.8oz - 12.9oz
49 shoes (6% of shoes)
Weight: 13oz - 14.1oz
14 shoes (2% of shoes)
Weight: 14.2oz - 15.4oz
4 shoes (0.51% of shoes)