Probably the only daily stability shoe in our list that's bouncy, and at the same time, supportive. Say hello to the Brooks Adrenaline GTS 20! It doesn't have an obtrusive nor a rigid ride, making it fit for mild to moderate overpronators. And generally, its supportive features just make it an outstanding choice for distances ranging from half marathons to full marathons.
Pros
Aligns the knee/hips/ankle
Plush, well-cushioned
Fast and light
Highly durable
True-to-size
Great heel lockdown
Cushioned Achilles area
Many color options
Brooks Adrenaline GTS 20 review
The Brooks Adrenaline GTS 20 is the best stability technology yet from Brooks, springy and solid responsive feel on the road, with equal plush cushioning than the Levitate or Ghost.
This is a light and durable yet stylish shoe for walking or other types of cross-training as well. It's great for mild-moderate overpronators. This shoe can do just about anything but is ideal for me on long runs and marathon/half marathon training.
The makings of Adrenaline GTS 20
Having spoken with one of the developers of this update to the popular Brooks line, I learned it was modeled after the success of the Ghost 12:
"After listening to runners the past several years, we clearly wanted more bounce, responsive foam, and a supportive ride that was not heavy or clunky."
Voilà! The Adrenaline GTS 20 appeared after a few years of R&D. This shoe provides exceptional stability support with "holistic" BioMoGo DNA & DNA LOFT with built-in GuideRails to support overpronation. It is an ideal all-around trainer for those who have overpronation or arch issues.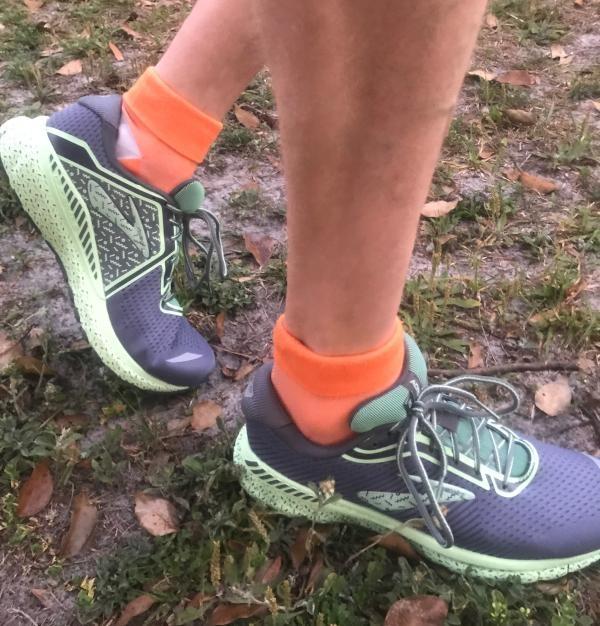 The enjoyable ride of GTS 20
All of the above combine to produce a shoe that thankfully is not overly-plush/sinking cushion, and an extremely fun ride.
I took the Adrenaline GTS 20 out for many different runs, but most were longer road runs in my lead up to the marathon. It gave me the feeling of being on trails (which I love); it was so supportive and well-cushioned.
Having run in the Ghost 12 and Bedlam 2 recently, this one is the sweet spot right in the middle but leans more towards the ride feel of the Ghost, using the same sizing and similar amounts of comfort in the ankle and heel areas.
I can confirm that this is a much faster, more responsive ride with great transitions, while still supporting my overpronation. It keeps a secure and comfortable locked-down heel that produced no knee pain or shin splints for me, even on long road runs.
I did break a cardinal rule and even bought a brand new pair the day before my target marathon performance (having run in this same shoe training the past few months), and it was perfect.
Not a blister or sore spots. What more could you ask for?
Adrenaline GTS stands out from other stability shoes
One of the major accomplishments of new EVA foam technology such as this (DNA LOFT) is that it is ultra-soft and responsive at the same time, without sacrificing durability.
As a moderate overpronator with flat feet, this shoe provides incredibly lightweight support while focusing on the overall stride feel, and details such as knees/hips alignment.
Brooks is a dedicated running shoe company and has paid attention to recent research showing that overpronation should not be corrected by hefty stability foam.
But, rather, the stability foam should gently guide the foot into holding the right position, leading to good overall alignment (hence the "Guide Rails" system moving to all-around support rather than just putting foam on the inside arch of the shoe).
The ride of this shoe is incredibly light for a support shoe. It is very smooth thanks to this GuideRails technology and new upper modeled after the popular "Ghost 11/12", featuring a supportive heel that is not a heavy or dense material (see photo).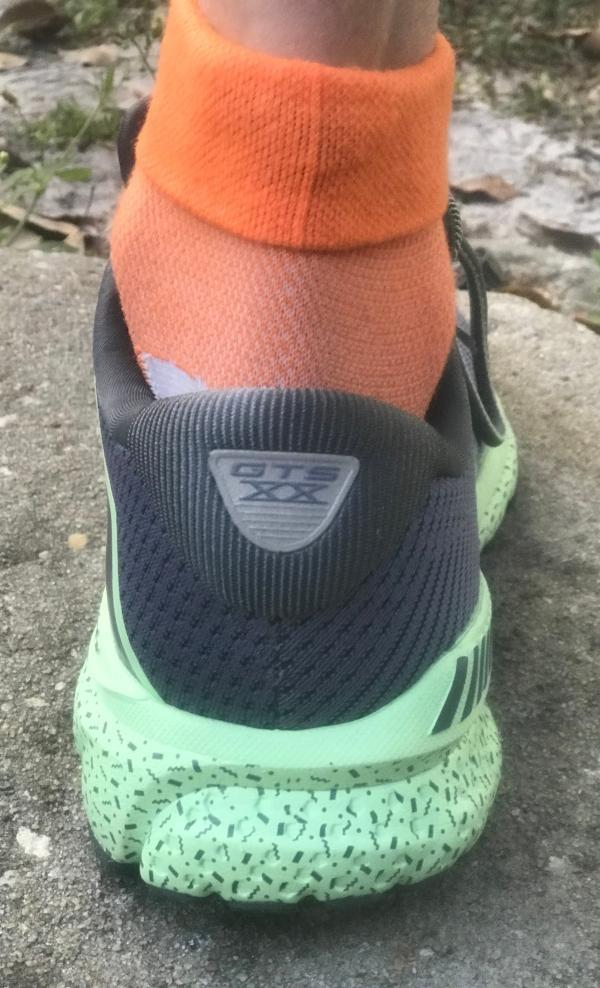 Those of us with overpronation (about 30% of runners) that has caused some nagging injuries or poor stride results will probably enjoy this fresh/minimalist approach to motion control.
It doesn't feel like your foot is being forced into a certain position or form every step, but is a much more natural feel. When I was putting in the long miles, it definitely made a difference that I could feel in my knees and calf/Achilles, and shorter recovery of problem areas.
It also has just enough cushion to allow more responsiveness/energy return than I've gotten from similar weight shoes. I felt it was easy on my legs at most distances' training, with a springier transition compared to other more cushioned shoes (Hoka Clifton, NB 1080) at runs of the same distance.
Lastly, no rubbing or friction points I could find.
DNA LOFT technology and weight
The new DNA LOFT midsole technology is wrapped around the entire shoe and provides a responsive and fast ride due to this construction as a new type of EVA foam.
The weight may be fractions of ounces heavier at 10.5 oz than the non-support models like Brooks Ghost in a comparable size, but I believe this is a small price to pay for great for training in general.
As mentioned previously, it is balanced with both a cushioned and springy responsiveness ride with good transition for midfoot to forefoot strikers, even at my 7:30 to 8 min/mile tempo pace.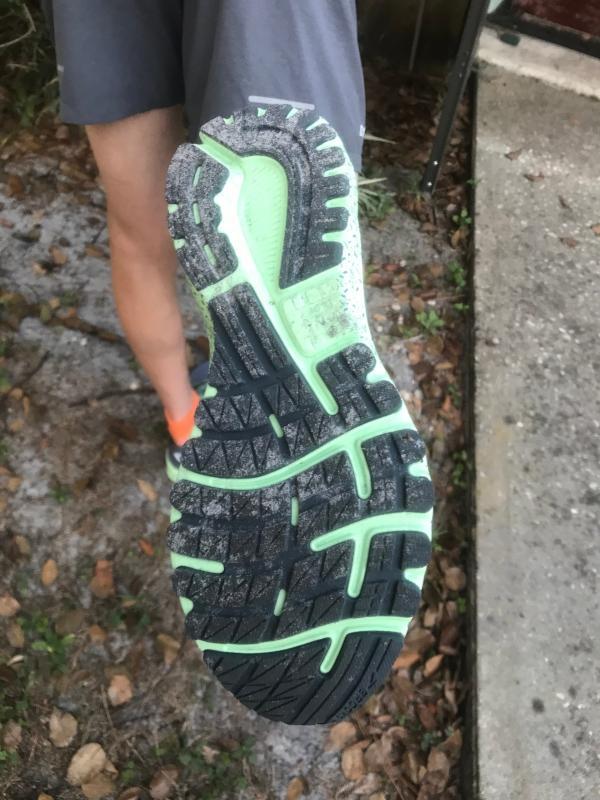 I could still feel the terrain and pavement well at race pace, which is part of the joy of running for me. More importantly, I never felt I was sinking into the midsole or that my shoes were getting stuck anywhere in the gait cycle, and this, to me, indicates good responsiveness.
Even more telling of the new EVA foams being developed, this responsiveness has continued to feel the same for me after a few hundred miles.
So many options to pick from
With regards to style, they went all out to diversify and offer tons of cool patterns and colors for all runners' tastes. I especially liked the retro/throwback styles in both men's and women's.
Detailed photo on one of the retro styles below w/ inner arch GuideRails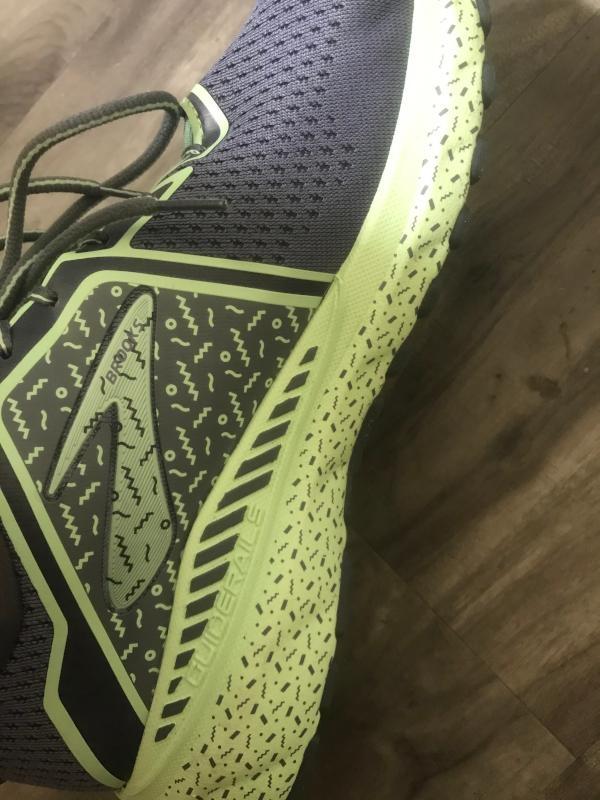 Also, the women's line has several "neutral" options that a narrower fit runner can easily slip into. Just remember to go one size up from your normal men's size.
So, a men's 9.5B (which is narrow for men) would be a women's 10.5 (B, the normal width for women), and so forth. For a foot on the narrower side, the B fit is snug and close to perfect (see photo below).
The upper on Brooks Adrenaline is pure pleasure
The "3D Fit Print" upper hugs the heels and wraps around the arch very securely, in the appropriate width and size. Sizing is very similar to other Brooks shoes, and therefore I needed a B width with my narrow feet.
The GTS 20 was still very roomy in the toe box due to the material and stretch, soft and thin yet has proven to be strong and durable! The outer mesh is completely lined with an underlay with large circular holes.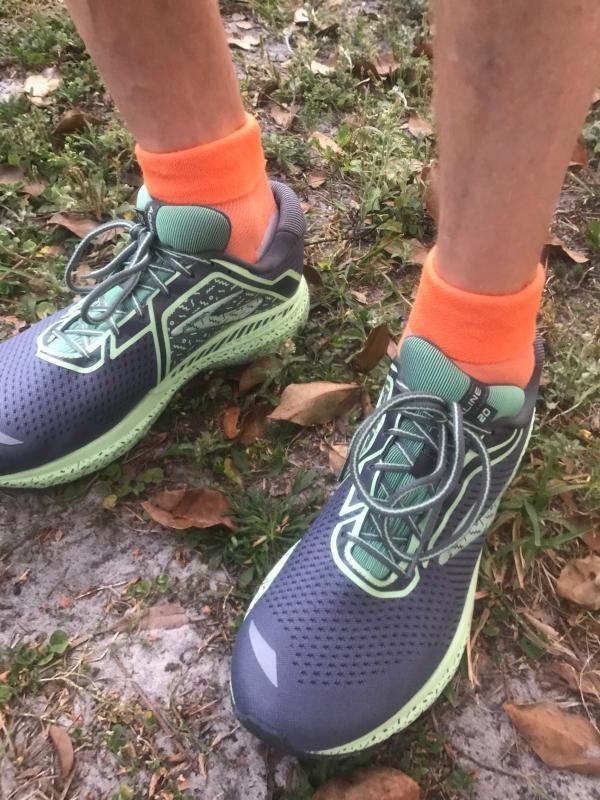 The heel area is supportive, and the Achilles has nice cushioned padding, similar to the Ghost 12. The tongue isn't built up and folds over the laces/eyelet area seamlessly, which I love as this is one of my biggest complaints in running shoes.
The laces are exceptional, durable, and smooth, what I would call fitting for the Tesla of support shoes, glide very easily through lacelets and tie well, which also really cinch up well with the knit upper.
Another thing I do really like about this shoe (and the Bedlam/Ghost series) is that you can easily adjust the overall fit in just a few seconds. Therefore, if you go from a pleasant walk to a spontaneous gym visit or run, you can tighten/loosen them quickly.
This shoe will last
There are no issues at 200+ miles for me. I have no concerns at all with the durability of this shoe, and it has worn exceptionally well. It has a greater amount of rubber sole in key areas than other cushioned shoes in the Hoka line, for example.
This may not be an issue if most of your miles are on pavement, and depends on other factors of course — please note I am a 140 lb midfoot striker.
As a coach, I would recommend rotating them with another favorite shoe for speed workouts once a week, if you do them, for some "off time".
My shoe story or how I came to Brooks Adrenaline
If I were to compare this to a car, it would be The TESLA of Support, with built-in speed & responsiveness. All that technology and attention to detail has once again paid off for Brooks, and us!
I just finished my first marathon in a decade in these, the Atlanta Marathon during the same weekend as the Olympic Trials. Most of the elite were wearing Alphafly or carbon-plated technology, meant for max speed and not daily training.
For the rest of us, we need a shoe that helps us to prevent injury and feels good logging long miles, but light enough to race in. The Brooks Adrenaline update is a fantastic option for those of us that are slight overpronators (mild to moderate).
After suffering Achilles tendonitis and calf issues for the majority of my training, a friend of mine who is my local running store owner and technology guru suggested I add a bit of stability.
"Stability" sounded like a dirty word, for old men and injuries, so I was reluctant. However, I learned that this new technology is not the stability shoe of the '90s and '00s, or even a few years ago.
But, it is, in fact, more of a guidance system that does not add a significant amount of weight. It was definitely worth it for the few extra ounces over my go-to shoe, the Ghost 12.
This is Brooks' updated and newest stability shoe with GuideRails technology, which provides adequate support for pronators, while giving that cushy and responsive ride you've come to expect from Brooks recent breakthrough DNA BioMoGo & DNA Loft combination.
Final thoughts on Brooks Adrenaline GTS 20
To paint a more concise picture, it was the best overall stability/supportive shoe of a dozen I have worn/tested, and a solid improvement on the Bedlam 2's use of GuideRails just this past year, which I reviewed as well.
The Adrenaline GTS 20 a decent stack height and drop (similar to the Ghost), but less than a traditional support shoe, and supports your body from the hips/knees down with Brooks' newest technology, instead of focusing on the ankle and arches.
It has a good flex point midfoot in the shoe and provides a smooth ride with a good transition for me. The DNA LOFT and BioMoGo feel springy and responsive while making the road feel like soft trails.
The shoe is very breathable and flexible due to its 3D Fit knit upper and offers plenty of room in the toe box while hugging the heel and locking it down well.
If you are a diverse distance runner with overpronation looking for a supportive daily trainer and walking shoe combo and want a very versatile shoe that feels great all day, the Brooks Adrenaline GTS 20 is for you.
As mentioned in the title, this could be the best all-around shoe of the decade for efficiency and cost (think economy TESLA), and I'm sure Brooks will keep trying to improve upon it.
Overall, I'd say it's definitely worth a try to get a feel for this new option in stability technology and see if it works for you!