Brooks Adrenaline GTS 18 Specs
12mm drop
10 oz weight (verified)
Stability shoes with med to high arch support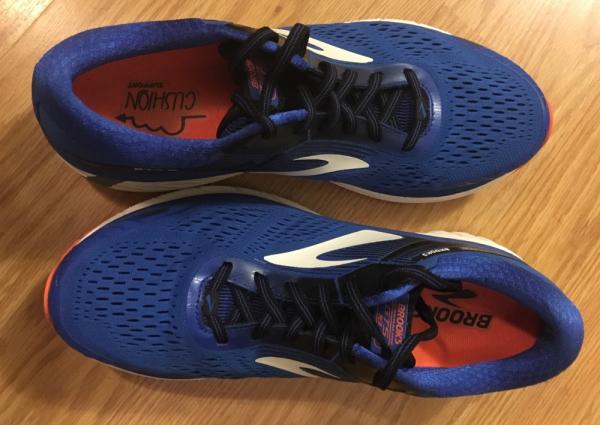 Competition
Pros
Breathes VERY well
Not as large a toe box creates a more snug feel (a pro for me)
Enough cushioning for heel strikers but responds well to speed
Excellent tread work
Strong arch support
Cons
More aggressive stability control (pro or con depending on how much you pronate)
The stiff midsole doesn't allow for the smoothest of transitions
Warmup Pitch (the runner's version of an elevator pitch)
This version of the GTS reminds me why I fell in love with Brooks shoes over 10 years ago.
The GTS 18 feels very light and fairly responsive despite terrain or the type of running (slow miles or quick sprints). From mile 1 to mile 12 (the longest I ran in these shoes) my feet felt supported, breathed well, and never got tired due to lack of cushioning or lack of responsiveness.
Despite the greatness, this shoe is first and foremost a stability shoe.
I have a neutral stride but have worn GTS models in the past without any issues. Unfortunately, I learned that after 4 or 5 miles in these shoes my hip would hurt for the next few days.
I considered maybe it was me but I can go for far longer in my other shoes and have no pain. This is why my score was not higher.
So if you don't need stability then seek out the Launch or the Ghost if you want a Brooks but if you need stability then the GTS 18 is your shoe for the next 500 miles!
Weight, Cushioning & DNA Sole
At only 10oz (advertised and verified) the shoes feel light but the cushioning is more than supportive enough.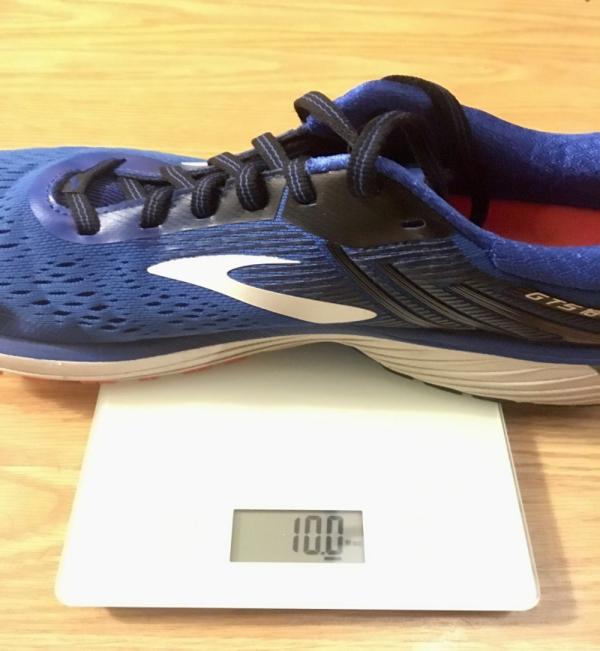 Unlike some other makes and models of shoes, I did not need to use body glide on my heel area to prevent rubbing issues – a welcomed relief!
I would suggest wearing them around the house to allow the DNA sole to adjust more for your individual foot and then start with smaller runs to make sure you are comfortable with the structure.
You'll find the cushioning is still strong but the shoe has now molded nicely and is ready to go.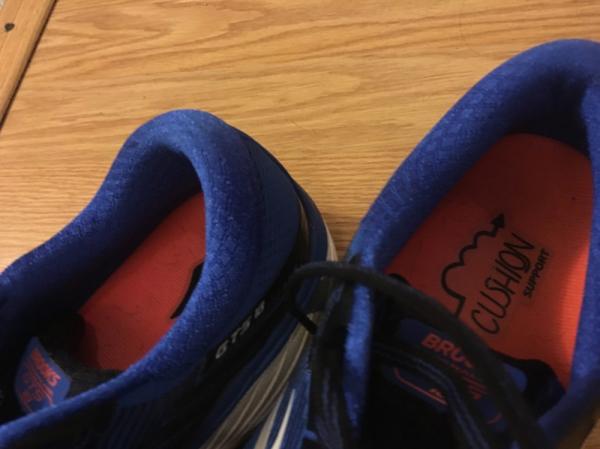 I noticed strong arch support from the moment I opened the box which continued through close to 70 miles (my current mileage).
Brooks structured the sole and insert to have strength enough to provide the stability and support throughout the life of the shoe.
You'll likely get 500 miles from these shoes depending on how hard you push them. No matter what mile I was on or what type of run I did (sprints, tempo, recovery, or long) the shoes felt light on my feet but with good cushioning.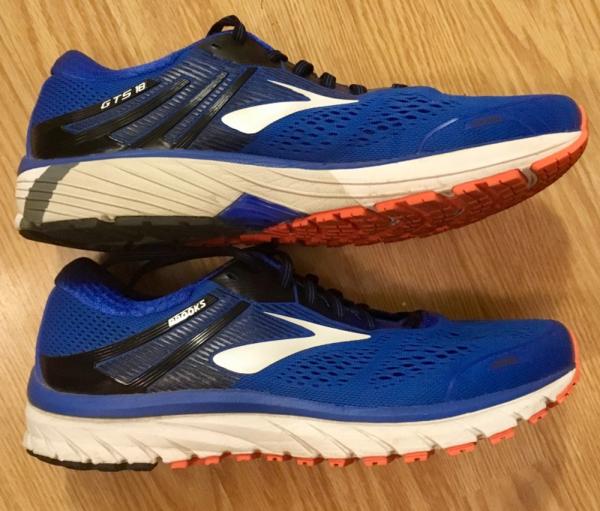 Upper Design & Toebox
Brooks naturally designs their shoes with wider toe boxes.
This is great for most and slightly annoying to me because I have a narrow foot – though I'd still rather have a wider toe box to allow my toes to spread than a narrow or restricting box.
The GTS 18s are slightly narrower than the Launch (my other main pair) but in no way are they restrictive. There is still plenty of room but just not an excessive amount.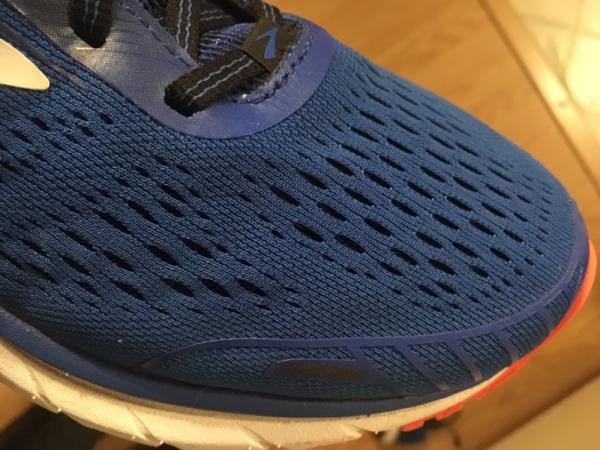 As with other Brooks models, the tongue has a lace hole to help hold it in place. The laces offer a strong lock on the foot which prevents heel slipping without having to worry about using a lace lock.
The structure of the upper area allowed me to tighten my laces without ever feeling as if they were hurting.
This is because the upper gives just enough to keep a stable and solid amount of pressure on the top of the foot throughout the run.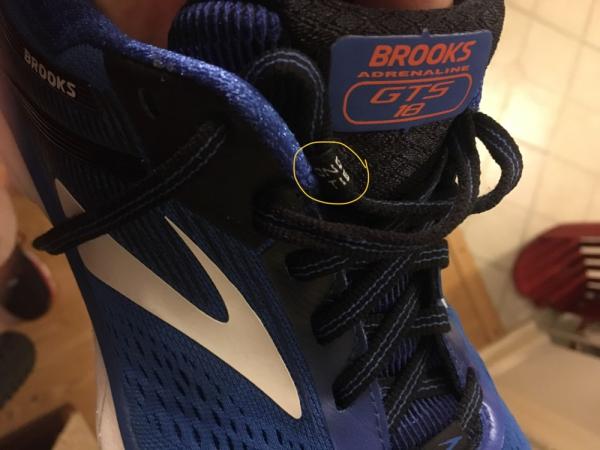 The upper's fabric is light allows for better air flow than I think even my Launches did – which is nothing short of impressive.
In past models, my feet often got hot after so long but that was never an issue with the GTS 18s.
Tread & Sole Stiffness
The tread on the GTS 18 is ready for anything from light trail to road.
Even on wet pavement, the shoes gripped well and my feet never slid. On trails with plenty of gravel sections my feet never needed more tread or support.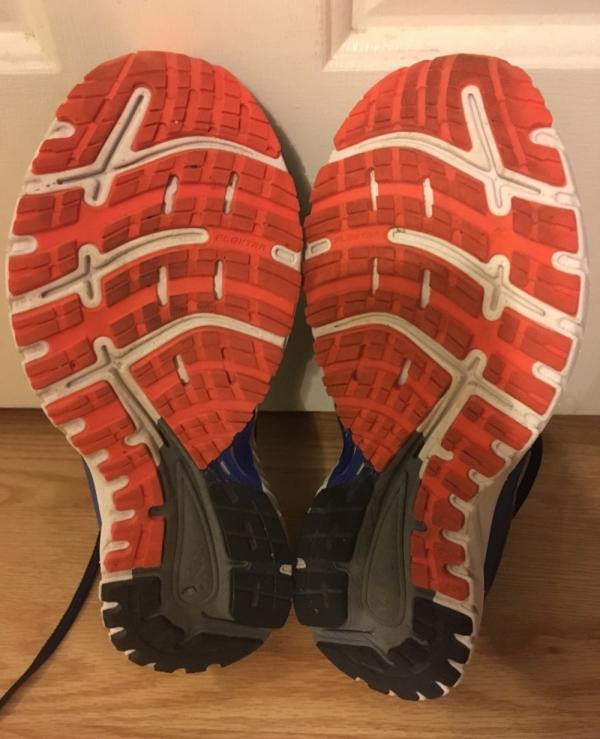 The tread comes up on the toe just enough to protect that area – as is mostly standard with this type of running shoe.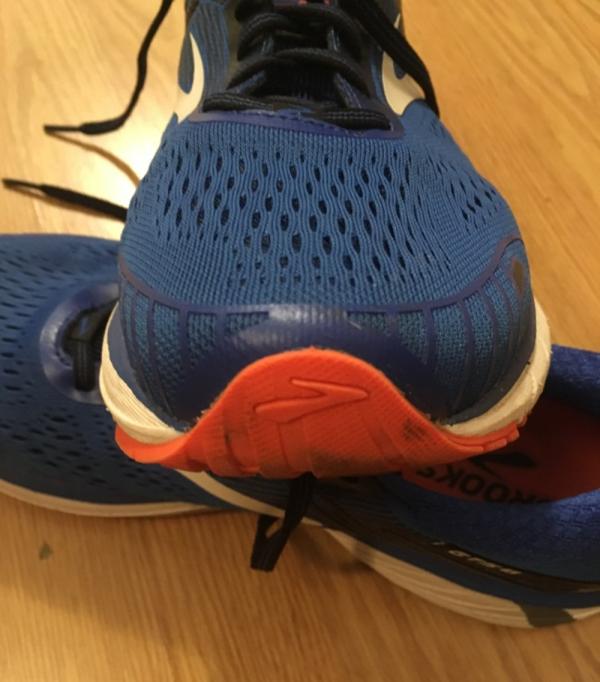 The middle of the sole and tread area is very strong which create a less smooth transition however, this is exactly what you want in a stability shoe meant for any type of terrain.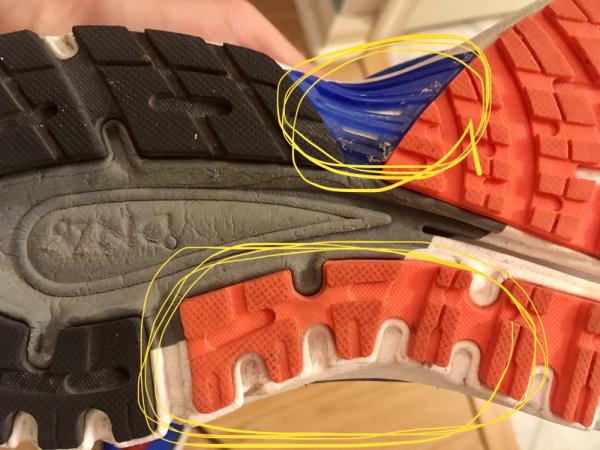 Overall
The Brooks GTS 18 is an amazing shoe – as long as you need a stability shoe.
I, unfortunately, cannot make this a part of my regular rotation because they affected me in a way that creates pain in my hip.
They breathe well, responded consistently, and have more than enough tread for anything short of going all out aggressive trail running (please seek an appropriate shoe if that is your intention).