I am a 41-year-old neutral runner with a mid-foot strike, about 165 pounds and 6' 1" tall.
I race all distances, from 5ks to marathons, and spend at least half of my year training for an upcoming marathon.
Baptism by Flood
My Brooks Adrenaline GTS 18's came in the mail and I immediately threw them headlong into the middle of my marathon training.
I wanted to get a complete picture of the Adrenaline's training ability, so I did not hesitate to use them exclusively for two weeks of 54-miles-per-week marathon training that included easy runs, steady-state aerobic runs, interval training, track speed work, and long runs, including a 20-miler (see screenshot of my training spreadsheet).

My first workout in the Adrenaline 18's was a 5-mile neighborhood run and it happened to be pouring down rain. These shoes was baptized by flood, and they rose to the challenge.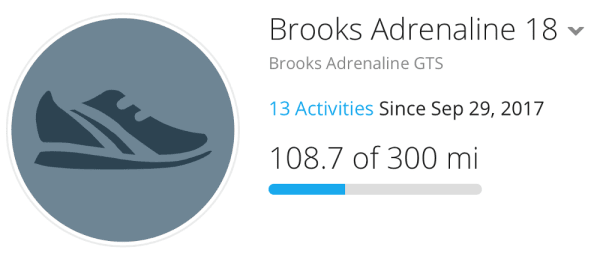 Out of the Box
The first thing I noticed about the fit of the Adrenaline 18's was that they were very plush, fitting my feet very well. I also enjoyed the spacious fit in the toe box, allowing my toes to move and splay freely.
They were narrower in the mid-foot than what I was accustomed to, but my feet still had plenty of space. I'll admit, I was skeptical that the shoes would feel clunky since they had so much more rubber on the bottom than I was used to.
The only thing I did not like about the feel of the Adrenaline 18's was the tall heel. More on that in a minute.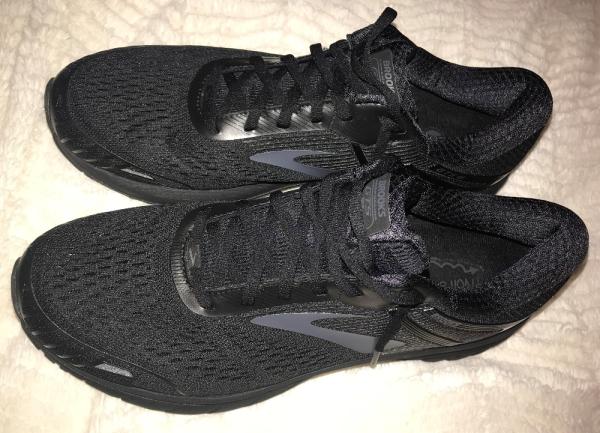 On The Road
As I noted above, my first run was in the middle of a rain shower. Not only that, but my neighborhood roads are rough and uneven, with many potholes and transitions from asphalt to concrete.
Add to that concoction, the periodic vehicles that force me off the road and onto the sidewalk – and vice versa – and the few places where the sidewalk ends, forcing a trail run, and you have a recipe for a run that resembles parkour training.
I fully expected this heavier Brooks stability shoe to be bulky, boxy, and dangerous for a run in my neighborhood, much less a run on wet roads. Not only did the Adrenaline 18's show themselves to be stable on unstable surfaces, the traction on wet surfaces was top notch.
I had run in Adrenalines in the past and did not have a good experience, so I admit I had a negative expectation. That's why I call my Adrenaline 18's my "Stealth" shoes: They came flying in under my radar and shocked me with their abilities on the road.
The only areas of concern I found in my Adrenaline 18's on the road
Heel fit seems a little loose on the run. I experienced some movement in the heel, causing a small blister to form. I tried to get the shoes on as tight as comfortably possible but still found a little slippage in the heel from time to time.
Heel-to-Toe drop seems excessive. I guess I understand the need for some drop in a stability shoe, but it seems to be too much in the Adrenaline 18's. It's almost as if Brooks WANTS me to heel strike. I'm not used to it, so I had a little heel dragging periodically.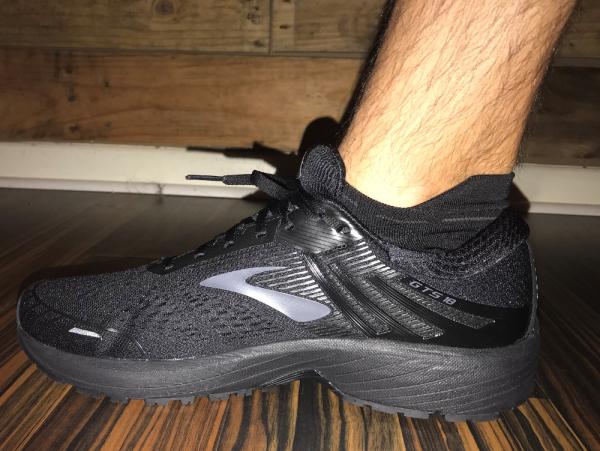 On the Track
Every Monday is #TrackMonday in my home, so I took my Adrenaline 18's to the track. I found them to be cumbersome for 800-meter intervals. They were not flexible or responsive enough for my tastes. It seems obvious to me that the shoe is not built for speed, but for daily training.
Pros
Non-Intrusive Stability
Great Traction
Plush
Durable
Not Too Boxy; Aerodynamic
Cons
Excessive Heel-to-Toe Drop
Too Cumbersome for Speed Work
Heel slippage
Heavy on the Long Hauls
Conclusion
While the Brooks Adrenaline GTS 18 is a very comfortable shoe for wearing, walking, and the occasional short, slow run, I would not run in these full-time.
If I were a beginner with a lot of foot movement, then maybe this shoe would be a good recommendation. In my opinion, however, this shoe would only serve to coddle and support weak feet, without doing anything to strengthen the feet or correct bad patterns.
That being said, I experienced no injury while running in these shoes.