Today is an ultra-competitive and innovative time in the running shoe industry, full of new varieties of cushioning, engineered mesh, woven uppers, and 3D printed technologies. It cannot be easy to get to the front of this fast-moving Peleton, but I believe Brooks is moving up.
This new Brooks Adrenaline GTS 18 has certainly not been left to die in the back corner of some engineering lab out in Seattle, this 18th version is clearly their best effort to date. It is truly a bold update to their bestselling model encompassing so many changes.
Let's have a good close look at the new Brooks Adrenaline GTS 18 and see if it is really lighter, softer, faster, more responsive and just as durable as its previous versions. Personally, I do find it far more aesthetically pleasing.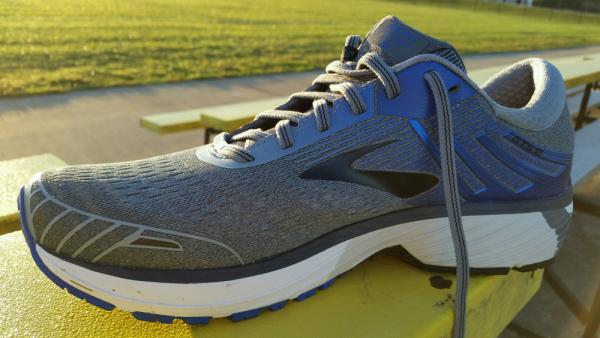 Founded in Philadelphia, Pennsylvania in 1914, Brooks Sports, Inc. is a manufacturer of quality running shoes and sports apparel based in Seattle, Washington, U.S.A.
From the bottom up, the outsole has a new design from heel to toe, a pattern that really does run a little quieter than last year's GTS, and provides a little more ground contact, increasing both durability and traction.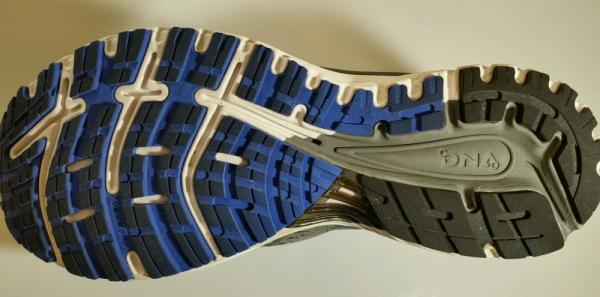 The outsole heel area is made of HPR-plus, a durable high abrasion resistant rubber compound and in the forefoot, a more cushioned blown rubber is used.
The midsole cushioning uses the proven DNA-BioMoGo, making for a more responsive softer ride. However, a longer run (discussed later in this review) will tell us more.
Image shows soft forefoot cushioning at green arrow and firmer material used for pronation control at red arrow.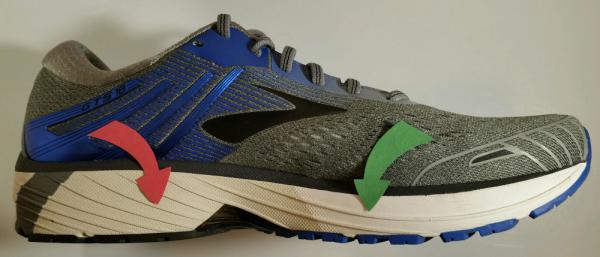 The uppers are totally new and composed of beautifully engineered mesh with 3D overlays and not a stitch to be found other than on the panels of material along the rows of shoelace eyelets.
The stitched on Toebox is gone, made unnecessary with the engineered mesh and strategically placed printed overlays.
As with last year's model, flat laces and a well-padded tongue add to comfort. There is plenty of ankle clearance, even when wearing thick socks and running on an uneven roadway.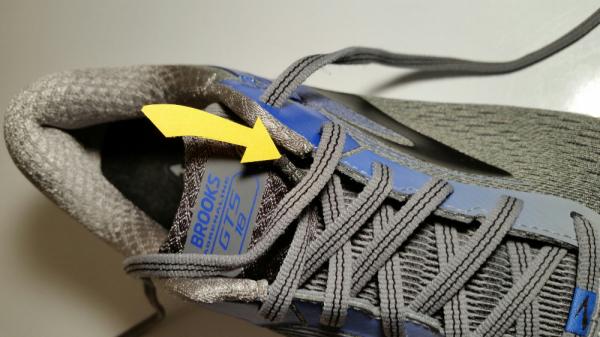 The offset lace keeper on the tongue does a good job of keeping the tongue from slipping. However, the 360-degree reflector coverage enjoyed on last year's version is now sadly gone.
The Run
This is the best time of the year for running; depending on where you live it is either springtime or autumn.
On the first run with these new Brooks, I was out the door at 3:00 with Sara my terrier dog, immediately I knew that these shoes were going to be fun.
Later on, I went back out at 6:00 in the morning fog for an easy jog that turned into a little longer 12k tour of Southern Indiana. It was during this second run that the Adrenaline GTS 18 showed me that a quick a turnover is so much easier than in any shoe I can remember.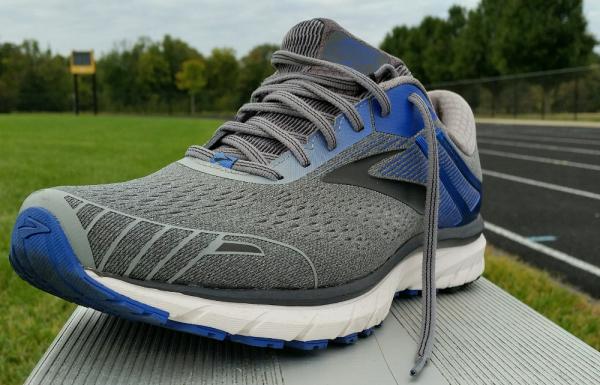 Generally, I run mostly on the midfoot, with a little touchdown of the heel, these shoes make it easy to run fast.
Runningwarehouse.com has provided a "First Look" that mentions an update to the midsole. Clearly, something has been done since last year's version GTS 17, these are quicker, time will tell.
The BioMoGo and DNA have always been at the forefront of innovation with cushioning materials.
This morning's run, simply stated, was utterly enjoyable, even the hills on my daily route seemed easier.
It may sound like this is coming from a Brooks salesman but I assure you, I am not. If you will read my recent critiques of Brooks Launch, the Asics Kayano 23 and 24 models, you will find that my reviews are both honest and acute.
At some time, a decision was made to eliminate the reflectors from this year's model, I think this was a mistake.
Specifications
Size 45 EU 11.5UK 12 U.S.
Weight 326 gr. 11.5 oz.
Arch type Medium
Support Stability *
Ankle clearance Yes
Flexibility Medium
Heel-Toe offset 12mm
Above toe Clearance Medium-Low
Toe box Width Medium
Miles Tested 60
Tester's weight 67 kgs.
Reflectors None
Now, a thought concerning light to moderate stability shoes. You see, I believe stability features are like guardrails on a mountain road, they keep your Volkswagen from plummeting into the village below, proving themselves reassuring and non-imposing, unless needed.
*Neutral runners should never shy away from a shoe such as the Adrenaline GTS 18 simply because of such features.
After 50 miles
After ten more days in my new shoes, the outer soles showed almost no indication of wear. The insert/sockliner is breaking in and allowing for a very little bit more room above my toes.
The Adrenaline is proving to be one of my favorites, I am going to begin rotating between the GTS-18 and the Asics GT 2000 5.
I am still not sure which shoe I will bring to the starting line in November, either the Adrenaline GTS 18 or the Asics GT 2000 5.
Last year on the morning of the race, I sat quietly, looking at my Nike Pegasus shoes and the older Asics GT 2000, trying to decide on the shoe for the big day. One hour prior to the event I picked the Asics and went to the race.
Right out of the box, you can tell that the18th version really is a totally different shoe.
The 18th version has moved way up the road, ahead of last year's model, a major leap forward, and not simply cosmetic changes.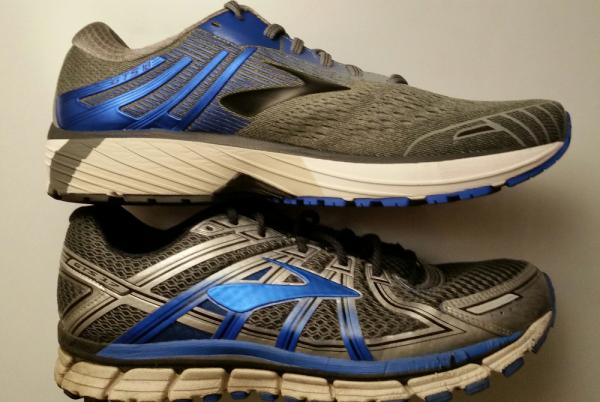 First, I must admit that I have never owned a pair of the Saucony Omni, however, I have heard from several reliable sources that the Omni is analogous to the Adrenaline and, maybe a true alternative.
How does this new model compare to Asics GT 2000 5?
The Brooks is more flexible, 49 grams lighter and feels faster than the Asics GT 2000-5. The GT 2000 has a lot more outsole rubber thickness than the GTS 18, paying a weight penalty but gaining comfort and durability.
The Asics has better forefoot cushioning with another weight penalty for having the gel. Asics gel does not push back at you as you pick up the pace in the same manner as the Brooks DNA.
The Asics GT should outlast the Brooks GTS 18 but the GTS would likely out-run the GT.
Best Suited For
A neutral-stability runner training and competing in the half marathon, weighing less than 90 kgs and with a medium arch. The heel to toe offset is a little high at 12mm and could take some getting used to.
Summary
This is going to be a spectacular 18th year, for the GTS! Their newest success is both fast and lightweight, with a quick geometry that encourages a rapid turnover.
This newest addition to the GTS line will certainly become a stand-alone favorite among runners of every level! However, the race is not over, Paris is not yet in sight.
And rumors have it, that the new Asics GT 2000 6 will also have upgrades as well and the added advantage of FlyteFoam!
Thanks for stopping by. Now, go run!