Now, this is what we call fun! The ASICS Novablast is really springy (trampoline-like) and comfortable, we'd take it anytime for our long-distance runs and tempo sessions. Where it runs to a problem is that the cushioned midsole renders the ride unstable. But in other news, it's a true and solid ASICS when it comes to the durability department - it lasts long! This is not a usual
ASICS shoe
by any means!
Pros
Remarkably bouncy
Energetic and smooth ride
Perfect for long and tempo runs
Good airflow
Feels lightweight
No wear-and-tear 60 miles in
Cons
For even and flat terrain only
Adaptation period needed
Who should buy ASICS Novablast
We highly recommend the shoe to runners looking for an exciting and cushioned shoe with a really bouncy ride. It's better for more experienced runners, especially those in search of a shoe for long distances and tempo runs.
Without exception, it's for runners with neutral pronation and those who run on even and flat surfaces.
Who should NOT buy the shoe
Look away if you are:
A heel striker
A beginner
Running on grass, track, mud, uphills and downhills
Need stability (arch support) in running shoes
Looking for a more budget-friendly shoe
Looking for a shoe for sprints or races.
Good alternatives:
Almost a trampoline: this is THE reason to buy it
The cushioning in ASICS Novablast midsole offers a truly trampoline-like experience. This is the shining star of the shoe and we consider it the primary reason for getting the Novablast.
It is exceptionally bouncy, springy, and energetic. We might even suggest that it's got the highest among all ASICS shoes to date!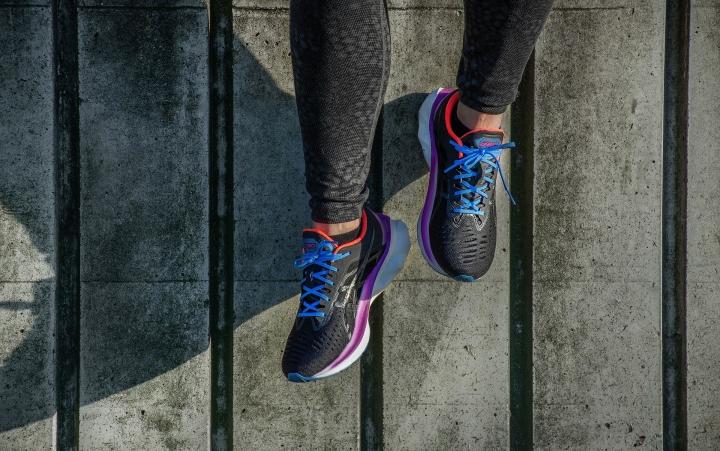 Horrible stability
Be warmed however, this is not a stable shoe. There is a lot of lateral movement that you don't want in a running shoe, especially if you have flat feet or experience overpronation.
Apart from that, this ASICS shoe is likely to feel wobbly in the following scenarios:
when heel striking
when turning
on uneven or, God forbid, soft terrain
Size: Runs too long and wide (forget foot-hugging fit)
For our medium-width feet, it felt like there was too much room in the Novablast, especially in the toebox.
All this led to a poor lockdown and even in-shoe foot slippage!
Expert advice:
If you buy a regular size, try different lacing techniques, or
Try half a size smaller shoe.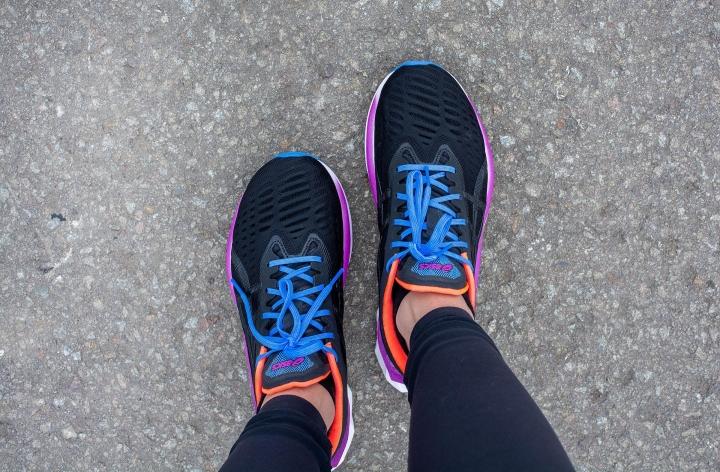 Smooth & energetic ride in the Novablast
Even though it looks weird, the new midsole provides a smooth and deeply cushioned ride. It offers incredibly soft landings complemented by energized toe-offs. And in between these two, we also experienced wonderfully smooth heel-to-toe transitions. We clearly felt like the shoe was propelling us forward.
But for the record, it is not the same pronounced rocker that the ASICS EvoRide and the ASICS GlideRide are famous for.
You need to get used to it
Since it's unstable and cushioned like hell, you may need some time to learn how to run in this shoe. It is... something else.
So, if your initial impression goes like this "OMG, this is not going to work!," do give the Novablast a chance. The shoe takes its time to impress you.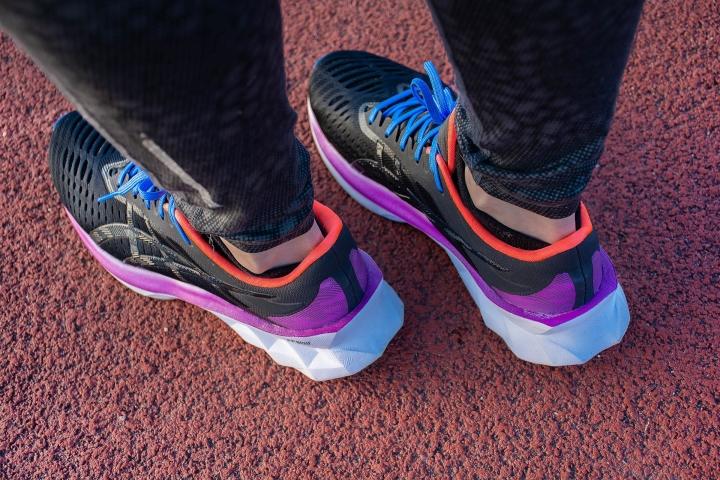 Works on flat AND even surfaces only
Due to its unstable design, we do not recommend running in Novablast outside of asphalt and concrete. Grass, track, mud, and dirt are out of the question.
Never once did we have a positive experience running uphill and downhill in the ASICS Novablast.
Perfect for long distances and tempo runs
We have thrown everything at this shoe, from fast runs to easy runs, from middle to long distances. The verdict: ASICS Novablast performs the best when used for long slow distances and tempo runs.
It might work for easy runs, but won't for sprints.
Thick, yet breathable
Given the amount of materials used in the upper, we were pleasantly surprised to find that breathability was still sufficient!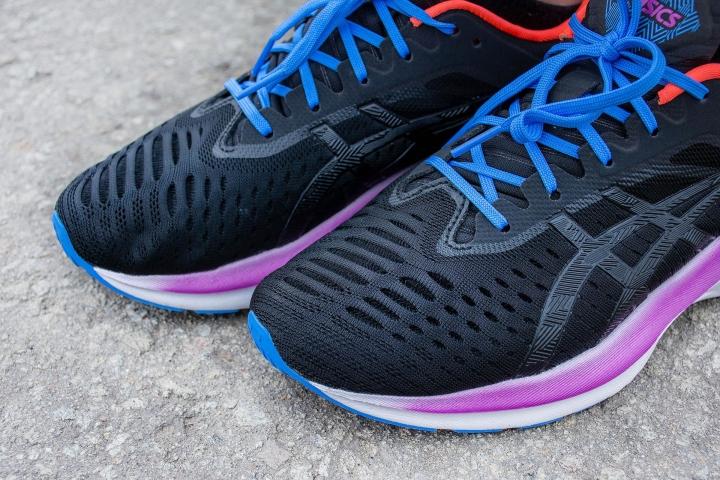 Familiar ASICS durability
We anticipate that this shoe will last for at least 300-450 miles. That's because, after 100 miles, we did not see any serious signs of wear! ASICS shoes are always exceptionally durable.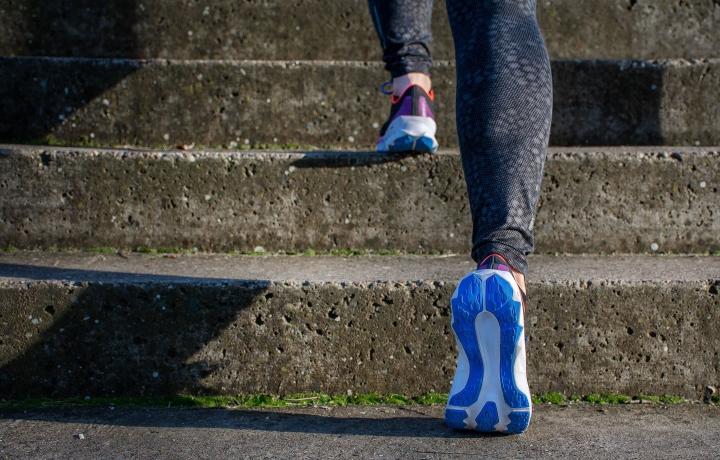 Heel drop you can't ignore
10mm. We felt it immediately and it felt substantial.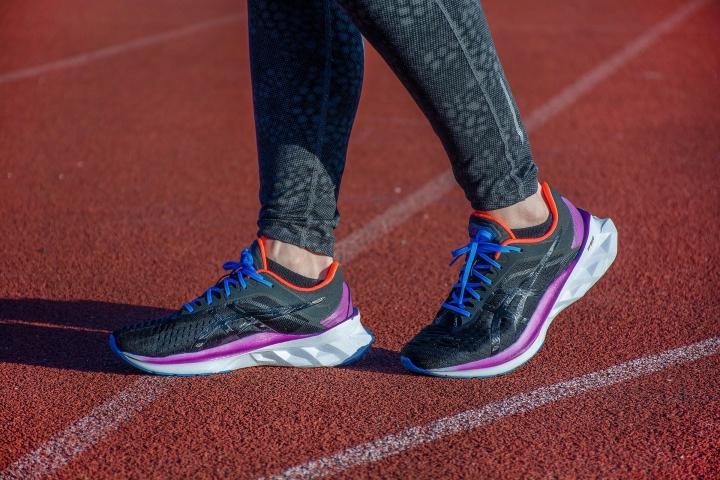 Novablast feels lighter than it looks
Considering how much stack there is in the shoe midsole (32 mm/22 mm), the Novablast didn't feel heavy at all! For a cushioned long-distance trainer, it never dragged us down and felt lighter than expected.
In a men's size 9, it weighs 9.2 oz (261g). Given the average of 9.8 oz for all road running shoes in the RunRepeat database, it's not a super lightweight running shoe, but still, a good result given the amount of cushioning.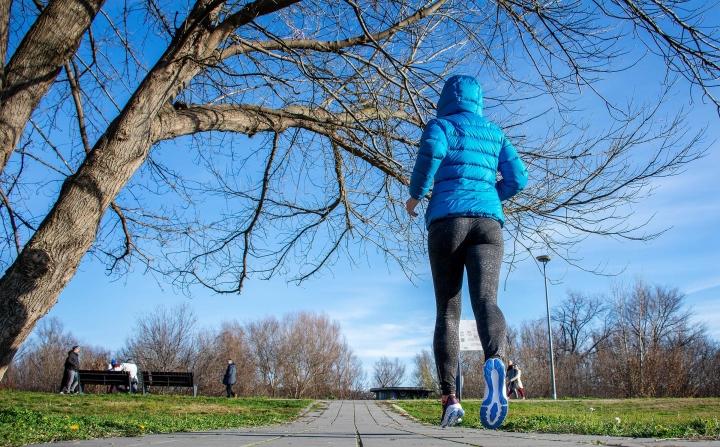 Also worth mentioning
We found the laces to be too thin and not elastic enough.
The visual aspect or the shoe ma not be for everyone