The Gel Excite 9 from ASICS is a trusty daily trainer that works best for short, easy runs. And if you're a runner on a budget or a beginner, this shoe is a comfortable and versatile choice. Outside of running, the ASICS Gel Excite 9 also proves itself a great pick for gym training and long walks. Talk about great value!
Pros
Cushy all-day
Lightweight design
Extremely breathable
Comfortable and supportive fit
Easy on and off
Also for walking and gym training
Affordable price
Great for running newbies
Cons
Lacks upper durability
Not for wide feet
Who should buy the ASICS
Gel Excite 9
Buy the ninth version of the ASICS Gel Excite if you want a: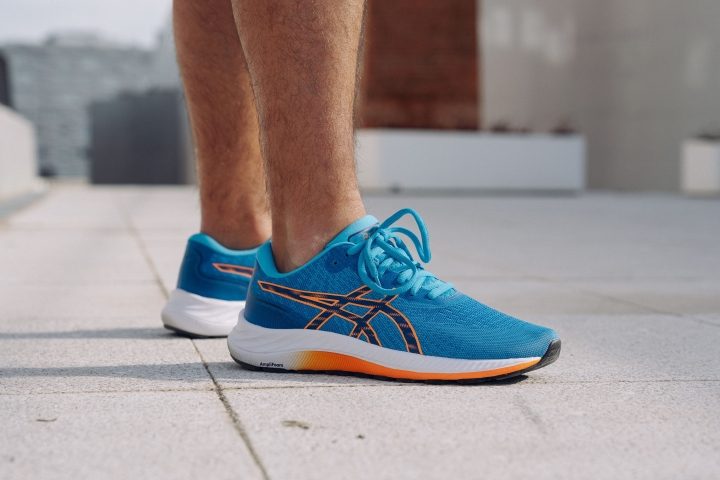 Who should NOT buy it
If you have wide feet and want more room, go for the ASICS Gel Contend 7 instead. And if you want a sturdier option that can last a long time, the ASICS GT 1000 10 can play the part.
Even better, all these alternatives are just as pocket-friendly as the ASICS Gel Excite 9.
ASICS Gel Excite 9 vs. 8
The new jacquard mesh upper offers a softer, more dialed-in wrap and the ankle collar has more padding that improves lockdown.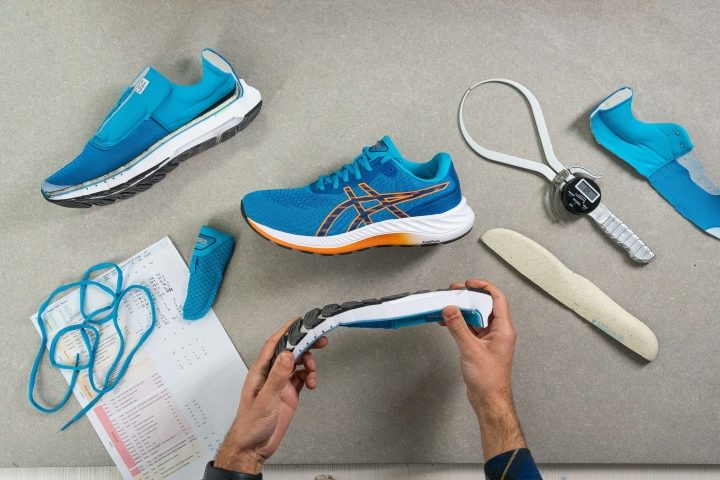 Breathability at its best
While checking the breathability in our lab, we received a stunning result. The Excite 9 scored 5 out of 5, which means it is among the most breathable shoes on the market.
Asics Gel Excite 9 (left): a lot of smoke is passing through the mesh upper; Adidas Runfalcon (right): the toe box isn't letting out any smoke.
In this test, we use a smoke-pumping machine and cover up the shoe mouth entirely so that the smoke is only able to escape through the upper.
In a second test, we also checked how transparent the upper material is. In the video below, you can see that there's plenty of light shining through the fabric, which confirms that it allows great airflow.
Wear it all day every day
The ASICS Gel Excite 9 receives high marks from multiple runners in the comfort department. The foam is so cushy; some of the reviews that are spot-on in describing it are:
"comfy for gym and walking"
"perfect daily use tennis shoe"
"can walk all day with them!"
A runner who owns several pairs of ASICS says this is the "best ASICS I have bought," thanks to the bang-for-the-buck comfort this shoe offers.
We checked the midsole's firmness with our durometer and found that it is 13.6% firmer than average. Firm foams tend to provide better stability, which can be helpful for running, and especially for gym and tennis workouts.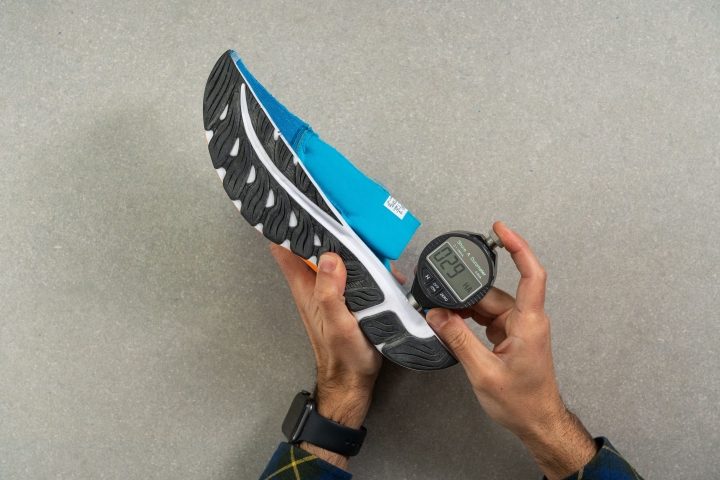 Disclaimer: We take an average of 4 measurements and exclude any outliers. This image shows just one of our measurements.
As for the stack height, the Excite 9 measures 31.7 mm at the heel and 22.7 mm at the forefoot. Both are slightly lower than the average of shoes we have had in the lab.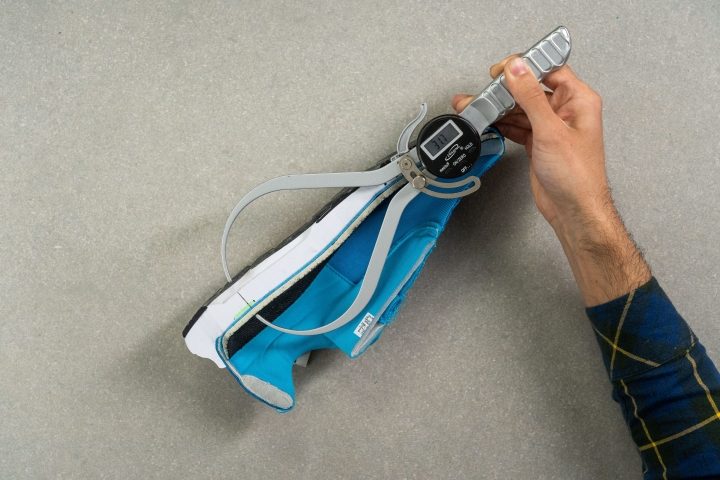 Disclaimer: We always include insoles in our stack measurements.
Fact check
While Asics claims that the drop is 10 mm, we discovered that it is actually 9 mm. This is not a huge variance from the official statement, and it's certainly acceptable given that in other running shoes we sometimes find much greater differences.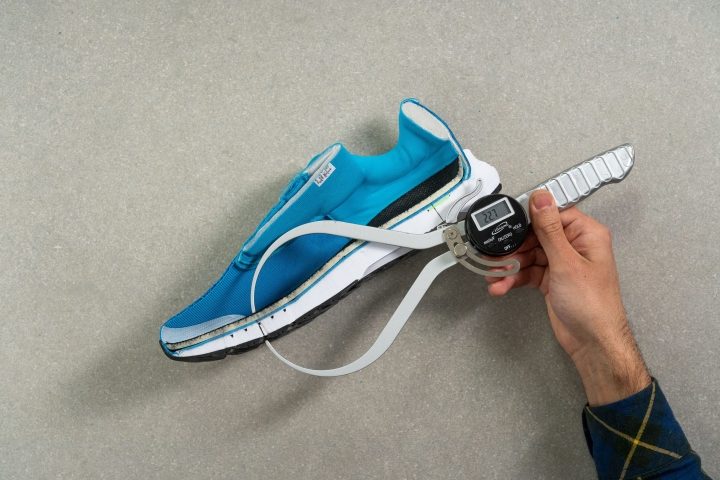 The insole measures 4.5 mm, exactly like the average of all running shoes we've tested.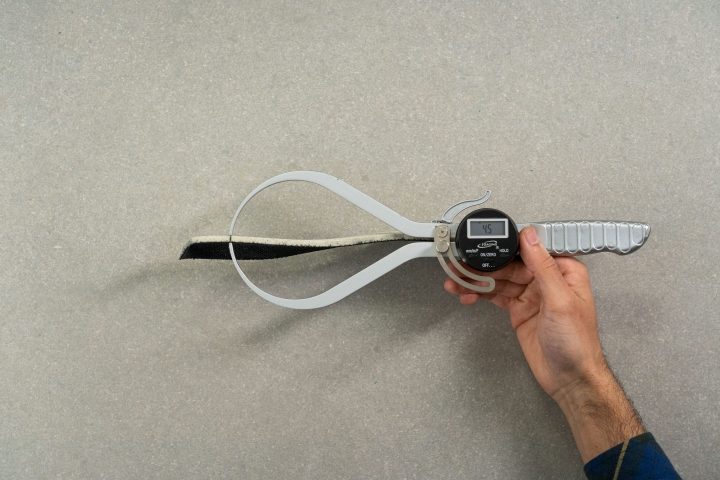 A flexible shoe
We found that the Gel Excite 9 is pretty flexible. The first test we carried out showed that it is 33% more flexible than the average.
On top of this, we always measure longitudinal and torsional flexibility subjectively. In that second test, the shoe scored 2 and 2 respectively, with 5 being the stiffest.
Fact check
However, as happens with most shoes, it gets much stiffer in cold temperatures. After 20 minutes in the freezer, the shoe became 57.4% stiffer, but on the other hand it remained nearly 20% more flexible than the average of shoes we've tested in the same conditions.
The ASICS Excite 9 hugs the foot
"Ahhhh! Fit is great" is a standout comment that perfectly summarizes how the majority feels about the shoe's upper fit. The shoe molds to the feet, especially for narrow to medium-width feet. But what's great about it is it doesn't pinch or rub the foot. Plus, the updated ankle collar feels very supportive; there are NO mentions of heel slips. On top of this, the shoe is pretty easy to put on.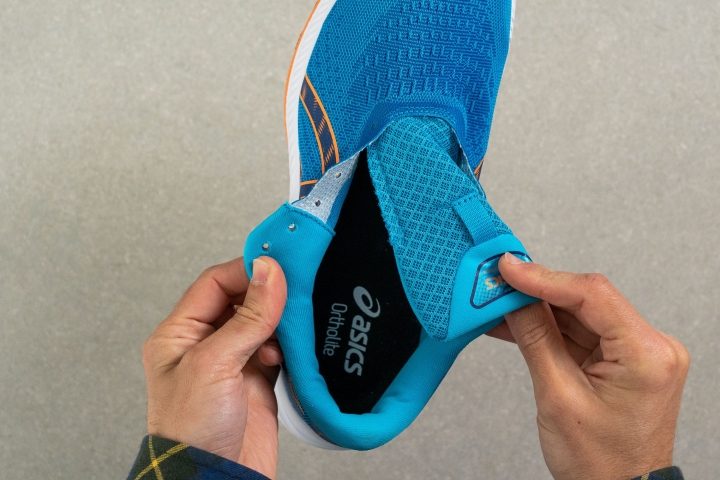 We tested the heel counter and it scored 2 out of 5. Given that 5 is the stiffest, we can consider this heel noticeably flexible.
A pass for wide feet
It's secure for narrow and medium-footed runners, but it's a little too much for wide feet. It feels narrow from the heel to the toe box.
Fact check
We measured the upper at its widest part and found that it measures 92.5 mm. Given that the average is 97.6 mm, it's clearly on the narrow side.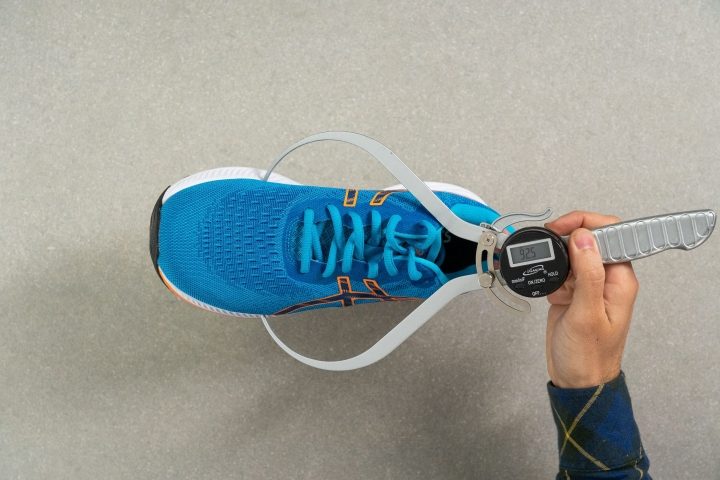 CAN'T take a beating
After only two months of regular use, the shoe already "has holes in the toe" area.
While the upper doesn't seem to be durable, there were no complaints about the outsole, which is 23% thicker than the average and therefore has better chances to last long.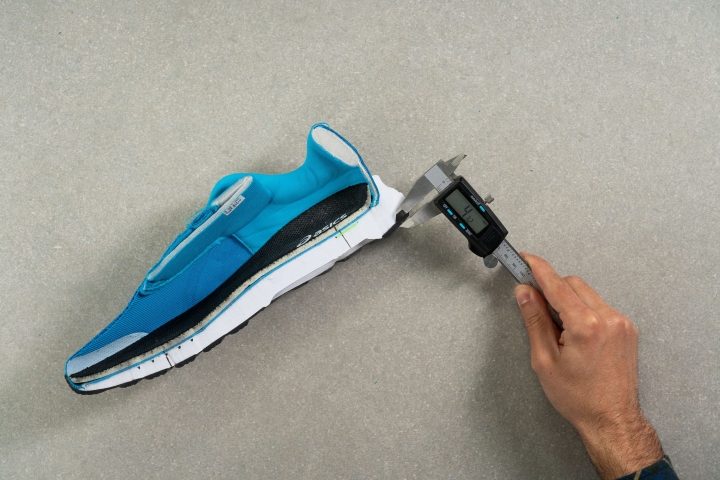 Keeps weight at an absolute minimum
All the reviewers who have commented on the shoe's weight agree that it's "very very light." And its listed weight explains why. In men's US 9, the Gel Excite 9 weighs in at 255 grams/9 ounces, which is lighter than the average daily trainer (282 grams/9.9 ounces).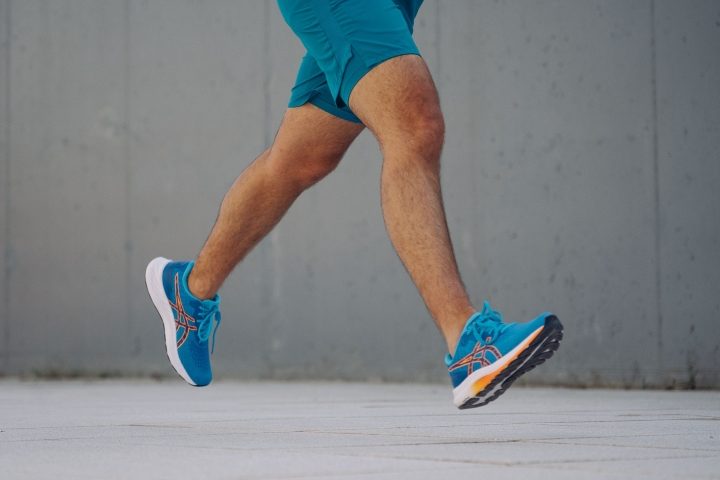 Hey there, good lookin'
The blue/green colorway looks "very smart," and sleek; reviewers can't help but gush about the shoe's style and color combos.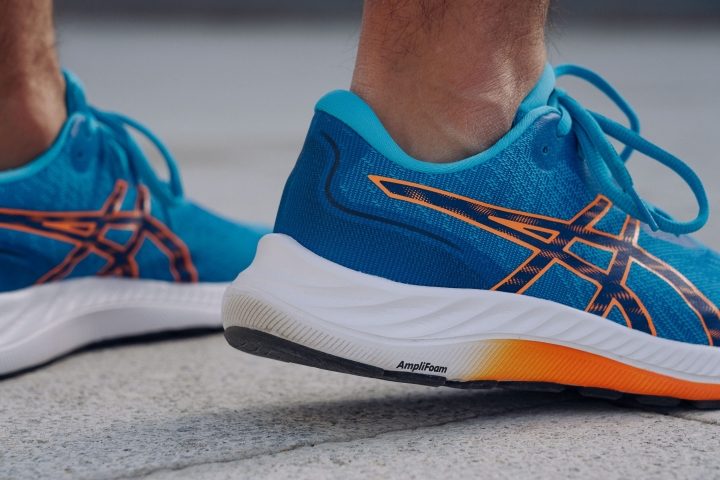 Complete lab-specs overview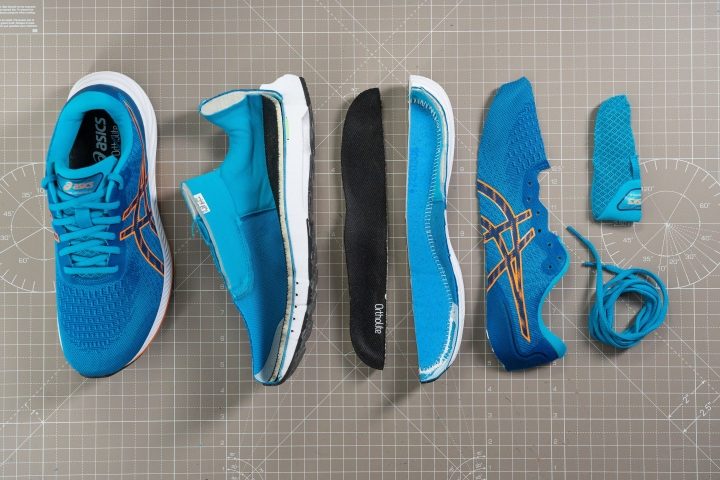 Asics Gel Excite 9
Average
Whole shoe

Weight (g)

259*

263

Drop (mm)
9.0

8.7

Flexibility of the shoe (N)

24.3

34.1

Flexibility of the shoe (Freezer 20 min) (N)

38.2

46.9

Flexibility of the shoe (% of change)

57.4%

44.0%

Longitudinal flexibility (1-5 scale, 5 being the stiffest)
2

3.0

Torsional flexibility (1-5 scale, 5 being the stiffest)
2
3.2
Upper

Thickness - Tongue (mm)

9.0

5.7

Width Upper - Forefoot: Max width (mm)

92.5

97.7

Width Upper - Forefoot: Big toe (mm)
-

71.3

Flexibility of the heel counter (1-5 scale, 5 being the stiffest)
2
2.6
Tongue: gusset type
no
Heel: pull tab
no
Midsole

Width Midsole - Forefoot (mm)

113.3

112.5

Width Midsole - Heel (mm)

89.4

89.5

Stack - Forefoot with insole (mm)

22.7

24.5

Stack - Heel with insole (mm)

31.7

33.2

Durometer Midsole Heel (Room temperature) (HA)

29.0

25.5

Durometer Midsole - Heel (Freezer 20 minutes)

34.0

32.1
Durometer Midsole - Heel (% of change) (TEST)

17.2%

26.9%

Outsole

Outsole thickness (Heel) (mm)

4.3

3.5

Lugs Depth (mm)
-
-
Durometer Outsole Heel (Room temperature) (HC)

75.6

79.7

Insole
Insole Heel Thickness (mm)

4.5

4.5

Insole: removable
yes
*Disclaimer: The weight of the Asics Gel Excite 9 was measured in a men's US 8. In a US size 9, this corresponds to 275g per shoe, based on the weight measurements of over 40 sizes.