If you're looking for one of the best value running shoes out there, the ASICS Gel Contend 7 is it. From ample cushioning for short to medium-length runs, to tough constructions the Gel Contend 7 exceeds expectations for this price bracket.
Pros
Fits true to size
Good heel lock
Stable
A fair amount of cushioning
Value for money
Durable, grippy outsole
Guidance line keeps the foot steady
Cons
Rubber outsole is squeaky
Not comfortable on longer runs
Inefficient arch support

ASICS Gel Contend 7 review and lab test
ASICS are determined to make a budget-friendly shoe for the casual runner. Even if it's lacking in a lot (a lot) of features that modern running shoes have, the Gel Contend 7 is kind of what running has always been about: chuck on some shoes and go exercise.
The Gel Contend 7 is that shoe that's just easy access and great for those getting into the sport, or maybe who don't run as regularly as others. With an RRP of £70, and easy to find only for less, there's really no excuse not to run in these.
Who should buy the ASICS Gel Contend 7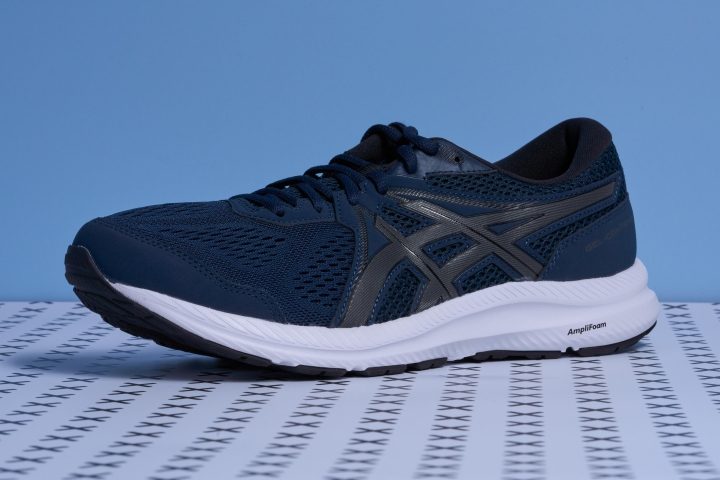 Another added benefit of the simplified design of the Contend 7 is that it's a great all-rounder, so it could be perfect for:
Neutral runners and supinators (heel rolls outwards)
Runners who need specialized inserts
All-day wear
Gym Training
Medium to longer runs (>10km)
Walking
Who should NOT buy these
While great for all the above, the Gel Contend 7 is not the best choice if you:
Intend to go fast, maybe invest in some tempo shoes like the Air Zoom Pegasus 38
Over-pronate (heel rolls inward), in this case maybe look at a pair of ASICS GT 1000 10
Are planning on doing regular, long runs. Protect yourself and your joints with some more advanced cushioning like Hoka Clifton 8
The ASICS Gel Contend 7 fit great
With people more likely to purchase shoes online now more than ever, it's great to have a pair you can trust to be sized correctly.
The ASICS Gel Contend 7 does just that. The toe box is a perfect size and the cupped heel surrounded and locked the back of my foot into it.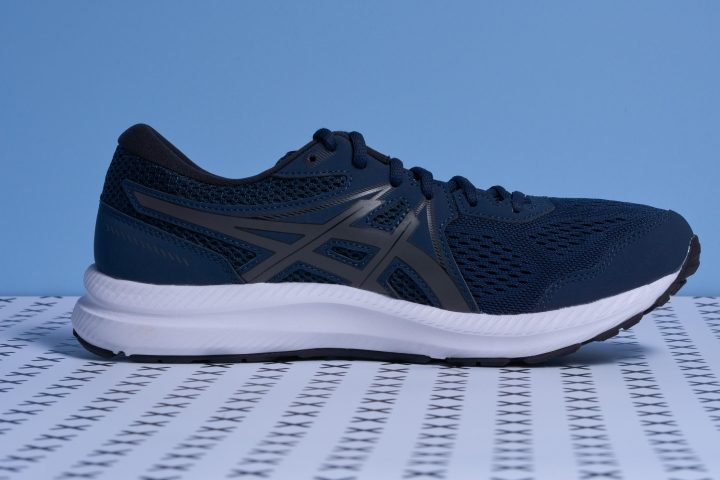 During my runs in it, I didn't notice any slipping in the heel or the toe, which is great news if you suffer from blisters.
Made of sturdy stuff
Often with budget shoes, you might find that the material of the upper is plasticy and falls apart relatively quickly. I was pleasantly surprised when I received these. The fabric was quite thick and the mesh seems well constructed.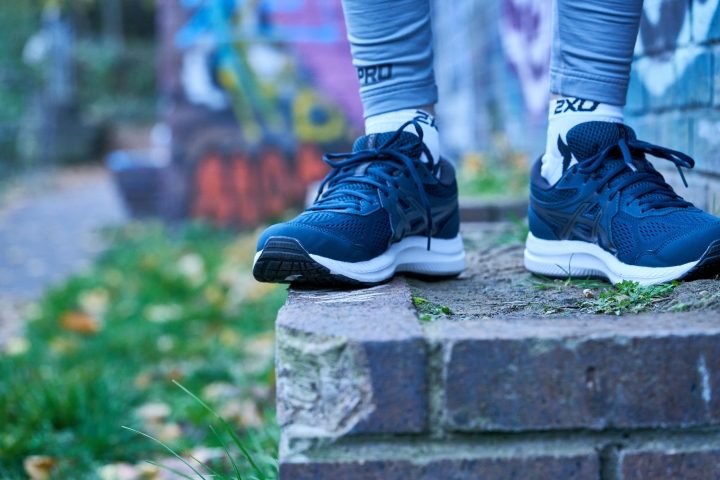 It is worth mentioning that the thickness of the upper is great if you live in cooler climates, but you might want to consider a more breathable pair like the ON Running Cloudswift.
The ASICS Gel Contend 7 is padded, up to a point
The AmpliFoam midsole of the Gel Contend 7 provides excellent dampening on heel strikes, pairs with their Gel technology there's definitely a lot of comfort on offer here for slower runs. However, I found that anything above a comfortable pace to be too much for these to take, even with a comfortable 33mm stack height.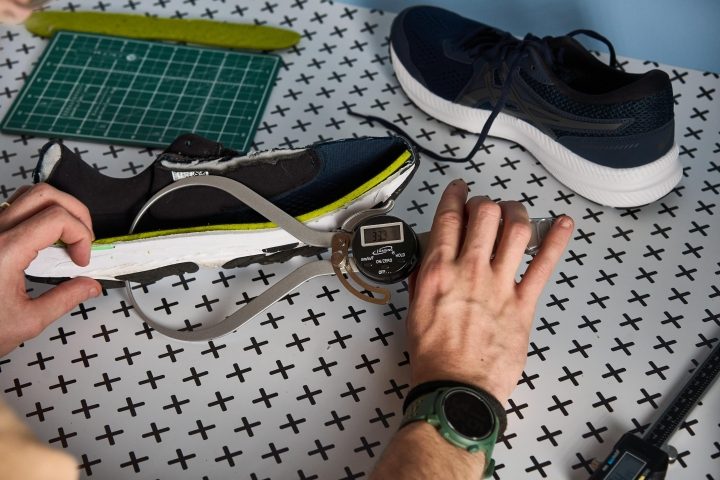 If you're looking for a shoe to take you on faster, longer runs and keep you from damaged joints, it's best to look elsewhere. With a midsole durometer of 53.2 HA, the Gel Contend 7 is a much harder shoe than the average (23.3HA).
While this is quite a big limitation for a shoe (in a perfect world you can buy one pair of shoes that will do everything), it comes at such a low cost that it's still a perfect shoe for those starting out, or short recovery runs.
There's also minimal arch support in the midsole which some might find uncomfortable.
"Excuse me, you're shoe's squeaking"
Never before have I been one to turn heads when I run. In the Gel Contend 7, I found myself doing so for the wrong reasons. The full rubber outsole is incredibly noisy on anything but the roughest tarmac.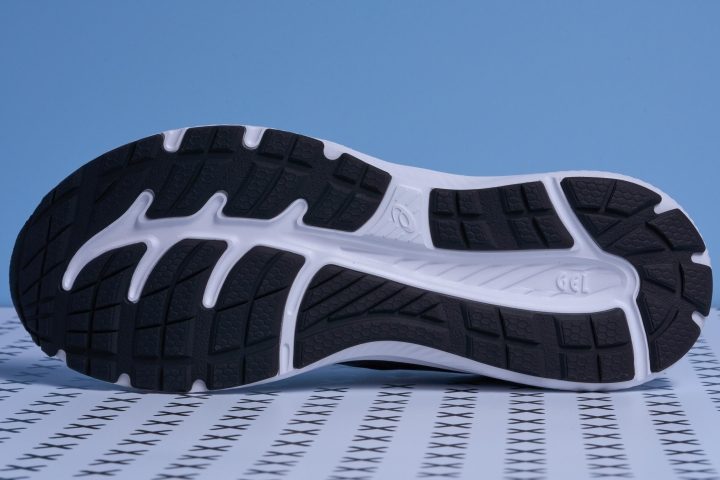 Edinburgh has a lot of running paths through tunnels and I couldn't help myself thinking of David Patrick Kelly clinking bottles together in 'The Warriors' as I echoed squeakily down them at night. That being said, it's a relatively grippy outsole, so at least you're going to stay on your feet while everyone's looking.
The ASICS Gel Contend 7 have some tricks
ASICS have done their bit to help runners keep a consistent gait. With Guidance Line technology, the Contend 7 corrects supinating foot strikes, when your heel rolls outwards.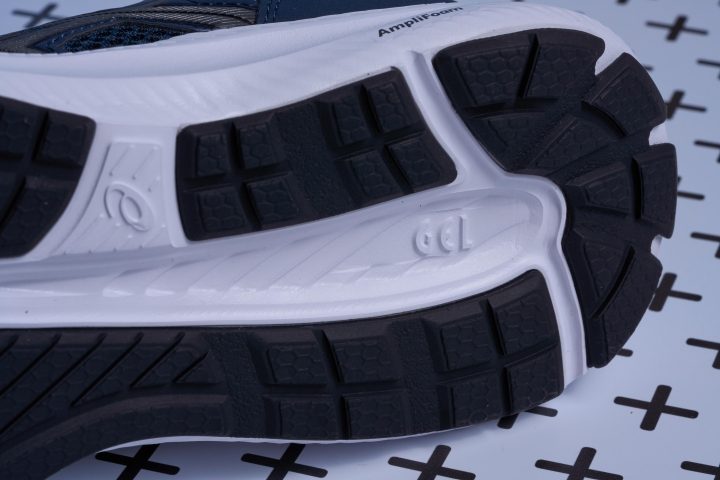 This was noticeable towards the end of my runs, when fatigue (and laziness) set in I felt the shoes gently push my foot back towards centre.
There are inevitably going to be cut corners
For the price, you can't ask for everything. With the Gel Contend 7, apart from the squeaky outsole and limited midsole, the laces are a real let down. In testing it took just 8.6N of force to slip them from their knot.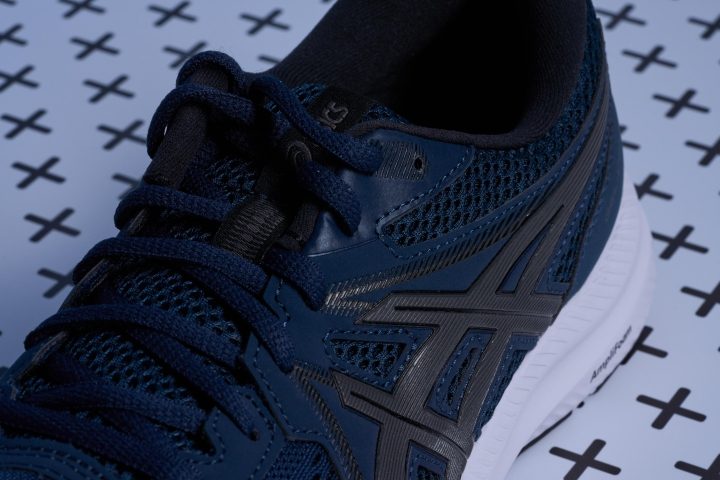 They're quite a cheap, slippery lace. To be fair; that's easily fixed with a new set of laces. You could even get some elasticated laces with quick lacing technology to keep you locked in throughout.
Conclusion
When I got the ASICS Gel Contend 7 I knew that they promised very little beyond the price tag, which meant I was extremely happy with the result. Supportive, well-built, and comfortable, there's little else you can expect from this shoe.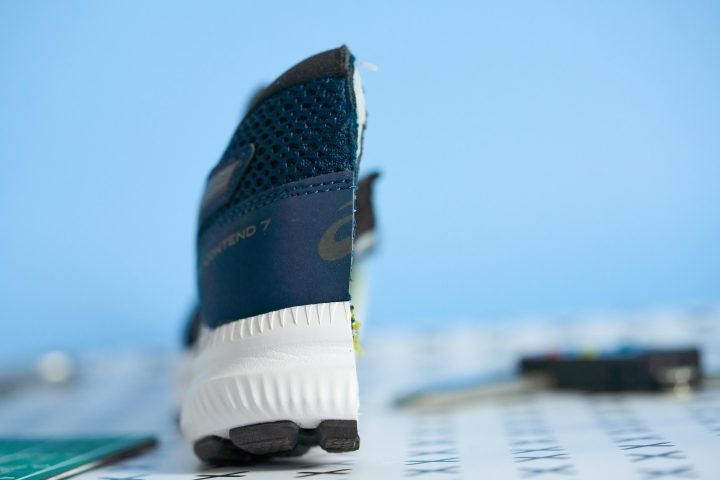 It's refreshing to see such an accessible pair of shoes so well built-in 2021.