The 6 world marathon majors are 6 of the biggest and most prestigious marathons in the world. These races inspire thousands of runners each year to dedicate themselves to training and racing.
We researched the major marathon industry to bring unique information about the most sought-after marathons in the running world.
What are the 6 Abbot World Marathon Majors?
Tokyo
Boston
London
Berlin
Chicago
New York City
When were the 6 major marathons first ran?
The Boston Marathon is the oldest of the majors, founded on Monday, April 19, 1897, and originally called the American Marathon.
The marathon at the first modern Olympic Games in Athens in 1896 served as the inspiration for the B.A.A. Boston Marathon.
John J. McDermott, of New York, emerged from a 15-member starting field to capture the inaugural Boston Marathon.
| | |
| --- | --- |
| Race | Inaugural Year |
| Tokyo | 2007 |
| Boston | 1897 |
| London | 1981 |
| Berlin | 1974 |
| Chicago | 1977 |
| New York City | 1970 |
What's the largest Marathon?
The largest field ever in any marathon was the TCS New York City Marathon with 53,520 racers crossing the finish line in 2019.
If the largest fields were combined, the 6 majors would account for 206,312 individual racers.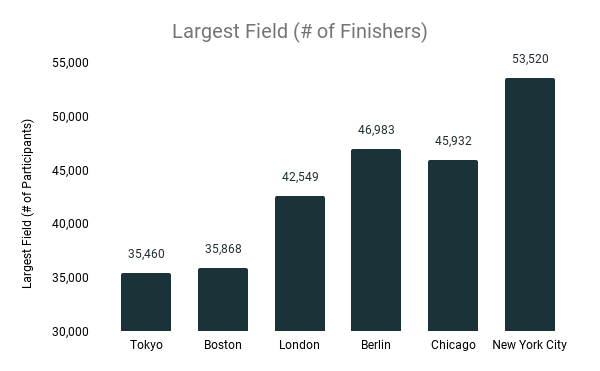 What's the fastest marathon time?
The fastest major marathon time was in 2018 by Eliud Kipchoge in the Berlin Marathon with a time of 2:01:39.
The fastest women's time in a major marathon was 2:14:04 in the 2019 Chicago Marathon by Brigid Kosgei.
The New York City Marathon is the slowest course of the 6 majors with the men's course record at 2:05:06 and the women's at 2:22:31.
| | | |
| --- | --- | --- |
| Race | Men's record | |
| Tokyo | 2:03:58 | 2:17:45 |
| Boston | 2:03:02 | 2:19:59 |
| London | 2:02:37 | 2:17:01 |
| Berlin | 2:01:39 | 2:18:11 |
| Chicago | 2:03:45 | 2:14:04 |
| New York City | 2:05:06 | 2:22:31 |
How do you qualify for a Marathon Major?
What does it cost to register for a major marathon?
The New York City Marathon is the most expensive of the 6 majors with a resident registration costing $295 and a non-resident a staggering $358.

There is a slight discount for resident NYRR (New York Road Runners) Members of $255.

The London Marathon is the lowest priced major marathon with registration costing just 49£ (~$57) for residents.

Non-residents pay £99 plus a £26 carbon emissions credit (a total of about $145).
Club-affiliated resident runners can save £2 (~$2.75).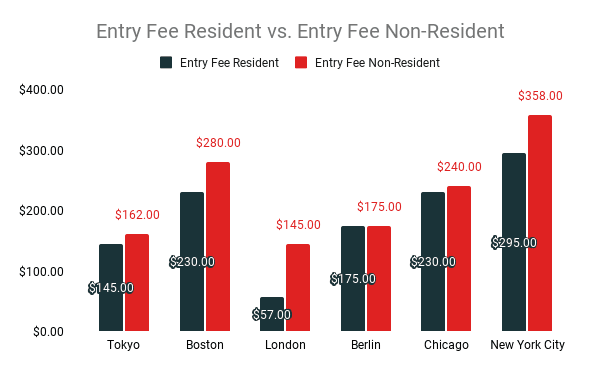 How much money do the major marathons make?
Marathons are big business and the New York City Marathon drives by far the most revenue at $15,906,411.60 (based on its largest participation year).

The NYC Marathon is the largest marathon in the majors and the largest race in the world

The London Marathon brings in the least amount of revenue at just $2,556,343.92 due to its low entry fee of just $57 for resident runners.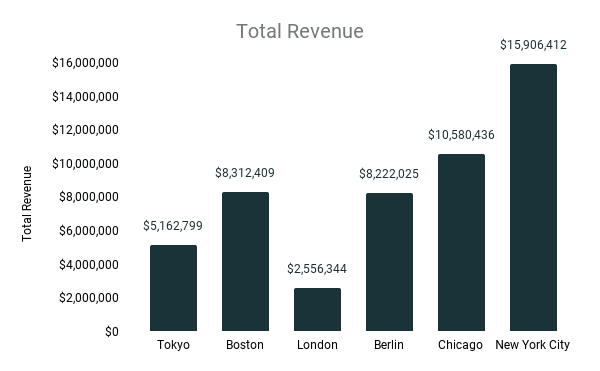 COVID-19's impact on the 6 major marathons
The Tokyo Marathon, scheduled for March 1st, 2020 was canceled for everyone but the marathon elites and the wheelchair elites.
The Boston Marathon was scheduled for April 20th, 2020, and was postponed until September 14th, 2020, and held as a virtual event.
The Berlin Marathon, scheduled for September 27th, 2020 was canceled and instead a virtual Eliud Kipchoge challenge took place to see how many kilometers runners could complete in 2:01:39 hours
The London Marathon, originally scheduled for April 26th, 2020, was postponed to October 4th, 2020, and then canceled. A virtual race was held.
The Chicago Marathon, scheduled for October 11th, 2020 was canceled.
The New York City Marathon, scheduled for November 1st, 2020 was canceled and run virtually from October 17 through November 1 with nearly 16,000 finishers from 108 countries around the world.
Who currently sponsors the 6 World Marathon Majors?
John Hancock has been the primary sponsor of the Boston Marathon for 35 years
Chicago Marathon's main sponsor is Bank of America
BMW is the title sponsor of the Berlin Marathon
The Tokyo Marathon's main sponsor is Tokyo Metro
Both the London and the New York City Marathons are title sponsored by TCS (Tata Consultancy Services )
Who has won the most Major Marathons?
Eliud Kipchoge (10 wins) and Mary Keitany (7 wins) have had the most victories in the 6 marathon majors.
Tsegaye Kebede and Wilson Kipsang (13 each) and Edna Kiplagat and Mary Keitany (14 each) have had the most scoring races. You get points for finishing 5th or better in any of the 6 races.
Most lifetime scoring points go to Eliud Kipchoge (265) and Mary Keitany (234).
Ghirmay Ghebreslassie (20 years 281 days) and Xue Bai (20 years, 253 days) are the youngest ever winners of a major race.
Tsegaye Mekonnen (18 years 302 days) and Ayaka Fujimoto (19 years 233 days) are the youngest ever point scorers in a major.
Meb Keflezighi (38 years 350 days) and Constantina Diță (38 years 207 days) are the oldest race winners ever. Meb Keflezighi is the only American man to win the Boston marathon since 2006.
Ruggero Pertile (41 years 4 days) and Krista DuChene (41 years 99 days) are the oldest points scorers
Kenya as a nation has the most wins in major marathons both for men (52) and women (35).
When are the 2022 Major Marathons?
Tokyo: Saturday, March 5, 2022
Boston: Monday, April 18, 2022
London: Sunday, October 2. 2022
Berlin: Sunday, 25 September 2022
Chicago: Sunday, October 9, 2022
New York City: Sunday, November 6, 2022
How many other marathons are there in the world?
In the U.S. there are 1,100 marathons each year with 509,000 participants.
Globally there are between 2,500 and 4,000 marathons each year with up to 11 million participants.
Between 52% and 55% of marathon entrants are first-time marathon runners.
What happens if you run all 6 Marathon Majors?
Conclusion
Globally, running is one of the most popular and accessible sports. It's easy to start with low barriers to entry and there's minimal gear or knowledge needed as a beginner. The penultimate challenge for most runners is signing up and running across the finish line of their first marathon (26.2 miles/41.195 km).
There's a lot of questions out there about marathons, if you're interested in learning more we've published a few studies on the topic:
If marathons are not long enough for your interest, check out our recent study on The State Ultra Marathons as well!
More Marathon Info
Want to know more about the World Marathon Majors? Check out our other posts on the subject:
About RunRepeat
RunRepeat is the world's largest athletic footwear review site on the web. We make shopping for running shoes easy. Whether it's marathon shoes for your next race, road running shoes, trail running shoes, or even just a pair of sneakers to kick around town in we make it easy and quick to find what you are looking for.
Interested in learning more about shoes? Check out our shoe buyer's guides to learn more about shoes before you purchase.
Use of content
We are happy to give interviews on the topic at any time. For this purpose or for print-use questions please reach out to Paul Ronto at paul@runrepeat.com.
Feel free to use material from this page in any web coverage of the topic, we just ask that you refer, and link back to this original source.
References
https://www.worldmarathonmajors.com/six-star/majors
https://www.coachmag.co.uk/marathon-training/6520/london-marathon-ballot
https://marathon.mercyhome.org/chicago2021/faqs
https://runningbrina.com/get-2020-nyc-marathon/
https://www.bmw-berlin-marathon.com/en/your-registration/registration-information/
https://www.baa.org/2021-updates
https://www.marathon.tokyo/2021/en/about/outline/
https://en.wikipedia.org/wiki/List_of_marathon_races
https://askwonder.com/research/i-m-interested-reliable-statistics-marathons-particular-i-d-know-a-marathons-pdtl6k3sc
https://www.nyrr.org/tcsnycmarathon/getinspired/marathonhistory
https://en.wikipedia.org/wiki/World_Marathon_Majors