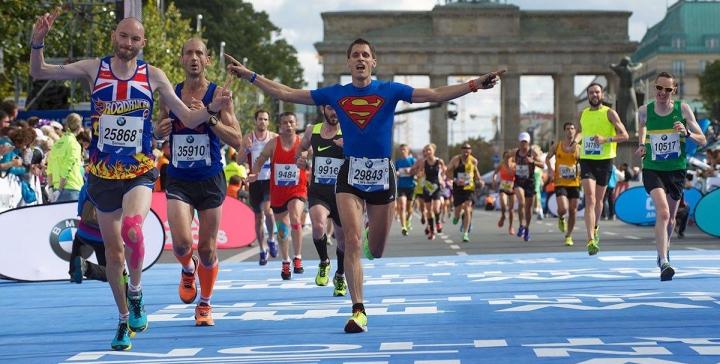 Many runners have the dream of racing in one of the 6 Major Marathons. But to get to those stages takes a ton of training, hard work, and a qualifying race.
A qualifying time may not guarantee you a spot at the race of your choice. The selection process can be confusing and difficult, so we've done ample research to help you understand how to get into each of the 6 Marathon Majors.
How do you qualify for the Boston Marathon?
Qualifying times differ based on the age bracket you'd be in at the time of the upcoming marathon (not at the time of your qualifying race)
Qualifying times must be chip times (official submitted net time) from an official Boston qualifying race that is a full-marathon distance.
Not all qualifiers are admitted into the Boston Marathon. Just because your time is within the cutoff window does not mean you have a spot. Your qualifying time only secures your opportunity to register for the race application process.
If more people apply for the race than there are spots for, the fastest qualifiers will be accepted first.
Indoor marathons or virtual races do not count as Boston marathon qualifying events.
The Boston Marathon does not designate which specific races meet their qualifying standards. They accept times for all USATF, AIMS, or foreign equivalent certified courses.
It's up to the runner to contact the qualifying race they plan to attend to ensure their course is certified as a Boston Marathon Qualifier.
You must be 18 years of age or older on the date of the Boston Marathon to race.
Qualifying times are reviewed and verified before admittance to the Boston Marathon.
Boston Marathon qualifying times by age group and gender
Boston Marathon Qualifying Times
Age Group
Men
Women
18-34
3hrs 00min
3hrs 30min
35-39
3hrs 05min
3hrs 35min
40-44
3hrs 10min
3hrs 40min
45-49
3hrs 20min
3hrs 50min
50-54
3hrs 25min
3hrs 55min
55-59
3hrs 35min
4hrs 05min
60-64
3hrs 50min
4hrs 20min
65-69
4hrs 05min
4hrs 35min
70-74
4hrs 20min
4hrs 50min
75-79
4hrs 35min
5hrs 05min
80 and over
4hrs 50min
5hrs 20min
What does it take to qualify for the Chicago Marathon?
The Chicago Marathon has a variety of ways to enter the race, from a straight lottery to qualifying by time, being a legacy finisher, or part of an organization like the American Development Program.
Non-guaranteed entry
Application for a non-guaranteed entry (lottery drawing) is open to anyone but spots are limited and not everyone will be admitted
Participants must be 16 years or older on race day.
Guaranteed entry
Guaranteed entry applications based on a time qualifier of a verifiable, certified course (certified by USA Track & Field (USATF), World Athletics or a similar governing association).
Finish times from the 2020 Bank of America Chicago Marathon Virtual Experience or any virtual event will not be considered.
Chicago Marathon Guaranteed Entry Times
Age group
Men
Women
16 – 29
3:05:00
3:35:00
30 – 39
3:10:00
3:40:00
40 – 49
3:20:00
3:50:00
50 – 59
3:35:00
4:20:00
60 – 69
4:00:00
5:00:00
70 – 79
4:30:00
5:55:00
80 and over
5:25:00
6:10:00
Legacy Finishers
Legacy finishers can guarantee a spot if you have finished the Bank of America Chicago Marathon five or more times within the last 10 years.
Chicago Marathon finishes prior to 2011, and virtual Chicago Marathon finishers will not be considered
Shamrock Shuffle Legacy Finisher
If you have finished the Bank of America Shamrock Shuffle 8K four or more times since 2008 you can guarantee your spot
You must also be signed up for the upcoming Shamrock Shuffle
This is limited to the first 1,000 racers who apply and qualify.
American Development Program
If you meet the qualifying standards of the American Development Program at a certified and verifiable course in marathon or half-marathon you can guarantee your spot as well.
American Development Program Qualifying Times
Qualifying standards
Half marathon
Marathon
Men
sub 1:11:00
sub 2:35:00
Women
sub 1:20:00
sub 2:55:00
Masters – Men
sub 1:15:00
sub 2:43:00
Masters – Women
sub 1:25:00
sub 3:05:00
Athletes meeting high-performance standards may qualify for a complimentary entry into the Chicago marathon.
High-Performance Qualifying Times
High-performance standards
Half marathon
Marathon
Men
sub 1:07:00
sub 2:23:00
Women
sub 1:16:00
sub 2:43:00
Masters – Men
sub 1:11:00
sub 2:32:00
Masters – Women
sub 1:21:00
sub 2:52:00
Qualifying for the New York City Marathon
Times recorded outside of NYRR races must be verifiable online.
Qualifying times must be run on a certified half-marathon or full marathon course.
Courses must be certified by USATF, AIMS, or a national governing body for distance running for the country in which the race is held.
Indoor marathons, virtual marathons, half results from a full marathon or other distances will not be considered.
New York City Marathon Qualifying Times
Age
Men's Marathon
Men's Half-marathon
Women's Marathon
Women's Half-marathon
18-34
2:53:00
1:21:00
3:13:00
1:32:00
35-39
2:55:00
1:23:00
3:15:00
1:34:00
40-44
2:58:00
1:25:00
3:26:00
1:37:00
45-49
3:05:00
1:28:00
3:38:00
1:42:00
50-54
3:14:00
1:32:00
3:51:00
1:49:00
55-59
3:23:00
1:36:00
4:10:00
1:54:00
60-64
3:34:00
1:41:00
4:27:00
2:02:00
65-69
3:45:00
1:46:00
4:50:00
2:12:00
70-74
4:10:00
1:57:00
5:30:00
2:27:00
75-79
4:30:00
2:07:00
6:00:00
2:40:00
80+
4:55:00
2:15:00
6:35:00
2:50:00
Legacy Runners
Runners who have completed 15 or more New York City Marathons have guaranteed but must claim their spot during the entry window.
How to get into the London Marathon
Qualifying times must have been run at an in-person event that has a certified marathon course, or at the virtual 2021 Virgin Money London Marathon.
In-person racecourses must be certified by UKA, AIMS, or a national governing body for distance running for the country where the race was held.
Meeting the qualifying time for your age category does not guarantee entry rather just the opportunity to submit an application.
Ballot Entry
Ballot entrants don't have to pay anything when they enter, just if they win a spot for the race.
UK residents can opt to donate their entry fee to The London Marathon Charitable Trust regardless of the outcome of the ballot.
International applicants must pay the full ballot fee and a carbon offset levy to apply.
Good For Age qualification (GFA)
6,000 GFA spots are available (3,000 men and 3,000 women).
Good For Age entry process is only open to UK residents.
Entries will be allocated on a 'fastest first' basis.
a GFA qualifying time does not guarantee you a place.
If you ran the virtual 2021 Virgin Money London Marathon in the qualifying time below you may apply for a GFA entry.
London Marathon Good For Age Qualifying Times (Marathon)
Age
Men
Women
18-39
sub 3:00:00
sub 3:45:00
40-44
sub 3:05:00
sub 3:50:00
45-49
sub 3:10:00
sub 3:53:00
50-54
sub 3:15:00
sub 4:00:00
55-59
sub 3:20:00
sub 4:05:00
60-64
sub 3:45:00
sub 4:30:00
65-69
sub 4:00:00
sub 5:00:00
70-74
sub 5:00:00
sub 6:00:00
75-79
sub 5:15:00
sub 6:20:00
80+
sub 5:30:00
sub 6:40:00
If your only qualification time is from the virtual 2021 Virgin Money London Marathon, you'll also need to a finish time from an 'in-person' half marathon time that meets the qualifying time.
London Marathon Good For Age Qualifying Times (Half-marathon)
Age
Men
Women
18-39
sub 01:23:37
sub 01:44:23
40-44
sub 01:26:00
sub 01:46:47
45-49
sub 01:28:09
sub 01:48:13
50-54
sub 01:30:32
sub 01:51:34
55-59
sub 01:32:56
sub 01:53:42
60-64
sub 01:44:23
sub 02:05:25
65-69
sub 01:51:34
sub 02:19:16
70-74
sub 02:19:16
sub 02:47:13
75-79
sub 02:26:27
sub 02:56:33
80+
sub 02:33:22
sub 03:05:52
Championship Entry
Members of a British Athletics-affiliated running club that have achieved a championship-qualifying performance for a marathon or half marathon can apply for a championship placement.
Must be registered with your national governing body (ie England Athletics, Scotland Athletics, Welsh Athletics, Athletics Northern Ireland)
Runners in the Championship start zone must wear their club vest
If you ran the virtual 2021 Virgin Money London Marathon in the qualifying time below you may apply for a Championship placement
If your only qualification time is from the virtual 2021 Virgin Money London Marathon, you'll also need to a finish time from an 'in-person' half marathon time that meets the qualifying time.
London Marathon Championship Qualifying Times
Men
Women
Full marathon
sub 2:40:00
sub 3:14:00
Half marathon
sub 1:12:30
sub 1:28:00
British Running Clubs
For UK residents only.
If you are a member of a British Athletics affiliated club you may be able to apply through your individual club.
There are around 1,000 club spots available in total.
Clubs then make their own processes for deciding who gets their 1 or 2 places.
Registration information for the Berlin Marathon
Runners aged 18and older are allowed to participate in the race.
There's a time limit of 6:15 hours (starting from crossing the starting line).
Nordic walkers are not entitled to compete
Berlin Marathon Lottery
If you register as an individual runner, it is not possible to register as a team member.
Team Entry to the Berlin Marathon
A team consists of 2-3 people.
If the team is drawn, all persons from the team are accepted into the race.
Each team member is scored individually. There is no team ranking.
Qualifying times for fast runners at the Berlin Marathon
You must digitally add the proof of your best time to your registration form, and after successful verification, you will receive a confirmation.
If your time is not sufficient, your registration will be entered into the draw.
Only marathon times will be accepted.
The race has to be AIMS certified, listed by the USATF or part of the AbbottWMM Wanda Age Group World Rankings.
The proof must not be older than 3 years
Berlin Marathon Qualifying Times
Age
Men
Women
Up to 44 years (born 2004 to 1978): under 2:45 hours
under 2:45 hours
under 3:00 hours
Runners up to 59 years (born 1977 to 1963)
under 2:55 hours
under 3:20 hours
Runners 60 years and older (born 1962 and older)
under 3:25 hours
under 4:10 hours
How to gain entry into the Tokyo Marathon
Tokyo Marathon Lottery/General Entry
Racers must be at least 19 years of age on race day to apply.
There is a 7-hour cut-off time for the Tokyo Marathon, enforced at each checkpoint.
Tokyo Resident
Limited to 1,000 entries.
Early registration and lottery specifically for Tokyo residents.
One Tokyo Premium Member
Limited to 3,000 entries.
Japanese residents of the ONE TOKYO club.
If you've failed to get an entry for the past 3 consecutive years, you will be added to a "Consecutively unsuccessful pool" for increased chances in the remaining Tokyo Marathon lotteries.
RUN as ONE (Semi-Elite Overseas)
Limited to 300 runners who are non-residents of Japan.
Certified finish time in events that are either World Athletics Platinum Label, Gold Label, Silver Label, or Bronze Label within the past 12 months.
The record can be either gun time or net time and is accepted with an official finisher's certificate.
RUN as ONE (Semi-Elite Overseas) Qualifying Time
Men
Full Marathon run in under 2:45:00
Women
Full Marathon run in under 3:30:00
Elite Category
Limited to 100 runners based on fasted times.
Must be registered with the Japan Association of Athletics Federation and nominated and invited by the JAAF.
Other ways to enter the 6 Marathon Majors
Although not everyone can qualify or be selected to race in the 6 marathon majors, there are still options for folks who want to race.
Charity Marathon Spots
Most races have charity spots where participants can raise money for an associated cause and secure a spot in the race event.
Each charity usually manages its own unique charity team, participant benefits, and fundraising requirements.
Each athlete who participates in the Boston Marathon on behalf of one of the official charities is required to raise a minimum of $5,000.
Participants of the Chicago Marathon are required to raise $1,250 during the application window or $1,750 following the application window.
The Tokyo Marathon has a few charity options and up to 5,000 spots for charity runners.

3,700 runners can donate $940 as a straight donation (no crowdfunding), on a first-come basis to "Run with Heart".
The 300 highest donations submitted to "Run with Heart" will get spots as well. Crowdfunding allowed for these.
1,000 slots for active charity partners to use at their discretion. Minimum of $1880 to be raised by the runner for that affiliate charity.
International Tour Operators
International tour companies also retain spots for foreign racers who come with an approved group. This usually includes the cost of entry, air travel, hotel, etc.
Are race entries transferrable, refundable, or deferrable?
No. Under no circumstances are race entries transferable at any of the 6 Marathon Majors.
You are not allowed to give or sell your number or bib to another person.
Modifying or making copies of your number or bib is not allowed.
You cannot race in an unofficial race number or bib.
Breaking any of the transference rules is subject to penalties, including disqualification and suspension from subsequent events.
Entry fees are generally non-refundable without purchasing additional race insurance at the time of entry fee purchase.
More Marathon Info
Want to know more about the Worl Marathon Majors? Check out our other posts on the subject:
About RunRepeat
Qualifying for a major marathon is hard. You need the right shoes to get the job done. RunRepeat is the world's largest athletic footwear review site on the web making it easy for you to shop with confidence that you found the right road running shoes, trail running shoes, and ultimately the right marathon shoes for your next race.
Have a look at our race-specific shoes and carbon-plated shoes to ensure you perform your best every race day.
Check out our shoe buyer's guides to learn more about shoes before you purchase.
Use of content
We are happy to give interviews on the topic at any time. For this purpose or for print-use questions please reach out to Paul Ronto at paul@runrepeat.com.
Feel free to use material from this page in any web coverage of the topic, we just ask that you refer, and link back to this original source.
References
https://www.baa.org/races/boston-marathon/qualify
https://www.chicagomarathon.com/apply/
https://runnerclick.com/how-to-enter-the-tokyo-marathon-lottery/
https://www.marathon.tokyo/2021/en/participants/run-as-one/
https://www.marathon.tokyo/2021/en/about/outline/
https://www.bmw-berlin-marathon.com/en/your-registration/lottery
https://www.bmw-berlin-marathon.com/en/your-registration/registration-information/
https://runningbrina.com/berlin-marathon/
https://artofyoursuccess.com/get-into-london-marathon/
https://www.tcslondonmarathon.com/enter/how-to-enter/good-for-age-entry
https://www.coachmag.co.uk/marathon-training/6520/london-marathon-ballot
https://www.nyrr.org/tcsnycmarathon/Pages/2021-FAQs
https://www.nyrr.org/tcsnycmarathon/runners/marathon-time-qualifiers