Verdict from 2 experts and +100 user reviews
6 reasons to buy
Several consumers were happy to note that the New Balance Fresh Foam Gobi Trail v2 was able to give an agreeable fit.
The design and color options for this running shoe were appreciated by those who have tested it.
Some runners stated that it was efficient as both a running shoe and an option for daily walks.
The durability and quality of the materials were held in high regard by a handful of people.
The price was deemed affordable.
This trail companion was lauded for being lightweight.
3 reasons not to buy
According to a few users, the heel area wasn't able to lock the foot in place and that it tended to cause some slippage.
Several runners claimed that the outsole tread peeled off after only a few uses.
Based on some reviews, the underfoot platform could've benefited from an arch stabilizing mechanism.
Bottom line
The New Balance Fresh Foam Gobi Trail v2 was well-received by trail-running enthusiasts and other consumers. They welcomed its adequate width profiles, its agreeable color options, its affordability, and its versatility. But there were those who complained of heel slippage, inconsistent outsole durability, and an unstable midsole construction.
Tip: see the best trail running shoes.
Our reviews
Is the New Balance Fresh Foam Gobi V2 a hybrid performance running shoe that can take you from city streets to country trails in comfort?
See the verdict below.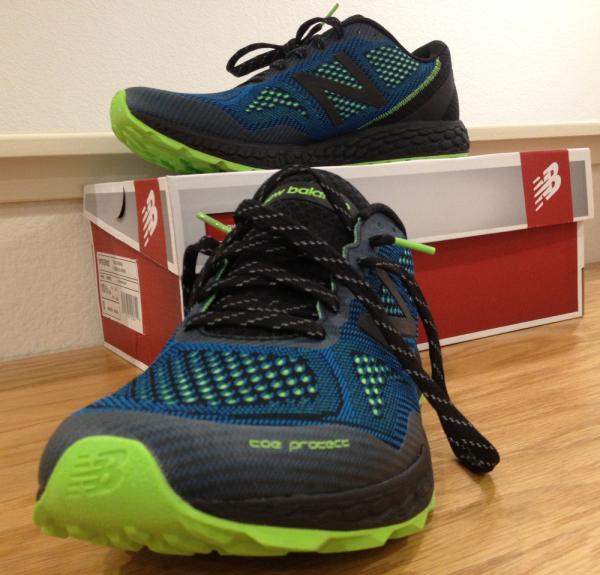 First impression
First impressions are not always correct. This is something I relearned while interacting with a sample pair of the forthcoming Fresh Foam Gobi V2 hybrid running shoes provided by New Balance.
My first impression, as I walked on sidewalks to a trail area was that the Gobi V2 was extremely firm. Based on the words "Fresh Foam," I expected something softer.
I also felt that what New Balance refers to as a "snug" fit in the no-sew bootie construction upper was in fact tight. While eight of my toes had room to splay up front, my big toes were unhappy with the lack of headroom.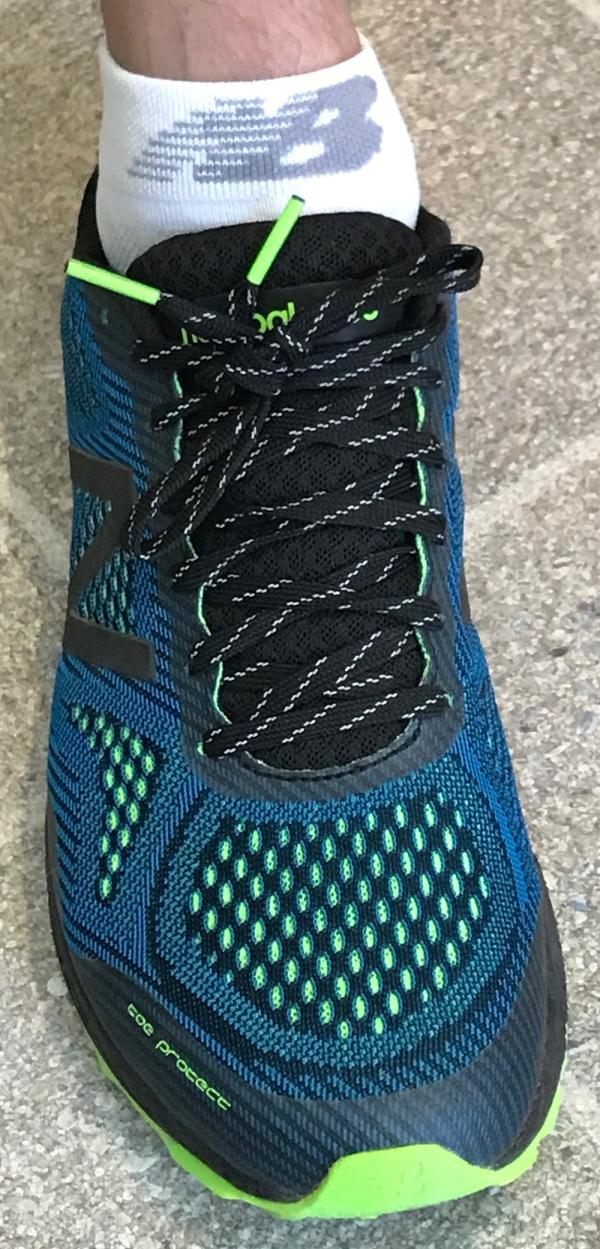 Performance
I had seen references to the original Gobi as being a fast shoe. The Gobi V2 did not seem to be offering promises of speed.
Drop
My view of the Gobi V2 quickly changed once I began running in the shoe. It's a relatively light performance trail shoe at approximately 8.7 ounces, with a low heel drop of 6mm.
This is a compromise between a 4mm and an 8mm drop and it should work just fine for the majority of runners. (Some shoes feel higher or lower than their advertised heel drop. The Gobi V2 feels like a 6mm heel drop model.)
Cushioning
On a dirt and gravel covered trail, the Gobi v2 provided a B+ ride. While it's labeled as a neutral shoe, the Gobi V2 is quite stable. And the cushioning felt just fine!
With a hybrid shoe one wants to use and test it on multiple surfaces, so asphalt was the next surface for the Gobi V2's soles to pound on. The ride was not only just fine, it was an A level ride.
In fact, the ride on asphalt is so supremely, smoothly cushioned that it reminded me of runs in New Balance 860 series shoes.
The current New Balance 860 v7 is a bigger, heavier and more expensive shoe so I was quite impressed that the smaller, lighter Gobi V2 provides nearly equivalent comfort on mean urban streets.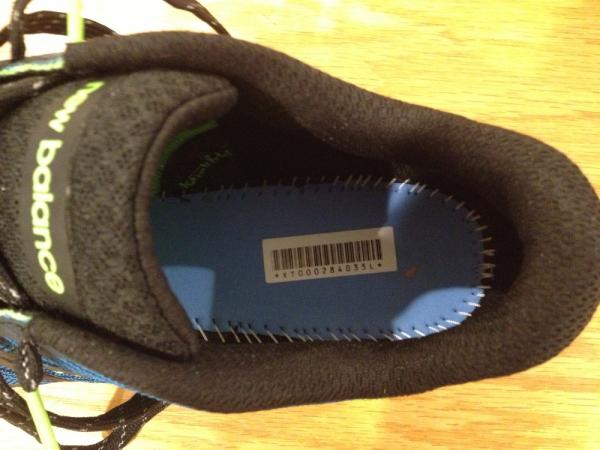 Grip
Some trail shoes feel heavy and clumsy on hard-packed dirt trails and on fire trails. But the Gobi V2 felt quite light and nimble. On a hard rock trail loaded with some small and large stones the Gobi V2 provided good ground feel and grip.
Although one feels the impact of landing on some larger rocks, there's not a hint of punishment. This is quite impressive as the Gobi V2, like the original Gobi, does not contain a rock plate.
It's been my experience, with sometimes sensitive metatarsals, that New Balance shoes generally provide excellent protection for these knuckle-like bones.
The Gobi V2 is no exception. My metatarsals never felt sore or beat up after a run in the shoe.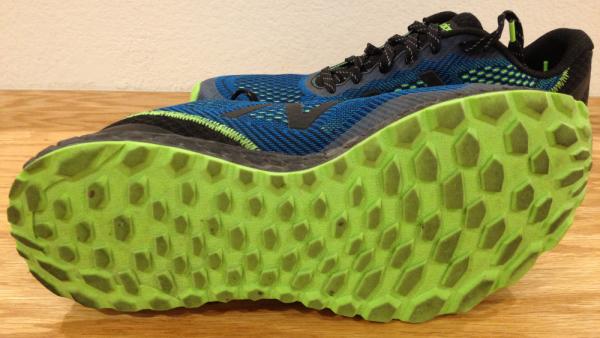 It was a treat to run on a freshly mown field – thank you, fire department, in the Gobi V2. The unique surface of the shoe's studded sole allows one's feet to remain level even as the surface literally changes with each step.
Heel Counter
On city sidewalks the Gobi V2 provides a fine level of comfort. The shoe sticks like glue in the rear due to the model's stiff heel counter.
This is one of the factors that builds confidence in the shoe. And as one feels more confident in the Gobi V2, one begins to realize that it is in fact a speedy conveyor of human beings.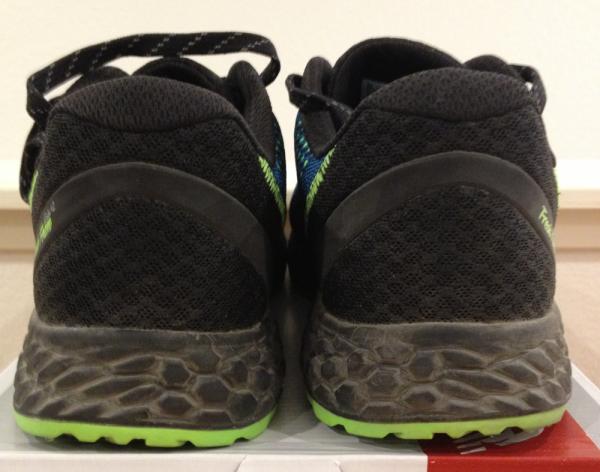 Comfort
Mileage is a positive factor when it comes to the Gobi V2. With each passing mile the shoe feels increasingly comfortable.
It's as if the runner's feet begin to sink into the traditional sock liner, and the Fresh Foam midsole grows in responsiveness, smoothness and protectiveness.
In addition, the upper that once felt either snug or tight loosens up and becomes as comfortable as… well, an old shoe.
As for my toes, all ten of them felt just fine in the end.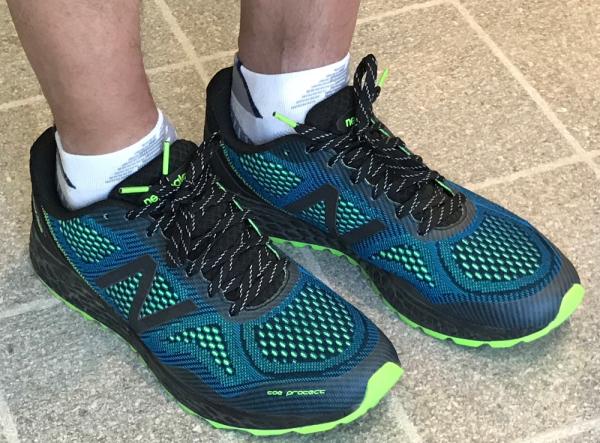 Verdict
The New Balance Fresh Foam Gobi V2 meets its stated goal of providing "a snappy feel over a variety of terrain." It's a running shoe that provides a high level of versatility – a chameleon that adapts to its environment.
And it appears to be highly durable, especially considering the $95 price tag. This hybrid shoe is a bargain that will meet the needs of city runners and country runners.
Highly recommended.
Good to know
The New Balance Fresh Foam Gobi Trail v2 is a trail running shoe that's designed for those who have neutral pronation. It doesn't have a lot of changes to make it very distinct from the first version in the series, but it's still crafted to be efficient on the off-road paths.
The upper now uses engineered mesh to provide a soft and sock-like coverage. This material is similar to woven cloth, employing a lightweight and flexible build that conforms to the shape and motion of the wearer's foot.
Standard measurements were used in the making of the New Balance Fresh Foam Gobi Trail v2. The company has made sure to accommodate the regular preferences of runners when it comes to size. The available widths for the women's version are B – Medium and D – Wide. For the men's iteration, the options are D – Medium and 2E – Wide. The curved shape of the platform accommodates the natural curvature of the human foot.
The New Balance Fresh Foam Gobi Trail v2 makes use of the AT TREAD Hydrohesion Outsole which is made up of a sticky rubber compound. Its adhesive nature allows the sole unit to hold onto the surfaces with ease. It's even optimized to tackle wet ground.
Moderately aggressive gripping lugs with flat edges provide extra grip on terrains that are more uneven. The flatness of the tips permits movement on flatter topography.
The Fresh Foam full-length midsole offers reactive cushioning for the entire underside of the foot. It's designed to be springy and agreeable. Its sides have geometric shapes and small grooves to help with springiness and flexibility. This midsole element is present in the New Balance Gobi Trail v3 and other New Balance shoes for trail running.
Additional cushioning is afforded by an ethylene vinyl acetate (EVA) sock liner. It can be removed or replaced by an insert of the runner's choosing.
The upper unit of the New Balance Fresh Foam Gobi Trail v2 features a cloth-like material called engineered mesh. Some areas are tightly woven to enable a snug coverage. The front and sides have ventilation pores to permit airflow into the foot-chamber.
A Gusseted Tongue seals the opening of the shoe and prevents debris from going inside it.
A thin layer of synthetic material called Toe Protect is printed onto the toe-box. Its purpose is to shield the forefoot from abrasive debris and surfaces.
The heel part has an external counter that features the "Fresh Foam Gobi v2" branding. This plastic add-on has the goal of holding the back of the foot in place and preventing it from exiting the shoe unintentionally.
Rankings
How New Balance Fresh Foam Gobi Trail v2 ranks compared to all other shoes
Popularity
The current trend of New Balance Fresh Foam Gobi Trail v2.