The Saucony Kinvara, year after year, continues to win us over with its do-it-all qualities. But this time around, it's taken our expectations to a whole new level. It's Hoka soft (perfect for easy long runs), but it's also got all the response we needed to do some tempos. Even better, it's a shoe that's going to last miles!
Pros
Superb fit
Lightweight
Cushioned just right
Hard-wearing outsole
Cons
Toebox can feel a bit sloppy
Saucony Kinvara 11 review
Saucony was not my first love, nor my second, but it certainly is my latest. The Saucony Kinvara 11 is one of my primary workhorses that gives an excellent fit, just enough cushion and light enough to not drag down the higher mileage runs.
How I got into the Saucony Kinvaras
I graduated not so far back from the highly-constructed, weighty trainers with heavy everything. Initially, I jumped from too much to too little in trying racers during that little time of the minimalist push. Not good!
I was looking for something in between and found it with the Kinvaras. I stepped outside the New Balance family and went with the strange blood of another shoe line *Gasp*.
They fall on the every-so-slight heavier side, but you will only know this by looking at stats and not by the use. They have a higher stack height than comparables, and it is very much present through the response but not on the drag of weight.
Saucony hits all the right spots with this one! Welcome to my fam!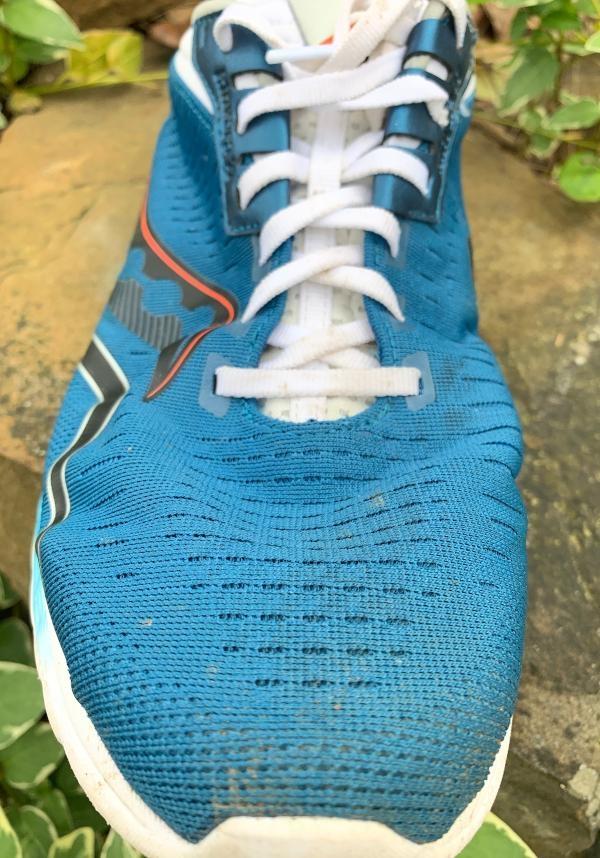 Amazing step-in comfort
When shoes arrive, I immediately put one on without lacing up and walk down the hall to get the initial feel.
Doing so, the fit was snug enough even not laced, and there was a concerning squish I noted immediately (we'll get to that). That squish was not what I expected after reading reviews and studying the stats. Hmmm, this could be interesting.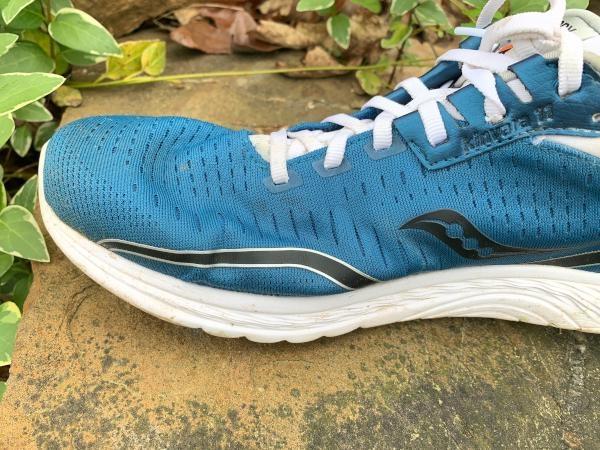 Now, there is a bit of movement in the toe-box. I go for larger toe-box capacity as a rule, and this certainly has it. But, I do get a sense of sloppy now and then.
I might need to fasten the latches a bit tighter so not fully convinced that this is an "issue" at this point. I note this in comparison to the 1500's. Without that comparison, it might not be even noticeable.
Kinvara 11 hooked me with a 'squish'
At this time my best friend was the NB 1500. On the search for the more perfect shoe (no offense NB), I thought the Kinvara might be worth a shot.
Oh, the purchases that I have made on that journey!! I had not ventured down the Saucony isle before, so this was a new adventure.
This shoe felt really good, very similar to the 1500, but something was different. Was it that squish?? To the pavement! I laced them up, did a few acrobatic moves (looking silly never stops me) just to get a sense of their movement—pretty darn steady.
They stayed with me spinning and skootching around with enough support and a tad of give—and that squish (there it is again!).
The Squish. I wanted to love Hokas and tried several flavors. I had nothing but rubs and blisters everywhere I turned. I can't explain why. I loved what they were doing, but I just could not keep the toenails intact and the band-aids in the box.
So, I was having fond memories of the super squishy cloud feeling of the Hokas even when donning the NB 1500's. If only I could get these two together.
That's it! The Kinvara has a little of that cloud of Hoka but the performance of the 1500's. Interesting! (Note that the 1500 have more support where the Kinvara is a neutral).
On the pavement that stack of foam was very noticeable—perhaps just a little too much for me (flashback to the issues of the super squishy earlier) But—but I really liked it all the way around.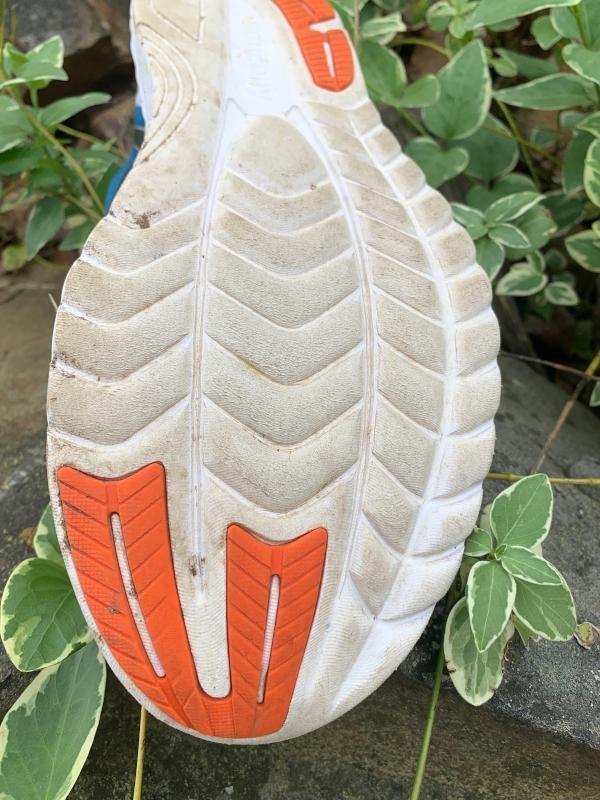 There are times that I am looking for something a little more forgiving and less pounding—I call it squish. This does just that.
You can actually see the squish looking at the flip side. The orange blocks are the high impact areas (even if a heel striker). I am a proclaimed midfoot runner, but the sole of my shoes seems to disagree.
Less rubber but still durable!
There is no hard rubber in the midfoot like many rivals. You can feel this and apparently these are not suffering a breakdown on that first-point-of contact on the midfoot.
This could lead to that pronounced squish on landing as there is not as much structure. For the record, these have around 90 miles at the time of their glamour-shots. To round out the side and heel area are well padded.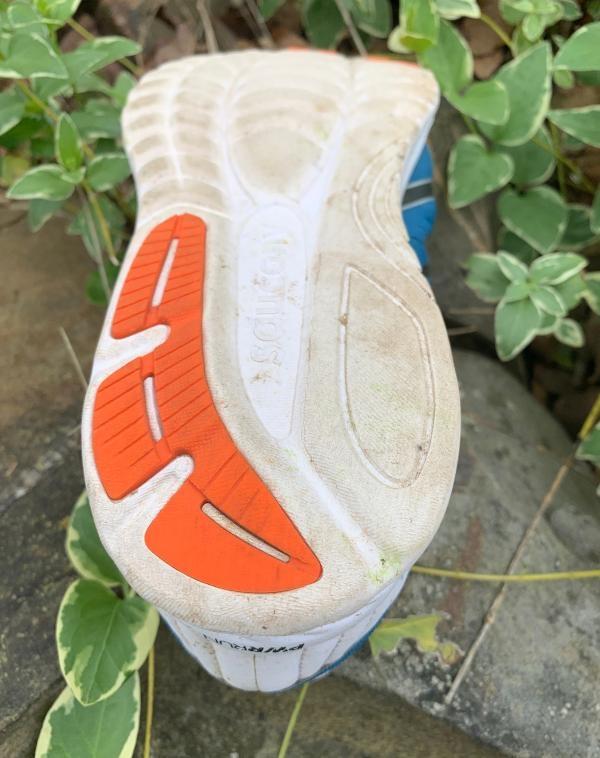 What else to love about the Kinvaras
I typically have no issue in the ankle or heel area. The Kinvaras do not call attention to these areas. For the most part, these shoes do not call attention to themselves at all on the run. They just exist which I really like.
Only a few pairs over the years have found this sweet spot. Congrats, Saucony—you have a new friend.
I look forward to seeing where these evolve over the years and see them as having a coveted spot among my four pairs of various flavors and styles that see rotation donning the running shoe rack in my closet.
Oh, I don't put much stock in looks. I purchase based on technical stats and fit. If it all matches—to the cart you go. But these actually have a conservative look that probably will make them go-to-the-grocery-store shoes after they retire.
They have a little flair to them that will not draw attention so much but will not embarrass you either if seen wearing them off the beaten path. I will continue to wear down those heels unintentionally!