Overall ranking lists
Puma categories
Known for innovation and style since 1924, the German multinational company Puma is well-known for its wide selection of sportswear, footwear and athletic accessories. It designs and develops athletic shoes for a variety of sports, including track and field, golf, cricket and rugby. The brand is committed to provide the best shoe technologies to make each performance memorable and top notch for the wearer. Not all Puma running shoes have great reviews, yet some of them maintain great reviews from the past to present, especially in Germany and other European countries. When it comes to active and casual footwear, Puma remains as one of the top go-to choices on the market.
Puma Running Shoes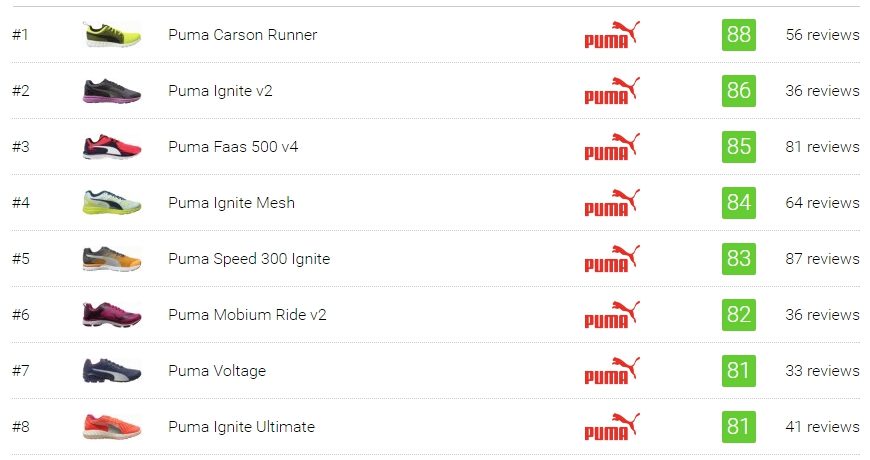 Puma running shoes continue to amaze casual and advanced runners, with its highly innovative shoe technologies that differentiate the running experience on track and trail. With popular shoes, such as the Puma Faas 500, Puma Mobum Elite Speed and the Puma Faas 300, you can get the perfect pair for your trail running, track racing or performance training. However, not all men's and women's Puma running shoes have high ratings. It is best to peruse reviews and get the professional opinions of advanced runners to facilitate the best running experience. Some of the Puma ambassadors for running include Chitrangada Singh and Usain Bolt.
Shoe innovations from Puma have garnered mentions in over 100, 000 reviews from shoe enthusiasts and running experts. The brand's performance collections maintain a unique blend of comfort and performance that suit casual runners and seasoned athletes. If you need a boost in your athletic potential, wearing the best Puma shoes might do the trick.
Why do Puma running shoes deserve great reviews?
Decelerating pronation is achievable with the right type of running shoe. If you are an over pronator who wants to reduce wasted motion and maintain gait efficiency, the Puma motion control shoes and Puma stability shoes are worth your money. However, if you want to improve your flexibility and natural running motion as a supinator (under pronator) or neutral pronator, Puma neutral shoes will not disappoint.
Enhance your natural running motion with Puma minimalist shoes and Puma low drop shoes. These two types are great for transitioning to barefoot running smoothly. In fact, you can choose from varied heel to toe drops to determine how much cushioning should be present in your minimal and light running shoes.
Trail and track runners will find a great performance pair from Puma. Puma trail shoes are designed to handle uneven terrain, like grassy areas, sandy shores, rocky mountain ranges and slippery or muddy grounds. As for Puma road shoes, runners can use them for regular running and performance training on the pavement, gravel and track.
Trail and track races can be won by increasing your running speed. Racing-specific technologies in the Puma race shoes will keep you speedy on your chosen race without compromising protection and performance in every step.
How could the best Puma shoes get high ratings?
Footwear technologies. As one of the long-standing running shoe brands in the market, it is not surprising that Puma has a wide array of technologies for their performance footwear. The shoe innovations available include FAASFOAM midsole, EVERFIT technology, EVERTRACK+ outsole, IGNITE Foam midsole and AIRmesh upper among others. These brand-exclusive technologies and features are incorporated in the best Puma shoes so runners can take advantage of their performance, comfort, support and protection on the track and trail.
Pricing. Reasonable prices are expected from Puma's range of running shoes. In fact, the brand is one of the top choices for casual athletes and entry-level runners because they have affordable running shoes that do not compromise on quality, comfort and performance. Some of the most affordable shoes are priced $70-$80, while the best Puma shoes can be bought for as low as $130-$140.
Popularity.The brand, Puma, is known for their dedication to improve athletic potential. In running, the best Puma shoes are built with quality-certified features and shoe innovations to suit performance running, casual training and racing among others. In fact, many professional athletes rely on the brand's collections for their training and competitive needs. Despite the influx of other running shoe manufacturers in the market, Puma shoe collections still get high ratings and great reviews from runners and running authorities, like Runner's World, Competitor and Men's Health. Some of the recognitions and awards that the brand has garnered for their performance shoes are the "Running Trainer" award, "Spike Running" award and "Best Running Shoes" award.
This shoe has recently been added to RunRepeat. There are still not enough reviews for us to assign it a
Corescore
.
Corescore
A score from 1 to 100 that summarizes opinions from users and experts. The average Corescore is 78.
More...