A union of max cushioning and cutting-edge tech, hello PUMA Deviate Nitro! The cat is out of the bag, and this time, it didn't come to play. It's extremely versatile and EXCELS as a daily trainer, a long-distance recovery shoe, and even a racing flat! Hats off to PUMA, this is truly a promising comeback to the running scene.
Pros
Versatile (daily trainer, race)
Extremely fun ride
Durable
Glove-like fit
Superb grip
Lightweight for a distance shoe
No break-in period needed
Breathable
Cons
Loose around ankles
Not for cold weather
PUMA Deviate Nitro review and lab test
Max cushioned meets high tech race shoe! Welcome back, PUMA!
I'm not 100% sure what the intention is behind the Deviate Nitro. Is it a race shoe? Is it a max-cushioned distance shoe?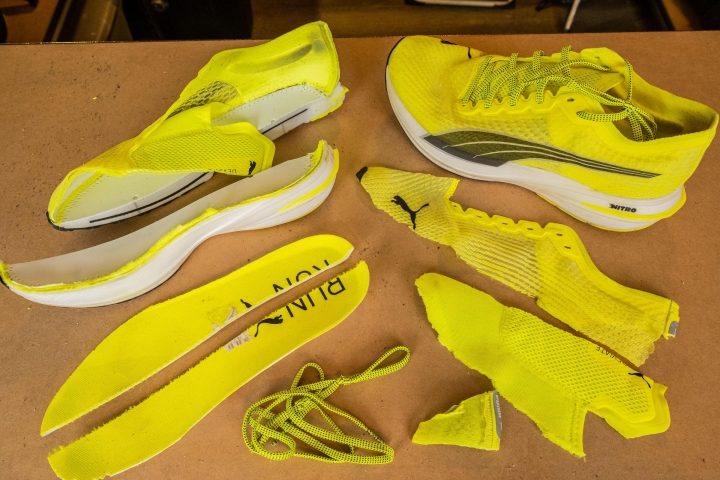 Who cares, it's sexy as hell, has a carbon plate, and a nitrogen-infused midsole for $160, I had to get my hands on them!
Who the shoe is (not) for
The PUMA Deviate Nitro is for the runner that doesn't want to have to pick between cushion and technology.
The shoe is able to provide long-distance comfort with the added pop and response to keep you efficiently trodding along. It's ideal for anyone that wants a max-cushioned daily trainer that you can actually use on race day.
This is not the shoe for you if:
You hate heel slip or
You want an ultralight race shoe.
PUMA Deviate Nitro is not true to size
It feels a half size too big.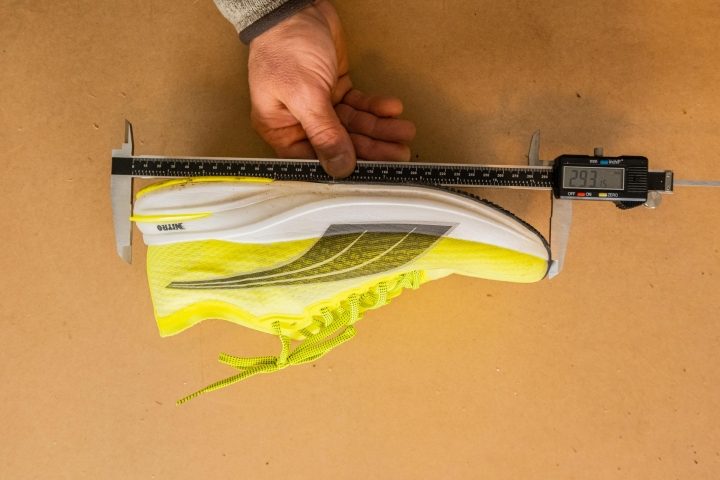 There's a lot of room upfront which may be part of the second issue, heel slip.
Glove-like feeling
I love that PUMA built this with a gusseted tongue, that's a rarity in carbon plated speed shoes, and it afforded great mid-foot lockdown. It honestly felt like a glove around the thicker parts of my foot.
I also liked the attention to detail PUMA put into the tongue. It's thin and soft around the edge but with enough padding (5mm) over the top of the foot to avoid any discomfort from the laces, something race shoes tend to overlook.
Superb grip on PUMA Deviate Nitro
I mainly ran on wet roads and trails after a few big spring storms here Colorado and I was impressed with PumaGrip.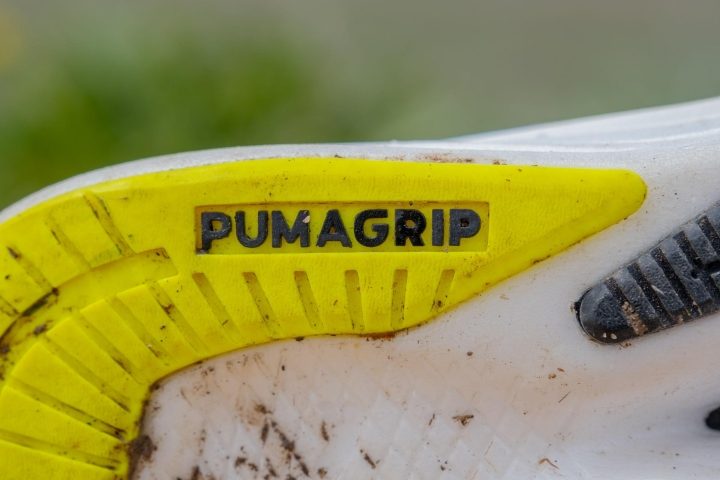 I would have come up with a better product name for this killer outsole, but other than that I have no complaints.
Heel lockdown failure
Heel slip was a real issue with this shoe. PUMA went half-assed on the heel counter, it's not super soft like other racing shoes, but it's not super stiff either.
The 2.5mm plastic insert is plenty thick but it's just medium-stiff and I think PUMA should have picked soft or firm.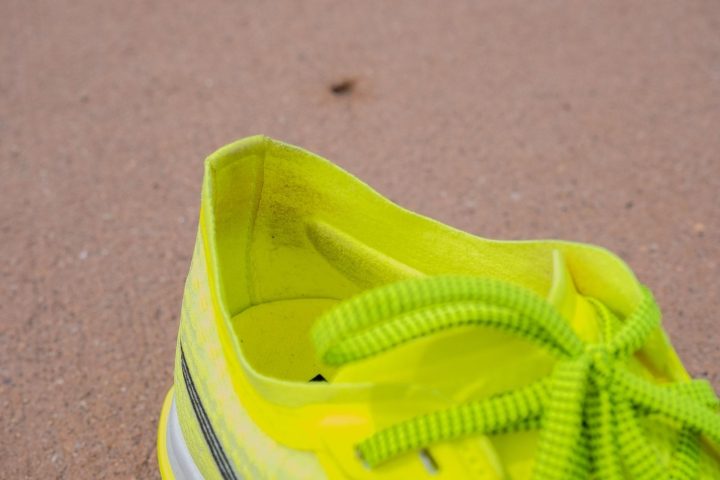 The ankle collar pads on either side of your heel don't aid in the lock down when combined with zero padding in the back.
The ankle collar measurements go from 8mm at the front of the pad, to 9.6mm in the middle, to just 2.5mm thick in the back. To me it felt like there was a gap that should have been filled by some heel foam to add needed lock down.
Cushioned for long distances
The Deviate Nitro has a smooth transition and plenty of pop off the toe thanks to its carbon plate.
Normally plated shoes are reserved for race day, but the Deviate Nitro utilizes this tech in a max-cushioned long-distance shoe. It's an interesting mix, and I have to say, I dig it.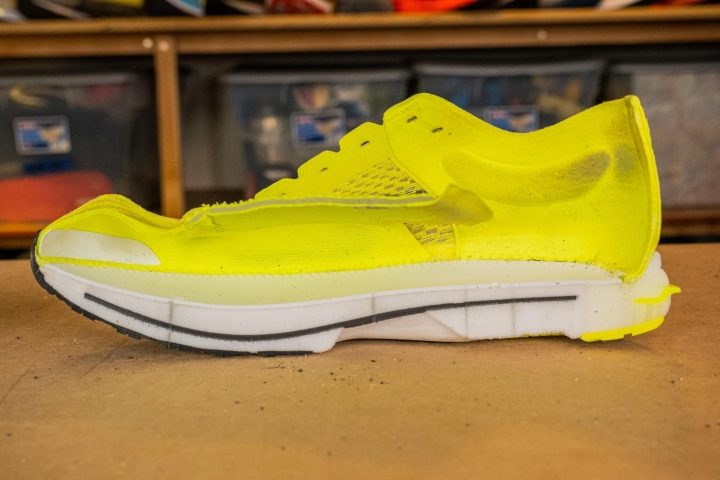 It can go fast, and be your daily shoe. It's pretty annoying to have a super expensive race shoe you really can't train in. I like that this can do both and should last well beyond the dismal projections of true race-ready kicks.
Great weight for a long-distance shoe
This is a tough call on this shoe.
At 9.15 ounces (261g) it's not an ultralight, carbon-plated race shoe like the ASICS Metaspeed Sky is (6.7ounces for a comparison), but is this shoe a race shoe?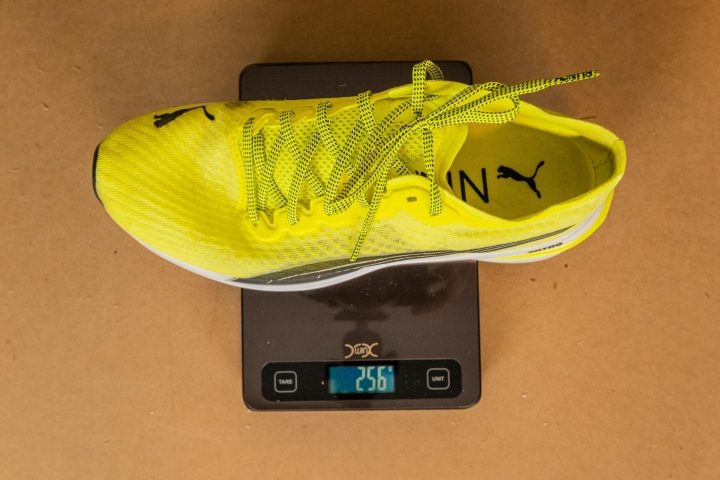 It has a full rubber outsole that's nearly 4mm thick!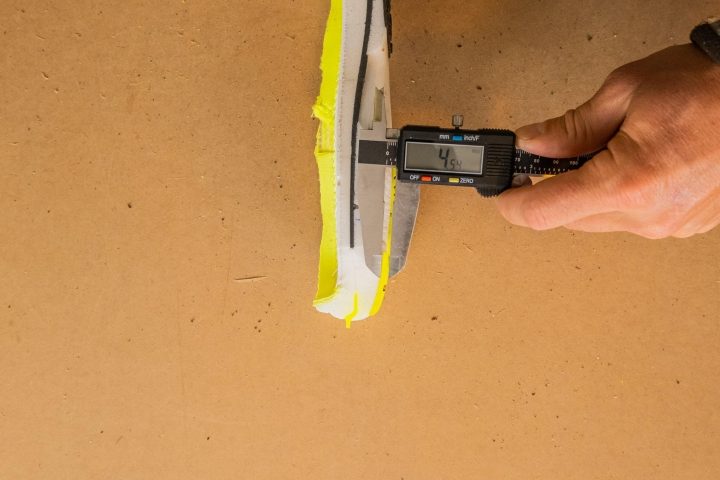 As a long-distance max-cushioned shoe it's pretty dang light at 9.1 ounces!
This is a glass-half-full for me, I think this shoe can do a lot and I am happy with it even at 9 ounces.
Ankle collar too loose
The top of the ankle collar is this suede-like thin material, I enjoy the idea here and have seen this done well in other shoes, but on the Deviate Nitro it's loose around my ankle and feels a bit sloppy.
PUMA Deviate Nitro is FUN
Wow! This is a fun shoe to run in.
The SuperCritical ITRO foam is a nitrogen-infused foam that's on par with similar midsoles I've loved lately like DNA Flash from Brooks and Hyper Burst from Skechers. Think Hyperion Tempo and Razor +, two of my top picks from 2020.
I love this material, it's poppy, cushioned, lively, but not overly bouncy or unstable.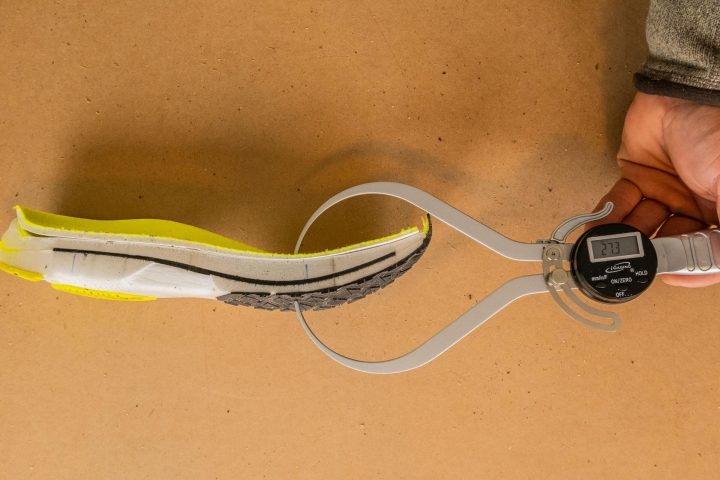 The landings were smooth under the ample amounts of foam (27.3mm in the forefoot and 35.7 in the heel), making my feet happy throughout my various efforts in these shoes.
PUMA Deviate Nitro has a removable insole
I don't normally spend much time talking about insoles, but most race shoes are missing this, and I like that this shoe deviates from that norm to offer runners a bit more comfort or the option to use their own.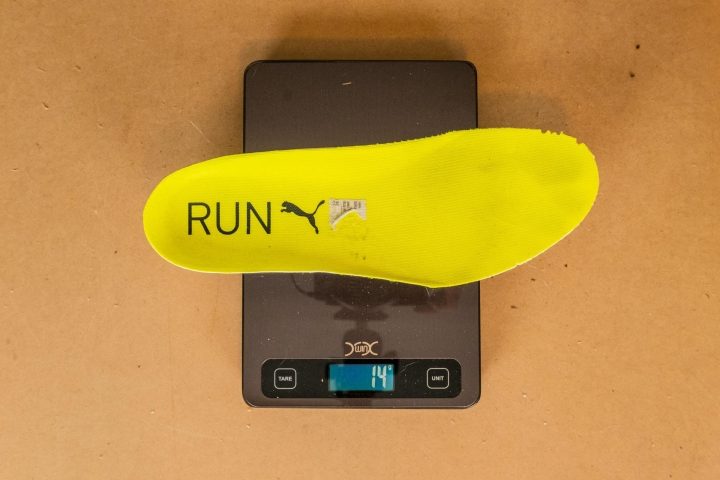 Deviate Nitro is great right out of the box
Another great note, this shoe is ready to go day one, right out of the box. There's really no break-in period thanks to an upper devoid of restricting overlays.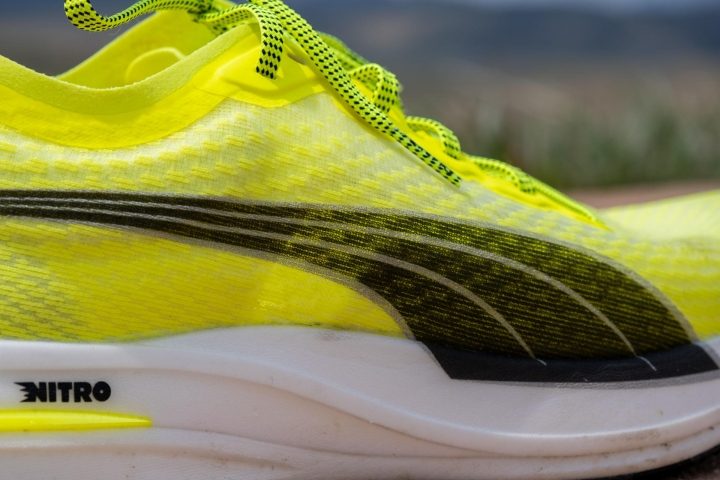 The mesh fabric is taught, it's not flexible, but it's not hindered by hot spots caused by welded elements in need of breaking in.
Surprisingly durable
A+ here for PUMA. I wanted to keep comparing the Deviate Nitro to other race shoes that look and feel like this, but it has more to it.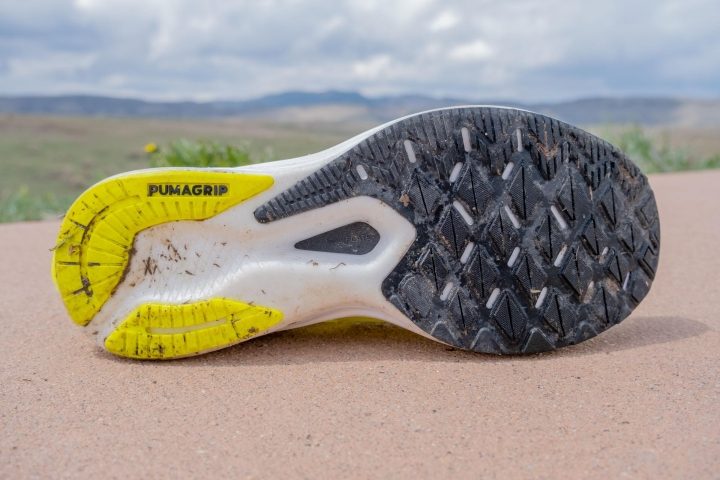 The PumaGrip outsole is thick and full-coverage. I think that alone adds an X in the win category for this shoe.
PUMA Deviate Nitro is insanely versatile
I did a little bit of everything in this shoe. I didn't know it's real purpose so I had to find it.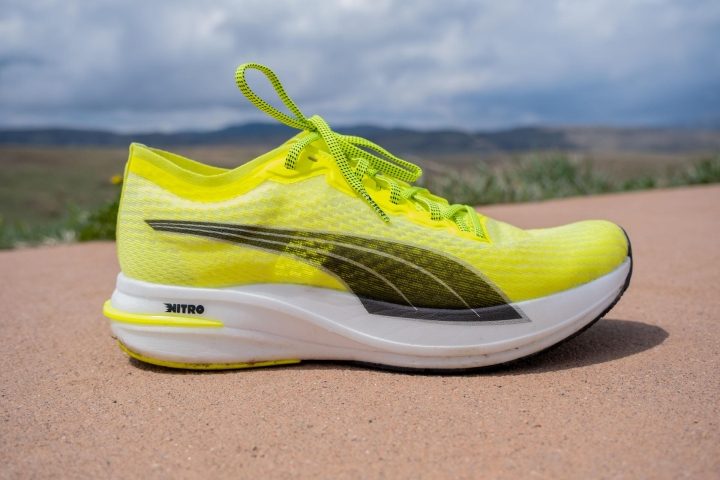 I hit the treadmill and ran at 5/min pace, I slowed my roll and upped my incline to 15%.
I ran out in the rain.
I even went on a long slow run.
I still don't know if there was a particular use in mind for the shoe's design, but I will say they did everything I put in front of them as well as any shoe I've tested.
Deviate Nitro is breathable
The upper is made from a few layers of stiff polyester-like mesh which on its own would breathe insanely well. But PUMA also layered the inside of the shoe with stretchy nylon that I think they could have done without.
This layer is part of the gussets for the tongue which goes all the way around the toe, but I think PUMA could have gone with a semi-gusseted design, lost some weight and made this shoe even more breathable than it already is.
Deviate Nitro is night-run friendly
There's a nice reflective element on the heel of the Deviate Nitro which is great for night running, but not a ton of other visibility-enhancing features.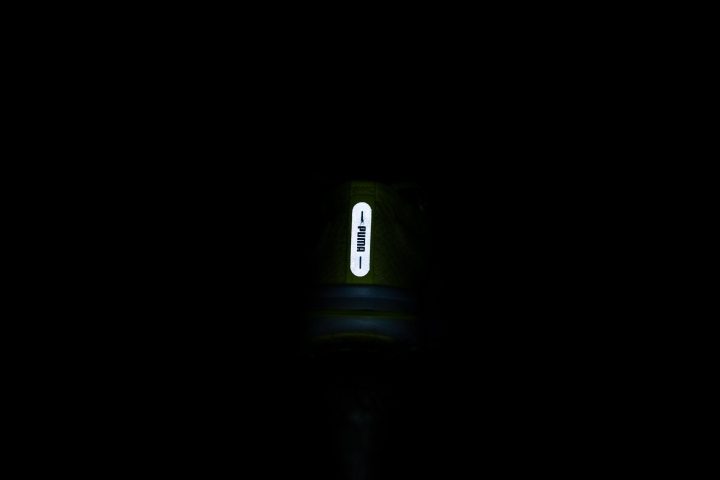 Not for cold weather
Beware in cold weather! This shoe saw significant stiffening in our freezer test to the point of it becoming almost useless. It was already a stiff shoe with its carbon plate.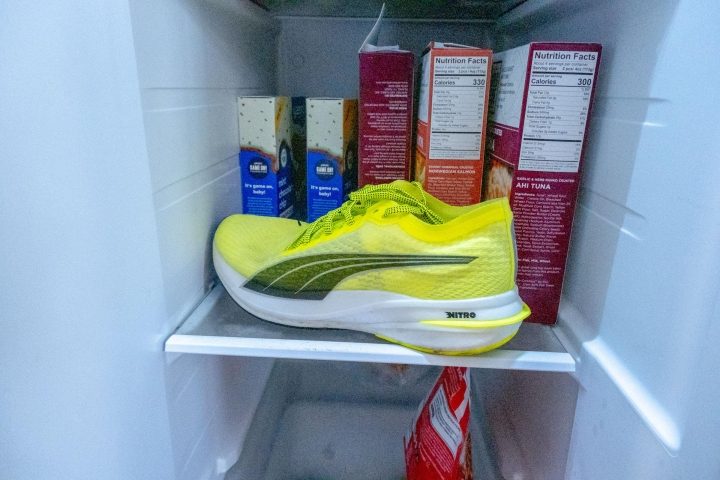 At 62.8N on our room temperature flex test it's just .1N behind our stiffest shoe tested to date (ASICS Metaspeed Sky) and almost double the average shoe at 32.2N.
After an hour in the freezer this shoe significantly hardened (yes I say hardened not stiffened intentionally). Where the Metaspeed stiffened to 76.1N (21.12% change), the Deviate Nitro was an outstanding 95.9N (52.67% stiffer) making it the stiffest shoe we've ever seen. It literally felt like a brick of ice.
Conclusion
Overall, I'm pretty impressed with the PUMA Deviate Nitro. This is PUMA's re-emergence into the performance running world and I think they have a promising future.
At $160, you're getting a lot of great features in this shoe. Carbon plate, nitrogen midsole, full rubber outsole, breathable upper. It's stable. It can be a daily trainer, a long-distance shoe, or something you bring out on race day.
I'm sure PUMA is listening, and V2 will solve some of the issues this debut model struggles with. I'm excited to see what comes next!