A word behind the rankings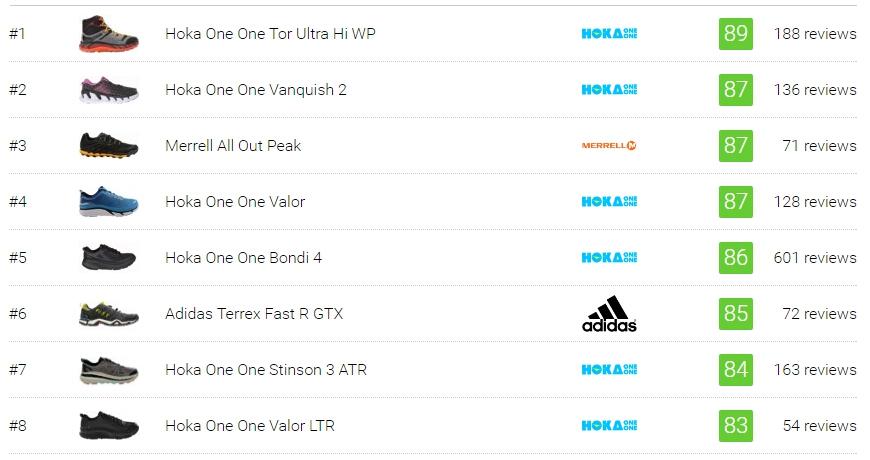 There are literally hundreds, if not thousands, of shoes out there today. The number of shoes almost coincides with the number of theories behind the construction and design of every shoe. There is practically no wrong shoe, but there is always the "right" shoe for the right runner.
Hence, the rankings are not the end all of buying guides. These rankings, however, are based on what the manufacturers designed a particular shoe to be and the corresponding ratings given by runners and/or testers who have had the experience using these shoes.
What makes a maximalist shoe?
Most maximalist running shoes are very distinctive because of their substantial sole. Some of the most popular brands offer an oversized midsole and outsole design that it is almost impossible to mistake them for anything else.
Roughly, shoes that have at least 25mm in the forefoot and 29mm in the heel can be classified as greatly-cushioned shoes. Almost all brands have this type of shoe so there is no need to look for a particular shoe producer.
The exceptional cushioning in this kind of shoe are engineered to take on the impact of repetitive pounding, usually on man-made surfaces. It serves as a buffer between the ground and the foot for more than adequate protection.
Factors to consider when looking for a max-cushioned shoe
Terrain
Knowing where you intend to run greatly helps in choosing the right maximalist shoe. A majority of heavily-cushioned shoes is designed for road running while some can handle the rough outdoors.
Trail shoes have generally more aggressive and toothy outsole for better grip on the rugged trail. These greatly-cushioned trail shoes are also more inherently stable and supportive for runs on uneven and challenging surfaces.
There are also hybrid maximalist shoes that can take the runner from the doorstep to the trails with ease. For those working around a budget, hybrid, well-cushioned trail shoes are superb choices.
Weather/Climate
Running in hot or humid areas calls for a more open upper design for better ventilation. Runners who often run in inclement-weather areas may opt for heavily-cushioned shoes with waterproofing or water-resistant features.
Needs
Most runners have different needs based on their running styles, foot dimensions, or health-related requirements. These things also factor significantly when choosing any shoe.
Some overpronators may look for max-cushioned running shoes with enhanced support or stability features as these usually have better arch support than neutrals. Runners who supinate sometimes go for superbly-cushioned shoes with noticeable flexibility to compensate for their outward motion or rigid feet.
A large number of runners with high arches also opt for maximalist shoes. The natural structure of their arches already offer them enough support so many of them
There are also greatly-cushioned shoes that have an extra width or two for the most comfortable and functional fit. The kind of fit that is not too loose or too snug are at the runner's disposal with the added choices where width is concerned.
Comfort
Comfort trumps everything. Regardless of the support or the cushioning, or the traction, it doesn't make sense to buy a shoe that you are not extremely comfortable with.
Trying on a shoe or several pairs is a very sensible thing to do. If you must shell out your hard-earned money, you might as well make it a sound investment.
Who often buys maximalist running shoes?
There are several groups of runners who usually find themselves in need of extremely-cushioned shoes based on reviews and comments from users.
A good number of runners who have had foot, leg, or back issues have sought the comfort and protection of this type of shoe.
Some road warriors who run at a moderate pace also long for very well-cushioned shoes. The protection and cushioning that this kind of shoe gives makes it a staple in their running requirements.
A moderate number of speed lovers sometimes find themselves in max-cushioned shoes during recovery days or when they just want to take it easy.
Entry level or recreational runners are among the hordes of fans of maximalist shoes. Most of them have been very impressed by the level of cushioning, the comfort as well as the protection against hard-packed surfaces.
Great Options
As very well-cushioned shoes are becoming more popular again, there is a ton of options for the runner to choose from. Max-cushioned shoes can either be designed for neutral runners, those with high arches, rigid feet, those who overpronate, and those who roll excessively outwards after landing (supinate).
The latest technology also means that most maximalist running shoes are surprisingly lighter than what the number shows on the weighing scale or more agile than their sometimes bulky look.
Fashion
Gone are the days when shoes with max cushioning look like glorified card boxes. Runners are more fashion conscious and usually make it a point to pick their shoes with aesthetic value in mind.
Today's heavily-cushioned shoes look as good as any on the market. Their surge in popularity also mean that different and varied color options are almost always available to accommodate most of the runners' fashions tastes.
This shoe has recently been added to RunRepeat. There are still not enough reviews for us to assign it a
Corescore
.
Corescore
A score from 1 to 100 that summarizes opinions from users and experts. The average Corescore is 78.
More...