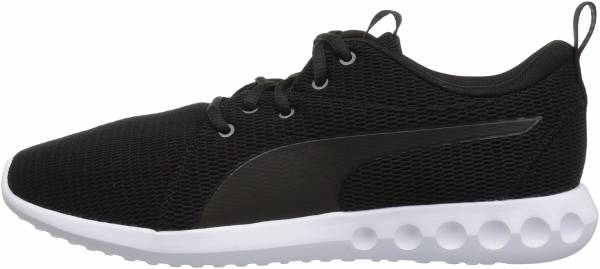 With its uncomplicated and no-nonsense design, the Puma Carson 2 was a winner for most of its users. They were happy with its simple features and their capacity to deliver a performance expected from a brand they trust. It touted to satisfy the needs of an everyday runner who isn't looking for extravagant wear.
---
Verdict from 1 expert and 100+ user reviews
7 reasons to buy
Many users were happy with the shoe's affordability and decent quality.
It provided the perfect amount of arch support for neutral pronators, as mentioned by a purchaser.
It was comfortable enough to wear even for daily use, stated a consumer.
The midsole delivered well, and running felt like stepping on the clouds, wrote a reviewer.
One user commented about the shoe's considerable ankle support.
Several wearers found the upper to be very breathable and snug on foot.
The cushioning was found to be plush and not at all bulky or substantial.
4 reasons not to buy
A user commented that the shoe was too stiff and not as durable as expected.
The fit is a bit tight and uncomfortable, according to a wearer.
The shoe felt flimsy and unable to support running or any similar physical activities, a buyer complained.
The outsole was criticized because it lost all its grip in less than a month of use.
Bottom line
With its uncomplicated and no-nonsense design, the Puma Carson 2 was a winner for most of its users. They were happy with its simple features and their capacity to deliver a performance expected from a brand they trust. It touted to satisfy the needs of an everyday runner who isn't looking for extravagant wear.
Best price from 50 shops
We earn affiliate commissions at no extra cost to you when you buy through us.
85% say it's true to size.





Our reviews
Besides being one of the big running shoe brands, PUMA is also great in another way – it's one of the most inexpensive brands in general, according to a RunRepeat study and it's widely available.
Being a cheapskate, I love good inexpensive running shoes. Taken from personal experience, I don't find a strong resemblance between price and quality. It simply boils down to what you need and your personal preferences and running patterns.
Similar shoes
So how do two inexpensive running shoes from the same company stand out?
I first bought PUMA Carson 2 as a backup pair. Looking similar, right?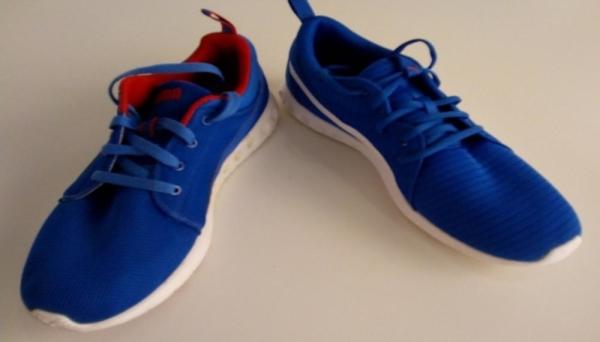 What I wasn't aware of, was the differences - apparently subtle, but in real life substantial. Let's start with some of the similarities.
Obvious Similarities
These shoes are lightweight. Carson Runner ticks in at 204 grams, Carson 2 at 198 grams (size 44, 9.5 UK, 10.5 US). Pretty light for running shoes.
The soles of these shoes are flexible length-wise – which I kind of like. I really feel in contact with the ground, no bulkiness here.
These shoes are true to size and very comfortable.
There is not much support in the upper, which BTW has a sock-like fit and feel – heel support is fine, but there's not really anything in the forefoot. But that makes room for a fine toe spread.
8 mm heel to toe drop.
Basically, the look of the shoes is quite similar – nice mesh upper, no separate toe-box, and white EVA-foam midsoles.
Obvious Difference
What immediately set these shoes apart spec-wise, is the outsole – the PUMA Carson 2 is equipped with a pure EVA-sole, the PUMA Carson Runner is a combination of EverRide rubber material for extra cushioning and EverTrack red rubber pieces for added durability.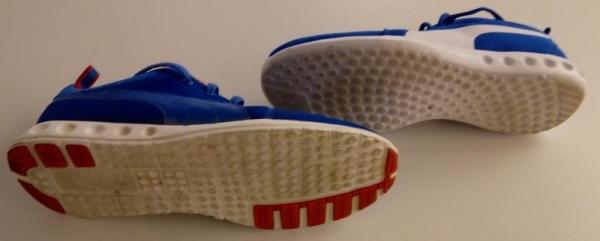 So far so good – let's get our hands on (or feet in) for further investigation.
Further investigation - one of each
Trying one of each at the same time reveals quite a few things - they feel different!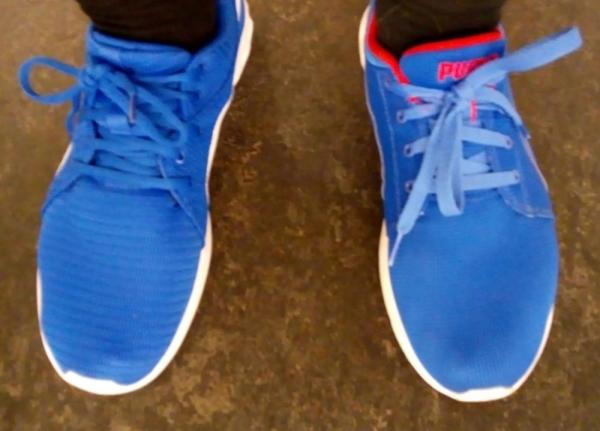 The Carson 2 is wider than Carson Runner, despite both being the same size and same length. Shoe lacing experiments didn't alter this. While Carson Runner is for moderate-to-narrow feet, Carson 2 is for moderate-to-slightly wide feet.
The mesh is woven in smaller patterns in the Carson Runner – could that in some way explain the different widths?
The Carson Runner is way bouncier than Carson 2 while walking – and still feeling very comfortable. Carson 2 is on the other hand way softer when walking, and absolutely a thrill.
Enough walk and talk - let's run
I must confess I instantly fell in love with the PUMA Carson Runner when I bought it. Marketed as a comfortable competition shoe with a very generous price tag – that's exactly what they are. They are springy, bouncy and very enjoyable for speedwork and competitions. You feel fast and alert – and you are running just that way!
These are simply "my new best friends" for fast road running or treadmills. They have been in action on several 5 and 10 km's and are simply cut for the purpose: fun and speed – and no sore legs, hips or back afterward.
And the PUMA Carson 2 – How about them? The softer midsole is also present when running.
Despite being a midfoot-runner, these shoes are recommended for neither training nor competition – they are simply too soft. My knees and back didn't appreciate the running and I was desperately struggling after the first mile. This wasn't fun at all. Not recommended.
One for running and one for walking
I must confess that I'm surprised that two almost similar shoes can turn out to be so dramatically different – and can hardly understand why the PUMA Carson Runner is being discontinued. It's a very, very good and lightweight competition shoe – flexible, with enough cushioning, lots of response – and with a very small price tag.
On the other hand, there's the Carson 2 – same price and great for walking. But not useful at all for running (even on treadmills). They should be branded as very comfortable sneakers for moderate-to-slightly wide feet.
Final words - about buying running shoes
The battle above reveals another thing – you cannot judge a shoe by simply walking around in a shop.
Yes, you can feel the comfort, but the sole interaction when running is another beast. Even treadmill testing isn't fair – the surface is usually too soft.
If possible, try out shoes on hard, concrete surfaces, so you really can feel the interaction. See you running!
Updates to Puma Carson 2
The Puma Carson 2 showcases a new silhouette that is more modern than its predecessor, while still packing the dependable features of a classic road-running shoe. It is designed for runners who are neutral pronators.
The upper of this running shoe from Puma has been updated to include a midfoot panel that creates a faster profile sans an internal toe box. It still makes use of a breathable mesh.
With a streamlined midsole design, the shoe provides a lightweight cushioning and comfort. The Softfoam sock liner promotes a soft and plush feel for the underfoot. Meanwhile, the outsole aims to deliver a light grip with its ground-contact EVA.
Size and fit
The Carson 2 has a standard running shoe length, with standard size options available. The shoe's construction is best for runners with narrow to moderate foot volumes; it comes in width profiles of D – Medium for men and B – Medium for women.
Outsole
The Puma Carson 2 has a ground-contact EVA as its outsole for optimal traction and underfoot feel. Because it is lightweight, this material promotes a relaxed ride while still retaining the same grip and flexibility as the usual running shoe. This foam is abrasion-resistant; thus, it is sturdy and has a high shock-absorption capability.
Midsole
With an injection-molded EVA foam, the midsole of the Carson 2 is lightweight, yet it doesn't sacrifice cushioning and comfort. The foam also claims to have a shock-reducing property that helps with producing an energized toe-off.
The signature Softfoam sock liner enhances the underfoot feel by offering comfort while the runner is wearing the shoe.
Upper
The Puma Carson 2 has a mesh upper and lining which offer a snug, sock-like fit. The material is made durable, so it withstands the various stresses from running.
It has a panel on the midfoot area to support the foot in place as well as maintain the structure of the shoe.
The 2nd version of the Carson has no internal toe box, which was done to reduce weight, promote flexibility, and deliver more speed.
The tongue and the heel both have pull tabs that allow the runner to put on and take off the shoe with ease, permitting a convenient way to wear.
Popularity
The current trend of Puma Carson 2.