Verdict from 44 experts and 100+ user reviews
8 reasons to buy
Speed: Many users commented that the Nike Zoom Fly offered fast and efficient performances on the road.
Cushioning: A lot of consumers liked the cushioning system of this running shoe, stating that it offered generous cushioning on long distances.
Fit: Most runners were very satisfied with the sock-like fit of the upper unit, emphasizing that the coverage was smooth and non-irritating.
Weight: The reviewers were happy about the lightweight nature of the components as they apparently improved the efficiency of their gaits.
Quality: A few users commended the high-quality construction of this shoe since it held up well against abrasion and other aberrations, even after many miles of running.
Support: Several runners commented that the midsole was responsive yet plush and that the mixture of those elements led them to feel well-supported.
Looks: The aesthetics of this trainer from Nike were lauded for being street-ready and colorful.
Grip: The traction capacity of the outsole unit was welcomed by several testers who stated that it allowed them to swerve and halt with precision and grace.
2 reasons not to buy
Catching rocks: Several people mentioned that little rocks had the tendency to get trapped in the outsole tread, causing some discomfort and unbalanced performance.
Price: Some individuals thought that the Nike Zoom Fly's original price was a tad expensive.
Bottom line
With its efficient performance, the Nike Zoom Fly certainly set the bar high for speed running shoes of 2017. It also proved itself as a worthwhile choice for most runners looking for a durable pair of neutral road running shoes for all distances up to a marathon.
Its more recent iteration, Nike Zoom Fly 3, continues to impress the most avid runners.
Tip: see the best running shoes.
Our reviews
The race-trainer "designed to meet the demands of your toughest tempo runs, long runs and race day with a responsive construction that turns the pressure of each stride into energy return for the next."
It has an offset of 10mm (33mm heel, 23mm forefoot) with a weight of 248grams (US Size 9).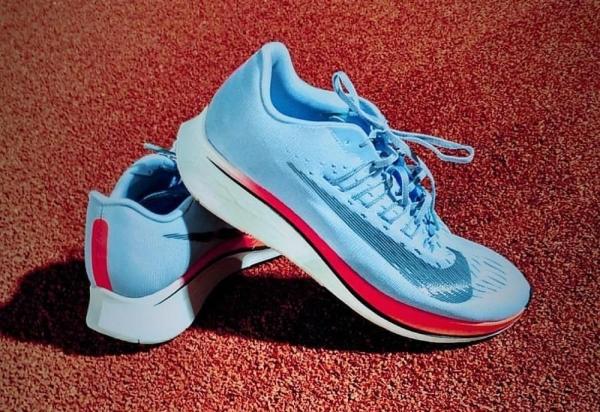 Upper
The Zoom Fly uses an engineered mesh with a few cut-outs to allow for breathability. It features a thin and soft fabric layer attached to the mesh for a sock-like fit that conforms to the feet of the individual. I found that breathability was not an issue for me.
No rubbing or hot spots were found during the use of the shoe. The upper is certainly not the best (check out the under armour hovr) but performs decently.
The Dynamic Flywire technology is utilized to allow a more custom and snug fit.
This locked down my feet considerably well and provided minimal support, though I could feel the flywire ever so slightly when I wore thin or no socks. Fortunately, the flywire did not dig into my skin.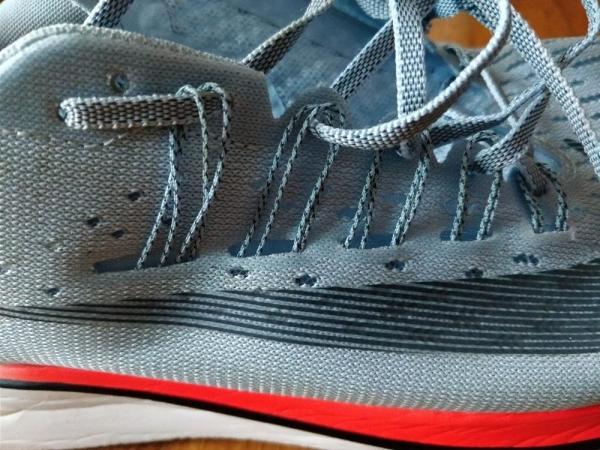 Ankle Collar/Heel Counter
The ankle collar is padded quite thickly. Frankly, the padding could be cut down to save weight while retaining comfort.
The heel counter is located internally to provided support and heel movement. This worked fairly well for me but adds weight to the shoe.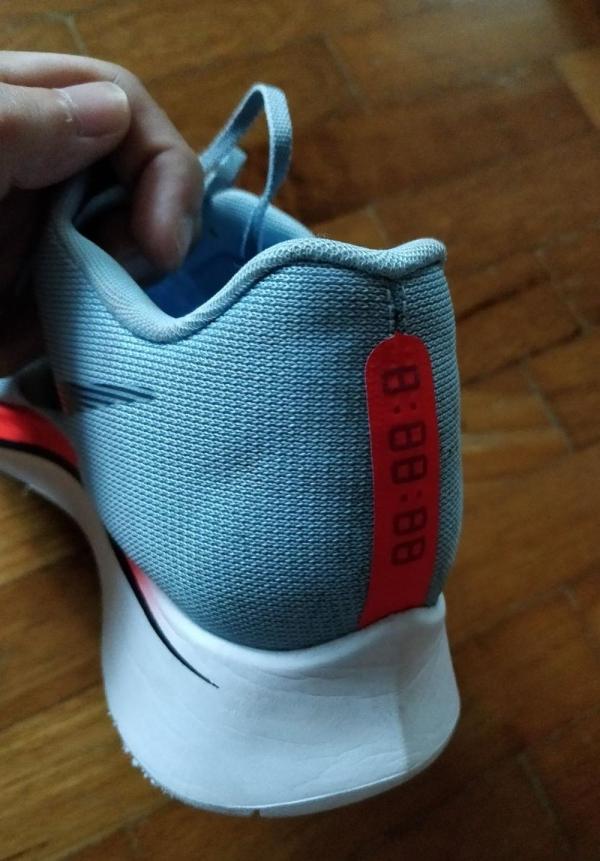 Tongue
The tongue is a very thin layer of an asymmetrical shape. I initially thought that the tongue would pose a problem and cause some rubbing due to the fact that it wraps the foot more than a traditional tongue.
I found that none of these problems occurred. The tongue pleasantly surprised me; It provided a more secure fit while being decently protective. However, I started to feel a bit of lacing pressure when I tightened my shoes.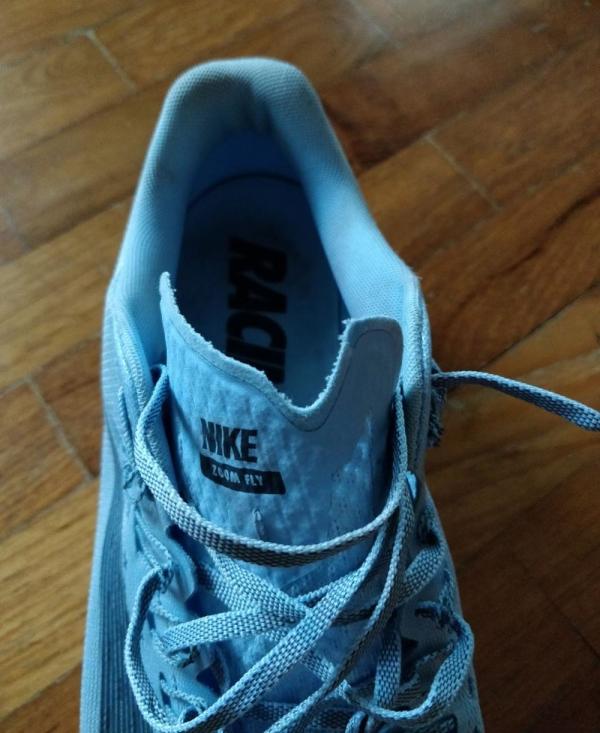 Lacing
The Zoom Fly uses thin and flat laces that provide a better lockdown than rounded ones. The laces are not stretchy.
Fit
This depends on the distance and thickness of socks you wear.
If you run 10km and below/ your feet does not swell as much/wear thin socks, then go true to size. If you are running half to full marathons/ your feet swell quite a lot/wearing thick socks, then go up half a size.
Midsole Technology & Ride Quality
As the Vaporfly 4%, the midsole uses Lunarlon instead of ZoomX.
Lunarlon has been a standard material used in many Nike shoes. Lunarlon does not last for very long. After a 10km run in the Zoom Fly, creases are starting to appear in the midsole.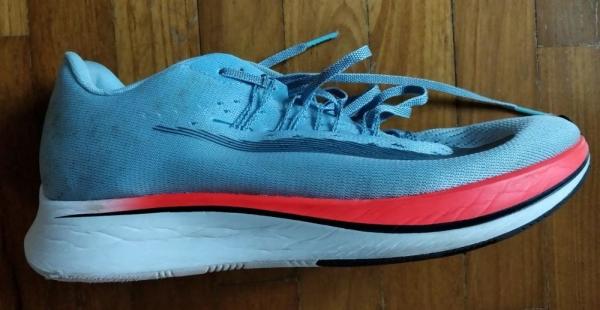 In the Zoom Fly, Lunarlon just felt lackluster. Perhaps it could be due to the carbon-infused nylon plate that runs the entire length of the shoe.
This brings me to the point of the plate. Yes, the plate allows for a smooth transition from heel- to- toe. However, the stiffness of the plate makes it such that the effects will only be felt when landing on the midfoot or further back.
Landing on the forefoot creates a slappy and unpleasant sensation unless running at very high speeds. Take for example the pebax plate used in the Streak 6. The plate is too very responsive but allows for some flex to create a very snappy ride that feels like it returns energy back with every stride.
In the case of the Zoom Fly, the plate is completely unbendable that unless you are running fast, the plate makes it feel like the shoe is working against the user, which defeats the purpose of the shoe. At faster speeds of below 4:00min/km, the plate then allows a smooth gait cycle when landing on the forefoot.
This brings up another problem: weight. The shoes' weight is in the range of 240+ grams.
For a race shoe, that is just too heavy for me to use, especially in shorter races such as 5-10km. The Zoom fly is marketed to be a versatile shoe for any speeds but feels to me like it fails at all levels. All in all, the ride is smooth and cushioned when certain conditions are met.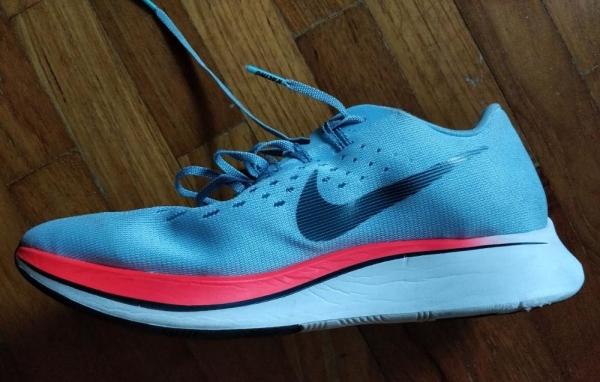 Sockliner
The sock liner is thin with no support.
This is pretty much a standard piece with thin layers of foam to provide the initial comfort when wearing the shoe. This provides little to change the feel of the shoe.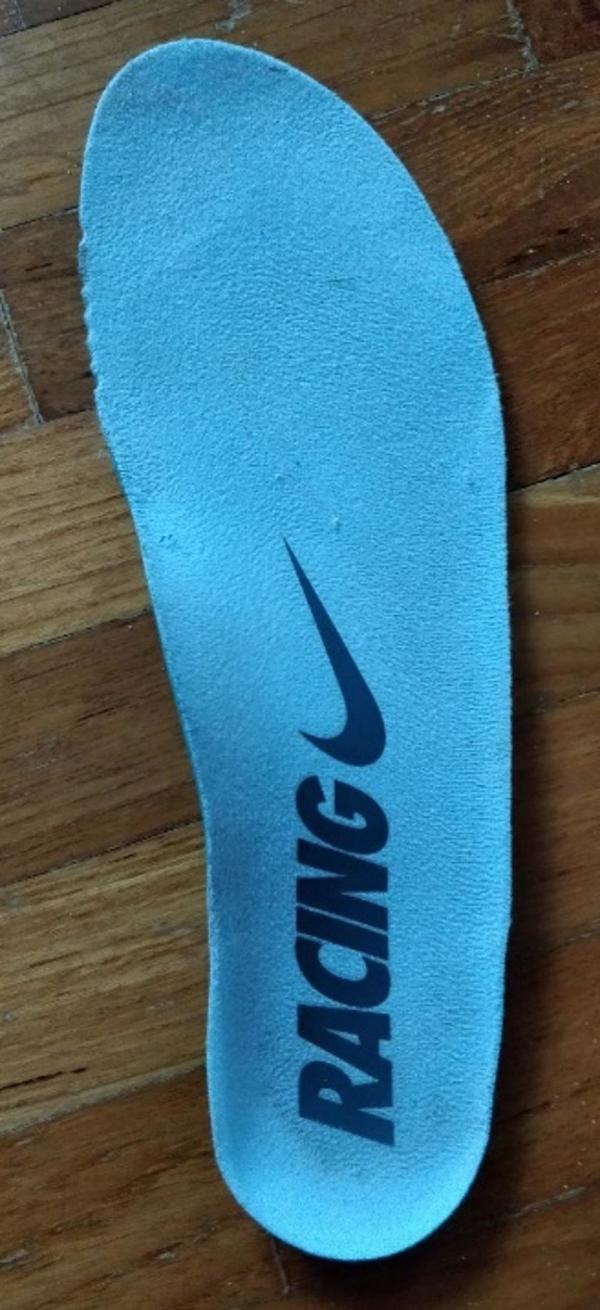 Outsole & Durability
The Outsole consists of a carbon rubber patch that covers the entire forefoot and several areas of the heel.
The midfoot region is completely exposed. The outsole patterns provide an outstanding grip on both wet and dry surfaces.
I ran in this shoe on the track and roads after a thunderstorm and hardly slipped. The Carbon rubber patches look durable, roughly 100km in and there's hardly any wear.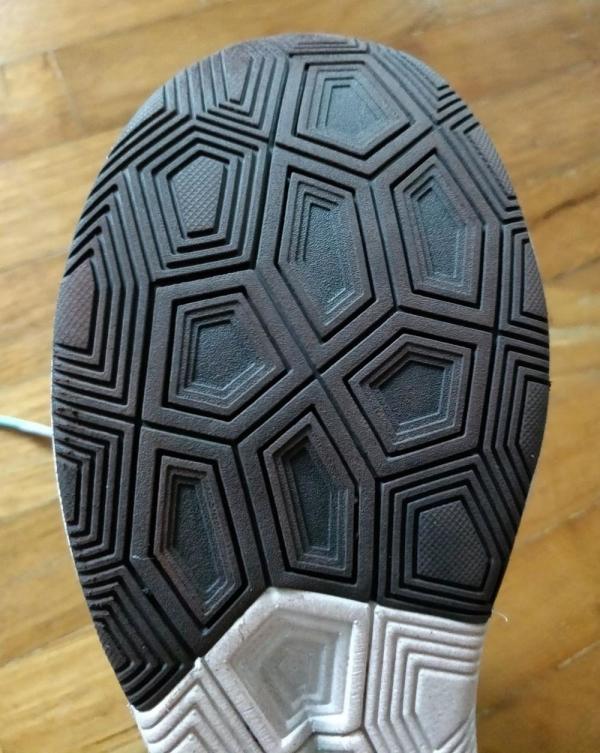 The exposed regions of the outsole, however, are showing signs of minor tearing, especially on the lateral edge of the heel.
I expect the outsole to hold up longer than the lunarlon midsole.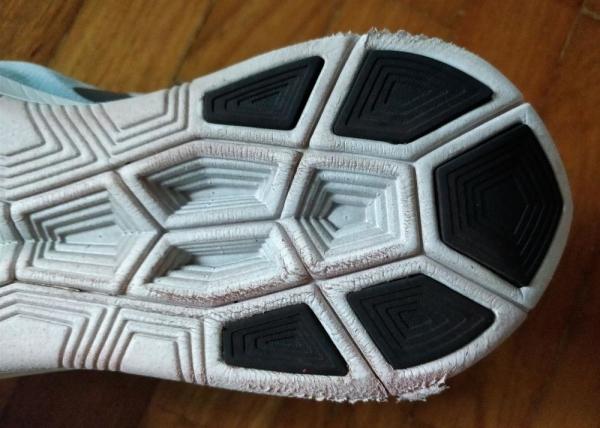 Types of Workouts
The Zoom Fly is best used for faster paced training such as tempo workouts or races up to full marathons.
Pros
Smooth transition when running a certain way
Decently cushioned
Grippy on wet and dry conditions
Cons
Lunarlon feels dead
Nylon plate does not feel snappy
Forefoot fatigue at slower paces
Heavy
Thin tongue
Overpriced
Recommended Runner's Profile for Optimum Usage
Heel-Midfoot Strikers
Pose method of running (Pulling instead of pushing)
Pace of 4:30min/km or faster
Potential Areas for Improvement
A slight increase in tongue padding
Slightly thinner materials around the ankle collar
Rubber covering the entire heel (akin to the forefoot rubber placement)
A small increase in flexibility of the nylon plate
A livelier midsole material (since this is the consumer version, ZoomX foam is out of the picture but something like 'react' foam should be used)
A decrease in weight
Comparisons
This depends on your running style. Both are cushioned, with the freedom being bouncier and livelier.
The smoothness of transition from heel to toe really depends on your running style. If you land more towards your forefoot in the zoom fly, it can feel slappy to run in.
The freedom, on the other hand, has a smooth transition no matter how you land in it. The zoom fly's 10mm drop is easier on the Achilles compared to 4mm of the freedom.
Both absorb shock quite effectively. The Zoom Fly is geared more towards faster running while the Dynaflyte is more versatile.
Anything slower than a 4:30min/km on the zoom fly and my forefoot starts to fatigue due to the toes trying to flex. The absence of the extremely stiff plate on the Dynaflyte allows for running at easier paces.
The Zante is firmer yet more versatile. Again, this depends on your needs.
Both provide smooth transitions. Forefoot strikers would not enjoy the zoom fly as much and would be better off with the Zante.
Conclusion
The lightweight race-trainer with decent cushioning and fast transitions (with the right running gait). However, it fails to live up to the hype.
The Zoom fly and the Vaporfly 4% are worlds apart. If the shoe came out on separate dates with the Vaporfly, the shoe may still be worth a shot.
Overall, the Zoom fly is an overly hyped and cleverly marketed shoe that disappoints.
The Vaporfly 4% that is still not very affordable.
Being based on such a hyped up shoe, I expect the Zoom Fly to be better but by no means is it a bad shoe. From what I have experienced from running in this shoe, the shoe is not meant for everybody.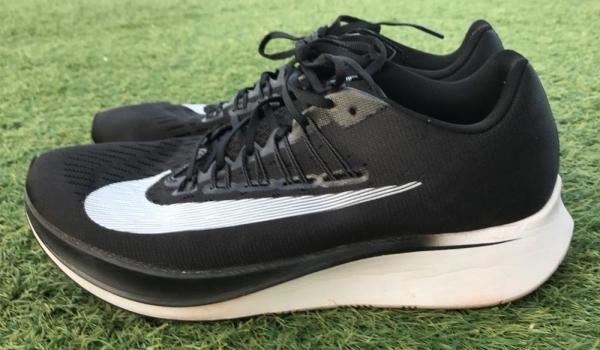 What I Like
The upper
The upper on the Zoom Fly is the same engineered mesh used on many of the other Nike running shoes. The material used is quite durable from past experience and yet does not compromise on weight, comfort, and breathability.
One other thing I enjoy about the upper is that it allows my foot to move naturally due to the lack of overlays.
Also, the holes in the upper make the shoe extremely breathable which is something that I feel many runners would appreciate especially those who run in hot and humid conditions. It helped my feet to feel fresh as I was running.
Overall Comfort & Fit
The Zoom Fly is a very comfortable shoe which is expected from Nike. The insole and upper does not rub against the skin which helps to reduce the occurrence of hotspots and abrasion.
The only time I had a hotspot was during the break-in period but after that, I have not experienced such an issue.
To help the shoe have a more secure fit, flywire is added. This helps to give it a good lockdown and help to stop my foot from moving too much inside the shoe.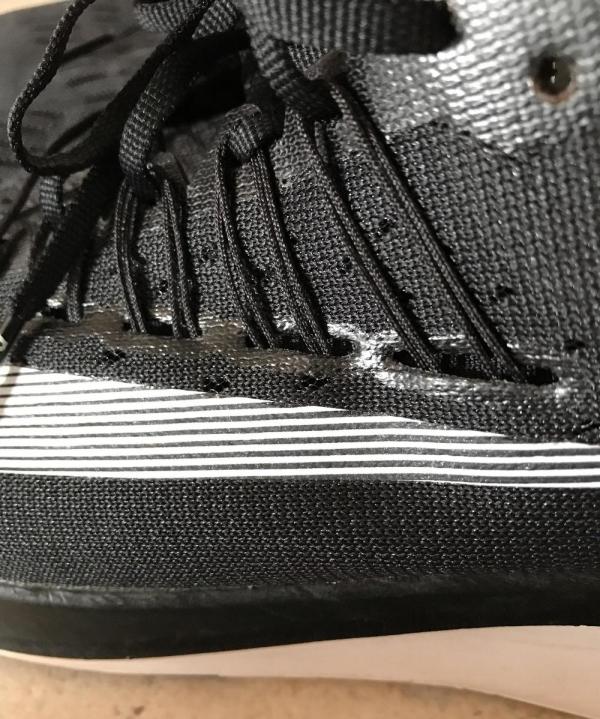 The Ride
I feel that the ride on the shoe has garnered mixed responses from runners. Some runners think that the ride feels amazing while others feel that the shoe is sloppy at slower paces.
From what I have experienced, I feel that the ride of the shoe is very similar to that of the Clifton. The heel to toe transition feels the same due to how similar the two shoes are shaped. Running in the shoe, I feel that the shoe just wants me to run fast.
During my time running in the shoe, I feel that the shoe just wants me to be on my toes as my feet constantly rolls forward. Also, the excessively thick lunaron midsole provides a very cushioned yet responsive ride.
Having ran in the Nike Lunartempo which is a shoe that also has a lunaron midsole, I feel that the ride is more forgiving on the Zoom fly and yet the Zoom Fly is still stiffer with the inclusion of a carbon fiber plate. The result of this is a shoe that feels very very quick.
Looks
As a runner, I put functionality over looks but I have to commend Nike for making a Hokaish looking shoe look good. One thing Nike has really excelled in is making very good looking products and the Zoom Fly is no exception.
Compared to shoes that have a similar look such as the Clifton, the Zoom Fly looks stunning. The many colorways the shoe comes in gives runners gives runners a choice.
Also, the amount of detail on the shoe is one of the other things I like about the shoe. From the prints on the tongue to the area where I can write the time of the race I used the shoe in at the heel section, the attention to detail on this shoe impresses me.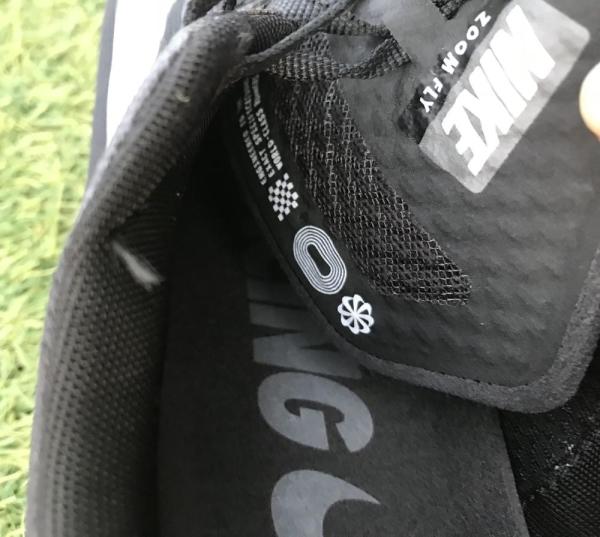 Durability
Strategic placement of vulcanized rubber added with the excellent material used on the shoe ensures that the shoe has a long lifespan.
The exposed areas of the sole did experience some wear. Due to the shape of the shoe, runners will be on the forefoot for the majority of the time they are running in the shoe, this is where most of the wear in the rubber is located.
Grip
After running on wet and dry surfaces in this shoe, I am happy to say that this shoe performs very well on them.
There hasn't been an instance where I had to worry about running on a wet surface in this shoe.
What I do not Like
Although this shoe is a consumer-oriented version of the very pricey Vaporfly, it is still pushing the upper limit of what an average consumer would be willing to fork out for a racer.
For a runner who wishes to get this shoe, it is very good to note that there are many other shoes that are excellent racers and are much cheaper than the Zoom Fly. I feel that for all the hype this shoe has caused and the price tag, this shoe is still not very consumer friendly.
I am well aware of the fact that there are features in the shoe such as the carbon fiber plate embedded in the midsole material but I still feel that this shoe is not deserving of the $150 price tag it comes with.
Weight
Being marketed as a racer, I expected the shoe to be much lighter.
Coming in at 248g, it is much heavier than what I expect a racer to weigh. Other racers from Nike such as the Streak 6 comes in at 181g and I feel it performs as well as the Zoom Fly.
Laces
The laces on the zoom fly are very annoying. They always come undone if I do not double knot them and they are very hard to undo.
Debris getting stuck in the outsole
Being someone who does a lot of their training on grass and synthetic turf, I constantly find debris being trapped in the outsole material. It isn't a big problem but it is one of my many pet peeves.
Versatility
For people who are finding a shoe that can do everything, the Zoom Fly is not the shoe for you. With its unique geometry and thick midsole, this shoe is not able to do much else besides walking and running.
Doing any kind of sport besides running is quite sketchy in this shoe as the high stack height puts the user at risk of falling or twisting an ankle making this shoe very unversatile.
How does it Perform
Honestly, the hype surrounding the shoe does not live up to the way it performs but still, this shoe is a good shoe. Taking a new approach to the way they make their racers, the Zoom Fly is a decent racer that can be better.
After using it for long runs and workouts, one thing I noticed is how much the shoe wants me to run fast. The carbon fiber plate in the midsole added with the responsive lunaron midsole material makes the shoe very fast. Running in it during faster workouts, I can really feel how the shoe wants me to fall forward.
One issue that the shoe has is that it feels a little sloppy at slower paces which is kind of a bummer as the Zoom Fly is seriously amazing at a quicker pace.
Compared to other racers such as the Nike Streak 6 and Hoka One One Tracer, the addition of the extra midsole material along with the carbon fiber plate makes this shoe one of the most efficient racers I have run in.
Another benefit the extra cushioning brings is that I feel little to no feet fatigue when running in the shoe.
Conclusion
The Zoom Fly is a good attempt by Nike to bring a shoe meant for good runners to consumers. However, it is important to note that this shoe is not meant for everyone.
The hype surrounding the shoe is simply too much for the Zoom Fly to live up to so one should not feel short-changed when the shoe does not live up to their expectations; perhaps only the Vaporfly will be able to live up to the hype.
For runners who are looking for a racer, similar cheaper alternatives such as the Hoka One One Clifton 4 and the Nike Zoom Elite 9 exist.
By no means it is a bad shoe but due to its steep pricing and lack of versatility, the Zoom Fly has failed to live up to its hype.
We all heard of this shoe right? It has been the talk in the running community over the past year. There have been countless comments, articles, and reviews written about it. Some people love them, some people hate them, and some just don't believe the hype.
This review is unlike any you have read. I am not going into details and in-depth breakdown. This review is the highlights and my experience. I won't bore you with more than that. So, let's jump in.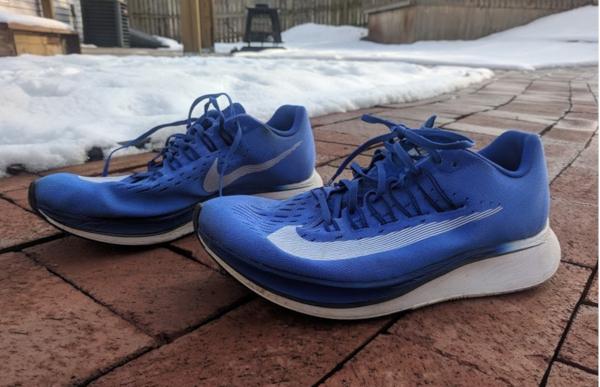 Need to know
These shoes are different than what you are used to!
There is no other shoe like this. I have never worn one or heard talks of others out there. So when you put these things on for the first time, you will most certainly be a little confused about why people love these.
Push through it! Break them in, run in them and after 20-30 miles you will be pretty excited about them. I personally almost sent them back 3x. I'm glad I didn't.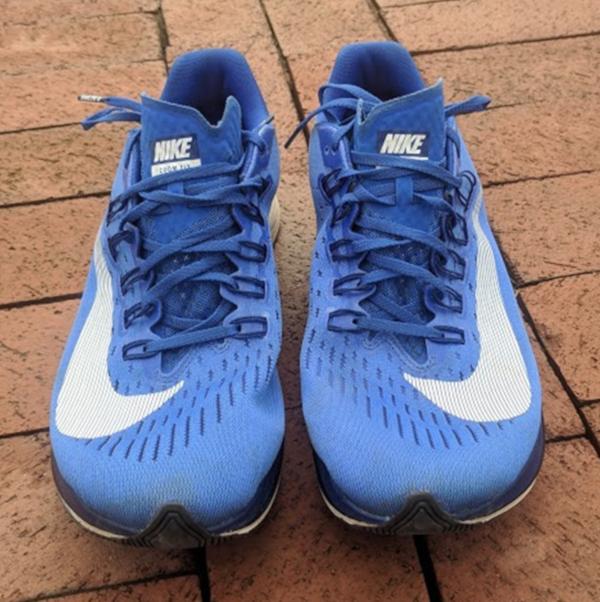 They are fast and are made to be
Yup! When you wear these, you will just want to run fast. I personally cannot run slow in them, and when I do, they feel very sloppy. From my experience, anything less than 8:00/mile pace is too slow for this shoe.
So, if you are a slow, plodding runner or you're looking for a slow paced workout shoe, this is not it.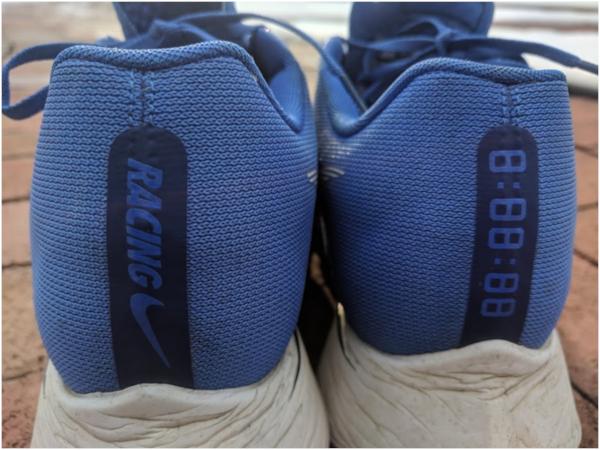 They are not daily trainers
Nope! I saw that some people use them this way, but I believe you are better served to use trainers for training and racing shoes for racing. Race in them. You can, however, cycle them in your shoe lineup for some fast pace training sessions.
They are for neutral & efficient runners
Sorry, they're not for everyone. Due to lack of arch support, the narrow width of the shoe and the height of midsole, this shoe is an injury waiting to happen for those of you who overpronate (fall inwards) with running.
Trust me. I work with runners often in my Physical Therapy clinic and have seen the result of improper footwear for an individual.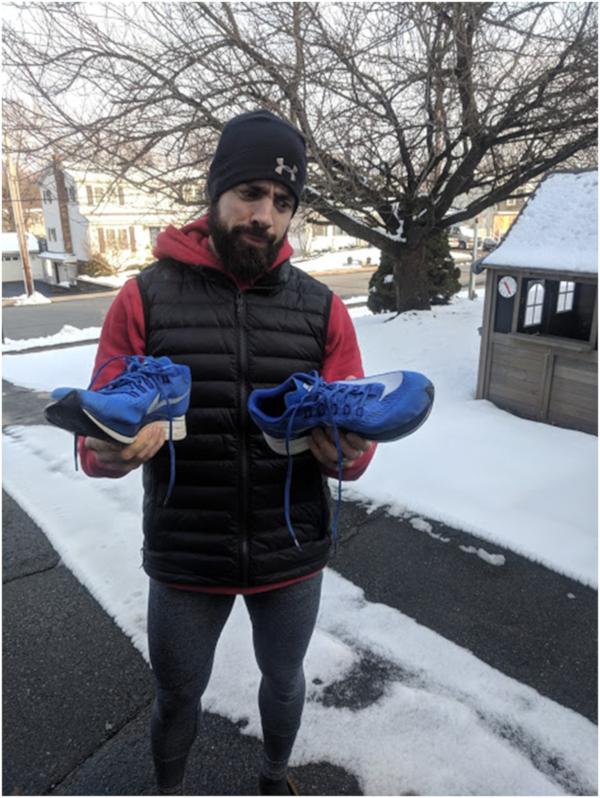 They need adjustment time
Don't make an immediate decision on these. Wear them around for a bit. Run in them about 20 miles. You have to get used to these and takes longer than other shoes. If no pain and just awkward, be patient. You will not regret it.
They are for roads
One of my issues. Anything other than pavement, you will regret them. I wore these for a half marathon with some gravel trail, and they were terrible.
The traction just is not made for anything but roads. You will feel an immediate loss of traction if on any other surface.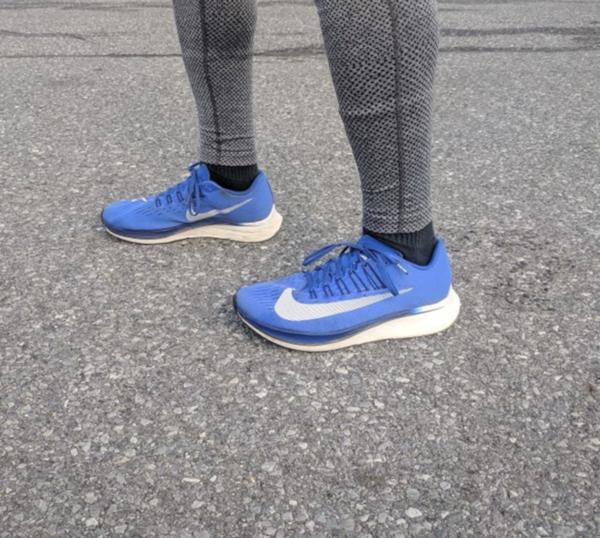 They are tight
I love a very snug shoe, but these are a bit too snug at times. I recommend going up a ½ size with these. I wore these for my last marathon, and by the end, my poor toes were a bloody mess.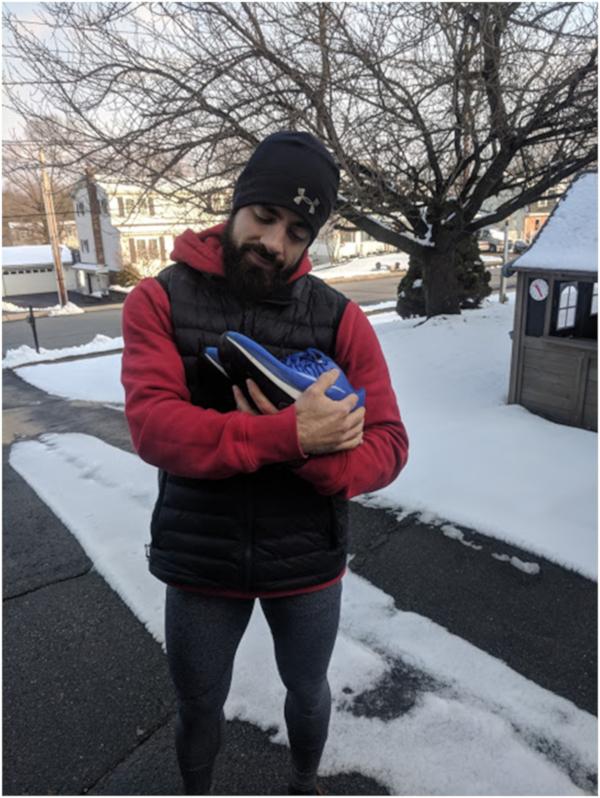 They are awesome
I just have developed a love for these things. They are wonderful for half - full marathon distances that are road only.
I will never race in any other shoe for long distance races. They are fast, responsive, cushiony and most importantly get better with miles.
Notable shoe components
Upper
Collar - Great cushion
Tongue - As you can see, the tongue is offset (like it a lot), it helps hug the foot and stays in place
Lacing - Solid system that secures the foot
Material - Has wonderful breathability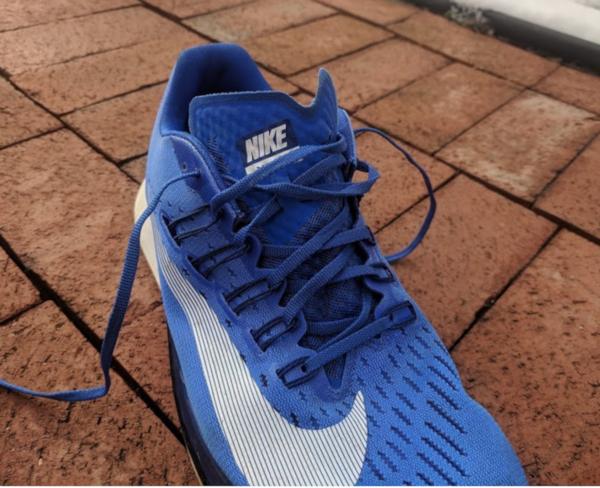 Midsole
Zoom Foam - Brings a lot of cushion, but not too much, it keeps comfort for long distance
Stack Height - Hmm very high. Good or bad? I'm not sure
Carbon Plate - The midsole has a carbon plate inside which leads to rigidity and helps with energy return and propelling feeling
The wear - Midsole started showing wear after only 10 miles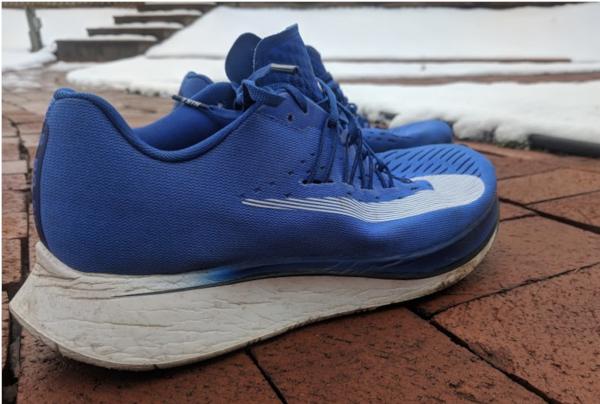 Lower
Sole - Just not good traction for anything but road, I wish could handle a bit more such as gravel and parts of the road that are not paved well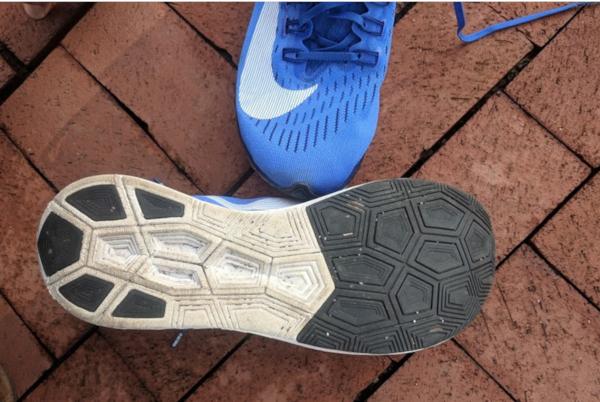 Results
So these things helped me set PRs in the ½ marathon and marathon. Now, other factors helped me achieve these better times, but I really believe they added to it as well.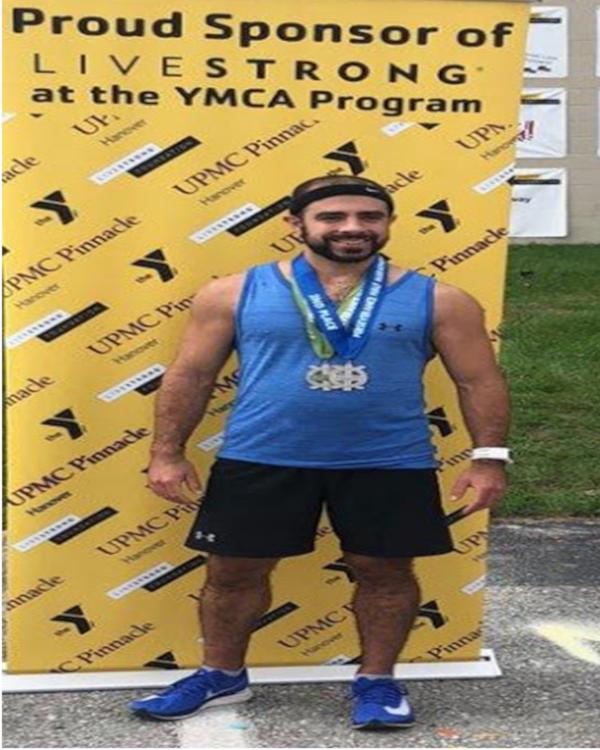 With these on, I ran the same marathon for the second consecutive year. I was able to take 20 minutes off my time and the race felt better. I did not have as much leg fatigue and stayed in rhythm a lot better.
Trust me. These shoes help your run. The energy return is awesome, and they bring forth less strain on the legs.
Highs
Secure
Superb cushion
Best energy return
Fast
The answer for long races
Price is good
Comfortable
Lows
Tight and narrow
No support
One dimensional
Different
Tread is not great for multi-surface
Midsole wears easily
Overall
So there you have it. I hope this helps you as you determine if these are appropriate for you. I do believe that these overall are the best long distance race shoes (haven't tried the Vaporfly, but the price is absurd) as long as you are appropriate for them.
As with all shoes, these are a tool. Use them appropriately, and you will love them.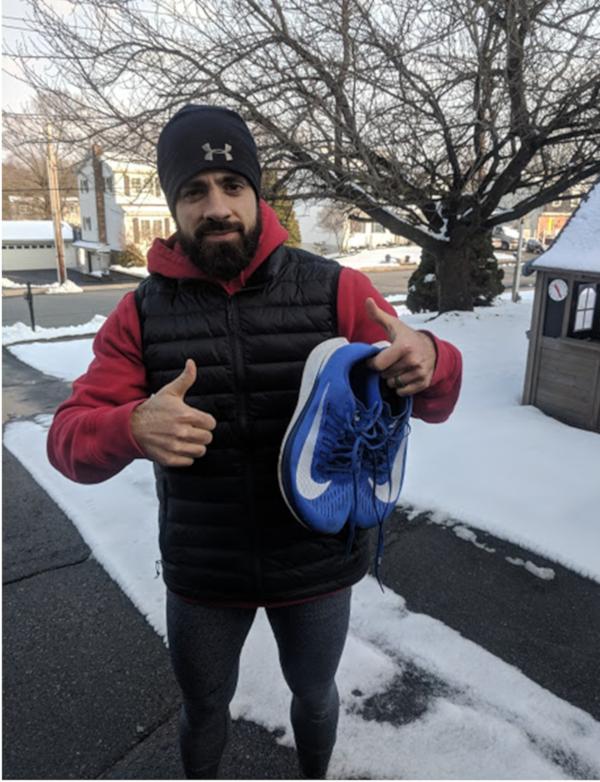 Okay, we all have heard the hype of these shoes after the Breaking 2 marathon project by Nike. All of a sudden, it seemed like everyone was lacing up with some of these shoes (or the Vapor Fly).
I'm not one to buy 'racing' shoes, but I couldn't resist an amazing deal, so I came home with an honest question: can the different type running shoes make you actually faster? The short answer is YES. I never thought I'd say it, but man, it's hard not to go fast with these.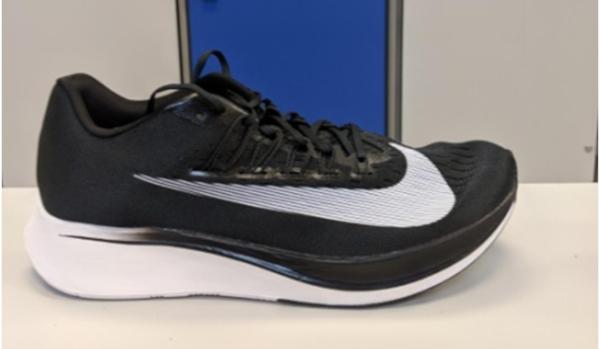 Out of the box, these shoes are hot. I love the large sweeping Swoosh across the foot. The materials (for the most part) are lighter, more flexible, and minimal—all wonderful things that make up a great racing shoe.
That being said, I was surprised by how stiff the carbon-infused nylon plate that runs through the length of the shoe makes it all feel. Even as I took my first steps walking around the store, I could feel a different sensation to the movement of the shoe.
After reading other reviews, some warned that if you didn't run 'fast enough' (8-minute miles or faster), then the shoe's design may become more of a literal pain than anything else.
As I am not quite that fast for most of my runs, I was a bit anxious about this. However, this has not been an issue for my runs—all good!
Upper
Overall, I've been super impressed with how simple and clean the entire design of the upper is for the Fly Zoom. The tongue is clean and easy to adjust with some neat angles to the shape.
The laces are responsive, especially with the Flywire cables. The Flymesh is super breathable, comfortable, and durable.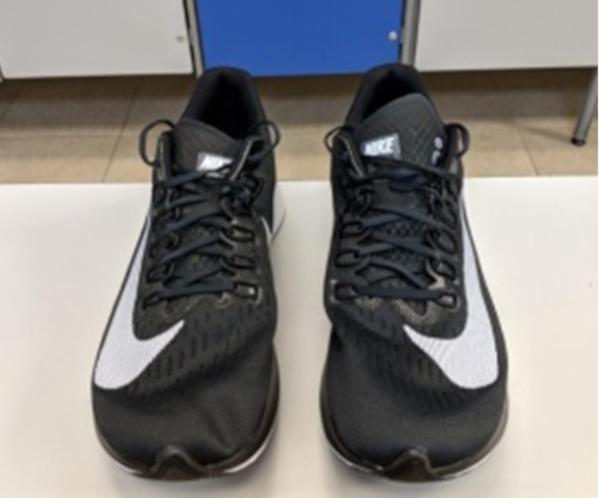 My one concern recently was noticing some blistering along the Achilles/heel of both feet following a run, but that was a one-time experience, and I'll be sure to wear better socks next time. Otherwise, I love the snug fit, the breathability during the longer runs, and the super light feel.
Midsole
As I mentioned earlier, the midsole's main attraction is the carbon-infused nylon plate that is inspired by the VaporFly 4% (different price point), which feels like you are being propelled forward.
This is definitely noticeable on the first few runs! I'll be honest, I've been running faster than targeted paces for every single run I've been on with these shoes!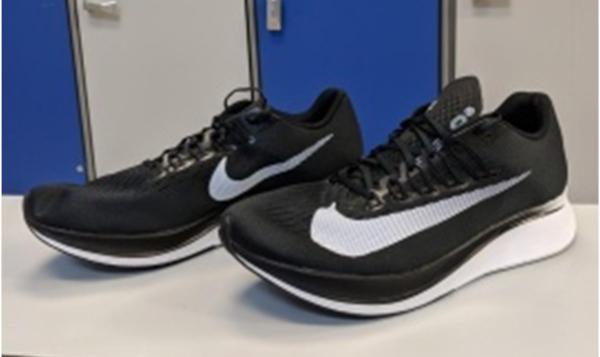 While the stiffness may be an issue for some, it has not been an issue for me to this point. I do notice my feet have a bit harder of a workload compared to 'everyday' training shoes, but again, that's part of the 'racing' genre.
The Lunarlon cushioning is comfortable, while also allowing for plenty of agility and responsiveness.
Outsole
The outsole of the Zoom Fly is not the most impressive but certainly gets the job done. The heel drop is 10mm with a pretty high stack height; all lending itself to that feeling of almost being pushed forward with each step.
I have had wonderful traction and control on all of my outdoor runs; no reservations with the outsole or the wear whatsoever.
Performance
Like I mentioned earlier, I have been running FAST in these shoes simply by putting them on! I was never really into the hype around the racing shoe genre, but now I understand why people get excited.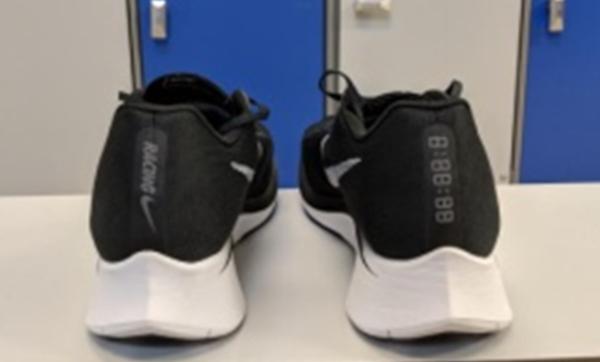 These shoes are great for racing, but have also shown durability to serve as a great training shoe for my longer tempo runs as well. In my runs outdoors on a variety of surfaces from rocks and gravel, to grass, to woodchips, and pavement, the shoes have done wonderfully.
I love the light construction and breathable upper, and most importantly, my feet are extremely happy and healthy after running. I would recommend these shoes for anyone that wants to take their runs and paces to the next step, especially on race day.
Conclusion
Do the Nike Zoom Fly deserve the hype? YES.
As one very average runner to perhaps another, I'm now a believer in these shoes. I won't be wearing them for everyday training, especially on slower days, but consider these the 'sports car' you keep in the garage for the really fun days of running. Enjoy the ride!
This shoe was a pleasant surprise and totally made me think of Nike in a whole new way. This was a splurge purchase when I was out shopping for Christmas with my daughter.
I had heard her talking about Zoom Fly and how people on her team ran in them. When she decided on getting a pair, I decided to give it a try as well - with low expectations.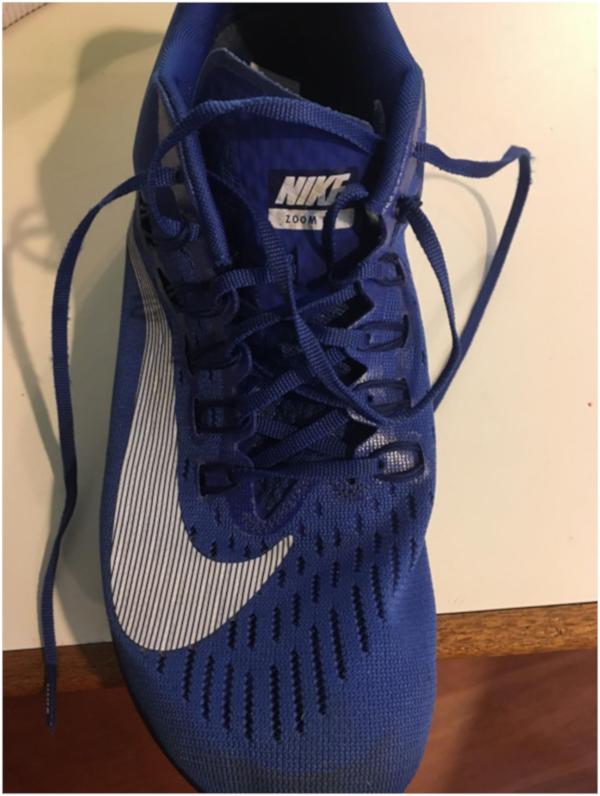 Like many others, I thought that Nike is all marketing and hype and the 800-pound gorilla in the running shoe world. I came in thinking that "it will probably be narrow" but was surprised by the toe box, which fit my foot comfortably.
The shoe does not have squishy softness, so it is not the shoe for you if that is what you are looking for. I discovered, however, that this shoe was made for one purpose - speed!
This shoe is a racehorse, in the best sense of that term. It was made for speed. When I began adding regular speedwork to my early morning runs, I quickly found that this is one of the fastest shoes I have owned.
One morning, I was trying out a new pair of Asics Gel Kayano. I remember after the first of several mile repeats, my training partner asked me, "Are you feeling okay today?"
Apparently, I was much slower than normal. Well, the next week, I was back to using my Zoom Flys.
Pros
Speed, speed, speed. This is not a shoe that offers you plush comfort. It has just enough cushioning to do the job.
Amazingly, you don't think much about cushion when you are moving this fast. It is not flexible (which is usually a big negative for me), but it does not seem to be needed for this shoe since my feet felt fine.
Durability
Another pro is durability. I expected the front forefoot rubber to wear down quickly (it has very little tread), but it is holding up very well.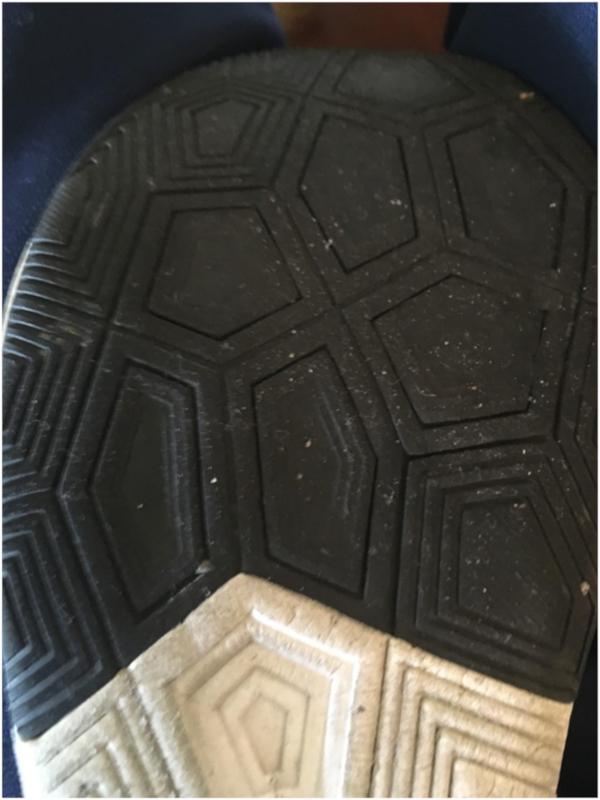 The Zoom Fly also provides a very good midfoot lock-down, as there are 7 eyelets for the laces.
Cons
Laces
One of the small cons with this shoe is the laces (not the lacing, which I like).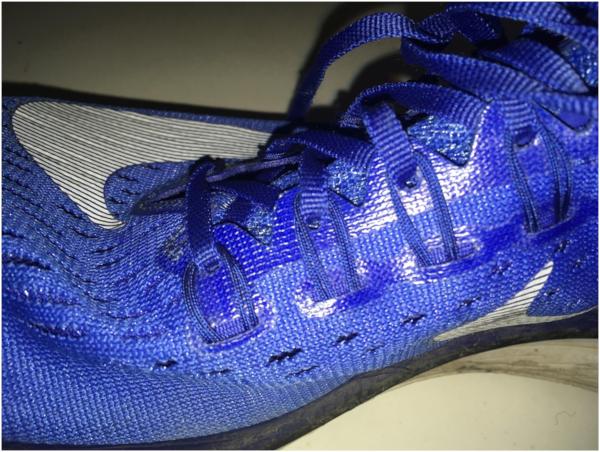 For some reason, these shoes have become untied many times, which is never a problem with my other shoes. Amazingly, the shoe still stays on your foot pretty well even when the laces become untied.
Whenever I start to feel that the shoe is feeling a little "loose," it is always because it has become untied! I blame the 4:30 a.m. start...B.C. (Before Coffee).
I wish the shoelaces were a little longer and a little stretching. As long as you double knot, you should not have a problem.
Outsole
Another con is that the outer heel does wear down over time, but it does not affect the feel of the shoe at all.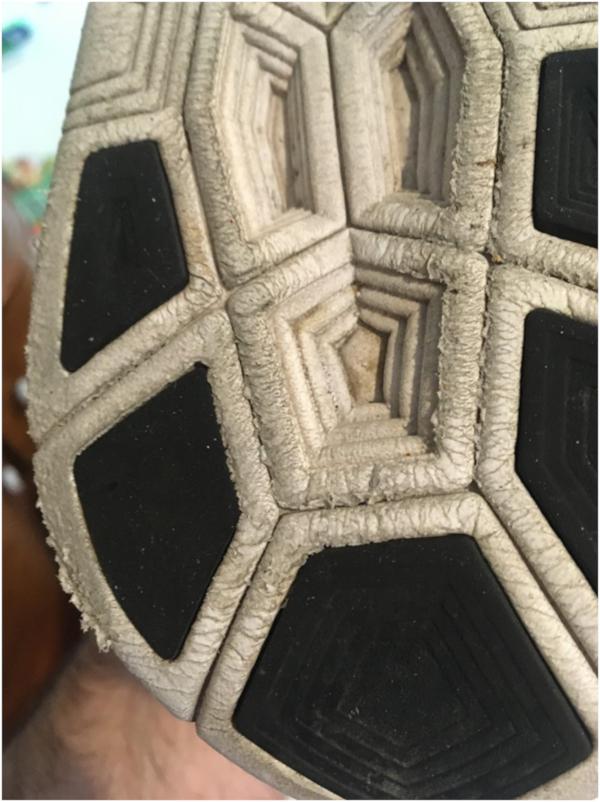 Performance
Even though I love this shoe, I do not enjoy it as much at lower speeds.
It has a much narrower base than the Saucony Kinvara, which I have used as a daily trainer. Due to the high stack height, you can sometimes feel unstable, as if you were on stilts.
As long as you are going fast, you don't notice it as much, because your ground contact time is so short. But for daily jogs or recovery runs, I seemed a bit wobblier.
At high speeds, you definitely have to pay attention to your mechanics since these shoes really help you discover your top-end speed. This shoe is definitely a surprise hit and opened the door for other Nike shoes that I have purchased since the Zoom Fly.
The sun is barely showing its light; you're standing in the starting line, brow barely moist from a light warm up. People pacing and stretching stuck together in a corral, finger in watch waiting for the sign to let your impetuous self take off, as you get on your mark, you lean forward, and in that instant, you feel "The Edge."
As you tilt your weight forward, there is a harsh transition that makes you want to tip-toe, that is "The Edge."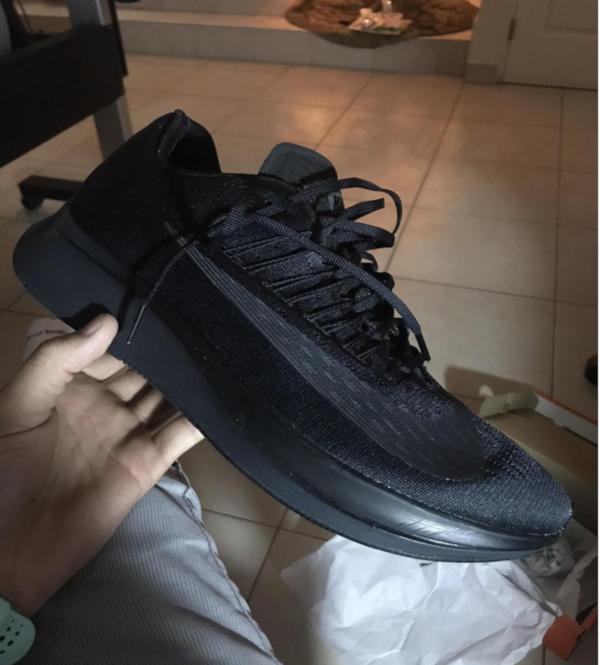 Nike releases the Nike Zoom Fly in mid-2017, so it is not the newest kid on the block. The triple black edition reviewed was released on November 1st, 2017.
Although newer iterations have been released, the changes do not replace the model, just improve on the upper like the Nike Zoom Fly SP or have different color sets.
The Zoom Fly is really a foundational model born out of the #breaking2 attempt. It is considered to be the poor cousin of the Nike Zoom Vaporfly 4%.
It has been so successful that even got the Flyknit treatment with the Nike Zoom Fly Flyknit, released November 2018. The only difference besides the upper is the addition of the Full Carbon Plate, like its pricier relative, if it ain't broken, don't fix it!
Features
Full-length carbon infused nylon plate
Flywire technology
10mm offset
"The Edge" promotes reducing heel strike to improve general posture
Engineered mesh upper
Design and dimensions are borrowed from Vaporfly 4% but on a more affordable price
Looks
The overall design is reminiscent of its original model, the Zoom Vaporfly 4%. It adopts the same heel shape, midsole shape, even the outsole pattern. It is really a stepping stone for a runner before considering investing in the OG!
Visual differences come from the use of different techniques. The most evident is the use of the trust flywire instead of the more lightweight solution for the VF4%. If you have used flywire before, you'll agree that it is a very effective way to get the shoe tight to the foot and locking the arch.
Another big difference is the construction of the heel counter, on the Zoom Fly, there is more padding, adding to the weight but also to the comfort of the shoe.
Feels
This is where it gets tricky, If you never used any of the current offerings of the Fly or Vaporfly lines, it is going to take a bit of getting used to before you actually get the best out of it. At first try, it feels like walking on stilts, the considerable stack height of 33mm is very noticeable.
The second thing you'll notice is that walking in these is not particularly easy, as you'll feel "the edge" on the front of the shoe. This tones down as you speed up and strike with your forefoot.
Surprisingly, I feel them incredibly stable when standing on your heels. The Lunarlon makes a very stable foam, compared to the React foam.
If you tried Nike before, Fits true to size for feet with normal width and arch, a friend with flat feet has to size up because the arch area is constricted. The toe box feels wider than the Pegasus 35.
When you first see these Zoom Fly, they look heavy, once on foot, they feel a lot lighter for the bulk that appears to be.
Performance
If this is your first pair, it takes a little getting used to the way the shoe wants you to land your stride. Due to the Racing nature of the midsole, it makes you want to sprint, hence promoting higher speeds.
I found it to make me improve my stride, making me raise my knees a little more and reminding me to keep my posture. The Nike Zoom Fly have Superb grip on concrete surfaces, even considering the sleek outsole, but it is the case with most Nike Racing shoes I have tried.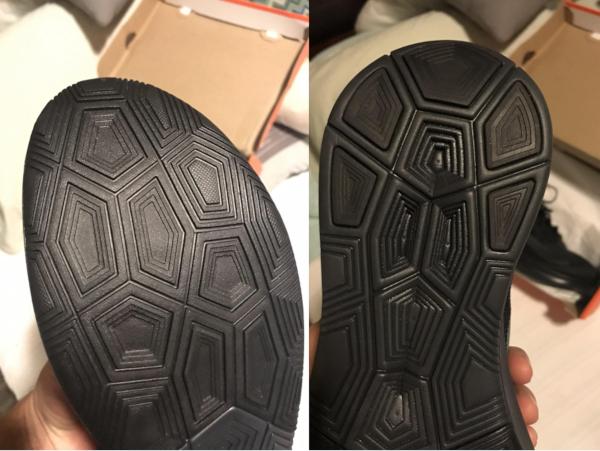 The lacing pressure has to be adjusted, because of the Flywire, they might get very tight. I had to de-lace them to apply pressure until I reached a spot, it takes a little attention, but afterward, it works great.
The bad
Looks a little funny from above, the wide toe box makes them look like Altras from above
High stack height, but the offset is very common (10mm)
Very weird feeling when walking, like using stilts
Lunarlon visual wear is imminent, even after 10 km, this is consistent with other models like the Streak 6 that wear exposed Lunarlon, wrinkling on the sides of the outsole is a common thing nowadays, but is a lot more discrete on the triple black models
So, this is THE shoe, the shoe that inspired Kipchoge and Nike in 'Breaking2'. This is where Nike designed a shoe that was lightweight, durable with excellent energy return in an attempt to not only smash the marathon world record but to try to break the 2-hour barrier which, to this day, still hasn't been done.
Well, actually, that was a special shoe that we can't actually buy. The Vaporfly 4% is the closest you can get which features a full-length carbon plate, Zoom X foam, and the Flyknit upper.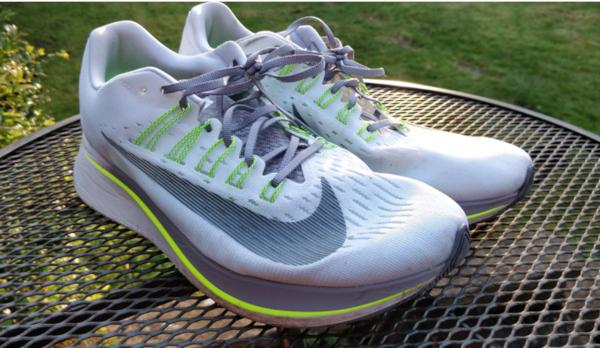 For us mere mortals, that don't want to spend over £200 on a shoe, Nike released the Zoom Fly which benefits from the trickle-down technology. This shoe features a carbon infused nylon plate, Flymesh upper and Lunarlon foam?
Either way you look at it, for what I'll be doing, this shoe is excellent and more than enough to propel me towards new PB's across the board. I purchased these from Nike directly during one of their sales, which brought the shoe down to £72.38, which I think is quite reasonable.
Most of the running I've done in the trainers so far has been on canal paths, pavements, and road. I'm a massive Nike fanboy. I have 2 pairs of Lunaracer 4, Pegasus 33, 34 and now the Zoom Fly.
I love the fit, the weight, and the breathability. I always venture away from them but end up back where I started.
Sole
This is possibly the largest heel stack of any Nike, which means you feel like you're on platforms to an extent but Nike manage to pull it off whilst HOKA shoes still look silly.
Total heel stack on these shoes is 33mm, and the heel drop is 10mm which you can really feel after each step you feel like you're racing to take the next step. The sole is not the softest I've used but probably the best in terms of energy return.
I recently ran a marathon in a pair of HOKA Clifton 5, but never again. The Zoom Fly's are my new go-to shoe. The only issue I noticed with the Zoom Fly is that with the high sole the shoe is still quite narrow.
Compared with HOKA trainers, on uneven ground, it's quite easy to roll an ankle. I did also notice that with the pentagon pattern on the bottom of the shoe it's quite easy for very small stones to get stuck in it's not as bad as an ON shoe but a minor annoyance.
Heel
Nothing special here. The heel has good comfort and good stiffness. At the base of the heel, there is some padding but as you rise up the heel the padding increases to give you that snug feel.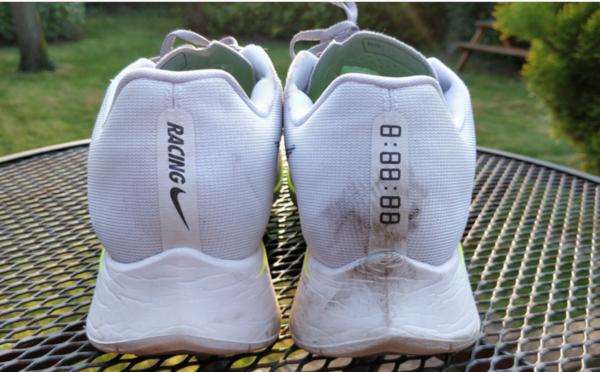 There is clearly some kind of plate in the heel, low down, to give an extra level of support. The rest of the heel is reinforced with a denser foam which merges with the rest of the fly mesh on the shoe.
I've had no issues with heel lift/slip or any rubbing of any kind. The seam on the rear is covered with a 'Racing' sticker followed by the Nike tick, which is a nice addition.
Upper
The Flymesh upper offers little to no support and is very similar to what you find in the Pegasus range of shoes. However, it is very breathable and whilst I prefer support I suffered no ill effects of there not being any.
There is also a rather large Nike tick on the outside which I'm not a huge fan of – little ticks are still cool.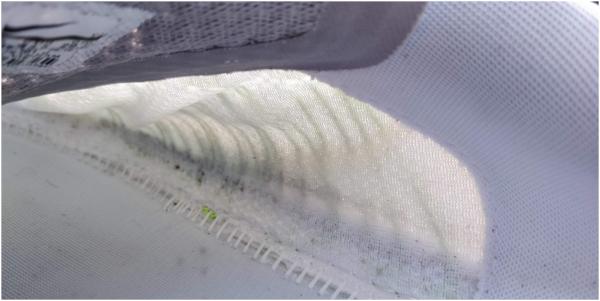 Tongue & laces
The Zoom Fly features the Nike Flywire laces which uses Flywire fed from the bottom of the Flymesh to offer a dynamic lacing experience. This is quite a common solution used on most of the Nike trainers.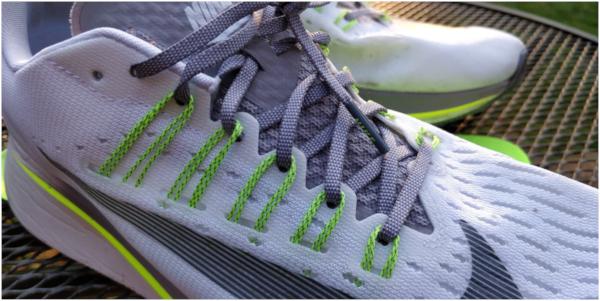 I can't tell you why it works, but it just does. It's not mind-blowing, but laces haven't caused me any issues with this trainer. The tongue is a thin tongue without any elastication or similar.
There is a nice cut out on the tongue to sit well on the foot. The tongue is asymmetric, so this hits the right spot on both shoes. Whilst the tongue is thin, I didn't notice any pressure on my foot under the knot.
Insole
Standard, simple but effective Nike insole is used here. I suffered no blisters or any chafing with this insole. This may also be down to the forgiving Flymesh, but I have had no issues with this shoe whatsoever.
I can't actually remember, but I'm pretty sure the break-in experience was pleasant too – no tightness of relaxing of materials necessary.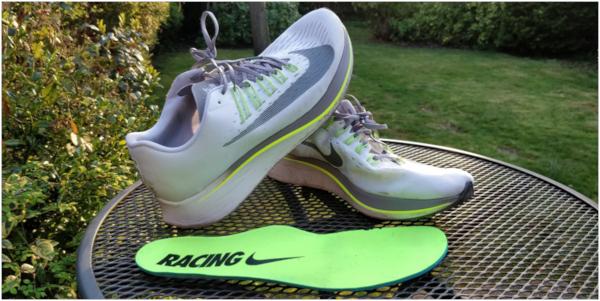 Grip
As with other shoes, there are varying friction surfaces on the bottom of the sole. The forefoot in completely covered in a high friction material and there are 5 main points on the heel with the same material.
Overall the grip is OK, I did notice on the colder nights on low friction surfaces that I had to slow down to avoid slipping, but they should come into a world of their own as we approach summer.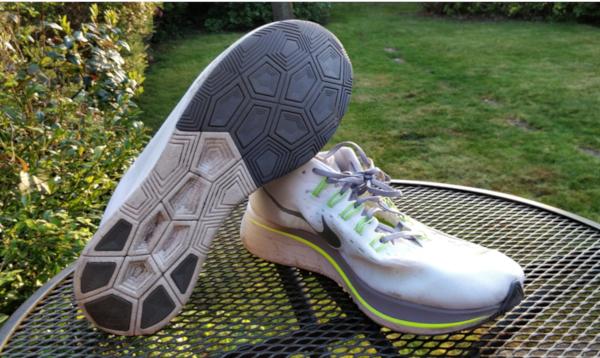 Other notable features
I bought the White, Gunsmoke and Atmosphere Grey version of the Zoom Fly. They do look cool. A subtle lime colour brings them together.
However, I chose to use them over winter, and they aren't white anymore. It's not a premium shoe with premium materials, but it survives everything I throw at it, and it gives me no issues so, so what?
From a weighted point of the shoe, these are lightweight considering their size. My shoes came in at 278g per shoe for a size 10.5.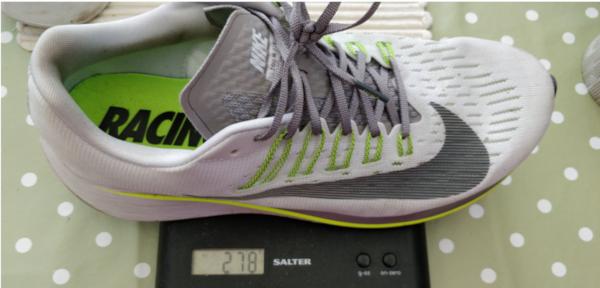 Sizing
I read plenty of reviews that suggested sizing up. I've experienced this in the past with Nike on the Lunaracer's.
I purchased both to make up my mind. I actually found that the shoe was true to size. I have a 10.5 in all Pegasus shoes, and this was the same on sizing.
Summary
When I did the Brighton Marathon, I chose to use my HOKA Clifton 5 for a number of reasons. Sadly, I ended up wishing I'd used the Nike's!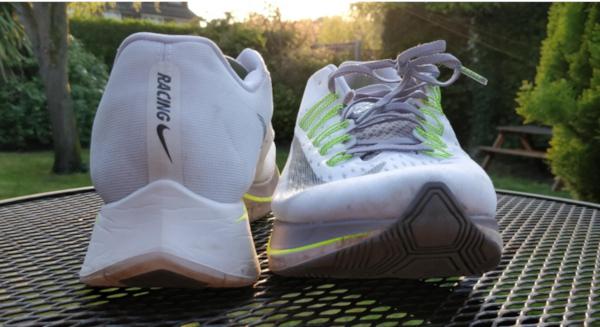 There is a reason why so many people are using them for all distance racing. For the comfort and weight, they are unchallenged (assuming your budget doesn't stretch to the Vaporfly's). When I complete the Ironman in September this will be the shoe I use!
If you're looking for a lightweight running shoe with lots of cushioning, huge energy return and capable of smashing both 5k and marathon times, then this is the trainer for you!
When Nike launched its Breaking2 project, the main goal was to break 2 hours in the marathon. But, it was also an advertisement for a new shoe that Nike expected to change the sport.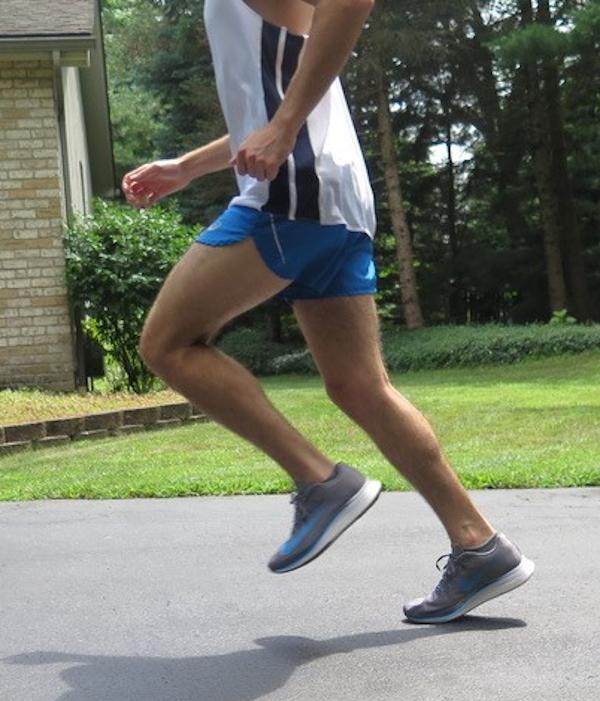 That shoe was the Nike VaporFly Elite, which shares the same defining characteristic as the Nike VaporFly 4%—a carbon plate in the midsole.
The VaporFly Elite is not available on the market, and the VaporFly 4% is hard to find and extremely expensive. This brings us to the shoe that I am reviewing—the Nike Zoom Fly.
Much more attainable than the two shoes listed above, the Zoom Fly utilizes the same concept as the VaporFly options.
Instead of a full-length unidirectional carbon fiber plate for "maximum propulsion", the Zoom Fly has a carbon-infused nylon plate to serve the same purpose.
Combine this with a lightweight, responsive foam midsole, and you have Nike's latest, fastest marathon shoe.
Fast is the keyword when describing this shoe. No, they won't magically make you faster than you already are, but my runs are quicker when I wear these shoes.
Combine that with the comfortable, but responsive, sole and you have one of the best distance racing shoes I have ever worn.
While I do have some complaints about the upper material, this shoe is likely the best marathon shoe on the market.
Appearance
This shoe is a bit atypical in appearance, as far as Nikes go. The side profile is not particularly sculpted, and the thick sole is almost reminiscent of a Hoka One One.
Additionally, the swoosh is not confined to the side of the shoe. It rolls up onto the upper part of the toe box so that it is completely visible from the side and top.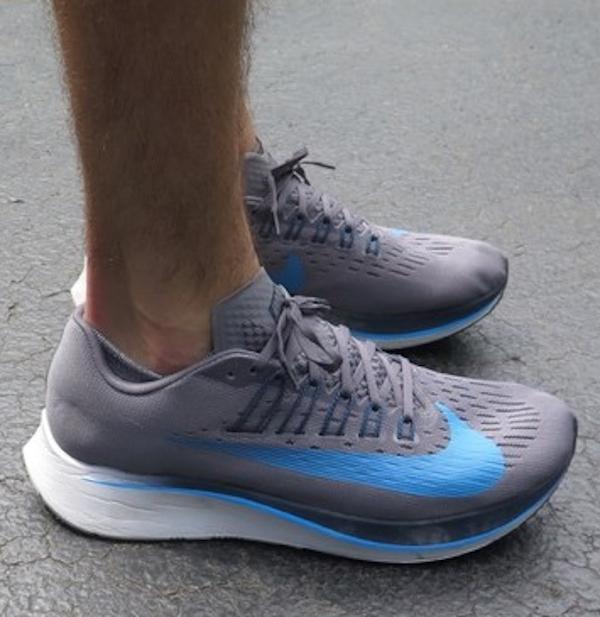 That being said, this shoe looks impressive. Even people who don't know about running shoes look at it, they would know that it is a high-quality shoe.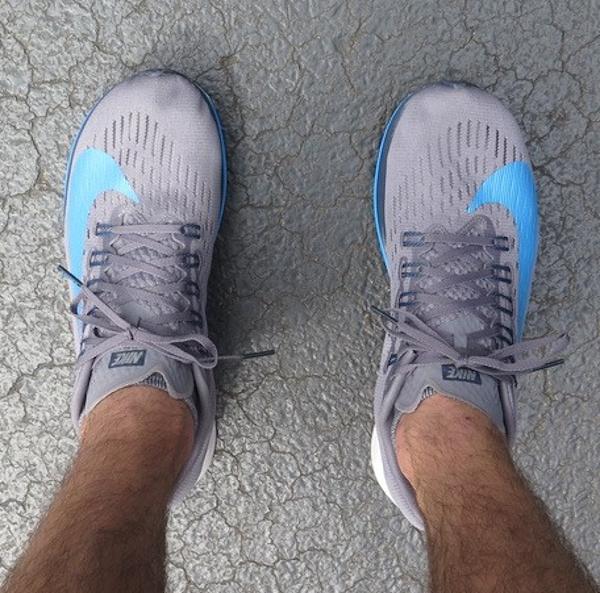 My boss saw me wearing them after work and stopped mid-conversation to point them out.
Did anyone really think Nike was going to invest all this fanfare and advertising on a boring shoe?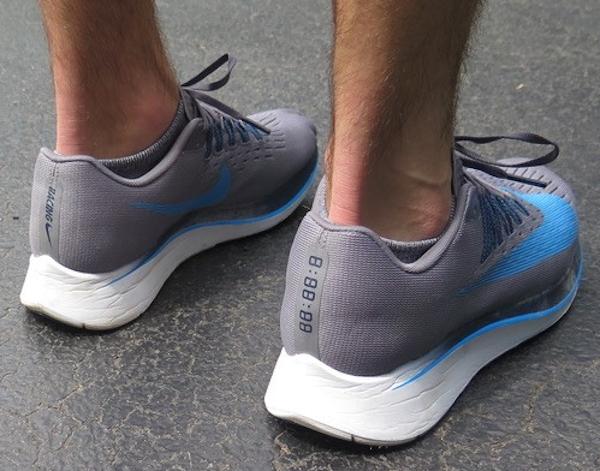 I will note that the foam material gets visible crease marks on the side almost immediately after using them. While this isn't a big deal in the grand scheme of running shoe wear and tear, but I was surprised at how quickly this occurred.
Upper material and fit
Nike usually nails the upper material on their shoes. However, this is actually the only part of the shoe that drew any serious complaints from me.
The toe box of my left shoe has a small kink in the upper material that looks like a minor dimple (pictured below) that should even itself out, but it hasn't.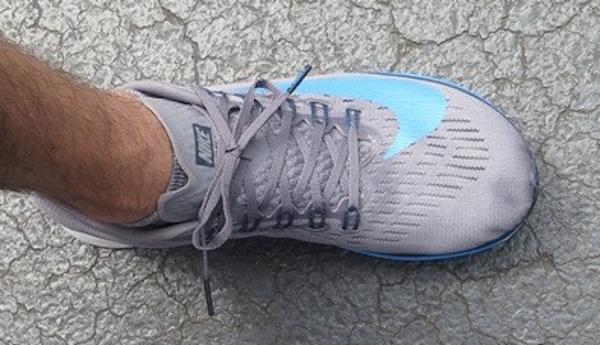 It is also quite annoying because the toe box is a little low height-wise. So, this kink is constantly brushing up against my big toe.
This could be a manufacturing defect specific to my shoe. But, I've never seen anything like this in any Nike shoe, and it is quite aggravating.
Its exacerbated by the fact that the shoe feels a little short. This is probably a result of the shoe's aggressive style, which really forces the runner to lean forward and run fast, rather than sitting back on one's heels.
My final concern regarding the upper is the heel. It comes up a little higher than I would like and doesn't flare away from the Achilles tendon at all.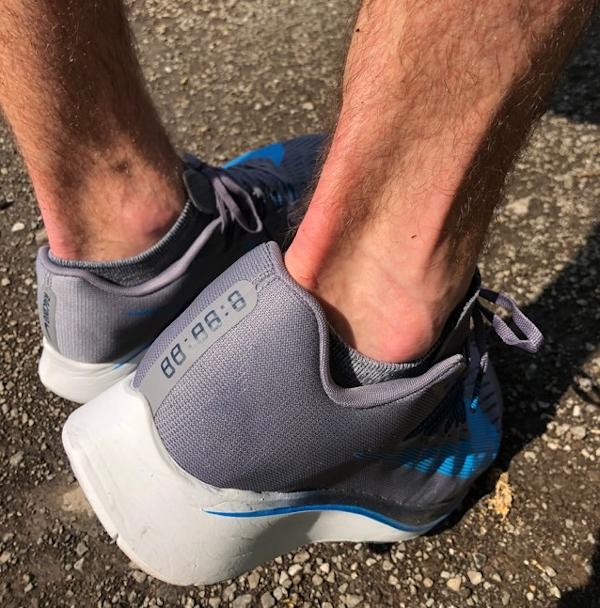 This has resulted in some blistering (pictured below), which I didn't notice while running, but I sure did after the run.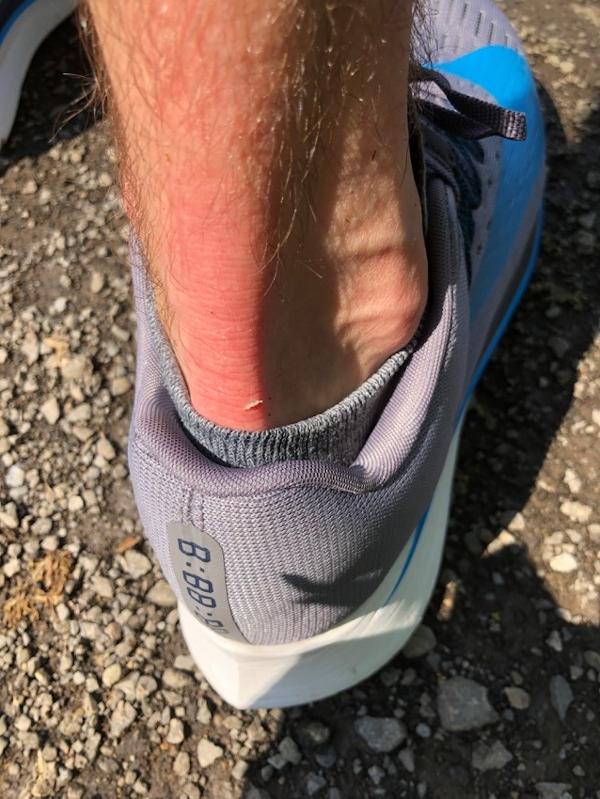 Other than the few negatives above, the rest of the upper is great. The foot is held snugly by the Flywire cables in the midfoot section and the mesh material is breathable and flexible.
The tongue is very thin, but it isn't too stiff, and you can't feel the laces through it.
Outsole
The outsole of this shoe is a combination of rubber foam in the forefoot and a rubber compound in the heel. The outsole utilizes a pattern designed to optimize traction.
Having used this shoe in dry conditions and even raced with it on wet pavement, I can confirm that the traction pattern is effective.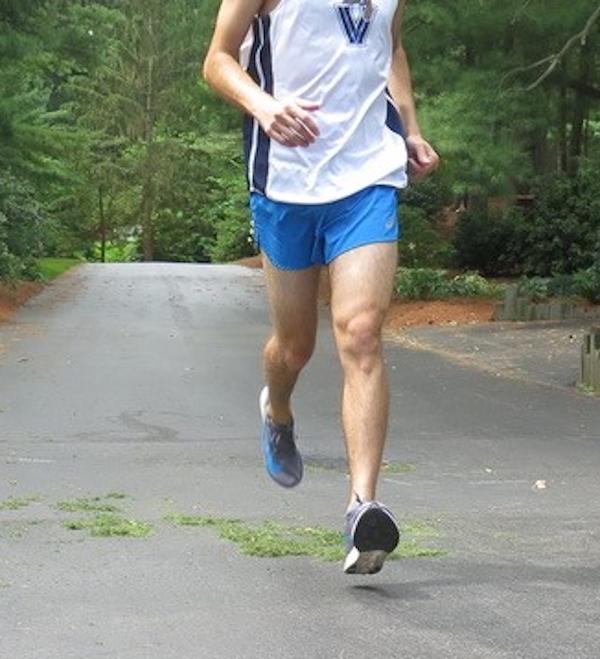 There are tiny grooves at the outer edges of the traction patterns that can collect tiny rocks. But, this is nothing compared to the rocks that the Nike Free RN sole used to collect.
I have heard complaints about the outsole wearing away rapidly, but I have not had that problem with my pair.
Midsole and ride feel
This is the real point of innovation for this shoe—the carbon-infused nylon plate and a combination of Lunarlon and a carrier foam.
The nylon plate runs the full length of the sole, flexing with the foot, then snapping back into shape at toe-off. This creates a little extra propulsion from the shoe.
While I haven't exactly felt any extra burst from the shoe, I do notice that all my runs in this shoe have been at a faster pace than in other shoes.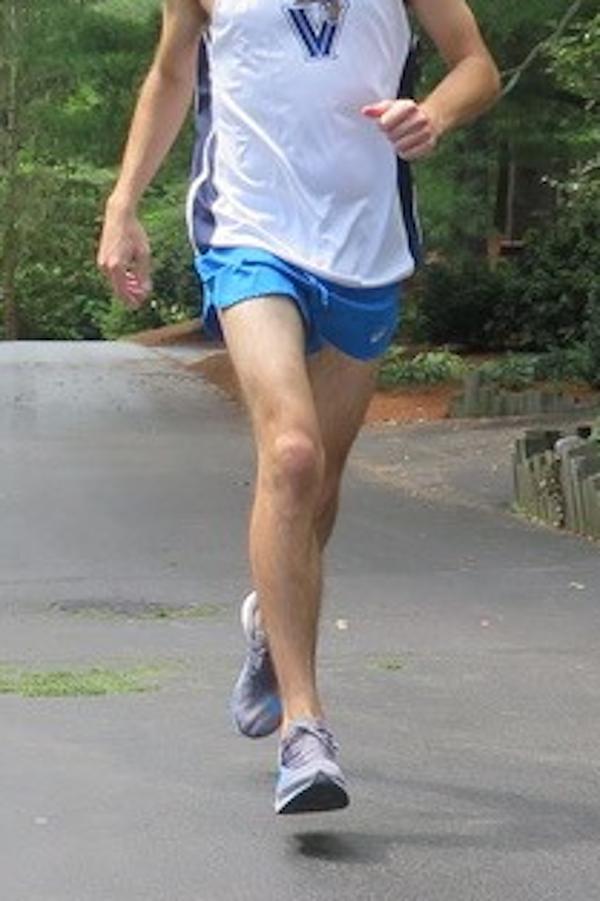 Something to note is that the shoe feels a little awkward and wobbly when you first try it on. It still feels strange to me when I am just walking around in it. But, as you start to run or pick up the pace, the shoe smooths out beautifully.
Obviously, this isn't the most flexible shoe (there's a plate in the sole), but it also isn't incredibly stiff. And, it has a surprising amount of cushion for how responsive it is.
All in all, the midsole is where the Zoom Fly sets itself apart.
Conclusion
This is the best marathon shoe I have ever used. It has enough cushion to log long miles, but it is also quick and responsive enough for a 5k.
It has a few minor issues with the upper material, but these pale in comparison to the versatility and performance of the shoe.
I highly recommend Zoom Flys to anyone who likes to race or run hard workouts.
A final word to the wise—do not use these shoes for easy, slow runs. They will trick you into running much faster than you want.
I've been a Nike shoe fan, particularly running shoes, since I started doing sports. I am actively following the technology changes that are dramatically changing the perception of running in the last few years. This is the "Industrial Revolution" of the running shoes.
Moving forward, I have bought myself a pair of white and lime-yellow Nike Zoom Fly running or as Nike defined it on the sole "racing shoes."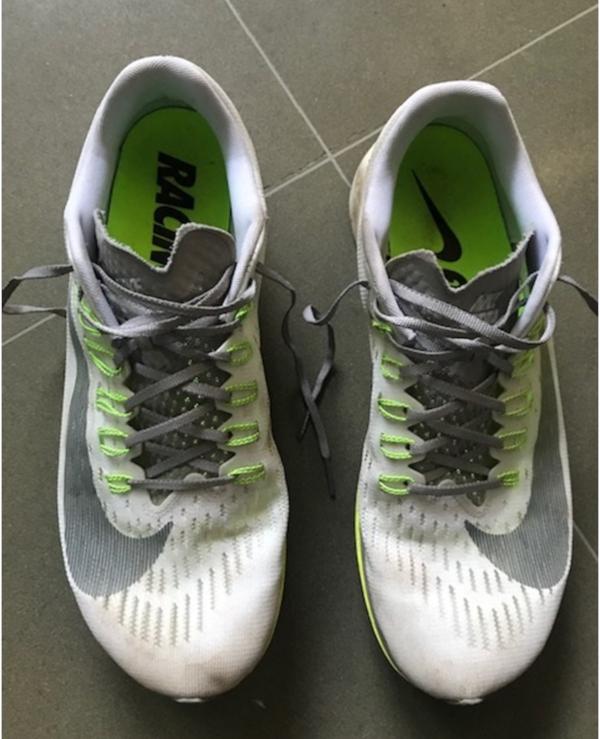 The Zoom Fly belongs to these new age shoes that contain high tech soles that bring a promise to boost your performance by returning input back to the output. This means that part of the energy involved in the step returns back like a spring power to move your leg back up from the ground.
I have managed to pick the pair at a very attractive price of $70 at a Nike outlet. There were many of them just waiting on the shelf to be picked, and it made me wonder why Nike had released them after such a short time from production into the outlets.
Maybe has to do with the white color, that proved itself to be an issue (that will be discussed later on in this review). Anyways, I considered myself to be lucky finding this bargain.
First impression
These shoes reminded me a lot of the Hoka One One appearance rather than the classic Nike appearance. They have a very thick sole.
The upper mash coloring and design are still more of the Nike style rather than the Hoka style. However, one cannot ignore the similarity of the sole appearance to the well-known trademark of the Hoka shoes.
I`m not sure that it's an intentional copy of design but rather a result of using the advanced Vaporfly 4% sole on the Zoom Fly body. The Zoom Fly is a Hybrid shoe.
Do not be afraid of the definition, as a result, is not bad, but an affordable result for all pockets and paved road runners.
The shoes were extremely comfortable on wear. I am used to getting a comfortable feeling with Nike shoes, but these ones were exceptional. When I tried to lace the shoes, I have noticed that there are two options to tie them up.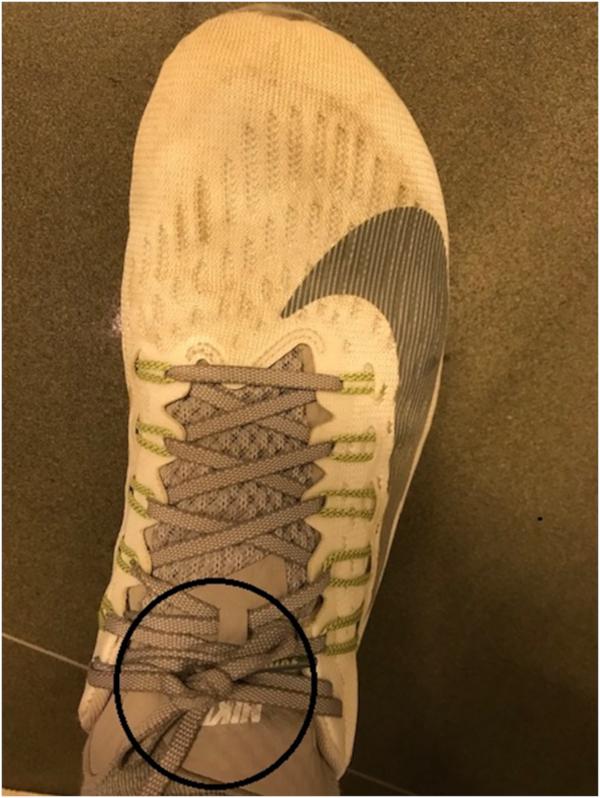 I started with the easy loosen tie at first runs and the tighten option later on. I will refer to the laces later on in the review.
The walking had a bouncy feeling. The strangest feeling with them was that the step motion end felt like you were about to fall forward as if they were made to make you start running even before you completed walking a short distance.
After I have completed around 250km in these shoes in training and races, I have come to the conclusions (stated below):
Material
The shoes have Typical Nike materials, breathable, and durable. The shoes did not tear to show any significant signs of wear.
The upper mash top is a double layer mash. Some dirt and dust that had entered between the layers could not be cleaned and the shoe had a regular dirty look.
The white color did not help with that as well, and after one session on a dusty paved road, they looked all stained and old. A wet cloth wipe did not help improve the looks.
During winter runs, my feet went cold, and I could feel the cold air enter in on windy days. The material is not waterproof, and I do not recommend to enter any poodles with them.
Sole
Once the running began, the cushioned bouncy feeling disappeared. The shoes felt stiff and responsive.
I could not ignore the feeling that I may trip my ankle if I make a wrong step with them. The sole felt a bit lose from the foot bottom once the foot is in the air as if its size was too big.
I tried to correct this feeling by tightening the shoelaces. That action had a by side effect that will be described later on in the shoelace review but did improve the situation with the floating sole.
One can claim the shoe may not be in the right size, but I can assure you the shoe was right on fit and size. I am an 11 US or 45 European with 72kg, and the shoe does fit right to size.
Laces & tongue
The main fault of these shoes are the shoelaces. They tend to open by themselves if they are not double tied. Once double tied, they are too shot to handle.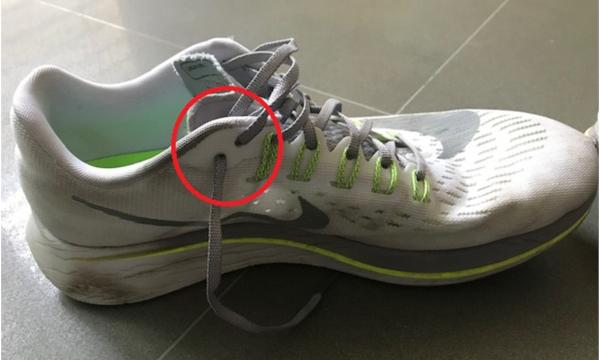 Same happens if you use the additional holes. They come too short, and one cannot even double tie them.
I tried to tie them tighter, but the consequence of that was that there was an immediate effect on the blood flow on my right foot. It felt itchy and sleepy on the longer runs.
Grip
The shoe has a good grip on asphalt or other paved roads. But once it gets on to some unstable material on the road such as sand or gravel, you can feel the loss of grip immediately.
This grip loss is substantial, but one cannot blame the shoe as it is a shoe meant for hard surface racing.
Summary
The Nike Zoom Fly are flyers. They are a great return for the money I paid. I did brake some of my personal records running these shoes on 10k and 5k runs.
They have a distinct design, comfortable sole, and very durable material. The feet fell very fresh after long distances; however, I never felt they were the perfect shoes for me.
While on the road, I always had the feeling the shoe is either too tight or too loose. The stability of the ankle was always in question. The laces` adjustment was always an issue.
Lastly, I would not recommend buying the white color even that they have some nicer looks, in my opinion, comparing to the other colors in the arsenal.
If you are looking for a comfy shoe that gives amazing energy return, gives a boost to your workouts and races, and actually lives up to the hype, the Nike Zoom Fly is a great choice!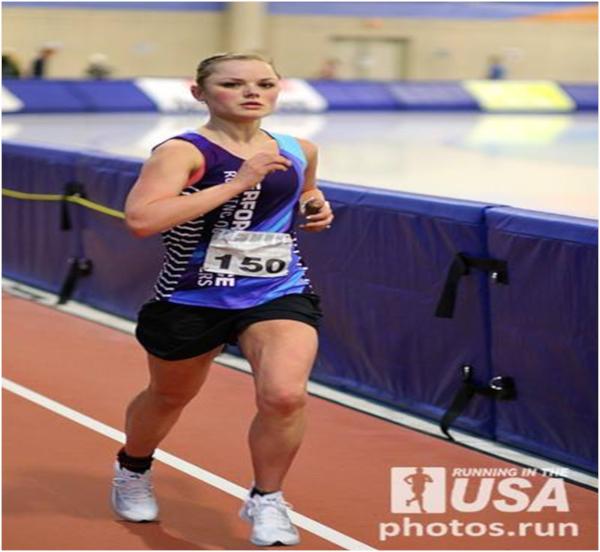 My husband bought these shoes for me as I was training for my first marathon. I heard about them being a top choice for elite runners but was still skeptical about how everyone seemed to love them.
That all changed the minute, I started running in them! I felt the amazing energy return almost immediately and knew that I would be racing the marathon in these.
They did not need any breaking in as they were comfy from the start. They have lasted me through hundreds of training miles and several races. I have already purchased another pair. Trust me, these shoes are worth it!
Upper & comfortability
These shoes were comfortable from the moment I put them on. They run true to size. I'm typically 7, and these shoes in size 7 were just right. The upper unit of the shoe is light and feels smooth.
These shoes offer plenty of support and yet feel light and bouncy enough for workouts as well as races. I frequently used these shoes for tempo runs, speed workouts, and regular training run alike.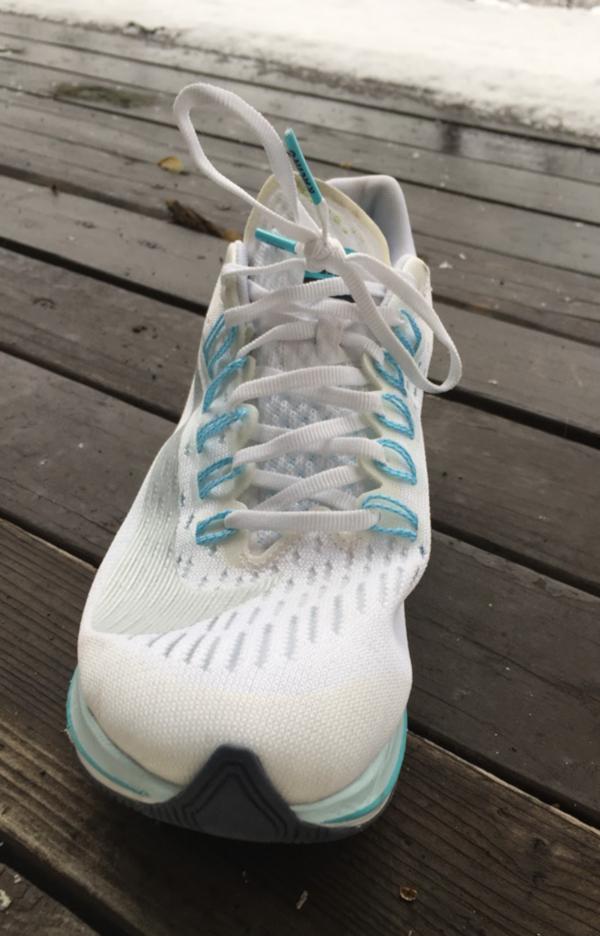 I did notice some soreness on the bottoms of my feet after some long runs. This was fairly minimal but worth noting for a runner who has had plantar fascia issues.
The insole of the shoe has been known to slip around a little in rainy weather. This happened to my husband as he was running a marathon.
He had to carry the insole of the shoe in his hands for the last 10k of the race. This may be resolved by lining the bottom of the shoe with a very light coating of super glue.
Drop & cushioning
This model has a 9.2mm drop for women's shoe and weighing 7oz. The surprising support, yet springiness of this model provided an exceptional energy return. I would recommend these shoes for any type of running from day-to-day easy runs to tempo runs to racing.
I would recommend this shoe for any length of any run.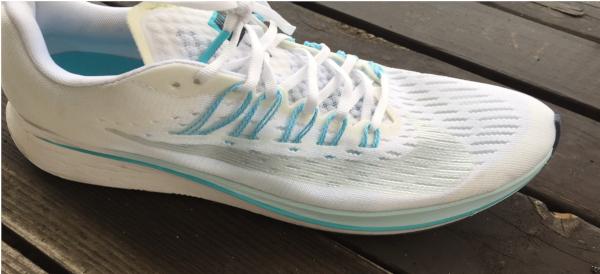 Outsole & durability
The shoe has excellent durability. I have worn this shoe for over 300 miles, and there is still energy return left. It is rare to find racing and training shoe that is this durable.
The shoe has proven to be versatile for me as I wear them for many different types of runs. I love the bouncy feel they give me from the moment I put them on. My favorite type of run o wear these shoes on is long tempo runs!
The shoe has average traction, perfect for road running, non-technical trail running or treadmills. I would not recommend this shoe for heavy rains or snows. The stylish look of the shoe and variety of color options is an added bonus.
Though durable, the shoe is very light and springy. I always put these shoes on when I need a good run! These shoes make me feel faster and lighter!
Pros
Extremely Durable, yet excellent energy return
Perfect for any length of run
Makes you feel light and fast
Great for all types of training runs
Comfortable from the start
Cons
These shoes are not best for technical trail running or tough weather conditions like rain, ice, or snow.
These shoes may not be best for those who struggle with plantar fascia issues (particularly for longer, faster runs).
Bottom line
These shoes are hands down the best racing shoes I have owned, particularly for 10k and longer. It can be hard to find durable and light running shoes, but I have found them!
They have proven to be the BEST running shoes I have ever owned. I always put them on when I want to feel faster or just need a boost on one of my runs. I would recommend anyone to try these shoes if they want a stable shoe with excellent energy return.
This is a great training shoe as it can be used for easy runs, tempo runs, speed runs and racing. These shoes cannot get more versatile!
My only cautions to be careful using these for long runs if plantar fascia issues are common for the runner wearing these and to choose other shoes for tough weather conditions.
I was looking for a shoe to replace my Nike Zoom Elite 8 for my faster workouts. A friend sent me a link with these shoes on sale, so this is how they ended up in my rotation.
I was looking forward to trying them at some fast paces and took them on a 5x1k interval workout. From there, they accompany me for those interval runs and fast tempo runs, and here are my thoughts.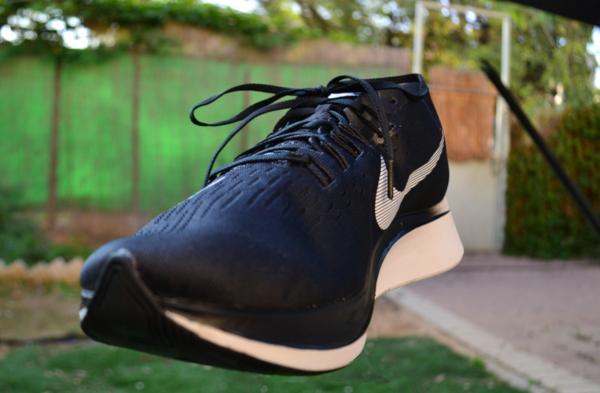 Right off the bat, I can say that the feel of the ride is something new to me. I have run in rigid running flats for short 5k races, but none of them felt quite like this pair.
The combination of Lunarlon cushioning system together with the tough plate embedded within gives a unique feel, which I will discuss further.
Upper
The upper is made of a two-layer engineered mesh. The internal one is made of a denser thin, soft sock-like material, while the external is made of a more ventilated and a bit rougher material.
Along both, lateral and medial sides run five pairs of "flywire" cables that compensate for the give of the thin mesh to get a solid foot lock-down. Around the lace-holes, there seems to be a welded material to get a solid lacing and ensure the durability of the upper.
Two seams can be found on the upper. One connecting the upper to the tongue at the toe box part, and one along the heel, which is mostly covered by a welded 8:88:88 sticker (where you are supposed to write down your race PR)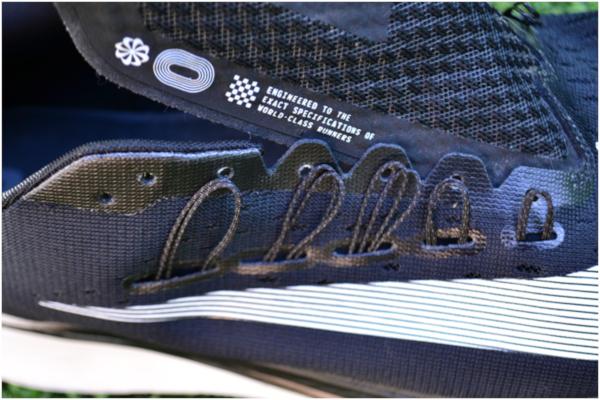 Midsole
A sandwich midsole consists of a tough plate, made from a combination of nylon and carbon fiber in between two layers of the Lunarlon. Nothing minimalistic about this midsole, not the engineering nor the stack height.
Outsole
The outsole is made of about 50% blown rubber around the heel area and under the toe box area, and another 50% of Lunarlon under the midfoot area. The rubber is great for traction and durability over areas that tend to get a lot of ground contact.
Not covering the whole outsole with rubber helps keep weight down especially when the Lunarlon has shown in the past that it has no problem handling a lot of beating even when used bare on road (like the LunarEpic that has no durability issues at all while having no rubber outsole).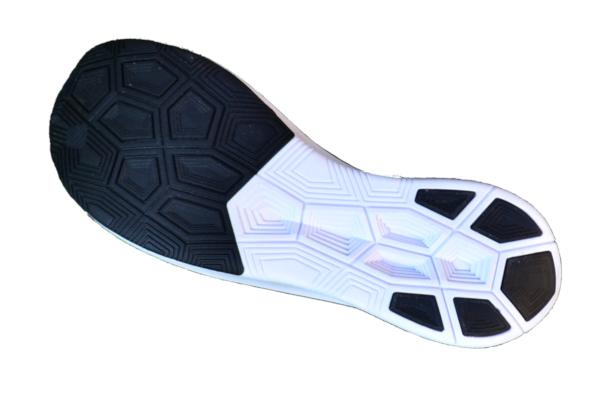 The Feel & The Ride
The shoe is very well ventilated, and the "flywire" together with the mesh makes a great team on keeping a secure hold and not chocking the foot.
The foot roll along the gait cycle is unique not only because of how rigid the embedded plate is, but I think mainly because of it's the spoon-like shape.
The plate is placed diagonally, from the upper part of the midsole in the rear foot to the lower portion of the midsole in the forefoot.
This gives the feeling that the second you land on your mid\forefoot, it forces you to roll forward, acting as a catapult and not allowing your heel to contact the ground.
The outstanding thing is that all this happens in the shoe effortlessly, making running slow in these a hard task.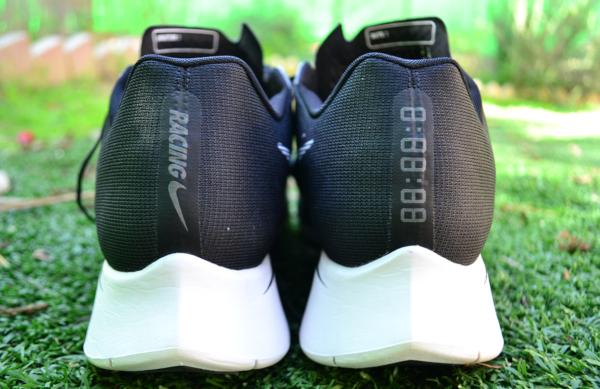 Things to take in mind
Zero ground feel happens because of the carbon infused nylon plate. This might not be good nor bad, just something you should know.
I tried heel striking in the Zoom Fly, and I have to say it made the ride not as smooth and flowing. As a heel striker, I would take that in mind and take them for a short run if possible before buying.
The Downside
Because it takes over the handling foot stiffness, small intrinsic foot muscles no longer have to work which will probably a cause to weaken performance.
This is why I will not substitute all my softer and more flexible running shoes to plate embedded shoes.
Recommendation
I recommend these shoes to anyone looking to upgrade their speed work game. Also, I would definitely wouldn't use these as my main volume running shoes, but have the best time running fast in them.
When I first go out with Zoom Fly, it's slightly disconcerting how much it throws you forward. But I found that after a couple of runs, I either got used to the feeling or the shoe settled down.
After a couple of runs, it no longer felt like I was off-balance, but the transition was still quick and smooth. You can feel the benefit of runs of any length and on any hard terrain.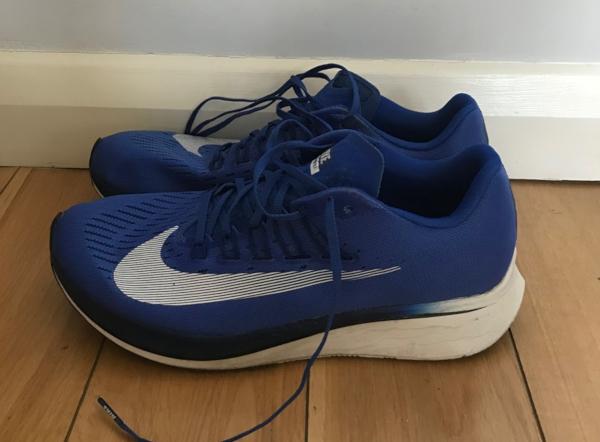 It has a full-length carbon-infused nylon plate within the midsole which helps with that energy return enclosed in the Lunarlon cushioning that absorbs shock, provides stability, and keeps the shoe responsive without sacrificing comfort.
Sole unit
Currently, TPU type foam is leading the edge, where Adidas has Boost Foam and Saucony has Everun foam. But those TPU foams are a tad heavier than what Nike was looking for, so they stuck with their Lunarlon foam on this shoe.
Lunarlon is 30% lighter than standard Phylon foam and the thick stack heights of this Lunarlon foam do an impressive job of reducing impact forces.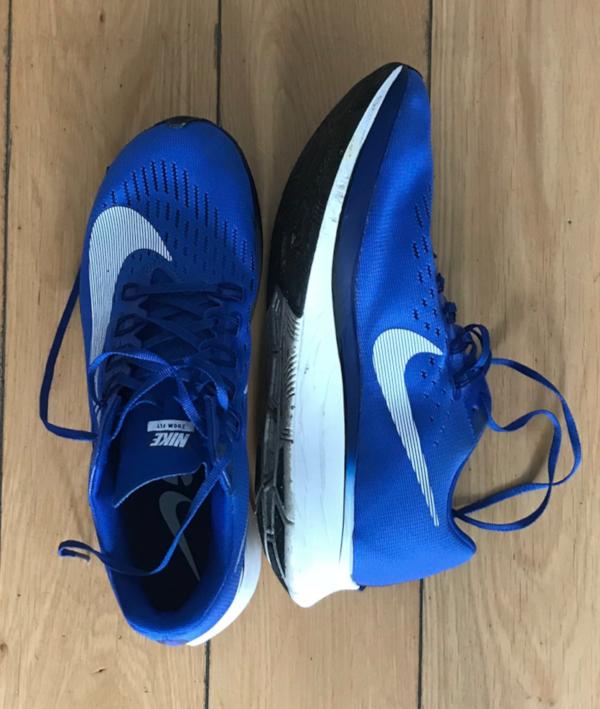 Outsole
Nike has a great abrasion resistant outsole. The large Lunarlon foam block for the majority of the insole, and then a full-length carbon-infused nylon plate to keep the shape of the sole and to "deliver a propulsive sensation".
Finishing the sole is the simple and sweet outsole design. Nike filled out the forefoot with a continuous patch of rippling pentagons that presumably came out of lots of modeling and design work since it shares the same design as the Zoom VaporFly Elites.
This gives a little more traction and life to the shoe which is more of an important feature if you plan on using these shoes for more than just race day.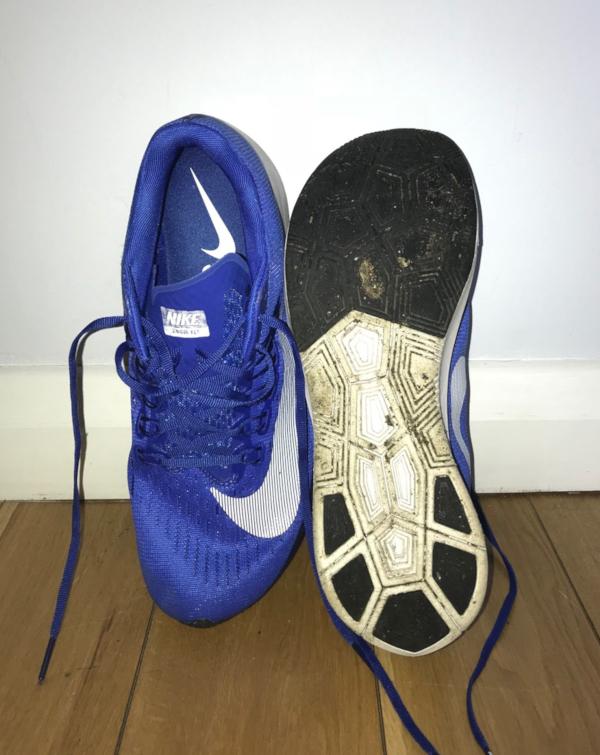 The midfoot of the shoe is all foam, and the foam extends a bit in the heel. It's not just plain foam though, Nike continued the pentagons throughout the outsole for improved flexibility and traction.
Overall, the sole feels amazing on the road or treadmill and has enough durability to be considered as a light-duty daily trainer.
Upper
Partnered with the great sole on the Zoom Fly shoes is a great upper. As mentioned earlier, Nike made the upper nearly seamless which reduces the chances of causing chafing on a runner's feet.
This is incredibly important when making shoes for marathons. The Flymesh material is very breathable and features extra ventilation holes near the toebox.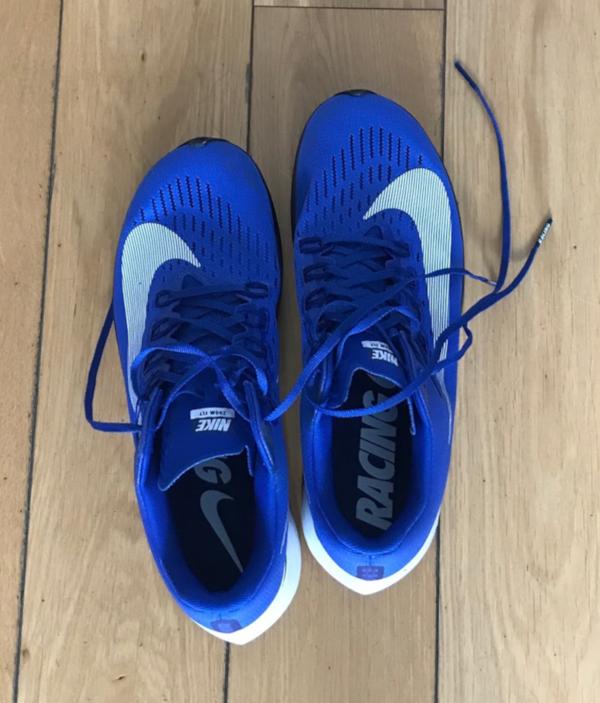 Through the sides of the Flymesh are Nike's Flywire cables that provide a very snug fit, these Flywire cables loop directly into the laces that sit on top of a very minimal eyelet system. This reduces pressure points on the top of your foot right beneath all the laces is tongue with a novel design.
Nike kept the thin tongue as seen on other models, but did something new at the top. They put a "v" notch near the inside edge of the tongue to let the tongue better wrap around your ankle's front tendons. A pretty brilliant design choice that I'm surprised took this long for Nike to include in shoes.
Conclusion
By using the stiff plate, Nike not only stabilizes all that light foam and superb light upper a key part of the strategy for Nike's Breaking 2 project.
Dynamic, generally well mannered, light, and protective look like a race shoe by those race goals are in my view sub 1:37 for a half marathon, has some strength and drive or as a faster days trainer for most all runners.
It does not seem to be as effective as a slower paces trainer for heel strikers such as me, due to the pointed heel geometry and some difficulty rolling off the heel and also not as of yet for me at my sub-marathon race paces rolling up and way off the front.
I don't mind admitting that I was caught up in all the Nike carbon plate hullabaloo, but I will say that I was late arriving at the party.
Now that I have worn the Nike Zoom Fly for a few months, I feel like I can write a review based on my experience.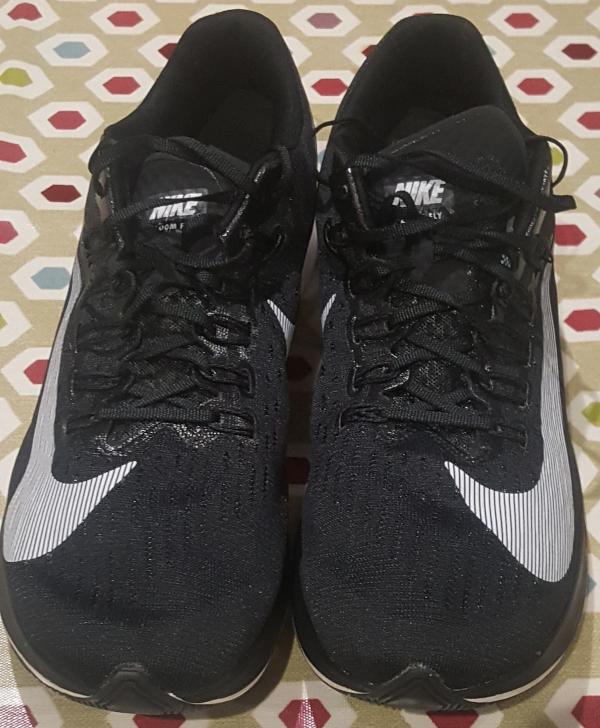 My reason for choosing the Zoom Fly came down to marginal gains. I was hoping to run a sub 3-hour marathon and had done all the training. But, I knew that I would need to look at every aspect of my preparation and equipment to obtain optimum performance.
I had picked a course that I hoped was conducive to running a PB. And, whilst I was in good shape leading up to the race, I was well aware that the marathon can be a cruel mistress.
In previous marathons, I had worn Adidas, Asics GT 2000, and Saucony ISO. This time, I was wearing a pair of trainers that were 16% lighter than my previous pair and also looked pretty good (which I feel helps subconsciously).
Out of the box
I wouldn't say that the Zoom Fly were comfortable straight out of the box. I would say that they took a few runs to get used to. But once this was done, they felt awesome.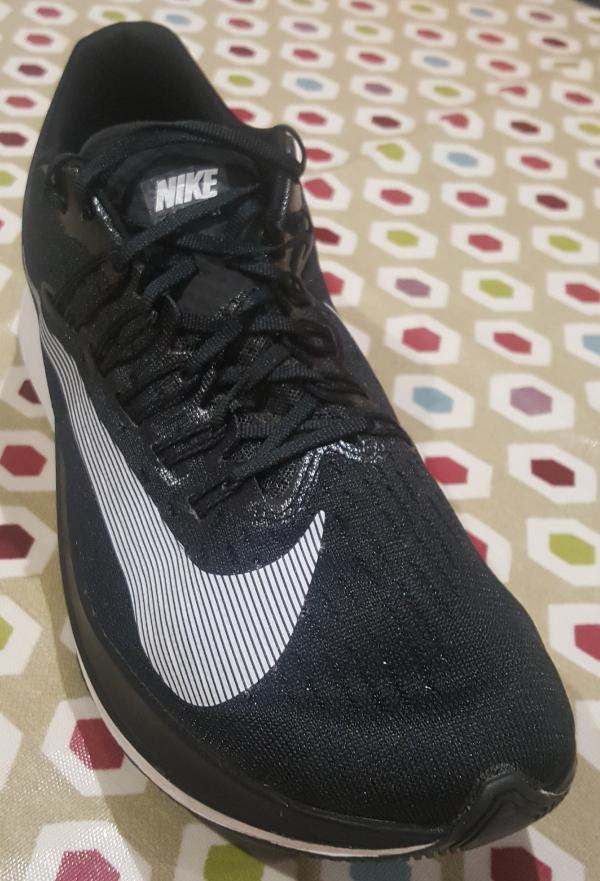 I wore them for 2-3 long runs before the marathon and also a 5k race in, which I managed to get a new PB.
Sizing
I normally wear a UK size 10, and for running, I go a half size bigger. For the Zoom Fly, I had to go for a UK 11.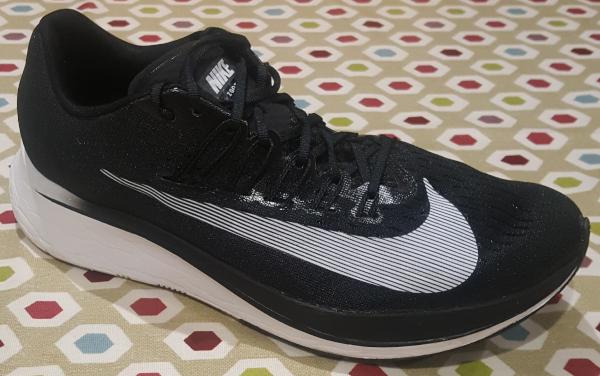 Price
I managed to pick up a pair from a Nike outlet store for £52, which was great—obviously, as mentioned, I came late to the party (the Vaporfly had been released by this time). I wish I had bought another couple of pairs from the outlet store.
Durability
Some reviewers had mentioned that they had only been able to wear these for races. But, I have found them to be good so far in terms of durability.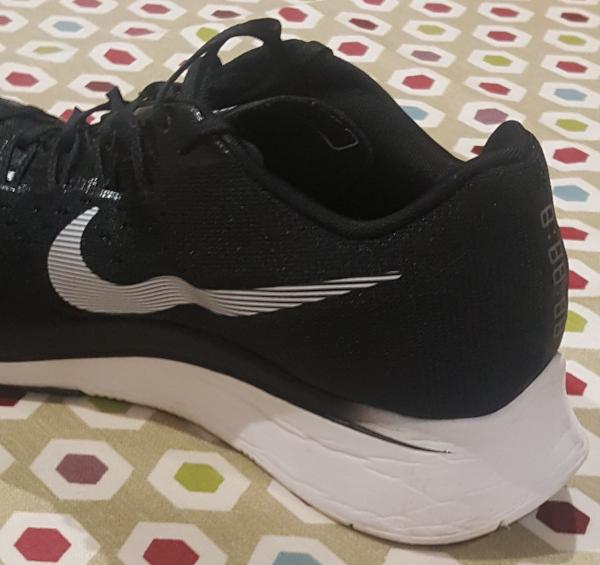 I tend to keep them for long runs, tempos and races. I use my Saucony ISO for easy runs and Nike Pegasus for track work.
Aesthetics
I have to say they look great. As mentioned above, to me if you feel that you look good, you will run good. I coupled these with a pair of Star Wars stance socks and felt pumped on the start line.
Negatives
I don't think that the Zoom Flys work particularly well in corners, so I would never consider wearing them at the track or on tight trails. But, most road races have long straights, so this doesn't detract from their performance.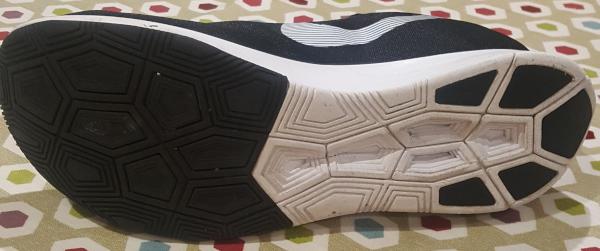 The sole can attract and retain unwanted stones, but this is a small issue. Lastly, having tried on the Flyknit version, which felt so much more comfortable, I feel that the upper was a bit rigid. But, again, this is a small issue.
Reduced DOMs
I'm not sure if this was the trainers or because I had been in the shape of my life and had paced my race well for once, but my legs were definitely not as sore as usual.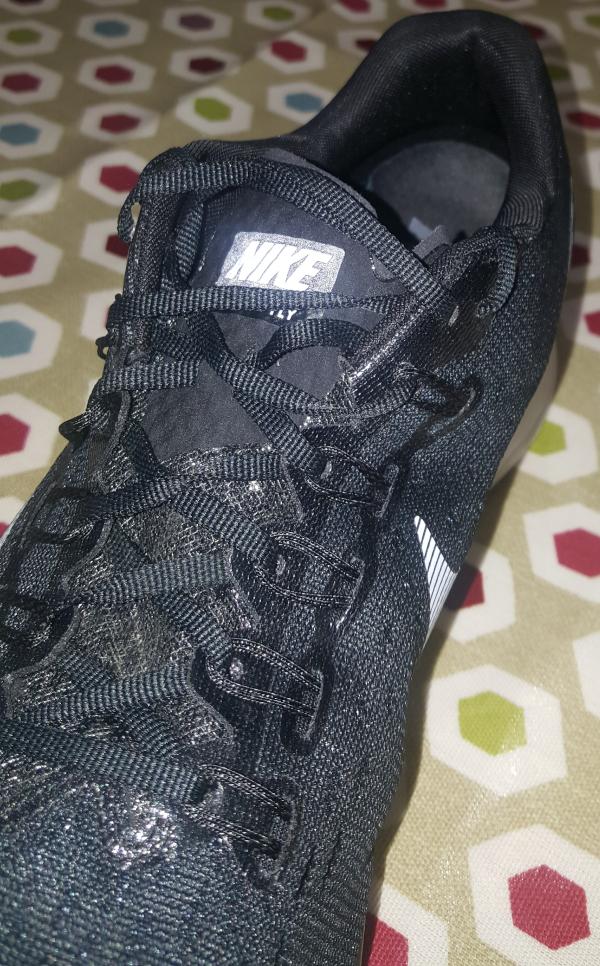 Quite a few runners have mentioned that Nike Zoom Fly and VaporFly have left their legs feeling less beat up than normal, especially after running long distances.
Overall
I would recommend these to runners who want to improve their road racing times and to those who want to experience the entry-level carbon plate trainers. I managed to run 2.58 in the marathon, and I do feel that they helped.
The hard training still has to be done but come race day, these are the icing on the cake.
I don't think that I would go back to wearing bulkier trainers again. But, that said, I don't think that I could justify paying over £200 for a pair of trainers either. So, I tend to wait until the newer model comes out and grab the old model when they are going cheap.
This is my personal review of the Nike Zoom Fly, which I got right when they were launched to the public during the Berlin Marathon in 2017.
I kept buying after, even though I tried other shoes from Nike and other brands. I think the only experience can help a runner understand whether a shoe is good or not, and hopefully, this will be helpful for those who are considering to purchase this model.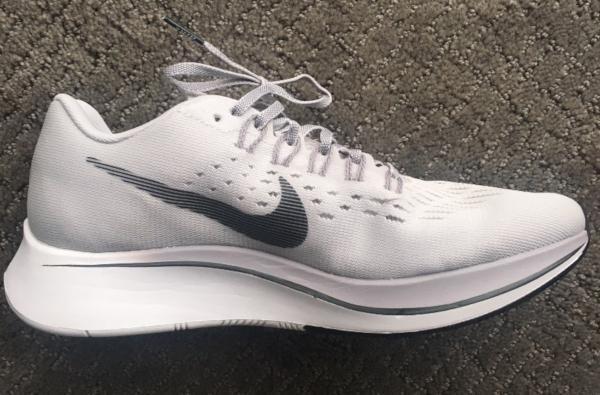 I raced a 5K right after getting my first pair and I placed 1st in my division, on a hilly course Could it be that the shoes were helping me? Let's keep analyzing them.
Midsole & outsole
The midsole is extremely cushioned and provides a good response.
A responsive, cushiony sole with a carbon layer inside is probably the best feature of this shoe, and it offers a lot of support at the heel.
Even if you are a heel striker, like I used to be, these will absorb most of the impact.
Below the latest pair, I purchased as a spare, so if you are wondering why they look so new it's because they are, and I haven't used them yet.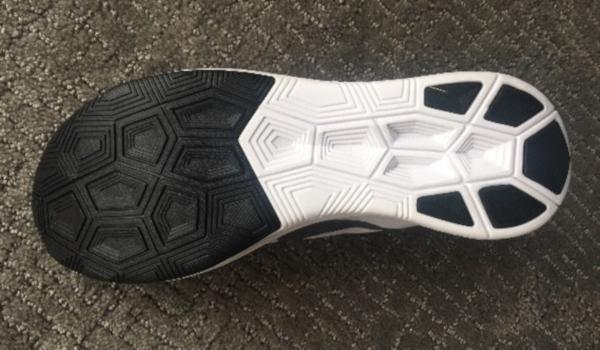 Is this shoe recommended for long runs (10+ miles)?
Definitely yes!
Mile after mile, they offer continuous support, and the upper is made of breathable material (not comparable to the Flyknit, but more stable in my opinion).
The upper material does not make your feet extra sweaty at the end of your run.
Break-in period
I personally found that there is really no break-in time. These shoes feel well from the first moment you put them on, but note that the upper will need to take your foot shape.
Some people may also find them too snug at the beginning.
How do they fit?
They are pretty narrow in the toe box and they gave me ugly black toenails, but when you are training for a marathon it's probably normal.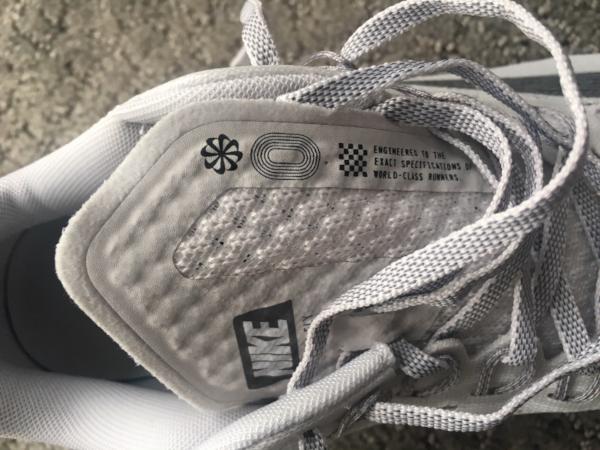 If you have a wide foot you might not like these, and the upper will not stretch a lot, but it will a little bit. They run small!
You should get a half size up your usual, or they will be too tight especially in the toe box.
How do the shoes behave in different weather conditions?
I will be honest, I live in LA and you know where it never snows and it barely rains, but I took these babies on a trip to Canada for a half marathon in Vancouver and it rained the whole race.
Some parts of the course were a bit muddy. I stepped in a couple of puddles but the sole had enough grip (also I was being extra careful, beware of the wet leaves!) and I didn't really slip.
Can they be used on road only?
They are definitely made for road running. So if you want to try them on a trail or anything that is not pavement, just know that the traction will be close to none on anything slightly technical.
Are these shoes good for me?
My first answer would be yes, as I slightly overpronate myself.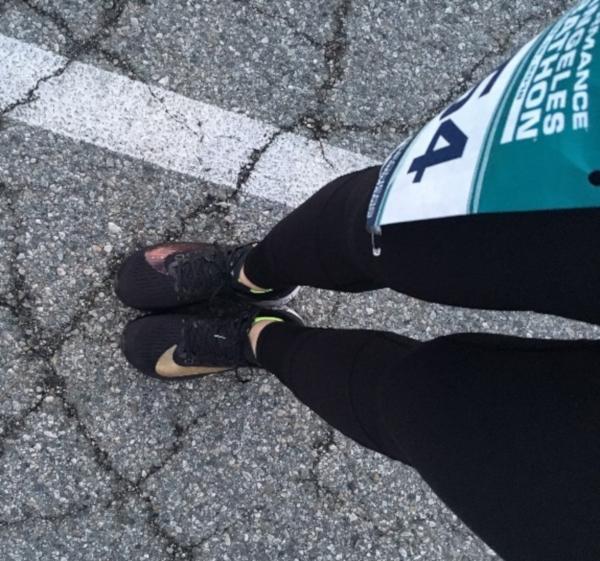 These are neutral shoes with minimal arch support (better than other Nike shoes which tend to have zero arch support) so if you have PF issues or need insert, keep that in mind.
Are they good for racing?
Absolutely yes! These shoes were engineered for racing, especially longer distances like half marathons and marathons.
If you are looking for a reliable shoe that won't give up halfway, this is the shoe for you. It will withstand all the training and perform 100% on race day.
These are my go-to racing shoes now and I keep buying them over and over. Below the pair, I used for my first marathon in 2018. Special feature: you can customize them with sharpies.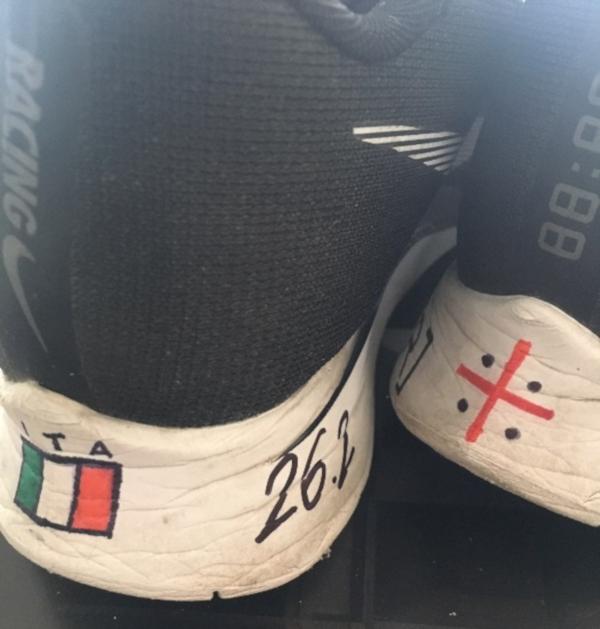 Final valuation
Pros
Cushiony, responsive and supportive sole
Breathable lightweight upper
A thin tongue that hugs your ankle
Continuous comfort through longer runs
Fast, race ready
No break-in time
Extreme stability
Durable
Customizable if you're feeling artsy
Lots of colorways
Cons
Extremely tight, need to size up
Takes a while to get them in, upper is not stretchy
No arch support
Road only
Midsole gets wrinkled after first use
Original price very high
Laces are a bit too short and not stretchy
Not good looking enough for casual wear
I will explain in this review why in my shoe database these are nicknamed "I believe I can fly." At the exit, the big advertising impact by many elite Runners with Vaporfly, I was rather skeptical that this "by-product" was a real weapon to face speed endurance races.
It was only by chance that at the Valencia 2018 Half Marathon Expo, the day before the race that I tried them. I immediately had a very strange feeling with the posture that the shoe induces when you take the first steps of a run.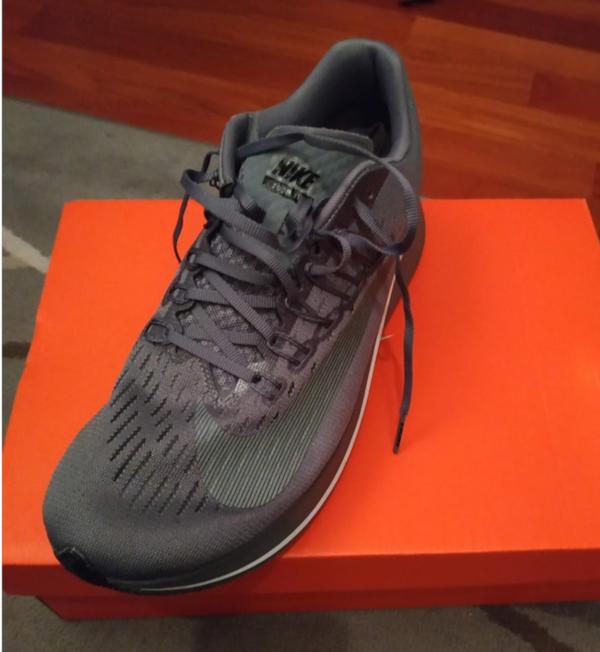 The thought was "with these we can fly." I wanted to buy them immediately and use them on the day of the race, but I was so well prepared that the fear of not knowing how to keep up with this new shoe inhibited me.
I waited for about a month and finally bought them. I only tell you, a 7k test track and 4 days after PB 10k in a race that isn't even completely flat.
Midsole
The midsole of this shoe is made of Lunarlon. It is very reactive, and at the same time well cushioned.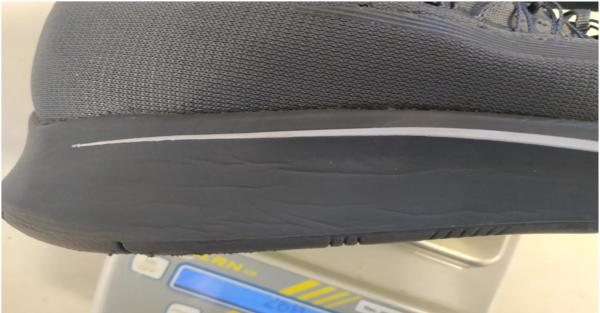 Its thickness is considerable. The fresh foam of the New Balance 980 V2, in my opinion, can have a range of 400-500km at the most, but clearly dependent on the weight of the athlete.
Outsole
My first impression was the sole does not seem to be of great thickness and durability. But, the photo below is after a distance of about 40k and the tread is intact and without big signs of wear and tear aside on the protruding part of the midsole (very minimal).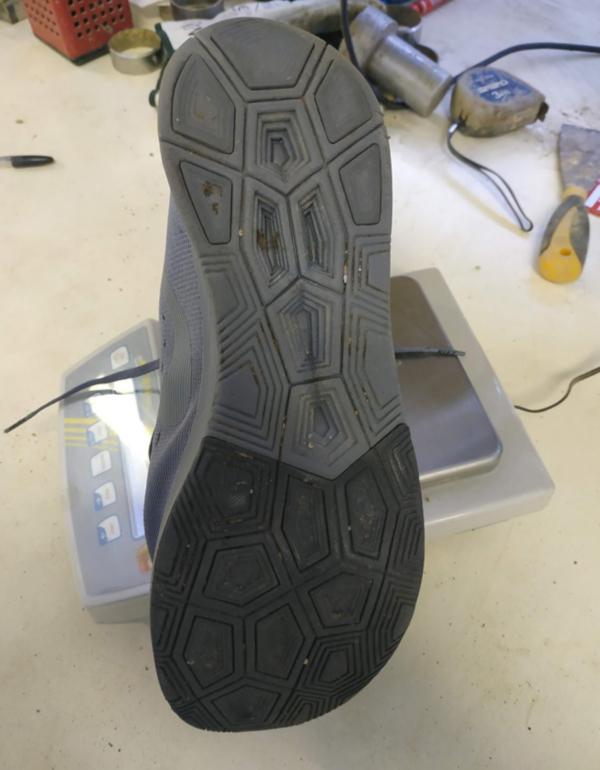 Upper
This is the technical side that is more appealing both from an aesthetic point of view and as a sensation. As soon as they are worn, they feel like a glove, and although they don't have "reinforcements," stability is more than satisfactory.
Also, the lace system ensures good support and the thin tongue is a plus point.
Positives
Helps to take a correct posture
Excellent reactivity, combined with great cushioning
Look not too flashy
Negatives
Limited durability of cushioning
Heaviness, in relation to the fact that it is essentially a race shoe (see the weighing of the photo size US 10.5 260.7g)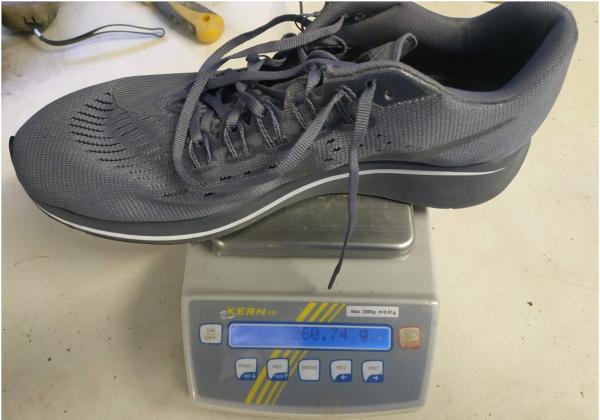 Note
It is neither a pro nor a counter; the technical characteristics of the shoe is not suitable for daily use for comfortable runs or for cool-downs. It can be suitable not only for the race but also for technical jobs such as repetitions.
Without a doubt, for slower rhythms of 4'30/km, they would not be suitable. Certainly, due to the posture, it induces once the useful life of racing is over.
Conclusion
The shoe is ideal for those who have a good running technique and a frequency of at least 180 steps per minute. The only question mark remains the durability, which I reserve the right to update to the presumed end of life of 400km.
Good to know
The heel part of the Nike Zoom Fly's outsole uses a rubber compound that is highly resistant to abrasion. Its goal is to protect the foam midsole from the damaging nature of the roads. It also doles out surface traction, which is an essential aspect of running shoes.
Foam rubber is placed in the forefoot section of the external pad. This material has a spongy construction which allows it to provide an extra spring to each step. It is flexible and traction-ready, as well.
The shoe is further improved by a system of patterns at specific locations on the outsole for optimal performance and a firm grip on dry and wet surfaces.
Lunarlon is the primary technology that's used in the Nike Zoom Fly. This full-length cushioning system is comprised of a carrier foam that cradles a soft material in its center. The purpose of the former is to provide long-lasting structure and volume to the underfoot experience while the latter is tasked with ensuring a responsive and highly energized performance.
A carbon-infused nylon plate is implanted into the entire length of the foam. This add-on has the purpose of acting as a propelling component that energizes the foot as it lifts off the ground. It bends with the foot then springs back into place during the end of the motion, ensuring a burst of propulsion that benefits the action.
An insole is placed on top of the primary cushioning unit. This extra layer is made to provide additional support to the underside of the foot. It can be removed or replaced with a new one.
A one-piece engineered mesh is used for the upper unit of the Nike Zoom Fly. This technology resembles traditional cloth, and it has the same qualities, as well. It is lightweight and flexible, so it is able to provide a hug that is akin to wearing a sock. Also, it is form-accommodating and breathable, so it allows the foot to stay relaxed and dry during the running session.
An internal heel counter graces the back portion of this running shoe. This feature is meant to hold the foot in place, saving it from quivering at any point of the performance. It also makes sure to prevent the foot from exiting the interior chamber unexpectedly, thereby improving confidence and a well-realized heel-to-toe transition.
A traditional lacing system with semi-flat laces and discreet eyelets permits the wearer to manipulate the level of security for the foot, thereby acquiring a customized in-shoe wrap.
The Dynamic Flywire technology is comprised of cables that poke out of the façade's midfoot section. These wires connect to the shoelaces, adjusting in tandem with the tightening or loosening of the fit. Their coverage of the midfoot section ensures a snug embrace that is supportive of the delicate arch.
The lightly padded tongue and collar are elements that cushion the instep, the ankles, and the Achilles tendon. Having an upper that offers comfort may enhance the performance, especially when tackling extended runs and contests.
Rankings
How Nike Zoom Fly ranks compared to all other shoes
Popularity
The current trend of Nike Zoom Fly.