You really cannot ask much from a $70 shoe, yet the Nike Flex Experience Run 11 manages to shine somehow. Its simple design may not catch a lot of eyes on the streets, but this multi-purpose trainer definitely caught the attention of non-runners, new runners, and even some "barefoot" runners alike. Basically, if you're after an entry-level shoe that punches well above its weight, this is it.
Pros
A lot of ground feel
Extremely flexible
Plush and cozy upper
Even lighter than it looks
Great for light walks and workouts too
Priced like it's always on sale
Good for the planet
Cons
Not that breathable
Laces easily come undone
Might take some getting used to
Who should buy the Nike Flex Experience Run 11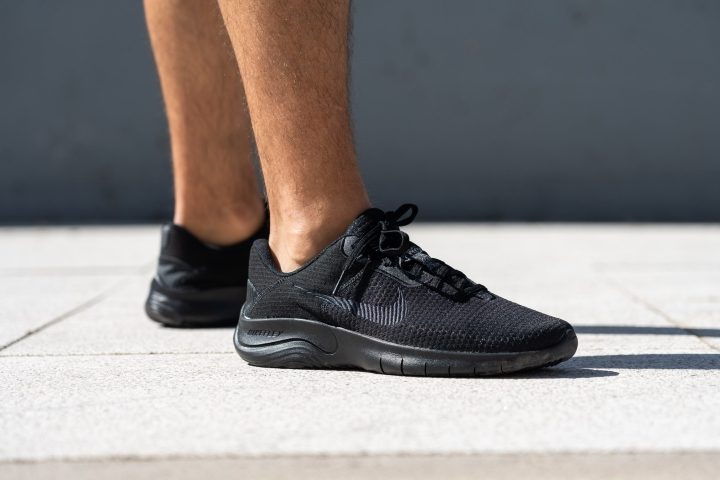 Definitely buy this road running shoe from Nike if you want this:
Who should NOT buy it
There are plenty of better-quality daily runners out there that are also eco- and budget-friendly, a couple of options could be the Nike Free Run 5.0 or the Adidas Duramo.
If you're looking for trainers that are good for your flat arches, check out the ASICS GT 2000 10 or the Brooks Launch GTS 8.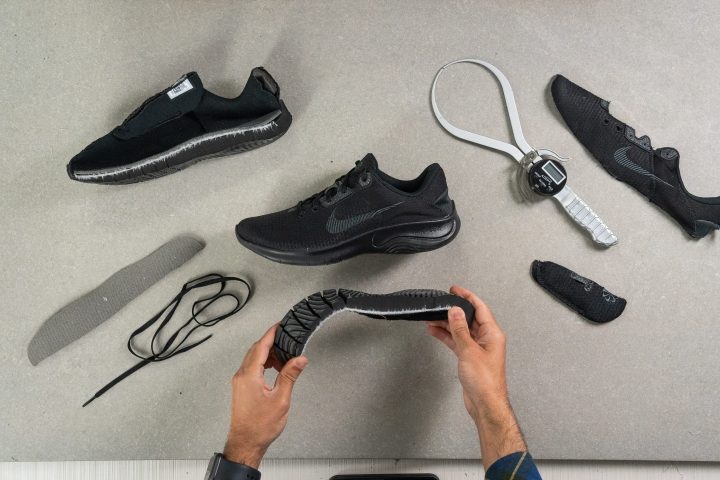 Upper is plush but not so airy
Aside from a few reviewers casting their doubts on its durability, comments about the Experience 11's upper were generally positive. Users enjoyed how the material felt breathable and flexible "while still giving you the feeling of support."
Thanks to the upper's "beehive-like texture," as one runner would describe it, the shoe is highly breathable. On a hot day, your feet "aren't going to feel on fire."
Fact check
But contrary to how the wearers felt, our tests show that the ventilation is average at best. We tested the shoe's breathability with a smoke-pumping device and rated it as 3 out of 5 (5 being the most breathable). It is lower than the average 3.8 for road running shoes.
Fact check
In another test, we found that the mesh upper is not very transparent either. That confirms our concerns about breathability.
Finally, we took a few microscope shots of the shoe's mesh to discover how tightly-knit the fabric is compare to other running shoes.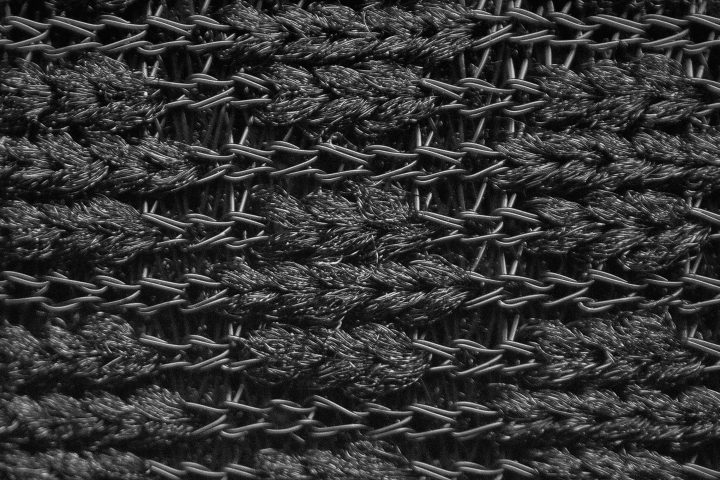 Nike Flex Experience 11's upper fabric under a microscope
As you can see, the fabric seems to be quite tight and dense. Here is another picture for reference: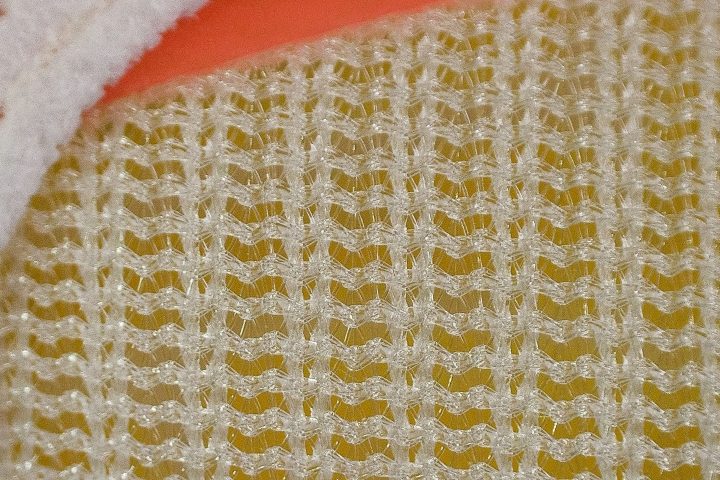 Adidas Adizero Adios 7's upper fabric is much more breathable.
Based on our findings above, we would not recommend the Nike Flex Experience Run 11 for hot summer days. But it can feel quite cozy for the rest of the year.
The upper fabric is quite resistant, tho
What that dense and warm upper does right is durability. It is quite surprising to see a nearly minimalist shoe with such a wear-resistant mesh!
To check the longevity of running shoes, we put a Dremel against their most sensitive part - the toebox. We hold the tool for four seconds, applying consistent force and speed to all shoes.
As you can see in the pictures below, the Experience 11 did quite well. It definitely pays back for its lack of breathability.
We put a piece of white material inside the shoes to make the contrast more visible. Here we have the Experience Run 11 on the left and the New Balance Fresh Foam X More v4 on the right. The latter got drilled right through.
Get that semi-minimalist feel from the Experience Run 11
While not a true minimalist shoe, the Experience 11 has an air of minimalism to it. Users reported getting a great ground feel from the midsole, which they described as not-too-thick, and firmish, but still comfortable.
Fact check
"Firmish" appears to be the best word to describe this shoe's cushioning. Based on our durometer measurements, it falls in between firm and balanced. The foam is 22.8% firmer than the average.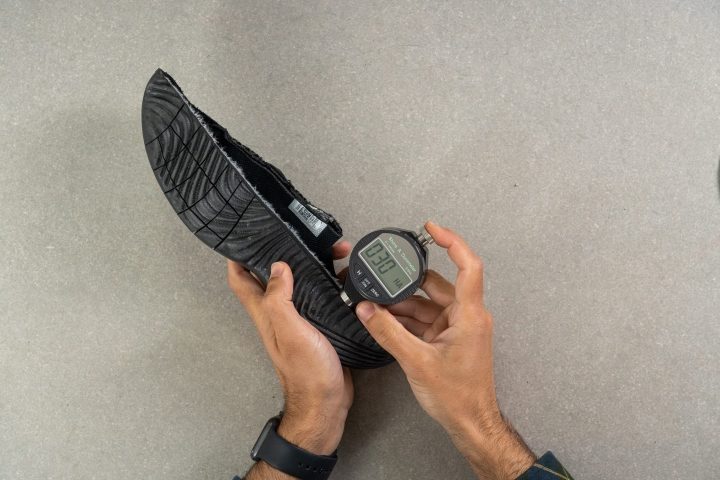 Disclaimer: The displayed durometer measurement is only one out of four that we took. We exclude the outliers and calculate the average for our final result.
One runner accustomed to barefoot shoes shared that, much like in a minimalist, he felt his foot muscles "working in a different way" when using this shoe. He clarified, though, that it still has "slightly more support in the sole than a [Nike Free] runner." He also gave the following heads-up: "Make sure you add volume to your mileage in a very slow way."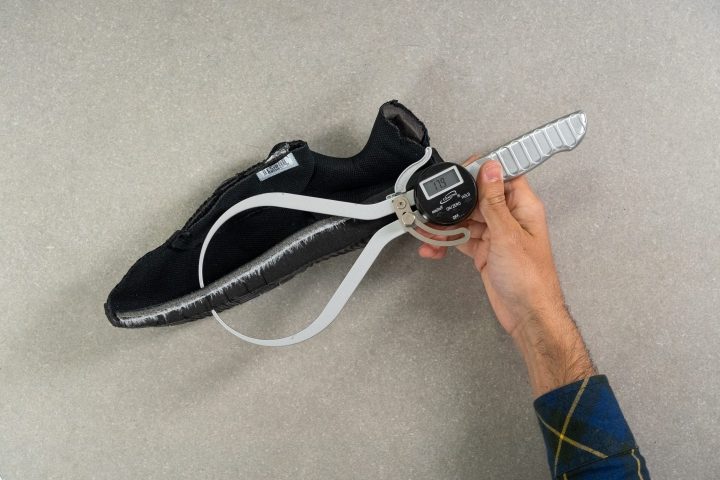 Fact check
Measuring the shoe's stack height, we found that it is considerably thinner than most of our lab-tested road running shoes. It is only 17.9 mm thick in the forefoot (6.7 mm thinner than average) and 24.1 mm in the heel (9.1 mm thinner).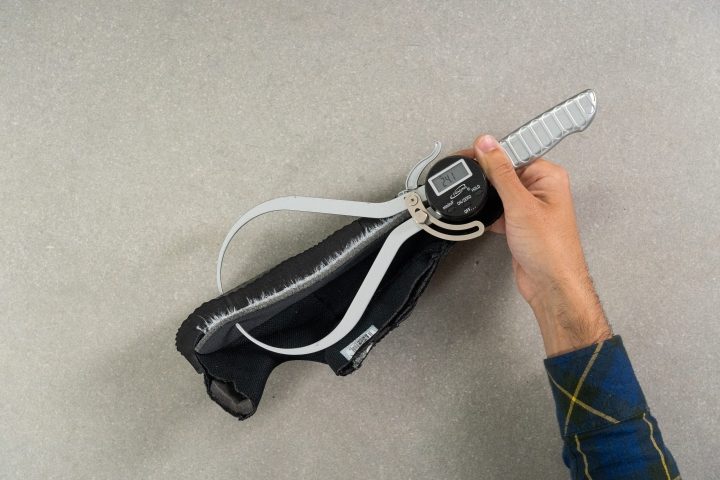 Fact check
In addition, the shoe's heel-to-toe drop went from 10.4 mm in the 10th iteration to 6.2 mm. All of that screams minimalist to us.
No sign of heel slippage
There is no need to worry about your heels slipping in the Nike Flex Experience Run 11! No heel lift has been reported by any of the testers.
But do keep in mind that the shoe's heel counter is very flexible and doesn't give a lot of support in the ankle area. In our manual assessment, we rated it as 1 out of 5, where 1 is the most flexible.
Mother Nature's seal of approval
The Flex Experience Run 11 Next Nature is a welcome development for environmentally conscious users who warmly received Nike's green shift, and hoped that the brand pursues "making more shoes with innovative manufacturing and recycling."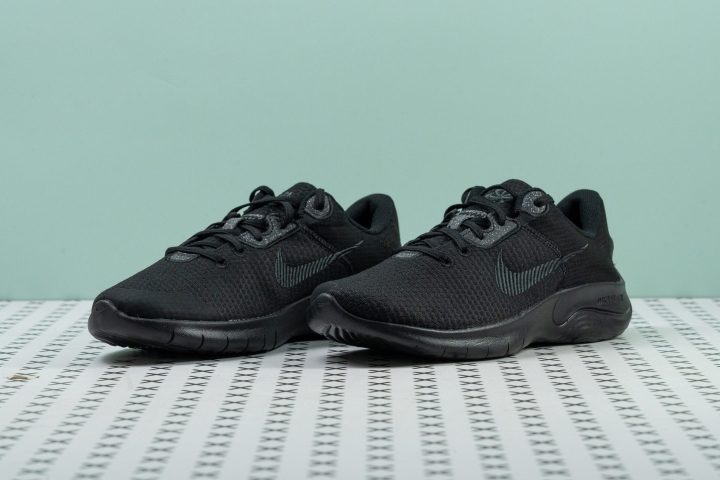 Fans also appreciated how despite being partly constructed from recycled materials, the Flex Experience Run 11 retained its premium-quality feel. As perfectly summed up by one reviewer, "Who doesn't like saving the planet while being comfortable and looking good?"
Flex those flex grooves
The Flex Experience Run 11 manages to live up to its Nike Flex heritage thanks to the flex grooves on its outsole. And based on the feedback, it is flexible as hell! The deep cut-outs allow your foot to bend as much as it can.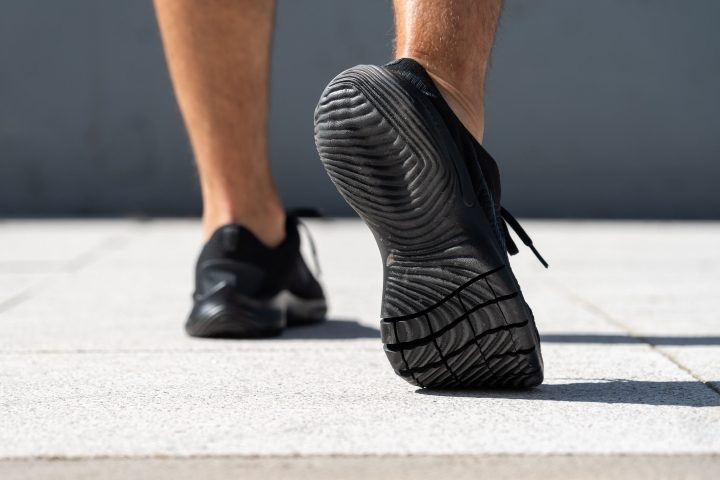 The shoe's overall flexibility greatly contributes to the runner's comfort. It bends in all the right places to help the foot feel free and maneuverable.
Fact check
Indeed, this shoe is more flexible than 99% of our lab-tested shoes!
It only took needed 7.5N of force to bend this Flex Experience to a 90-degree angle. On average, it takes 32.9N to bend a road running shoe.
Disclaimer: The displayed flexibility measurement is only one out of four that we took. We exclude the outliers and calculate the average for our final result.
We also performed a manual check of the shoe's flexibility and it still proved to be among the bendiest. On a 1-5 scale where 1 is the most flexible, we rated its longitudinal flex a 1 and its torsional flex as 2.
The only problem is that the Flex Experience 11 will get stiffer in cold weather.
Fact check
After leaving the shoe in the freezer for 20 minutes, we repeated the flexibility test. But even though the shoe got 90%(!) stiffer, it still remained the most flexible shoe in our collection.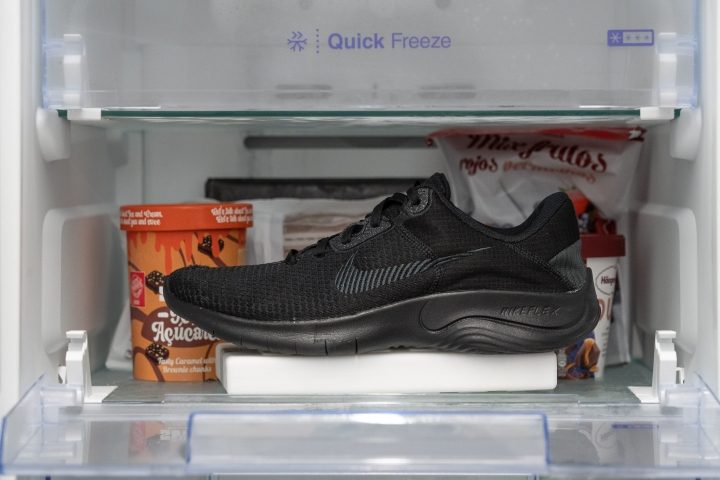 Spread your toes as much as you want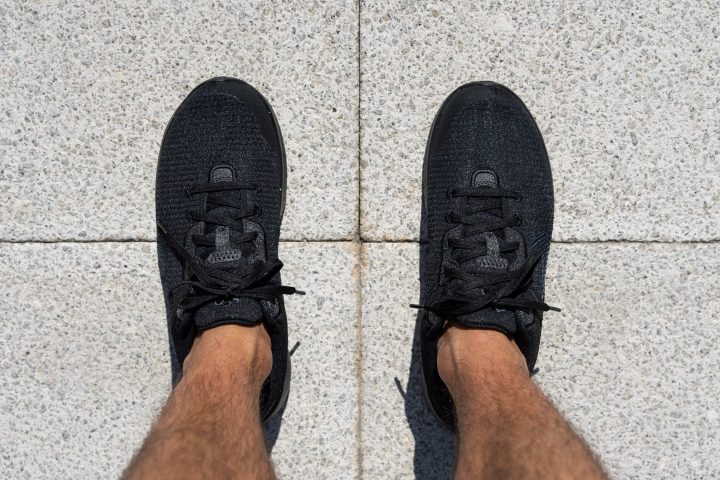 The Nike Experience Run 11 comes in normal and extra-wide sizes, so users with broad feet need not worry when wearing these. One reviewer said that while the shoe appears to be narrow, her feet did not feel squished at the toe as she anticipated. Another mentioned that the roomy fit gave "a more barefoot feeling," adding to the shoe's semi-minimalist appeal.
Fact check
Measuring the toebox of the Flex Experience 11, we are happy to announce that this Nike is a solid medium width. In the widest part of the forefoot, it measures in at 98.9 mm which is right at the average of road shoes (97.6 mm). In addition, we measured the width at the big toe (73.3 mm) to see if the toebox tapers a lot towards the toes. It does not. Great job, Nike!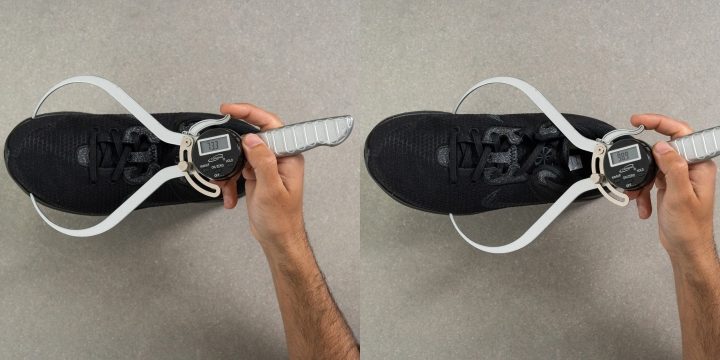 The Experience Run 11 is good at other stuff, too
At the bargain-bin price point of $70, not a lot of people seriously consider the Nike Flex Experience Run 11 as their go-to running shoe. But with its mix of support, flexibility, and airiness, owners easily found other uses for it.
"One of my favorite workouts is run intervals with tire flips and farmers carries and this is the perfect shoe for that"
"I wore them to the gym and at work where I'm on my feet all day. Let me tell you, no tired feet, no achiness, my feet felt good!"
As long as you don't expect the same level of stability as you would from a cross-trainer, the Nike Flex Experience Run 11 could make a nice companion for moderate gym training.
You'd be surprised at how light they feel
Because of its mesh upper and foam soles, the Experience Run 11 manages to catch wearers off-guard with how light they really are. One runner said it might even be lighter than his Nike Free RN Motion FK—which, for context, is among the lightest road running shoes out there, weighing around 195g–235g depending on the model.
Fact check
A semi-minimalist shoe is expected to weigh less, but the lightness of the Flex Experience is still surprising. Tipping the scales at 232g, it is significantly lighter than road running shoes on average (270g).
The Experience Run 11 has no outsole, which helps minimize its weight. However, that of course may affect the durability of the shoe since the midsole is totally exposed and not protected or reinforced by any rubber pods, something quite common and necessary in road shoes.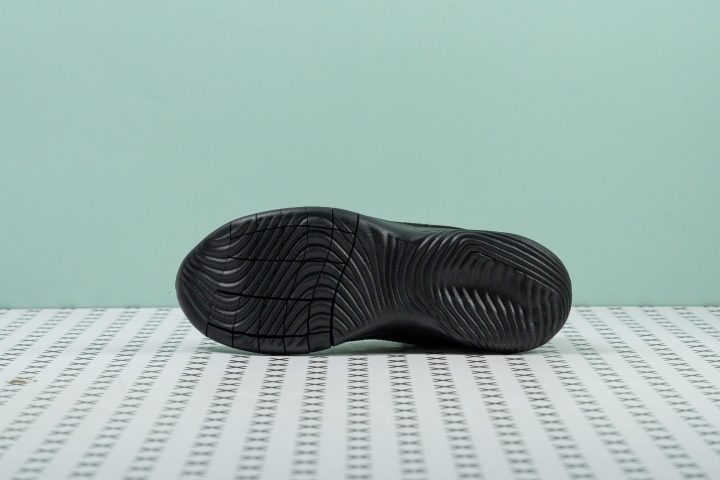 Laces that won't do their job
There is much to be desired in the Flex Experience Run 11's laces. Users had a hard time tightening them because of their stiff, starchy quality that also causes them to constantly come undone. According to one wearer, "the laces will NOT stay tied for an entire 45 min class double knotted."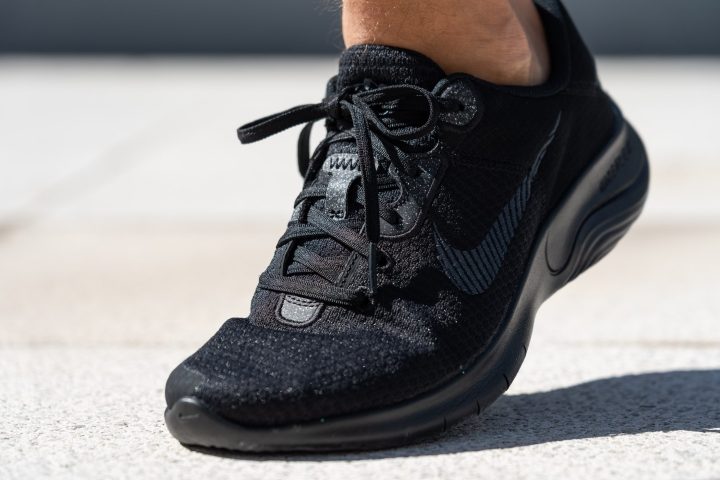 Pampers your feet
In terms of comfort, one fan said that the shoes "feel like a lighter version of the Air Max 1." That, in and of itself, should already say enough—but here are some more comments from the Flex Experience Run 11's fans:
"From a comfort standpoint these are definitely near the top of the list."
"They felt just as good when I ended the run as they did at the beginning."
"Once you put them on you don't want to take them off."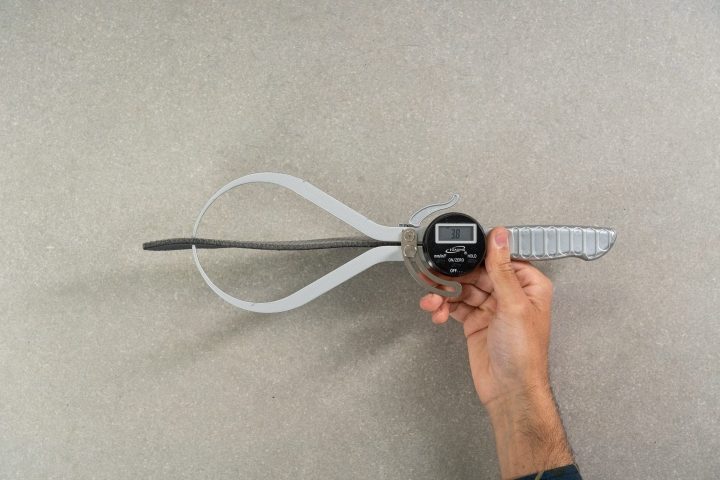 We measured the insole thickness at 3.8mm which is close to the average of the running shoe insoles (4.4mm). And if you need more support, these insoles are easily removable and can be replaced with your own orthotics.
The tongue also contributes to the overall comfort with its 5-mm thick padding, quite close to the average (5.7). There should be no sight of lace bite around here.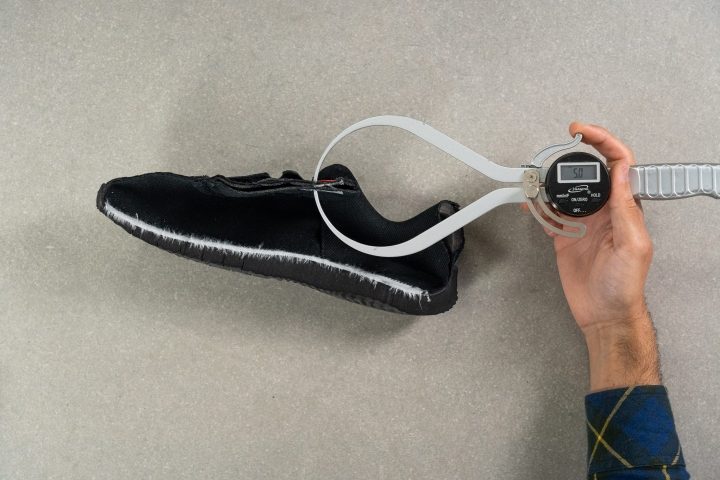 Simplicity is beauty
The Flex Experience Run 11's design is "pretty simple not too flashy" happily shares one satisfied reviewer. Another finds it "straightforward," while another chimes in saying, "The look of the shoe is very subtle."