Our reviews
The New Balance Hierro v4 is New Balance's latest version of the rugged trail runner. A few much-improved, albeit small changes from the Hierro v3.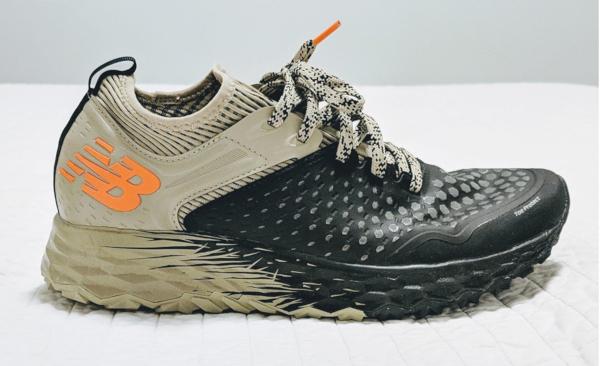 Looks
The Hierro v4 didn't change much about the look from the v3, but it did remove the "hypo-skin" that coated the entire upper on the v3.
The hypo-skin remains on the heel, and a bit on the mid-foot, but it doesn't have the "wetsuit" look that the v3 did. That is about all that changed. Other than the 2 colorways for men and 2 for women.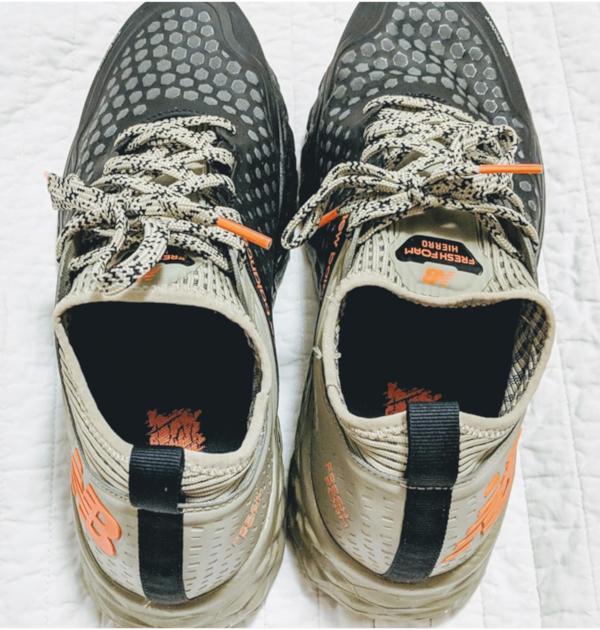 Fit
In traditional New Balance fashion, the shoes run a hair small. But I am convinced that they are slowly turning from running small to fit a little more traditional in size.
This is very evident in the switch from v3 to v4. I wear a 9.5 and the length is always spot on, but the v3 had a tightness in the top of the foot and the toe box bordered on the uncomfortable realm.
In the v4, the toe box has been widened just enough, and the upper doesn't squeeze the top of your foot. The opening in the shoe is still just as tight as with the v3, causing some annoyance in getting your foot in, but the tradeoff of a debris-less bootie is worth it.
I ran in 12 inches of snow and literally never got any inside my shoe. No gaiters required. The shoe itself is a single piece of fabric with little if any rubbing points. The sock-like entrance works as a makeshift gaiter to keep out debris.
Grip
The sole of this shoe remains unchanged from the v3 and is like a chiseled work of art from Michelangelo. It lacks a midfoot strike plate, but it's added cushion negates the need for one.
The midsole is made of New Balance's Fresh Foam which is as comfy as it sounds. It is a single piece of foam material that runs the shoe's full length. It's plusher than the usual platforms and delivers a cushioning that feels soft and comfortable on the underfoot.
With this feature, combined with its flexibility, it grants a ride that feels natural yet responsive and protective. It lacks sharper points and grooves that some technical shoes might have (think, Salomon's Speedcross or Saucony's Peregrine), but it's grippy Vibram sole makes up for it.
As I traversed to the top of a peak in inches of snow and ran back down in a packed down trail, not one time did I doubt my step. Not once did I feel like my grip wasn't there for me.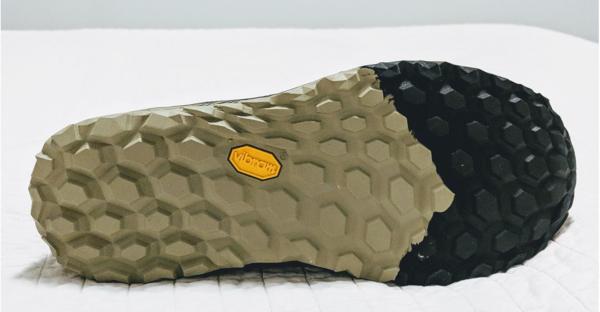 Upper
Now to the hypo-skin that New Balance has adopted in a few of it's latest model shoes. The skin remains a positive, but on the 3rd version of the Hierro, it was just not breathable enough.
They removed the skin from covering the upper in entirety and replaced it with a breathable skin in just the right places. You still have the benefit of the quick clean hypo-skin but adding a breathable upper and loosening the upper removed all hot spots from my feet.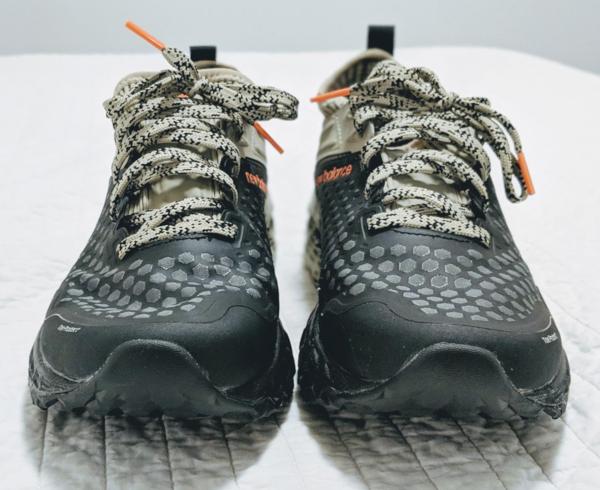 Midsole & outsole
A nice thick 33mm midsole with an 8mm drop provides a great ride. The transition is pretty seamless on a shoe that looks to be sturdier in nature.
The Fresh Foam offers plenty of cushion, and protects your foot from any rough terrain the trail throws your way. The outsole is Vibram and offers excellent traction. The best of the best.

The Good
This is a bonified trail running shoe. When people list off Altra, Hoka, North Face, and others, New Balance is often left out but has found it's well-deserved place amongst the ranks with the new Hierro trail shoe.
Version 4 took the things I disliked about the 3rd version and fixed them right up. Version 4's fit and breathability are better this time.
Overall the shoe is great! The Toe-Protect is a nice touch of sturdier rubber to handle rocks and sticks like a champ.
The Bad
If I were to point out any fault in this shoe, it would be the tight entrance. Thicker socks are what I normally wear, but I am hesitant to wear them due to the difficulty in getting the shoe on. That being said, it's totally worth keeping debris out of the shoe.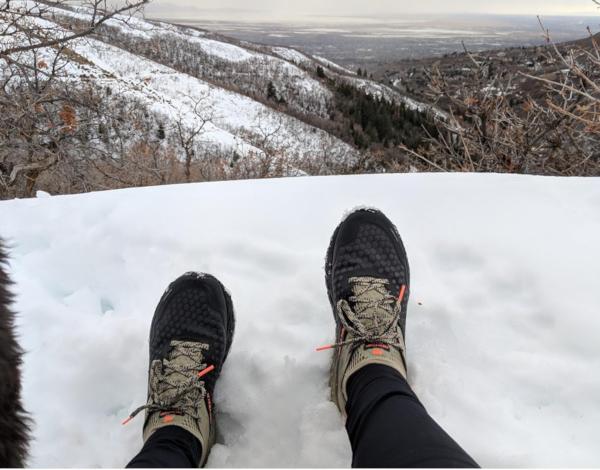 Overall verdict
Looking for a trail running shoe that will stand out from the rest? Looking for grip that will make sure you get home without a newfound ability to do the splits? Looking for a shoe that just simply does its job? The New Balance Hierrov4 is the one.
Not to mention that the shoe is light and comfortable enough to manage the roads well if you ever have to get to the trail — no need to throw a pair in the backpack and switch.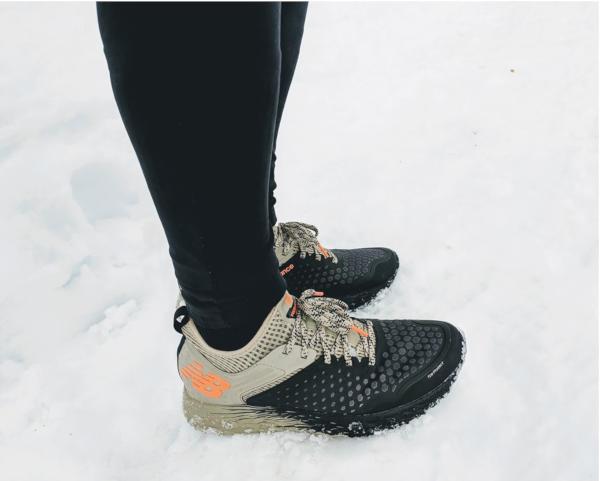 New Balance sets an even higher bar with the new Hierrov4. The improvements over the 3rd version are just the ticket. You would be hard pressed to find a trail running shoe more enjoyable and more capable than this.
If a very generous person came along and said, "go and buy any running shoe you like, and don't worry about the cost, I'll pay for them"—what shoe would you buy?
Well, having won the Review of the Month in May 2019, I was given this amazing opportunity by those very inspiring and generous people at RunRepeat.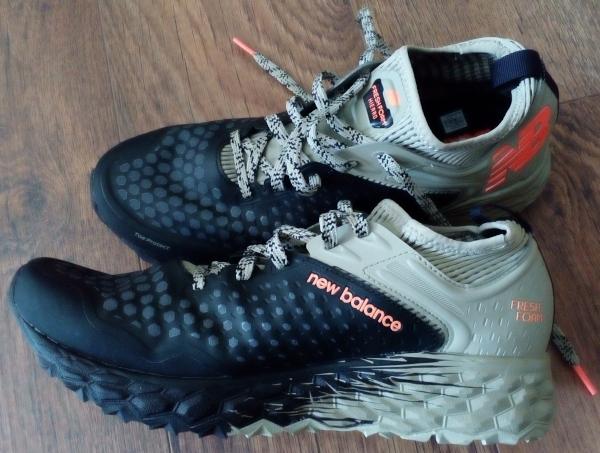 And, after much thought, I decided to go for the New Balance Hierro v4.
But why that shoe?
Well, the New Balance shoes I've had in the past have all been great. Every one of them has delivered on its claims, and in some cases, very much surpassed them.
In my decision-making process on the New Balance Hierro v4, this was very important, because the New Balance Hierro v4 is a shoe that claims to deliver on a lot!
Overall, I had the impression that the New Balance Hierro v4 was a really well-thought-out and well-constructed, quality shoe.
I got the impression that if you were a runner looking to go further and/or a heavy foot-striker and/or a little heavier than the average runner, then this would be a shoe for you to consider.
Just to finish this section off; the New Balance Hierro v4 weighs in at 324 grams; It's heavy, I know (I'll talk more on this later). And it has an 8mm drop, which is my favoured drop level.
A bit of context and background
I'm now in the last 12 weeks of what has been a 12-month training plan to run 100 miles. My target event is the Hobo Pace Robin Hood 100, and the date is Saturday 14th September.
I hope to finish in around 24 hours, but I'm allowed 30 hours to be classified and crowned as 'a finisher'—And most importantly, get that much-prized T-Shirt.
Immediately prior to getting the New Balance Hierro v4, I exclusively ran in the New Balance Gobi v3. And, I have to say, they have been fantastic.
But now, I have the opportunity to try, what sounds like, the Gobi's big brother—the New Balance Hierro v4.
What were my expectations?
Well, firstly I expected them to be a high quality, comfortable and supportive running shoe; ones that could take me through those long 50+ mile runs or 12+ hour events.
I expected them to be a fairly heavy shoe, they come in at 324 grams, which is 11.4 ounces. This is a great deal heavier than the New Balance Gobi v4, which weighed in on my scales at 9.4 ounces.
But with weight, it's always a trade-off against how far they can take you.
Yes, you can get lighter trail shoes, but lighter isn't always better because they may not have the cushioning and support you need for those long days out.
And lastly, I expected the Vibram outsoles to provide excellent grip, especially on wet and technical trails.
This for me was one of the major downfalls of the New Balance Gobi v3 (which didn't have a Vibram outsole).
Unboxing & first impressions
The first thing I noticed when I got them out the box was their size—I'm a UK size 9, and for a moment, I wondered if I'd gone and ordered the wrong size!
However, the size was correct, but they just looked so big!
Let me show you what I mean. This is a picture I took just to try and help you see the difference between the Hierro v4 and the Gobi v3.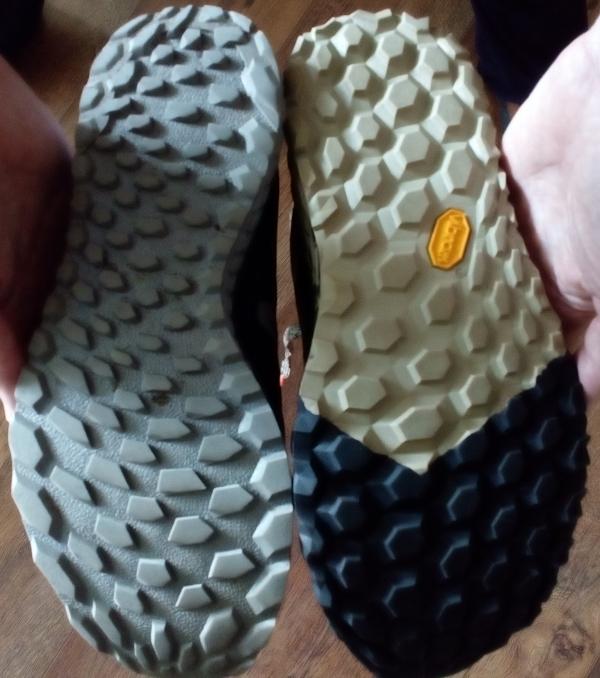 The Hierro v4 is the one on the right, and as you can see, the platform of the shoe is so much broader.
Continuing, I noticed that the front of the bootie, where you'd normally find the tongue, was quite padded.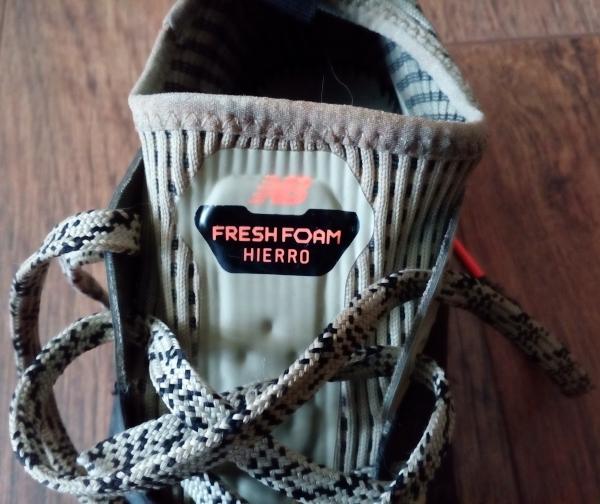 This was interesting because I'd read in some reviews of the previous version (New Balance Hierro v3) that the thinness of this had been a problem.
It's encouraging when shoe manufacturers listen to their customer's feedback and take action—Well done, New Balance!
The insole was a quality Ortholite insole—Again, great news.
When I put the shoes on, I had to pull them hard with the loop at the back. The fit around the neck of the bootie was tight, but when on, it was just right.
It was snug, and not too tight, ideal for keeping that unwanted debris out.
The shoe was very generous in the forefoot area. I'm a genuine UK size 9, and for me, it was just a little too generous.
This wasn't a major problem though, I just added a thin insole, and this gave me that 'just-right' fit.
Although I was very aware that this shoe was heavier than what I'm used to, I immediately appreciated the high level of cushioning and comfort that the Hierro v4 had to offer.
I spent the rest of that day walking around the house in them and on my wooden flooring I could feel a genuine "grippiness", almost stickiness, from what is a fairly aggressive outsole.
Not as much as the sticky grippy feel I've had from some other high-end trail shoes, but definitely grippy.
Altogether the shoe made me full of anticipation for my first run; It was definitely a shoe that inspired me to get out on to those beautiful trails.
Road Testing the New Balance Hierro v4
It's now time to see if the New Balance Hierro v4 could truly deliver on all its 'big' claims.
My first run was 18 miles, and as I moved along at a comfortable 9-minute mile pace, I had a strange feeling of familiarity with the shoe.
It felt like I'd ran in them before, which was odd because I've never had these shoes before!
Then, as time passed, I remembered the New Balance Leadville 1210 v2 shoe that I had about 5 or 6 years ago. I loved those shoes and did my very first ultra-marathon in them.
I always remembered them being comfortable and of being a shoe that could take me to whatever distance my body could go.
That feeling and memory made me excited for the New Balance Hierro v4—Could this shoe do the same?
Well, on that first run, I did the 18 miles, and I have to say the shoe absolutely delivered. Yes, heavier than what I'm used to, but it gave me a delightful run.
Next, I decided to go for a 35 mile run on a combination of light trail, grass, beach, a little tarmac, and a 600-foot hill climb. The hill, in some places, involved steep and technical ascent and descent.
The weather was warm that day, 22 ºC (72 ºF), and I was curious to see if my feet would overheat.
I've read ins some reviews ofNew Balance Hierro v3 that overheating feet had been an issue for some. However, it appears New Balance has taken action on this issue too.
I have to say: I had no overheating problems on that day, or any run I've done—even on a 12 hour (35-mile) walk during similarly hot weather. It seems the perforations have done the job.
As mentioned, this run involved some steep, and in places, technical ascending and descending.
It made me wonder if the Vibram MegaGrip outsole will deliver its promise to give an "unparalleled grip" on various surfaces, whether wet or dry.
You can see the kind of ascent and descent I'm talking about here—not overly high but definitely steep, and at some points, technical.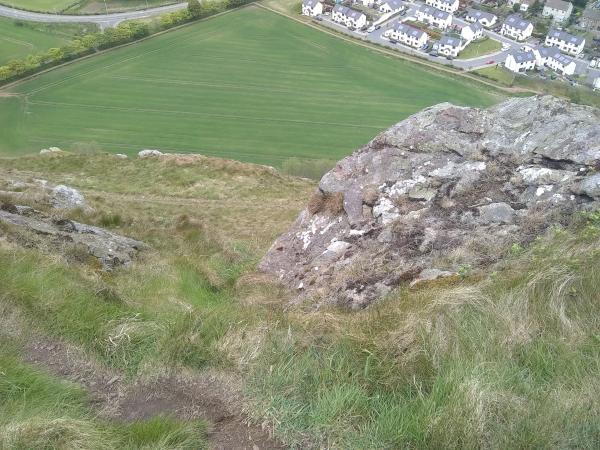 On this occasion, the surface was dry, but it definitely delivered.
Although I'm not sure I'd agree with the word "unparalleled" because I've definitely had as good, if not better grip, with the Salomon S-Lab Sense Ultra.
On outsoles and grip, New Balance developed varying lug sizes for corresponding pressure points. They also claim that the shoes will provide a "warrior grip".
Here's a picture of those Vibram MegaGrip outsoles with varying lug sizes.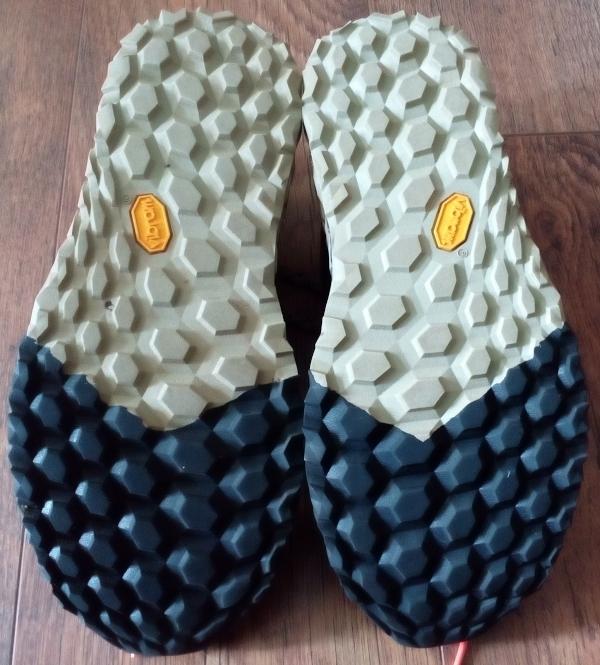 I'd love to be able to tell you if they did provide that "warrior grip" as New Balance claims, but having no idea what "warrior grip" is, I'm afraid I can't!
But, I can say that having done this climb four times in these shoes, once when slightly damp, they gave me a sense of confidence and security, both for ascending and descending.
And, at no time did I feel nervous or that I was slipping—Maybe that's what "warrior grip" means!
I've been on this hill when it's been damp, and the grip was perfect. I can't, however, comment on how well the shoe does in those excessively wet conditions.
But, I get the impression that it would compete well with other trail shoes in its price range.
I've now run 200+ miles in the Hierro v4. The longest run I've done was 44 miles, taking me 10 hours. These runs were on a mixture of trails, grass, sandy beach, and some tarmac.
The shoe has always delivered on all of its claims. It's consistently provided me with a high level of cushioning, support and comfort. It never let me down on rocky, technical trails.
And, at no time have I had issues with rubbing, blisters, overheating or excessive soreness. If anything, the level of general foot-soreness has gone down.
I've also done a 35-mile walk, which took me 12 hours. Not all good running shoes make excellent walking shoes.
And, I know that when it comes to the 100-mile distance, many people, like me, will need to walk for a good part of the distance.
If that's the case, then you need to know if your shoe can deliver the same level of cushioning, comfort and stability. With the New Balance Hierro v4, it definitely does.
Overall Performance
I have to say, the overall performance of this shoe was excellent.
Except for not having been able to try them out on very wet technical terrain, it delivered on every single one of its claims—And that's impressive!
Durability
Like my previous New Balance shoes, the durability factor was very high. This factor alone has been one of the main reasons why I've gone back to New Balance time and time again.
Just this week I've bought another pair of New Balance trail shoes!
So, after 200+ miles, I can tell you, the upper fabric is all very much intact, the outsoles still have good tread and grip, and the cushioning factor is still strong.
You can't really ask for more than that!
My Scores
It's tricky trying to score a running shoe because it's always a bit subjective. But, regardless, here's mine!
Fit: 7 out of 10 - I'm a genuine UK size 9, but I found the shoe to be just a little too generous, especially around the forefoot area.
Cushioning: 10 out of 10 - It provided a very high level of cushioning, both in terms of the underfoot cushioning, the cushioning around the ankle and heel area, and the cushioning on the bootie.
Performance: 9 out 10 - The shoe performed well and delivered all its claims. The only one I couldn't truly test was how it would perform on very wet technical trails and descents.
Durability: 10 out of 10 - In my experience, this appears to be a hallmark of the New Balance running shoes. They seem to keep all their qualities, even when you pass the 300+ mile mark.
Some of my previous New Balance shoes have done so over greater mileages!
Recommendations
Although, because of the weight factor, it might not be my first choice shoe for runs up to 30 miles. Regardless, I'd still definitely recommend them.
I'd especially recommend them if you are a 'well-built' trail runner, and/or heavy foot-striker, and/or just looking to increase your distance on the trails.
If, however, you're looking for a shoe that gives you that light, fast and almost bouncy, sensation, then this is not a shoe I'd recommend.
There's plenty of lighter options out there. But be warned, I'd very much doubt they'd give you the same level of support, cushioning and comfort. That's a trade-off you always have to think about.
I loved the New Balance Hierro v4. I've found them a sheer joy to run in.
They consistently provided me with a very comfortable, cushioned, and supportive running shoe on a variety of terrains and over a range of distances, from 6 miles to 44 miles.
They gave me the confidence coming down steep and technical descents to push the speed.
I know these shoes can take me much further than 44 miles, and one day soon they will.
I believe the New Balance Hierro v4 is a shoe that will always be able to take you as far as your body can go—and that kind of running shoe doesn't come along every day!
Happy running!
Updates to New Balance Fresh Foam Hierro v4
There was plenty of feedback on the upper of New Balance Fresh Foam Hierro V3 that said it was not well-ventilated. New Balance listened, and the upper on version four was updated to make way for better aeration. Previously, the entire upper was covered with the Hyposkin overlay. On the new version, the stretchy mesh underneath the Hyposkin is not totally covered. More laser-cut perforations were also made on the midfoot and forefoot to allow air to pass through easily.
Size and fit
The New Balance Fresh Foam Hierro V4 is available in standard lengths. Runners who are interested in a pair should make use of their usual length preferences. As for the widths, users have more options as both standard and wide (for women) or extra wide (for men) widths are available.
Outsole
The outsole of the new version of the Fresh Foam Hierro was made using Vibram technology. The sole rubber material provides maximum grip and multi-directional traction. It prevents runners from slipping and sliding when running on various terrain conditions. It is also highly durable, withstanding the pounding that naturally comes with trail running.
The tread pattern on the bottom of the shoe is composed of hexagon shapes of varying sizes. Each hexagon is separated with enough space for easy elimination of small debris encountered on the trail. Because the material is robust, the spaces also permit the outsole to be less rigid.
Following the color scheme of the upper, the sole seems to be divided into two. The forefoot is has one color, while the rest of the sole unit has another. There isn't any special purpose to this, aside from aesthetic, as the sole material runs the shoe's full length.
Midsole
On the midsole is the Fresh Foam innovation. It is a single piece of foam material that runs the shoe's full length. It's plusher than the usual platforms and delivers a cushioning that feels soft and comfortable on the underfoot. With this feature, combined with its flexibility, it grants a ride that feels natural yet responsive and protective. This midsole foam is also present in the Fresh Foam Zante v4 trail shoe.
Upper
The upper is made up of a combination of Hyposkin and stretchy mesh. With its cleatie-like construction, the mesh hugs the foot sufficiently, producing a custom-like fit. Because the mesh can extend towards any direction, it can cater to different foot shapes. On the other hand, covering the forefoot and midfoot is the Hyposkin material which is an adaptive technology that grants the foot full-range of motion with targeted flexing and support. This feature is connected to the lacing system. The more secure the laces are, the more secure the fit will be, especially on the midfoot.
The cleatie construction extends towards the ankles. This design feature prevents tiny debris from entering the shoe through an opening. Also, it serves as extra protection for the ankles.
There are several laser-cut perforations on the forefoot and midfoot to allow air to pass through the shoe, preventing hot spots and allowing the foot to breath. Runners don't have to worry about getting hot feet while running in hot weather. Because the foot is aerated, the inside environment remains dry and ideal.
The heel is adequately supported by a heel stabilizer. From its name, it immobilizes the heel, but it doesn't lock it down completely. It is more of a component which adds structural integrity. It is connected to the lacing system, which means that the fit on the areas the heel stabilizer covers can be made more secure as the laces are tightened.
At the back of the shoe is a heel loop. This component allows runner's foot to slip in easily. Right before the runner inserts the heel, the loop can be pulled with one finger to easily shove the heel in with minimal effort.
The New Balance Fresh Foam Heirro V4 is equipped with a standard lacing system. It also comes with flat laces which are more secure as they don't unravel easily even if the runner is running at top speeds or moving vigorously.
Compare popularity
Interactive
Compare the popularity of another shoe to New Balance Fresh Foam Hierro v4:
New Balance Fresh Foam Hierro v4 video reviews