New Balance Fresh Foam Hierro v3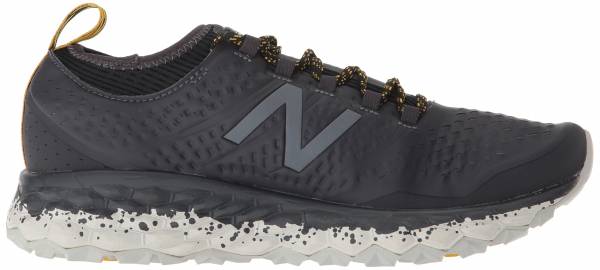 Although already on its third update, the Fresh Foam Hierro has not yet achieved a total success as it still gathered mixed reviews from consumers. An almost equal number of positive and negative comments surround the shoe's structure, features, and performance. With that said, there is room for improvement for this shoe.
---
Verdict from 4 experts and 100+ user reviews
5 reasons to buy
The Fresh Foam Hierro v3 was a lightweight, yet well-cushioned shoe, a reviewer cited.
Many runners thought the outsole was very grippy, even on rocky and wet surfaces.
Several users liked the heel tab and thought that it was a convenient feature.
Some wearers found the fit to be true to size.
The cleatie construction efficiently provided a secure fit, a reviewer observed.
5 reasons not to buy
The outsole was not wholly adequate on muddy surfaces, said a runner.
Even with various width options, the shoe was still too narrow, according to some wearers.
While comfortable, the upper offered very little air flow, a reviewer mentioned.
The toe bumper was too rigid and bothersome, a tester commented.
A user stated that the shoe was more massive compared to the previous version.
Bottom line
Although already on its third update, the Fresh Foam Hierro has not yet achieved a total success as it still gathered mixed reviews from consumers. An almost equal number of positive and negative comments surround the shoe's structure, features, and performance. With that said, there is room for improvement for this shoe.
Best price from 50 shops
We earn affiliate commissions at no extra cost to you when you buy through us.
76% say it's true to size.


Our reviews
A shoe with as much personality as it has grip. The New Balance Hierro v3 is New Balance's latest version of the rugged trail runner.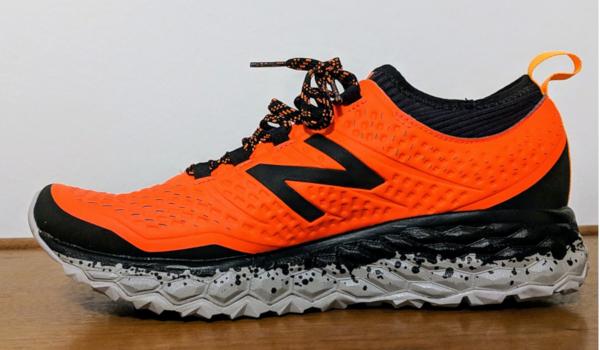 Looks
This shoe is sure to catch your attention. From it's bright colors to its rugged sole, I had other trail runners eyeing my feet with curiosity and jealousy. The sole has a "Hoka-esque" look to it, but the divide between the black and gray helps it blend in with the trail, so it doesn't look quite as "odd".
The upper is made of what looks like a waterproof material with laser cuts for breathability, but it's not waterproof, which was OK even as I ran in the snow. It was effortless to wipe clean, however, with muddy dog paws all over my feet, the shoes looked brand new after a simple wipe of the glove.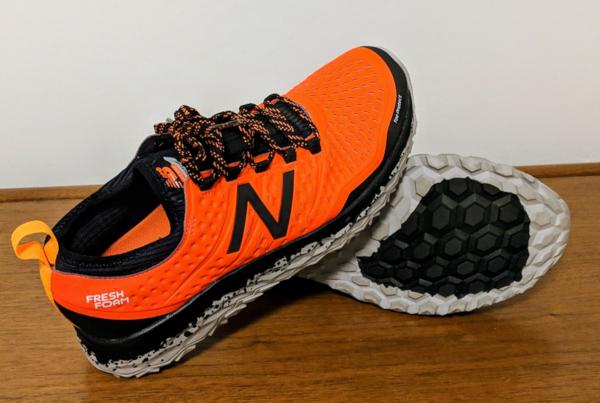 Fit
In traditional New Balance fashion, the shoe fits true to size but I am convinced their sizes just run small. I wear a 9.5, and the length is always spot on, but depending on the shoe, there is always a tightness in the top of the foot.
The toe box isn't overly roomy, but my toes weren't jammed in either. I was concerned that I might want to send them back for a size 10 just to be sure, but I ended up pulling out the removable insole and just putting in a little thinner one. It worked like a charm.
You can see the sock type opening of the shoe. The shoe itself is a single piece of fabric with little if any rubbing points. The sock-like entrance works as a makeshift gaiter to keep out debris.
As I climbed the mountain in a few inches of snow, I found this to be invaluable! No snow ever made its way into the shoes, and my shoe kept me dry and warm.
Grip
The sole of this shoe is like a chiseled work of art from Michelangelo. It lacks a midfoot strike plate, but it's added cushion negates the need for one. It lacks sharper points and grooves that some technical shoes might need, but it's grippy Vibram sole more than makes up for it.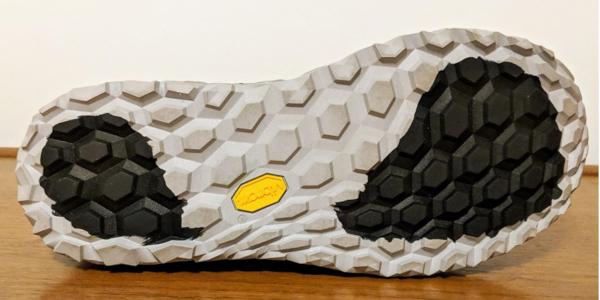 As I traversed to the top of a peak in inches of snow and ran back down in a packed down trail, not one time did I doubt my step. Not once did I feel like my grip wasn't there for me.
The good
This is a bonified trail running shoe. When people list off Altra, Hoka, Northface and others, New Balance is often left out but has found it's well-deserved place amongst the ranks with the new Hierrov3.
The bad
If I were to point out any fault in this shoe, it would be the little tighter size. I would suggest a half size up, or a wider shoe than you might usually get.
I was hesitant to go any bigger because the pictures made the shoe look so bulky, but it's not. Feel confident to take the step up.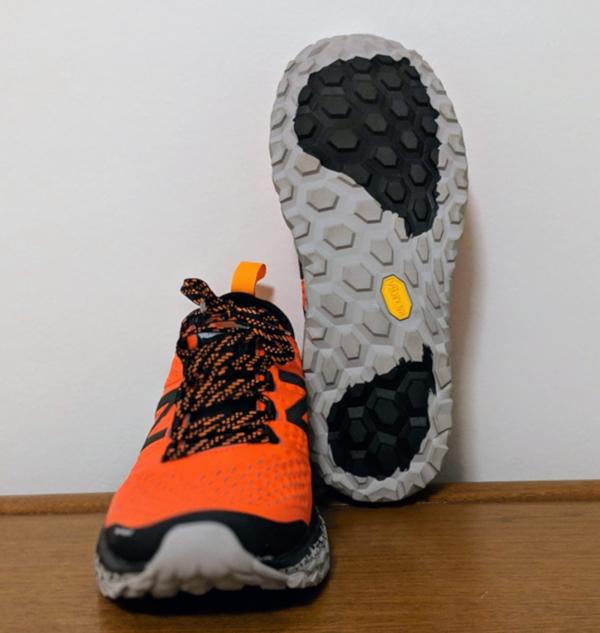 Overall verdict
New Balance sets a high bar with the new Hierrov3. You would be hard pressed to find a trail running shoe more enjoyable than this. Oh and don't forget it comes with a handy pull tab on the heel making entrance a breeze.
If you're looking for a trail running shoe that will stand out from the rest or looking for a grip that will make sure you get home without a newfound ability to do the splits. The New Balance Hierrov3 is the one.
Not to mention that the shoe is light and comfortable enough to manage the roads well if you ever have to get to the trail — no need to throw a pair in the backpack and switch.
Updates to New Balance Fresh Foam Hierro v3
The third version of the New Balance Fresh Foam Hierro presents a complete redesign, yet still delivers the same lightweight package for trail runners. Despite its minimal weight, the shoe proves itself to be ready for even the most rugged terrain, as it keeps the runner agile even as the miles add on.
The Fresh Foam midsole consistently brings a smooth and comfortable ride. Its foam geometry has been improved to produce a softer ride, together with a higher stack height that enables a more cushioned experience.
This version also comes with an updated mesh upper, which now makes use of the HypoSkin technology to adapt to the shape of the foot and to support movement in any direction.
The Vibram® MegaGrip outsole continues to provide the shoe with a superior grip that is necessary for technical trails. The lugs have been reconfigured to feature a design that increases the traction on varied terrain. It offers maximum surface contact and multidirectional traction.
Size and fit
The New Balance Fresh Foam Hierro v3 comes in a standard running shoe length, and it is available in various size options. Runners of every foot volume should be able to find a comfortable fit, as the shoe is available in width options of medium and wide for both the men's and women's versions.
Outsole
The Vibram® MegaGrip outsole promotes traction and a durable underfoot shield, especially on the shoe's high-wear areas. This rubber compound is well-known for its excellent grip, especially on uneven technical trails. This outsole is also used in the Hierro v4.
There is still a hexagon pattern on the outsole for multidirectional traction. However, the lugs of the Fresh Foam Hierro v3 are now updated to have more space between one another, allowing more flexibility without reducing the amount of grip.
Midsole
The brand's signature Fresh Foam midsole brings dynamic cushioning and reliable underfoot protection. It comes with a sidewall that displays hexagon geometry. This technology is "data-driven": The midsole performs based on the runner's performance.
In this version, the hexagon geometry has been enhanced, now providing a smoother ride and a more protective and more cushioned running experience.
Upper
The upper presents HypoSkin, an adaptive technology that works by allowing the foot more natural movements with targeted flex and support. It makes use of an all-new laser perforation design that helps create a seamless wrap and give a snug midfoot lockdown.
The upper now also has a debris-free design that comes in the form of a mid-cut, sock-like ankle collar. The collar works by conforming to the shape of the foot, thus effectively keeping out dirt, rocks, and leaves. With this type of fit, the heel is secured, and a customized fit is ensured for every foot shape.
The forefoot area is rimmed by Toe Protect™, a rubber compound that reinforces and protects the toes from harmful elements that could cause injuries. Meanwhile, other protective factors of the Fresh Foam Hierro v3 come in the form of the padded tongue and collar.
Popularity
The current trend of New Balance Fresh Foam Hierro v3.