Total NCAA basketball attendance by year
Over 300.59 million people attended NCAA basketball games since 2011, across all 3 divisions.
Since 2011, the record NCAA's basketball attendance for one year was 30.96 million fans in 2013.
Pandemic-affected 2021 season saw the lowest attendance in competition's history, with 173,592 fans in arenas, only during March Madness.
2020 season, also affected by the pandemic, had 28.37 million fans across all divisions, the first time that NCAA's attendance fell under 29 million at least since 2011.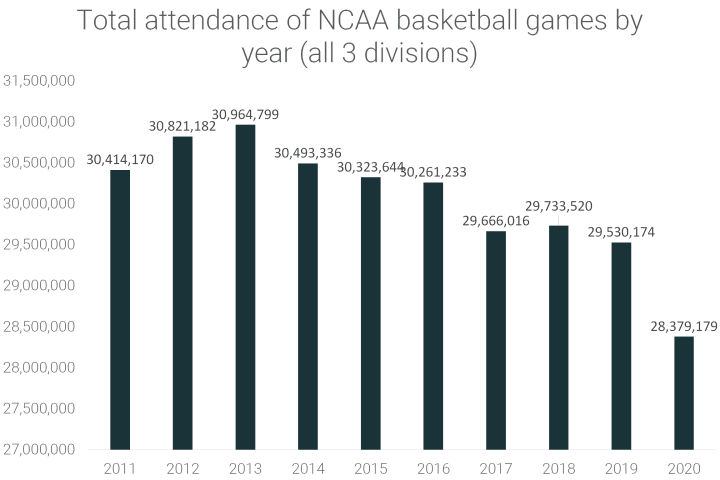 Division I is responsible for over 80% of total NCAA attendance, while Division III games account for only 6.3% of the total attendance share.
Almost 27 million people attended Division II games, making up to 9% of total NCAA attendance.
March Madness games gathered over 6.5 million fans over the last 11 years, accounting for 2,2% of the total league's attendance.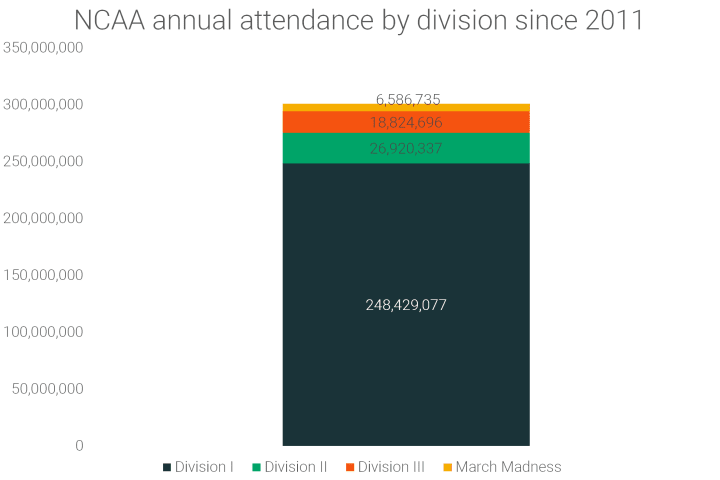 NCAA Division I attendance
NCAA's Division I gathered 82.6% of the total league's attendance, with over 248.43 million fans attending its games since 2011.
Division I record attendance came in 2014, with 25.42 million visitors.
Prior to the Covid pandemic, the lowest attendance was in 2017, with 24.42 million visitors.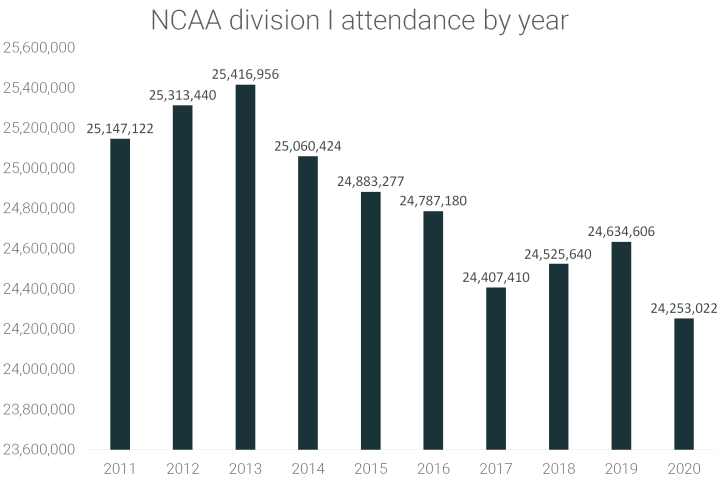 In 2020, the average attendance for NCAA Division I game was 4,601 fans.
The highest average attendance on Division I games was in the 2011 season, with 5,025 fans.
2011 was the only year where Division I had an average attendance of over 5,000 people.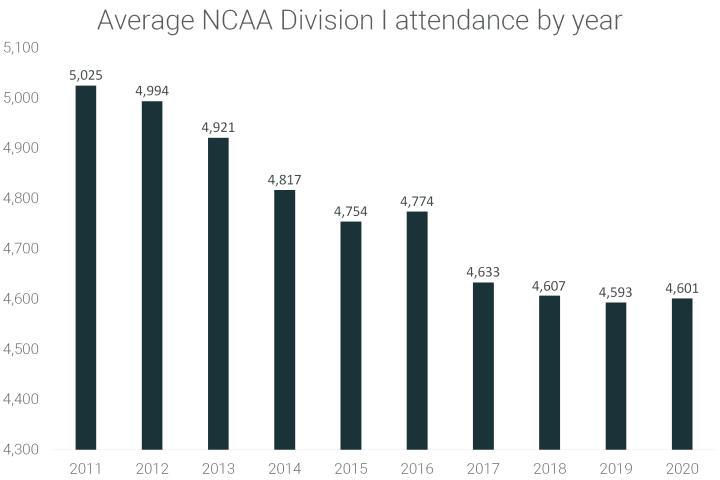 NCAA Division II attendance
NCAA Division II games gathered over 26.92 million people in arenas, accounting for 9% of total NCAA attendance.
Record attendance for Division II came in 2016, with over 2.79 million people in arenas.
Division II average attendance since 2011 stands at 2.69 million people per season.
As for per-game attendance, the average Division II game since 2011 was watched by 674 people.
The highest attendance was in 2012, with 750 spectators per game.
In 2020, only 583 people attended a Division II game on average, the lowest over the last 11 years.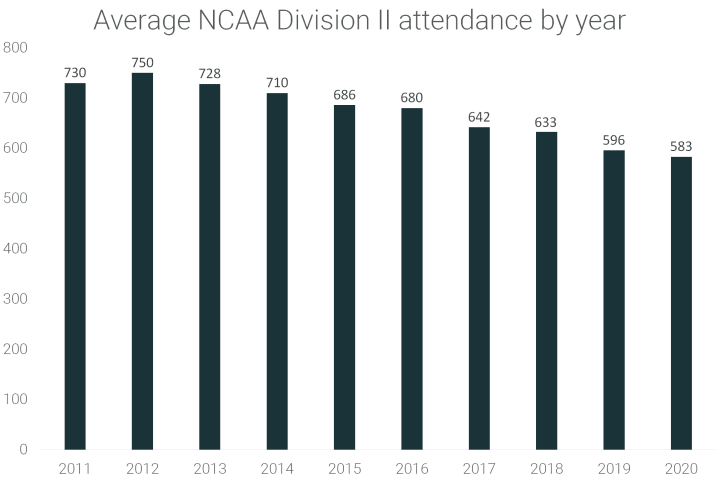 NCAA Division III attendance
18.82 million fans attended Division III games since 2011, accounting for 6.3% of total NCAA's basketball attendance.
On average, 1.88 million fans attended Division III games annually.
A record annual attendance for Division III games was in 2012, with over 1.99 million fans.
The lowest attendance was in 2020, with 1.66 million spectators.
377 people attended the average Division III game since 2011.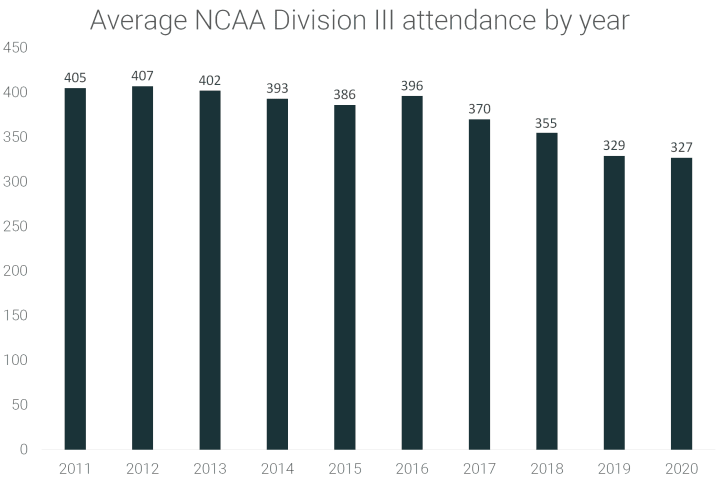 March Madness Attendance
March Madness attendance since 2011 stands at 6.59 million fans or 2.2% of the total NCAA's attendance.
A record March Madness annual attendance was in 2013, with 800,377 spectators.
The lowest annual March Madness attendance was in 2011, with 609,679 fans in arenas.
Prior to the Covid-19 pandemic, the average annual attendance during March Madness was 712,571 spectators.
The average March Madness game has 22,233 spectators over the last 11 years.
In 2013, over 22,233 people attended a March Madness game on average, making it the highest average attendance over the last 11 seasons.
The lowest average game attendance was in 2019, with 19,159 spectators.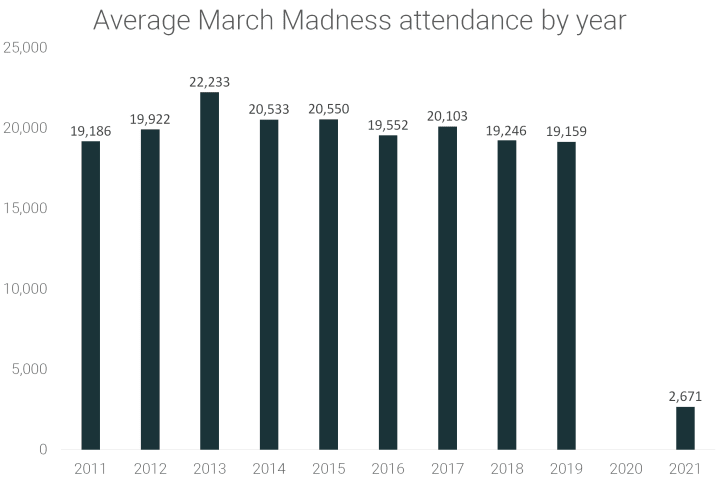 About RunRepeat
As the largest athletic shoe aggregator, RunRepeat contains summarized reviews for over 17,000 models across 16 categories.
Our basketball database holds over 400 reviewed shoes, ranging from Nike to Under Armor and from Jordans to LeBrons.