3 Best Barefoot Running Shoes in 2023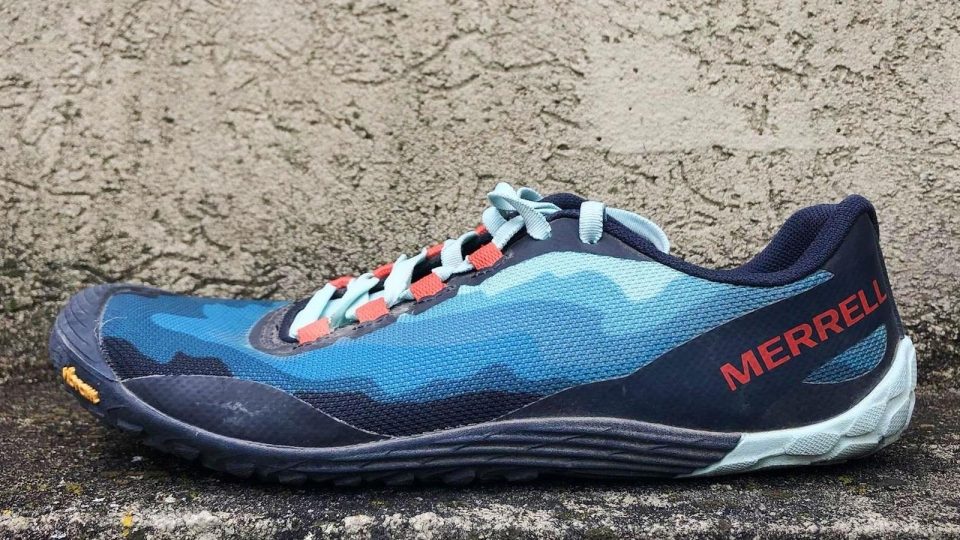 We earn affiliate commissions at no extra cost to you when you buy through us. Why trust us
Made for those who want to run as naturally as possible, barefoot running shoes have little to no cushion in them, allowing for maximum ground feel. Choosing the right pair is as critical as conditioning your body and feet to the demands of barefoot running. Otherwise, you might end up injuring yourself.
And if you're on the lookout for the best of the best among barefoot shoes, we made this list just for you. But before we could even finalize our list, we put the shoes through an unbelievable process of testing.
Here, you'll find different models from different categories that we've examined ourselves to make sure they are worth recommending.
Best barefoot running shoes overall

What makes it the best?
Among barefoot-style runners we tested, Vapor Glove 6 offers the best experience with its airy feel, high ground feedback, and reliable traction without sacrificing underfoot protection. For a very affordable $90 price tag, this high-performance shoe has so much to offer.
Running in the VG6 feels like we're not wearing anything. At an incredibly light 5.3 oz (150g), it's almost half the average of its trail counterparts! This is due to its low 6-mm stack that's 4-5x less cushioned. Its undeniable ground feedback made us feel even the slightest uneven terrain, allowing us to adapt quickly.
Underfoot is a Vibram outsole with 2-mm lugs for protection. This depth makes it grippy enough for light trails and noninvasive on the road. Enhancing traction is its aggressive pattern that keeps us steady even in muddy conditions.
Adding to the barefoot feeling is the extremely breathable upper that fits like a glove even on wide feet. It has many ventilation holes and is treated with an odor-control compound for a worry-free and comfy experience, even if sockless.
Since the upper is geared towards more stretch and comfort, there are no usual TPU overlays for better protection. This makes it less durable, especially in high-wear areas where the feet tend to rub with each other.
Pros
Insanely breathable
Wide feet-friendly
Outstanding ground feel
Offers some underfoot protection
Responsive and agile
Very flexible
Grippy even on wet surfaces
Comfy for sockless wear
Doesn't stink easily
Best for light, non-rocky trails
Also great for road runs and workouts
Cons
Too roomy for narrow feet
Questionable upper durability
Cushioned insole prevents it from being truly 'barefoot'
Full review of Merrell Vapor Glove 6
Best barefoot running shoes with a wide toebox

What makes it the best?
The Vivobarefoot Primus Lite III is a versatile barefoot running shoe. As a minimalist barefoot shoe, it is quite durable and breathable with a roomy toe box—it definitely has our vote for the best minimalist running shoes with a wide toe box.
The Vivobarefoot Primus Lite III has a roomy forefoot, spacious enough to fan our toes out. Additionally, the shoe has enough flexibility which allows our feet to bend and move without much limitation. We really loved how comfortable our feet felt in these shoes—even after a long run.
This shoe is like a tank—the Vivobarefoot Primus Lite III is extremely durable for having minimal material. We've run a ton of double-digit miles in these and the upper and outsole still showed little signs of wear.
The mesh upper in the Primus Lite III has enough ventilation perfect for running outdoors in the summer. Our feet felt every breeze and we did not experience any hotspots or blisters in all our runs.
Sadly, the laces in these come undone easily. Double knotting is recommended.
Pros
Natural-feeling ride
Flexible sole
Ultralight
Insanely roomy toe box
For wide feet
Holds up well after

300

miles
Grippy on tarmac, pavement, and gravel
Very airy during warm days
Can do gym training and walking
Vegan and environmentally friendly
Cons
Expensive
Too harsh for beginners and heel strikers
Laces easily come undone
Full review of Vivobarefoot Primus Lite III
Best versatile barefoot running shoes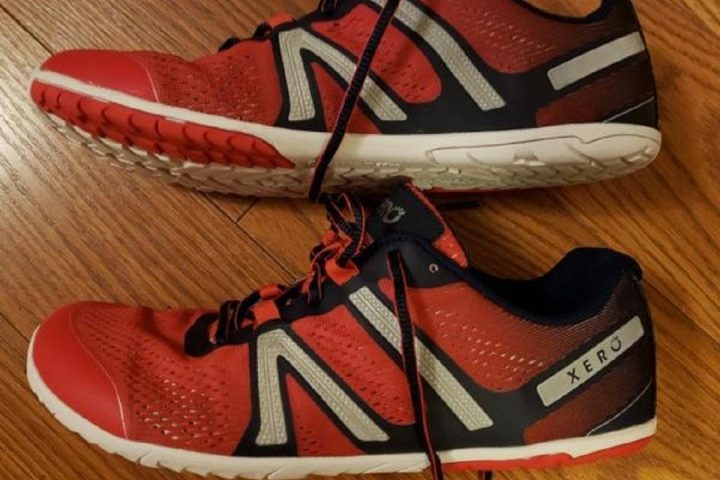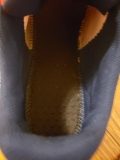 What makes it the best?
Running in Xero Shoes HFS feels like we have zero shoes on with its highly flexible sole. Its light nature and adaptive midsole promote our natural strides and pave the way for smooth transitions to other activities. It has the grip for mixed terrains and minimal cushion for maximum ground feel. No doubt, it's our most versatile barefoot running shoe.
Xero HFS is a breath of fresh air with its well-ventilated upper and light build. At a feathery 6.8 oz (193g), it almost feels like we're barefoot since other running shoes average 9.4 oz (267g). The flexible platform enhances comfort and allows us to do gym sessions, daily walks, and trail runs with ease.
Each stride gives a solid underfoot feel with Xero's barely there cushion. With less than 6.0 mm of stack (others have 3-5x more foam), we learned it's a great way to build leg strength. We could even take the insole out for closer contact with the surface.
Whether we train on asphalt, loose dirt, or laminated gym floors, the tire-inspired tread keeps us sure-footed. We're able to pivot and move with confidence even while tackling inclined trails.
This model runs small and narrow, so we recommend sizing up for a better fit.
Pros
Comfy upper
Breathable
Secure heel lockdown
Nice grip
Close to ground contact
Vegan-friendly materials
Light
Cons
Runs small
Not for wide feet
Full review of Xero Shoes HFS
Comparison of the 3 best barefoot running shoes
| | | | | |
| --- | --- | --- | --- | --- |
| Best | | | | |
| CoreScore | | | | |
| Users rating | | | | |
| Experts | | | | |
| Best price | | | | |
| Ranking | | | | |
| Popularity | | | | |
| # of colorways | | | | |
Barefoot running is a bit of a misnomer, as almost all barefoot runners still wear shoes — barefoot running shoes. The best barefoot running shoes imitate the sensations and biomechanics of true barefoot running by stripping out all the cushioning and features, serving primarily to protect your feet from cuts and abrasions.
Although the barefoot running craze has settled down considerably since its early 2010s heyday, this primal form of running is still around. The potential benefits of barefoot running have often been exaggerated, but with appropriate caution, adding barefoot running shoes may help you sharpen your form and stride. If nothing else, running barefoot can be a natural, enjoyable running experience.
Here's what you need to consider when shopping for barefoot running shoes.
The features of the best barefoot running shoes
Barefoot running shoes are not just a minimalist take on typical running shoes: their construction really is different — quite dramatically so in many cases. If you're new to barefoot running shoes, pay close attention to these features in particular.
Fit
Barefoot running shoes are usually designed to provide a secure, glove-like fit to provide maximum ground feel. By ground feel, we are referring to proprioception: the connection between physical movement and biofeedback. A better ground feel improves proprioception, allowing you to be more in tune with your running form. Some barefoot shoes take this fit to the extreme: Vibram Five Fingers barefoot shoes do quite literally fit like a glove, with the toes all separated.
The Vibram design is divisive, to say the least. Some runners love the ground feel and precision, while others think the glove-like fit is unnatural and suffocating. Other barefoot shoes, while not as extreme, are still built to be form-fitting and socklike. Indeed, most barefoot running shoes are best worn without socks at all, thanks to their secure fit.
Comfort
Aside from overall fit, the comfort of barefoot running shoes depends significantly on their upper materials. Choose barefoot running shoes that feel comfortable on bare feet, offer adequate ventilation, and excellent flexibility. Flexible barefoot running shoes allow your feet to retain their surprising range of flexibility and not impede on the subtle movements that happen when running truly barefoot.
Weight
The best barefoot shoes are often the lightest. Every ounce shaved off gets closer to simulating the joy of barefoot running. Barefoot shoes can weigh less than 6 ounces, while traditional running shoes can easily be double that.
Traction
Humans didn't evolve to run on hard surfaces like concrete. Barefoot running shoes are at their best on more natural surfaces like dirt and light gravel. Most barefoot shoes, like the Merrell Vapor Glove, provide robust trail-worthy traction. They will keep upright in slick and uneven terrain without compromising the minimal sensation of barefoot running. Others, like the Vivobarefoot Primus Lite III, strive to bring the barefoot experience to engineered surfaces like pavement, concrete, and gym floors.
Other things to consider when choosing barefoot running shoes
Runners seek out barefoot running shoes as much for the features that they do not include. The absence of stability and support features is the most notable example. This gets to the main idea behind barefoot running: that the human foot is a more elegant design than any engineered running shoe. Running barefoot relies on the complex set of muscles and tendons in the foot to provide stability, shock absorption, and support, rather than using stability features as a crutch that perpetuates suboptimal running gaits.
Incorporating barefoot shoes can potentially benefit your running form, but the evidence is mixed. Too much running in barefoot shoes before your body adapts often results in injury, so proceed with caution. Research barefoot running training progressions and consider incorporating foot and balance exercises into your workout routine to condition your feet for the added strain that comes with barefoot running.
Brand spotlight: Top barefoot running shoe brands
Merrell
Merrell is one of the bigger shoe brands that continued to offer a robust line of barefoot running shoes beyond the peak of the minimalist running craze. Its shoes feature Vibram® EcoStep outsoles. They are designed with trail running in mind, yet are sleek and flexible enough to support your barefoot running virtually anywhere.
Vibram
Vibram is now synonymous with best-in-class outsole materials, but for years the brand was best known for its provocative "FiveFingers" barefoot shoe design, in which all the toes are separated. No other shoe comes as close to preserving the full range of foot movements as Vibram's barefoot running shoes.
Xero
Xero Shoes is dedicated entirely to minimalist footwear. Options range from minimalist training shoes to flexible running shoes and sandals, all to promote natural movement. Xero shoes are vegan-friendly and many models retain a more traditional running shoe upper, which often appeals to barefoot running newcomers.
Vivobarefoot
Vivobarefoot was a trailblazer in the barefoot running shoe movement. The build quality of Vivobarefoot shoes is second to none: they are as durable as you could expect such minimal shoes to be and work well on trails, the road, or in the gym as a minimal trainer. The uncompromising quality does mean these are among the most expensive barefoot running shoes, though.
FAQs
What are the best barefoot running shoes?
The best barefoot running shoes come from brands like Merrell, Vibram, and Vivobarefoot. These shoes are lightweight, flexible, grippy, form-fitting, and comfortable. They maximize natural foot movements while providing just enough protection to keep your feet safe.
Does running in barefoot running shoes cause injuries?
Running in barefoot shoes without giving your feet time to adapt can result in overuse injuries. You should gradually work barefoot shoes into their rotation, as you would when transitioning to a low drop running shoe.
Are barefoot running shoes good for trail running?
Trails are where barefoot running shoes are often at their best. The superior ground feel complements the subtle changes in terrain and can create wonderfully immersive running experiences.
Should I wear socks with barefoot running shoes?
Many barefoot running shoes fit like a sock, thus allowing you to forgo socks completely. But they can also be worn with thin liner socks if preferred.
References
Azevedo, A. P., Mezêncio, B., Amadio, A. C., & Serrão, J. C. (2016). 16 weeks of progressive barefoot running training changes impact force and muscle activation in habitual shod runners. PLOS ONE, 11(12), e0167234. https://doi.org/10.1371/journal.pone.0167234
Perkins, K. P., Hanney, W. J., & Rothschild, C. E. (2014). The risks and benefits of running barefoot or in minimalist shoes. Sports Health: A Multidisciplinary Approach, 6(6), 475–480. https://doi.org/10.1177/1941738114546846
How we test running shoes
Having tried hundreds of running shoes, we know which ones are bad, so-so, and those that are really good. And in this list, we're going for the finest ones.
Without our shoe testing lab and methodical processes, we couldn't have done it. And to truly give you a fluff-free review, we always buy our shoes with our own money. To further our scrutiny, we also do the following:
Clock up 30-50 miles in all the barefoot shoes we test to see how sturdy they are and how they run
Cut them into sections and measure every aspect (like ventilation, softness, flexibility, stability, etc)