In summary, I am very happy with the Xero Shoes Prio, a straightforward, enjoyable ride. The company stands by its product with an impressive warranty. Despite the simple look of the shoe, a lot of thought has clearly been put into every little detail. I'll be excited to watch out for Xero Shoes' future models.
Pros
Roomy toebox
Secure fit
Breathable
Reflective details
Sufficient traction
Very flexible
Lightweight
Cons
Runs small
Not for technical trail
Xero Shoes Prio review
I hadn't heard of Xero Shoes before but was eager to try the brand's offering in the minimalist running shoe category. So far, I've hiked over thirty miles, run over fifty miles, and worked out in the gym at least twenty times wearing the Xero Shoes Prio.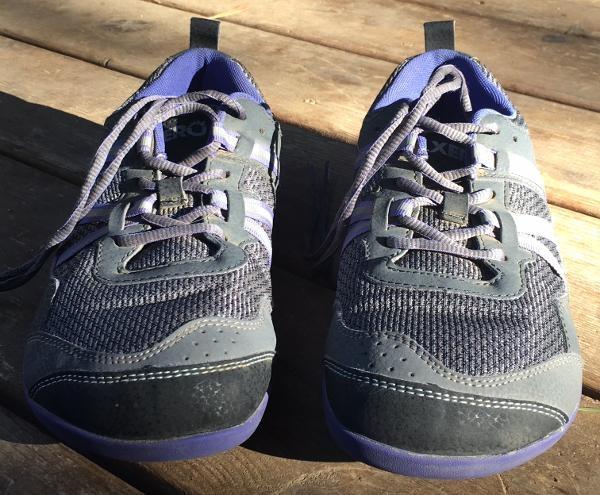 I most appreciate its flexibility, fit and low weight (a women's size 7 weighs 6.4 ounces, according to Xero Shoes). These characteristics make the Prio the kind of shoe that you can lace up and forget about. In short, I love it.
Gives toes room to play without being sloppy
This zero-drop shoe boasts a wide, high toe box that gives toes room to play without being sloppy. It has the feel of a high-quality shoe that is reliable.
I followed Xero Shoes' advice to size up by at least half a size, and the shoe is a near-perfect fit. The strap system allows you to tighten the heel. This is a very nice feature for anyone who, like me, has a narrow heel.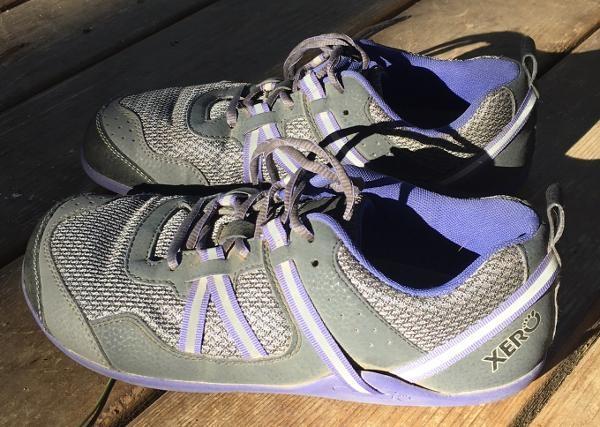 The straps also allow you to adjust the instep if necessary. The laces themselves are a little long for my liking but do stay tied. I feel very secure in the shoe, whether I'm running downhill on the trails or lifting in the gym.
The mesh upper makes this a breathable shoe. The Prio reminds me of the Merrell Pace Glove or Trail Glove, but feels just a little more substantial, with more padding around the upper. All in all, this is a very comfortable ride.
The Prio is about as attractive as a 'foot-shaped' shoe can get, in my opinion. Shoes with a wide toe box may never look as sleek as a more conventional shoe, but it does come in several different colors.
Reflective details are a plus!
Whether you prefer your shoes to stand out or blend in, you should be able to find an option to satisfy you. The Prio also features large reflective details, which I always appreciate in a running shoe, as anything we can do to improve our safety on the roads is a plus.
Perfect close to ground feel
If you prefer an experience that is as close to barefoot as possible, this shoe might not be for you.
But if you like just a little more underfoot, it is a fantastic option. The removable insole provides some additional cushioning. Due to personal preference, I've used the insole for the vast majority of my runs.

The Prio provides traction in the gym, on roads, and easy trails
For roads, gyms, and non-technical trails, this shoe is great. The sole is a fascinating design that I'd never seen before.
Normally, the tread of a shoe runs to its edge. The Prio sole, in contrast, has a rim, or outline, of smoother material. While I was skeptical about this feature, it's not at all noticeable when wearing the shoe. I'm curious to know the reasoning behind it.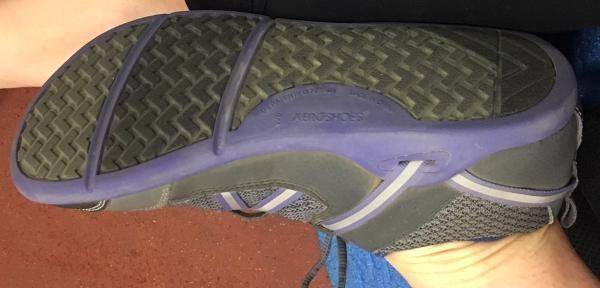 The thinness of the sole means that you will feel larger rocks underfoot, but that's always a trade-off with minimalist shoes. With these things considered, I do not recommend taking the Prio on wet surfaces or technical trails.
The sole allows for a nice level of ground feel but also offers some protection, which is a tough balance to strike.
Without the insole, the feel underfoot is similar to the Merrell Pace Glove. Add the insole, and it reminds me of the New Balance Minimus shoes I used to run in. However, this shoe has already proved to be more durable than the Minimus. The sole is extremely flexible in all directions.