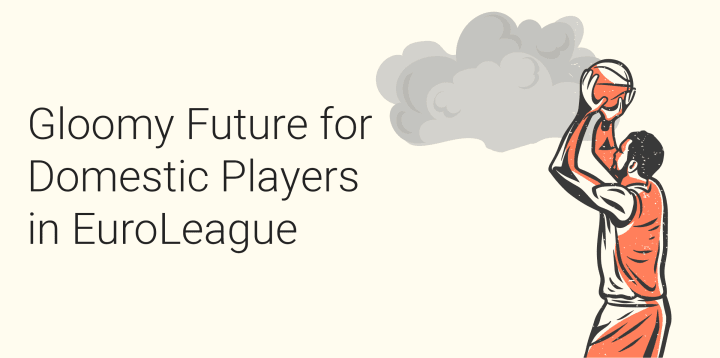 After analyzing the influence and continued growth of American players in the EuroLeague, we decided to look at the evolution of domestic players in the highest European basketball competition.
We analyzed 2,634 EuroLeague players over 21 seasons to see how domestic players' overall numbers and contributions changed in recent years compared to early seasons.
Key findings
Domestic players' time on the court over the last 3 EuroLeague seasons declined 36% compared to the first 3 seasons.
Young domestic players' (U26) playing time dropped 66% during the same period.
French and Greek teams are the only EL teams that maintained the level of playing time for domestic players over the years.
No country for domestic men
During the first five seasons of EuroLeague, 44% of all minutes on the court were given to domestic players. Over the last 3 seasons, that number dropped to below 30% and is trending down.
A small jump during the COVID-impacted 2020 and 2021 seasons could be attributed to the unavailability of some foreign players due to the COVID-19 outbreak.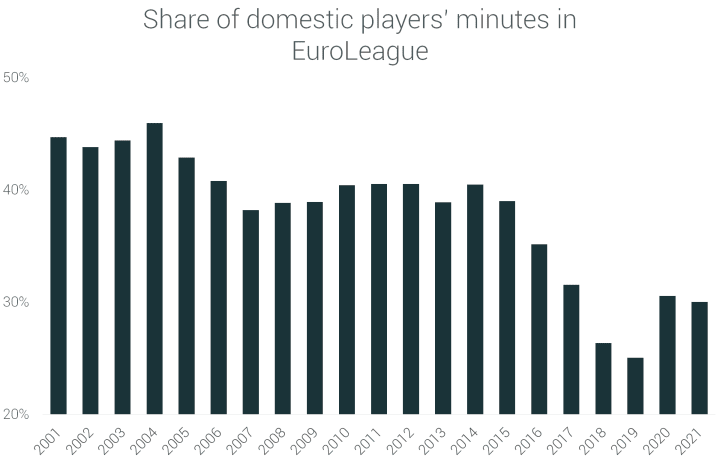 Young domestic players (under 26 of age) suffered an even steeper decline over the same period. 27% of all available court time was given to this group in the first 3 years of EL and dropped by 63% over the last 3 years.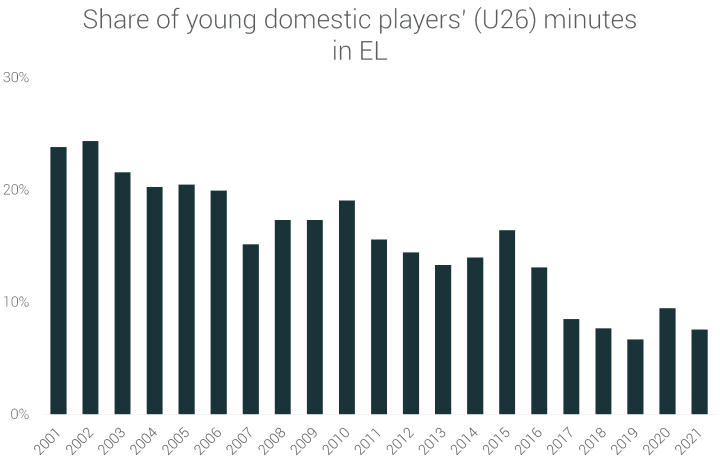 Aside from Greece and France, teams from all other countries are allowing significantly less time on the court for domestic players now compared to the early years of EuroLeague.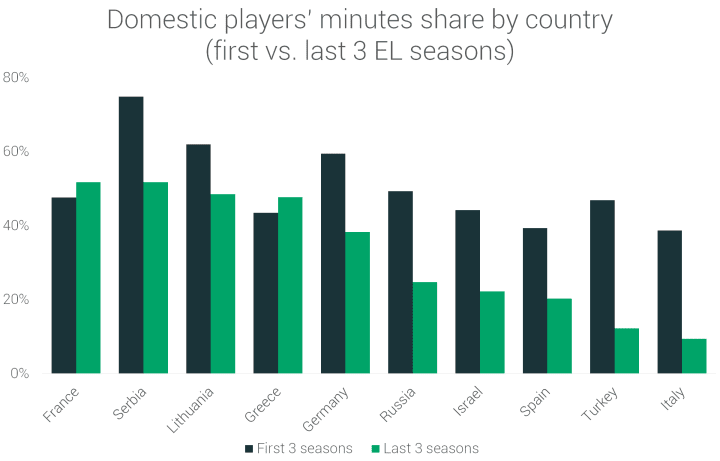 Homegrown talent from Russia, Israel, Turkey, and Italy is facing the most dramatic decline in playing time with over a 50% decrease. For instance, Italian players used 39% of available playing time until 2003. Last 3 seasons, that number dropped by 76% to barely 9%.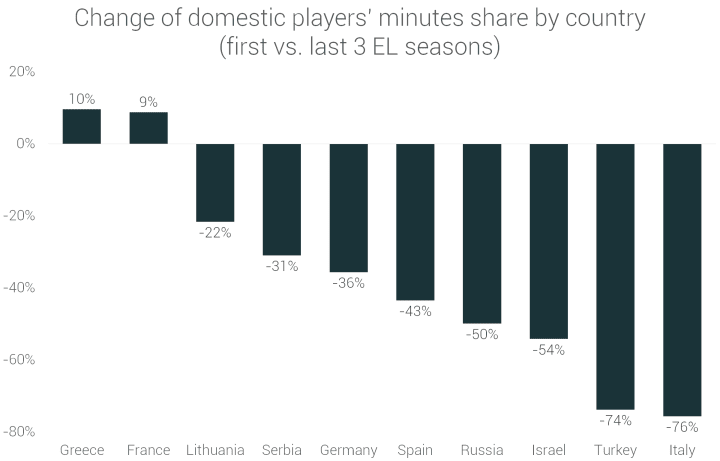 U26 players are facing a decrease in playing time across all EuroLeague countries. Italy, Russia, and Turkey don't allow more than 5% of court time to young domestic players.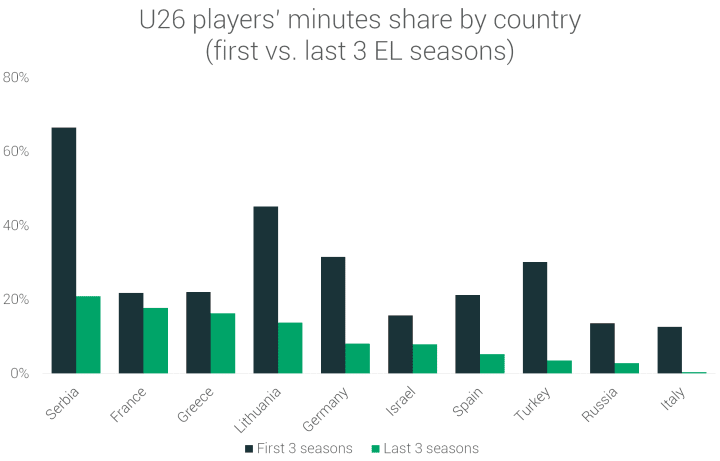 7 out of 10 EL countries reduced playing time for U26 guys by more than 50%.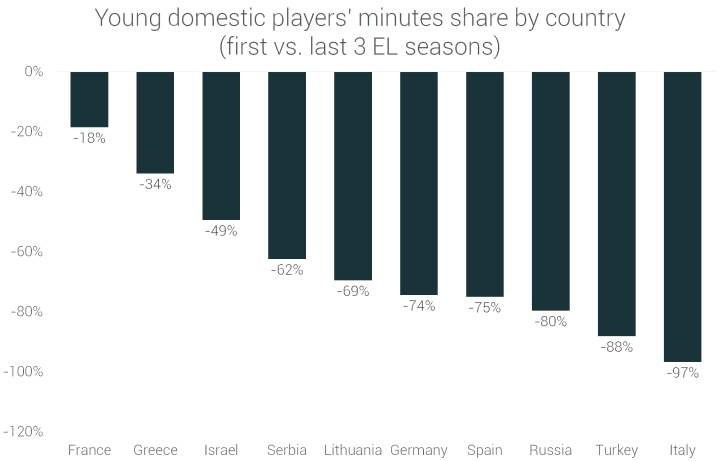 Even more intriguing is that only 5 countries provided young homegrown talent more minutes on the court than young foreign talent.
Considering the declining trend in the number of young players, we could only expect that teams will continue to prioritize foreign players over domestic talent moving forward.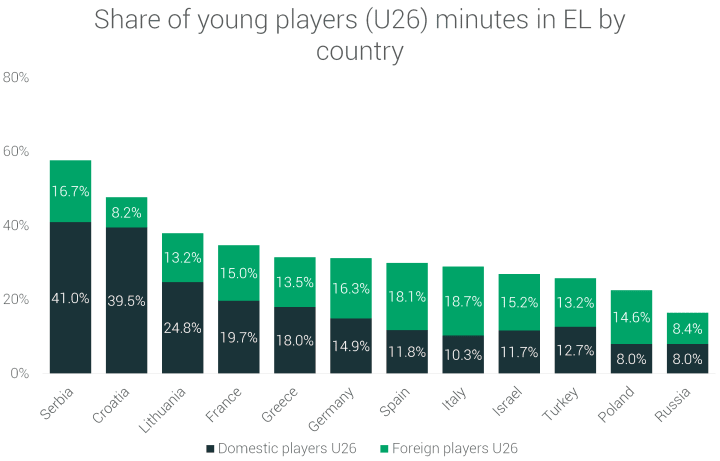 Conclusion
We're witnessing a continuous decline of domestic players in the EuroLeague. In addition, young homegrown talent faces an even steeper drop over the last few years.
If we add the continuous growth of non-European players (dominantly from the United States), it is uncertain how the EuroLeague will look in the near future.
*Special thanks to Flavio Vanetti from Corriere della Sera for covering this topic.
Use of data
Feel free to use material from this page. We'd appreciate it if you link to this article as the source of the data.
We are open to giving interviews on this topic. For this purpose or other questions, reach out to Dimitrije Curcic at dimitrije@runrepeat.com
Basketball in 2021
2020 was such an unusual year for basketball - for some time, It was impossible to play a pickup game in the park or get into the arena.
Hopefully, 2021 will bring things back to normal and allow you to get back on the court and to your normal routine. RunRepeat is here to help you chose the best pair of basketball shoes that fit your game for a fresh restart.
From Nike, Jordans, and Adidas to signature Kobe's or LeBrons, we make sure you have all the information in place, from our lab data like exact stack height, midsole softness and durability, to breathability and flexibility.