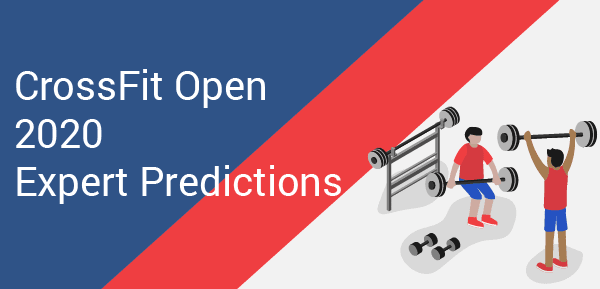 With the 2020 CrossFit Open kicking off on October 10th, RunRepeat conducted a survey among journalists and CrossFit experts around the world.
The survey consisted of 14 questions regarding their predictions for the top male competitors, top female competitors, and National Champions from their countries.
Here are their predictions.
Who will win the CrossFit Open - Female Competitors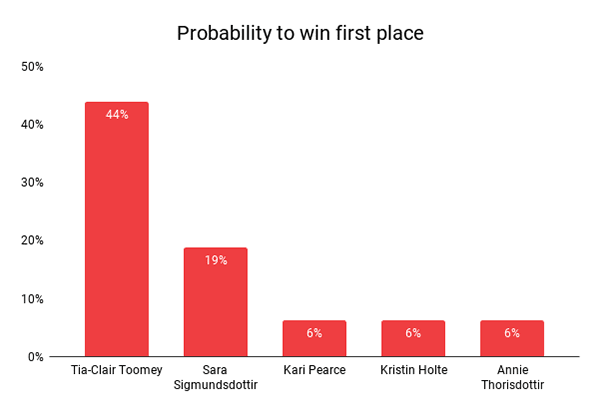 To little surprise, the experts predict that three-time CrossFit Games winner, Tia-Clari Toomey of Australia will take first place. Iceland's number one competitor, Sara Sigmundsdottir, is the only one with real potential to make an upset. Since Sigmundsdottir's explosion onto the scene and podium finishes from 2015 to 2017, she has struggled to regain her dominance. With setbacks and injuries plaguing her in 2018 and disappointment from her 20th place finish in the 2019 Games, she may be coming into the CrossFit Open with something to prove.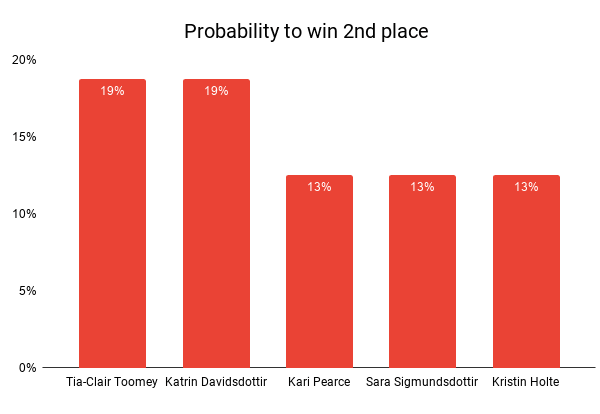 If the reigning champion is knocked off her top spot, it's clear that she won't be falling far. Toomey tied for 2nd place predictions alongside Katrin Davidsdottir.
Davidsdottir, another fierce Icelandic competitor, won the CrossFit games in 2015 and 2016. Each year since she has finished in the top 5, making for an interesting competitor to keep your eye on. She also keeps the game exciting for spectators who wait to see which competitor from Iceland will overtake the other.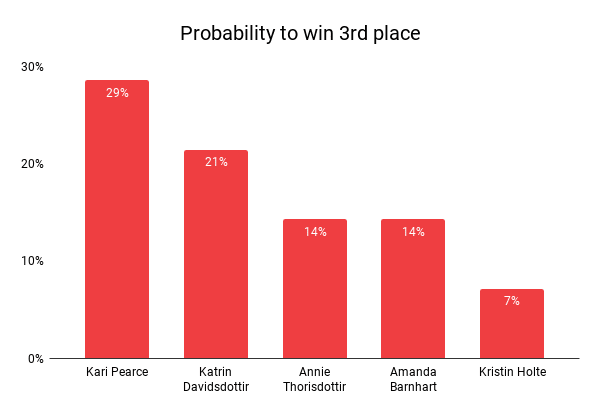 US-born Kari Pearce came in as the 3rd place favorite and for good reason. In the previous Open, she finished with an 8th place ranking globally and ranked 2nd in the US.
When considering her past 3 CrossFit Games appearances it's clear she is gunning for the top spot, having gone from 10th place in 2017 to 6th in 2018 and 5th in 2019.
In addition to Sigmundsdottir and Davidsdottir, there is a third Icelandic female competitor who has the potential for a top 3 finish. Annie Thorisdottir took the #2 spot worldwide in the previous CrossFit Open, and despite not being at the top of the predictions, she makes a great dark horse to keep an eye on.
One competitor with a slightly under 7% probability to place third but who has massive upset potential is Haley Adams. Last year was her first year competing outside of the Girls (16-17) division. At the age of 18, she took 32nd globally at her first CrossFit Open and 6th place in her first CrossFit Games appearance.
Despite her massive accomplishments at such a young age, Adams still displays a tremendous potential to grow and develop into a major competitor in the sport. This Open may just be the stage for her to set the tone for what's to come.
Top 20 Predicted Female Competitors
The top 20 competitors advance directly to the CrossFit Games in 2020. By applying weighted values to the predictions of the experts, the data was able to produce clear predictions for who will get their shot at the title, Fittest Woman on Earth.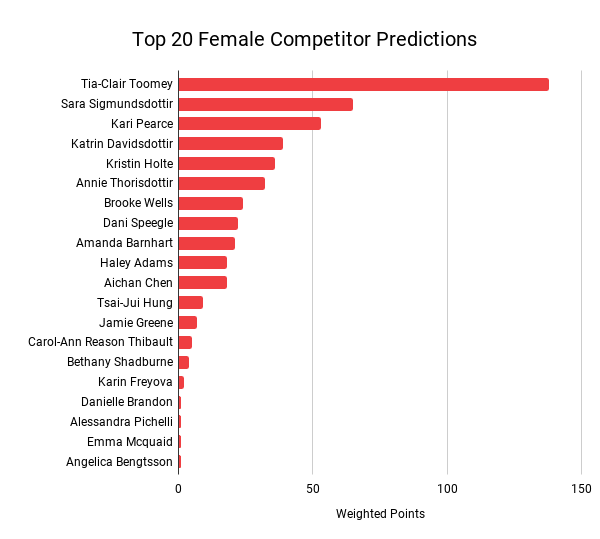 1st place - Tia-Clair Toomey
Country: Australia
Affiliate: Owner of CrossFit Gladstone
Age: 26
Height: 163 CM / 5'4"
Weight: 58 KG / 128 lbs
In 2015, Tia-Clair Toomey jumped into the CrossFit scene as a rookie but was surprisingly able to take 2nd place. She followed up that success with another 2nd place finish the following year and then 3 consecutive first-place finishes.
As if being crowned the Fittest Woman on Earth wasn't enough, Toomey is also a top-ranked Olympic weightlifter in Australia. Her 2016 showing during the Summer Olympics makes her the only competitor who has competed in both the CrossFit Games and the Olympics in the same year.
2nd place - Ragnheiður Sara Sigmundsdottir
Country: Iceland
Affiliate: Trainer at CrossFit Sudurnes
Age: 27
Height: 173 CM / 5'8"
Weight: 69 KG / 152 lbs
Ragnheiður Sara Sigmundsdottir quickly made a name for herself in 2015 when she took 3rd place worldwide in the CrossFit Open. Following that performance, she continued to shock the CrossFit scene by beating out her fellow Icelandic competitor and two-time CrossFit Games winner, Annie Thorisdottir, in the 2015 Meridian Regional.
Despite two years of disappointing results in the CrossFit games due to injuries and personal setbacks, she has managed to remain dominant during the Open, with 1st place finishes in 2019 and 2017.
The question of last season was whether it would be the year Sara Sigmundsdottir knocks Tia Toomey off the top spot or not. After getting cut from the most recent CrossFit Games and being outperformed by three fellow Icelandic competitors, the question now is whether or not she can even regain her dominance within her own country.
Only time will tell, but the experts around the world seem to believe she will be staking her claim on the podium this CrossFit Open.
3rd place - Kari Pearce
Country: United States
Affiliate: Coach at CrossFit Spot
Age: 30
Height: 160 CM / 5'3"
Weight: 63 KG / 139 lbs
Karissa Pearce has a diverse background in various competitive fitness sports, but she has finally found her home in CrossFit in 2014.
Having done gymnastics for 18 years, followed by stints in powerlifting, and bodybuilding, she came into the sport with a strong base. It was from this base that she was able to take 3rd in the 2015 East Regionals and 21st in the 2015 CrossFit Games.
Since then, Pearce has been a constant contender for a Top 10 spot at the Games and the Open.
In fact, at the most recent CrossFit Games, she was able to outperform everyone in the final event known as "Mary." By everyone, I mean the reigning champ Tia Toomey, the rest of the female competitors, and yes, all of the male competitors too.
With so much experience and accolades under her belt, experts predict her to take the 3rd spot at this Open. The question then is, will Pearce carry on this trajectory to land her first podium placement at the Games?
4th place - Katrin Davidsdottir
Country: Iceland
Affiliate: Reebok CrossFit Reykjavik
Age: 30
Height: 169 CM / 5'7"
Weight: 63 KG / 150 lbs
Accomplishments:
2x CrossFit Games Winner
7 consecutive CrossFit Games appearances
5th place - Kristin Holte
Country: Norway
Affiliate: CrossFit Oslo
Age: 33
Height: 162 CM / 5'4"
Weight: 59 KG / 130 lbs
Accomplishments:
2nd place finish at the 2019 CrossFit Games
6 consecutive CrossFit Games appearances
6th place - Annie Thorisdottir - Iceland
7th place - Amanda Barnhart - United States
8th place - Brooke Wells - United States
9th place - Haley Adams - United States
10th place - Dani Speegle - United States
11th place - Aichan Chen - China
12th place - Tsai-Jui Hung - China
13th place - Jamie Greene - New Zealand
14th place - Carol-Ann Reason Thibault - Canada
15th place - Bethany Shadburne - United States
16th place - Karin Freyova - Slovakia
17th place - Danielle Brandon - United States
18th place - Alessandra Pichelli - Italy
19th place - Emma Mcquaid - Ireland
20th place - Angelica Bengtsson - Sweden
Who will win the CrossFit Open - Male Competitors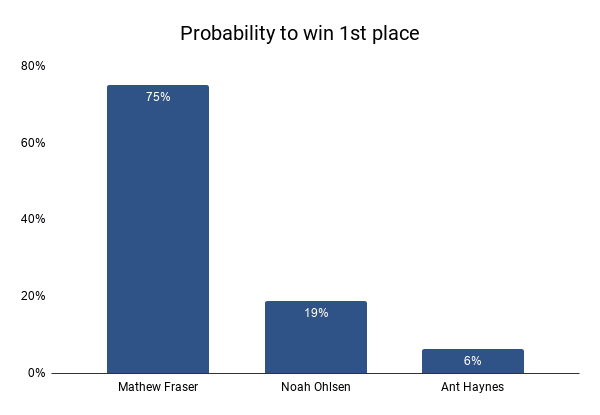 75% of the experts predict Fraser, the 2016-2019 CrossFit Games champion, to bring home another first-place finish. Another 13% had him taking 2nd place, which only further solidifies the opinion that he is the dominant athlete here.
One surprise pick is Ant Haynes from China, who happened to make his first CrossFit Games appearance in the 2019 Games—an appearance that he has been consistently progressing towards over the past 3 CrossFit Opens. Having placed 561st, 266th, and 123rd respectively over the previous 3 Opens and currently being ranked #1 in China, some experts are expecting this to be a big year for Haynes.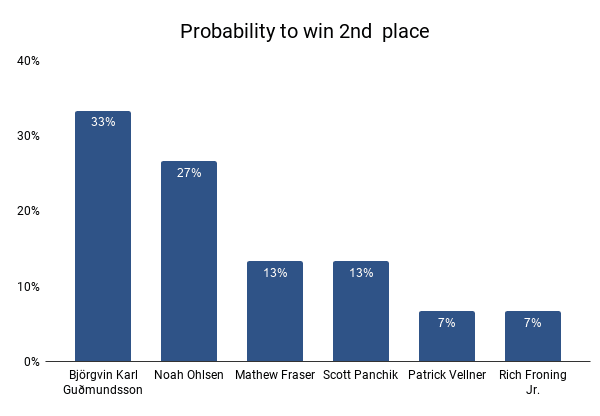 There seem to be only two real contenders to compete with Fraser. The first being Noah Olsen, who has an 18.75% probability of taking first place and a 26.67% probability of taking 2nd. Despite his shocking, career-worst performance at the most recent Open, he still managed to take 2nd place at the 2019 Games, right behind Mathew Fraser.
The other main contender is Iceland's Björgvin Karl Guðmundsson. Guðmundsson finished right behind Noah Ohlsen at the most recent games in 3rd place and managed to take 2nd place at the last Open. 33% see him as a major competitor to fight for 2nd place. But the real question is, are either of these two going to be dethroning Fraser?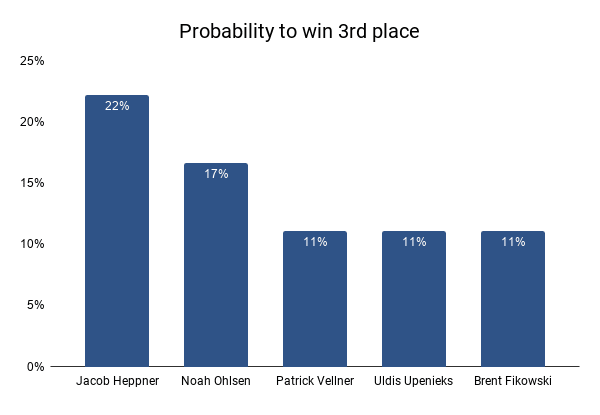 Experts predict that Jacob Heppner will be replicating his previous 3rd place CrossFit Open finish. Despite bombing out of the 2018 CrossFit Open in 2035th place, he has been continually jumping up in the rankings over his four CrossFit Games appearances.
Heppner will surely be battling it out with Guðmundsson, who took 2nd place over Heppner at the last Open.
Lastly, we see Noah Ohlsen making an appearance as a potential threat again. Potential being a keyword as his performance in the past three Opens have declined significantly, despite taking 2nd at the last Games.
The trio of Heppner, Guðmundsson, and Ohlsen will be a competition to watch for as they battle it out for a podium finish.
Uldis Upenieks may not have been predicted as the most probable to take any position, but that doesn't paint an accurate picture of how this underdog could be a threat to some well-known names.
The #1 ranked male competitor from Latvia is only 21. Since moving on from the teenage division in 2015, Upenieks has been steadily climbing the rankings in the past four Opens. From a 1486th finish in 2016, he jumped to 458th in 2017 and 202nd in 2018. He is now at 7th place worldwide.
With the 2019 CrossFit Games being his first appearance, he managed to take 31st place. For the upcoming Open, he could very well be a serious contender for a top 5 ranking.
Top 20 Male Competitor Predictions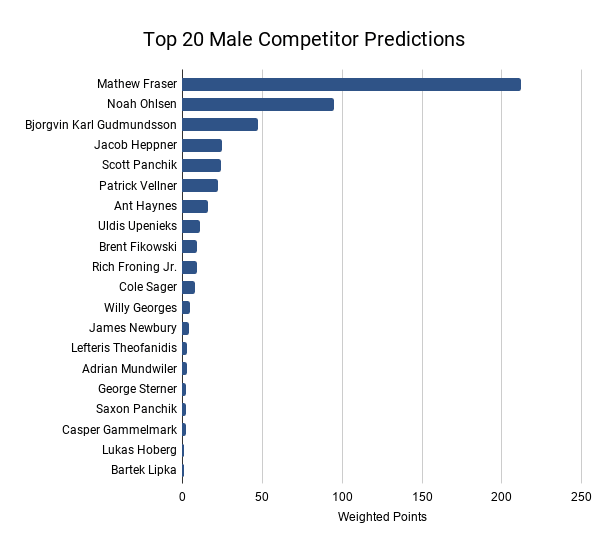 1st place - Mathew Fraser
Country: United States
Affiliate: N/A
Age: 29
Height: 170 CM / 5'7"
Weight: 88.5 KG / 195 lbs
The title of Fittest Man on Earth belongs to Mat Fraser for good reason.
He has been in 1st place more times than he has not. Out of the 20 major events he has participated in, he finished first 13 times. When it came to the biggest event of them all, the CrossFit Games, Fraser took 2nd place in his first two appearances in 2014 and 2015. Since then, he has been 1st place every time.
Fraser's streak of dominance doesn't seem to be slowing down anytime soon either. In the most recent games, he had almost 40 points over the second-place competitor, Noah Ohlsen, and almost 100 points over third place-competitor, Guðmundsson.
2nd place - Noah Ohlsen
Country: United States
Affiliate: CrossFit Peak 360
Age: 29
Height: 170 CM / 5'7"
Weight: 86 KG / 190 lbs
In the 2019 CrossFit Games, Ohlsen took 2nd place. Excited about his recent success, he took to social media to invite other top Games athletes to become training partners with him in Miami. He was clearly looking to make the next year of training intense enough to help him dethrone Fraser from the #1 spot.
As for the upcoming Open and the Regionals no longer being an option for qualifying to the games, you can expect Ohlsen to be giving it his all to reclaim his spot on the podium that he earned back in 2016 and 2017.
3rd place - Björgvin Karl Guðmundsson
Country: Iceland
Affiliate: CrossFit Hengill Head Coach
Age: 27
Height: 178 CM / 5'10"
Weight: 84 KG / 185 lbs
2019 has already proven to be Guðmundsson's best year, with a 2nd place finish at the Open and 3rd at the Games. It's an achievement that has been a long time in the making. (He started in 2012.)
Although he had a podium finish in 2015 at the games, followed up by four more top 10 finishes, this is the first year he placed in the top 3 at both the Open and the Games.
Falling second place only to Fraser at the Open and behind Noah Ohlsen in third at the Games, Guðmundsson finds himself in the same position in the predictions.
4th place - Jacob Heppner
Country: United States
Affiliate: Cobra Command CrossFit
Age: 29
Height: 172 CM / 5'8"
Weight: 87 KG / 192 lbs
Accomplishments:
4 CrossFit Games appearances - 3 top 10 performances
3rd place at 2019 CrossFit Open
5th place - Scott Panchik
Country: United States
Affiliate: CrossFit Mentality Owner
Age: 31
Height: 175 CM / 5'9"
Weight: 85 KG / 187 lbs
Accomplishments:
9 straight CrossFit Game appearances
7 top 10 CrossFit Games finishes and 4 top 5 finishes
6th place - Patrick Vellner - Canada
7th place - Uldis Upenieks - Latvia
8th place - Ant Haynes - China
9th place - Brent Fikowski - Canada
10th place - Rich Froning Jr. - United States
11th place - Cole Sager - United STates
12th place - Lefteris Theofanidis - Greece
13th place - Willy Georges - France
14th place - James Newbury - Australia
15th place - Adrian Mundwiler - Switzerland
16th place - George Sterner - United States
17th place - Saxon Panchik - United States
18th place - Casper Gammelmark - Denmark
19th place - Lukas Hoberg - Sweden
20th place - Bartek Lipka - Poland
Who will be the national champions?
The top male and female competitor from each country that participates in the CrossFit Open now make it to the CrossFit Games. Bringing in a new level of diversity to the highest level of competition in CrossFit.
By reaching out to experts around the world, predictions for as many nations as possible were collected to be included in this National Champion predictions.
To see the results, simply hover over and click on the country in question.
Made with Visme Infographic Maker
About RunRepeat
RunRepeat.com is the world's largest athletic shoe review site Helping you find the best CrossFit shoes by your favorite brands like Nike, Reebok, Under Armour, PUMA, ASICS, Inov-8, Altra, Vibram, and NOBULL. Using our sophisticated scoring system, the CoreScore, you can find the best training shoes to enjoy the benefits of working out. With our commitment to getting you the best deals, you can guarantee that you will get the best deal every time.