Review coming soon
Brooks Glycerin GTS 19 has just been released by Brooks. Our experts are working on a detailed review. Please, come back later.
Get an email when final verdict is ready:
My Rating
Our reviews
The Brooks Glycerin GTS 19 is a great every-day runner's shoe that offers good cushioning on a stable platform and will go the distance.
The Glycerin GTS 19 doesn't offer anything that is mind-bending or earth-shattering. It's simply consistent.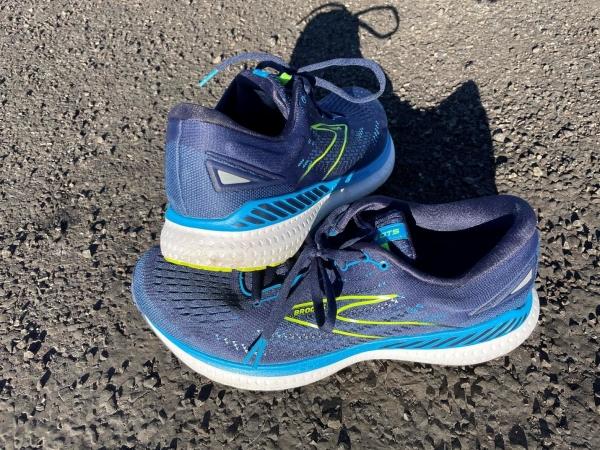 Pros
Good cushioning
Breathable
Smooth transition
Durable
Cons
Lower arch support
Not very versatile
Slight heel slipping
Who should buy Brooks Glycerin 19 GTS
You will really enjoy this shoe if you are run most/all miles on the road. This is the (G)o (T)o (S)hoe for any runner that wants to be prepared for whatever the workout might be.
It's a winner for those who need a little cushion but don't want to feel disconnected from the road.
Who Should NOT buy Brooks Glycerin 19 GTS
You will be displeased if you are looking for:
A quick shoe for track work or racing
Need a medium high to high arch support
Want a shoe for trail and road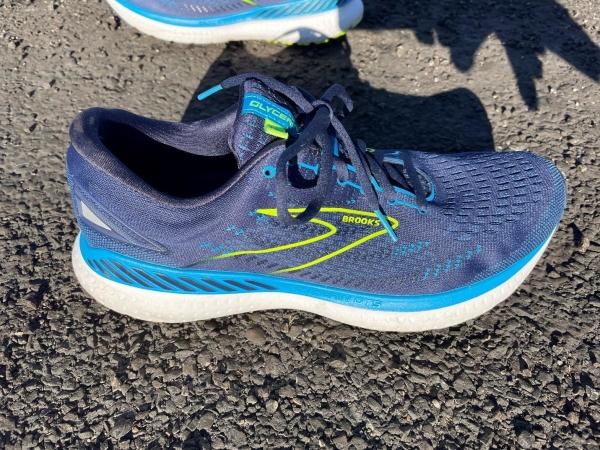 Consistent shoe
This is a shoe that you get what you are expecting from it on every run. It provides a plush ride and smooth heel to forefoot transition.
Great on long runs - I have run over 20 mile runs a couple of times in this shoe, and my feet were still happy at the end of those runs.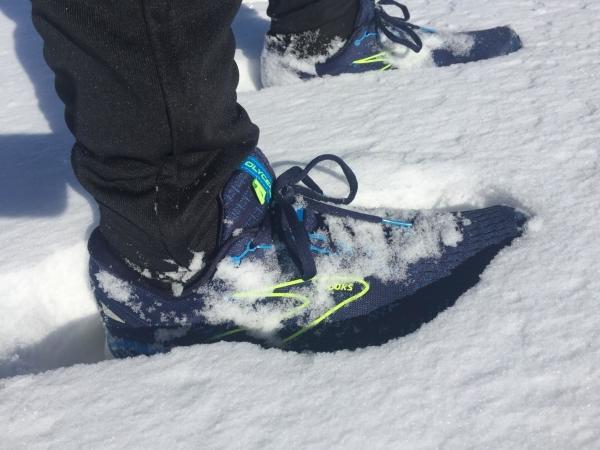 Not versatile
Conditions that I would try to avoid:
Snow - not a surprise there's not enough traction for a comfortable run
Trails - while I covered miles on the trail this is a stable surefooted trail shoe
Track - don't expect to turn in a PR quarter mile
True to size
This shoe fits true to size. I did find the midfoot to be slightly wider than Brooks Levitate 4. The forefoot offers plenty of room for the long runs.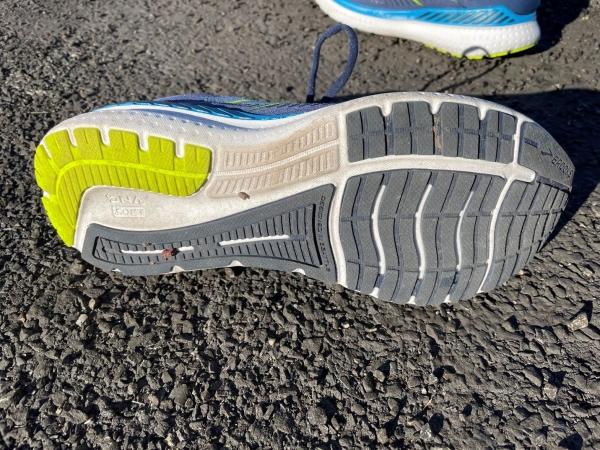 Conclusion
Great durability built to get your money's worth
Quality; plush upper well constructed
The value you'll get more than what you paid for
I referred to this shoe as the girl you don't want to date but the one you want to marry — reliable, consistent GTS for every day.
I had the great pleasure of getting to give these Brooks Glycerin GTS 19's a trial ownership, and it has been such a privilege to have them!
After over 30 miles in these shoes, I have been consistently impressed at how much I enjoy running in them. I have always been wary of Brooks shoes because, in my experience with them, I have always been displeased.
This pair has at least changed my opinion about the Glycerin line. Let's dive in and give them a closer look.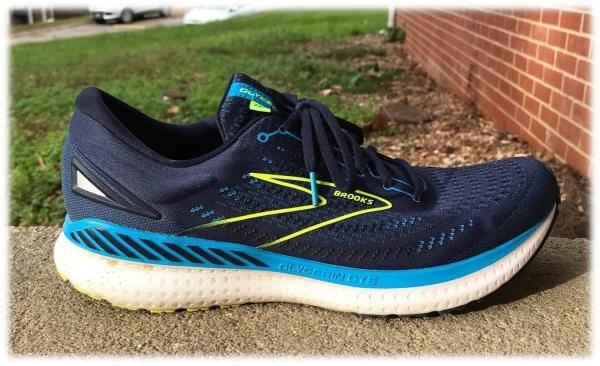 I received this pair in a prompt manner nearly a day after being told that I was getting them (thanks for the quick service, Brooks!).
In our days of online shopping, I'm used to not knowing exactly what I will be getting. This was the first time since the pandemic broke out that I was extremely pleased by what I had stumbled upon.
Style
On that note, these 2021-release shoes take a minimal design and go quite a long way with them.
I may not have been overly impressed by the design, but I am fully on board with the tech-themed look that I think Brooks was going for here. The light blue and neon green accents on that Navy blue upper really give this pair just enough flair to set them apart from an everyday shoe.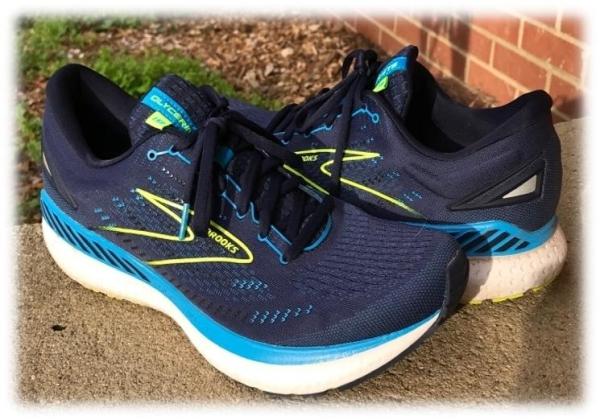 What the shoes lack in showstopping, in-you-face appeal, they make up for in just plain smooth detail.
In some of the pictures shown in this review, you may be able to see the small light blue notches added to the upper to give the shoe a slightly more textured look.
Altogether, it isn't anything to write home about, but it is nothing at all to complain about.
Performance
Here's the thing about the Brooks Glycerin GTS 19: I don't care at all about how they look. They could be all brown and I would still rock these guys. I wear these shoes and love my runs with them because they perform well.
Like, EXCEPTIONALLY well. I had favorites in my head as I have neared the four-year mark in my running journey, and these are up there.
Only more time will tell whether I feel confident enough to put them at the top of my list, but I can say very outrightly that these are some of the best-performing shoes I have ever worn.
Starting from the bottom and going up, these shoes have a great outsole.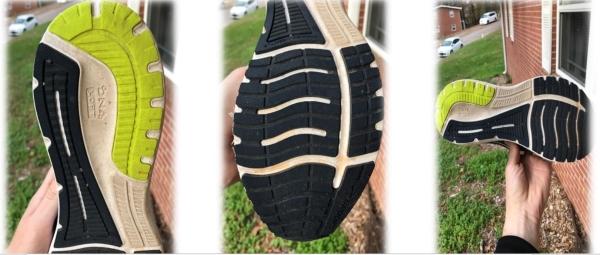 They feel grippy and I don't feel my feet sliding around in them (so they fit true-to-size as well!). The outsoles have held up really well on my runs and I believe they have what it takes to tackle the big miles.
Brooks' Glycerin line is a staple for the company. They have always been Brooks' workhorse shoe and this year's rendition is no different. I found that they are also some of the most versatile shoes I have worn.
I could wear these on long runs or on short-distance runs where I am trying to do speed work. I would mostly recommend them for half marathon to marathon distances.
At those distances, these shoes will treat you and your feet very kindly while giving you an added boost with the new guiderail system on the sides.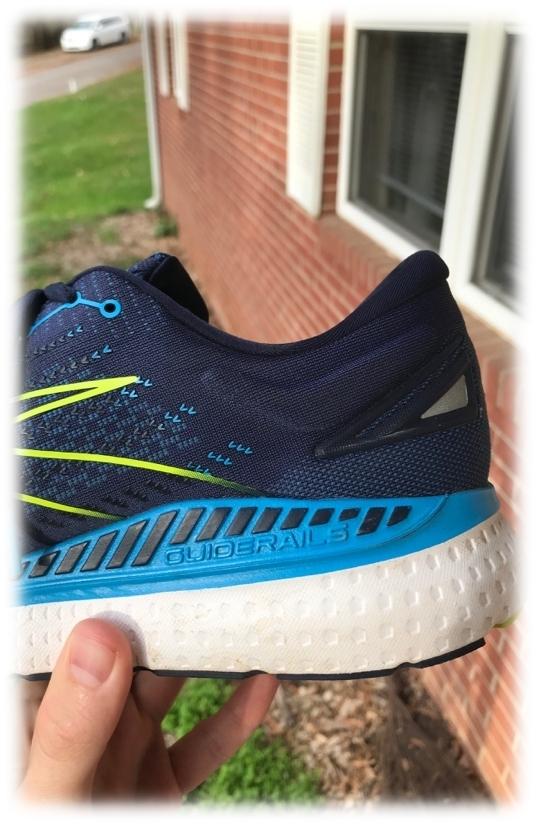 The shoes offer a super soft cushioned sole with comfy mesh uppers that keep you moving forward and encourage a bit of stability, but not so much that it is cumbersome to neutral-pronation runners such as myself.
The uppers do run a little hot, so expect to ditch your thick socks even on a cold day.
The shoelaces that come with the shoe are very short. Runners might consider buying an alternative set, but they hold well without advanced knots so I have found them to be satisfactory without replacing them.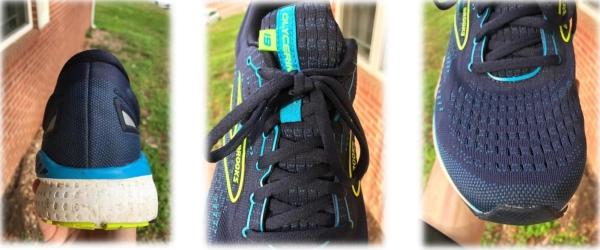 I cannot say enough about the added guiderail system. Brooks has brought the "GTS" of the Adrenaline GTS line over to the cushy Glycerins and the result is an absolutely killer blend of low-impact, momentum-building gliding that I have not found paralleled in any other shoe.
It amazes me how much the guiderail system helps this shoe to feel perky and responsive. It is much needed with all of the DNA foam making up the soles.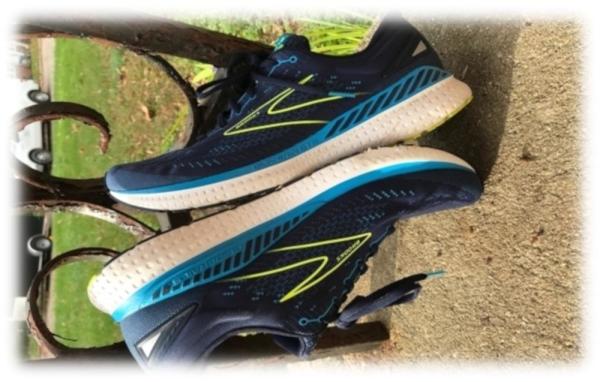 Pros
Superb cushioning that will protect your feet
Guiderail system is a much-needed perk that gives the shoe a lot of added responsiveness
Uppers are comfortable and stylish
Outsoles have a good grip
Cons
The laces are very short
The uppers run a little hot, especially on longer runs.
Durability
The Brooks Glycerin GTS 19 seems to be a durable shoe. I don't expect to get more than 350-400 miles out of them, but that seems like a lot to ask for out of any shoe. In the endurance department, I would say these shoes will hold up about as well as any $150 pair should.
I am excited to see how this pair performs in the long run. They still feel just as snappy and supportive as they did when I first tried them on, and I expect they will continue to do so well over the two hundred-mile mark.
Conclusion
The 2021 edition of the Brooks Glycerin line is getting the facelift that no one asked for and no one knew they wanted. But guess what? We should all want these shoes, and I'm thankful that I don't have to stare at them through a glass window.
These shoes should be put up as contenders for best shoe of 2021. They are a small innovation in Brooks' way of doing things in that they perfectly blend comfort and responsiveness, something that you don't often find in running shoes.
If you are considering trying out Brooks shoes in general, I would recommend a cheaper model to get yourself used to the feel of their shoes. If, however, you are ready to take the plunge and get Brook's best futuristic hybrid shoe, look no further than the Glycerin GTS 19.
Brooks Glycerin GTS 19: Comfortably supportive
Officially taking over the loved Transcend series, the Glycerin GTS 19 continues to serve as a max-cushioned, stability trainer. What makes the collection a standout among many other stability shoes is its odd fusion of cushion and support. Most models end up being too rigid, but that's not the case here.
To achieve such a feat, the Brooks Glycerin GTS 19 utilizes a full-length DNA Loft midsole, offering a cushy ride. Coupled with Brooks' GuideRails, excessive inward foot movements are lessened. And since it's a stability counterpart to the Glycerin 19, it takes after its silhouette.
Who and what is it for?
Because the Brooks Glycerin GTS 19 provides arch support, it is best suited for overpronators (learn more on this from our guide on pronation) who are looking for a comfortable, slip-free ride. With its properties, it's a great choice for recovery and long-distance runs.
How Glycerin GTS 19 compares
Corescore: 57-60
4 shoes (0.48% of shoes)
Corescore: 61-63
7 shoes (0.83% of shoes)
Corescore: 64-67
13 shoes (2% of shoes)
Corescore: 68-71
15 shoes (2% of shoes)
Corescore: 72-75
63 shoes (7% of shoes)
Corescore: 76-78
89 shoes (11% of shoes)
Corescore: 79-82
233 shoes (28% of shoes)
Corescore: 83-86
226 shoes (27% of shoes)
Corescore: 87-89
128 shoes (15% of shoes)
Corescore: 90-94
64 shoes (8% of shoes)
Price: $40 - $65
66 shoes (8% of shoes)
Price: $66 - $91
188 shoes (22% of shoes)
Price: $92 - $117
152 shoes (18% of shoes)
Price: $118 - $143
225 shoes (27% of shoes)
Price: $144 - $169
110 shoes (13% of shoes)
Price: $170 - $195
53 shoes (6% of shoes)
Price: $196 - $221
32 shoes (4% of shoes)
Price: $222 - $247
5 shoes (0.59% of shoes)
Price: $248 - $273
8 shoes (0.95% of shoes)
Price: $274 - $300
3 shoes (0.36% of shoes)
Weight: 3.5oz - 4.6oz
6 shoes (0.85% of shoes)
Weight: 4.7oz - 5.8oz
13 shoes (2% of shoes)
Weight: 5.9oz - 7oz
38 shoes (5% of shoes)
Weight: 7.1oz - 8.2oz
103 shoes (15% of shoes)
Weight: 8.3oz - 9.4oz
169 shoes (24% of shoes)
Weight: 9.5oz - 10.5oz
171 shoes (24% of shoes)
Weight: 10.6oz - 11.7oz
137 shoes (19% of shoes)
Weight: 11.8oz - 12.9oz
49 shoes (7% of shoes)
Weight: 13oz - 14.1oz
14 shoes (2% of shoes)
Weight: 14.2oz - 15.4oz
3 shoes (0.43% of shoes)