Verdict from 6 experts and 10 user reviews
7 reasons to buy
Protection: With the high-stack, cushioned design of the Caldera 5, runners claim that the shoe is able to effectively "mute rock hits."
Traction: The shoe has a confidence-inspiring grip whether going up or downhill on dirt and gravel roads. Some testers even find it impressive on thick mud, dirt, and some snow-packed roads.
Ride: Thanks to the shoe's pseudo-rocker forefoot and balanced cushion, multiple experts find it smooth, reasonably quick, and agile with just enough flexibility.
Support: The shoe is "stable" because of the padding that locks the heel in place and the laces that provide "good security adjustment."
Upper comfort: Form-fitting, protective, breathable, supple, and soft to the touch — this is how trail runners describe the upper.
Toe box: Although not Altra roomy like its precursor, there's enough space for wiggle room. It doesn't feel constricting in any way but it does provide a good "foothold and security."
Durability: Testers who ran in the shoe for over 100 miles have seen little to no wear on the outsole. According to them, the BioMoGo midsole hasn't lost its bounce either.
5 reasons not to buy
Tippy over technical trails: Because of the shoe's narrow platform and forefoot, it feels slightly unstable over loose, rocky surfaces, especially when running fast.
Hefty: Trail runners feel that the weight of the shoe hinders them when picking up the pace.
Discomfort: Because the forefoot's too narrow, there are those who had some blisters on their medial side.
Lace bite: The tongue is not "too thick nor plush," leading some to experience lace pressure over the foot. They suggest not using the top eyelet to avoid this issue.
Insufficient pep: The midsole is borderline firm which makes it neither fast nor responsive shoe.
Bottom line
A beacon of hope for Brooks' trail shoe collection, the Caldera 5 brings in the goods with its versatility and protection. Considered as a "widely different" model from the rest of the Calderas, the 5th version serves as an any-day, any-distance trail shoe, and can even be your next road-to-trail shoe.
It's a shoe perfect for any trail running activity where comfort, protection, and cushion are paramount. Say Grand Canyon RRR or Pikes Peak Marathon. However, if you're looking for maximum ground feel or a race-day, highly technical trail runner, the Brooks Caldera 5 is NOT it.
Tip: see the best trail running shoes.
Our reviews
The Brooks Caldera 5 is a heavily cushioned trail commuter designed to roll over terrain without any concern. It's tall and it seems like Brooks is taking some cues from Hoka these days.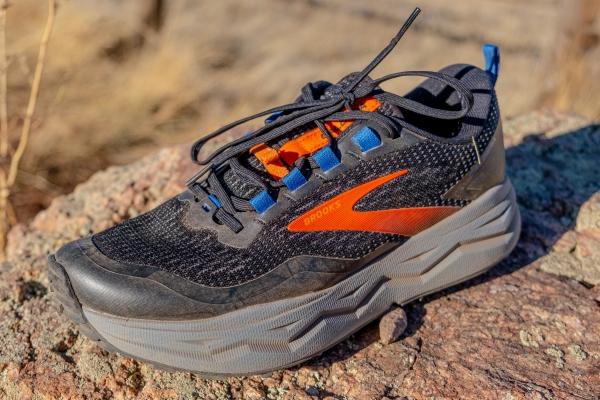 Pros
Upper
To keep water and debris out, the engineered mesh has plenty of welded overlays. The shoe also has a heel loop and a gaiter attachment, which is nice if you are using the Caldera on an adventure or off-trail run.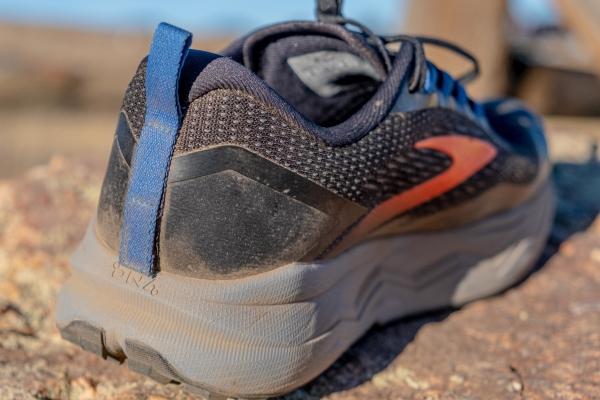 Tongue
It's a thinly padded tongue with gussets. I like its shape because it's not too tall nor is it overly plush. However, it does have a heavy hem that's probably overbuilt.
Midsole
Suitable for longer days out on the trail, the Caldera 5 has lots of cushion and a bit of bounce. I don't particularly like what Brooks has to offer in the midsole department these days. But once you get used to the shoe's height and bounce, which might feel slightly unstable at first, it can work on longer runs.
Outsole
The TrailTack technology is very grippy; it works well. I may dig the compound but not the pattern.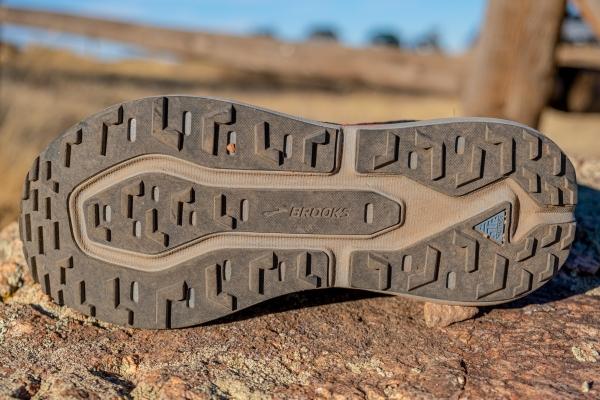 Cons
Upper
It could be slightly more breathable. There's just a lot of welded overlays, it restricts airflow.
This also contributes to limited flexibility. My fat foot was just begging for a little more room.
Lacing system
Brooks uses a fancy webbing loop lacing structure instead of the standard lacing holes. It looks cool, but this shoe needs a little extra help locking in the heel. This means using the extra lacing hole at the top. But because the laces aren't long enough, I had to abandon the top webbing loop and it just looks a little funky.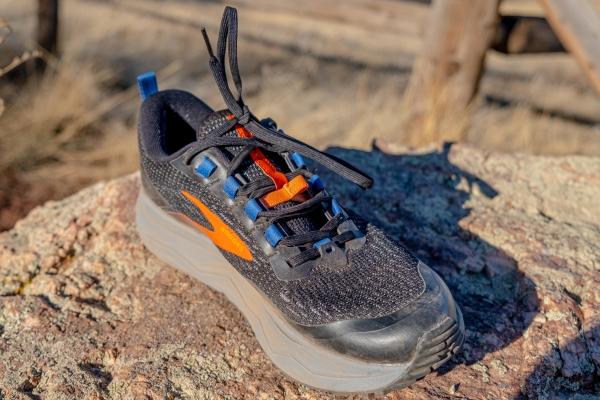 Heel counter
It's stiff, heavily padded, and I even had a bit of a slip.
Outsole
It could be more aggressive in design or number of lugs. So much so that if you ripped one off, you'd have a large area devoid of traction.
Specifics
Fit
I have a wide foot and the Caldera just runs a bit narrow. I also experienced some heel slips but I was able to solve them by changing the lacing technique.
Comfort
It feels like it needs more medial support. It seems like the midsole doesn't extend enough under the big toe and my foot feels like it wants to roll in and pronate.
Otherwise, the shoe is plush and soft underfoot. Just a warning though, it may run a little warm on hot days.
Weight
The Brooks Caldera 5 weighs 10.9 ounces, which puts it on the heavy side. But you do get a lot underfoot.
Drop/Stack
4mm drop
39 stack in the heel
Durability
It's heavy-duty and built tough.
Looks
Meh. I've seen sexier trail shoes.
Price
The Caldera retails for $140.
Overall conclusion
I'm not totally sure if this is a commuter shoe. The design is like a max-cushioned trail bruiser, but with an oddly minimal lug pattern. I may not have experienced any grip problem, but the trails were dry when I tested the shoe.
For anyone looking for a bouncy trail shoe with a little care for ground feel, the Brooks Caldera 5 is perfect for long, slower outings.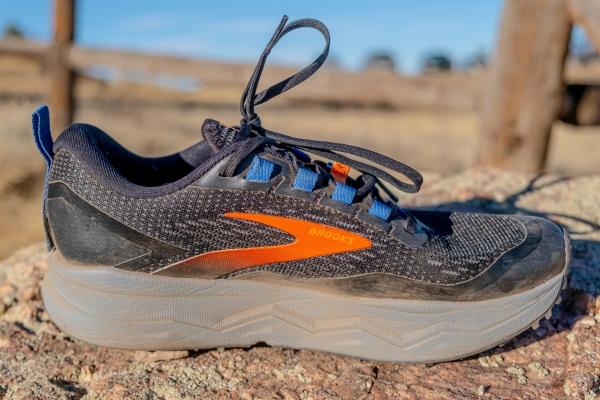 Brooks Caldera 5: Protection and versatility are its aims
On its fifth iteration, the Brooks Caldera sports an even beefier design that's successfully effective in covering the foot from the harshest, most abrasive trail elements. Taking versatility up a notch, Brooks also made it a point that its lug pattern is not super aggressive — it's "imperceptible" on hard terrains, rocks, and even roads but can suffice on loose ground, light mud and packed snow. In short, the Brooks Caldera 5 is pretty much a trail shoe for neutral runners who are looking for traction on almost all surfaces and conditions.
The definition of a versatile trail runner: What is the Brooks Caldera for?
If you're looking for a daily, easy or long-day, or semi-technical trail running shoe, the Brooks Caldera 5 is an excellent option. With its less aggressive outsole construction, it's also a great road-to-trail companion.
Do NOT get the Caldera 5 if you're looking for a trail shoe that's speed-enhancing. For a better grip on technical trails, consider Salomon Sense Ride 3 or Saucony Mad River TR 2.
Terrains it can handle:
Dirt
Gravel roads
Slightly muddy terrain
Snow-packed roads
Semi-technical trails
Not for:
Off-trail surfaces
Loose trails/snow
Brooks Caldera 5 vs. 4: The updates
Although the Caldera 5 looks almost the same as the 4, there are some tweaks added in by Brooks to make it more versatile. Here are some of them:
Reduced forefoot volume for dialed-in, accurate wrap, especially on technical trails
More padding in heel to amp up heel hold
Retooled upper that's softer, more refined, comfortable, and breathable
Less roomy toe box for better security
Trimmed-down width of the shoe (a gripe of many)
The design of the Caldera 5 was supposed to favor technical terrain performance. However, it's simply not the case here. With the slimmer midfoot design, the shoe wavers in technical trails. In fact, if you're a wide-footed runner, experts advise going for the 4 instead.
But if have narrow feet and still want a spacious toe room, the Caldera 5 is perfect for you. It also outshines the Caldera 4 in terms of comfort, cushion, protection, and multi-functional performance.
Nice to know
Along with the Cascadia 15, Brooks has added a Lace Keeper across the midfoot of the Caldera for secure tucking of laces. This is among some of the trail-specific features Brooks is adding to their trail shoe lineup.
How Caldera 5 compares
Corescore: 55-58
1 shoes (0.25% of shoes)
Corescore: 59-62
1 shoes (0.25% of shoes)
Corescore: 63-66
3 shoes (0.76% of shoes)
Corescore: 67-70
10 shoes (3% of shoes)
Corescore: 71-74
18 shoes (5% of shoes)
Corescore: 75-77
34 shoes (9% of shoes)
Corescore: 78-81
96 shoes (24% of shoes)
Corescore: 82-85
112 shoes (28% of shoes)
Corescore: 86-89
93 shoes (23% of shoes)
Corescore: 90-94
29 shoes (7% of shoes)
Price: $60 - $78
24 shoes (6% of shoes)
Price: $79 - $97
26 shoes (7% of shoes)
Price: $98 - $116
66 shoes (17% of shoes)
Price: $117 - $135
118 shoes (30% of shoes)
Price: $136 - $154
78 shoes (20% of shoes)
Price: $155 - $173
50 shoes (13% of shoes)
Price: $174 - $192
23 shoes (6% of shoes)
Price: $193 - $211
8 shoes (2% of shoes)
Price: $212 - $230
2 shoes (0.5% of shoes)
Price: $231 - $250
2 shoes (0.5% of shoes)
All shoes average:
10.4oz
Weight: 6oz - 7.7oz
29 shoes (8% of shoes)
Weight: 7.8oz - 9.5oz
85 shoes (22% of shoes)
Weight: 9.6oz - 11.3oz
159 shoes (42% of shoes)
Weight: 11.4oz - 13.1oz
83 shoes (22% of shoes)
Weight: 13.2oz - 14.9oz
15 shoes (4% of shoes)
Weight: 15oz - 16.7oz
4 shoes (1% of shoes)
Weight: 16.8oz - 18.5oz
1 shoes (0.26% of shoes)
Weight: 18.6oz - 20.3oz
0 shoes (0% of shoes)
Weight: 20.4oz - 22.1oz
0 shoes (0% of shoes)
Weight: 22.2oz - 24oz
2 shoes (0.53% of shoes)