Altra continues to build upon its reputation for making wonderfully comfortable footwear for all occasions. For those in need of extra cushion and stability, this may be a great shoe for you! Yes, there is some need for adaptation, as the stack height, cushion, and wider outsole all lead to a newer running experience, but the payoff is a wonderfully comfortable run, and perhaps even less recovery time following the run.
Pros
True to size
LOTS of cushion
Very comfortable
All-around road shoe
Non-intrusive stability features
Roomy toebox
Great traction
Cons
Loose fit
Bulky/Clunky Feel
Adaptation period needed
Early signs of wear
Altra Paradigm 4.5 review
The Altra Paradigm 4.5 is a stability road running shoe that provides a good amount of comfort and control. With so many makes and models to choose from in the stability shoe market, Altra provides its own submission for the runner who wishes to experience plush cushioning and stability with every stride.
Short, middle, or long distances, your feet will thank you for the cushioning and stability features. In my personal experience, the Paradigm has also been a great shoe to help aid with injury recovery, or for the injury-prone runner who might benefit from some TLC for the lower body.
Who should buy the Paradigm 4.5
The Paradigm 4.5 is a wonderful shoe for anyone running/walking the roads who desires that extra layer of control and comfort throughout the day.
Who should NOT buy it
For some runners, all of the extra cushion and stability features will be too much, and these shoes may not be a great match. Look away if you:
prefer minimal cushioning (consider the Altra Escalante 2.5, which has a significantly lower stack height)
need a neutral running shoe (in this case, the Torin 5 is worth checking out)
are looking for a lightweight shoe (the Provision 4.0 is praised for its light construction)
Great for all-road occasions
One thing I enjoy about Altra shoes is that for the most part, they are great for just about any occasion. The Paradigm 4.5 is a wonderful training shoe, a walking shoe, and for me a great long-distance running shoe option.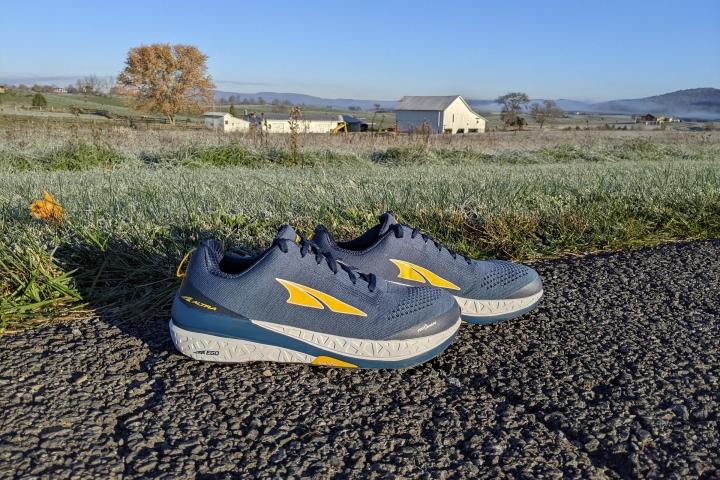 While I did not run technical trails with these shoes, I was able to run mostly on paved roads with a variety of gravel, dirt, mud, and grass. Through it all, the Paradigm 4.5 did great.
They weigh in at 11.2oz/318g, which is not necessarily super light (stability shoes on average weigh 10.5oz/207g), but one will receive maximum return for all of the cushion and thought put into the construction.
Tricky loose fit
Every shoe fits a bit different, and the Paradigm is no different. While I love the upper constructed with a woven knit, easy laces, and an adaptable tongue and collar, I found my feet moving and slipping around quite a bit at times at first no matter how tight I tried to lock things down.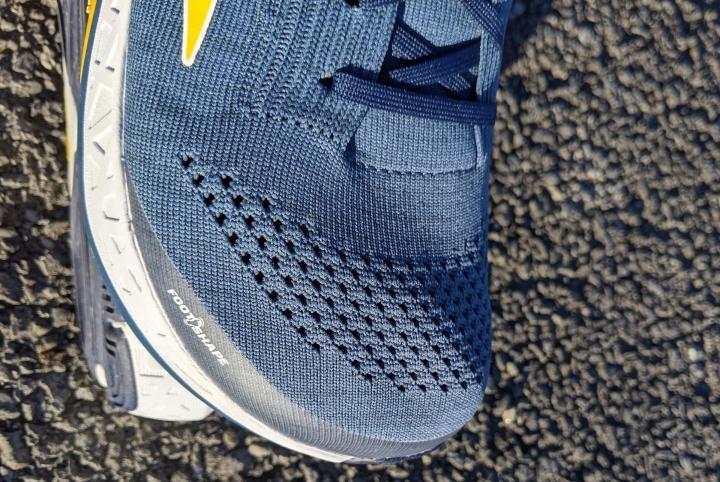 The Paradigm 4.5 does not have a second lace eyelet for a heel lock tie like other shoes, but the knit upper is pretty responsive. As someone who often worries about Achilles issues, this presents a bit of a worry, especially when encountering uneven terrain. The more miles I put in, the more my feet have adjusted to the fit, but there is a bit of a learning curve at first.
The Paradigm 4.5 screams comfort
As I mentioned before, the Paradigm 4.5 provides premium comfort and stability; not that the two are synonymous with each other. The midsole is loaded with Altra's Altra Ego foam cushioning, and a stack height of 30mm.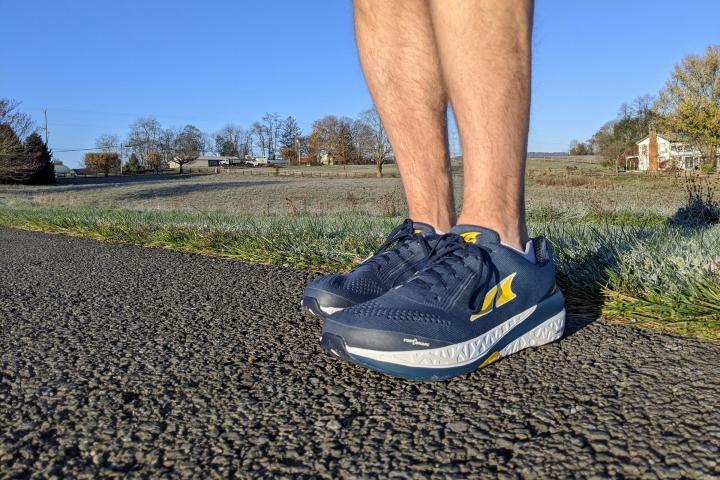 Everything about this shoe screams comfort, from the very soft and friendly upper construction to the plush midsole, This is a dream come true for tired feet!
Very stable without being too intrusive
In regard to stability, Altra incorporated their Guide Rail technology into the midsole, along with StabiliPod reinforcing the outsole. What they come out with is a very stable base without being too intrusive with hard plastics and wedges.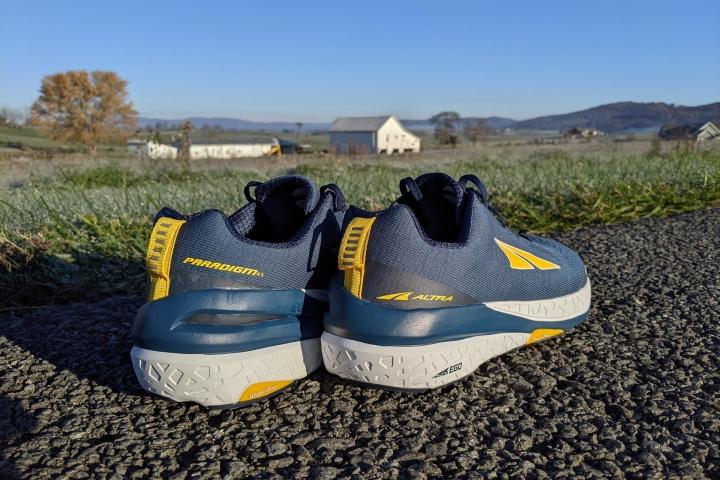 My runs felt comfortable throughout, with the additional support needed when fatigue started setting in. As a runner with recurring IT band and hip issues as well, the max cushioning is a welcome sight.
All-day support
One thing I appreciate about the Paradigm 4.5s is how my feet and legs feel less fatigued during, and perhaps more importantly, after the runs, even the next day. I spend most of my time running middle distances, but on the days I am putting in bigger miles these shoes are there to support me all along the way. As a runner with extremely low arches, I find the arch support of the Paradigm 4.5 to be the right fit.
Take time to get used to the stack height and bulky construction
While Altras are famously comfortable shoes because of the FootShape technology, there also may be a need for a break-in period allowing for adaptation. In the case of the Paradigm 4.5, the greatest adaptation for me was getting used to the stack height and what feels like a bulky construction, specifically with the width of the shoes.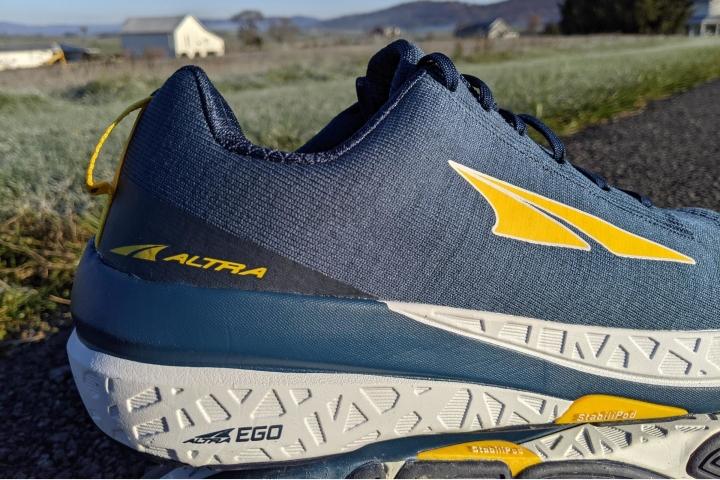 Yes, the cushion and stability features are most welcome; they just take some getting comfortable with. I even noticed my stride needing to widen a bit, as the Paradigm 4.5 was clipping during my runs, leading to some discoloration and chaffing of the shoe itself (pictured right).
Overall, while the shoes are super comfortable, the wider construction, cushioning, and stack height did take some getting used to.
Wear shows early after a handful of runs
If there is one complaint I have about Altra running shoes, it's that they usually don't last as long as other shoes. Oftentimes I end up with a hole or tear in the upper, compressed midsoles, and worn outsoles.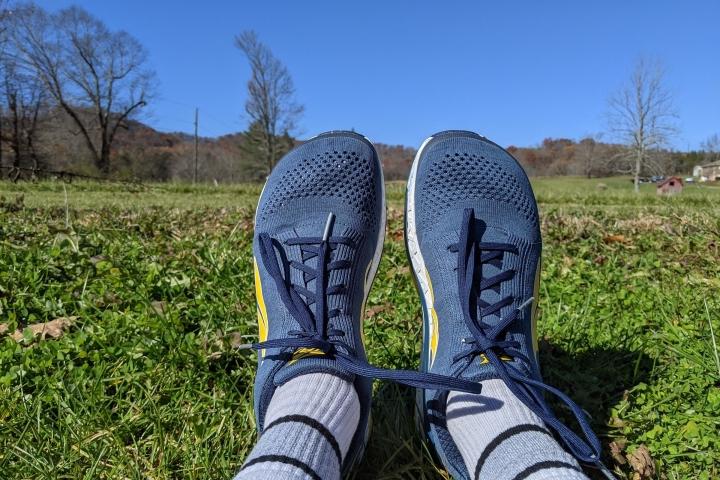 The funny part is that I keep on wearing them because they feel so comfortable even then! I was surprised to see the chafing along the outside of the midsole following just a handful of runs, and I wonder just how long the outsole will last before noticeable wear and tear.
Plenty of traction
As previously mentioned, I was able to run on a variety of surfaces with Paradigm 4.5. Through it all, I always felt stable and secure; the outsole providing plenty of traction for the day. I have experienced a few moments of sloppy footwork here and there, but again, I attribute that more to the construction of the midsole, and less to the outsole.
Conclusion
Altra suggests that this shoe is a great option for both neutral and stability shoe seekers; the design allows for a neutral feel overall with stability features kicking in only when needed.
I would happily recommend this to anyone who is recovering from injury, who is injury prone, or anyone whose feet fatigue easily. However, I'm also very happy recommending this road shoe for anyone who simply wants to experience superior cushioning and stability for just about any run.