Adidas Supernova Glide Boost 8
Adidas stuffed the Supernova Glide Boost 8 with some of its best technologies from top to bottom. The quality and performance of this shoe really worked well for runners. They have perceived it to be very responsive to their movements. Many pointed out that they highly recommend this neutral road shoe for those who want to have a great running experience.
---
Verdict from 6 experts and 100+ user reviews
7 reasons to buy
A lot of runners felt well-supported by the Supernova Glide Boost 8.
Based on the remarks of a large number of runners, this shoe was aptly comfortable to use.
Most testers considered this as an excellent trainer as well as a great option for long-distance runs.
The foam platform of this shoe allowed the foot to take smooth and well-paced steps, a user commented.
The boost™ technology was welcomed by consumers because it was able to attenuate impact responsibly during landings and add a boost of energy to the toe-off.
For a lot of runners, the cover system fit adequately; they didn't feel any hot spots or incidences of the fabric rubbing uncomfortably against their skin.
The toe box of the Glide Boost 8 was roomy and it enabled the toes to splay naturally, some users noted.
2 reasons not to buy
A reviewer was a bit disappointed that it didn't come in other optional widths.
Some runners wrote that they needed respectable mileage to break-in the shoe.
Bottom line
Adidas stuffed the Supernova Glide Boost 8 with some of its best technologies from top to bottom. The quality and performance of this shoe really worked well for runners. They have perceived it to be very responsive to their movements. Many pointed out that they highly recommend this
neutral road shoe
for those who want to have a great running experience.
Best price from 50 shops
We earn affiliate commissions at no extra cost to you when you buy through us.
84% say it's true to size.



Our reviews
I am writing this review of my current long term running trainer. I have been using this particular shoe for about a year. I have flittered between other makes and models and keep coming back because I feel it is that good.
I don't seem to pick up any niggles when running in them and they look the business when out training on road.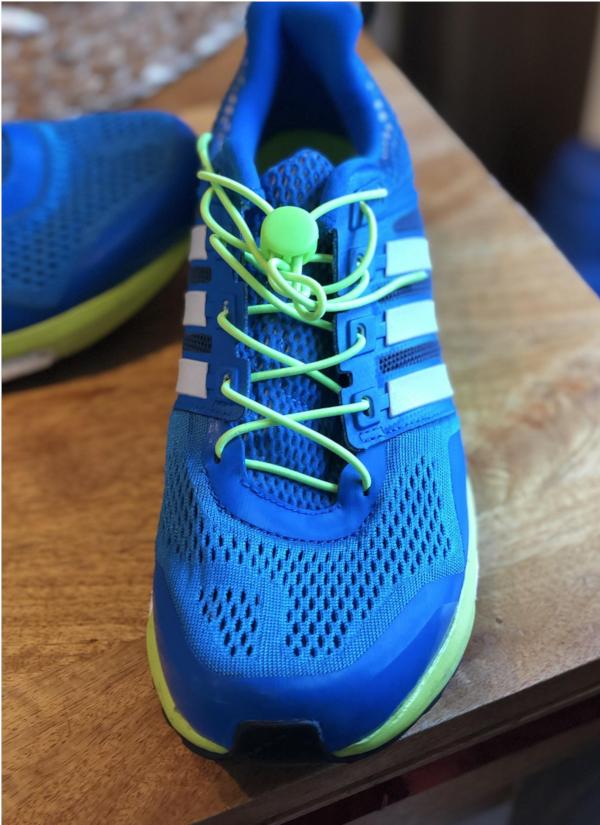 Specification & build
Type
Neutral cushion for daily road running.
Midsole
Boost cushion is used throughout the shoe. This, in my opinion, is extremely long lasting.
Upper
A mixture of soft plastics which supports the mid and rear of the foot and provides a very stable locked in feel, absolutely no heal movement, no blisters or rubbing on the Achilles' tendon. Breathable mesh over the forefoot.
Outer
A plastic torsion system connects the rear to forefoot. I can say that there is no great deal of rotational flex with the shoe, rubber web continental rubber outsole over rear and forefoot.
I have not experienced any kind of slipping in wet conditions. But note that this is not an off-road running shoe. When used in muddy trails, it was slippery.
Weight
284g (size UK 8.5) insoles removed. I also used elastic laces which will knock it up a few grams. The drop is 10mm.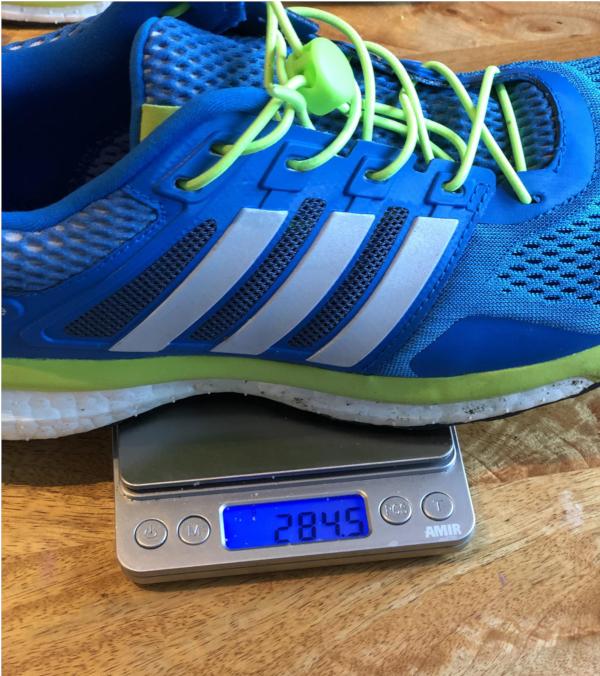 The run
It's a solid ride. It's a good amount if responsiveness but the right amount of cushion. Your feet feel secure and definitely supported.
You feel the boost technology deliver on each and every stride, whether you are a forefoot or heal sticker, it gives you the kickback mile after mile after mile.
You feel the thick layer, and you do feel separated from the tarmac, for sure, but not too much you lose responsiveness.
Who is this shoe for
This is an excellent long-distance road training shoe. The boost cushioning keeps giving and giving. This area of the shoe is a masterpiece of engineering where you still feel the bounce 500 miles down the road after hard training, so you get value for money.
They may be a bit heavy (284g) for racing but having said that it would deliver in a half marathon to marathon distance. The shoe would suit heavier running because of the quality of the boost cushion. It gives you a stable ride that does require about 50 miles of breaking in.
Sizing & fit
This shoe is a bit small in the fit. I am a UK size 7.5 to 8 and can get away with an 8.5. I do also feel it suits runners with narrow feet.
Pros
Longevity
Run quality
Build
Con
Final thoughts
They definitely look good. Performance is very good for long distance road mileage. The real wow of this shoe I feel is the boost technology, it does give you endless energy return, and you really feel the bounce on each stride.
A lot of attention to detail has gone into the production of the Adidas supernova glide boost, and it delivers in a lot of aspects. For example, the continental rubber and sold feel to the upper.
In the Adidas factory they could look at taking a few grams here and there, but in hindsight, it is not a race shoe. The race version of this would be the Adizero or the Boston Boost, but all in all its a big thumbs up from me.
Updates to Adidas Supernova Glide Boost 8
Featuring some of the most prominent technologies in the Adidas roster of running shoes, the Adidas Supernova Glide Boost 8 wraps around the foot comfortably and securely. The underfoot experience is soft and responsive, and the platform is protective and supportive. This shoe gives the runner the incentive to perform in a more efficient way.
The upper unit of this running shoe has technologies that cover the foot in a gentle, but secure manner. The fabrics conform to the needs of many foot types. Air seamlessly enters the shoe to keep a well-ventilated interior in which the foot can rest. It's a strong and reactive upper unit.
The mid-sole unit offers a well-cushioned underfoot platform for the foot. The foot is treated to a lightweight, responsive and flexible sole unit that doesn't immediately lose structure. The strong compounds and components that are used here work well in delivering a smooth and stable ride.
The 8th version of the Supernova Glide Boost has an outsole unit that's created to give the runner a durable external layer that'll protect the shoe from damage and abrasion. Durable shielding is afforded by a propriety rubber compound, while another top-tier technology gives responsible traction on dry & wet surfaces.
Size and fit
The Adidas Supernova Glide Boost 8 has a regular running shoe length. The men and women's sizes follow the standard measurements when it comes to size. It accommodates medium-sized feet because of its medium-width construction. The upper is able to stretch well in order for many types of feet to fit well when wearing it.
Outsole
The ADIWEAR™ is a rubber compound that's placed in the heel section of this running shoe. It gives the runner high-level grip on the surface. It's durable and hardy, lasting longer than the standard outsole rubber. It also doesn't have much of a weight, so it won't feel as if the material is dragging the shoe down.
Continental™ Rubber is a high quality technology that's been used in high-performance tires. Its purpose is to provide optimum grip on all types of surface conditions, even the wet kind. It prevents accidental slips. It gives the runner great control over the roads.
Midsole
The adiPRENE is a foam material based on Ethylene vinyl acetate. This full-length foam gives impact protection and soft underfoot cushioning for a better and smoother ride. The technology itself makes the material resilient, so it doesn't succumb to wear or breakdown.
An EVA Cradle is placed just above the sole unit, right against the foot of the wearer. It supports the arch, giving a structured and stable underfoot experience.
The Boost™ technology is a mid-sole unit that's made from the compaction of TPU pellets that cause the platform to be springy and more responsive to the runner's steps. This is the same midsole technology used in the popular Adidas Ultra Boost Uncaged. The unit absorbs the impact energy from running and then releases it back to the wearer for a more enabled & propelled running experience.
Upper
The Formotion Mesh is a flexible material that's meant to conform to the natural shape of the wearer's foot. It stretches adequately to make the fit snug, but secure. It also reduces skin irritation and warm areas where blisters or welts might appear.
The Geofit technology is a heel collar design that uses memory foam to help in securing the rear of the foot and making sure that it doesn't easily slip off the shoe.
The respoEVA Sock Liner gives more cushioning to the wearer. It is molded to follow the anatomical structure of the foot, giving more support to the arch and the heel for a better and more comfortable ride.
Rankings
How Adidas Supernova Glide Boost 8 ranks compared to all other shoes
Popularity
The current trend of Adidas Supernova Glide Boost 8.