The Adidas Supernova is a neutral daily running shoe that's perfect for runners who are on a budget. It's not made for the long haul, but if you're looking for a shoe that's suited for jogging, sprinting, and interval work, it's a shoe we'd recommend. And for its price, it's surprisingly durable!
Pros
True to size
Soft landing for heel strikers
Durable
Grippy outsole
Reflective elements
Affordable
Cons
Narrow toebox
Heavy
Adaptation needed (10-20 miles)
Adidas Supernova review
The Adidas Supernova is an entry-level road shoe that is designed for a neutral runner looking to get some miles in occasionally. With basic technology, excluding the Ultraboost heel, the Supernova is not suitable for long-distance runs. The lack of midsole cushion and lack of upper stability just make this a poor option for banging out those long miles.
However, its weight and stable midsole might be suitable for heavier runners. I see this shoe matching up for someone who exercises regularly doing various activities and 1-2 days a week runs a mile or two. It's true that you usually pay for what you get. With Supernova you get what you pay for and more.
Who should buy the Adidas Supernova
Whether you're a casual runner, an avid runner on a budget, or just someone looking to add a cheap daily trainer in the mix. The Adidas Supernova is the shoe for you.
Who should NOT buy the Adidas Supernova
Look away if you need a:
Narrow toebox
The size is right on with what my normal sizing is. However, I was disappointed with the narrowness of the toebox and how slim the shoe felt.
Heel lock lacing is a must in the Adidas Supernova
The Supernova's upper required pretty tight lacing with a heel lock lacing set-up to keep the foot in. The upper was ok through the midfoot but as you approach the toe area there ends up being a wrinkled fabric look when lacing tight. As you approach the rear foot area, you experience an excessive heel lip which does nothing for locking the heel down.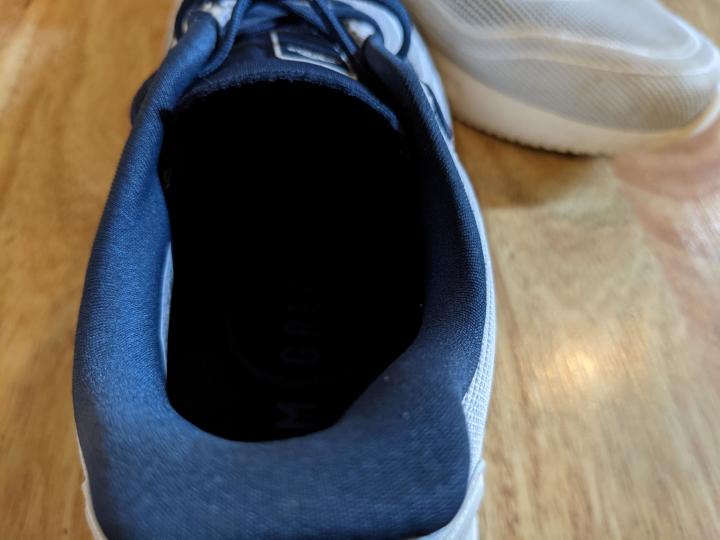 The comfort was sufficient but nothing excellent
The comfort is average. I guess when you consider the price point, I'm ok with it but with a wide range of plush, high-end shoes on the market, I just couldn't get past the "just-ok" feel.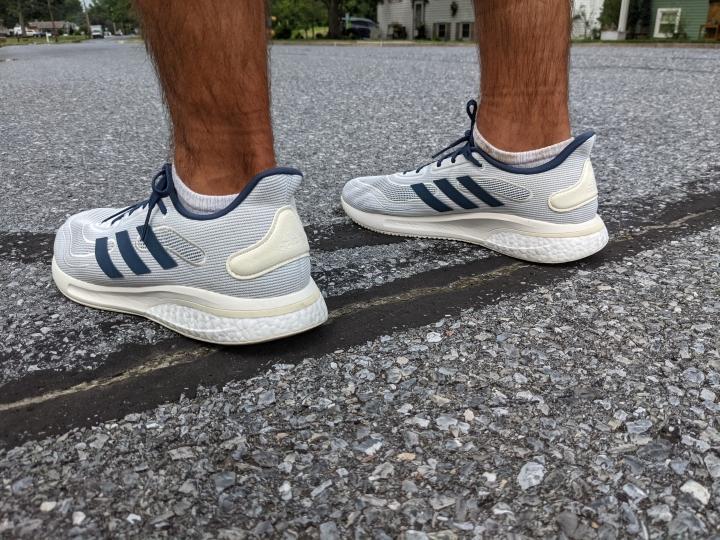 Heel strikers will appreciate the Boost foam
Approaching the midsole. I can just say Thank You Adidas for deciding to put some Boost Foam in the heel. With myself being a heel-striker I was really pleased with how comfortable it felt with heel contact. This was the highlight of the Supernova.
Firm and rigid feel in the Adidas Supernova
The ride is heavy but consistent. You feel a very sturdy base with more of a firm landing response vs cushioned. Now, as I said about the Boost Foam heel being a highlight, I mean it. I ended up feeling ok about the ride due to the soft landing contact due to being a heel striker.
Now, if you are a mid or forefoot striker then you will be feeling a very firm and rigid foam that leaves nothing to be desired.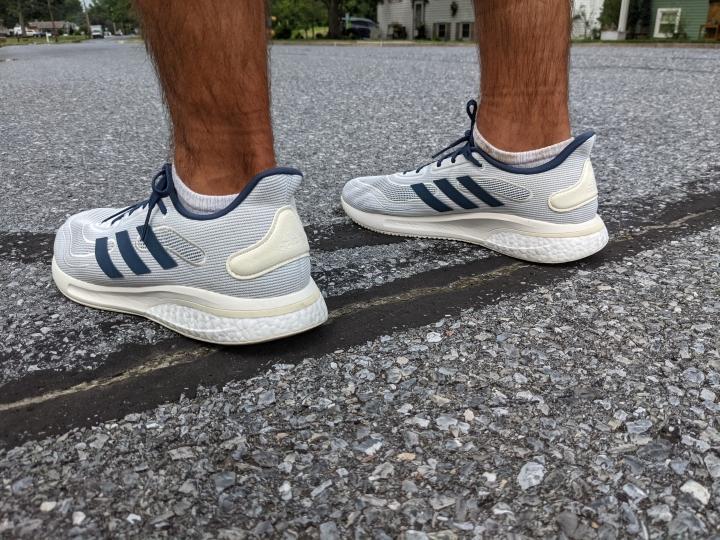 Adaptation period for about 10-20 miles
This shoe is more on the stiffer side of the scale. You'll want about 10-20 miles in the Supernova before you start picking up intensity.
Wish the Supernova was lighter
At 11oz/312g, the Supernova is heavier than you would expect in a daily trainer (average weight of 10.4oz/297g). The good news though is it rides lighter. I really wasn't bothered by the weight until I hit about 6 miles. If you pull the trigger on these, keep them for shorter distances. Believe it or not, the weight adds up and it becomes pretty noticeable.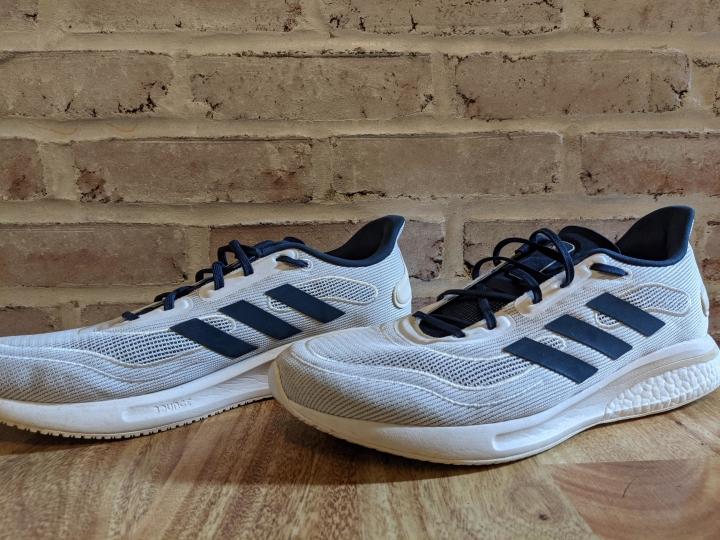 The Adidas Supernova is impressively durable
With about 40 miles of run on the Supernova, I see no notable wear. The great thing that Adidas did was limit technology but not quality. I see these easily making it as long as a higher-end training in life expectancy...400ish miles.
The outsole is grippy
Now, this is a double-edged sword in the Supernova. It has tons of outsole and grip. This allows for a lot of traction but then leads to excessive weight and stiffness. I rather have less, to bring the weight down but I can't be mad at Adidas for the decision.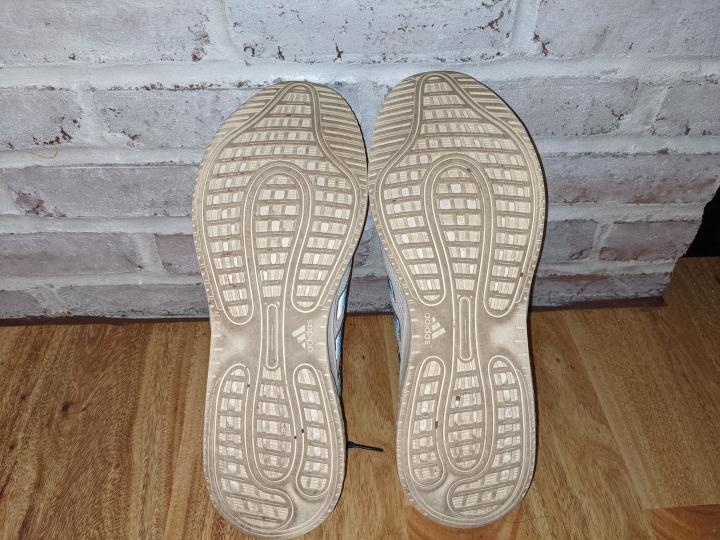 The cheap upper is not breathable enough for hot weather
The upper is just awful. It feels cheap and old. It is all sewn fabric and there's nothing sporty about it. The breathability isn't too bad but it definitely has its shortcomings when trying to wick away moisture in hot weather. Come on Adidas! This shoe could be so much better with just a little more thought on fabric selection.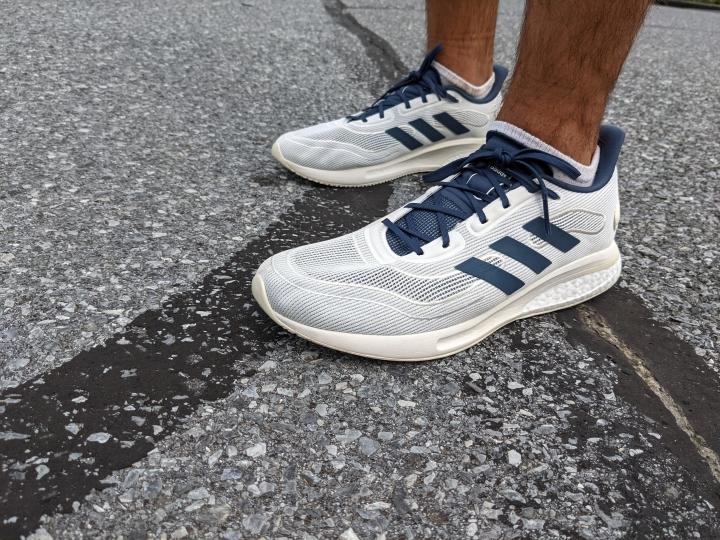 A fair amount of reflective elements
I like what Adidas did here with making the 3-Stipe logo reflective. As seen in my flash photo, it's a fair amount of reflective tech in a really cool place.
A capable shoe for the price
Hitting the road with this Adidas daily trainer, you will experience a quite capable shoe. Whether you're walking, jogging, sprinting, or performing interval work, the Supernova will roll with it.
Now, you won't be blown away by the experience but you will have a show that can do it all, at a price most people can afford.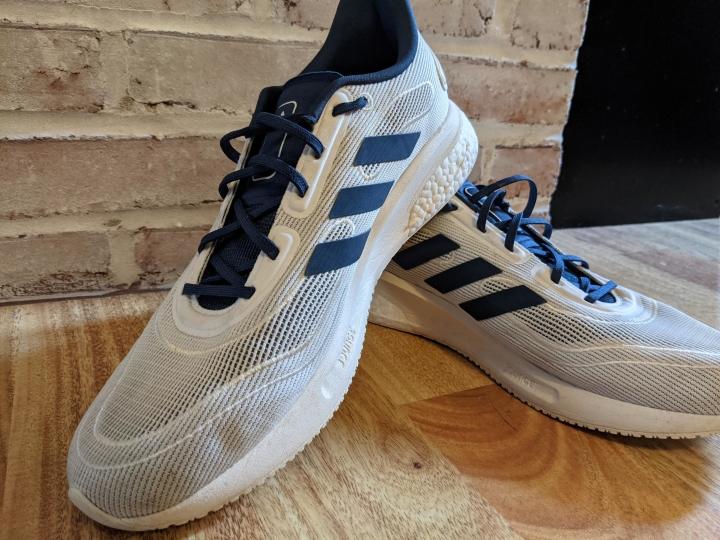 Conclusion
You step into a new pair of shoes with expectations of something new and exciting. When it comes to a budget trainer, I step with much less expectation.
With the Adidas Supernova, I was satisfied. The shoe got the job done without fatal flaws. These will do the trick with whatever you throw at them, just please remember, for the price expect a little less. Put them in your rotation or if you are an occasional runner, they will be sufficient for the minimum needs.