A lifestyle shoe and a running shoe for $60? Take both in the Adidas Runfalcon 2.0! In our testing, we found it very suitable for casual runners and beginners who don't run more than 10 miles. But if you plan to take it out on fast-paced runs or long hauls out on the road, consider another shoe.
Pros
No break-in needed
Comfortable, padded upper
No heel slippage
Superb grip
Low price
Good-looking
Cons
Lacks responsiveness
Not for long-distance runs
Not breathable
Extremely low stack height
Who should buy it
The Runfalcon 2.0 is ideal for:
low-mileage runners or beginners
runners who are on a tight budget
runners who prefer a firmer foam and some ground feel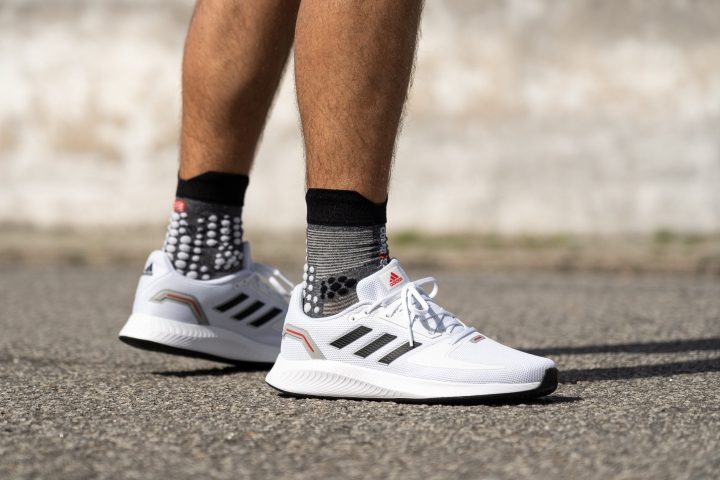 Who should NOT buy it
Look away if:
Don't worry about hotspots and blisters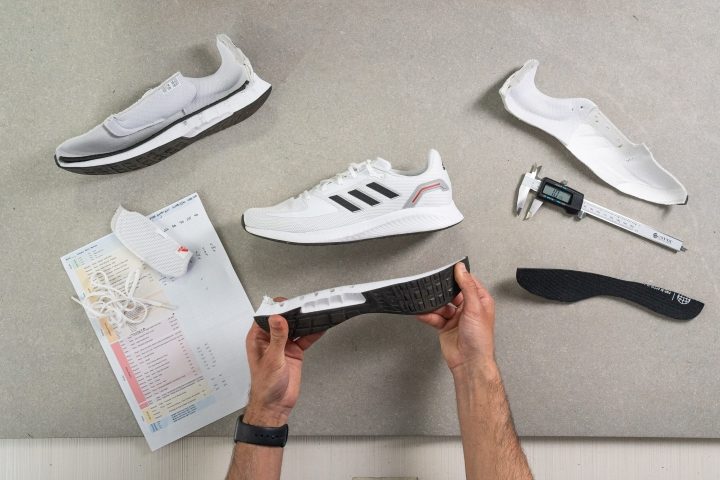 The step-in feel is comfortable. The lightly padded tongue and heel hug your foot nicely. The upper mesh material is flexible enough to stretch to the foot.
No blisters or hotspots expected!
Adidas Runfalcon 2.0 is not breathable at all
Although comfortable, the upper is not breathable. As we covered more miles on the test run, our feet started to really feel the heat.
This shoe's breathability falls short, with minimal airflow. It slightly outperforms its predecessor, which scored a catastrophic 1/5 in our test. This one receives a slightly better 2/5 rating.
Next up was the light test, which typically matches our earlier findings. To our surprise, it seemed like there was more airflow than expected.
But don't be fooled! That's just a curious visual effect because this colorway is as white as snow.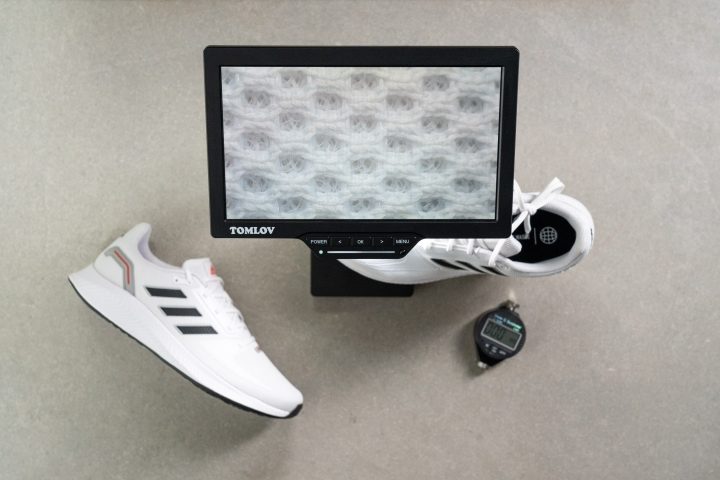 Under the microscope, it's crystal clear that this shoe lacks any significant airflow. There are zero ventilation holes and a thick mesh that hinders breathability. The breathability test result of 2/5 is completely validated under close examination!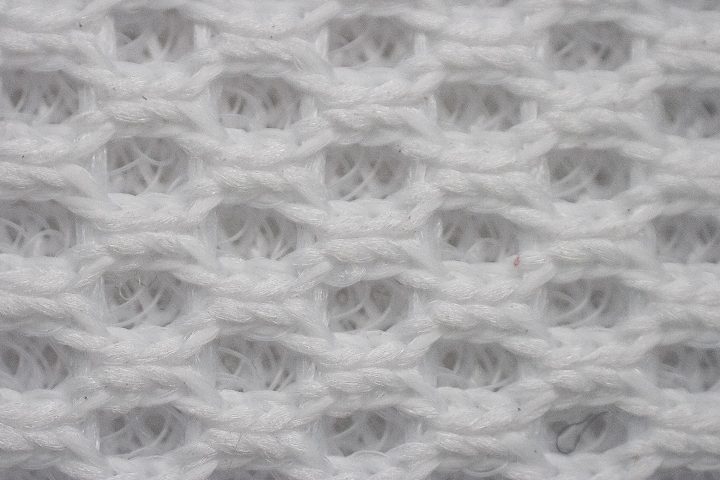 In a nutshell: Even in this bright white colorway, steer clear of going on medium or long runs in the Runfalcon 2.0 when the sun is blazing at full throttle.
Uninspiring and boring ride
Overall, we have to admit that the ride of this shoe is rather basic, if not downright uninspiring. The midsole feels firm and the forefoot lacks adequate cushioning. The EVA-based foam, which isn't even Lightstrike, fails to deliver the desired bounce and energy return.
But let's be realistic—we can't expect top-notch performance from a budget-friendly shoe. That just doesn't exist.
For beginners without much knowledge of advanced shoe technologies, these shoes are OK for their everyday runs. And if you feel that the Runfalcon 2.0 are not enough, check the Nike Pegasus 40.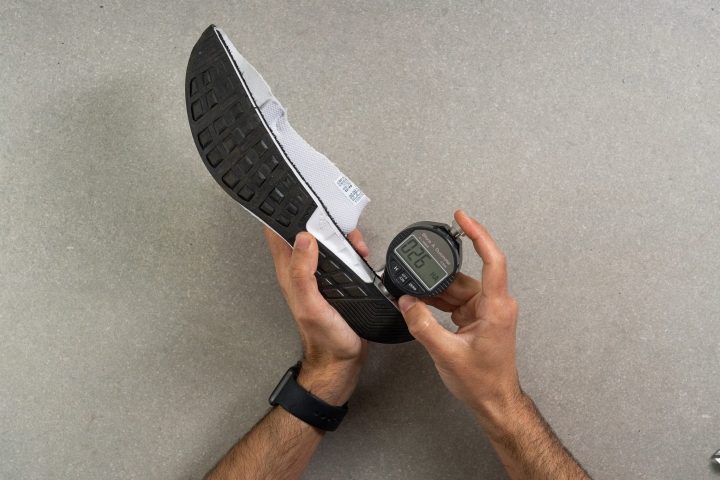 Disclaimer: We do 4 measurements and exclude any outliers. The photo above shows just one measurement.
We measured the midsole at 27.8 HA, which correlates pretty well with everyone's feelings. For instance, the Peg 40 is 74% softer!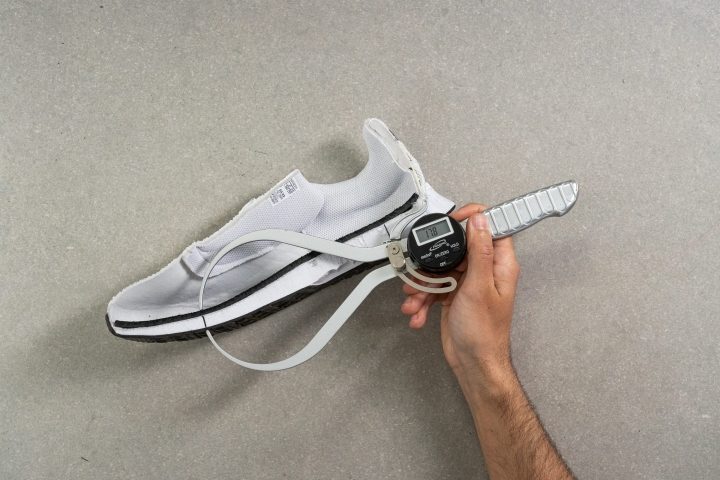 With that said, is not a bad thing that this shoe is on the firm side. With only 17.8 mm of stack height in the forefoot, a softer foam will undoubtedly make the shoe "bottom out".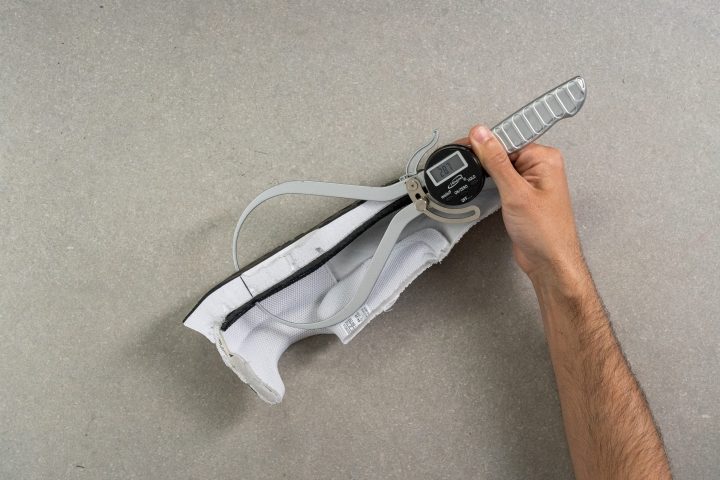 Adidas went with a 28.7-mm stack height in the heel, resulting in a steep 10.9-mm heel-to-toe drop.
Lastly, as a budget-friendly daily trainer, don't anticipate a rockered ride with these kicks. Quite the contrary, as demonstrated in the video below, it's funny to witness how they almost flip!
Nice weather, Mr. Flexible; Winter chill, Mr. Stiff
Most brands understand that budget-friendly shoes are typically used for running, walking, or gym workouts. That's the route followed by companies like Hoka with the all-rounder Solimar.
Consequently, our initial expectations for the shoe were high in terms of flexibility. That's what we got in our batch of tests:
Longitudinal flexibility: 1/5 (5 being stiffest and average 2.5)
Torsional flexibility: 3/5 (5 being stiffest and average 2.9)
90-degree Bend test: 19.5 N(average 32.9 N)
Disclaimer: We take an average of 4 measurements and disregard any outliers. This video represents only one of our measurements.
Requiring only 19.5N of force to bend it to 90 degrees, the Runfalcon 2.0 proves to be more flexible than 89% of shoes. However, what occurs when we let the shoe chill in our freezer for 20 minutes?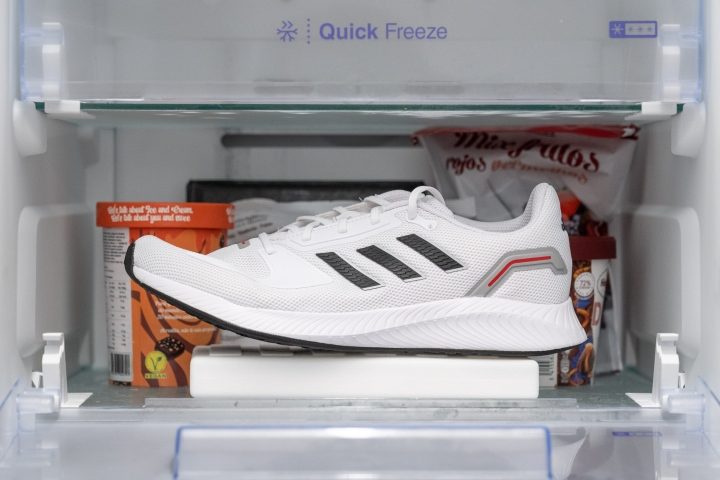 Regrettably, the performance of the Runfalcon 2.0 in cold temperatures is underwhelming when it comes to flexibility. It stiffens up by a staggering 70.8%, surpassing the average of 45.6%.
On a positive note, the midsole experiences a comparatively lesser increase of 24.5% in firmness, which is better than the median.
Good lockdown at all times, but it runs large
With a $60 MSRP, you really can't ask for anything more. Sure, it would have been great to have a semi-gusseted tongue for better lockdown, but considering it's a low-tier shoe, a non-gusseted tongue is what you should expect.
The minor heel slippage we experienced was easily fixed with a runner's knot.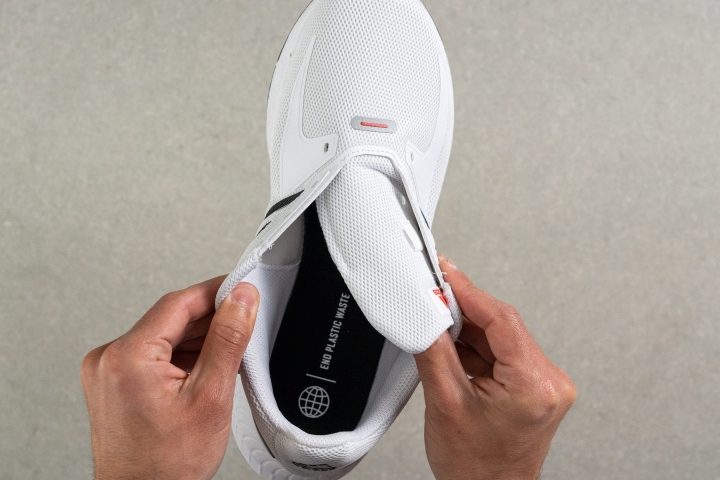 Overall, you're getting a solid deal for the price, and it's hard to complain when you're getting a decent amount of comfort without breaking the bank.
The padding is everywhere and it keeps your foot in place. The heel counter earns a solid 3/5 rating.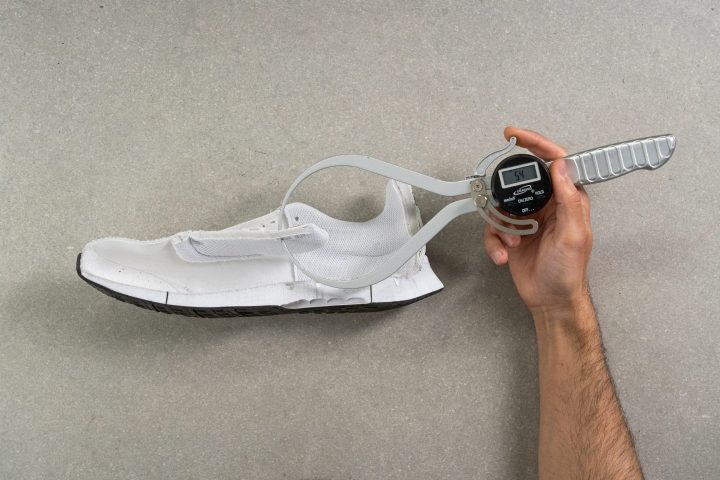 The tongue stays securely in place, thanks to its well-rounded shape. Plus, with a thickness of 5.4 mm, it delivers an amazing 35% increase in padding compared to the Runfalcon v1.
Narrow but stable
The Adidas Runfalcon 2.0 is not an unstable shoe by any means, despite being narrower than the average shoe and also less wide than its predecessor.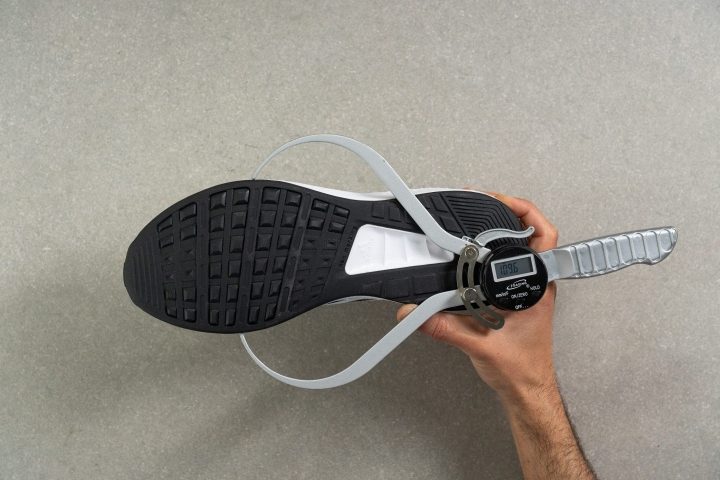 For instance, take the Adidas Adistar training shoe as an example. It boasts an 8% wider forefoot and heel compared to our subject shoe.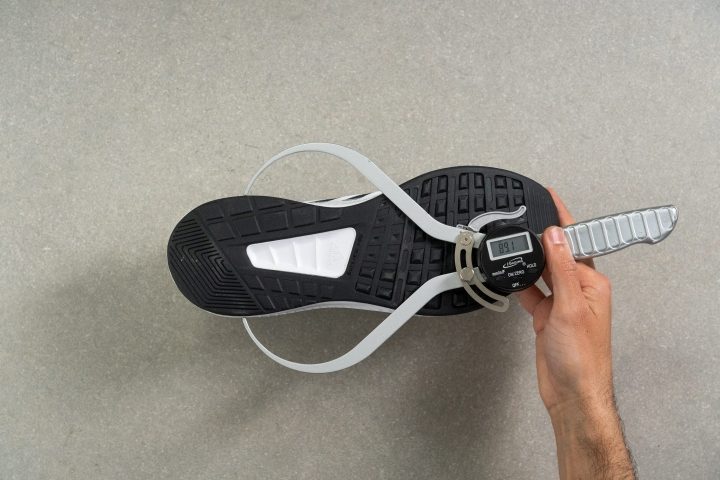 While this shoe may not be wide, its firmness enhances the experience of a guided and stable ride for neutral runners and even those who slightly overpronate.
Looks like the Runfalcon 2.0 hit the buffet...
It weighs 9.9 oz (280g), which is comparable to many daily trainers, but at the same time, it's 0.5 oz (16g) heavier than the previous iteration.
On the plus side, it doesn't feel heavy on foot, running, or walking, so maybe it's a nice trade-off in adding comfort to the upper.
A few durability concerns
It's worth noting that the upper of the shoe might show signs of wear before the outsole. The mesh material appears to be relatively thin, leaving the possibility of developing holes over time with regular use.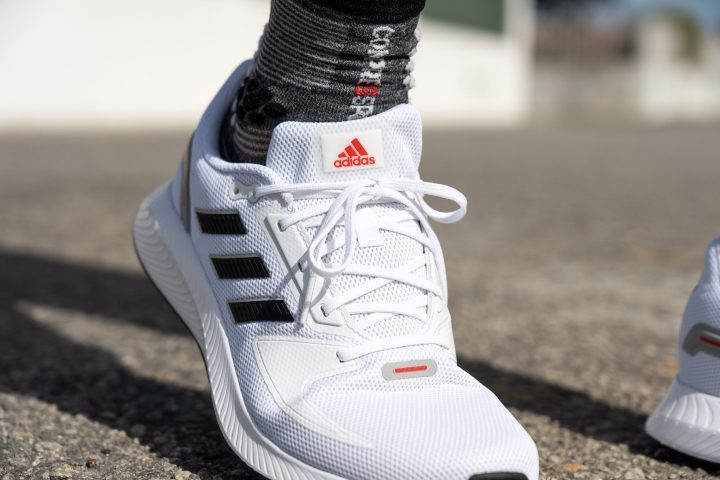 On the other hand, the midsole seems to lack resilience, and after covering a few hundred miles, the EVA material utilized may start to feel as flimsy as a pair of flip-flops you'd find at a dollar store.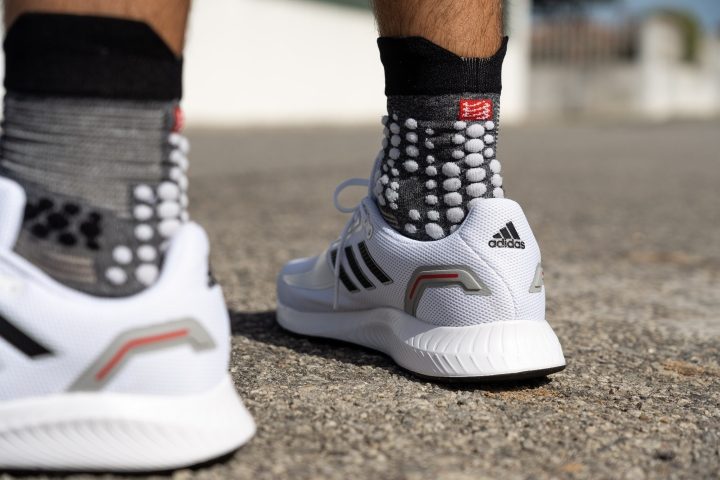 It's important to consider this aspect, especially for those seeking long-lasting cushioning and support throughout their running journey.
Dry and wet: the grip is superb
The shoe is fantastic on road/concrete surfaces. The grip has been good, and we've even got to run in them during some rain and had no issues.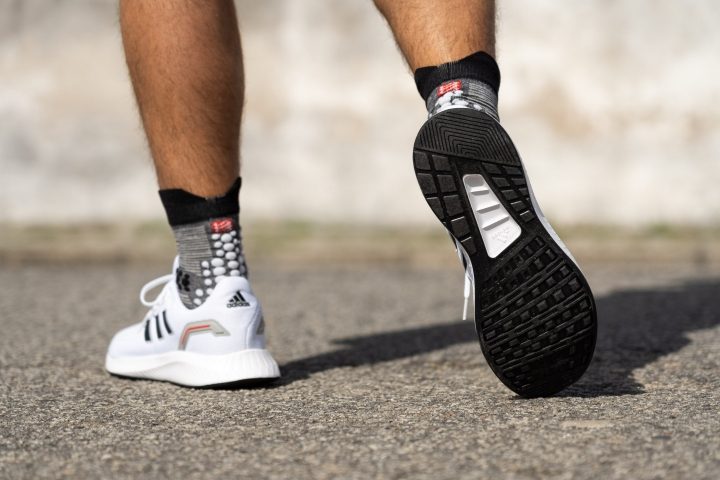 Adidas is renowned in the running community for arguably selling the most grippy and durable outsoles among all brands—thanks to its successful partnership with Continental.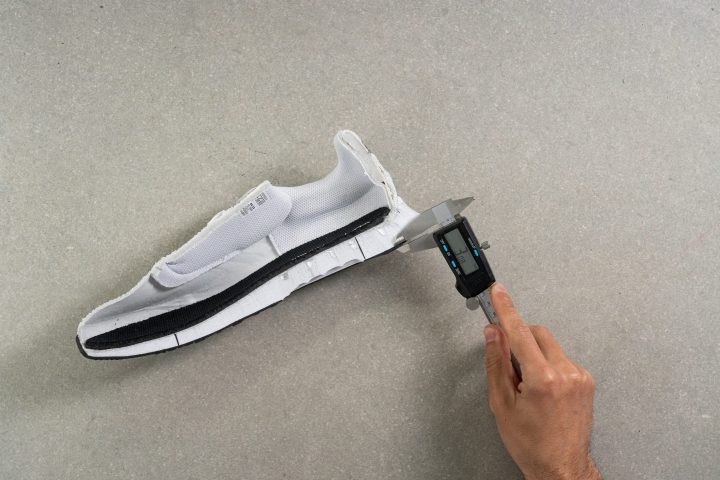 Unfortunately, this particular shoe, due to its low MSRP, doesn't feature a Continental outsole. However, that doesn't prevent it from delivering exceptional security and stability.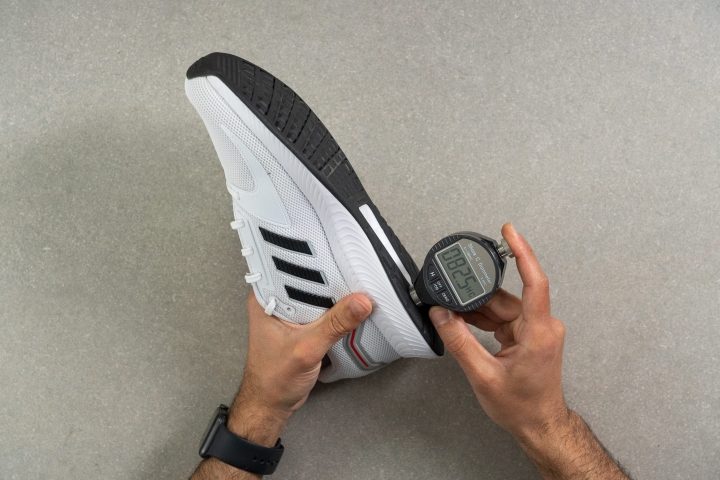 Disclaimer: We average four measurements and eliminate any outliers. This image depicts only one.
With a thickness of 3.1 mm and a hardness rating of 83.3 HC, Adidas played it safe here. The rubber is slightly thinner than the average shoe, but it compensates with a slightly harder composition, resulting in a tie.
Although the outsole is great, Adidas uses the Stretchweb rubber on many of their running shoes, and we think the Runfalcon 2.0 would benefit from this as well, as it would reduce weight without sacrificing traction.
Works best for short and slow runs
This shoe is best for base runs where you are just trying to eat up some miles during the week. It is not a race-day shoe, and trying to run fast in these just isn't going to happen.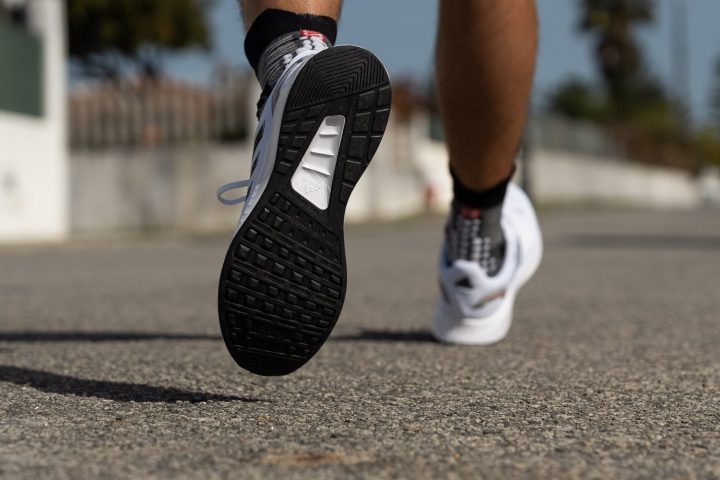 Slow runs are fine as long as it's not too long of a distance (3 to 10 miles per run). If you want to go faster and you want to stay loyal to Adidas, check out the Adizero Boston 11.
Good to go right out of the box
Many shoes need a break-in period, but these already felt broken in. We don't believe an adaptation period will be necessary for most people. The upper and the foam just work at their best from the very first step.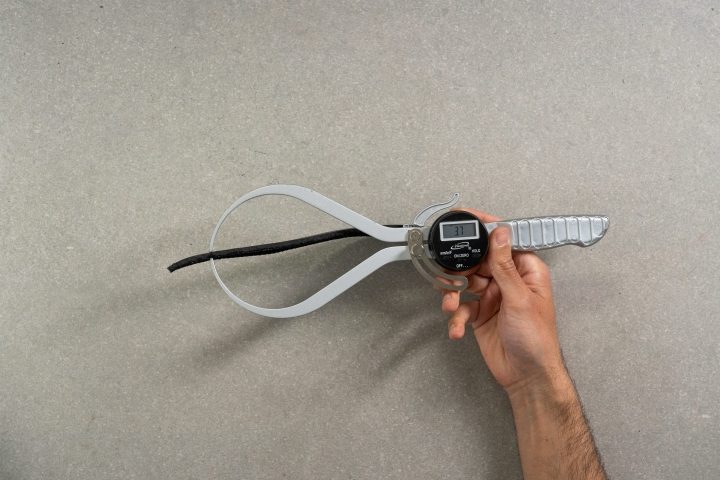 The insole, at 3.3 mm of thickness, is thinner than the average—but it's removable. Feel free to replace it with your favorite one.