The Adidas Questar is a road running shoe that's targeted at beginners and casual runners who want a comfortable, easy-pace running shoe. It's plush and soft; it doesn't hurt the feet. Even better, it doesn't hurt the wallet with its price tag. Overall, if you want a versatile running shoe that's perfect for daily runs and long walks, the Questar will do the job.
Pros
Comfy for recovery days
Soft upper
Lightweight
Breathable for summer runs
Perfect for beginners
Affordable price
Upper made with recycled plastic
Cons
A no-no for wide feet
Hard to put on for some
Who should buy the Adidas Questar
Don't pass up on the Questar from Adidas if you're looking to buy a:
an affordable trainer for beginners and occasional runners
a road running shoe that's cushy for easy days, jogging, and long walks
a breathable shoe for summer runs
a lightweight pair of daily trainers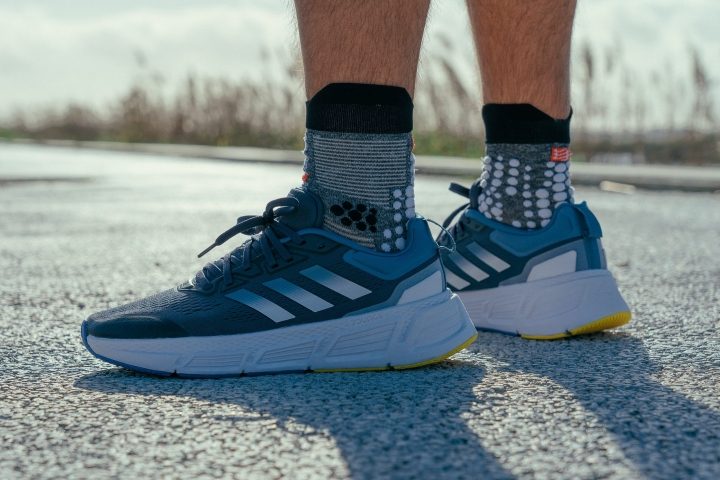 Who should NOT buy it
If you want something for speed training, take the Adidas SL 20.2. It's an Adidas speedster that doesn't dig deep into the pockets. And if you're among the broad-footed runners, the roomy Adidas Lite Racer BYD 2.0 won't disappoint.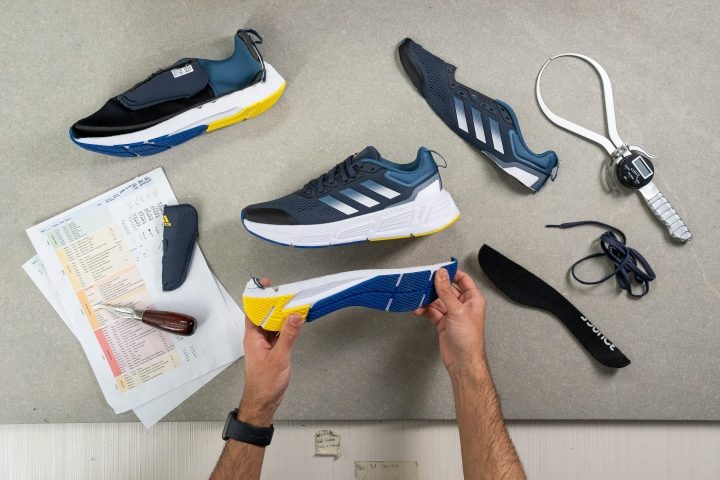 The Questar is ready to take the heat
Those who have logged miles under hot weather conditions agree that the shoe is "very breathable;" they have not experienced any in-shoe sweating. And if you're planning to take it out for summer runs, it comes highly recommended.
Adidas Questar (left), Adidas Runfalcon (right)
Fact check
Based on our smoke and transparency tests, this Adidas shoe receives the highest score in breathability (5 out of 5). The mesh upper material allows the heat to escape easily from the interiors.
Fact check
What's surprising is that the tongue in this shoe is very thickly padded. At 8 mm, it is 2.2 mm thicker than the average.
The Adidas Questar puts a pep in your step
"Bouncy" and "springy" is how a lot of runners describe the midsole of the Questar. According to them, the shoe is so peppy; running in it is a joy.
Adidas fans even compare it to the Ultraboosts, saying that the Adidas Questar is livelier.
Fact check
The Questar turns out to be a moderately soft and flexible shoe.
Checking its foam softness with a durometer, we can see that it sits right at the average of running shoes being neither too plush nor firm. And if we compare it to the Ultraboost 22, the Questar is indeed 20% softer.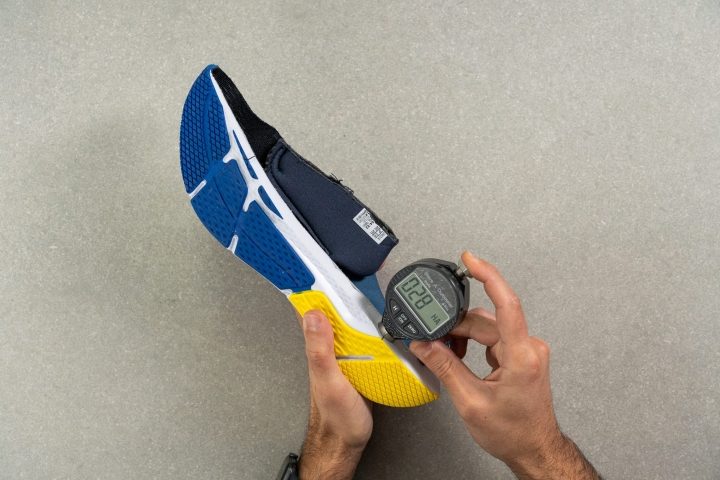 Disclaimer: We take all durometer and flexibility measurements 5 times before noting down the result. It helps to minimize potential errors.
Fact check
Flexibility-wise, the Adidas Questar also shows average results being moderately flexible. In the manual check, we gave it 3 out of 5 on longitudinal flexibility and 4 out of on the torsional one (a little stiffer).
Keeping achy feet at bay
Apart from the spring it offers, the shoe's cushion also makes a really cozy ride. So much so, testers say it's perfect for recovery days and long walks.
Fact check
The Questar is rather well-cushioned with a generous heel-to-toe drop of 10.5 mm. The latter provides extra impact protection for the heel.
The midsole is 32.6 mm thick in the heel and 22.1 mm in the forefoot. Despite the massive look of its platform, this is actually an average stack for running shoes. For comparison, the averages are 32.5 mm and 24.3 mm respectively.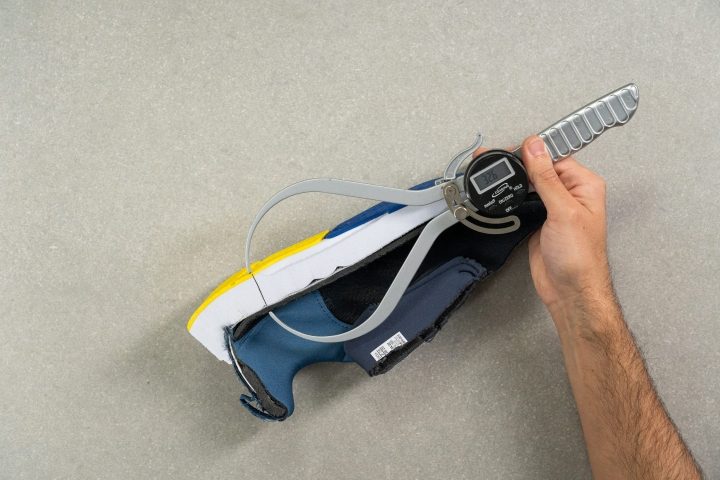 Disclaimer: Our stack measurements are taken with the insole included. In the case of Questar, it is 3.3 mm thick, 1.2 mm less than the average.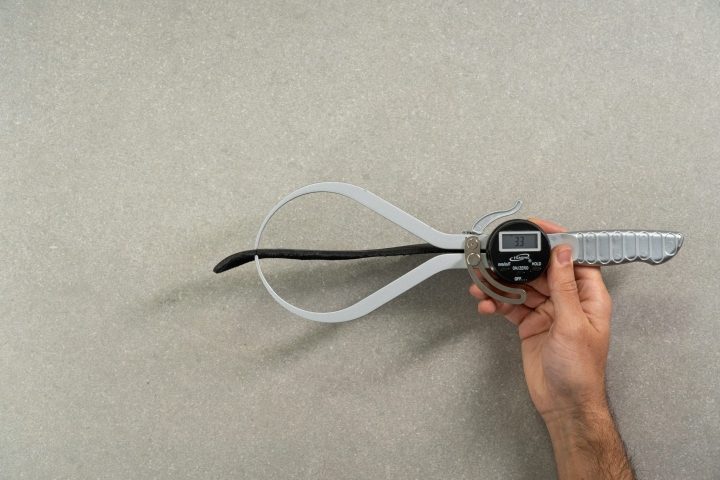 Not for fast runs
The Adidas Questar leaves a lot to be desired when it comes to responsiveness; critics say it lags behind in speed. So if you're looking to log PBs on the pavement, this shoe won't make the cut.
Wide platform adds stability to Questar
To complement its substantial height, this Adidas shoe also comes with a significant sole width.
Fact check
We measured the forefoot at 118.9 mm and the heel at 96.1 mm in their widest parts. For reference, the averages are 111.8 mm and 88.8 m.
This makes the Questar footprint very close to that of the Adidas Ultraboost 22 (117.7 mm and 98.3 mm).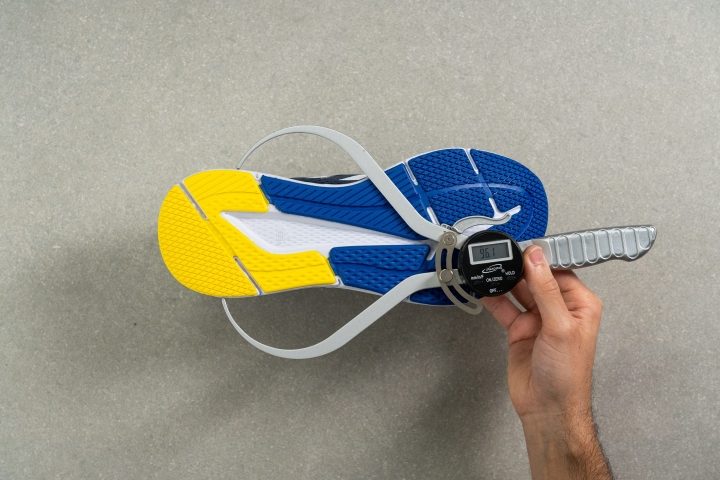 A barely-there sensation
Almost everyone agrees that the Adidas Questar is so light; they completely forgot about it on the run.
Fact check
This is quite surprising given that the shoe weighs 310 g in a men's US size 9. This is 10% heavier than daily trainers on average (280 g).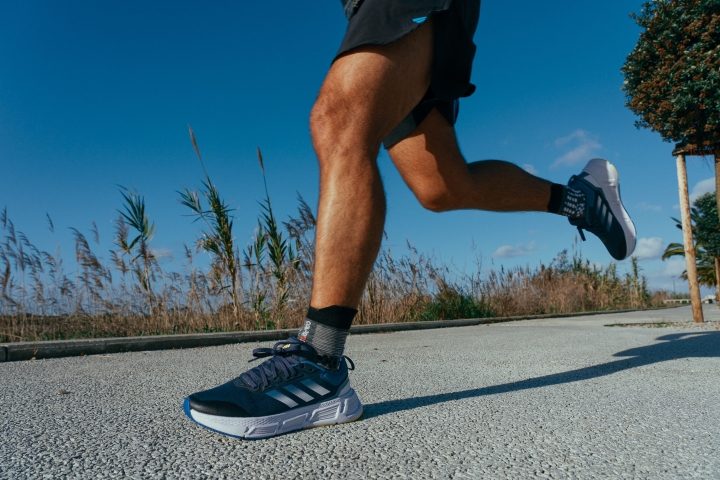 A little more room would do
This is especially true for broad-footed runners. According to them, slipping into the Adidas Questar is hard, given its sock-like wrap. What's worse is it's also not the roomiest up front.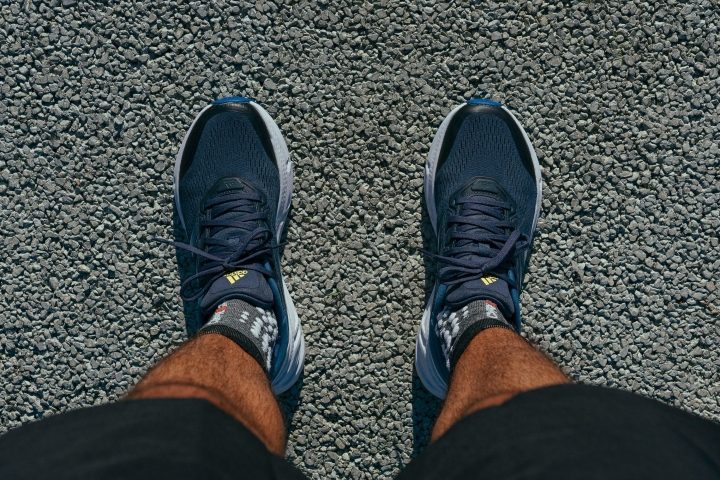 Fact check
In its widest part, the shoe's forefoot is 96.6 mm wide. This is 1.5 mm narrower than the average.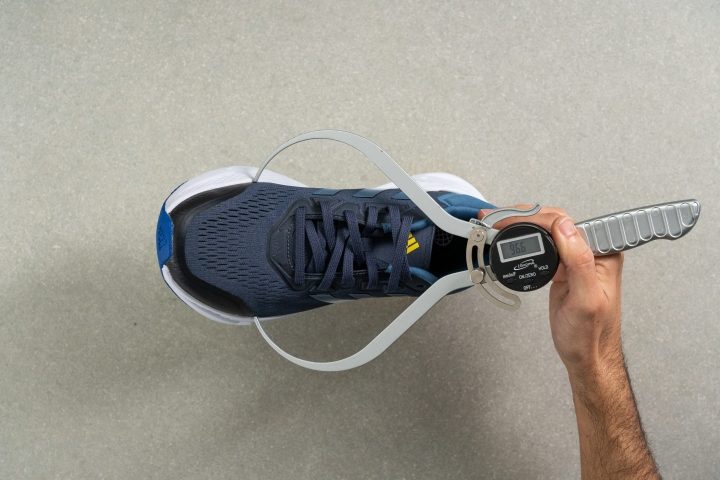 Fact check
However, length-wise the Questar seems to run longer than expected for a men's US 8 size. We measured the internal length at 261.3 mm which falls between US 8.5 and 9 according to Adidas'official size chart. About 14% of users also marked the shoe as running larger than expected.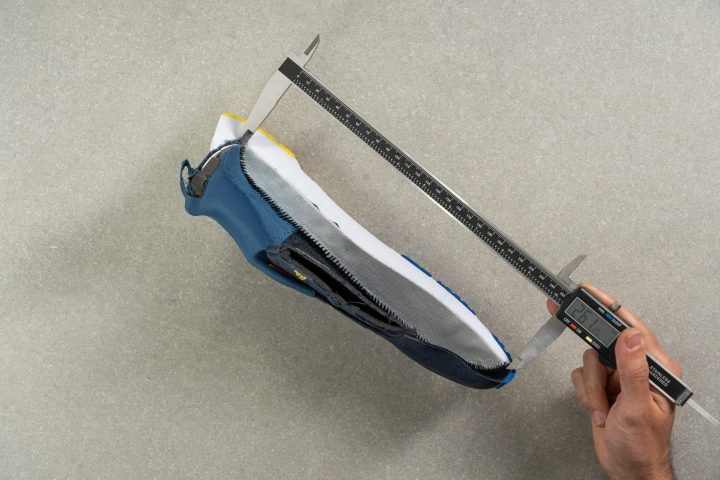 With comfort and the planet in mind
Outside of the soft foot wrap of this shoe's upper, what makes it remarkable is its eco-friendly characteristic. Made with 50% recycled content, it stays true to the brand's goal of eliminating plastic waste.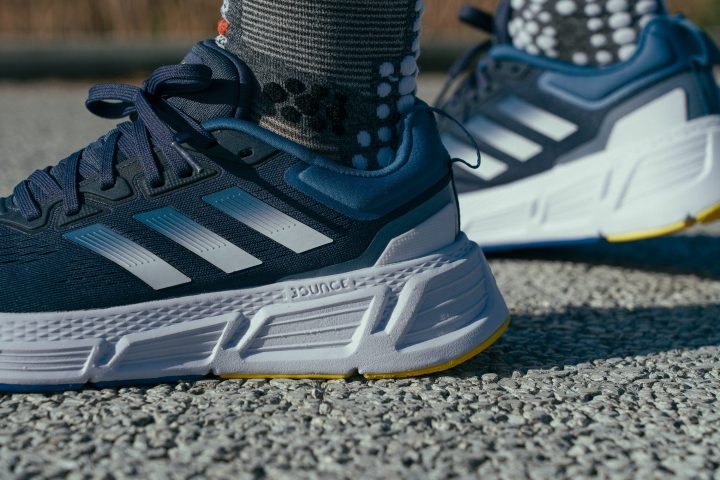 Cuts corners on costs
It only retails for $75, making it one of the most affordable Adidas road running shoes, if not one of the most affordable running shoes on the market.
Fact check
For reference, the average price of daily trainers for road running is $122.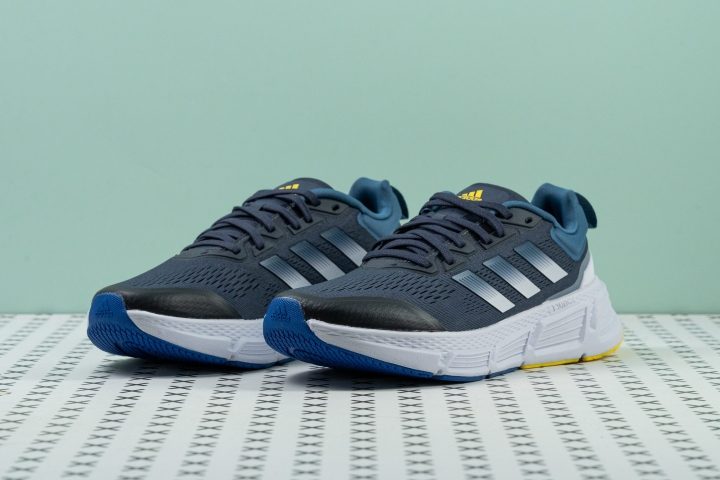 Adidas Questar has promising durability
Unfortunately, no feedback has been given about the shoe's long-term durability. But, we can make some assumptions based on a couple of characteristics.
Firstly, we measured the rubber outsole of the Questar to be 3.2 mm thick. This is a little below the average (3.5 mm) but still within the range of durable road running shoes.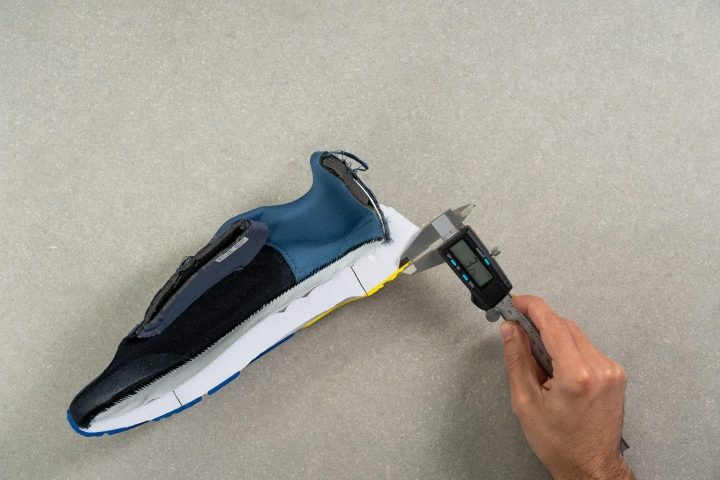 Secondly, the stiffness of this rubber is also a solid average. It is even about 5%-8% denser than other shoes in the budget-friendly category, like the Nike Downshifter 12 or the Reebok Lite 3.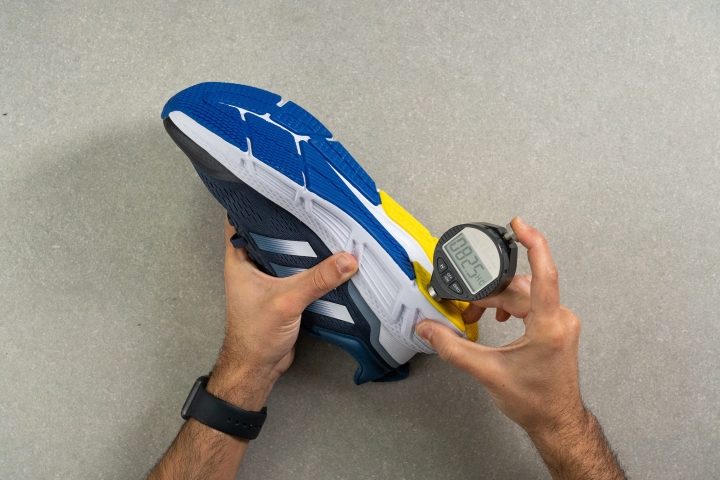 These two measurements can help to predict the shoe's longevity given how difficult it's going to be to wear through the rubber.
Complete lab-specs overview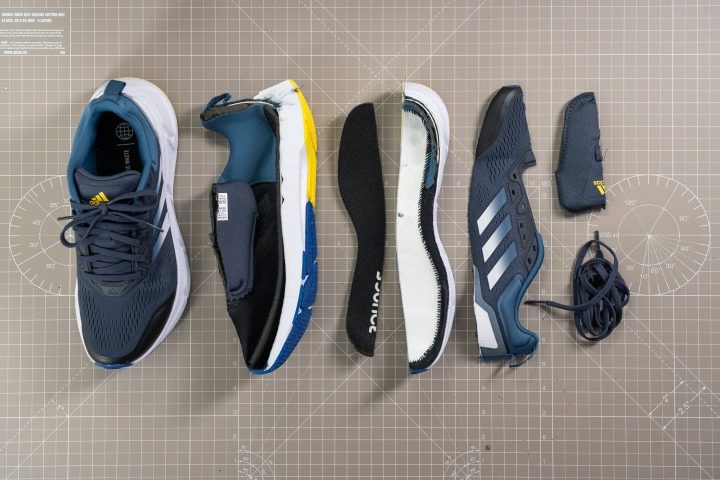 Adidas Questar
Average
Whole shoe

Weight (g)
292
269
Drop (mm)
10.5
8.3
Overall Internal Length
261.3 (men's US 8)
-
Flexibility of the shoe (N)
33.0
30.9
Flexibility of the shoe (Freezer 20 min) (N)
49.0
44.1

Flexibility of the shoe (% of change)

48.6
46.0
Longitudinal flexibility (1-5 scale, 5 being the stiffest)
3
3.1
Torsional flexibility (1-5 scale, 5 being the stiffest)
4
3.2
Upper

Breathability - smoke test (1-5 scale, 5 being the most breathable)
5
3.6
Thickness - Tongue (mm)
8.0
5.8
Width Upper - Forefoot (mm)
96.6
98.1
Width Upper - Heel (mm)
74.1
75.0
Flexibility of the heel counter (1-5 scale, 5 being the stiffest)
3
2.7
Tongue: gusset type
none
-
Heel: pull tab
finger loop
-
Midsole

Width Midsole - Forefoot (mm)
118.9
111.8
Width Midsole - Heel (mm)
96.1
88.8
Stack - Forefoot with insole (mm)
22.1
24.3
Stack - Heel with insole (mm)
32.6
32.5
Durometer Midsole Heel (Room temperature) (HA)
27.9
27.2
Durometer Midsole - Heel (Freezer 20 minutes)
34.6
34.5
Durometer Midsole - Heel (% of change) (TEST)
24.2
26.1
Outsole

Outsole thickness (Heel) (mm)
3.2
3.5
Durometer Outsole Heel (Room temperature) (HC)
81.7
80.8
Insole
Insole Heel Thickness (mm)
3.3
4.5
Insole: removable
yes
-