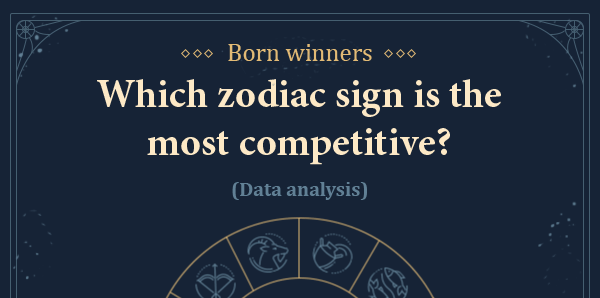 It takes years of practice and persistence to make it to the Olympic's victory stand. We've analyzed more than 16,027 medalists from 51 Olympic games (1896 - 2018) and their birth dates to see which zodiac sign has the kind of persistence and perseverance to compete and succeed at this level.
Results:
Capricorns are well above the others. They have got 1202 medals, which is 58.6% more than the combined average of all the other zodiacs (i.e. 757)
Aquarius and Sagittarius are second and third with 829 and 824 medals.
Leos are at the bottom of the table with only 681 medals.
The top 4 have one sign each from the four triplicities. An earth sign (Capricorn) is on top, an air sign (Aquarius) is second, the fire sign (Sagittarius) is third, and a water sign (Pisces) is fourth.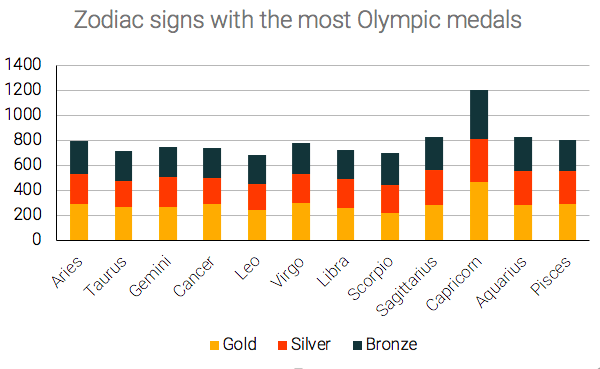 Capricorns have won the most Gold medals, Silver medals, and Bronze medals but the difference is starkest when we look at the Golds. They have won 1.7x times more gold medals than any other zodiac sign.
Capricorn male athletes are even more dominant. They have won 64.9% more medals than their counterparts.
And it's not because there are more people born under Capricorn. It is the opposite.
A study of 2017 census data reveals that Capricorn is the least common zodiac sign all over the US. And according to Astrofame, Capricorn ranks on 8th in the list of most common zodiac signs in the world. Aquarius that is second in our list is listed as the least common while Sagittarius is ranked in 10th position. And yet, the least common zodiac signs have won the most medals.

The number of athletes vs. number of medals:
We also looked at the number of athletes who won the medals to see if we've got more winners or the numbers are skewed by the same athletes winning in multiple events.
The top 3 do not change but Aries replaces Pisces to get on the 4th position. 597 Aries athletes have won an Olympic medal compared to 576 by Pisces athletes. Cancer too jumps from 8th to 5th position with 576 medalists.
| | | |
| --- | --- | --- |
| Zodiac | No. of Athletes | No. of Medals |
| Capricorn | 854 | 1202 |
| Aquarius | 642 | 829 |
| Sagittarius | 609 | 824 |
| Aries | 597 | 797 |
| Cancer | 576 | 741 |
| Pisces | 576 | 806 |
| Gemini | 551 | 744 |
| Virgo | 551 | 780 |
| Scorpio | 531 | 696 |
| Libra | 529 | 724 |
| Taurus | 518 | 713 |
| Leo | 510 | 681 |
Country-level analysis:
Capricorns have won the most medals even when we break it down to the country-level. They're on top for the USA, UK, and France, and only marginally second to Aquarius for Germany.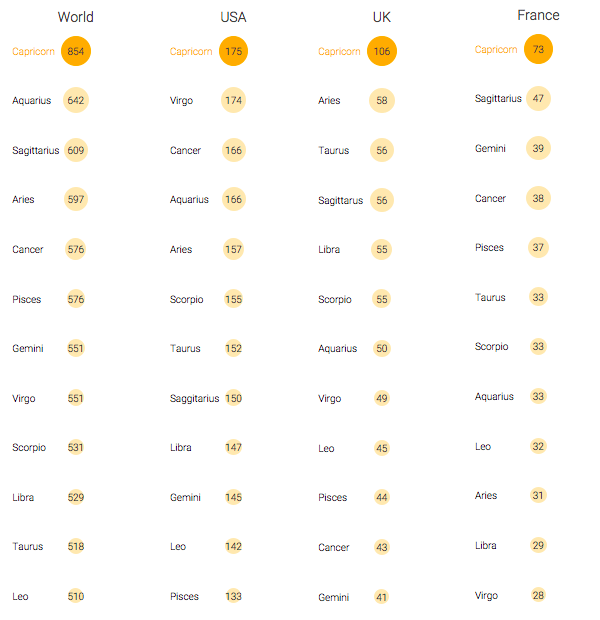 Methodology and omissions:
We looked at the birth dates of all medalists from 28 summer Olympic games and 23 Winter Olympic games from 1896 to 2018. The results and medalists from team events or competitions were omitted because individual performances can affect the results for entire teams.
About RunRepeat:
Small things can make a big difference when you are competing at the top level. Training gear like proper shoes is important for your safety and performance. Run Repeat helps athletes find the best shoes at the lowest possible price. Check our reviews and rankings of the best running shoes, track and field shoes, wrestling shoes, cycling shoes, and weightlifting shoes.
Use of content
Feel free to use any of our findings, text, data, or graphics. We just ask that you credit and link back to this original piece.
For interview requests, questions, or print usage, reach out to Sadi at sadi@runrepeat.com.