Where does your city rank in the Cricket World Cup rankings?
454 cities, 1850 players, 405 matches ... and the winner is?
We know England are clear favorites to win this year's World Cup, with India and Australia not far behind. But which city will be the favorite if cities instead of countries were competing?
I analyzed the performances of more than 1,850 players from 133 World Cup squads and their birthplaces to find the answer. Here are some key findings:
Sydney has produced the best overall talent. It is in the top 3 of almost all rankings, including the best batting, bowling, and world cup final appearances. It will also reach the final if cities instead of countries were competing. But Lahore will most likely beat them in the finals.
Lahore has produced the most players who made it to the top 6 in a World Cup tournament. Colombo and Auckland are second and third. Sydney is on top when we look at the finals with 18 appearances, Colombo is second with 17, and Lahore is 3rd with 9.
Harare has featured the most in a World Cup game followed by Colombo and Lahore.
Launceston has produced the best performing batsmen, followed by Sydney, and Cape Town.
Kingston has given the best bowling performances, Christchurch and Sydney are next.
Lahore has received the most MOM awards but Chandigarh has the best average for cities with more than 50 awards.
And now, some details.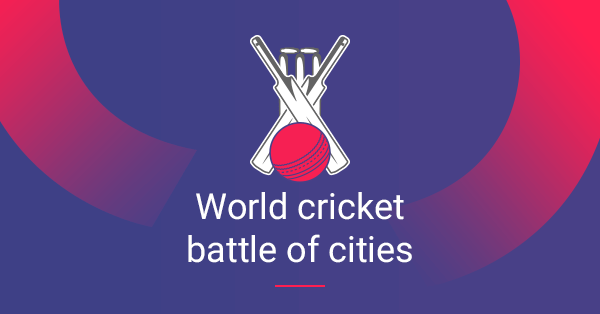 Overall Rankings:
Colombo (89), Harare (64), and Lahore (62) are on the top with most players who made it into the World Cup squad.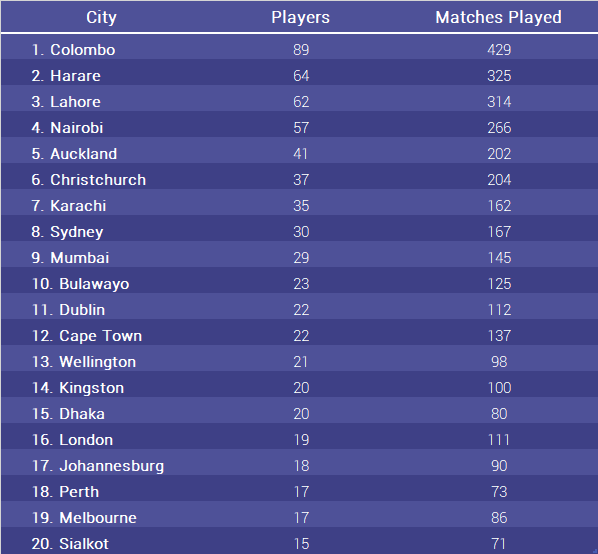 Harare (Zimbabwe) and Nairobi (Kenya) are on top but these cities haven't made a mark in any of these tournaments (other than a few upsets). We wanted to see the city that has actually performed consistently well in World Cup. So, we looked at the numbers for cities that made it to the top 6 in most tournaments.
Lahore came on top with 41 players and 238 matches, followed by Colombo (36), and Karachi (26).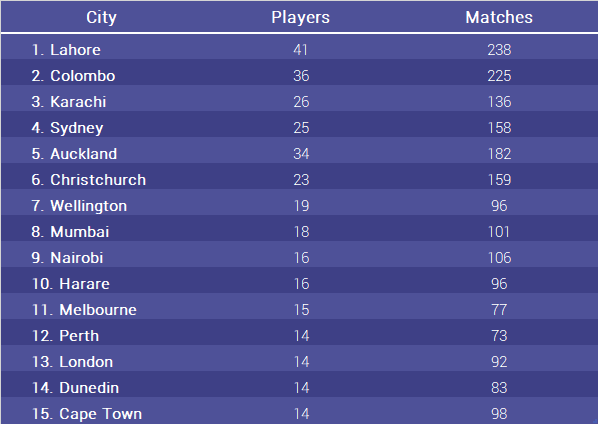 The seven-time semifinalist New Zealand has three cities in the top 10 while Pakistan has two in the top 3. Surprisingly, the five-time winners (Australia) and the second best (India) have just one city in the Top 10.
Which city has the best bowling attack?
Lahore (269), Colombo (206), and Christchurch (160) have taken the most wickets but it is the average that matters. Dubbo (20) has the best bowling average in cities with more than 50 wickets but that is because of the individual brilliance of Glenn McGrath.
Bangalore is second with 51 wickets at an average of 23. Major players include Anil Kumble, Prasad, and Roger Binny, who was one of the main architects of Indian triumph in the 1983 World Cup.
Next, we have Kandy with 72 wickets at an average of 28. This is again a one-man show with M Muralitharan doing the most damage.
We had to look at the cities with more than 75 wickets to get an idea of the overall performance.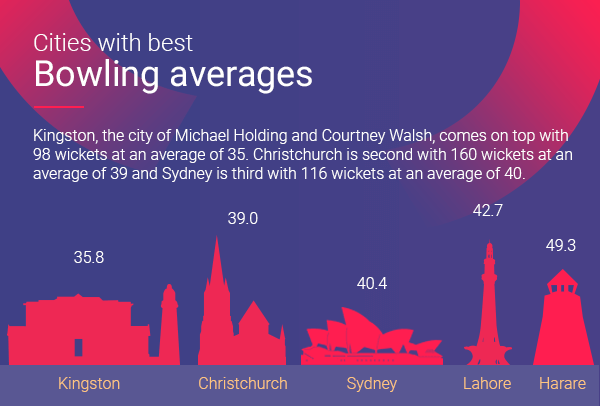 Kingston, the city of Michael Holding and Courtney Walsh, comes on top with 98 wickets at an average of 35. Christchurch is second with 160 wickets at an average of 39, thanks to Richard Hadlee and some very good performances from bowlers like Geoff Allot, Chris Harris, and Anderson. This will probably be further boosted because of Christchurch-born Andrew Stokes (Eng) or Matt Henry playing in this world cup.
Sydney is third with 116 wickets at an average of 40. The Australian city is a powerhouse when it comes to fast bowling with bowlers like Gillespie, Bracken, and Starc, and some very good all-rounders like Allan Border and Steve Waugh. It also has a good chance of taking over the top two with bowlers like Starc, Cummin, and Behrendorff starring in this year's lineup.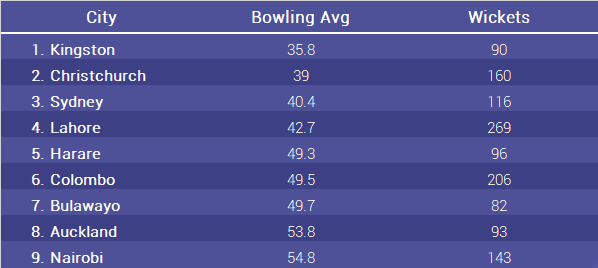 Cities with the best batting lineups:
Colombo (7062 runs), Harare (6129 runs), and Lahore (4803 runs) are on top but that is simply because they have played a lot more world cup matches. St John's (82), Liverpool (82), and Torquay (80) have the best averages but these are mainly due to a single player (IVA Richards, MJ Clarke, and RG Twose).
We have looked at the average for cities with more than 2000 runs. This time, it is Cape Town that comes on top. Not only because of the South African greats like Gary Kristen, Kallis, or Gibbs, but also because of Jonathan Trott (England) and Andy Flower (Zimbabwe), who were born in Cape Town. Launceston with 2657 runs at an average of 45 is second, mainly due to the players like Ricky Ponting, David Boon, or George Bailey. Sydney is third with 4390 runs at an average of 44. It has produced the batsmen like Steve Waugh, Mark Waugh, Clarke, Smith, and Warner.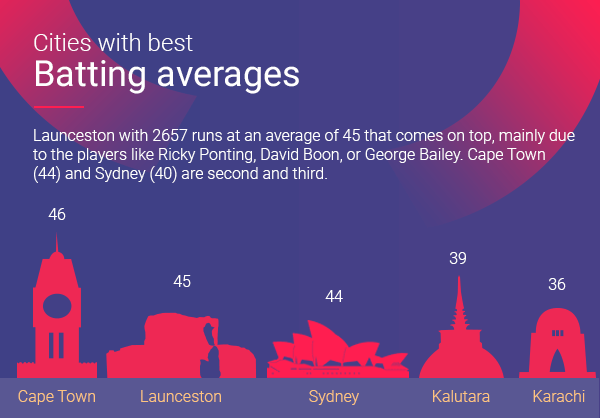 This year, we can expect Delhi to get into the top 5 with players like Kohli and Dhawan. Sydney will get a boost as well with Smith and Warner getting back into the action.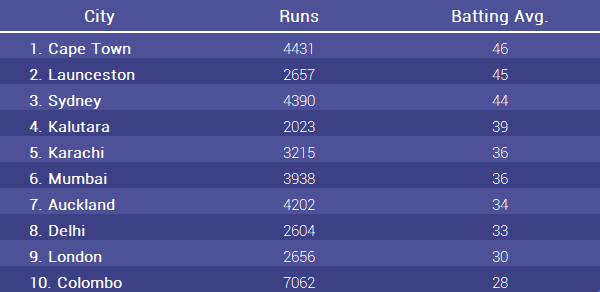 Most MOM Awards:
Lahore is on top with 20 MOM awards, Auckland is second with 14, and Mumbai is third with 12. However, it is Dubbo that has the best average with one MOM every 6.5 matches for cities with more than 5 awards.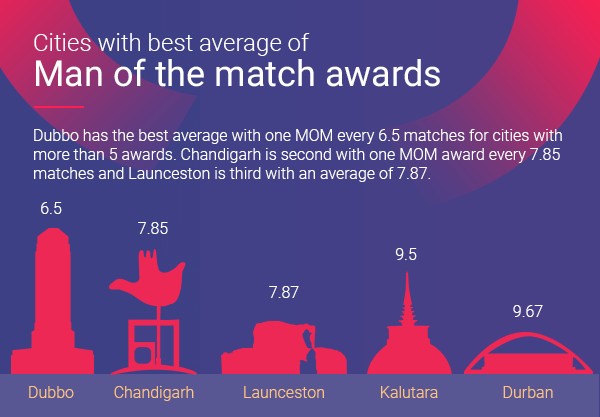 Chandigarh is second with one MOM award every 7.85 matches and Launceston is third with an average of 7.87.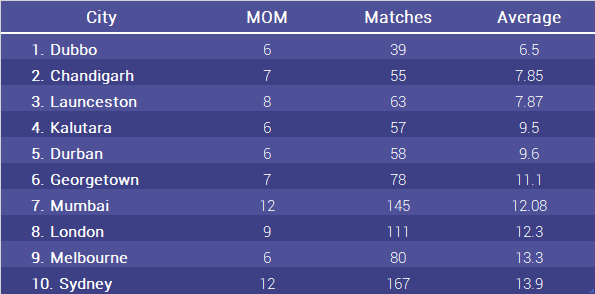 Again, no player from top 3 cities has made it to this year's tournament but Durban has the chance to climb up the ranks with impact players like Colin Munro (NZ), Jason Roy (Eng), Hashim Amla (SA), and Ngidi (SA).
And the winner is?
This is the most interesting part.
We know that Dubbo or Kandy has some of the best bowling performances while St John's or Pretoria has great batting performances but these cities don't have enough international players to field a team of 11 in the World Cup.
There are 31 cities with 11 or more players but cities like Chittagong, Multan, Delhi, Dunedin, Sialkot, or London don't have a lot of good quality bowlers. On the other hand, cities like Rawalpindi or Bulawayo have good bowlers but the batting strength is not there.
We wanted to see which city can field a more balanced team with proven records. We found the following cities with at least 11 players and more than 2 quality bowlers and 5 batsmen in the lineup.
Colombo
Harare
Lahore
Nairobi
Auckland
Christchurch
Karachi
Sydney
Mumbai
Dublin
Cape Town
Wellington
Kingston
Dhaka
Johannesburg
Perth
Melbourne
Port Elizabeth
Georgetown
Durban
Bloemfontein
Chennai
Next, we ranked the top performances by cricket players from these cities to find a potential winner. The players have to perform in at least 3-5 matches to make sure we are not counting the one-off performances.
Cities like Dhaka, Nairobi, Christchurch have plenty of good players but most of them failed to make a mark in World Cup matches. Delhi has some of the best batting talents with players like Kohli, Dhawan, Sehwag, and Ghambir but the bowling strength is not there, except Nehra.
Mumbai, too, has supremely talented batsmen like Tendulkar or Gavaskar but none of the other players have performed well. Same is the case with Karachi and Perth.
Port Elizabeth and Wellington have some good bowling performances but hardly any of their batsmen have performed exceptionally well in a world cup. Kingston has terrific batsmen like Gayle and Russel and equally good bowlers like Holding and Walsh but they cannot win with just 4 or 5 good players.
This is why the above mentioned teams will likely be eliminated early at the group stage. The following six teams have the potential to make it to the second round or super six stage.
Pool A
Lahore
Melbourne
Johannesburg
Pool B
Colombo
Auckland
Sydney
Team Johannesburg has some promising batsmen like Graeme Smith, De Kock, Grant Elliot (NZ), Andrew Strauss (Eng), and a good bowling lineup with players like Rabada, AJ Hall, or Adrian Kuiper. However, it is the performance that matters. There are not enough standout performances from these players in World Cup matches.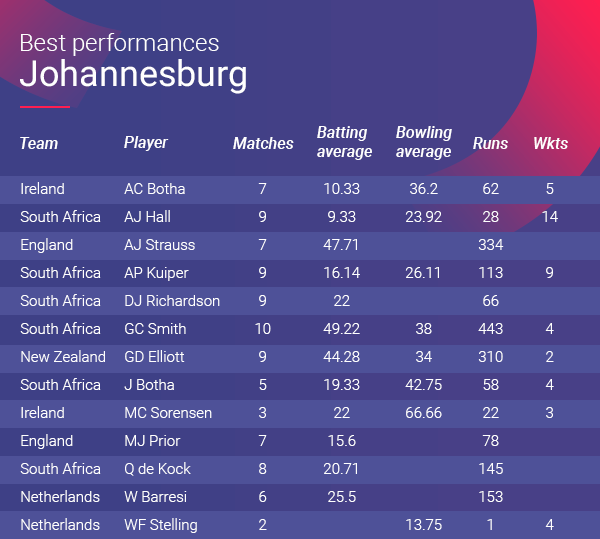 Team Auckland has a strong batting lineup with players like the great Martin Crowe, Guptil, Greatbatch, or Mcmillan. Their bowling strength is not bad with the names like Vettori, Andre Adams, or DJ Nash but it is not good enough to take them into the semi-finals.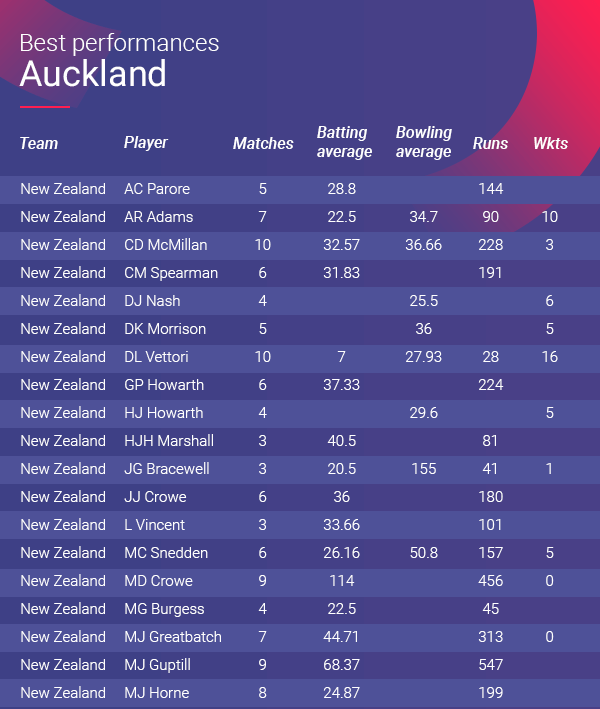 First SF: Melbourne vs. Sydney
Team Melbourne has attacking batsmen like Maxwell, Dean Jones, Yallop, or Hodge. They also have a good bowling attack consisting of the spin wizard Shane Warne, Hurst, or Hogg but they will probably get beaten by a relatively stronger Sydney side.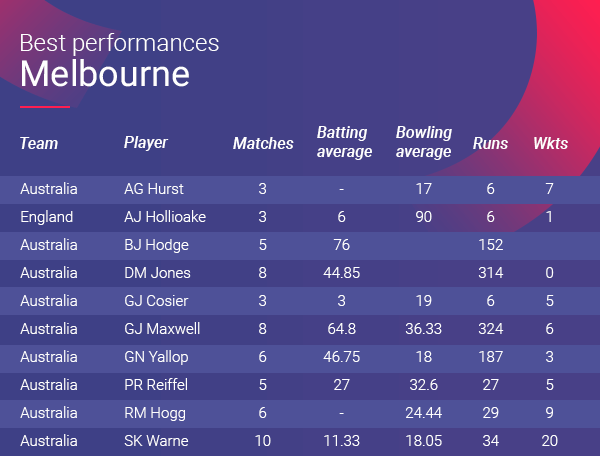 Second SF: Colombo vs. Lahore
This is going to be a close encounter. Team Colombo is a strong contender with reliable batsmen like Jayawardene, Ranatunga, De Silva, Gurusinha, and bowlers like Vaas, Maharoof, Perera, and Matthews. But they will still fall short of Lahore in the semi-finals.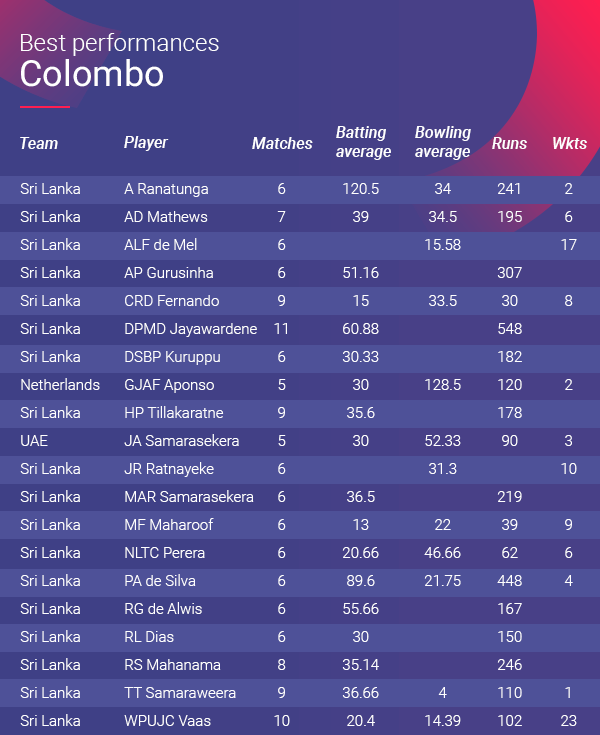 Final: Sydney vs. Lahore
So, the final will be played between a very strong Lahore side and an equally strong Sydney. Both teams having at least 4 - 5 players who were actually part of a World Cup winning squads, including their captains.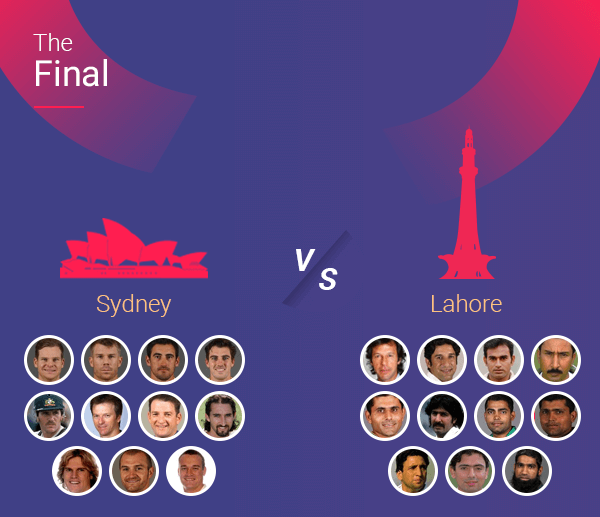 Team Sydney has a batting lineup that will send shivers down any bowler's spine. How do you manage the players like Steven Smith, Mark Waugh, Michael Clarke, David Warner, Allan Border, and the ice-cold Steve Waugh. They will also have one of the finest bowling attacks with Gillespie, Starc, Bracken, and Cummins. They also have the experience to handle high-pressure matches with 18 appearances in World Cup finals, which is more than any other cities in the tournament. But they are short of a good spinner and a proper wicketkeeper.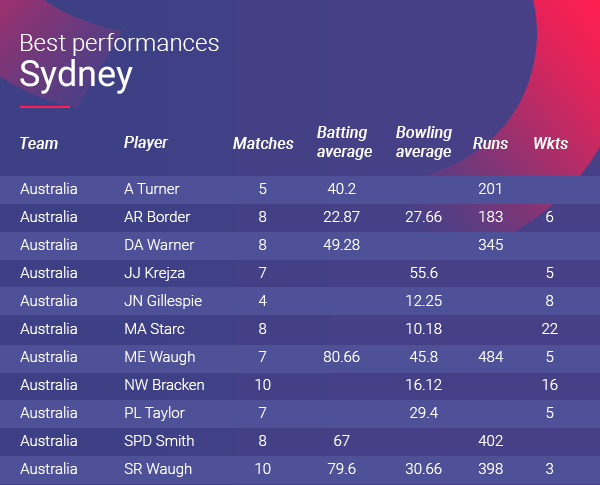 The biggest strength of team Lahore is the bowling attack consisting of pacers like Wasim Akram, Imran Khan, or Sarfraz Nawaz, and two of the best spin bowlers in ODI history i.e. Abdul Qadir and Saqlain. The backup is pretty strong too, with Abdul Razzaq playing as an all rounder and Imran Tahir (SA), and Wahab Riaz waiting on the bench.
The batting lineup is not as strong as Sydney but it's not weak by any means. We have reliable batsmen like Mohammad Yousaf, Aamer Sohail, Saleem Malik, Babar Azam, and Umar Akmal, and more than capable all-rounders like Imran Khan, Wasim, Akram, and Abdul Razaq. Plus, they have a proper wicket-keeper batsman in Kamran Akmal.
Also, the fact that Imran Khan is unarguably one of the greatest captains in Cricket history will only improve their chances of lifting the World Cup.
However, this is all hypothetical. We have shared the players' performances for each of these teams and we'd love to hear if you think differently.
Database:
In this analysis, we looked at the cities of birth for 1,866 players who were part of a Cricket World Cup squad. We couldn't find the data for 112 players. If a player has made it to 2 different tournaments, it will be counted as 2 players because the city has gained a place in 2 different squads.
Use of content:
You are free to use any stats, text, or graphics from this page, as long as a reference is given to this original piece.
Reach out to Sadi Khan at sadi@runrepeat.com for any requests or questions about the article.
About RunRepeat:
RunRepeat helps you pick the best sports shoes at the lowest possible price. Feel free to browse our categories and ranking pages to find the best running shoes, sneakers, basketball shoes, and football shoes.