We looked at the playing time of 3,222 players, from 129 different nationalities, who have played in MLS. The aim of our analysis was to identify how the playing time of US and international players has evolved in MLS as it has become a more established league.
Key Findings
The share of US playing time in MLS has:

Decreased 43.58% since the first season of MLS
Decreased 29.53% in the last decade.

The share playing time has increased 156% since the first season of MLS for Europeans and 145% for South Americans
Over the last decade, South American playing time has increased 85% and European playing time has more than doubled (103% increase)
In the first 10 season of MLS, there were only 3 occasions where more than 50% of a team's minutes did not got to US players (New England Revolution 1998, FC Dallas 2002, Chicago Fire 2005)
In 2011, 14 (of 18) clubs gave more than 50% of playing time to US players. Only 6 (of 26) clubs did the same in 2020.
Europe and South America take over the US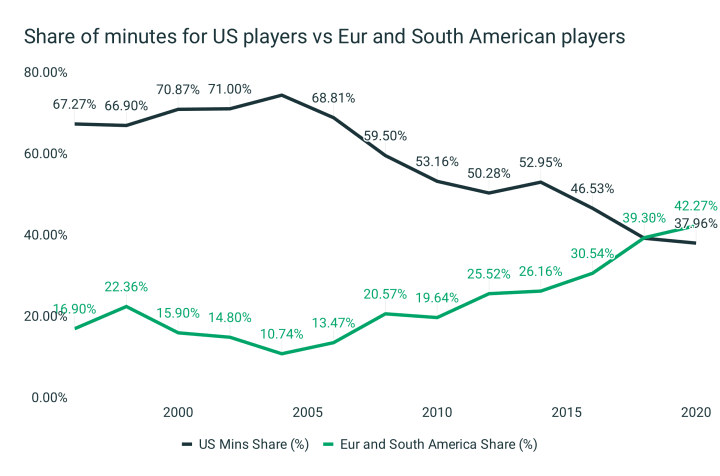 In the first MLS season, 67.27% of all available minutes went to Americans. In 2011, US players played 53.86% of the entire playing time in MLS. This figure has consistently decreased since then, especially in the last five seasons.
In the 2020 season, US players played only 37.96% of all playing time. The US share of playing time in MLS has decreased by 29.53% since 2011 and 43.58% since that first season.
Meanwhile, European share has increased from 7.89% in 1996 to 9.96% in 2011, way up to 20.20% in 2020.
South American share has jumped from 9.01% in 1996 to 11.93% in 2011 all the way to 22.07% in 2020.
The combined share has increased 16.90% to 42.2%.
Which teams play the most Americans?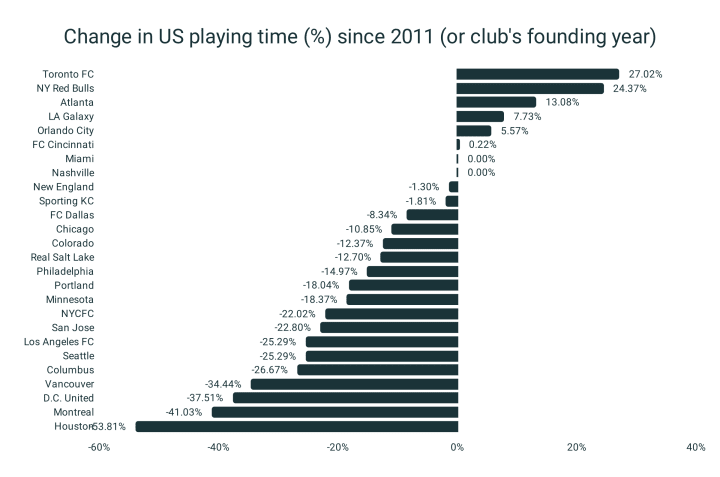 Only five clubs show an increase in the share of playing time of US players since 2011, and only two of these were in existence in 2011.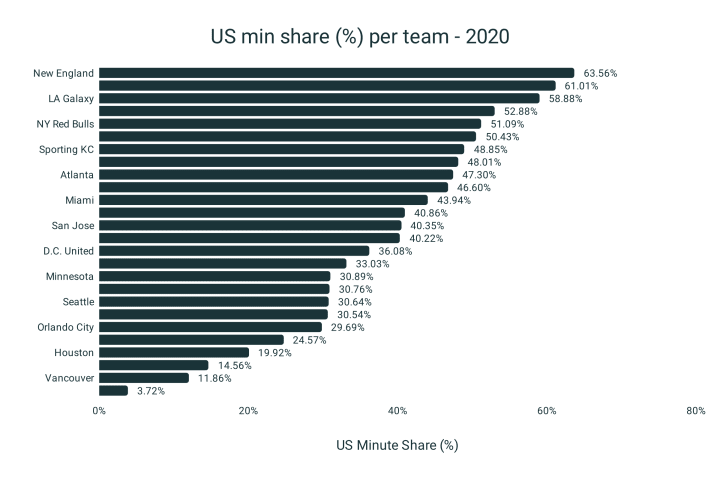 Only six out of 26 teams gave more than 50% of playing time to US players in 2020. Ten years back, 14 out of 18 clubs had done the same. Of the four clubs that didn't give US players over 50% playing time, two were Canadian.
Among the US clubs, Los Angeles FC (14.56%) , Houston (19.92%) and New York City FC (24.57%) were responsible for giving the least amount of time to the domestic players.
Meanwhile, New England (63.56%), Nashville (61.01%), LA Galaxy (58.88%), FC Dallas (52.88%) and NY Red Bulls (51.09%) were the five clubs with the most playing time given to the US players.
Conclusion
There is always a balance to be struck between importing foreign players to improve the quality of the league whilst not limiting the opportunities for young, local players coming through.
We have seen situations where teams like Arsenal have fielded entire starting XI's without a single English player. This clearly limits opportunities for local players but playing with and against these players arguably improved the English national team and playing against top managers has arguably improved the quality of English coaching.
With the USMNT already struggling in World Cup Qualifiers, it may be the time to take a look at the data and make a decision on whether things are moving in the right direction or not.
Don't forget to kick a ball this fall
Following a tumultuous year, it's finally getting better for the sports fans. The crowds are coming back to stadiums, and this summer brings a lot of promise to soccer fans. If you plan to go out and kick a ball or two, don't forget to check out our website for soccer cleats. At RunRepeat, our main objective is to be your best guide in finding you perfect soccer cleats. Our scoring algorithm, CoreScore, ranks every soccer cleat available in the market based on real user and expert reviews from around the globe. Our guide for the best soccer cleats, based on 164,376 user ratings and 469 expert reviews, contains the most thorough analysis of soccer cleats available in the market.