Verdict from 7 experts and 100+ user reviews
5 reasons to buy
The minimal weight of the Nike Zoom Fly SP made it fantastic to wear during race days, several runners stated. Others found the shoe to perform excellently on short and slow runs.
The Lunarlon midsole was very responsive, a reviewer said.
The various technologies in the shoe were all groundbreaking, according to a content customer.
A couple of wearers remarked that the translucent upper was lighter than the Flyknit material.
A lot of users said the Zoom Fly SP was one of the most comfortable shoes they have ever worn.
3 reasons not to buy
A few testers commented that the shoe ran small.
The material that goes over the toes felt odd and uncomfortable, a user observed.
The shoelaces came undone easily, even with triple-knot ties, according to a wearer.
Bottom line
Many users were very pleased with the Nike Zoom Fly SP. Some have even gone to mention that they hoped to find the shoe's technologies in other future productions from the brand. Others also expressed their satisfaction by saying they wanted a trail-running version of the shoe. Although there were negative comments about sizing, with the majority of praises it received, it is easy to see that the Zoom Fly SP was a successful release.
Tip: see the best running shoes.
Our reviews
Note: I am a 42-year-old runner, about 170 pounds and 6' 1" tall. I race all distances, from 5ks to Marathons, and spend at least half of my year training for an upcoming marathon.
A try, at last
Well, I finally waited long enough to be able to try out the new Nike running technology that has been on my radar for the last year.
I have been wanting to get into the Nike Fly Zoom SP ever since I stayed up past midnight to watch Nike's Breaking Two attempt with Eliud Kipchoge coming within 26 seconds of a sub-2-hour marathon, last year.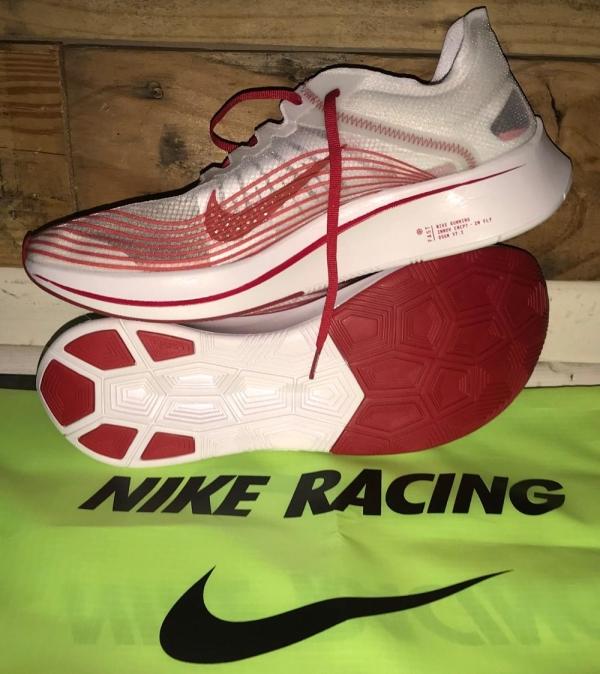 Supposedly, the technology gave them an advantage. Whether it actually did, or not, the Zoom Fly running shoe has been flying off the shelves for more than a year now.
Finally, I was able to get my hands on a pair to test for myself, since the supply has increased and the technology has changed a bit with the Zoom Fly SP. They cost me $150 which is not too unreasonable considering their competition.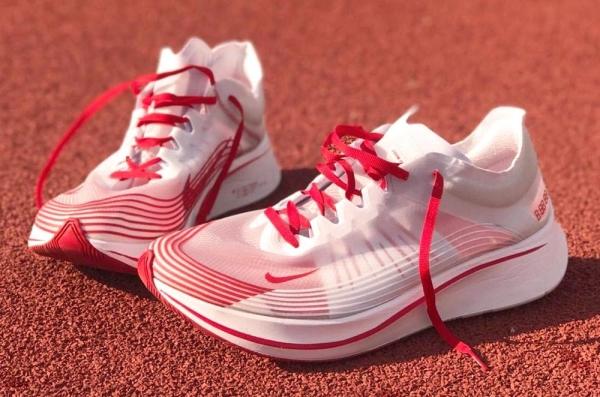 Shoe Length
I ordered the size I usually wear for every shoe during marathon training, and immediately I realized the Zoom Fly SP was going to be snug. Unfortunately, my feet completely filled the length of the shoes.
Any other shoe, I would have returned them for another pair, but since I would mostly use this shoe for races and speedwork, I decided to keep them. Another variable that helped on the short shoe length is the material used on the upper is very flexible, giving way as needed.
Toe box
Nike has a great design when it comes to the toe box. While midfoot is a little tight – again, by design – the toe box is sufficiently wide for my feet. My toes have plenty of space to flex and splay as needed.
Heel/Arch Support
The heel-to-toe drop in the Zoom Fly SP is 10mm, which is a pretty good drop.
This drop helps relieve some pressure on the heel and Achilles tendon. This shoe is part of Nike's "racing" equipment, so it has somewhat of a racing flat feel, in spite of the high heel-to-toe drop, so the arch support is adequate, but not great.
Upper
I am not too certain what the upper material is made of. It is definitely breathable, but it feels rubbery. It is also very flexible.
The laces are extremely lightweight racing-style ribbons. The laces are connected to flexible exposed straps that wrap around the foot, providing a little obstacle when sliding the shoes on. Once laced up, however, the shoes feel almost painted on my feet.
Midsole/Outsole
The Nike technology in this shoe is showcased in the midsole and outsole. Starting with the midsole, Nike has provided a stiff, springy plate that makes the shoe less flexible, but almost like an inner spring that propels you forward.
The heel and forefoot are surprisingly cushioned for a racing shoe. The combination makes for a very fast, nimble shoe.
General Function
So far I have put 130 miles on my Zoom Fly SP running shoes.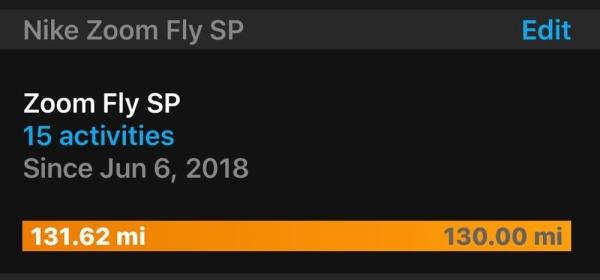 I have used them for all of the runs listed to the left, and they are designed for the runs ranked from best to worst. Obviously, these shoes are built for speed, but with the exceptional heel cushioning they work well for all runs, really.
Performance
The greatest experience I have had so far running in this shoe has been setting a new Personal Best in the 5K and finishing in 2nd place overall.
I give a lot of credit to these shoes. From the 5K race to a 19-mile long run, the Zoom Fly SPs are superb.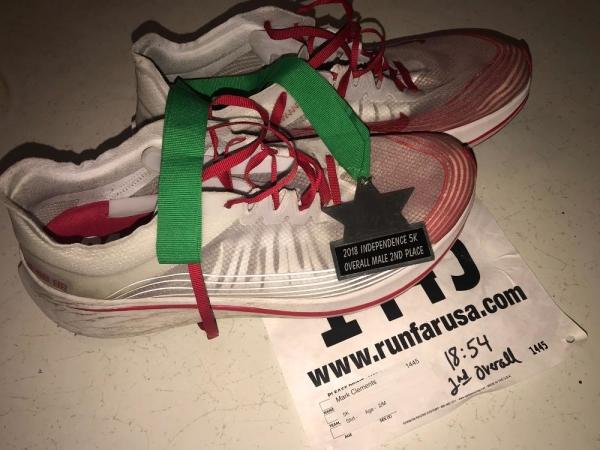 Expected Lifespan
Since this shoe is built for racing, ideally one would only use these for racing or speedwork. If that is the only use, these may last forever.
With 130 miles on my pair, noticeable wear only shows up on the outer heel, but hardly any wear shows on the forefoot. At this rate, I think the shoes would last to around 300 miles, much longer if they are only used for speedy runs with mid- to fore-foot landing.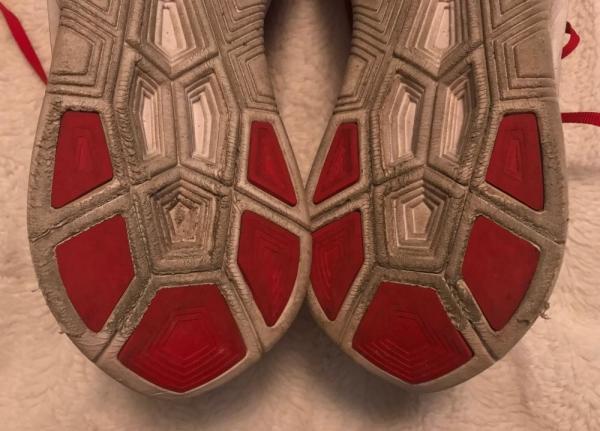 Pros
Lightweight
Great cushioning
Midsole propulsion
Snug fit
Wide toe box
Cons
Too short to size
Lifespan may be short
Final Thoughts
If you are looking for a great racing shoe for the 5K to Marathon, the Nike Zoom Fly SP is a tremendous option.
I am sold on the technology and the results speak for themselves. I would buy these again, especially if the price comes down a bit.
Check out my video here:
I am 172 cm and 72 kg guy, and I love running whenever I find a chance. So, my running distance changes between 5K to Ultra Marathon depending on where and when I am running.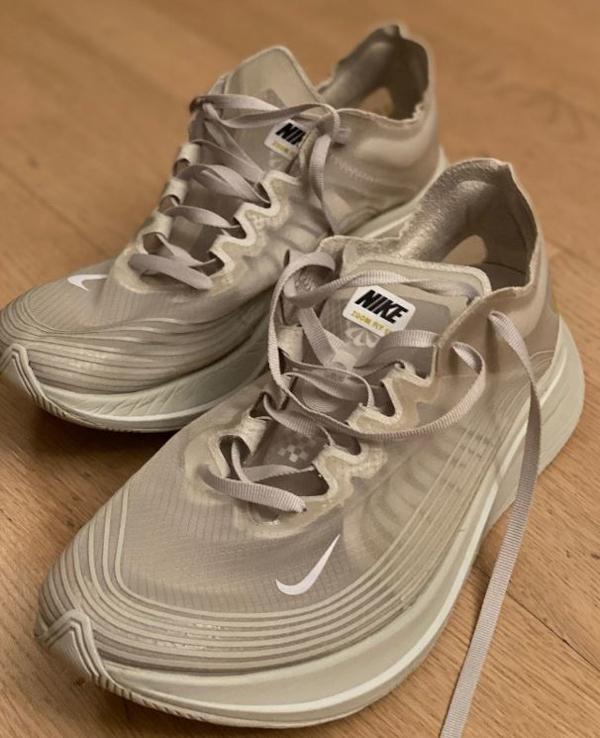 Even though my favorite is trail running, I do most of my exercises on paved roads at least three times a week. Also, I use neutral arch type shoes.
I bought Nike Zoom Fly SP for semi-marathons as it is designed for racing, and I am not disappointed. The thing that makes this shoe special is its support in long-distance high pace runs.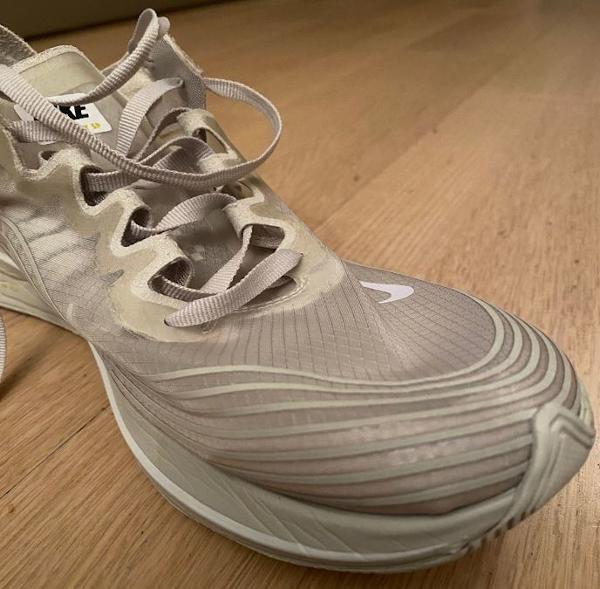 Let's look closer at the details.
Upper
The upper is a standard mesh replaced with translucent material across the upper. It looks different and a bit weird, especially with dark coloured socks.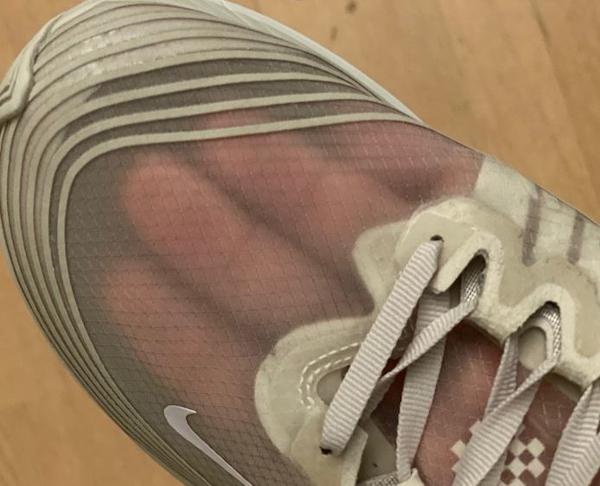 I don't like this transparent construction. But, we should keep in mind that the reason for this is to reduce its weight. And yes, it is light enough.
Besides its appearance, the material is durable enough for long distances even if it is so thin. So far, I have put more than 100 km, and I have not observed any sign of wear.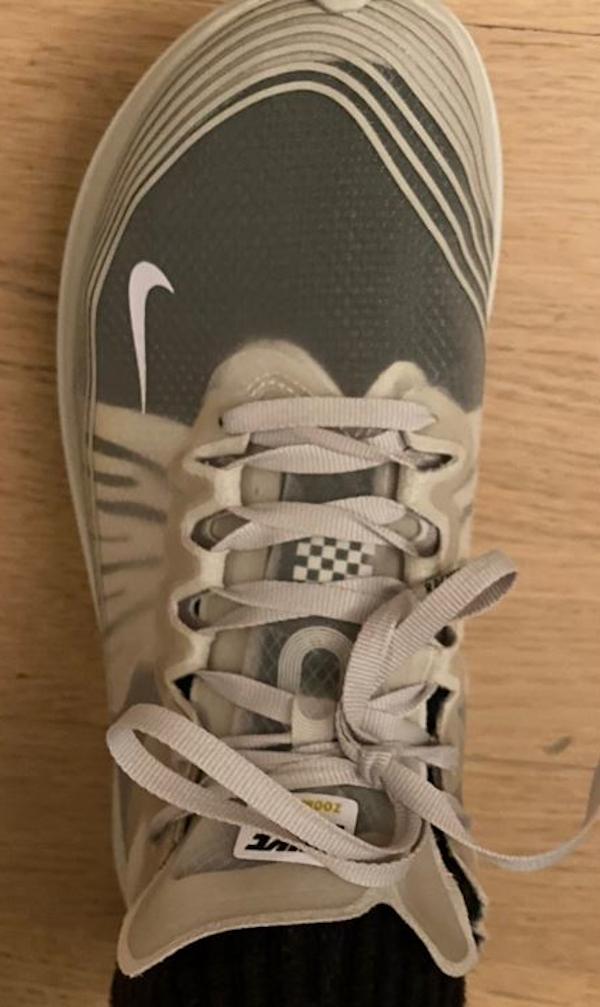 This translucent feature provides breathability and ventilated ride for long-distance races—quite useful.
Midsole
The midsole has a balanced combination of soft and firm material. This is a carbon-influenced plate placed for support and energy return. You feel it very well when you start running.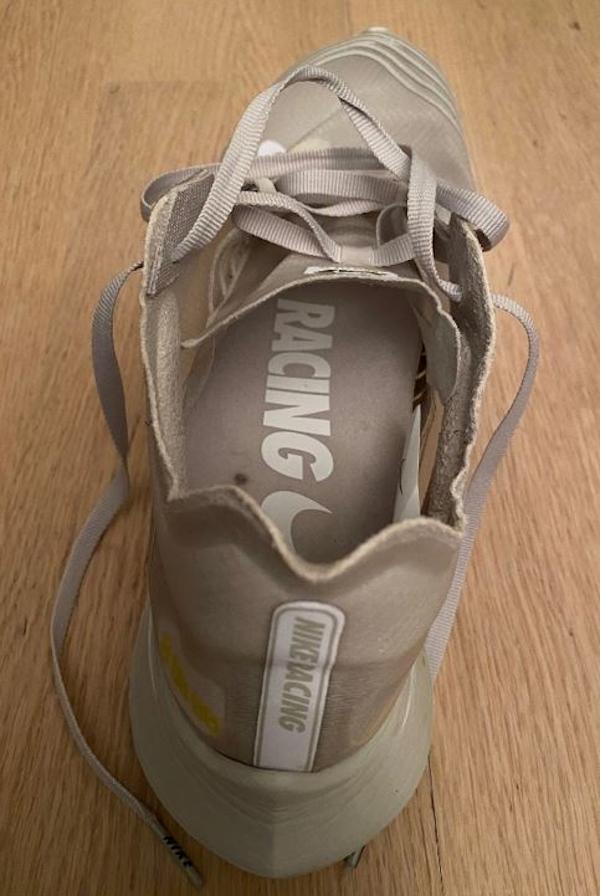 The midsole provides the cushioning you need for long distances without eliminating the responsiveness of the shoe. But, don't expect a super comfortable shoe as it is not the priority for obvious reasons.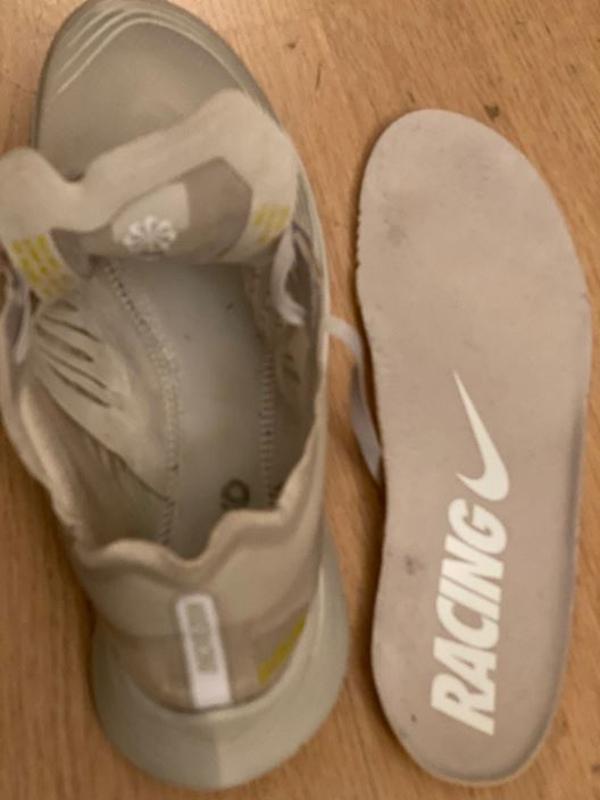 One criticism here: I think it is designed for straight road runs with minimum turns. I had some difficulty at turnings, where I felt pain in ankles.
I took the same route with different shoes just to test if I feel the same problem. Unfortunately, this is the only one that puts extra force around the ankle. I could not find the reason, but it might be something related to me individually.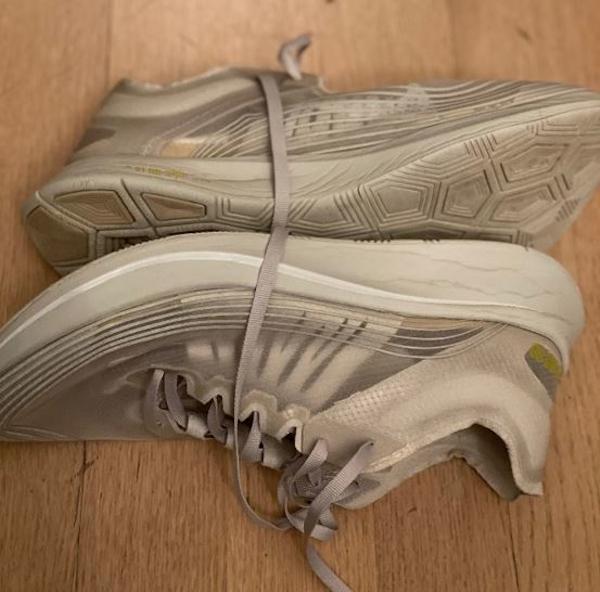 Outsole
High-quality, durable material makes up the outsole. The pattern is designed to provide traction for different surfaces. This is true, but not quite effective on wet paved roads.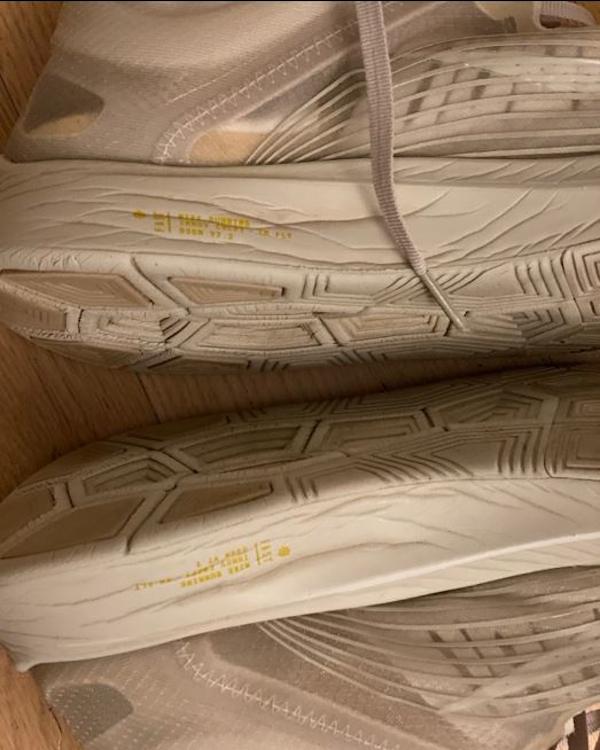 At the heel area, there is a carbon rubber to add more durability as this shoe is designed for heel strike pattern. Thus, it is suitable for my running style.
Lacing system
I am not impressed with the lacing system of the Fly SP. The tongue does not fit very well, and it takes a bit of time to fix it before running.
Probably, it is because of the material they used. In the beginning, I thought this would be the killing point, but I should admit I have not felt uncomfortable during runs.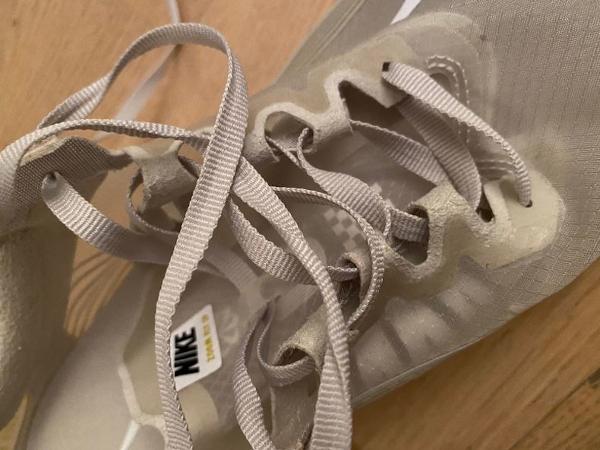 Don't forget: this is a neutral arch type shoe designed for competition. Even though you can use for daily running, you get the maximum benefit at high paces. Thus, evaluate this shoe as a running gear.
If you don't exercise too often and don't run at high paces, you may find this shoe a bit stiff for yourself. In the first trial, it can be a bit odd, but give yourself some time.
I am sure you will appreciate the assistance of this shoe eventually. By the way, you don't need a long break-in period.
It is a fact that this is not for daily use, so I would not merely buy for its appearance. Please consider Nike Zoom Fly SP in the racing shoe class.
This shoe is a bit small to size. It is recommended to go for bigger than normal size. Also, it could be misleading to order online, so it would be better to try the shoe first for the correct size.
The toe box is a bit tight. My usual size is 42 ½ EU, but I regret I did not buy 43. If your shoe size is like mine and you want enough room at the forefoot, you may even try 43 ½ EU.
Regardless of its thick appearance, it is a very lightweight shoe for sure. Overall, Fly SP's performance is impressive. It gives enough cushioning for low pace short distance runs but shows its actual characteristics when you speed up.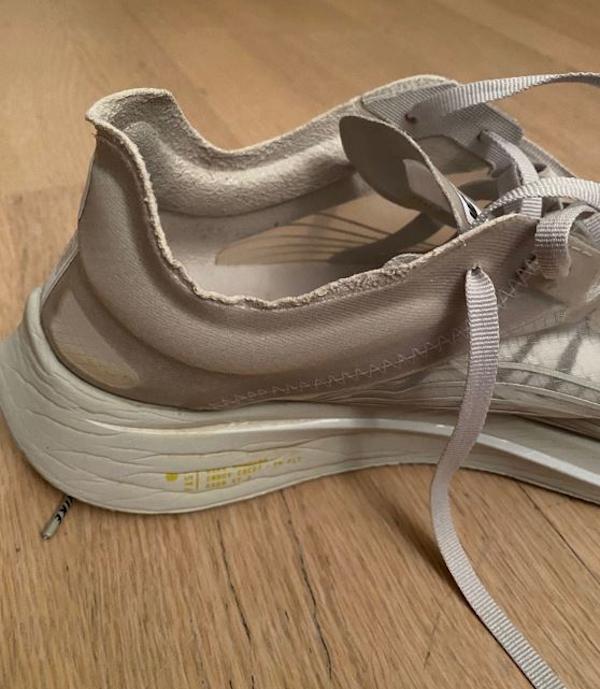 I pushed up to 4:00 min/km pace and was satisfied with what I felt. It has enough cushioning for your knees for long distances while also responsive and supportive for racing.
The shoe returns some of the energy to you. This is definitely designed for marathons, and it does the job very well.
Nike Zoom Fly is the best running shoe I tried by Nike. I could not understand why they use "Zoom" in the name. It is so different than the other "Zoom" family members.
For example, my Pegasus 35 is not even close to this performance. So, I believe "Zoom" means something else here. So, please keep in mind this is not a classic Nike "Zoom" performance.
Conclusion
This shoe is designed for running long distances fast. Overall, I am impressed with its performance.
Pros
A very balanced amount of cushioning without losing responsiveness
Suitable for long-distance races as well as daily training
Supportive and responsive
Breathable upper
Cons
Tongue and lacing system could be better
Traction is good except for wet surfaces
Doesn't work very well at turnings as it does for straight roads
Small size
As a passionate marathon runner with a scientific background, Nike's Breaking2 project got my full attention.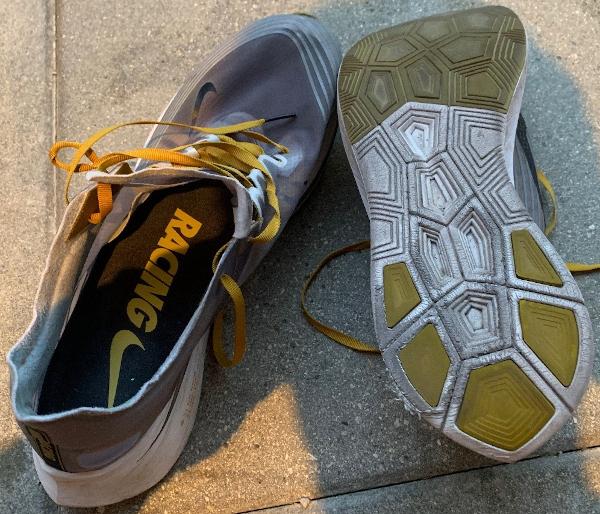 Two hundred miles and still in good shape. Don't worry, grey is their out-of-the-box color!
It also marked the beginning of a new era in shoe innovation, which saw other brands (e.g. Hoka with the Carbon X) trying to follow the footsteps of Nike's iconic Vaporfly 4%.
And, my take on this: Nike started a whole new category.
The Zoom Fly series comes in various "flavors" such as the Zoom Fly, Zoom Fly Flyknit and the SP.
This series is slightly more affordable and more "runnable" for the non-elite runner who does not have a Kenyan foot strike. It is also widely available in stores, unlike the Vaporfly 4%.
Where does it fit in?
Imagine that you're preparing for a marathon as an amateur runner shooting somewhere between 2h45 and 3h15.
You may have a pair of lightweight shoes (like Nike Zoom Streak 6 or Zoom Flyknit Streak, Adizero Adios, or PureBoost DPR). It is probably for track work, short intervals and races up to 10-15k.
For sure, you own one or more pairs for your longer runs, with more cushioning. Those probably feel bulkier, heavier and less dynamic overall but still, feel OK after 30k.
The dilemma: what to use for tempo runs, threshold runs, and more importantly, on marathon day?
Be on the safe side with the comfy pair or optimize weight and stride with the lighter ones—being at risk of hitting the wall after 30k and getting no help from your shoes?
What if there was a shoe meant to be a good compromise? That is what I believe is the promise of the Zoom Fly and why I got myself a pair, as I was prepping up for a modest "breaking 3" project.
Fly SP or Flyknit or Fly?
I tried all three models on, and although the overall feeling is extremely similar, the Flyknit and Fly have more heel support than the SP.
The Fly felt a little bit narrower, while I doubted the Flyknit's ability to release heat and prevent excessive friction on my skin.
The SP struck me as lightweight and breathable, due to its quasi-transparent mesh and minimalist upper structure.
As I was looking for a racing shoe which I would take good care of, its apparent vulnerability was not an obstacle, and I went for this variant of the Fly.
First impressions
Unboxing the Fly SPs (or taking them off your shelf) is a treat. Even after 200 miles, they still look fantastic, unique—unlike any other shoe I've seen before.
Construction quality is of the highest standard, and the tiny inscriptions ("NIKE RACING" on the heel, 2:00:00 on the sides) make you feel you're wearing something special.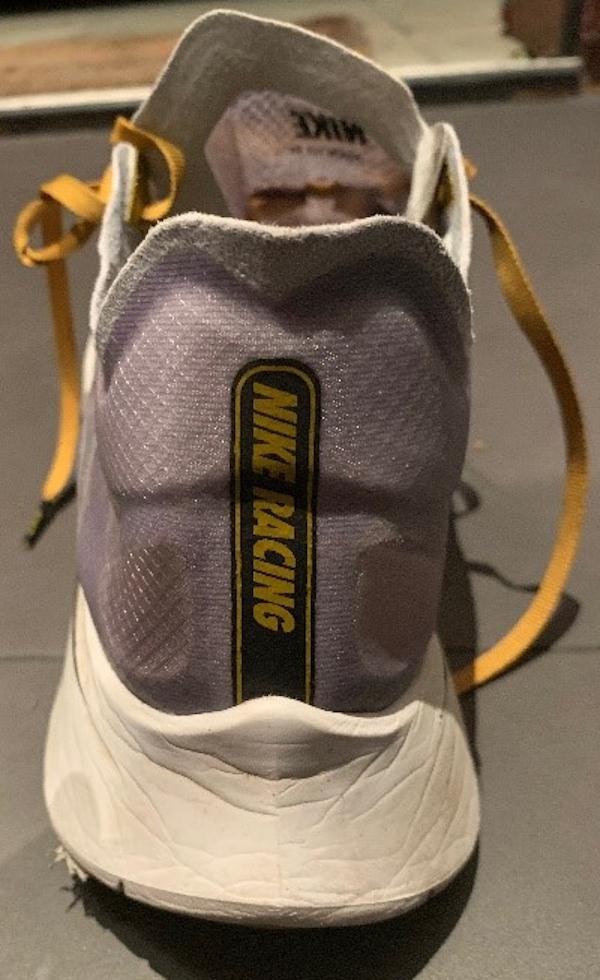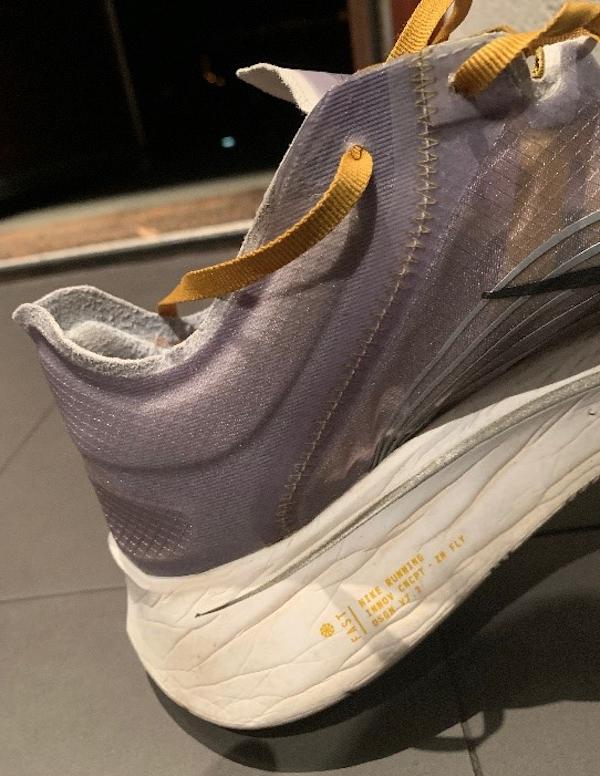 It is effortless to clean, does not catch dirt too much (and grime comes off easily). The only visible sign of wear and mileage is the outsole, which shows very acceptable degradation.
I have no doubt this pair can handle an additional 100 miles, if not 200.
Wearing them & lacing
Here's the weakest point of the Fly SP, but is easy to mitigate. The tongue is made of the same light and thin mesh as the upper shoe itself and is prone to creating wrinkles.
Those can chafe your foot, especially if you like your laces firmly locked. It takes me a couple of seconds to flatten the tongue and position it correctly on the foot before I can tighten the laces.
This would typically be a no-go for triathletes looking for a shoe that's fast to wear during a transition.
But for me, wearing them is like sitting down in Formula 1, so I don't mind the extra routine, which contributes to the exclusive experience.
Laces are more problematic; The good thing is that their elasticity is close to zero. So, you won't have to adjust them when conditions change (e.g. sweat, humidity, etc.).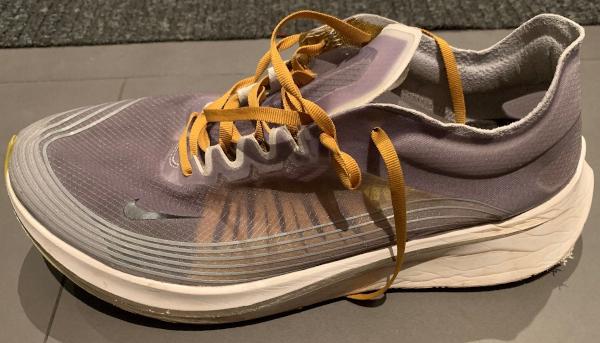 It has exceptionally thin mesh—no hole, no sign of tearing. The tongue can wrinkle at times, and laces need serious pre-run tightening.
The ugly part is that their coating may cause them to go off. Some users seem to have reported that a triple knot went off. Meanwhile, I experienced a double failing to remain locked.
Fortunately, it happened during a training session, so I learned how to tighten them to the max to prevent it.
Overall, this disadvantage is manageable with practice and attention but requires a careful preparation ritual.
Running with the Fly SP
I would describe my first run with the SPs as "odd, pleasant, and fast". Remove "odd", and you have my impressions after subsequent runs.
The SP is quite high-to-the-ground, and its curvy shape makes for a bouncy experience whereby energy is very well transferred from the strike point to the forefoot.
The forefoot sounded slightly noisy at first, probably attributable to the height of the shoe and the time my brain took to adjust.
Grip on anything else than hard surfaces is virtually non-existent, and so is lateral stability. Even for a road/urban race with many steep turns or cobblestones, I would challenge the SP as the right choice.
This is due to the lack of rigid heel support. Clearly, it is meant for flat and straight sections.
At low intensity, the SP is comfortable, but not as cushioned as it appears to be. It is stiffer than it seems, and it takes a minimum speed to leverage its amazing energy-transmission capabilities.
In other words: forget using them for daily runs, not that it is an unpleasant experience, but that's not where you'll get value for money.
At very high speed (up to 500m intervals), the low weight of the SP is beneficial, but I found the height to the ground to be excessive for such use.
The height compromises the ability of the feet to decode the track correctly and enable an efficient stride.
Also, the overall lack of structure of the shoe's upper part can cause the foot to wobble at high speed, especially during turns.
Overall, I found myself using them for intervals longer than 800m, such as Yasso tests (10x800) or 6x1000 or threshold runs.
The Fly SP reveals itself on threshold runs or tempo runs. Take a typical marathon speed training session with 30' warm-up, 4x20' at marathon pace with 5' recovery, and 15' final cool down.
For a 30k session with half of it at marathon speed, you need enough comfort to endure the 30k without destroying your feet and joints, but strong energy transmission when running at target pace.
This is where the SP delivers way beyond expectations! It feels like you're never running out of fuel.
Even after significant mileage at target pace, when your stride starts to degrade, and your core starts to fail, the SP is still bouncing and helping you maintain your speed.
It helps make your stride smoother and more energy-efficient. The science behind it, quite frankly, I don't know. But my experience is mind-blowing.
If you're lucky enough to be on a good day, you'll feel like you're flying or hovering the ground.
On marathon day, they delivered that very same experience. I had a rougher patch after 35k, and I mentally focused on the smooth feelings my feet were still experiencing, to keep my stride.
I met my goal, and although there are tons of other factors which helped me doing so, the SPs were an integral part of that success.
Pros
Fit for a specific purpose and excellent at it
Amazing energy restitution at semi/marathon speeds
Superior cushioning in a fast and lightweight shoe
Wearing them is a unique experience. Can you handle the stares?
Surprisingly durable for what initially looked like a shoe hanging by a thread
Cons
Fit for a specific purpose, unfit beyond it
Expensive
Lateral stability and grip optimized for hard, flat, straight, and not too wet surfaces
Needs a lot of attention to be put on lacing/tongue positioning
Bottom line
It fits a new space between a pair of low-drop, light, and fast shoes for short intervals, track work, short races, and affordable pairs of more cushioned/stable shoes for daily or long slower runs.
It is a fantastic choice for a non-elite marathoner willing to treat himself (I would assume the elite would go for the Vaporfly 4% or the Fly Next%).
One of my best buys, and a genuine pleasure taking them out for a tempo run. It deserves a 98.
Good to know
Nike introduces the Zoom Fly SP, in which SP stands for "Special Projects," as part of the brand's Breaking2 initiative. The Breaking2 is an endeavor with the goal of training the world's top athletes to complete a marathon in under two hours. This neutral running shoe is both fast and durable and is designed for tough tempo workouts, long-distance runs, and race days. Because it is a special edition (the original version being the Nike Zoom Fly), the shoe is updated with a lightweight support system and designs that reference the Breaking2 history.
The Zoom Fly SP features a semi-translucent upper created from a stretch-weave material. It is adorned with futuristic elements, as well as functional components that are guaranteed to be beneficial to the foot.
Lunarlon makes a comeback as the midsole of the Zoom Fly SP, now upgraded with an extended height and accompanied with a nylon plate for stability in specific areas. The outsole is still a combination high-abrasion carbon rubber in the heel and foam rubber in the forefoot for the perfect balance of durability and responsiveness.
In the heel area of the outsole is a high-abrasion carbon rubber that has a durable quality, which is useful in minimizing the wear and tear that occurs during landing. The carbon rubber is also flexible enough to withstand abrupt shifts in position that usually takes place while running.
Meanwhile, in the forefoot to the midfoot area is a softer foam rubber that provides the necessary traction to keep a steady pace on various surfaces. It is placed in this area, where comfort would be more beneficial. The soft characteristic of foam rubber enables the outsole to be responsive, and thus produce sufficient energy return for each stride.
The foam rubber portion of the outsole has a pentagon design that is drawn using a waffle pattern. This helps in efficiently gripping the ground for a stable ride.
The Lunarlon foam is one of Nike's proprietary midsole materials that is a combination of soft and firm foam compounds. The result is a competent midsole unit that delivers shock absorption, energy return, and stability, but not at the expense of comfort. The Lunarlon produces an in-shoe environment that is well-cushioned and permits for efficient forward propulsion.
Within the Lunarlon foam is a full-length, carbon-infused nylon plate that further enhances the shoe's responsiveness. This component works during the propulsion phase and guarantees a smooth transition, from heel-strike to toe-off. Aside from this, the nylon plate also gives a rigid, protective element for the underfoot.
The removable insole shows a graphic of hand-drawn sketches from the shoe designer, Erick Goto, on a bright crimson background.
A unique semi-translucent mesh makes up the upper of the Nike Zoom Fly SP. It has a stretch-weave construction that expands accordingly with each foot movement. Aside from elasticity, the material also possesses lightweight and breathable characteristics, both of which contribute to a comfortable and ventilated ride.
The arch band is made of soft micro-suede fabric. It is present to provide support and stability to the midfoot, especially during long-distance runs.
Classic Flywire cables form part of the shoe's lacing system. This technology helps maintain a snug and secure fit on top of the traditional lace-up closure.
The Zoom Fly SP also has an internal heel counter. This is a plastic component that holds the heel in place and prevents any unnecessary sliding and wobbling of the foot while inside the shoe.
Various decorative elements are found in the upper, which emphasize that the shoe is a special edition and represent aspects in marathons. These include the inside of the tongue that displays the Nike Swoosh Pinwheel logo, a Finish Checker icon, and the Nike Speed Track logo, as well as the lateral side of the shoe that features a digital clock graphic.
Rankings
How Nike Zoom Fly SP ranks compared to all other shoes
Popularity
The current trend of Nike Zoom Fly SP.