People were mostly happy with the New Balance 880 v8. They liked this road shoe's wide toe-box design, comfortable underfoot cushioning, and the appealing colorways. But some weren't as enthusiastic about it because they claimed that it was hefty. Overall, this neutral pronator's companion is considered to be a welcome addition to New Balance's stable of athletic footwear.
---
Verdict from 8 experts and 100+ user reviews
7 reasons to buy
Those who have tested the New Balance 880 v8 felt that it accommodates their sizing preferences.
Several people noted that there was sufficient room in the forefoot for natural toe-splay.
The underfoot cushioning caused a smooth yet snappy transition through the gait cycle, some runners commented.
The midsole alleviated any muscle strain during the run, according to a reviewer.
Runners were generally appreciative of this model's eye-catching color options.
This running shoe was deemed worthy of its price because it had high-quality materials.
People liked that a wide-width variant was available from the get-go.
2 reasons not to buy
Some users thought the New Balance 880 v8 is a heavy shoe.
The rectangular lace-holes apparently ruined the structure of laces that go through them, according to a few consumers.
Bottom line
People were mostly happy with the New Balance 880 v8. They liked this road shoe's wide toe-box design, comfortable underfoot cushioning, and the appealing colorways. But some weren't as enthusiastic about it because they claimed that it was hefty. Overall, this neutral pronator's companion is considered to be a welcome addition to
New Balance's stable of athletic footwear
.
Best price from 30 shops
We earn affiliate commissions at no extra cost to you when you buy through us.
96% say it's true to size.

Our reviews
Oh, the New Balance 880 v8's: The shoe I ran my first marathon in. A little back story...
I started getting serious about running in late 2018. And, being a competitive individual decided that I was, I was going to run my first marathon three months later.
Spoiler alert, I did it! And, I wouldn't have gotten there without my good old New Balance 880 v8's.
Going to your local running store and looking at a wall full of colorful shoes can be a little daunting for someone with no idea what they are looking for.
DON'T PANIC. Any local shop worth its salt should be able to analyze your gait and give you a good idea of what you should be looking for.
After a few heel striking jogs up and down the running lane, I got paired with my blue and yellow NB 880 v8's.
Here they are… (After 529 miles)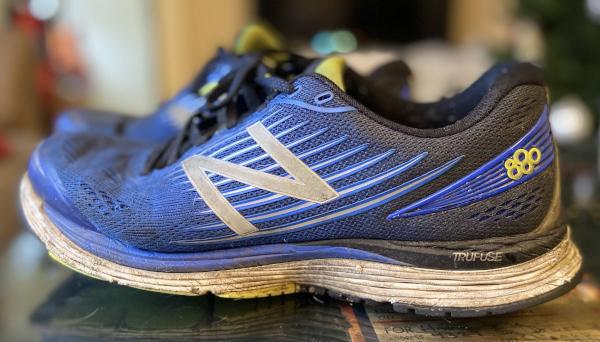 The shoe
A quick overview of the New Balance 880's Version 8:
Designed as an everyday training shoe that just about anybody can run in and find comfortable
Neutral shoe—not meant for overpronators
TruFuse, their dual-layer EVA foam technology provides a medium amount of cushioning and medium energy return without being too squishy
Highly grooved outsole for traction on all surfaces
A woven mesh upper to provide breathability
The nitty-gritty
So, this was the ONE shoe I used to train for AND race my first marathon. My spring marathon meant that all of my training miles took place over a midwestern winter, and these shoes took a lot of abuse.
We also got to know each other quite well. Let's get into the details.
Cushion
What can I say? I ran over 500 miles and ran a marathon in these without injury, and they got the cushion. New Balance's TruFuse dual EVA foam is a middle of the road midsole with medium cushion and medium energy return.
Your feet won't sink into these like Nike ZoomX, but they provide plenty of support for easy training runs and recovery runs. To me, they never felt like they had a lot of energy return.
The amount of foam underfoot also makes these feel, as other testers have attested, a bit bulky or clunky if you were looking to do any type of speedwork.
Extremely compressed cushion, to be expected after 500 miles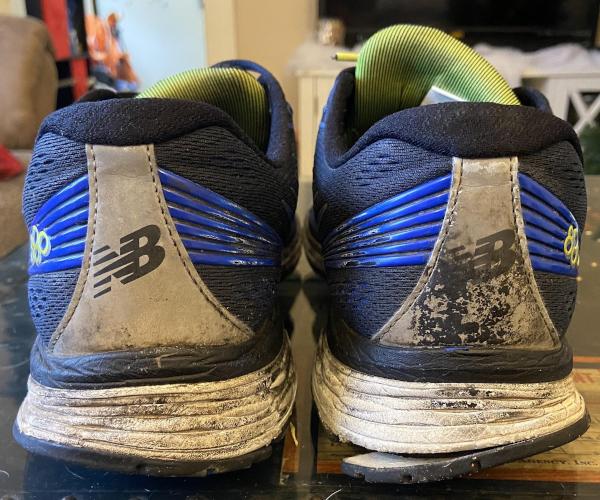 Heel/toe
For those more advanced runners, these shoes have a 10mm heel to toe drop. Most of my training in these was as a newer runner, and my running form was primarily as a heel striker.
The 10mm drop in these does not do much to promote a midfoot strike.
Uppers
The woven mesh uppers are great—for the most part. They are extremely breathable. These do not seem to get logged down by water (although they don't keep your socks from getting soaked).
Also, these held up extremely well, and it did not have any tears or rips. The only issue I had with them was that they did get dirty fairly easily and were not easy to clean.
Accumulated lots of dirt and grime over a long life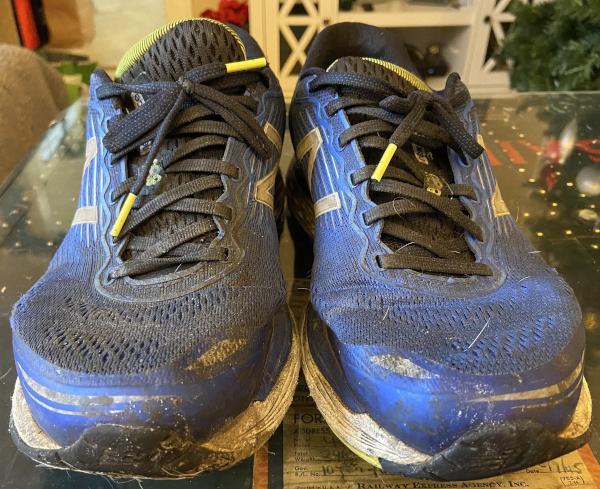 Fit
New Balance has fitted the 880 v8's with a medium-sized toe box, which is both a good thing and a bad thing.
First, the good: This shoe should accommodate most runners' feet shapes. Also, they're comfortable. There are no hot spots or pinching anywhere in the shoe.
Now, the bad: All of the previous plus points end up equaling a shoe that never truly feels locked down.
Unless you tie the laces too tight for comfort, the shoe ends up feeling slightly sloppy and loose-fitting. I want this shoe to be slightly more snug.
Outsole
This shoe shines when it comes to grip in any scenario. I ran on dry pavement, wet pavement, wet gravel, and icy roads. This shoe proved stable on every surface I could throw at it.
There are a ton of grooves on the outsole that provides excellent traction. New Balance also strategically placed lateral grooves that give this shoe a lot of midfoot flex resulting in a good range of motion and a shoe that doesn't feel stiff anywhere in your stride.
The grooves were there, I promise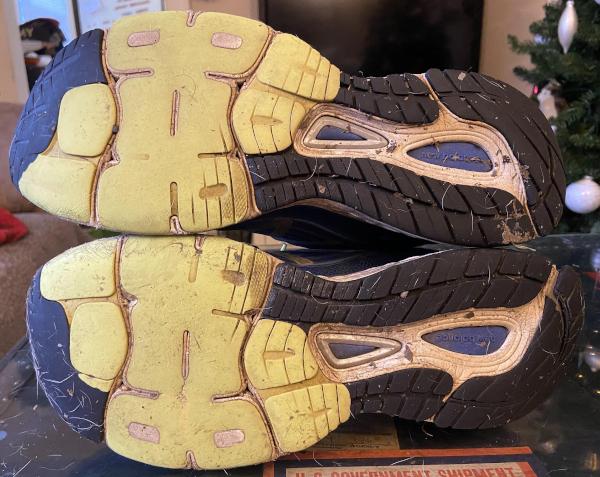 Conclusion
As a runner advances and improves, their preference in shoes will also likely change. I now prefer a lighter, more minimal shoe akin to the Saucony Kinvara series to train in.
That being said, the New Balance 880 v8's could have a place in anyone's closet. They provide plenty of support for those looking for a medium-cushioned shoe to do their long runs in or a comfortable shoe for those slower recovery runs.
I wouldn't do speedwork or run another race in these, but I would highly recommend it for a newer runner that is looking for a workhorse shoe that they can do most, if not all, of their training miles in.
Thanks, New Balance! You got me running.
The New Balance 880 v8 features a comfortable seamless mesh upper along with Trufuse cushioning.
Trufuse is composed of 2 different densities of foam, providing both comfort and responsiveness in one shoe. The blown rubber outsole allows for great traction and the synthetic toe guard prevents injuries.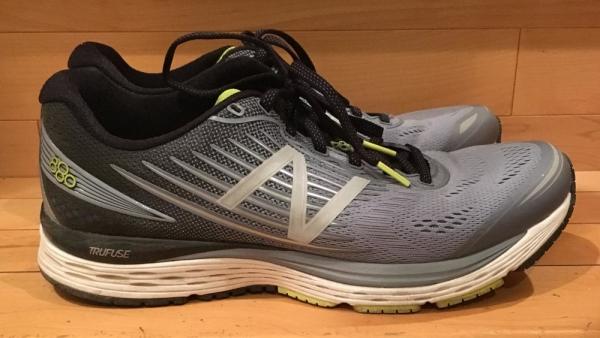 This shoe is designed for longer runs because of its great cushioning, but many find it suitable for any distance due to its light weight and responsiveness. I find this shoe has everything it needs to serve its required purpose.
One flaw I found, however, is that the tongue is almost too short for the last eyelet to be laced up. This could possibly be an issue if the wearer experiences heel slippage.
Fit
The 880 v8 has a fairly wide toe box that provides ample room for the forefoot.
It comes in widths ranging from D (standard) to 4E (extra wide). A padded heel helps locks the foot in place and also feels very comfortable.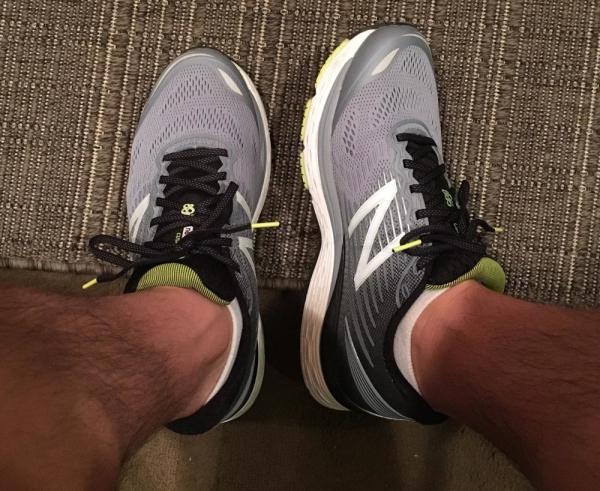 The 880 v8 in my true size fits me perfectly and was snug without feeling constricting. I did not have to size up to a 2E width like I do in some New Balance models.
Much like previous years' models, the 880 v8 maintains a classic fit that all runners should enjoy.
Value
This shoe occupies the middle-upper price range for running shoes, sitting at $160 CAD. The 880 v8 is a durable shoe that is built to go the distance.
The outsole keeps its tread very well and the midsole retains its bounciness and cushioning even after many wears. Its versatility over different distances should also be considered. $160 is a fair price to pay for a Swiss Army knife of a shoe.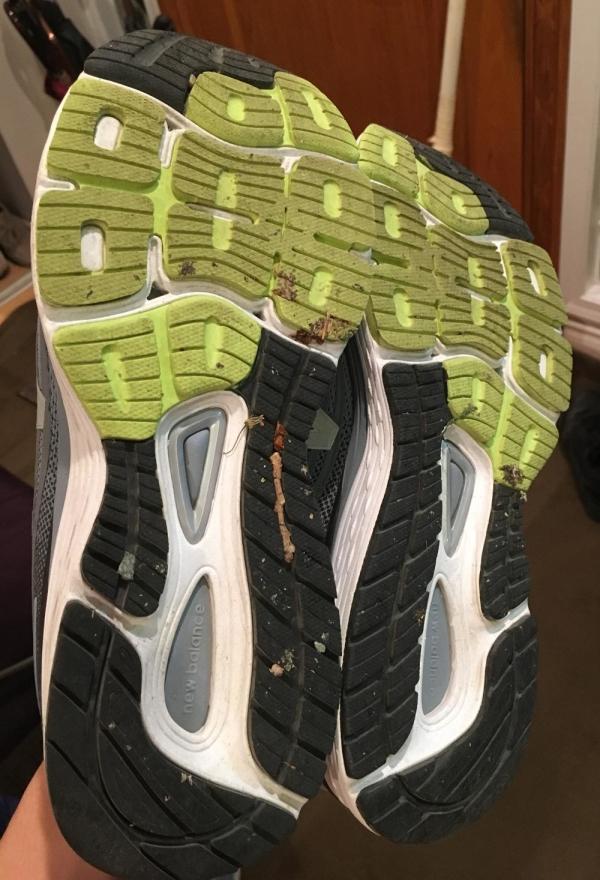 Performance
Great right out of the box:
The 880 v8 felt very comfortable right out of the box and required no break-in period. My first run with it was a 10km slower paced run, and it felt both responsive and cushioned at the same time.
The Trufuse cushioning system it incorporates provides this one-two punch of shock absorption and springiness. This made for a very enjoyable first run, and I did not notice any issues.
Upon trying this shoe out, I felt that I could use them for both speed workouts and longer runs. The 880 v8's versatility stood out to me and it has become a staple shoe in my rotation since.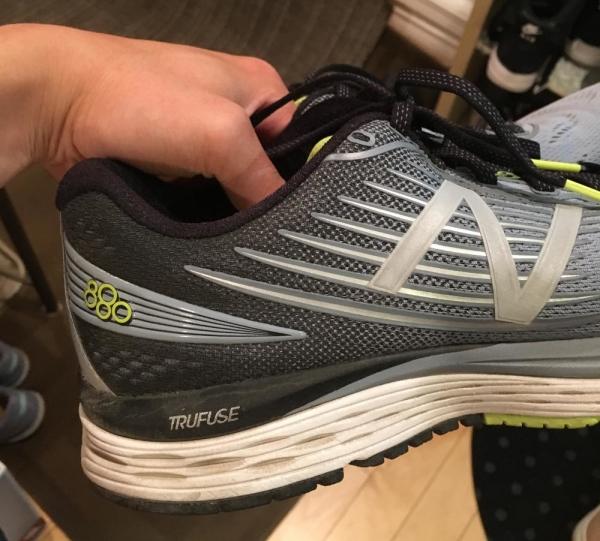 A small bump in the road:
The 880 v8 boasts a noticeably good outsole tread. It grips extremely well on all kinds of surfaces which I noticed while running in the rain at one point. I didn't notice anything wrong with the shoe until I used them for a fast-paced tempo run.
The tongue of the shoe is super short; not even long enough to reach the last eyelet if one doesn't strain to pull it up. As a result, lacing up the last eyelet causes the shoelaces to rub against the skin. I found this very irritating and actually got a bit of a burn because of the friction.
I opted to just leave the last eyelet undone to save myself from any further pain. Since I have thin heels/ankles, I felt some slippage in the heel portion of the shoe. I wasn't able to lace the shoes up completely, so my foot constantly felt like slipping out when I upped my pace. This issue was not a deal-breaker, but it was certainly annoying to experience.
Final Reflection:
The 880 v8 performed very well in a variety of circumstances and on both wet and dry surfaces. The Trufuse cushioning was both responsive and comfortable, lending to the shoe's versatility. For future models, I would suggest making the tongue longer in order to accommodate people with narrower ankles.
This would prevent unnecessary rubbing, while not negatively affecting the shoe performance wise or cosmetically. Other than that issue, the 880 v8 performs very similarly to past year models and is a great everyday running shoe.
Overall
The New Balance 880 v8 is a great shoe that fits comfortably and accommodates people with wide feet very well.
The Trufuse midsole cushions the foot and provides responsiveness that allows this shoe to be worn for fast workouts along with its intended long runs. The tongue could be longer to provide a more secure fit, so hopefully, that is fixed in the next version.
As I progressed from running parkruns to 10km runs, I realized that I loved running. I was keen to do my first half marathon, and I started looking for a running shoe that could:
Provide comfort
Remain stable throughout a run and provide support
Go the distance through wet and dry weather
Not cost me an arm and a leg
Most importantly, look cool enough to be the envy of all other runners (only joking!)
That's when I tested the New Balance v8. Once I tried it, the comfort and stability of the shoes made me realize that this was the shoe for me.
It was love at first sight. It was stylish with its greyish blue colors surrounded by a number of reflective strips to ensure safety during those early mornings and late evening runs.
Small reflective white strips are situated in the front of the shoe and a larger reflective white patch on the back of the heel. The New Balance logo appears along both the midfoot sides with thin white reflective lines in the background.
The Trufuse cushion (combines two different densities of foam) is white along with the entire shoe between the greyish blue and the black and orange sole. The front toe area has a rubber overlay. This helps keep the toes safe during use.
Comfort
The front to the midfoot area is generously wide. I didn't feel my toes squeezed against the front of the shoe, although I must admit that I took a size bigger to allow to foot expansion during longer runs. The bigger size did not feel tight after long runs.
The mesh around the shoe provided plenty of ventilation. It kept my feet dry during my long runs. I took a larger sized shoe to allow for foot expansion during longer runs (after reading up on this on the internet).
Once laced, the shoe secured my foot in place without any additional movement. I did not feel my toes squeezed against the shoes. I did not lace the shoe up to the last set of holes close to the ankle as I felt that there was sufficient fit without it.
The shoe laces up well with lots of cushion support provided by the tongue. The tongue is black on the outside, orange on the inside and is surrounded by the blue of the shoe. It felt supportive during my longer runs.
Stability
When landing on the forefoot, I felt stable and supported by the wide front foot. The cushioned heel provided less stress on my ankles.
The shoe does feel bulky, but it is the first long distance running shoe I've purchased. I deemed comfort and support of the shoe to be more important to me, especially on runs longer than half marathons.
The midfoot provides excellent arch support for those who require it until they can strengthen their arches. The heel seems to be higher than the front providing a natural tilt during use.
Performance
I have not used the shoe much on shorter 5K runs as I was not sure whether it would slow me down, but on 8 km and above, the shoe was responsive.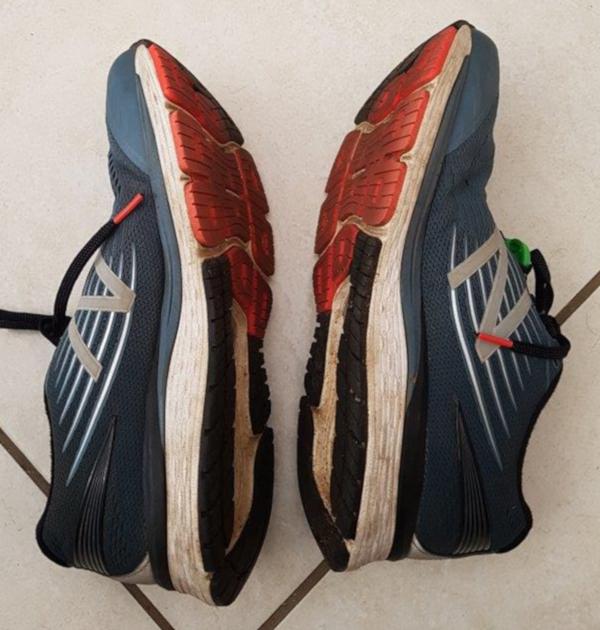 The shoe grips well on road surfaces where the surface was dry or wet. I have done a few long runs in both light and heavy rain and didn't feel any slip or loss of control throughout the distance.
I was confident that the shoe would grip the ground and could, therefore, avoid running a "careful" race. It appears like the tread pattern was designed to accommodate water displacement with larger grooves at the forefoot and midfoot sole.
Price
About breaking that arm and a leg…the price of the shoe was around $164 in South Africa. This priced the New Balance 880 v8 shoe in between some high end and low-end long distance running shoes.
After trying out the shoe, I didn't mind spending my money on a shoe that provided such quality, comfort, and stability. After running a few marathons with the shoe, I feel that the shoe still has sufficient support and comfort throughout the shoe and did not wear much from when I had initially purchased it.
Conclusion
The New Balance 880 v8 shoe provided outstanding comfort by ensuring good ventilation (and no offensive, smelly socks). There were no squeezing of toes, provided you take a larger shoe to accommodate expansion as the front foot area is generously wide.
It has a rubber overlay on the front to keep those toes unharmed. It provided stability and grip during wet and dry weather to avoid a 'careful' run. The interior provides great arch support, and wide forefoot created stability on landing.
The shoe seems robust enough to last several marathons. The price is certainly worth the quality and benefits that this shoe offers. And of course, it has great looks. I have no regrets about buying this shoe.
Updates to New Balance 880 v8
The New Balance 880 v8 is a running shoe that's designed for those who have neutral pronation. The façade is mostly similar to its immediate predecessor, the 880 v7, but with a reconfigured overlay placement.
Underfoot cushioning is handled by the TRUFUSE foam, which runs the entire length of this product. The T-Beam is a flexible shank that bolsters the integrity of the platform. It also makes sure to support the tendons and muscles of the foot-pad.
Durable rubber covers the foam midsole, protecting it from wear and tear. It also doles out traction for responsible surface control.
Size and fit
The New Balance 880 v8 was designed to be true to size, so its job is to welcome the natural preferences of runners when it comes to length. The available width profiles are D – Medium, 2E – Wide and 4E – Extra Wide for the men's version. The women's iteration features the AA – Narrow, B – Medium, D – Wide and E – Extra Wide options.
Outsole
The outsole unit of the New Balance 880 v8 features a rubber compound that's designed to be durable. It aims to shield the rest of the platform from wear and tear. It is also responsible for surface traction. As a bonus, the rubber extends to the tip of the tip of the toe-box, acting as a bumper against abrasive surfaces. This material is also used in the NB 890 v6 running shoe.
Flex grooves in the forefoot allow the joints of the toes to bend naturally and surely, thus enabling the toe-off phase of the gait cycle to be more energized and driven.
The crash pad of the heel section has been decoupled to isolate impact shock during the landing phase.
Midsole
TRUFUSE is a full-length foam that carries the foot throughout the running session. It's designed to offer agreeable cushioning, responsiveness, and dependable durability while also preserving the bendability of the platform.
Small cuts and indentations are fashioned on the sides of the midsole. These shallow incisions give a unique visual flair to the New Balance 880 v8, but they have a more significant purpose: they cause the foam to compress when weight is applied to it, then they expand when the same pressure is removed. That process creates springy takeoffs.
The T-Beam is a shank that made out of thermoplastic polyurethane. This layer acts as a foundation that keeps the foam midsole intact. It also alleviates potential discomfort or fatigue by mimicking the functionality of the tendons and muscles of the underfoot.
Upper
Serving as the primary cover system is engineered mesh. This cloth-like material has a soft and form-fitting configuration. It also has ventilation pores that accommodate the flow of air into the foot-chamber.
The 3D Resin screen print is a system of overlays that reinforce the structure of the New Balance 880 v8's façade. These thin layers also help in keeping the foot in place and averting unintentional shoe-removals.
A no-sew material application aims to produce an in-shoe experience that is smooth and free of irritation. It even enables runners to wear this road shoe without socks.
The liberally padded tongue and collar cushion the upper sections of the runner's foot. They also prevent in-shoe wobbling, particularly when tackling sharp turns and swerves.
The lacing system is comprised of semi-flat fabric shoelaces and inconspicuous eyelets. This configuration permits a secure yet customizable fit that's handled traditionally. The padded shoe-tongue has two lace-loops to prevent unnecessary movement or tongue-deviation.
Rankings
How New Balance 880 v8 ranks compared to all other shoes
Popularity
The current trend of New Balance 880 v8.