Taking on the market is the Asics FuzeX, a neutral running shoe that uses a new mid-sole technology that's going to make each step more enabled and empowered. The responsive platform makes running easier and more comfortable. It's a solid choice for exercises, daily runs and even competitions.
---
Verdict from 12 experts and 100+ user reviews
7 reasons to buy
The mesh material used for the Asics FuzeX is water resistant, so the runner is able to stay confident when running in any condition.
The many color schemes available for this model are appreciated by many runners.
A seamless construction prevents skin irritation, thus allowing the wearer to use this shoe without putting on socks.
An antimicrobial coating is added to the sock liner, making the interior environment clean and healthy.
A new foam unit that's crafted from the fusion of the Gel® cushioning technology and foam makes the platform bouncier and more capable of absorbing shock.
This running shoe has a fairly average price, in light of its new components and high quality construction.
The full ground-contact outsole with abrasion-resistant rubber protects the rest of the sole unit from wear and tear.
2 reasons not to buy
A few runners felt that the upper unit was a bit stiff for their feet.
Some testers wished that a wider version was available to accommodate those with wider feet.
Bottom line
Taking on the market is the Asics FuzeX, a neutral running shoe that uses a new mid-sole technology that's going to make each step more enabled and empowered. The responsive platform makes running easier and more comfortable. It's a solid choice for exercises, daily runs and even competitions.
Best price from 31 shops
We earn affiliate commissions at no extra cost to you when you buy through us.
76% say it's true to size.

We earn affiliate commissions at no extra cost to you when you buy through us.
Our reviews
The FuzeX has a sporty feel for me, giving it an appeal of more than a running shoe. It sort of balances between performance running shoe and everyday sports shoe.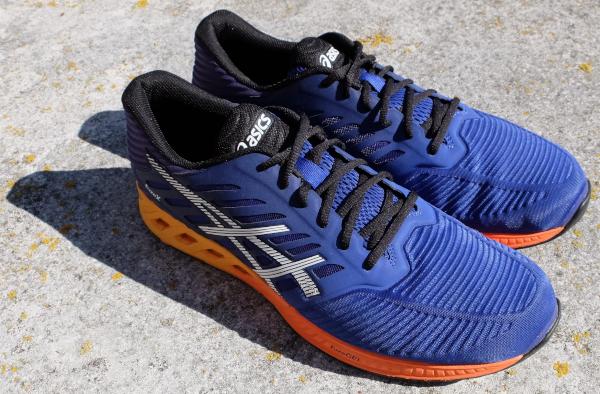 It has a great colourway with a gradient of colour differing from toe to heel on the upper while continuing on the sole, which gives it a nice aesthetic.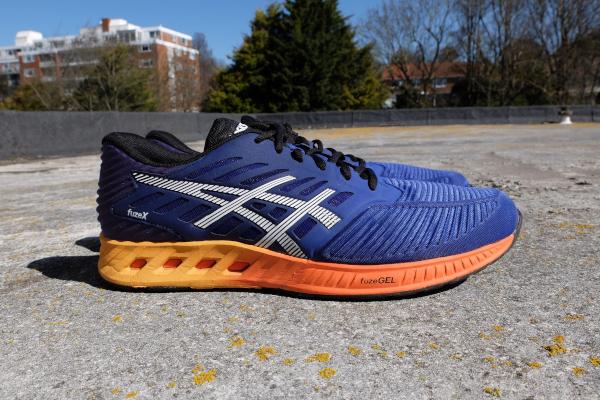 The sole has four cushioning sections that go through its entire heel section, giving shock absorption. It has a very streamlined look while also looking very stable.
Fit
I felt that the FuzeX offered a sturdy fit with a heavier mesh or moulded mesh upper and toe box giving a good shape around my foot. Asics classified the FuzeX as a normal width shoe.
I have fairly wide feet so I was a little worried. I have found that sometimes, Adidas shoes can be narrow on their normal width fits but this was ok for someone like myself.
It was narrower than other Asics I have so those who do require wide-fit shoes, keep this in mind. I did luckily manage to cope with them and didn't feel any pinching.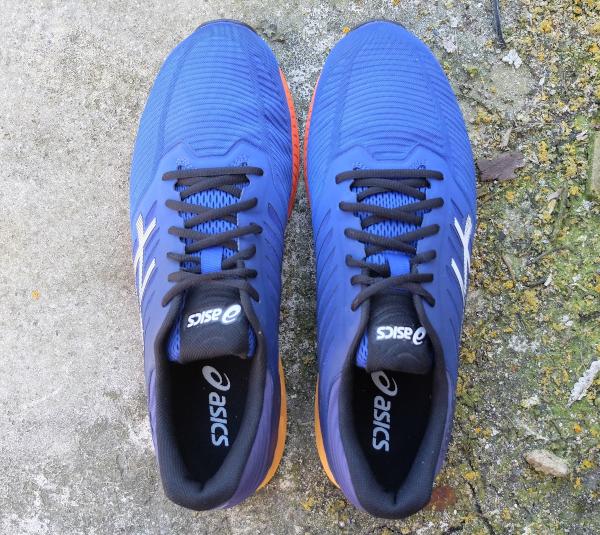 Although, I did find after longer runs I got some blistering under might right big toe. Never had that before with other shoes.
The heel unit is good enough with a sturdy grip despite there not being any obvious additional heel support. The fit around the underfoot is good with a responsive sole unit.
Also, the shock-absorbing heel with the Fuze Gel gives confidence while on runs.
Overall performance
This is a great all-rounder for road running as well as being a good gym shoe. I found myself using it for gym work as well as a few times stretching to tennis, although the main use was running.
Other shoes have a large weave mesh allowing for breathability—the FuzeX doesn't have that but rather has a seamless moulded toe area. This is great for aerodynamics but not so great for breathability.
I get the impression it's a more impact shoe for short stint usage.
Comfort & cushioning
The FuzeX isn't mega soft on the cushioning when walking compared to a few other shoes. But, I can feel it comes into effect more when you start running. It is a slightly firm ride.
Heel cushioning - Medium
Forefoot cushioning - Soft
Flexibility - Stiff
Responsiveness
I'd say this fits in the middle range of responsiveness. The ride is firmer but the response from the toe-off is good as there is a dedicated extra grip around that area to aide you there.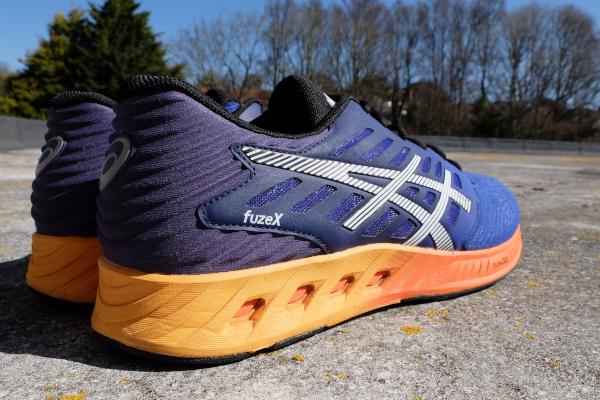 Because of the firmer ride, it's nothing too spectacular for me but does a decent job. Perhaps I'm not too much of a fast runner these days to benefit fully from that.
Upper
The moulded ribbed upper is slick and probably helps in speed. But, due to the moulded seamless construction, I didn't feel it was as breathable as it could be.
Midsole
The shoe is featuring Asics' GEL creating a new line of midsole with the Fuze. It gives lightweight cushioning for adaptable comfort.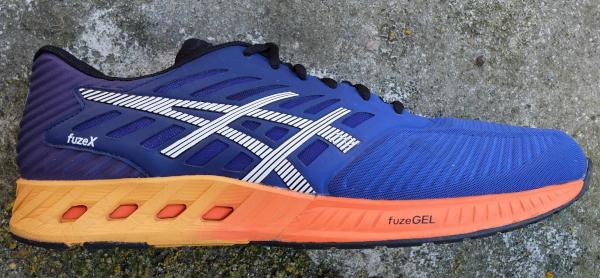 It creates extra focus as mentioned previously at the rearfoot with the shock absorption that apparently shifts the energy to the forefoot.
*(Interestingly, this is their first version and there is already a v3 model, but they have replaced the Fuze Gel sole (that was originally released for this model) with a FlyteFoam sole. I can only imagine that, with the popularity with the FlyteFoam in Asics' other models, they replaced it. However, the Fuze Gel gives a nice even cushion when hitting the ground).
Outsole
FuzeX features Asics AHAR Outsole (Asics High Abrasion Rubber ) placed in key areas for durability and responsive grip.
This outsole would benefit particular running styles more than others. It is more suited to younger faster runners.
Verdict
As an everyday running/training shoe, this is a good shoe. It is perfect for beginners as it's an affordable shoe.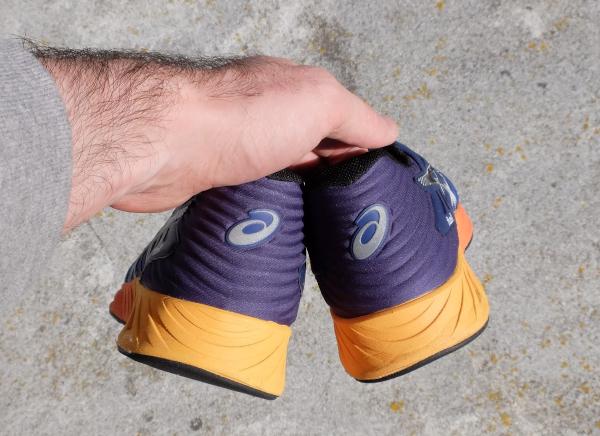 It offers all that you need to get from couch to 5km or as a training shoe before switching to lighter more endurance shoes for longer distance.
I would say this is better for the beginner and intermediate runner or even a younger runner than has more natural spring in their step and wants to run fast.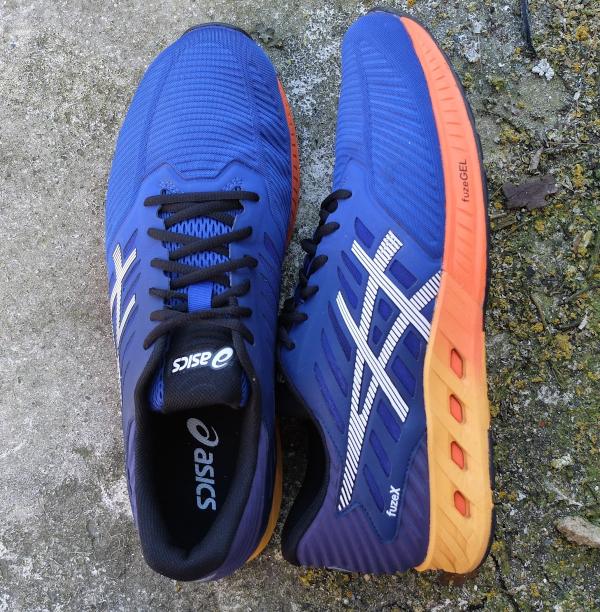 It's also good for someone on a budget who wants a good all-rounder, but if you're also a fast runner this will be ideal without being a specialist race shoe.
Pros
A great all-rounder for price
Streamlined
Responsive toe-off
Good price
Attractive Shoe
Good colours
Cons
Narrow fit
Not that breathable
Not ideal for long distances
Slightly rigid
Updates to Asics FuzeX
The Asics FuzeX is a new running shoe that aims to deliver responsiveness, freedom and speed to the wearer. A new technology is at work in the platform, and it delivers shock absorption, full-length cushioning and efficient toe-offs. Essentially, the runner is able to receive consistent service from this shoe throughout every phase of the gait cycle.
Responsible for the versatile support and cushioning is the FuzeGEL, a new technology used in this running shoe. It makes the mid-sole unit more lightweight, yet resilient to breakage. This high quality full-length foam is able to manage shock when landing the foot on the ground and then gives bounciness to the forefoot lifts.
The upper unit of the Asics FuzeX uses a lightweight mesh material that's soft and smooth on the skin. It is resistant to water, so runners are given the opportunity to run more confidently in moderately wet weather/surface conditions. A seamless construction allows the runner to wear this shoe without socks because it's not irritating to the skin.
An abrasion-resistant rubber material is at work in this running shoe, providing consistent protection from wear and tear. It's used forgivingly here, so the runner won't feel as if the material isn't utilized fairly. Protection and traction are its purposes.
Size and fit
The Asics FuzeX has a standard running shoe length. The sizes that are available for this model adhere to the regular measurements for men and women. The heel, mid-foot and forefoot sections follow a medium-width measurement, so it is able to accommodate the runner with a medium sized foot. Its semi-curved shape allows the foot to acclimate well to it.
Outsole
The AHAR® or the Asics High Abrasion Resistant Rubber is the material used in this running shoe. Durable protection from wear and tear is its main purpose. Naturally, it's sturdy and it doesn't peel off easily, making it very efficient in extending the lifespan of this shoe's sole unit. Traction over the roads is also a part of its service. This outsole material is also used in other Asics road running shoe like the Contend 4.
Midsole
The FuzeGEL™ is a new type of mid-sole cushioning foam that Asics has devised to grace the fuzeX running shoe. Made from a combination of the Gel® Cushioning Tech and foam compounds, this unit surely delivers responsible cushioning, shock absorption and springiness to every step.
The 8mm drop of this shoe allows runners to experience a bit more heel height. A slightly plusher rear platform responsibly makes each heel strike smoother and more comfortable. Such a design also ushers the foot easily through the gait cycle.
Upper
A water resistant mesh material is used for this Asics running shoe. It is able to stave off moisture and mild water infiltration, essentially improving the confidence of the runner when it comes to tackling wet conditions.
A seamless construction makes the upper unit more agreeable to the runner's foot. It is not irritating to the skin, so it's easy to wear the shoe without socks.
Additional underfoot support is received via the ComforDry™ Sock Liner. It has an anti-bacterial property, which is helpful when it comes to maintaining a healthy and clean interior environment for the foot.
Rankings
How Asics FuzeX ranks compared to all other shoes
Popularity
The current trend of Asics FuzeX.