The majority of the purchasers commented that the Asics DynaFlyte 2 is a lightweight, comfortable and supportive shoe. They were satisfied with its well-constructed upper. They loved wearing the shoe not only in running and walking sessions but also on casual occasions. They agreed that its design was visually-appealing and its cushioning was excellent.
---
Verdict from 10 experts and 100+ user reviews
6 reasons to buy
Most of the reviewers loved the shoe's well-constructed upper.
Some testers mentioned that the cushioning was great.
A handful of consumers agreed that the shoe was comfortable.
A good number of purchasers noted that the product was supportive and lightweight.
A lot of users experienced less skin irritation and blisters.
Several consumers lauded its attractive casual design.
1 reason not to buy
According to those who have tried it, the product had limited color variations.
Bottom line
The majority of the purchasers commented that the Asics DynaFlyte 2 is a lightweight, comfortable and supportive shoe. They were satisfied with its well-constructed upper. They loved wearing the shoe not only in running and walking sessions but also on casual occasions. They agreed that its design was visually-appealing and its cushioning was excellent.
Best price from 30 shops
We earn affiliate commissions at no extra cost to you when you buy through us.
76% say it's true to size.


Our reviews
Prior to buying these shoes I had done a reasonable amount of running, mainly for the health benefits and for bragging rights with friends on the occasional parkrun.
This was never more than 5k though and was with generic trainers not aimed specifically at running. I then had to take a break due to knee surgery for a problem caused by skiing and on returning to running decided to seek some advice on suitable shoes to protect my knee.
Selection
After some brief gait analysis at my local running shop, showing I have a neutral running style, I settled on the Asics DynaFlyte 2. I was impressed with how light they felt despite having a reasonable amount of support for a shoe aimed at the 5-10k distance.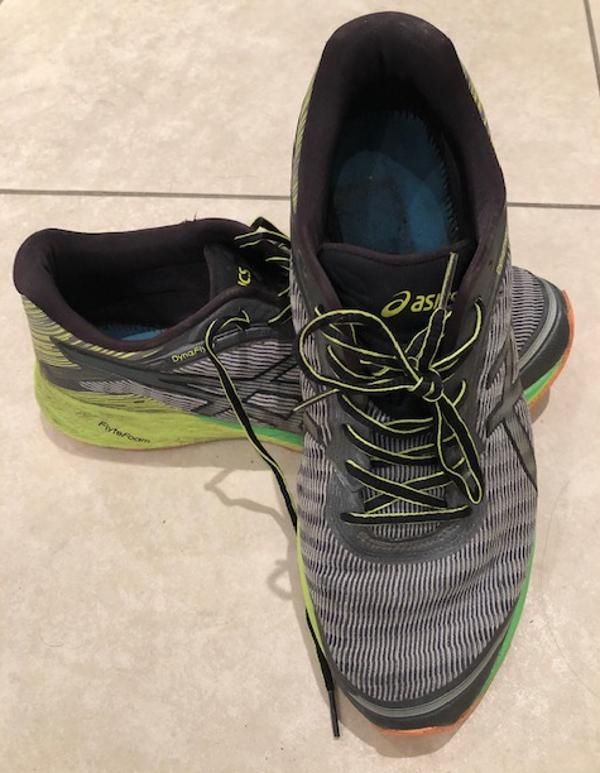 While the looks are a minor factor in a running shoe, these ones look sleek, with vibrant cushioning while not overdoing the anti-social colours.
Fit
Despite being measured as a UK size 10, I went for a 9.5 in these as they felt the better fit in the shop. For general wear, the DynaFlytes feel comfortable. However, I often end up with blisters when returning to running after a break.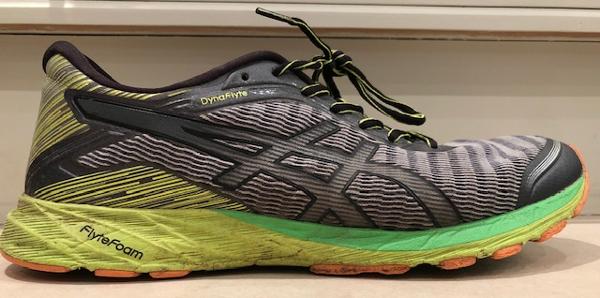 These appear on the top of my third and fourth toes and also on the underside of my foot at a natural crease across the ball of my foot. Both locations suggest to me there is some squeezing occurring across my forefoot, which is wider than average. The issues tend to go away once my feet have hardened in the affected areas.
Initial thoughts
On my first few runs, I was very happy with the DynaFlytes. They felt fast, supportive and importantly gave me no knee issues.
I was slightly confused to find that despite having the appropriate holes to support heel lock lacing, the laces themselves were not actually long enough. My wider feet probably use up more lace than average but I would not expect to have to buy separate laces to be able to make use of this feature.
Problems
Unfortunately, after around 50k in these trainers, I suffered an injury with a tendon in my ankle. Despite a couple of attempts to return to running after resting, the issues prevailed. Physio analysis concluded this was a result of over-pronating, which was more pronounced on my injured side.
The addition of arch support insoles and targeted stretches proved to be enough to enable me to run again, up to around 10k at a time, but never completely eradicating the issue.
I eventually reached the conclusion the DynaFlytes did not offer enough stiffness through the arch allowing my feet to collapse and aggravate my injury. The plastic support within the midsole referred to as the Space Trusstic by Asics is noticeably smaller on these shoes than on motion control or similar stability shoe.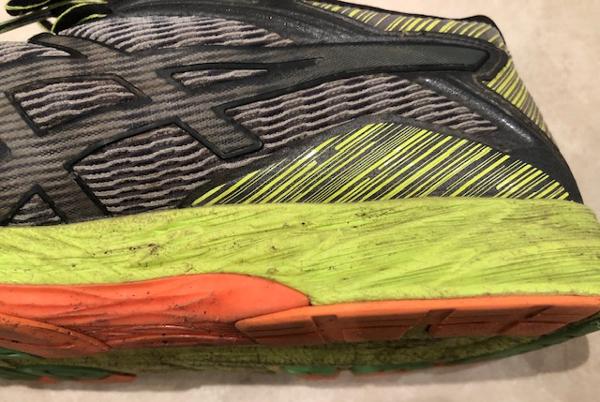 Resilience
Having now put this pair through 300km of running, they are still very usable but starting to show signs of wear.
The 'FlyteFoam' cushioning has begun to feature the permanent crease marks that suggest it's not providing the same level of rebound anymore. Certain parts of the outsole are visibly worn down highlighting my tendency to heel strike with the outside of my foot before rolling across and pushing off on my big toe.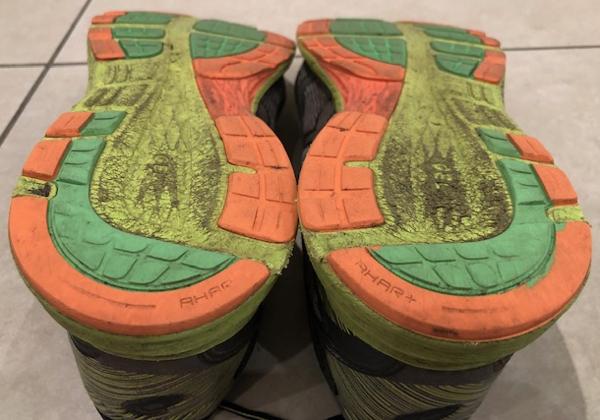 The upper shoe has remained intact with no signs of damage, unsurprisingly as the material here feels strong, unlike the single thickness mesh you sometimes get in lightweight race shoes. However, the material inside the shoe in the heel cup has split, as you can see from the image. I can't say this is noticeable when running though.
Performance
My running covers a number of different terrains including pavements, trails, and treadmill.
Despite the relatively flat outsole and lack of obvious contoured grip that you would expect to see on a dedicated off-road shoe, the DynaFlytes have performed admirably across all surfaces. This includes using them for Helvellyn Triathlon which featured a trail run in the rain to the summit of Helvellyn mountain across particularly loose and challenging surfaces.
Conclusion
Overall, I think my experience with these trainers probably leads to an unfair score. The main issues have been a result of my own biometrics.
The DynaFlyte appear to be a relatively durable shoe, well suited to short, fast running and I have been particularly impressed with how well they have handled a range of terrains. However, I would not recommend them if you overpronate and they are probably not the best shoe for wider feet.
Updates to Asics DynaFlyte 2
The Asics DynaFlyte 2 is a road running shoe that is intended for runners who have neutral foot motion. It uses the Adept Mesh upper material. This technology aims to provide a more personalized fit.
Another feature of the shoe is the ASICS High Abrasion Rubber or AHAR. Its primary purpose is to provide added durability on a broad range of surfaces.
The midsole utilizes the FlyteFoam which is essential in delivering a more responsive ride throughout the road running activities.
Size and fit
The Asics DynaFlyte 2 follows the standard shoe measurements when it comes to sizing. The shoe is best for wearers who want to excel in extended and short-distance road running activities. The available widths are B - Medium for the women's version and D - Medium for the men's version.
Outsole
The ASICS High Abrasion Rubber or AHAR outsole is integrated into the Asics DynaFlyte 2. This outsole material has always been used in other versions like the Asics DynaFlyte 3. This component of the shoe aims to provide more durability on This thick layer is strategically placed on the product for added protection and support as well.
Midsole
Delivering a more responsive ride is the FlyteFoam midsole. This material is 55% lighter than the standard EVA foams that are commonly used in running shoes. Organic fibers are embedded into the foam to make every step plush and comfortable.
The Rearfoot Gel cushioning system is used in this product. The goal of this silicon-based gel is to act as a shock absorber. This technology turns every landing into a more explosive and smoother transition from heel strike to toe-off.
Additional cushioning to the underfoot area is provided by the removable sock liner. This material is strategically designed to promote a more customized fit to the runner.
To enhance the foot's ability to go through every stride with ease and comfort, the IGS or Impact Guidance System is utilized. It is designed to ensure a more balanced and smoother heel-to-toe transition.
Reducing moisture and preventing the growth of odor-causing microbes are encouraged by the ComforDry sock liner. This component of the product is made up of an anti-bacterial material that keeps the runner's foot healthy, fresh and dry during the running sessions. It also provides additional cushioning.
Upper
Increased flexibility and support are delivered by the Adept Mesh upper. This technology's primary goal is to provide a secure and distraction-free fit. The seamless design lessens the risk of friction and irritation.
To enhance comfort, the Asics added the discrete eyelets. This material is also essential in dispersing lace tension.
Rankings
How Asics DynaFlyte 2 ranks compared to all other shoes
Popularity
The current trend of Asics DynaFlyte 2.