Skechers has done it again! Light, fast, fun, and comfortable. The hits keep coming and the Razor line as a whole is fantastic. This Razor Excess has more of their amazing Hyper Burst midsole than past models to give it a bit more comfort and padding for longer efforts or even daily training. Don't be fooled though, this unicorn can toe the line on race day and carry speed through tempo workouts. It can do just about everything!
Pros
Ultra-lightweight
Fast
Comfortable
Breathable
Grippy
Value at $140
Cool colorways
True to size
Fits wide feet
Cons
Narrow feet beware
Adaptation period needed
Skechers Go Run Razor Excess review and lab test
I've been in love with Skechers for the past few years. Their Hyper Burst midsole is one of the best in the business and their performance lineup delivers.
Long gone are the days of the ShapeUp!
As for the Razor Excess, these shoes should get more praise than they do.
I loved the Razor 3, although it was a bit stiff in the upper and had an obnoxious SPEED logo on the side. The Razor+ killed the logo and arrived on the scene under the radar with little fan fair, again, a great product that is still in my normal rotation and one of my favorite shoes.
I even loved the MaxRoad 4+ Hyper and the Forza 4 Hyper (even though it is a stability shoe).
All together I think Skechers is on to something, and I was really excited to get my hands on the Razor Excess which is in theory just the Razor+ with more cush thanks to more of that amazing Hyper Burst midsole that makes these products great. I'll let you in on what's to come, it's way more than just more foam!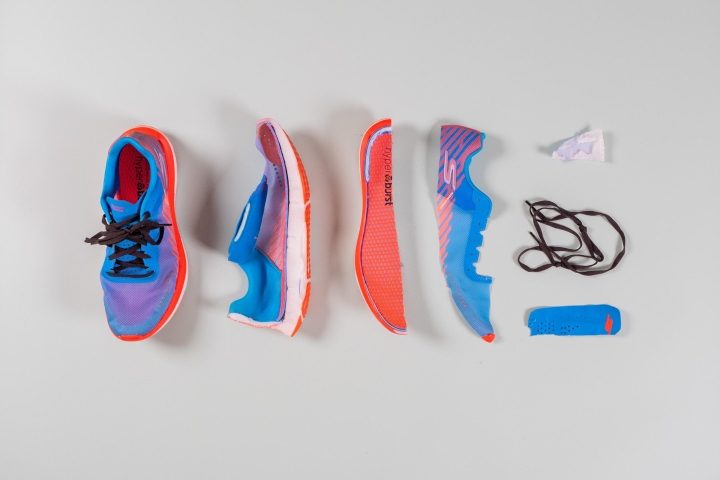 The question was, would this perform more like the Razor, or more like the MaxRoad?
Read on to find out.
Who should buy the Skechers Go Run Razor Excess
Buy the Razor Excess if you want a fun, peppy, fast shoe that's extremely lightweight. It's ideal for tempo days and can be used come race day too.
This shoe is a solid all-around daily trainer as well for someone that is a bit quicker. It has enough cushion to do longer efforts but is more at home in quicker, shorter pushes.
If you've liked the Razor series to date, you'll love the Excess.
Who should not buy it
Don't buy the Razor Excess if:
Your goal is long-distance comfort. Although it can do longer pushes this is not a Hoka Clifton 7, or Saucony Triumph 19. Skechers does make that shoe, the MaxRoad 5 is the super-plush version.
If you need pronation support. This shoe is flat and neutral. Check out the Forza 4, it has the same great midsole but added support for extra stability.
That's about it. This shoe can do so much there are not a lot of reasons not to buy it. Technically I'd call it a tempo day shoe, but you can line up at your next race in them and be confident they are fast enough, and you can do your daily runs in them too.
It's honestly a bit of a unicorn…
Nice fitting shoe for wider feet
The Skechers Go Run Razor Excess fits true to size and has plenty of room in the toe box for my wide feet.
The lockdown is great thanks to the typical Razor upper which is more race-oriented than comfort, meaning it's stiff and not super flexible or stretchy. I like that, it allows you to get the shoe tight for faster efforts which you'll want to go for once you lace these up.
Of course, a gusseted tongue would be preferred to help even more with mid-foot lockdown, but Skechers opted out on that feature here. I hope they add it in the future.
One note of caution, if you have narrow feet, these may be a bit sloppy for you.
Surprisingly comfortable for an ultralight
These shoes are comfortable, which is a surprise because in hand the upper feels stiff and plasticky, and the goal here was an ultralight shoe (comfort is usually sacrificed for weight).
But there is enough padding in the ankle collar and heel to add a sense of comfort even though the rest of the shoe feels more like a race shoe. If this was a race shoe specifically, the way I would describe it is the most comfortable race shoe on the market. As a daily trainer though there are obviously more plush rides to be found.
The midsole is immediately felt and it's Hyper Great! There's a glued-in insole/sock liner that's thin at just 2.8mm (average insoles are 4.2mm thick) but it's enough extra padding to make the underfoot feel real nice, even without socks on.
It also has a thin, race-like tongue that's just one to two millimeters thick. I like thin tongues, but what's nice here is Skechers added a small foam strip in the center of the tongue (5.1mm thick), to provide just enough protection from lace bite. More tongues should follow this method.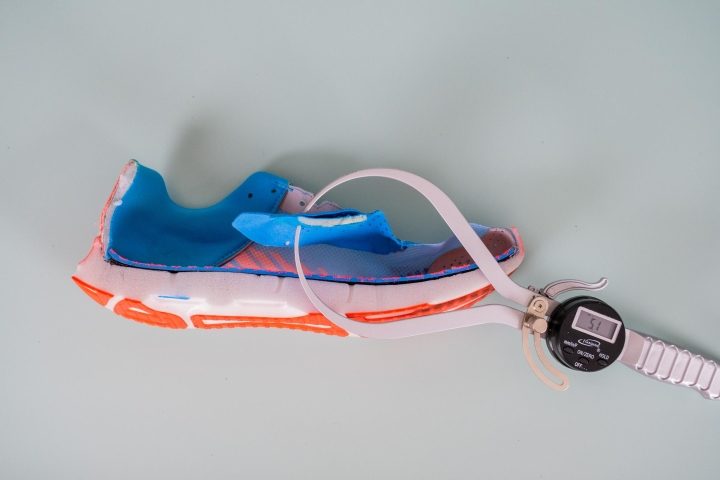 Surprised at the comfort actually, well done Skechers!
The do-it-all shoe with an amazing ride
Ok, onto the real discussion for the Razor Excess, its ride.
It's fast, the midsole is extremely lively, even though it's more excessive than the Razor+, it wants you on your toes pushing the pace if you have the legs to do it.
I dig that in a world of 40mm stack shoes, the Razor "Excess" is low to the ground. At 27.4mm in the heel and 21mm in the forefoot this is well below the average shoe (32.7/24.6mm).
Our measurements read a 6.4mm drop but Skechers claims this is a 4mm drop shoe. It doesn't feel as aggressive as the claimed 4mm, but either way, I like how it feels and is on the lower end of the drop spectrum. To me shoes 8mm and above are not ideal for my running style, so I appreciate these coming in a touch under that.
The flex of the shoes is softer than the average shoe at 32.3N (Average is 38.9N), but it doesn't feel mushy or overly flexible at all.
The shoe flexes but it' has a very consistent flex that incorporates the whole length of the shoe. Shoes normally have a flex breakpoint under the toe joint, and even very stiff shoes tend to flex under the toe with little to no flex under the midfoot. But the Razor Excess doesn't break under the toe, giving it added propulsion as you get to the end of your stride, something I really like about this model.
It has the pop of a lightly plated shoe without the plate. I like that, it's very peppy for a shoe without a plate and labeled as having "excessive" foam in the midsole. Skechers should google "Hoka" to really understand what excess means.
Takes a few runs to get used to
The Razor Excess is rockered and peppy, so it may take a little time to get used to this shoe.
Be sure to break it in on a few runs before any real efforts or taking it out on race day. Did I just say race day again? Is this a race shoe? It's getting confusing in my mind what this shoe is for since it seems it can possibly do it all!
Wowzers the weight is amazing
Lightweight!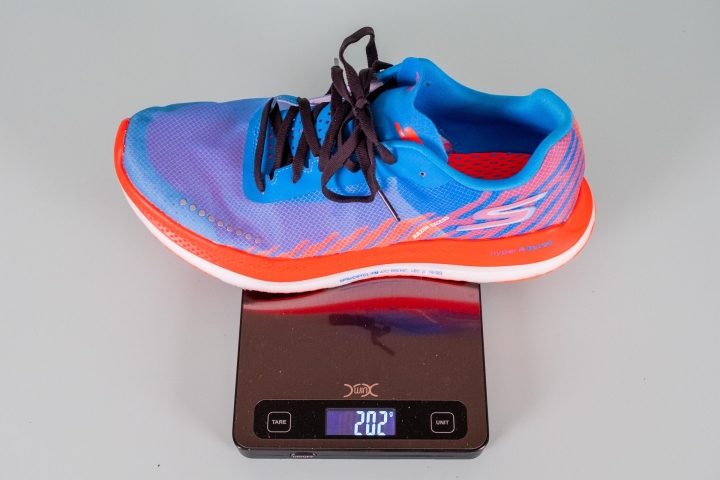 At just 7.1 ounces (202g) this is an extremely light shoe especially with its "excess" foam underfoot.
Well done!
Durability is questionable but grip is great
Will this shoe last a long time? Doubtful. It feels really thin in the upper, and I am still unsure about the longevity of the Hyper Burst midsole.
One thing for sure though, it has great outsoles from Goodyear. They are grippy and durable, so far I have not been disappointed in the last 4-5 shoes I've tested with this compound on the bottom side.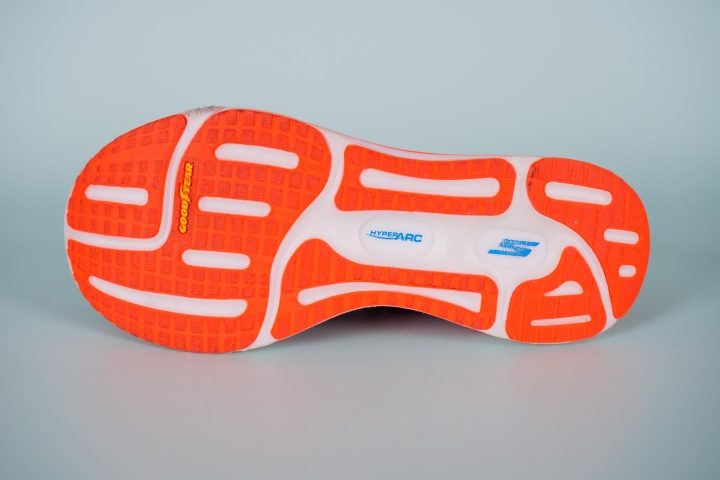 What's the Razor Excess's purpose
I added this section about the purpose of the Razor Excess because I think it needs a little clarification.
To me, this shoe can work for longer runs, tempo workouts, race days, and even at a slower pace if needed. It takes that excitement I feel in the Razor+ and allows me to do more with it, which I love!
If we're looking at this shoe as a daily trainer, which I kinda am, at its weight, it may be the lightest, capable, daily trainer out there. Awesome!
If we look at it as a race shoe, it's also light in that category, fast, and padded with extra comfort that other race shoes cut out.
Tempo shoe? This is really its sweet spot, but it's hard to pigeonhole it into just this category since it can do so much more.
Lastly, as a slow shoe, it's not great, but it can work thanks to its rockered, rolling transitions, and extra foam compared to the Razor+ (which is not a slow, long day shoe…).
Again, vote two on the unicorn status.
Breathability
The upper is super thin and breathable. The whole of the upper is basically mesh, and there's not a ton of foam padding getting in the way of escaping heat.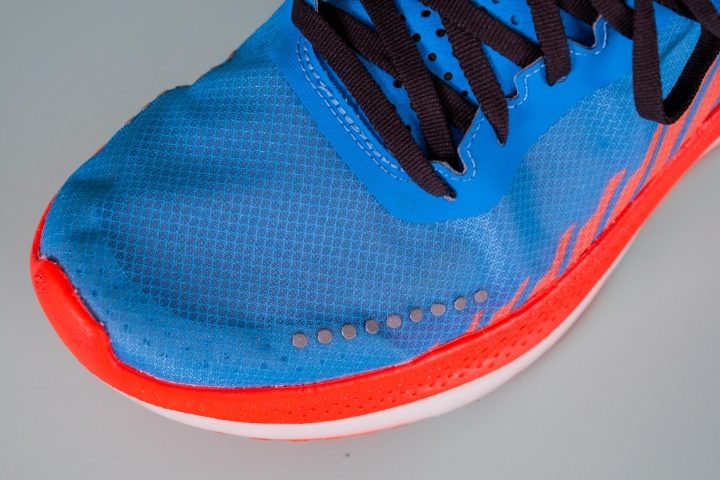 Double knot the Razor Excess
The laces slip.
At 13.7N on our lace slip test, they are well below average (average is 22.9N) and really need to be double knotted.
No night running
There are no reflective elements. What looks to be reflective dots on the toe didn't really light up for us in our reflective tests.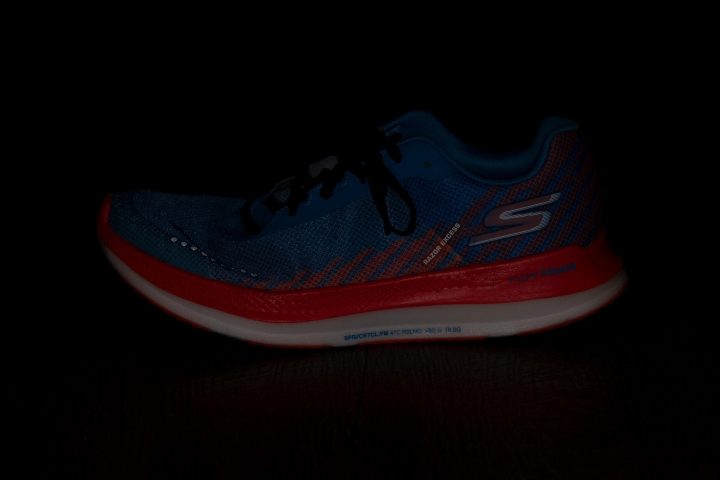 Conclusion
At $140 I think you actually think you are getting a good value here with other shoes in this category ranging more between $160-180.
It can do a lot of things and does most of them really well.
I also love the looks!
Complete lab-specs overview
Razor Excess
Average
Whole shoe

Weight (g)

202

265

Drop (mm)
6.4
8.1
Flexibility of the shoe (N)
32.3


38.9

Flexibility of the shoe (Freezer 20 min) (N)
49.1

47.7

Flexibility of the shoe (% of change)

52.0

40.7

Lace slip test with the knot (N)

13.7

22.9

Longitudinal flexibility (1-5 scale, 5 being the stiffest)

4

3.0

Torsional flexibility (1-5 scale, 5 being the stiffest)

4

3.1

Upper

Thickness - Tongue (mm)

5.1

5.5

Width Upper - Forefoot (mm)

95.7

98.4

Width Upper - Heel (mm)

75.1

75.8

Lace Stretch (1-5 scale, 5 being the most stretchy)

4

2.8
Flexibility of the heel counter (1-5 scale, 5 being the stiffest)
3
3.0
Tongue: gusset type

None

-

Heel: pull tab

No

-

Midsole

Width Midsole - Forefoot (mm)

113.2

113.0

Width Midsole - Heel (mm)

87.3

89.5

Stack - Forefoot with insole (mm)

21.0

24.6

Stack - Heel with insole (mm)

27.4

32.7

Durometer Midsole Heel (Room temperature) (HA)

35.0

22.4

Outsole

Outsole thickness (Heel) (mm)
1.9

3.4

Lugs Depth (mm)
N/A

3.2

Durometer Outsole Heel (Room temperature) (HC)

72.5

79.7

Insole
Insole Heel Thickness (mm)
2.8

4.2

Insole: removable

No