Review coming soon
Saucony Endorphin Speed has just been released by Saucony . Our experts are working on a detailed review. Please, come back later.
Get an email when final verdict is ready:
My Rating
User reviews:
REI, Jack Rabbit and 18 other shops don't have user reviews
Our reviews
Three words: Saucony. Nailed. It.
Saucony has unleashed a complete line-up of road-racing shoes set to cross the finish line at record speeds—and I must admit: The Endorphin Speed has exceeded my expectations.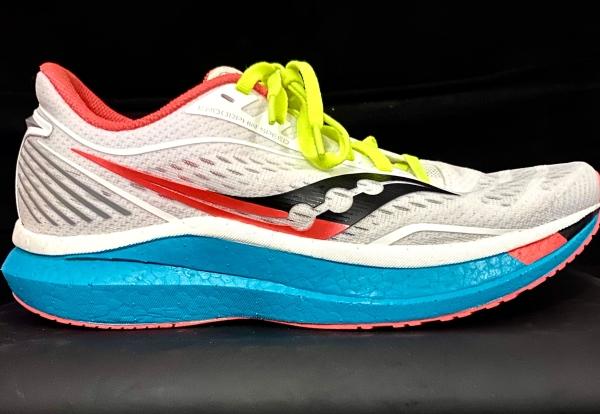 Specs
Release year: 2020
Shoe type: Road, racing
Arch: Neutral
Weight: men's = 7.8 oz (sz 9) / women's = 6.8 oz (sz 8)
Stack height: Heel = 33mm / forefoot = 25mm
Price point: $160
Aesthetics
What a colorway! The shoe is vibrant, and the choice of colors for the OG model brings about the excitement to lace up and take this shoe for a ride. The Saucony logo is displayed on both sides of the shoe, and "Endorphin Speed" is detailed on the lace eyelets.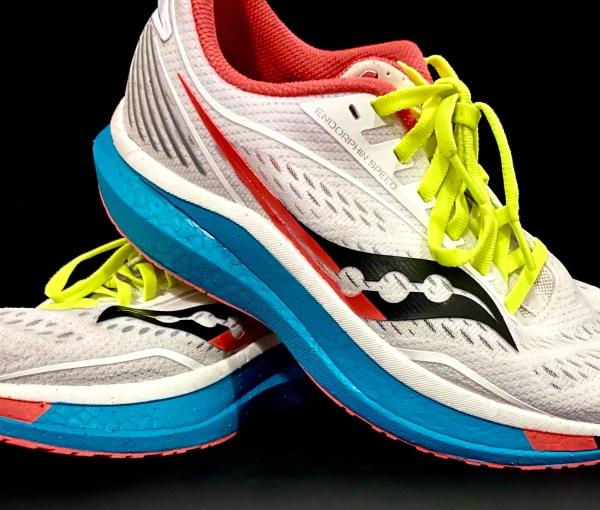 Upper
The upper is comprised of a light, mesh-like material and is laced with a series of ventilated holes for added breathability. The upper is incredibly comfortable and wraps around the foot without any feeling of rigidity or stiffness, particularly near the toe box.
The laces are perfect on this shoe. I typically encounter issues with some laces being too long or too smooth and will replace the stock laces with a lock lacing system.
However, I had no issues with the laces untying or getting in the way during my run with the Endorphin Speed. Besides, the lime green adds a bit of "pop" to the shoe's overall appearance.
Fit and performance
Race-ready out of the box!
I had purchased the Endorphin Speed to use primarily as a long distance (10+ miles) trainer. However, I may lace them up for some track-based speed work.
I have worn the Endorphin Speed on two long runs thus far for a total mileage of 25 miles. Each run had some tempo-based intervals followed by short periods of active recovery, and one word comes to mind when running in the endorphin speed: Smooth.
The Endorphin Speed runs true to size, and I do not have any issues with rubbing, chafing, or slipping. The heel cup does offer some structure throughout the shoe and may contribute to the overall security of the fit.
Though the Endorphin Speed is marketed as a trainer in comparison to the Endorphin Pro, the Speed fits like a racing shoe—just a bit more comfortable.
Midsole
This is where things get interesting.
Saucony integrates a nylon-based plate throughout the midsole. The classic "pop" as described among carbon-plated racers is not as apparent in the Endorphin Speed; however, the nylon plate does offer some stiffness to help propel you through your stride and keep you pushing off of your midfoot/forefoot.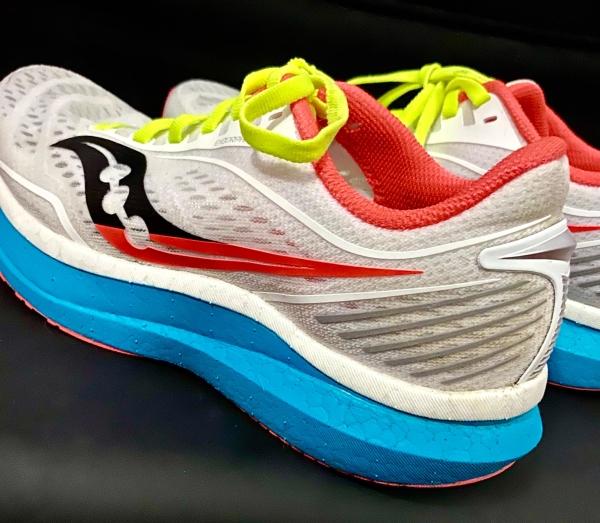 The propulsion is subtle, particularly in comparison to a shoe like the Nike Vaporfly Next%. Nonetheless, the ride is smooth and effortless. I was able to switch gears from tempo-pace to recovery and vice-versa without feeling a large lapse in paces.
The underfoot of the Endorphin Speed is cushioned with Saucony's newest foam: PWRUN PB. The shoe is light, bouncy, and responsiveness—highly responsive. I do not feel my feet sinking into the shoe, and I can quickly transition through my stride.
With 33mm and 25mm of PWRUN PB, the overall cushioning is incredibly forgiving. Despite such a high stack height, the Endorphin Speed feels stable—even when turning corners.
Outsole: Traction & durability
Rubber thinly lines the medial/lateral heel and covers the midfoot/forefoot in its entirety. The remainder of the outsole is exposed PWRUN PB. Although I have only run 25 miles in this shoe, I did not notice any significant issues with traction.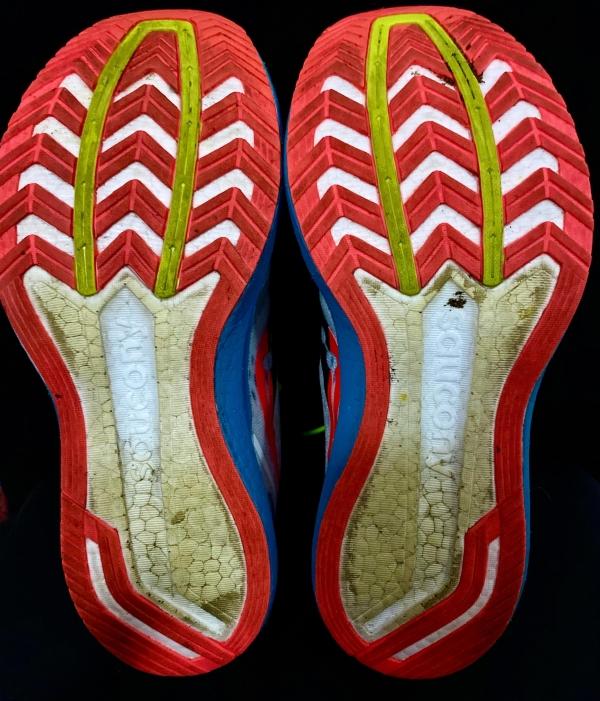 At this point, I do not have clear expectations regarding the shoe's lifespan. However, I do anticipate to run many more miles in this shoe whilst maintaining its overall integrity and performance quality.
Final thoughts
At $160, the Endorphin Speed offers a fast, responsive, race-ready ride for a significantly cheaper price than current plate-based racers. Honestly, I am already considering purchasing a second pair!
This shoe is easily my favorite shoe of 2020. Hands down. No questions asked.
Though I had initially purchased the Endorphin Speed as my long-distance trainer, I do anticipate pushing this shoe through the paces during track sessions. I am curious to see how this shoe responds are faster speeds.
The Endorphin Speed is built for athletes looking for optimum speed performance on every run. Designed with comfort and durability in mind, this highly cushioned running shoe from Saucony is aimed to take your racing to new levels. It can take on any activity from daily running to marathon racing, all while offering a natural feel at the same time.
The shoe's best feature is the PWRRUN PB cushioning which is 40% lighter than Saucony's PWRRUN+ cushioning. This makes the Endorphin Speed feel lightweight and perform faster. It is powered by a nylon plate that isn't only flexible but also reduces fatigue to your legs more than the carbon fiber plate found in other Endorphin models.
Keeping your feet cool for longer won't also be a problem any more thanks to the perforated mesh upper. It keeps this neutral running shoe well ventilated, keeping your feet cool, dry, and comfortable at all times.
The shoe wouldn't also be called Endorphin Speed without its SPEEDROLL technology. This provides a responsive rolling feel underfoot, making the shoe an excellent fit for road runs and jogging.
Endorphin Shift. The Shift is the base model in this collection. It is best for all-day wear or when you're just taking it easy on recovery days. It uses the PWRRUN cushioning combined with a thin layer of PWRRUN+, which means it slightly heavier than the Endorphin Speed because of its midsole.
Endorphin Pro. A carbon-fiber plate makes it different from the Endorphin Speed, which uses a nylon plate to power its PWRRUN PB midsole. The use of a carbon-fiber plate in the Pro means it packs power ideal for runners competing at a professional level. A perfect example would be Molly Seidel, who wore the Endorphin Pro and placed second at the 2020 US Women's Olympic Marathon Trials.
Even though each shoe in the Endorphin collection varies from one another in design and performance, it all has the same endgame: to offer you a Saucony running shoe that suits your activities and helps you achieve your racing goals.
Size and fit
True to size
based on 20 user votes
How Endorphin Speed compares
Corescore: 54-57
1 shoes (0.11% of shoes)
Corescore: 58-62
3 shoes (0.33% of shoes)
Corescore: 63-66
7 shoes (0.76% of shoes)
Corescore: 67-71
27 shoes (3% of shoes)
Corescore: 72-75
52 shoes (6% of shoes)
Corescore: 76-79
63 shoes (7% of shoes)
Corescore: 80-84
153 shoes (17% of shoes)
Corescore: 85-88
249 shoes (27% of shoes)
Corescore: 89-93
309 shoes (34% of shoes)
Corescore: 94-98
57 shoes (6% of shoes)
Price: $40 - $70
113 shoes (12% of shoes)
Price: $71 - $101
264 shoes (29% of shoes)
Price: $102 - $132
270 shoes (29% of shoes)
Price: $133 - $163
165 shoes (18% of shoes)
Price: $164 - $194
63 shoes (7% of shoes)
Price: $195 - $225
33 shoes (4% of shoes)
Price: $226 - $256
9 shoes (0.98% of shoes)
Price: $257 - $287
1 shoes (0.11% of shoes)
Price: $288 - $318
2 shoes (0.22% of shoes)
Price: $319 - $350
1 shoes (0.11% of shoes)
Weight: 3.5oz - 4.7oz
6 shoes (0.78% of shoes)
Weight: 4.8oz - 5.9oz
18 shoes (2% of shoes)
Weight: 6oz - 7.2oz
46 shoes (6% of shoes)
Weight: 7.3oz - 8.5oz
141 shoes (18% of shoes)
Weight: 8.6oz - 9.8oz
208 shoes (27% of shoes)
Weight: 9.9oz - 11oz
221 shoes (29% of shoes)
Weight: 11.1oz - 12.3oz
99 shoes (13% of shoes)
Weight: 12.4oz - 13.6oz
25 shoes (3% of shoes)
Weight: 13.7oz - 14.8oz
5 shoes (0.65% of shoes)
Weight: 14.9oz - 16.2oz
5 shoes (0.65% of shoes)