Unlike other trail shoes we've tested, the Supercross surprised us with its light build. It may have skimped on weight, but it sure didn't on grip! On mud, snow, and wet trails, the shoe was astounding! And it's not too aggressive either that it can't handle some urban trails. Throughout our runs, the shoe kept our feet very cushioned, and even better, it's responsive!
Pros
Lightweight
Aggressive grip
Responsive feel
Excellent durability
Secure fit
Cons
Light on insulation
A little tippy on technical terrain
Salomon Supercross review
The Salomon Supercross is an excellent choice for someone looking to have a shoe that's ready to take their trail running up a notch.
A very aggressive sole allows for some semi-rugged trail running but does not deter a leisurely run around an urban trail area. The shoe is lightweight for a trail runner, has a responsive feel, and boasts a comfortable fit.
At an MSRP of $110, the Salomon Supercross is a great deal for anyone looking to add a high-quality trail shoe to their arsenal of footwear.
A cursory glance at the Salomon Supercross reveals an aggressive tread that appears to be ready to tackle some burly terrain, and in that vein, the Supercross did not disappoint.
A dedicated trail running shoe to be certain, the Supercross finds its home on a variety of terrain and even felt pretty good on a gravel pedestrian trail. With five different color options, the Supercross will also fit nicely into the color palate of any runners wardrobe.
Fit of the Supercross
The Salomon Supercross offers a comfortable fit. The heel box is nice and snug, which is something I really look for with my boney heels. The accentuated tab at the rear entrance of the heel-box helped to make for easy on and off.
The Orthofit liner felt nice as usual. The tongue is well-padded. And combined with the Quicklace system, it provided a very secure fit that lasted the entirety of every run I've done in these shoes.
The tongue features an elastic band that lets you tuck in any excess lace after snugging it up.
Performance
The Salomon Supercross has superb grip. The 4mm multidirectional lugs offer great grip on loose, rocky, and rugged terrain.
My initial test runs in these shoes were all done in late fall and early winter conditions, basically a mess of snow, ice, water, and mud. These shoes were right at home in these conditions.
These were just enough to handle everything short of what might require a waterproof shoe or something with additional traction.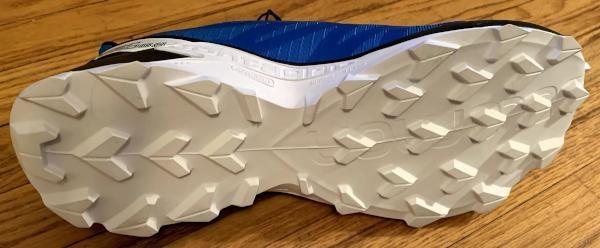 The Contragrip compound that Salomon uses has excellent grip in wet conditions. The shoe cushioning is pretty decent, considering the weight of the shoe. I found it to be ample.
This shoe hit my training cycle right at the perfect time. My long Ultras are done for the year, and my mileage has tapered off a bit, but the trails around Missoula are still pretty run-able.
These shoes seem perfect for my 8-12 mile runs on semi-aggressive trails with an odd wintery mix of conditions. The toe cleat is nice for that those short and fast bursts up small, steep climbs.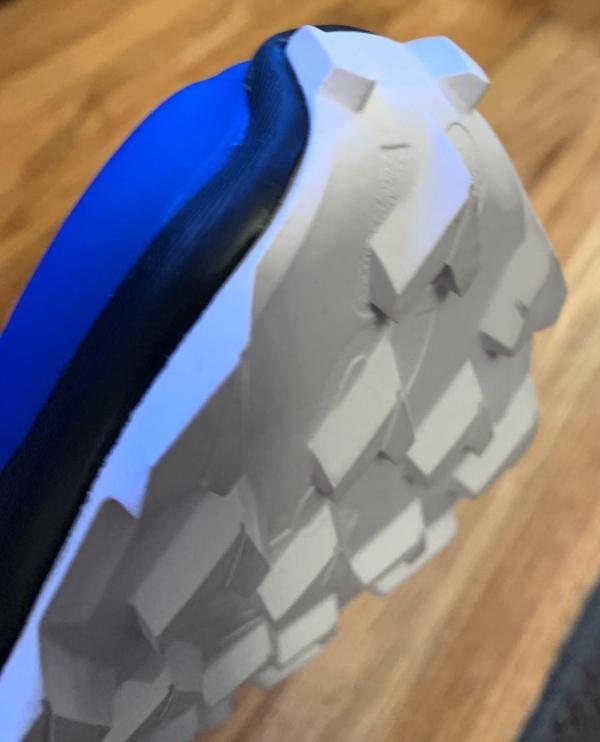 The padding of the sole is most aggressive in the heel and as perfectly suited for those heel strikers out there. The weave of the upper material reminded me of rip-stop fabric used in tents and other outdoor gear. It looks pretty rugged but retains a high level of breathability.
The shoes upper felt a little bit chilly on the cold days I had it out, but it is December in Montana, so go figure.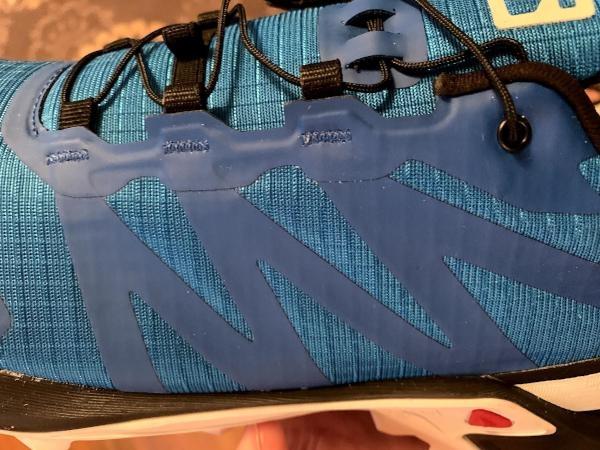 The upper is fabric and is injected with lateral bands of smooth rubber that tie into the reinforced rubber of the lacing system. These created a strong girdle of support around the foot without adding a bunch of unnecessary weight.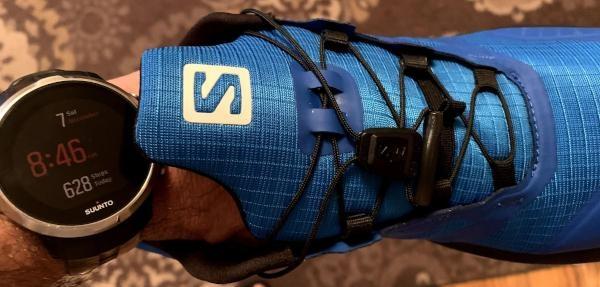 The Quicklace lacing system is Salomon's trademark lace technology and never seems to fail. I used this system from back in my days of cross-country ski racing.
The Quicklace system gives a super nice balanced lockdown on foot and is very user-friendly when it comes to making micro-adjustments on the fly.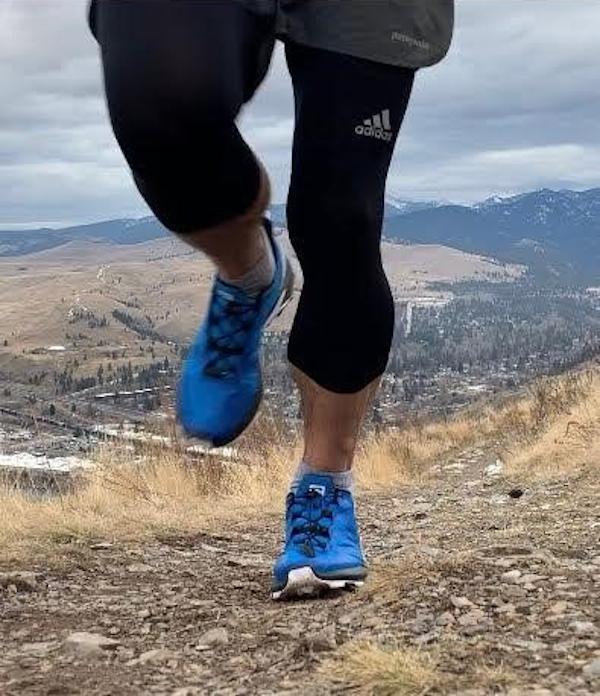 The Supercross is not a stability shoe, so if you're looking for a shoe that is forgiving on tricky terrain, this is not it. The narrow sole in the arch runs more like a road shoe in that respect.
That said, the traction of the sole and the responsiveness of the shoes lightweight feel all but make up for this lack of stability.