Full disclosure – I'm a huge fan of On Running, the innovative Swiss company which has been making waves since its founding just 7 years ago.
Over the past 3 years I've accumulated (through my own purchases) no less than 8 of their models and, while I've not loved everything about all of them, by and large they are my favorite shoes to run in, whether for long slow runs (Cloudrunner), racing 5ks to marathons (Cloudracer), or for going off-road (Cloudventure).
One of their models, the Cloud, actually looks more like loafers than runners, and don't look too out of place worn to the office with chinos.
With the introduction of each new model, the company has shown it is not afraid to think outside the box, whether it be in the design, upper material, lacing configuration or, perhaps most obviously and crucially, the outsole.
It has, quite frankly, been fascinating to observe the progression of the company's line-up, with each innovation and tweaking by and large for the better.
This is refreshing to see in an industry which is dominated by a few established majors where sometimes new iterations bear change just for the sake of change and not always for the better.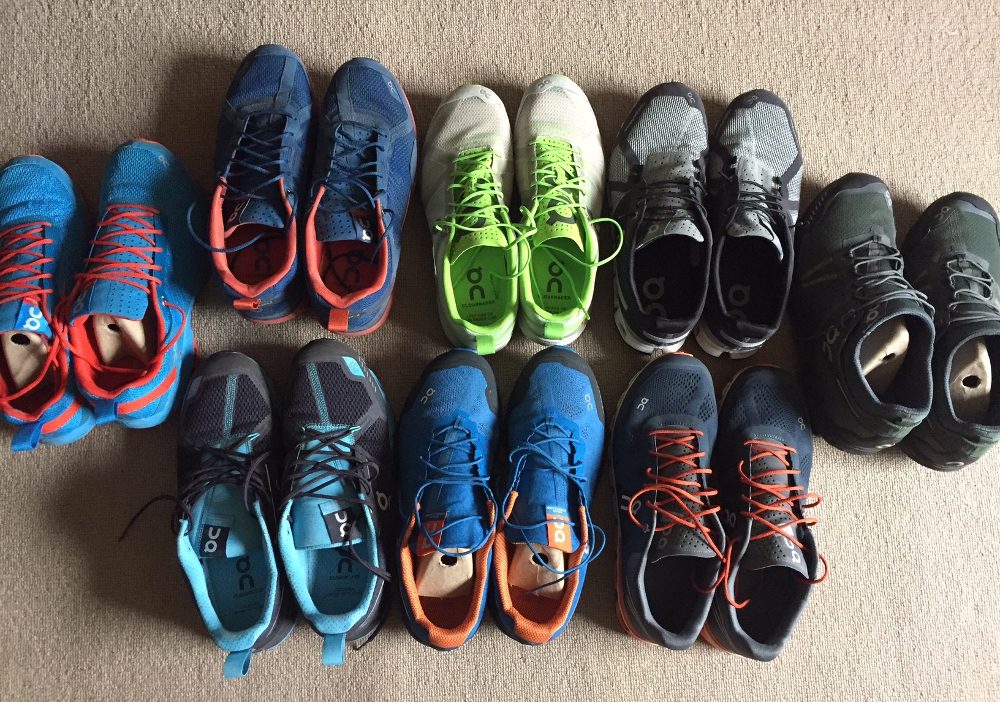 My On line-up. Shoe problems? What problems?
Cloudflow
So, this brings us onto the Cloudflow, which is again a culmination of evolution along with new features and is targeted according to On for "runners looking for a very lightweight and responsive performance shoe."
The shoe is indeed light, weighing in at just 220gr for men's US8.5 and with 6mm heel-to-toe offset, which is the default standard for On for their daily trainer range (vs 5mm drop for racing-oriented models).
Speedboard
Cloud-Tec is On's term for the outsole "pods" which is the most distinguishing feature of their shoes, and Cloudflow incorporates 18 of them, which is the most they've had on any model to date.
Less visible but just as important, is the Speedboard, a piece of rigid material which line their shoes and provide for smoother transition and explosive lift-off, contributing to the overall "feel."
Pods seen up close
The Pods
Now, the pods.
Being elite-level athletes themselves, the founders cottoned on to the fact that running on more forgiving surfaces such as sand and gravel led to less post-run pain and impact-related injury over long-term.
This makes sense since softer surfaces should lead to softer landing. However, this comes at a cost – more effort is then needed for takeoff.
The pod is On's solution to this, to enable "cushioned landing, firm takeoff." All of this is much better explained on their website so I'll just say that it works – to varying degree of success however.
From left to right: Cloudrunner, Cloud, Cloudflyer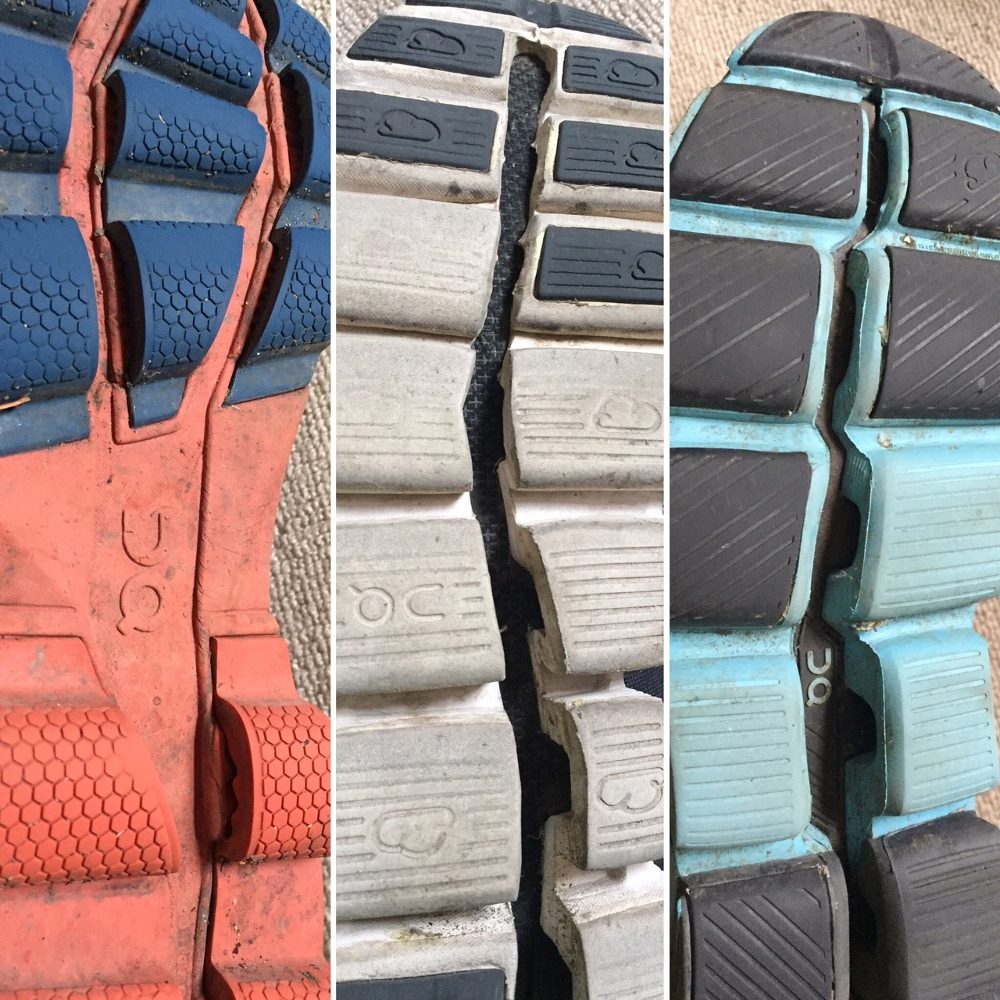 Earlier pod designs as seen on previous models of Cloudsurfer and Cloudrunner suffered durability issues which to the company's credit they were quick to address, both by offering free replacements and through design improvement.
The Cloud showcased the new design and the subsequent Cloudflyer was akin to a hybrid between the two, with the ever-present aim of achieving both the feel and durability.
The Cloudflow in a sense is the most evolved form, where the number of Cloud elements is increased from the 12 in the Flyer to 18 while retaining a similar shape to those in the Flyer.
Cloudflow's 18 pods
Putting them to the test
So the Cloudflow may represent the end-result of experimentation with both design and number of pods. The most important question remains though – does it work?
And having put some 150km on them over a variety of distances and paces, I can conclude that they do. The feel is, as you would expect, firmer than Cloudsurfer or the Runner but more cushioned than the Flyer while the upper feels as light and unobtrusive as the Cloud.
The fit  is comfortable as I have found all of On's models to be (with the exception of new Cloudsurfer which I found a bit "sloppy" and with the laces running down pretty much the entire length of the foot I found it easy to dial in an ideal fit.
The attention paid to design and detail again does not disappoint and it is clear the company takes quality control seriously, with very little to fault in terms of the product and much to admire.
Proud attention to detail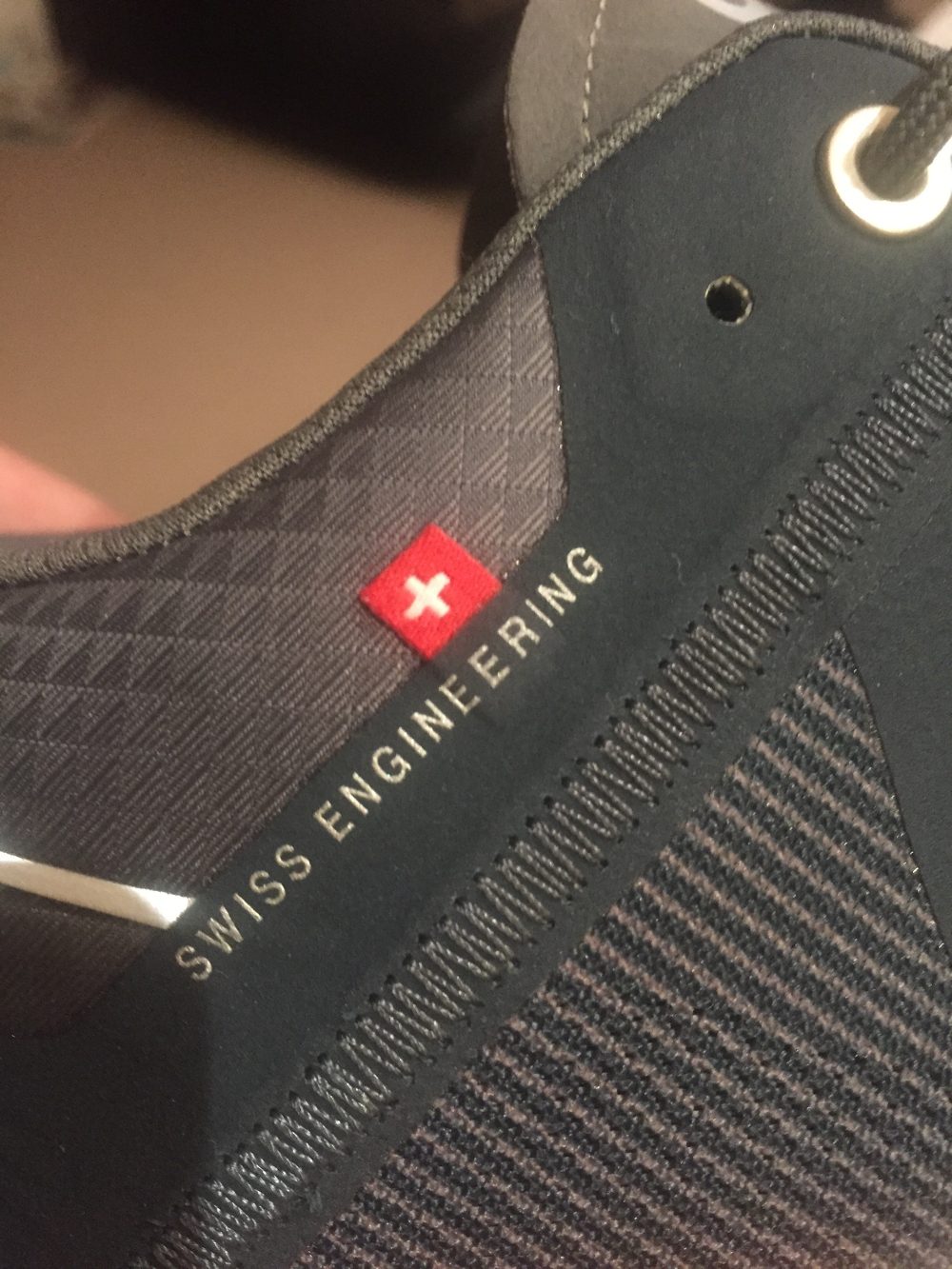 Of particular note is the upper, which consists of overlays of "engineered mesh" where the absence of seams  translates directly into comfort, whether socked or sock-less.
A minor gripe for Cloudflow and indeed all of the current generation models is the lace, which is too long and too thin, perhaps due to overzealous nod to aesthetics over function.
The thinner laces do tend to untie themselves a bit too easy mid-run.
Fortunately, I had a solution at hand. Some of the older models used to come with two sets of laces, in different colors, and I simply swapped out the laces in Cloudflow with the spares from Cloudrunner.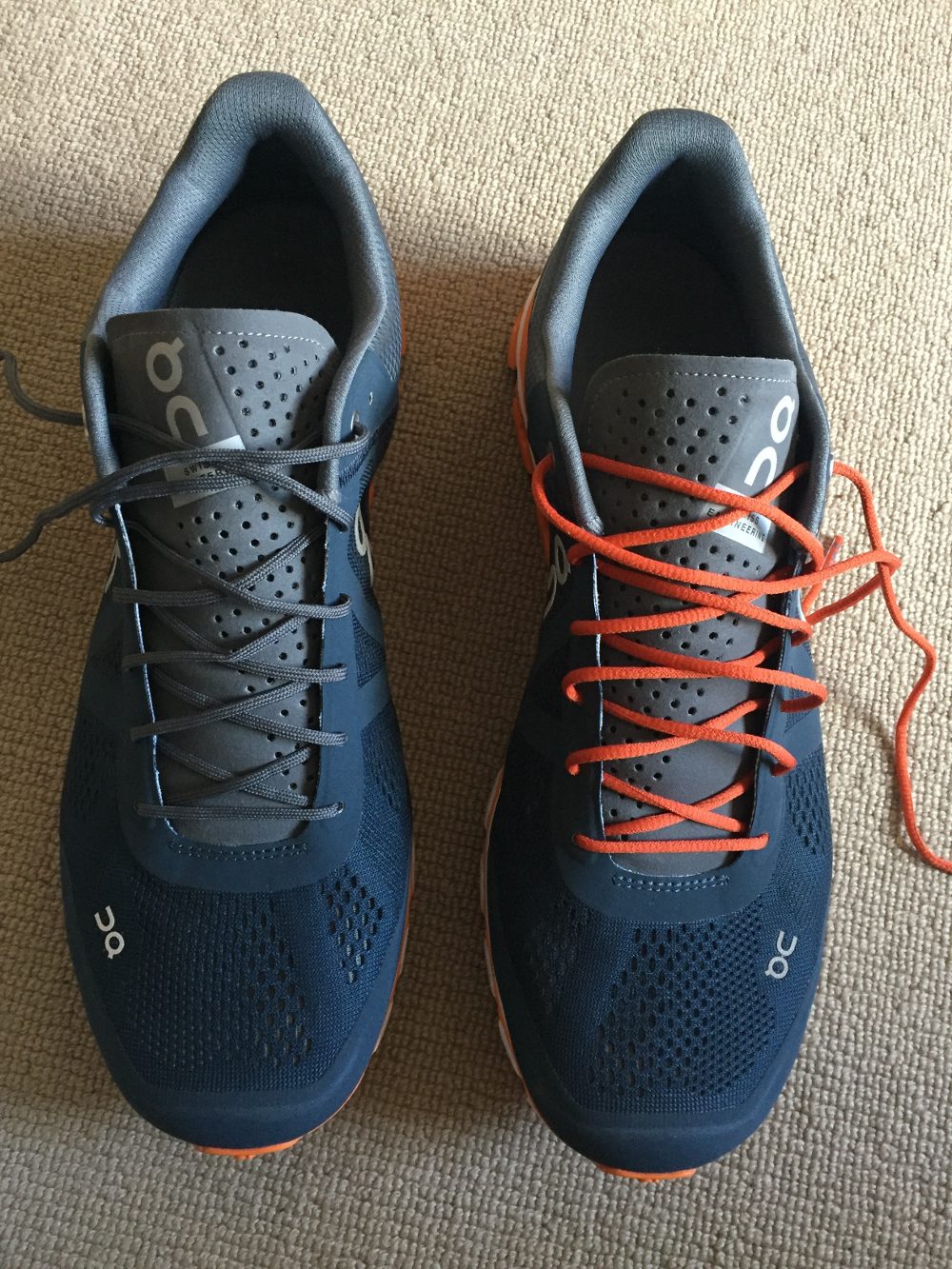 Not only do they now stay tied better, but also look better, if I may say so.
The other minor point is that the soles are not the grippiest in the wet, but that is probably true of most shoes barring the Adidas models bearing Continental rubber.
Conclusion
Overall, I think for neutral runners looking for a daily trainer that can also be stretched to racing 10ks, half marathons or marathons in, the Cloudflow would be ideal.
The super-breathable upper together with dubious grip also means these are better suited to drier warmer weather running.
What I can say as a long-time follower is that On Running continues to impress with each new offering, and Cloudflow have definitely found a place among my On collection. To be specific, between Cloudrunner for long slow runs and Cloudracer for well, racing.