Verdict from 39 experts and 100+ user reviews
8 reasons to buy
Many runners welcomed the On Cloudflow, stating that it performed well.
Several testers were thankful that this shoe was able to provide comfort to their feet.
Wearing this shoe for long periods of time didn't cause any strain or discomfort to the muscles, according to those who have tried it.
A lot of consumers were satisfied that it was lightweight.
The design and the color schemes received some praise; there were runners who thought that it was visually appealing.
Some testers were confident about this shoe's quality, commending its apparently robust material-construction.
The cushioning system was comfortable and responsive, conveyed a reviewer.
A runner stated that they were able to use the On Cloudflow for a variety of activities on the flat surfaces and they reported that it stayed agreeable throughout.
3 reasons not to buy
A tester reported that rocks kept getting stuck in the crevices and holes of the sole unit, and that they were hard to get out.
The outsole wasn't able to grip wet surfaces well, a reviewer wrote.
A runner noted that the rubber pattern below each cloud pod wore off quickly.
Bottom line
The On Cloudflow gained some fans because of its efficacy and its agreeable design. Many runners welcomed its lightweight nature, its responsive cushioning systems, and its apparently cool aesthetics. There were close to no complaints when it comes to this neutral road shoe.
Tip: see the best running shoes.
Our reviews
According to the Running Warehouse, "The On Cloudflow is a lightweight neutral trainer that features 18 individual cloud pods underfoot for a high level of cushioning and responsiveness."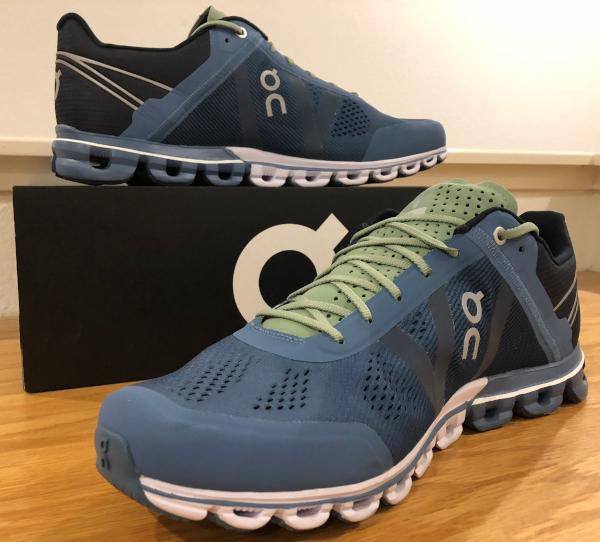 Do we concur with this assessment? See the verdict below.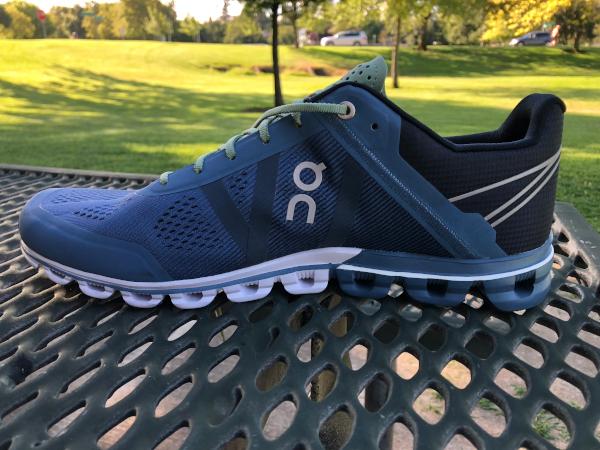 The shoe
On Cloudflow has a lightweight mesh upper that fits comfortably. Why do I mention this first? I say this upfront because earlier, I was unsuccessful at attempting to wear test the On Cloudace model.
That stability shoe had a thick, heavy, and high rising ankle collar that rubbed painfully against my ankle bones with each and every step.
I came to slowly accept the fact that retaining skin on my ankle bones was a priority.
The upper of the Cloudflow is not just light; it's well-ventilated. And, the rubbery tongue is a joy to behold. The Cloudflow also offers excellent reflectivity for dusk or early evening runs.
The squared-off front of the shoe is unique and works quite well. One's toes have plenty of room in which to splay with glee.
However, some will find that there's not enough room over the toes—the toe box is low, quite low.
(I asked for a pair a half-size larger than my usual running shoe size to ensure that my big toes and toenails were not crunched.)
Space is further reduced by the relatively thick insole which seems like it belongs in a more substantial shoe, not one that weighs just 8.2 ounces.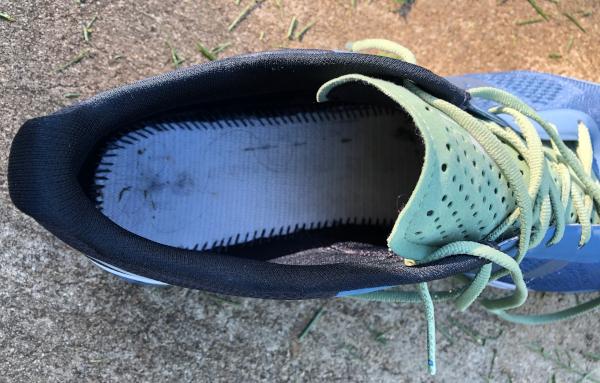 The Cloudflow is commendably flexible in one's hands. (But, is it flexible on the road? We will get to that below.) The slip-lasted board under the insole, however, feels extremely firm.
Does it have to be this firm? And, oh, yeah, there's the strange shoelaces. They are long. Ungainly long. Unnecessarily long. Disturbingly long.
The Cloudflow has a 6 mm drop and feels low to the ground whether you're walking or jogging. Whether this is a positive or negative factor will depend on one's personal preferences.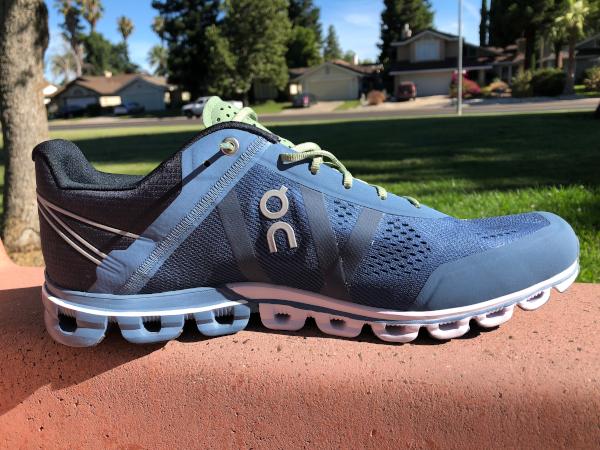 Appearance-wise, the Cloudflow is quite attractive, especially in the Lake/Fern (blue/green) colorway.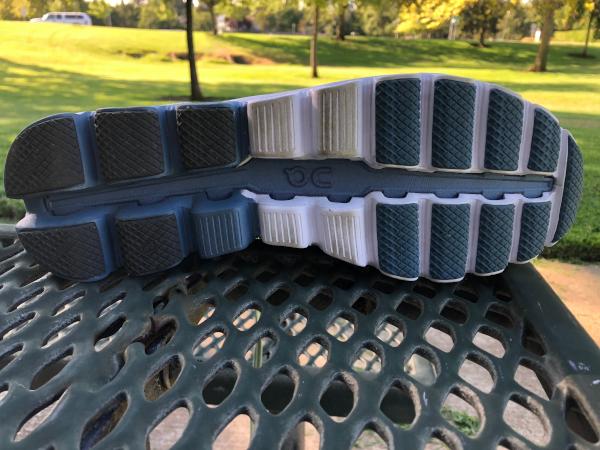 On the road
The pods (or pads) underneath the foot in the Cloudflow make the shoe awkward to walk in; I was reminded of a Newton running shoe.
It is unlikely that one would run in this shoe and then keep it on for knocking about or doing errands.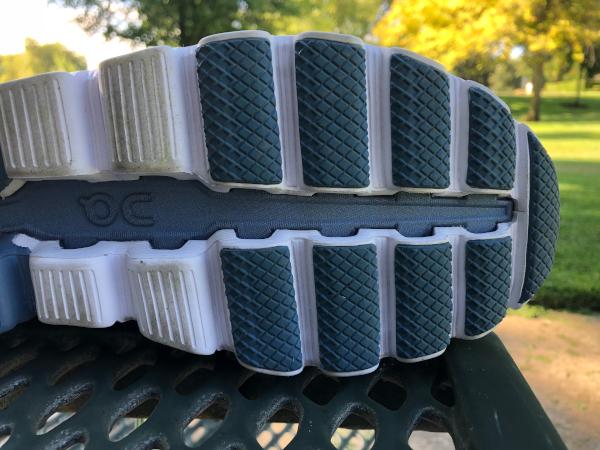 The seemingly highly flexible forefoot on the Cloudflow does not, unfortunately, translate on ground contact. The nine pods upfront negate the shoe's ability to flex on the run.
And, the firm feeling forefoot combines with a soft—but sadly indistinct, heel strike. And so, the Cloudflow proves to be quite uninspiring on slow to mid-speed runs.
The cushioning feels vague and dull. It also feels retro, like you're running in a shoe from the past. The shoe's suspension feels firm.
As we know with automobiles, firm suspensions are not great on cars that are driven slowly. But, they can be great on cars that are driven fast! And, this is the key to the Cloudflow.
The Cloudflow transforms itself on speedy pace training runs. It goes from being a dull trainer to a performance trainer-slash-race day flat.
The previously mentioned low-to-the-ground feel puts one in mind of a racing flat and builds confidence, especially since this narrow shoe has enough wideness upfront to impart a sense of stability.
The flaws of the Cloudflow on slow to mid-speed runs disappear when one is running fast. The minimal cushioning and responsiveness of the shoe can be ignored as the firmness takes over.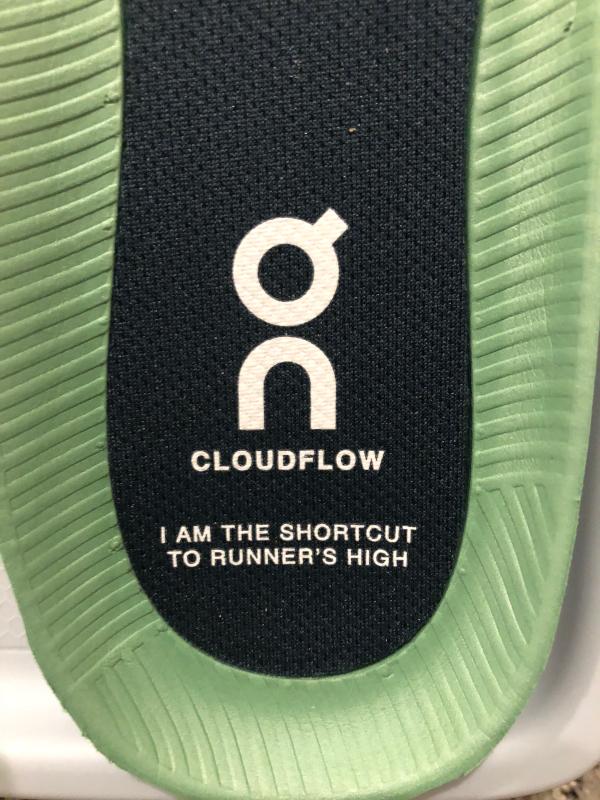 You are no longer running in the equivalent of a Buick Regal automobile; You're in a Porsche Boxster, and it feels just fine. In fact, more than fine.
Value
I was honestly shocked to see that the Cloudflow retails for $140.00. I think a fair price for the shoe would run in the range of $110 to $120, with $125 being the absolute maximum.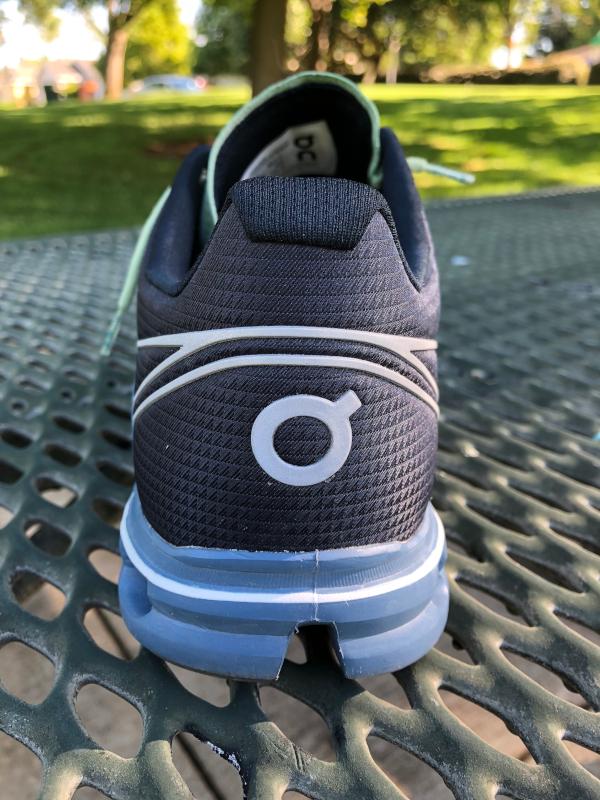 The verdict
The On Cloudflow is an interesting lightweight neutral trainer; one that suffers from a split personality.
For most runners, it will get the job done as a basic trainer, even though it lacks the excitement that other shoes at its price point can deliver.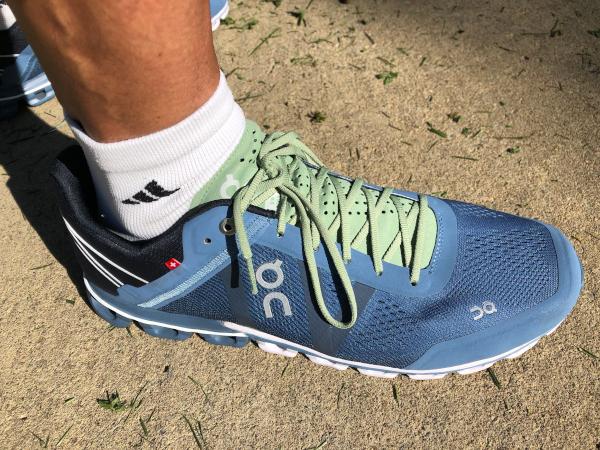 The Cloudflow also lacks the feel of modern-day technology. The shoe looks attractively modern but performs like a shoe brought back from 1991 in a time travel machine.
All of this goes out the window for fast runners who can beneficially use the Cloudflow as a fast, reliable pace trainer and as a race day shoe.
But, I doubt that these runners—these Cheetahs, will want to pay $140 for the Cloudflow.
Consider, if you will, that the Asics Lyteracer performance trainer/racing flat can be purchased for just slightly more than half the price of the Cloudflow.
The Lyteracer, by the way, weighs the same 8.2 ounces as the Cloudflow.
In terms of the price to performance ratio, the Cloudflow seems deficient.
But, if you are willing to pay a premium for a very nice looking shoe providing "Swiss Engineering"—one that not everyone else is wearing—you may not mind making your wallet lighter.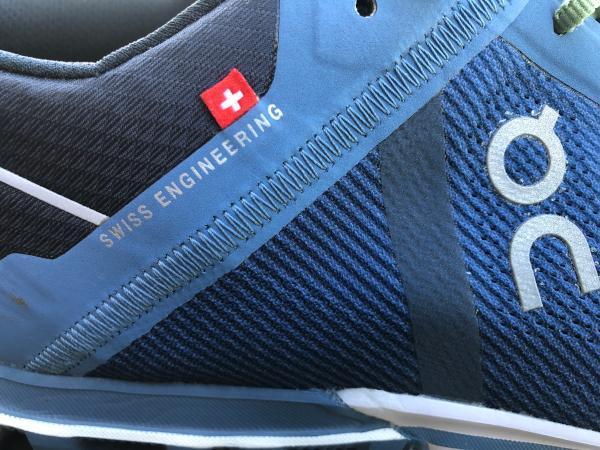 (I would not pay $310 to $400 and more for a meal at The French Laundry restaurant in Yountville, California, but some people will do so without hesitation.)
On running shoes have always been unique, and for some, this will be enough.
Full disclosure – I'm a huge fan of On Running, the innovative Swiss company which has been making waves since its founding just 7 years ago.
Over the past 3 years I've accumulated (through my own purchases) no less than 8 of their models and, while I've not loved everything about all of them, by and large they are my favorite shoes to run in, whether for long slow runs (Cloudrunner), racing 5ks to marathons (Cloudracer), or for going off-road (Cloudventure).
One of their models, the Cloud, actually looks more like loafers than runners, and don't look too out of place worn to the office with chinos.
With the introduction of each new model, the company has shown it is not afraid to think outside the box, whether it be in the design, upper material, lacing configuration or, perhaps most obviously and crucially, the outsole.
It has, quite frankly, been fascinating to observe the progression of the company's line-up, with each innovation and tweaking by and large for the better. This is refreshing to see in an industry which is dominated by a few established majors where sometimes new iterations bear change just for the sake of change and not always for the better.
My On running line-up. Shoe problems? What problems?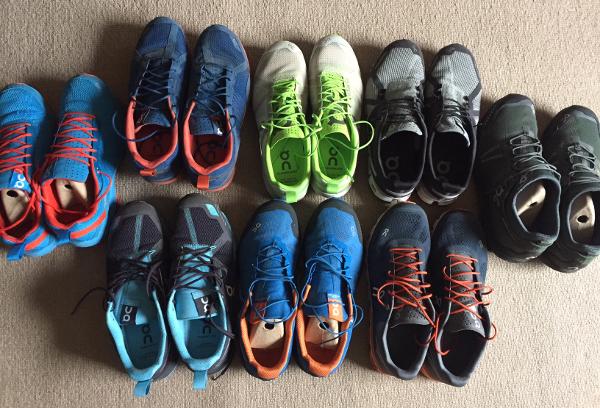 Cloudflow
So, this brings us onto the Cloudflow, which is again a culmination of evolution along with new features and is targeted according to On for "runners looking for a very lightweight and responsive performance shoe."
The shoe is indeed light, weighing in at just 220gr for Men's US8.5 and with 6mm heel-toe offset, which is the default standard for On for their daily trainer range (vs 5mm drop for racing-oriented models).
Cloud-Tec is On's term for the outsole "pods" which is the most distinguishing feature of their shoes, and Cloudflow incorporates 18 of them, which is the most they've had on any model to date.
Less visible but just as important, is the Speedboard, a piece of rigid material which line their shoes and provide for a smoother transition and explosive lift-off, contributing to the overall "feel."
Pods seen closer up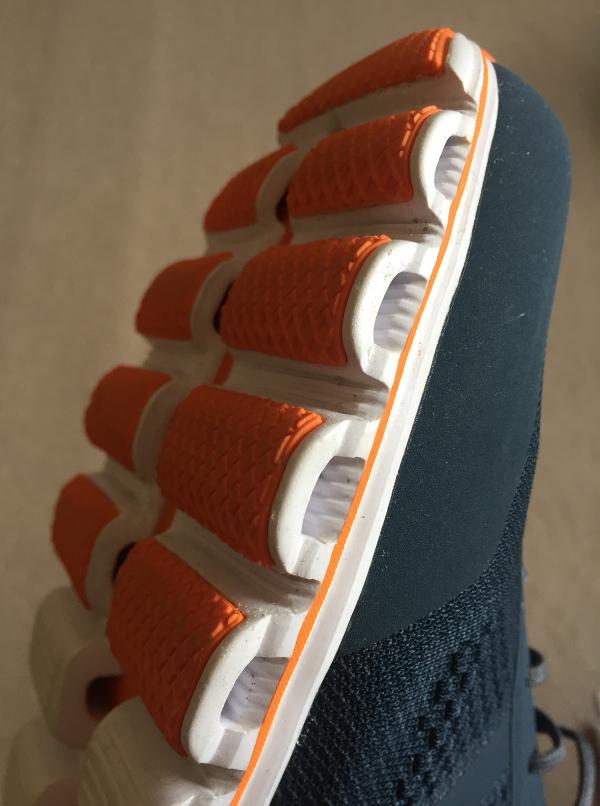 Now, the pods. Being elite-level athletes themselves, the founders cottoned on to the fact that running on more forgiving surfaces such as sand and graveled to less post-run pain and impact-related injury over long-term.
This makes sense since softer surfaces should lead to softer landing. However, at a cost – more effort is then needed for takeoff. The pod is On's solution to this, to enable "cushioned landing, firm takeoff." All of this is much better explained on their website so I'll just say that it works – to varying degree of success, however.
From L to R: Cloudrunner, Cloud, Cloudflyer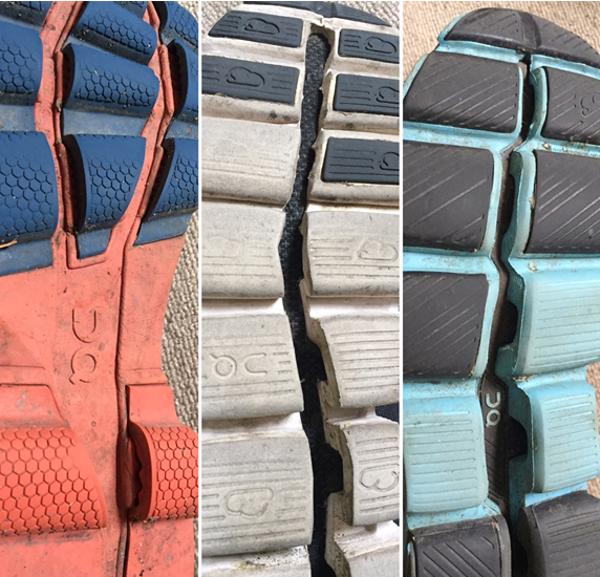 Earlier pod designs as seen on previous models of Cloudsurfer and Cloudrunner suffered durability issues which to the company's credit they were quick to address, both by offering free replacements and through design improvement.
The Cloud showcased the new design and the subsequent Cloudflyer was akin to a hybrid between the two, with the ever-present aim of achieving both the feel and durability. The Cloudflow in a sense is the most evolved form, where the number of Cloud elements is increased from the 12 in the Flyer to 18 while retaining a similar shape to those in the Flyer.
Cloudflow's 18 pods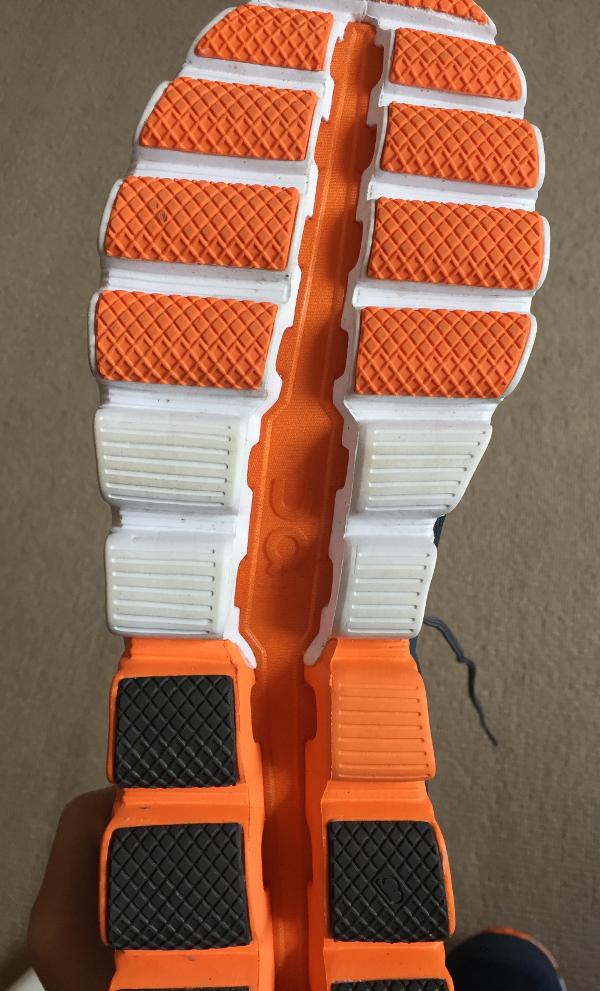 Putting them to the test
So the Cloudflow may represent the end-result of experimentation with both design and number of pods. The most important question remains though – does it work? And having put some 150km on them over a variety of distances and paces, I can conclude that they do.
The feel is, as you would expect, firmer than Cloudsurfer or the Runner but more cushioned than the Flyer while the upper feels as light and unobtrusive as the Cloud.
The fit is comfortable as I have found all of On's models to be (with the exception of new Cloudsurfer which I found a bit "sloppy" and with the laces running down pretty much the entire length of the foot I found it easy to dial in an ideal fit.
The attention paid to design and detail again does not disappoint and it is clear the company takes quality control seriously, with very little to fault in terms of the product and much to admire.
Proud attention to detail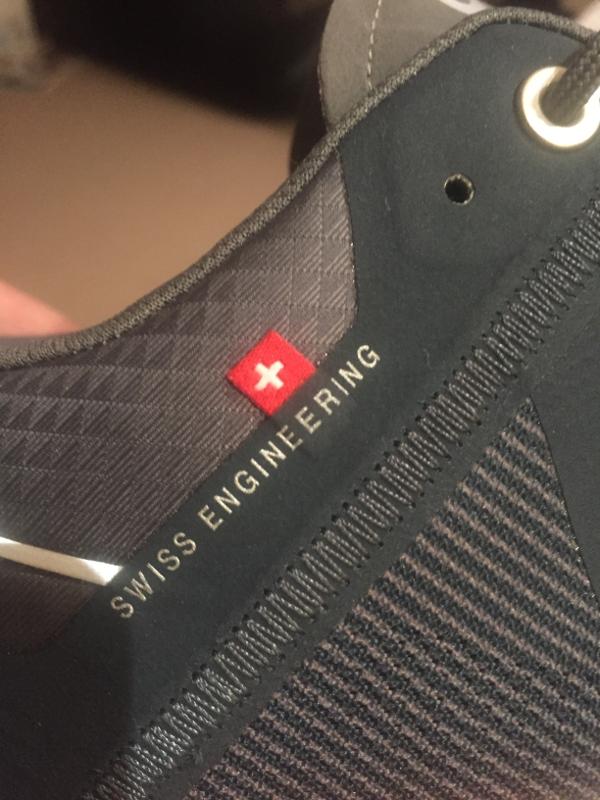 Of particular note is the upper, which consists of overlays of "engineered mesh" where the absence of seams translates directly into comfort, whether socked or sock-less.
A minor gripe for Cloudflow and indeed all of the current generation models is the lace, which is too long and too thin, perhaps due to overzealous nod to aesthetics over function. The thinner laces do tend to untie themselves a bit too easy mid-run.
Fortunately, I had a solution at hand. Some of the older models used to come with two sets of laces, in different colors, and I simply swapped out the laces in Cloudflow with the spares from Cloudrunner.
Not only do they now stay tied better, but also look better, if I may say so. The other minor point is that the soles are not the grippiest in the wet, but that is probably true of most shoes barring the Adidas models bearing Continental rubber.
Original lace (L) vs customized (R)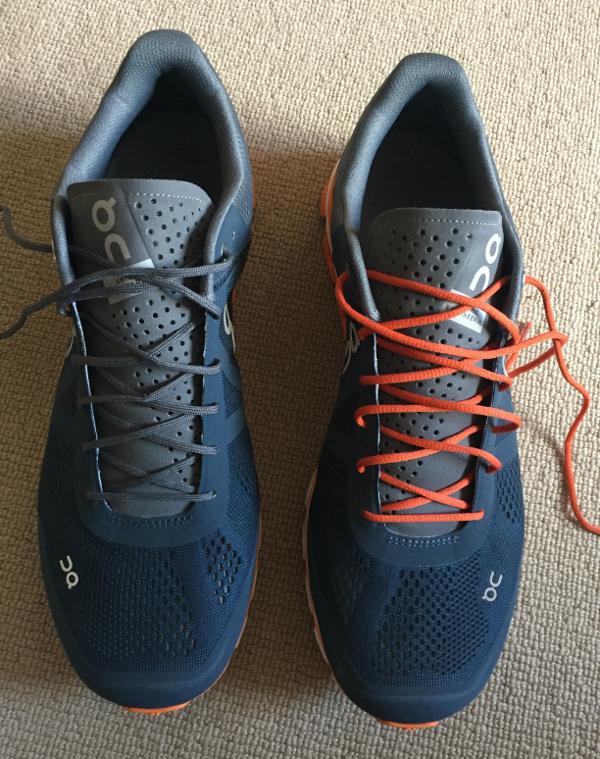 Conclusion
Overall, I think for neutral runners looking for a daily trainer that can also be stretched to racing 10ks, half marathons or marathons in, the Cloudflow would be ideal. The super-breathable upper together with dubious grip also means these are better suited to drier warmer weather running.
What I can say as a long-time follower is that On Running continues to impress with each new offering, and Cloudflow has definitely found a place among my On collection. To be specific, between Cloudrunner for long slow runs and Cloudracer for well, racing.
Since you are reading this overview, I assume that you all know what "runner's high" mean. It's the hormonal state of the body after completing a run.
When Swiss brand Cloudflow just before New York Marathon in 2017, they used marketing motto of "Shortcut to Runner's High".
Well, after covering around 100k in different surfaces and achieving personal best in 2 half marathons within a month, I can say that the shoe deserves its marketing motto.
It is obvious how the Cloudflow supported the World Ironman record to be broken.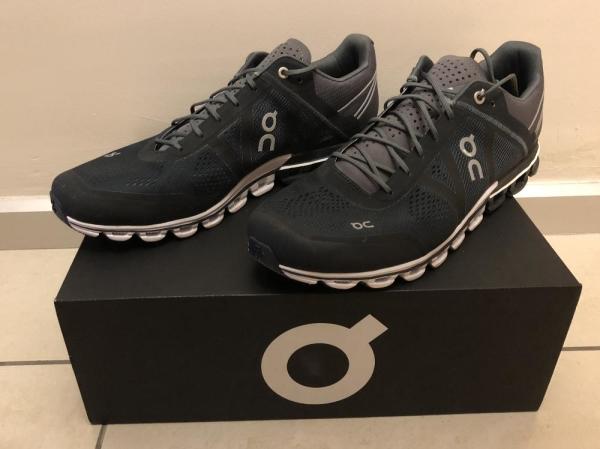 Fit
I was running with Cloudflyer for over a year and I picked the exact same size with the Cloudflow.
When I opened the box and saw the shoe, I was a little bit nervous and concerned because it has a narrower toebox than Cloudflyer. However, after putting them on, I was surprised that I did not feel what I observed.
Cloudflow provides enough room inside even if it has a stiffer structure. It has a close and firm fit, which provides support when you would like to speed up.
Outsole and Speedboard
Cloudflow has 18 cloud pods that provide you enough cushioning.
I believe that the different sizes of the pods have a role to provide in terms of stability since as a mild overpronator, I didn't feel any problem at any distance; Cloudflow provides the necessary stability I was looking for.
What makes the Cloudflow different is the speedboard that provides responsiveness and natural rolling.
The Speedboard serves as a midsole in the Cloudflow being placed between cloud pods and insole. Built with a responsive flex and rocker, it provides flow-motion.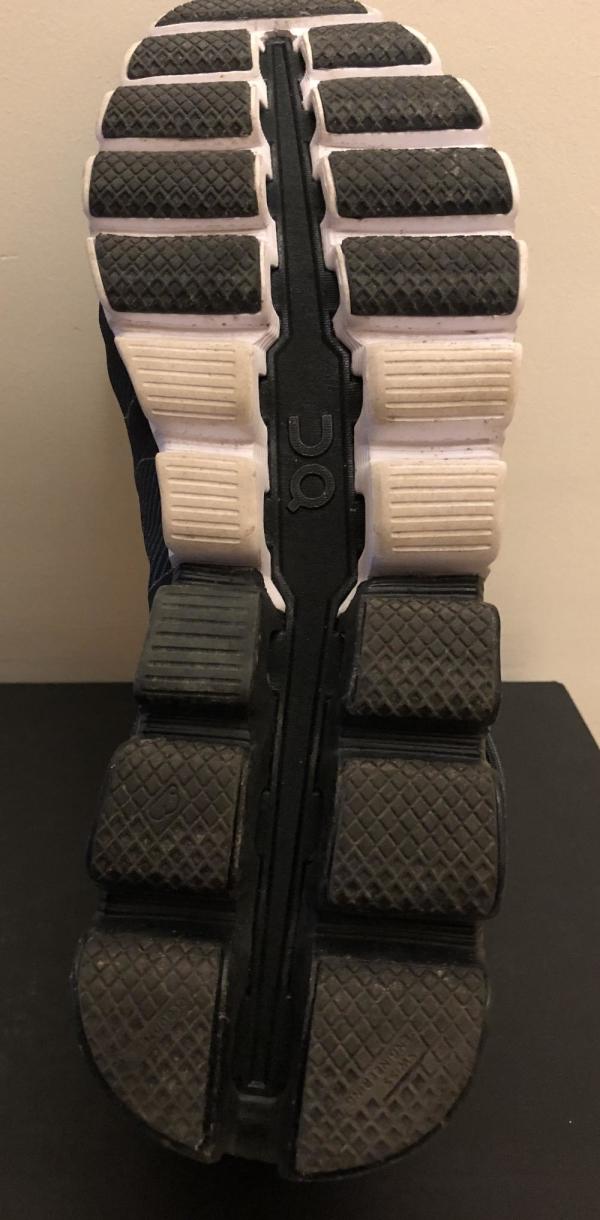 Whenever you would like to speed up, Cloudflow isn't acting as an obstacle/challenge to handle, it supports you to keep the natural running form and reach the target pace.
While running with it, I was feeling much more explosive take-offs and it is easier to maintain my posture.
The 6mm drop allows you to feel the ground. In general, I am running on asphalt roads and I feel more connected to the ground during my runs with Cloudflow.
User Experience
I have a very positive experience with Cloudflow.
First of all, I should say that I achieved personal best time in half marathon distance twice with my Cloudflow on. I was expecting some traction control loss on wet surfaces and on rainy days and I experienced what I expected.
I am not talking about slipping and losing balance, however, I clearly felt that some of my energy for takeoff is being lost on wet surface. I had read many negative comments on laces.
Mainly said, laces are too thin and easily becomes untied. Contrary to that, even when I am not utilizing the second hole for tying up my laces, I did not experience any untied laces during my runs.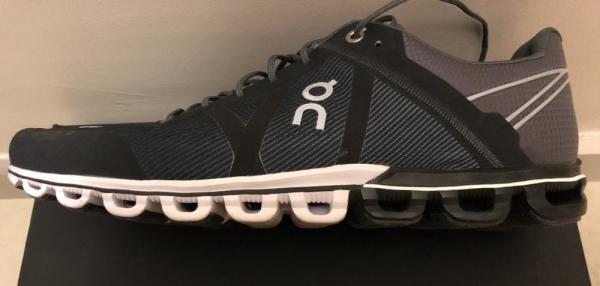 At first sight, I definitely acknowledge the sleek and high-end finishing of the shoe. ON keeps paying attention to every detail and it really satisfies me on an aesthetic level.
If you do not mind the small sized stones sticking, you can easily wear Cloudflow (or any other ON product) for daily use.
With Cloudflow, I felt its minimal lightness (230 grams approximately) but not at the cost of losing comfort.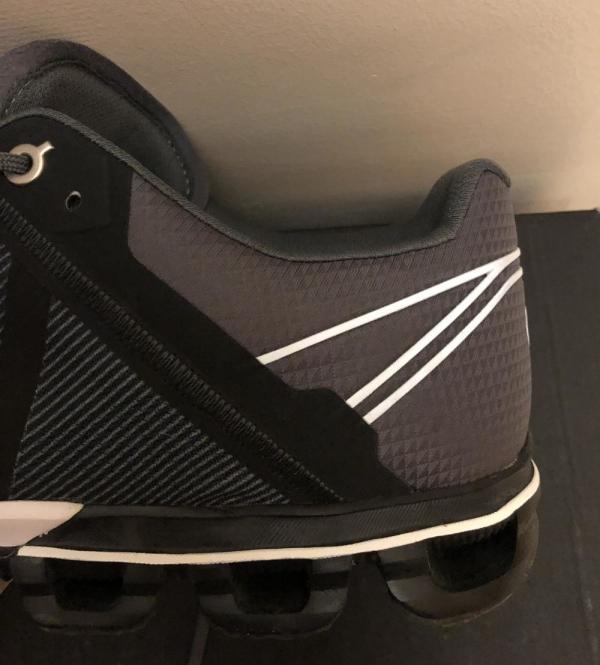 One another item I would like to mention is how ankle coverage has been designed.
With some of my other shoes, I'm feeling like the shoe covered my ankle way too much and not providing enough mobility. However Cloudflow's ankle coverage is pretty well, I feel the mobility room I have without feeling like the shoe can come off easily.
I do believe that most runner would feel this detail after they take their Cloudflow for a couple of runs.
Finally, I can say that I felt pretty proud by receiving positive comments about how "good and handsome" my shoe looks. I observe several runners having a look at my shoes at the start line, and some of them approached to ask my experience.
The Verdict
As final words, I am very pleased and happy to choose race shoe.
It fits very close to my feet and the responsiveness provided with Speedboard impact is amazing!
I was expecting some negative impact on my joints since I have mild overpronation, however never had a problem with it, not after interval training nor half marathon distances.
I am a huge On fan, and have various models of their shoes. It has been inspiring to see On running grow as a company and continue to offer new, effective technology.
On shoes are not cheap, but for me, every pair has been well worth the price tag because of its comfortable fit and durability. On has changed my expectations of running shoes.
I was excited when the Cloudflow arrived, and it certainly hasn't disappointed. I regularly forget to take it off after a run.
This neutral, 6mm-drop road shoe has helped me to achieve a pace I truly didn't know I was capable of. It's lightweight, weighing in at 190g or 6.7oz (women's US 7).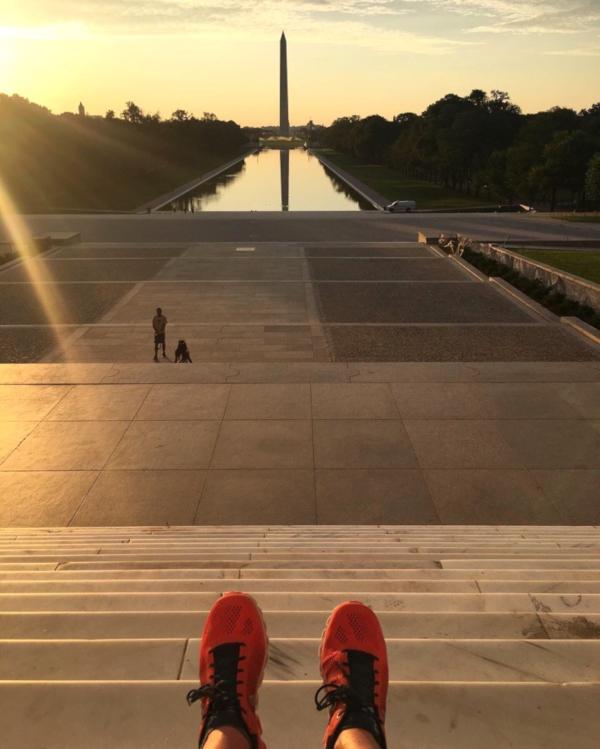 Aesthetics
This shoe could win medals in the looks department. As with all of On's offerings, it looks simple, classy, and high quality.
On offers timeless designs, generally combining two or three solid colors. The logo features on the front, heel, and both sides of the shoe, but I can live with that. On periodically releases limited-edition color schemes of existing models.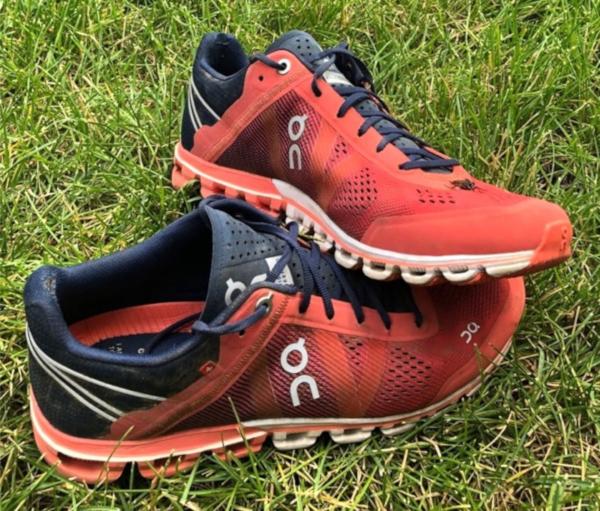 Comfort & fit
The Cloudflow runs true to size. It has a reasonable (though not wide) toe-box that gives my toes sufficient room to spread out.
The overly long laces are a pain—I have to tie them in a triple bow to keep the ends out of the way. However, they do at least stay put.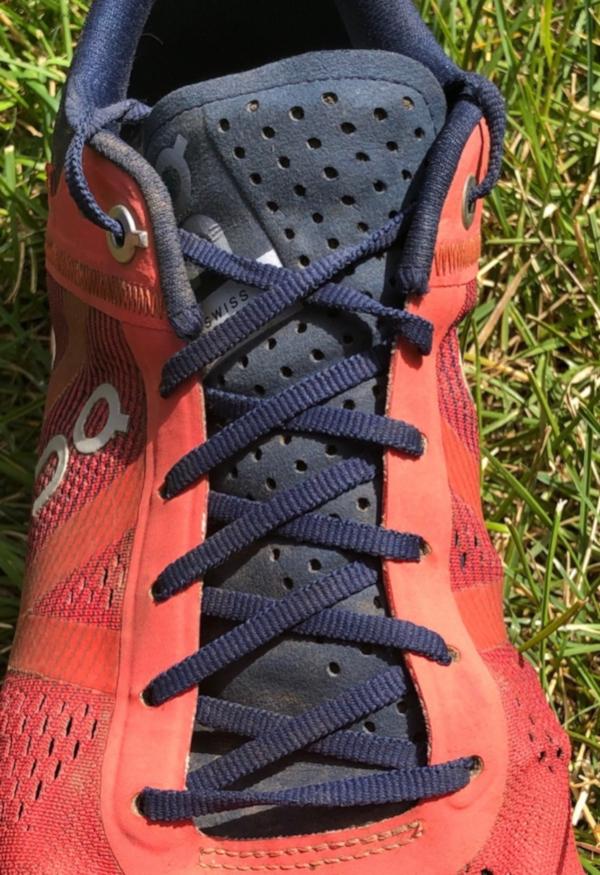 They are thicker and flatter than those in any version of the On Cloudventure, which is a welcome improvement. I have a minor issue with the insole, but it's not hard to find a replacement.
The upper
The mesh upper is extremely thin, lightweight, and breathable. The same goes for the tongue.
The upper hugs my foot and stays snug. The Cloudflow is not waterproof, which is the natural downside of such a breathable shoe. However, it does dry quite quickly.
Midsole
The Cloudflow has moderate cushioning, balancing ground-feel with comfort. On has performed some sort of magic. This shoe offers a fast, responsive ride.
It's a flexible shoe with no discernible break-in period. I credit it for carving over a minute and a half off my usual pace, which is not to be sniffed at.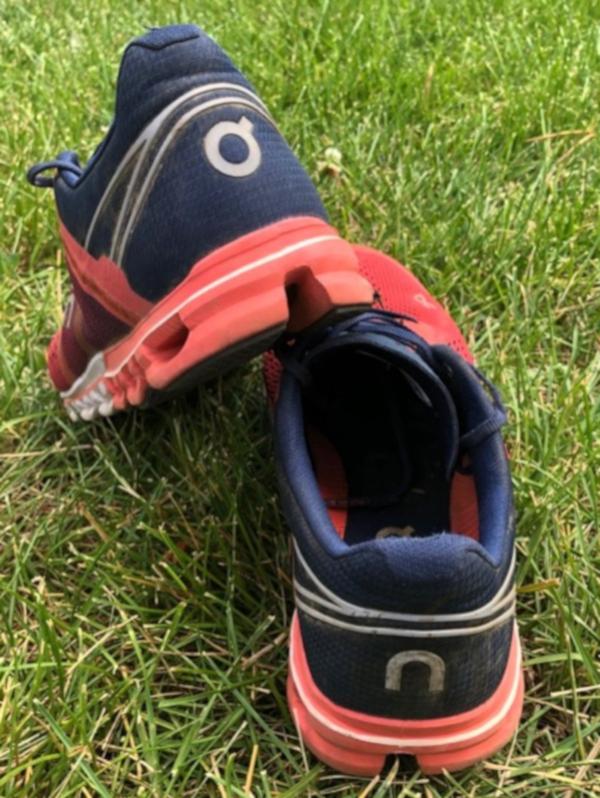 This may be due to the speedboard, a stiff feature that runs through the shoe and aims to improve the transition. Now I know what I (or the shoe) is capable of, I'm inspired to push myself more. Plus, I can finally keep up with my dog.
Outsole
The outsole seems durable and offers a good grip. This shoe is fine in wet conditions, but I would still be cautious as they aren't designed for that.
The Cloud-Tec pods on the outsole offer a firm take-off yet a cushioned landing. The responsiveness is remarkable, especially considering how comfortable it is, too.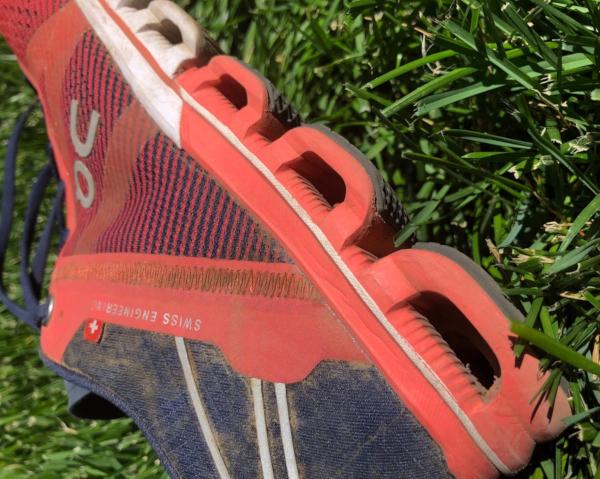 However, the pods come with an inevitable drawback. I've shown the Cloudflow roads, gravel, and non-technical trails.
The gravel along the roadsides in my neighborhood, unfortunately, gets embedded in the sole of the Cloudflow. Not in the pods, but between them, and especially in the heel.
Then you either click and hobble along, or hop on one foot while attempting to dig out the offending material…not great. Ditto for trails.
Although this shoe is not intended for them, I've taken it on runs that involve trails as well as roads. Despite good traction, this shoe loves to pick up little pine cones, rocks, and sticks.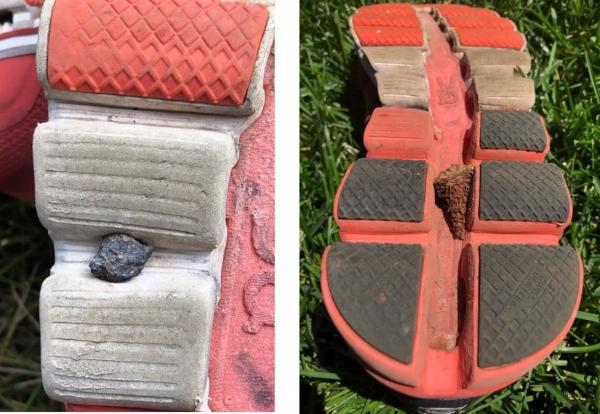 The bottomline
I love this shoe and have ordered another pair, as I fear that On might change it next year (they've made the latest Cloudventure version bulkier, much to my sorrow.)
The Cloudflow is one of the most comfortable, and certainly the fastest, the shoe I've ever worn.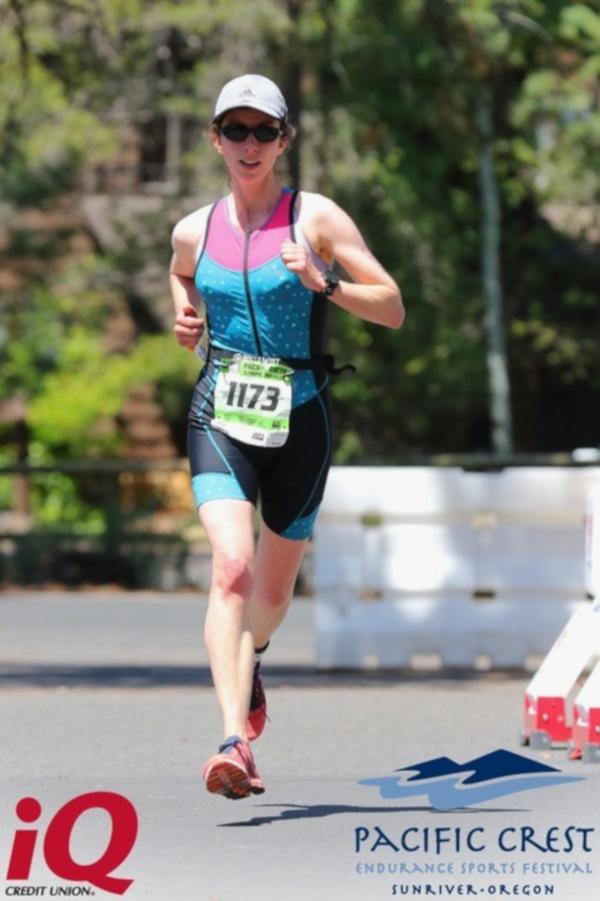 It is my go-to for races and everyday road running of any distance. It's deserving of its name; nothing about it feels restrictive.
If you like to rotate your shoes, I recommend switching this out with the On Cloudsurfer, a slightly more cushioned model.
The Cloudflow has a higher price tag than, say, the Brooks Launch, but I think it's well worth it. It's a shoe built to go the distance.
Pros
Lightweight
FAST
High quality
Durable
Comfortable fit
Cons
Things may get stuck in the sole, depending on your running surface
Laces are very long
I had heard a lot of hype about the Swiss brand On and had been doing some research on some of their shoes. Using the shoe finder on their website, I searched for a neutral, road shoe with moderate cushioning and either competitive or daily usage.
My result - the On Cloudflow. In a series of very fortunate events, my local running store was hosting an On sponsored event, so I got to take them for a test spin. My initial impression was a little mixed.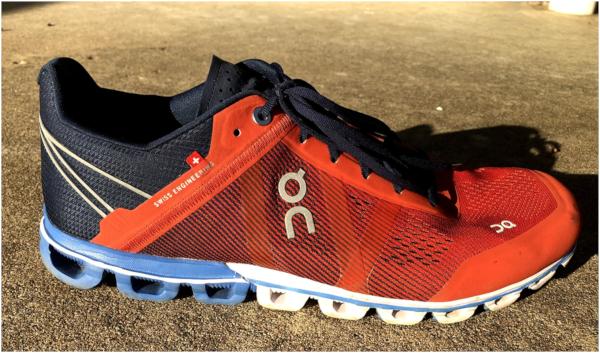 The pod system on the outsole made for a different feel than any other shoe I'd run in. The shoe felt lightweight and fast, so I thought I'd give them a go. I have to admit, it took me a couple runs to get used to the feel of them, but after 100 miles in my pair, the Cloudflows are one of the best shoes I've run in.
Usage
This shoe offers a lot of flexibility as to its usage - enough speed for workouts, enough comfort, and support for a daily trainer. You could also use the Cloudflow for races up to the marathon distance.
Due to the pod system, this is strictly a road shoe. The Cloudflow is best for runners looking for a neutral shoe.
Appearance & design
The design of the shoe was an immediate draw for me. I really liked the Rust/Pacific color scheme and thought it stood out. There are several other good-looking combinations. On will occasionally put out new color options for existing shoes, so there is always that to look out for.
The Cloudflow is well built and appears to be very durable. I've hit over 100 miles with no visible wear and no major complaints. The outer and midsole cushioning are still well intact.
Fit/comfort
The Cloudflow runs pretty much true to size, if anything a little on the large side. I would recommend trying them on in person before buying.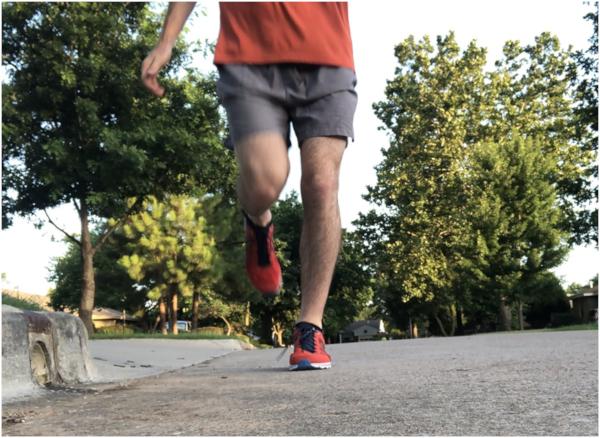 Despite the firmness of the Speedboard midsole, there is sufficient cushion. The upper locks your foot into place but also provides sufficient comfort.
The upper comes built with a first-layer in-built sock which keeps your feet nice and comfortable. The upper has received an antimicrobial treatment which guarantees a lasting freshness.
Midsole
The Cloudflow midsole features the patented Speedboard from On. This comes with a built-in rocker that promotes a fluid running motion and propels you forward, fueling your take-offs.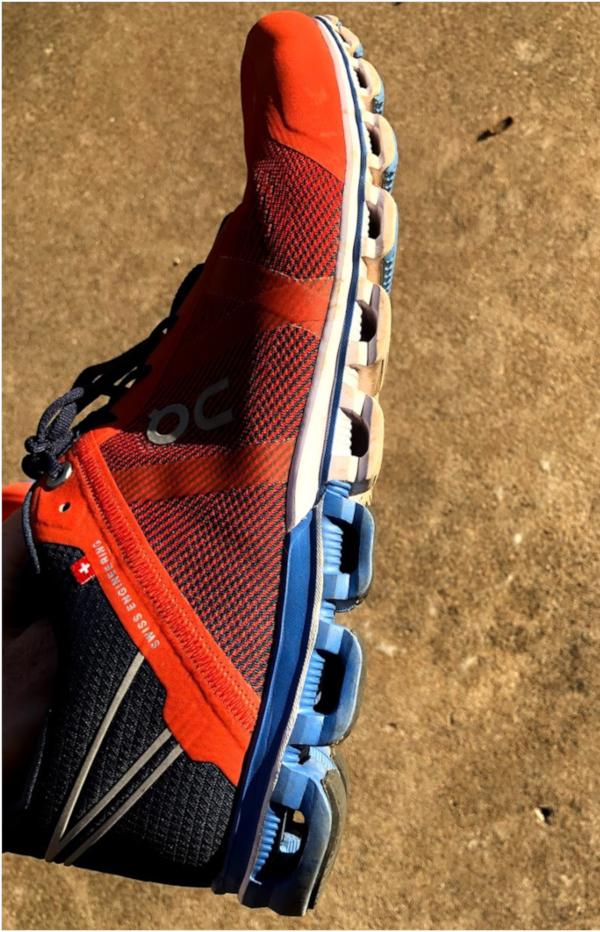 The rocker aspect is definitely not noticeable as you are walking around, but once you take off, you'll feel the springy boost from your Cloudflows. The midsole is firm but flexible and helps with the speed of the shoe. There is also a good amount of cushioning in the insole to keep the comfort level high.
Outsole
The outsole sets On apart from other shoe brands. The Cloudflow shoe is built on top of 18 pods. The pods are hollow, made of EVA foam and give you the sensation of running on clouds.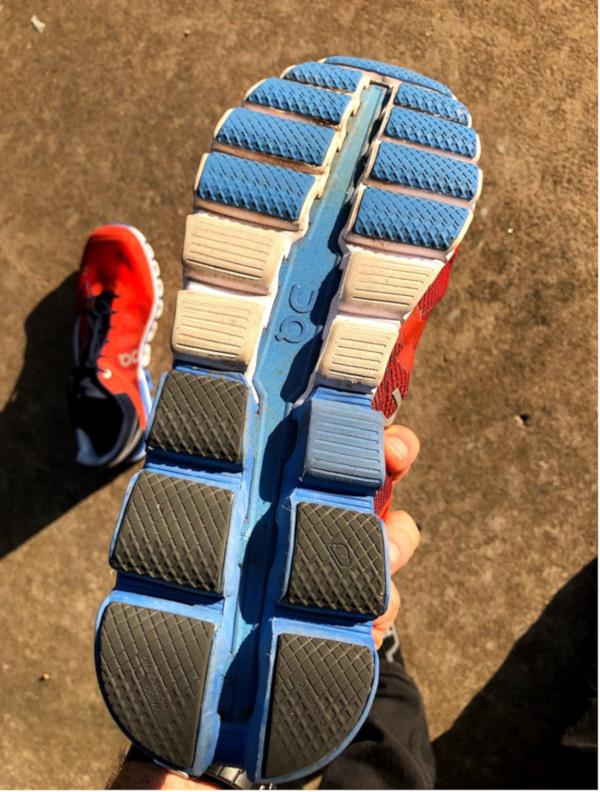 The pods are evenly distributed throughout the outsole and help to cushion your foot and propel you forward. The running sensation takes a few miles to get used to but is pretty nice once you get used to it.
The downside with the pods is that debris can get stuck in the grooves. I've had rocks, and a stick gets jammed in there before. You definitely have to keep an extra eye out while you're running to make sure you don't step on anything.
Upper
The upper is made of mesh-weave technology which provides a great mix of breathability while maintaining support. I had no issues with unwanted foot sliding, yet there is plenty of cushioning.
The one downside to the upper is with the laces. For some reason, they are extremely thin and therefore, come undone easily. I'd recommend double knotting or replacing the laces. A small annoyance, but worth noting.
Pros
A cool looking shoe with lots of color schemes to choose from
Pod outsole and Speedboard midsole make for a speedy shoe
Breathable and lightweight
Cons
Thin laces, come untied easily
Rocks, sticks, and debris can become lodged between pods
Final thoughts
Overall the Cloudflow is a great shoe. As mentioned above, it gives a slightly different feel, but once you get a few miles in, you will get used to it. Comfortable, fast, and flashy, I highly recommend the On Cloudflow.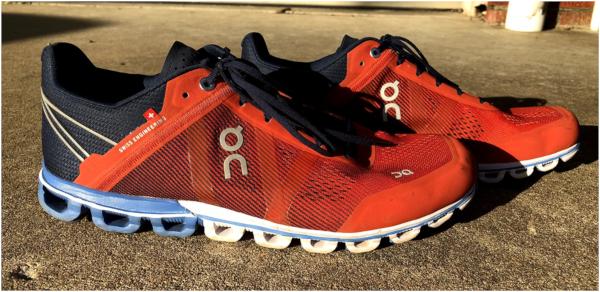 Introduced to the marketplace in late 2017, the Cloudflow is one of On's lightest running shoes and a favorite of several professional triathletes and marathon runners.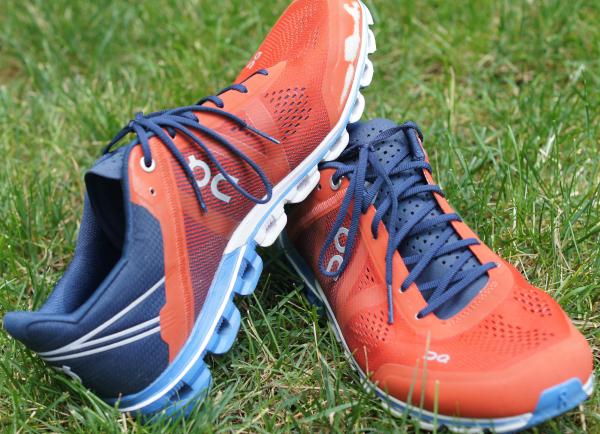 The specs of the shoes can be readily found on On's website. So, I'm going to focus on who this shoe is for, both within the On ecosphere and the greater running shoe market.
Also, I will discuss why you should choose this shoe over other available running shoes.
Who is the Cloudflow for?
The On Cloudflow is a running shoe for those who want a lightweight running shoe with some cushioning and support.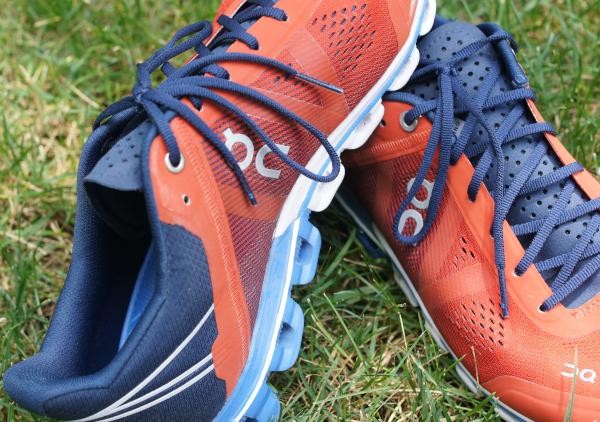 These shoes are for those who focus on going fast, without the added weight of a more cushioned shoe to hold them back. These shoes keep you light on your feet, emphasizing on tempo.
Why the Cloudflow over other On shoes?
On makes many different running shoes, and it can be a daunting task to navigate through the sometimes subtle differences between them. I would classify the Cloudflow as a minimalist shoe.
I have not run in this shoe for distances longer than ~13.5 miles. However, I would not be surprised if some people are using the Cloudflow for longer distances, perhaps even a marathon or triathlon.
Here are a few more things to take note of:
Price
It is priced at $139.99, which is slightly less expensive than, say, the Cloud X or Cloudswift.
Durability
I have found On shoes to be incredibly well-made and durable. The Cloudflow is no exception. The upper is extremely breathable, and the toe-box is secure but not overly tight.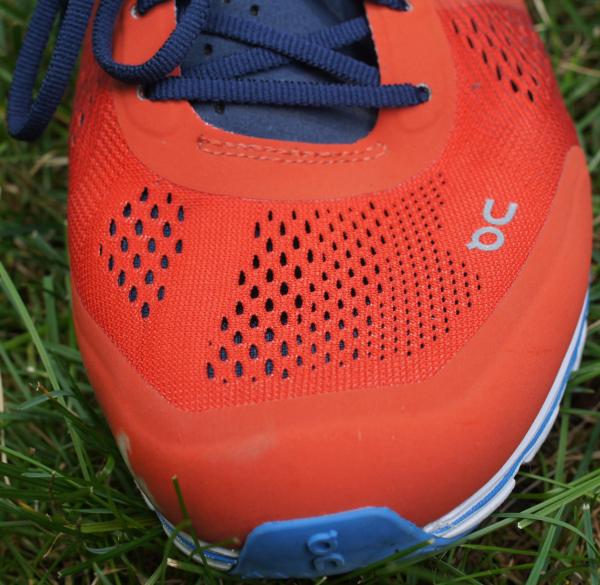 Full disclosure: This is my 3rd pair of Cloudflow since the first two pairs developed a tear to the fabric, in the exact same place on the top of the heel (unbelievable, right?).
On's customer service was terrific, and I'm happy to report that my 3rd pair shows no sign of damage. It's also worth noting that I was running in a 9.5 instead of a 9.
Therefore, the heel wasn't properly fitting around my foot. This may have caused the tearing of the fabric around the heel.
Comfort
Like most On shoes, comfort is a given. The Cloudflow uses On's proprietary 'cloud' technology—18 in total for the Cloudflow—to cushion and propel the runner.
The tongue on the Cloudflow is not seamless like it is on the Cloudswift. It is unfortunate since this is one of my favorite characteristic of the Cloudswift.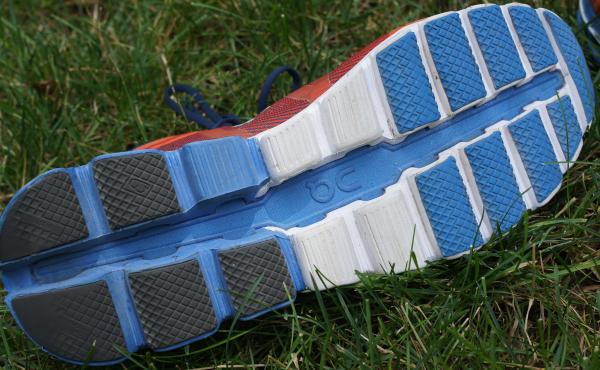 Regardless, it is not a deal-breaker for me since the inner 'sock' is quite comfortable on its own. However, I have not tried running in these shoes without socks yet.
Laces
Some people complain about On's laces. The laces that come with the Cloudflow are thin, no question about it. But, this is not an issue for me; I just double-knot them.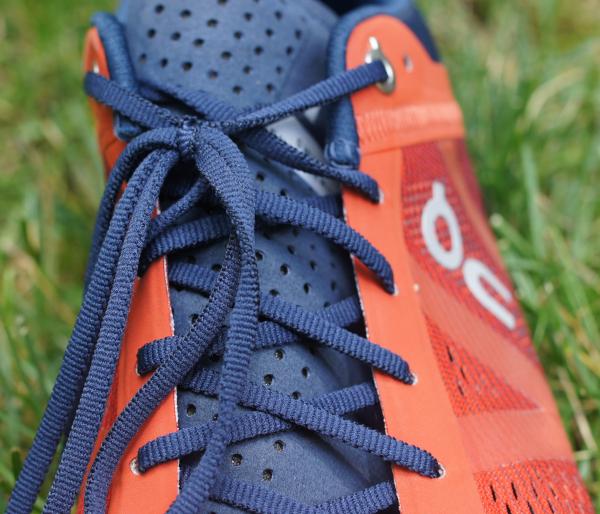 Also, the Cloudflow don't have the more integrated lace system of the other On shoes like the Cloud X or Cloudswift. The laces of the Cloudflow follows a standard running shoe lacing pattern.
Weight
The weight of this shoe will be one of the chief reasons that most people choose Cloudflow over another shoe. It is one of the lightest in the On family.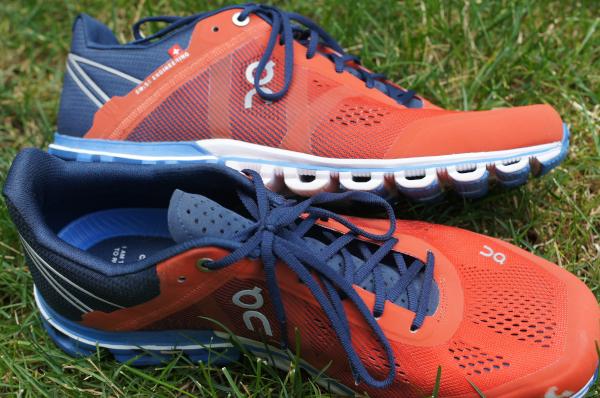 It only weighs 8 ounces for a Men's size 9, which is extremely light. Somehow, it feels even lighter when you slip them on.
Sizing
Be advised that I'm a 9.5 in On shoes, but I wear a 9 in the Cloudflow given On's recommendation. It is because they are slightly longer than a typical On running shoe.
Conclusion
This shoe begs for speed! If you are looking to do a half-marathon or similar distance, and you want a light, responsive shoe that pushes you to go faster, the Cloudflow is for you.
I've read that some runners are using this shoe for a marathon, which I probably would not do. I suspect that the lack of cushioning and support would become an issue 2+ hours into a run.
But, if your focus is speed and tempo, definitely seek out the Cloudflow.
I recently completed over 100km in a pair of On Cloudace's which was my first introduction to ON shoes. What an experience! They were springy and comfortable and, in my opinion, a very technical shoe utilizing heel moldings and "clouds."
ON this basis, I decided I wanted to try the lightweight racing ON's if they're good enough for Tim Don, then they are good enough for me! I used the Cloudace's as part of the marathon and half marathon training and planned to alternate during training and use the flow's on race day!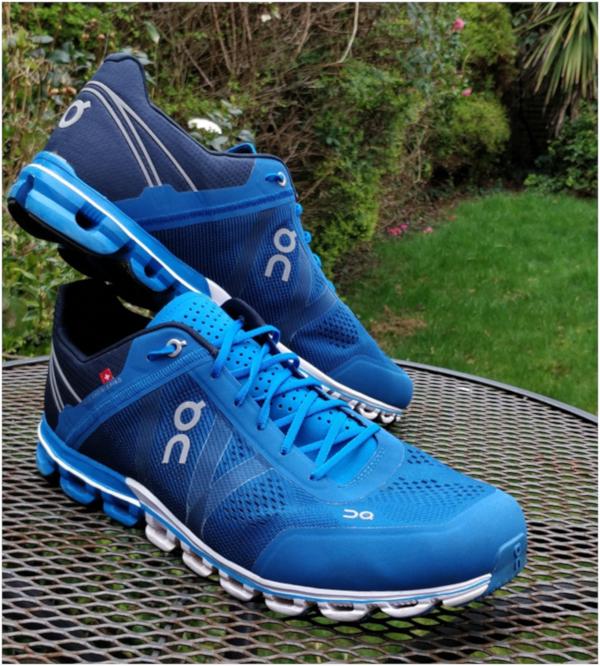 So far, I have been nothing but impressed. My commitment and affiliation to ON have only grown. They are not quite as technical as the Ace's but still share much of the same design targets. I also used these for a recent race and smashed my half marathon PB and put it all down to the ON's…bring on the marathon!
I managed to get these for an absolute steal online from "Runners need" for £89.00. These are normally online for £120-125, so at this price point, I'd argue they are possibly the best shoe on the market.
Sole
I love the design concept used by ON, using multiple individual springs underfoot is now a proven concept, and I buy all the jargon. I imagine the mileage limit on these trainers is quite high as this design relies on the design and not the foam itself.
I haven't got there yet, but I intend to push them to their limits. ON this shoe, there are 18 separate Clouds which vary in size and comfort, but they add to the overall cushioning.
In some reviews, I read people talking about stones getting stuck between the Clouds, but this is something I have not experienced. The only issue I experienced was a buildup of mud which was a minor inconvenience.
Body
I was very impressed with a number of things, so I'm going to break them down:
Heel
There is a snugness to the ON shoes. Your heel feels planted in the shoe, and no number of hills or pushing causes any slippage. The flow's design has a high heel to prevent, and heel slip and the cushioning is packed out higher up the heel to prevent any lift.
Other ON shoes have 3D inserts, but these are not included on the lightweight shoe in order to keep weight down. The outer body of the heel is built using quite a rigid material offering plenty of stability and is nicely joined to the fabric part of the shoe.
Upper & midsole
The ON Cloudflow shoes are similar to other lightweight shoes on the market. There is a slight stiffness to the plastic that wraps around the toe box, without being too stiff, whilst the rest of the mid shoe is wrapped in a soft, breathable fabric.
Not quite the same snugness as the Ace's I used previously, but more than adequate for a long race. I never suffered any rubbing, overheating or restrictions during running which is a credit to ON having designed in stiffness in some areas and removing it in others.
While the breathable fabric does allow water to pass through, I never suffered wet feet as they dry out so quickly you feel nothing other than the sensation of a splash.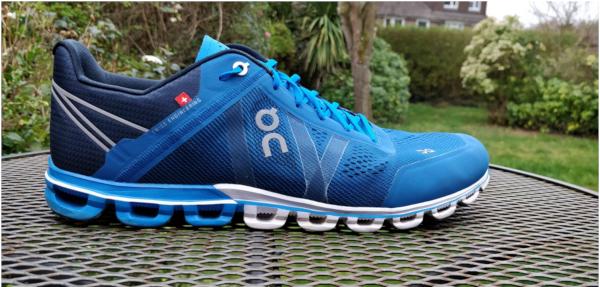 Tongue & laces
The tongue is an interesting design as it is perforated on the outside yet has a layer of thin foam sown to the inside which prevents and rubbing, grips well so doesn't slide around and is tied to base elastically to ensure the foot is held in place.
As with other ON shoes, I like the use of the logo in the final lace hole. My only annoyance with these shoes is the length of the laces. It feels to me like they could have been 5-10cm shorter or so, and this would have made it the perfect shoe although, these are easily replaced.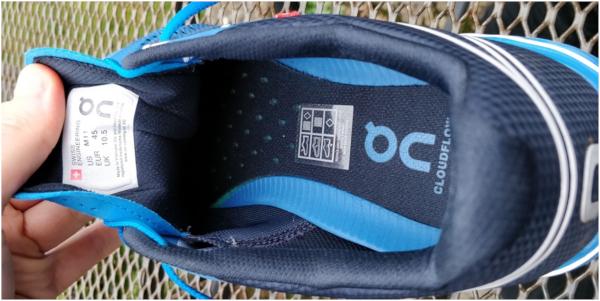 Insole
Again, comparing to Nike shoes which come with a thin and simple insole, the ON shoes come with a well thought out insole. In the heel area, there is a rubber over-molding which adds a small amount of cushioning, and I feel it centers your foot inside the shoe. These subtle differences make this shoe more premium in my opinion.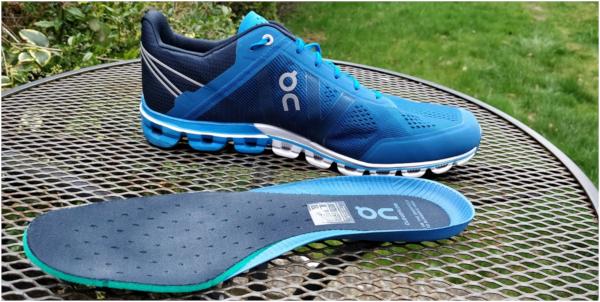 Grip
I've mainly used these shoes on canal paths and roads, but there has been the occasional muddy path or trail run. Overall, they have performed faultlessly – no slippage or grip loss whatsoever. Which, considering the minimal tread on the bottom of each Cloud, is impressive.
Other notable features
I had the river and navy color which look excellent. They are bold, eye-catching colors. For me, ON really nailed the design of this shoe. There are reflective ON logos on both sides of the shoe on top of the toe box and the heel along with reflective strips.
I also love the subtle Swiss flag and link to Swiss engineering on the outside of the right shoe. For me, it continues to be a premium shoe over Nike, Salomon and other shoes I've used.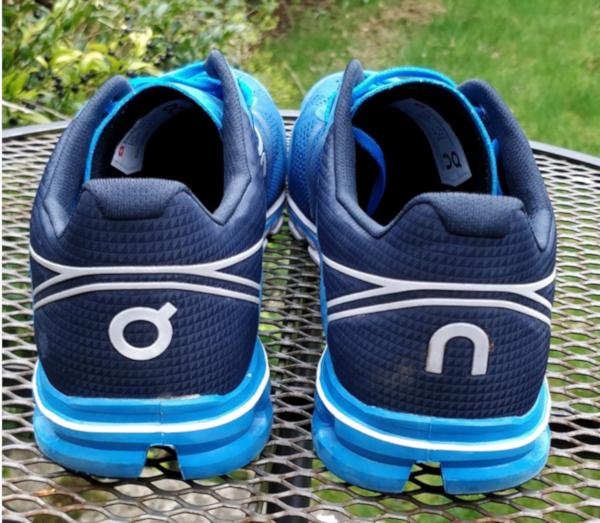 My biggest issue with the ON Cloudace's was the weight of the shoe. This is where the flow's come into a world of their own.
The lightweight versions come in at 266g for a 10.5 compared to 383g on the Ace's which, whilst not being the lightest shoe, feel great underfoot and offer substantial cushioning which is exactly what you need for long runs. You almost forget that they are there sometimes.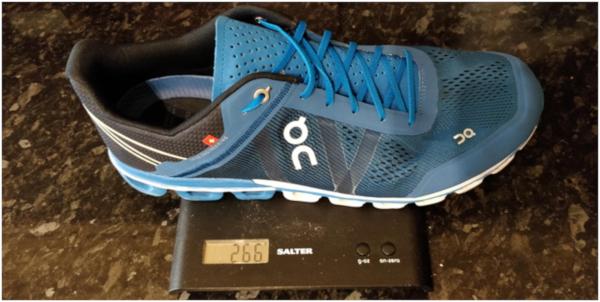 Summary
Overall, I have been very impressed with another ON shoe. It is very comfortable and is my new go-to shoe for races and long runs. They needed no breaking in, and every run has been as excellent as the last.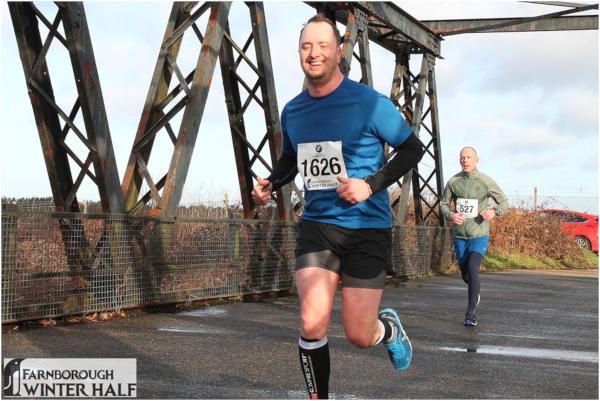 I used them during a recent half marathon race, and I ran negative splits as I felt even better than expected after half way. After running the Ace's and now the Flow's I've well and truly joined the ON family as a fanboy. I just wish I ran more so I could justify more pairs!
If you're looking for a lightweight, stable racing shoe that is comfortable, springy and only going to make you want to run more then you have found the shoe, just buy it. Don't hesitate, don't research. Buy Buy Buy, you won't regret it!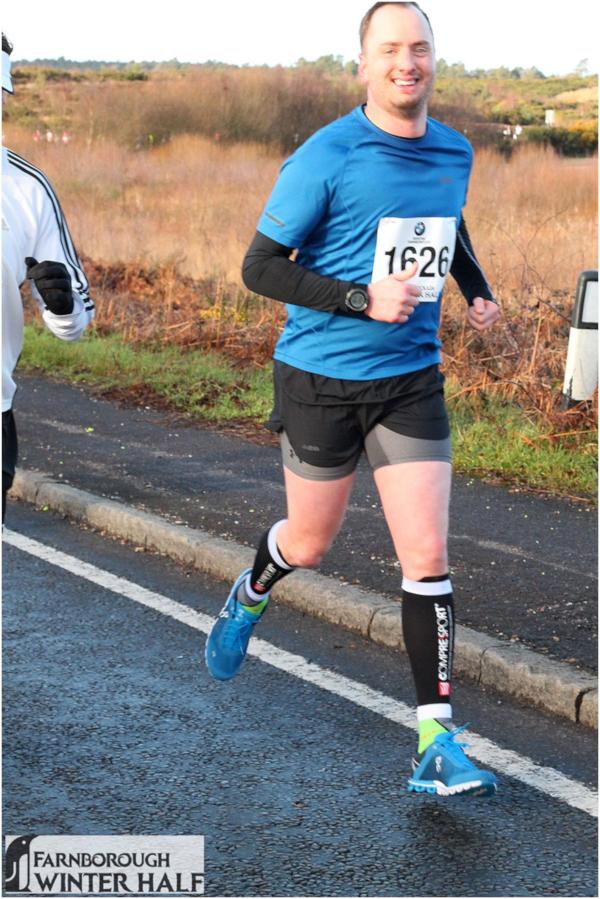 For many years, I ran mostly wearing minimalist shoes or racing shoes for the somehow longer and tempo runs. This year, I finally decided to start training for a marathon requiring longer runs.
However, minimalist shoes create tension in my calves and pain in my Achilles' tendons when used in longer runs. Thus, I tried some shoes that will aid me in this and decided to get the On Cloud X.
I had some runs with the On Cloud X and really enjoyed them. However, the reviews of these shoes indicate that these were not specialized for long runs.
So, I decided to buy the On Cloudflow and switch with Cloud X between runs.
Design
I really like the looks of the On Cloudflow. They are very distinctive in every sense and full of little details that look better when paid close attention.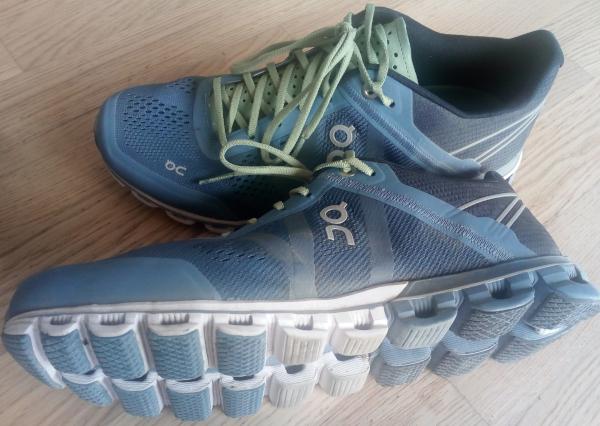 I am still not a big fan of how the "Clouds" on the sole of the shoes look like. But slowly, I am getting used to them.
Comfort
The Cloudflow are very comfortable shoes. They fit me perfectly. These shoes are lightweight and have a bit of cushioning. However, I am still not that convinced about the cushioning.
I am a big fan of feeling the different textures of the floor. But, you better forget about feeling the these with these shoes on.
Performance
Easy and long runs
With Cloudflow, easy and long runs become more effortless. They somehow help you to jog fast. Normally, my easy jogging pace is 4:30 to 4:40 minutes/km.
However, with these shoes, I jog in 4:15 to 4:20 without putting more effort. Last weekend, I did a 30km long run with them in 2 hours 12 minutes, and I felt pretty comfortable.
In fact, I completely forgot about the time and the shoes during the whole run. This is the best indication of a good running shoe for me.
Tempo runs
These shoes make it easier to jog faster. However, these have too much cushioning for me that it slows me a bit down when I want to actually run.
I did a tempo run with them and it was really hard to keep the fast running pace in them, I really struggled a lot.
Fartlek runs
Even when I had some troubles with the tempo run in these shoes, doing shorter sprints (400m - 500m ) with them felt very good. They help you to recover well during the intervals.
And, for a short distance, it is not that difficult to put a bit of extra effort to keep the fast pace.
Surfaces
I have run with them on the pavement, track, and a bit of cross country and they seem to work pretty well.
My only problem with them was on wet pavement. On wet pavement, these shoes do not have much grip.
Durability
It is still to soon to judge them on durability.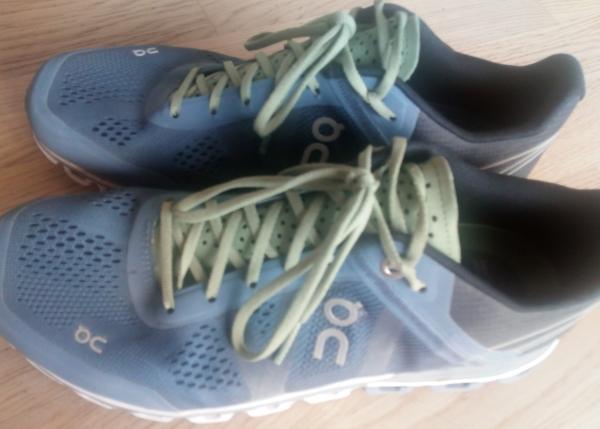 But after 150km, they still look and feel like new.
Conclusion
These by far are the best shoes I've tried for easy and long runs. They are not super fast. But definitely, they are very comfortable and will help you jog at a faster pace than usual.
Positive points
Lightweight
Super Comfortable
Effortless jogging
Negative points
Not made for speed
Not good on wet surfaces
The On Cloudflow were my shoes of choice for a neutral training shoe when starting my half marathon training.
The Good
They are lightweight and responsive as a result of their zero-gravity EVA foam. Also, these shoes are super fast for a variety of distances.
Currently, I have two pairs of them that I use for most of my runs. The fit is super comfortable with a larger toe box but still narrow.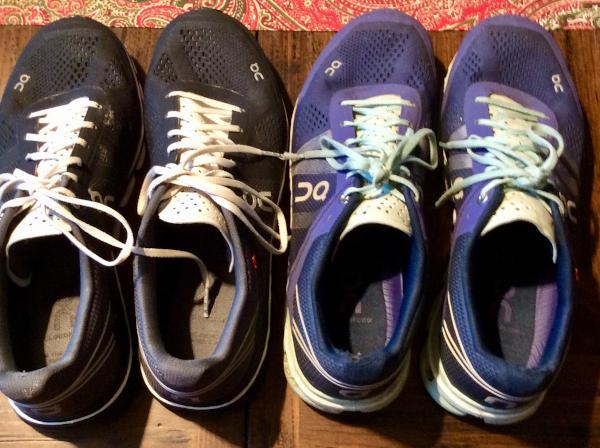 They are visually the best-looking running shoe I have ever worn. In fact, you can even wear it with jeans when you have exhausted them from hitting the pavement.
Some specs that may be noted are the heel-to-toe offset of 6 mm and the 8.1 oz weight. I did size down 1/2 size as I do in all the On running shoes.
The top of the shoe is quite pretty, drawing your attention immediately. After all, looking good is also part of the fun of being a runner.
The Bad
So, I ran my first half marathon in five years. The race was at beautiful Lake Norman. It is in the neighborhood that calls itself home of many NASCAR drivers, pit crew, and announcers.
I was certainly prepared. I wore the On Cloudflow on all my long runs. So, in the sense of "don't change anything the day of the race", I wore them on the day of the race.
However, the rain started pouring down at the beginning of the race, and it did not stop. This made me realize very quickly that the outsole needs more support.
With rain and sleet, and even snow, it is slippery. It definitely puts a strain on your leg and balance, which could be difficult for those with weak hips and gluts.
In this race, the pavement became super slick, and the On Cloudflow became ice skates. My form changed so much I was unable to keep my pace after mile 6.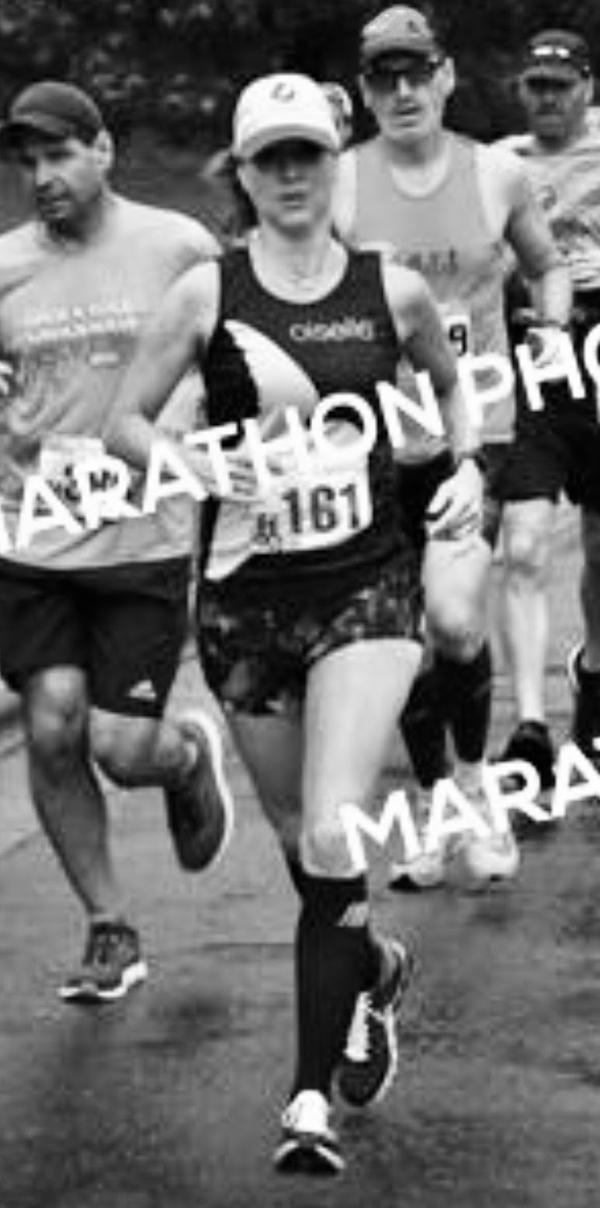 I even proceeded to walk up to four times during the race. In fact, I still have the blisters on my feet from four weeks ago.
Moreover, the recovery from the race was long with pain in my body I have never felt. My achilles tendonitis reared its angry head again and is still not better.
Update
After not being better from the incident mentioned above, I decided to have an MRI done, approximately three months after the half marathon that I wore the On Cloudflow.
After my doctor reviewed the MRI, he stated the following:
You have a slight thickening of your achilles tendon right where you are painful.
On the inside of your ankle, you have a small inflammation in your bone indicative of a deltoid ligament injury, which probably was caused around three months ago (the time I wore the shoes in the rain).
You have a small amount of fluid around your posterior tibial tendon, which is on the inside of your ankle.
Conclusion
I will probably be reconsidering wearing many of the On shoes for running. I love the shoes so much, but not sure how I can wear them again with the new injury I have gotten.
I haven't been able to run all summer and spend most of my free time in PT!
Not sure what shoe I will wear next but I am sure I will be reviewing many until I find one that works and keeps this old body feeling good!
SCORE
99 if you live somewhere where it never rains. 45 if you live in Seattle or the equivalent and you are ever destined to have rain/ice!
I must confess that I'm no longer a spring chicken, so any shoe that can potentially improve my running speed and my technique is high on my running shoe shopping list.
On's patented Cloudtec technology claims to deliver a soft landing with an explosive take-off along with an unbelievably light running sensation. With aspirations to better my 5km and half marathon PBs, you can imagine my excitement to run in a shoe that likens itself to running on clouds.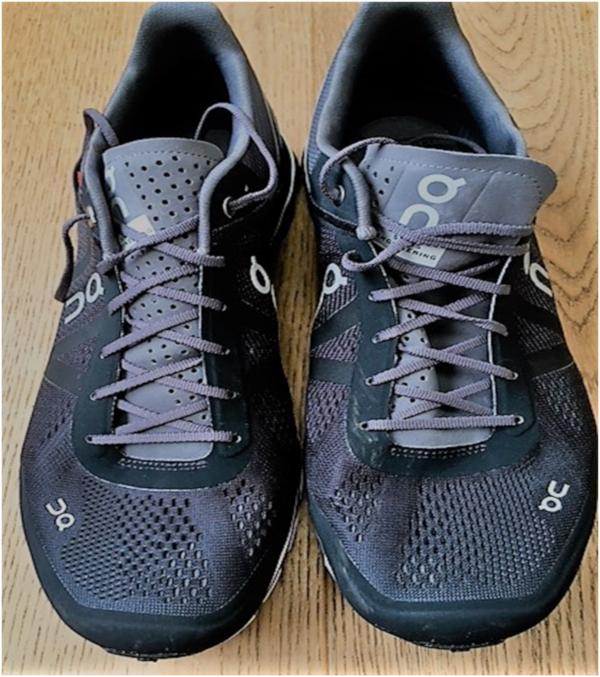 Aesthetics
The first thing that you notice when you first lay your eyes on the On Cloudflow is simply how incredibly well designed they appear. They immediately ooze class, and you can almost imagine them purring like a sports car engine and at first appearance as they appear instantly made for speed.
After taking in the general appearance of the shoe, the eye is drawn to the sole where On have added the slightly odd-looking Cloudtech technology. It is this technology that is the unique selling point of the shoe which aids with a soft landing and a propulsive benefit also.
Comfort
The shoe for all intents and purposes feels like a slipper as you first pull it on (which isn't surprising weighing at only 230g for a men's US size 8) although, on standing, I was immediately aware of a slightly different feel on the soles of my feet due to the On Cloudtec technology.
The shoes are designed with the landing sweet spot towards the mid-foot stance which is exactly where I was more aware of the cloud placement on the balls of my feet. It takes a bit of getting used to but isn't in any way uncomfortable. In fact, I would argue that these are the most comfortable pair of running shoes I have worn to date.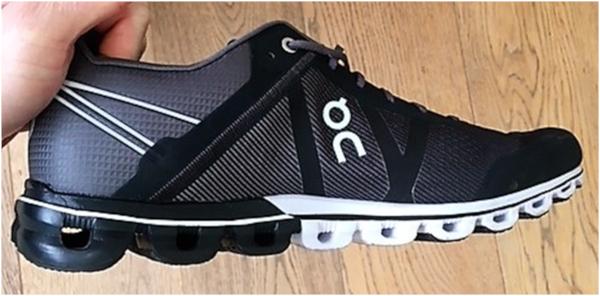 The shoe is designed for both shorter and longer distances, and the comfort is apparent over 5km and half marathon distances (see performance section). Further to this, the shoe is narrower at the back with a wider toe box, which certainly adds to the comfort for those people who have slightly wider feet.
Another aspect relating to comfort which is a little frustrating is the laces. As they are so narrow, they are incredibly difficult to undo especially with cold hands – you have been warned!
Sole & durability
The sole decorated by clouds is the unique aspect of the shoe and certainly looks impressive. The sole does feel full of spring and propulsion. On a side note, due to the design of the clouds, I would be conscious that stones or small objects would be trapped in the Cloudtech gaps.
Disappointingly on my first competitive 5km outing, I found the shoes struggled to gain traction on any wet terrain making me feel like Bambi on Ice and losing me valuable seconds throughout the course. This is most probably due to the lower surface area of the Clouds in contact with the ground but certainly an aspect to be aware of.
As the Cloudflow are designed as a road shoe, again I do not anticipate this becoming too much of an issue. From a durability point of view having run both longer and shorter distances I don't see any sign of wear and tear, which bodes well.
Performance
The On Cloudflow running shoes undoubtedly live up to their name and claims when it comes to performance. The shoe feels light, durable and effortless in its performance and feels like a very fast shoe at both 5km and ½-marathon distance.
In my quest for a faster shoe, I have spent the last six months in the Nike Zoom fly which although have brought me PB/PR's at both distances although it has made me acutely aware that I am by nature a heel strike runner.
At least that was the case until I tried the Cloudflow, which certainly allowed me to transition my weight more to the balls of my feet due to a slightly lower heel drop and have literally put a spring in my step - meaning I am a more efficient runner.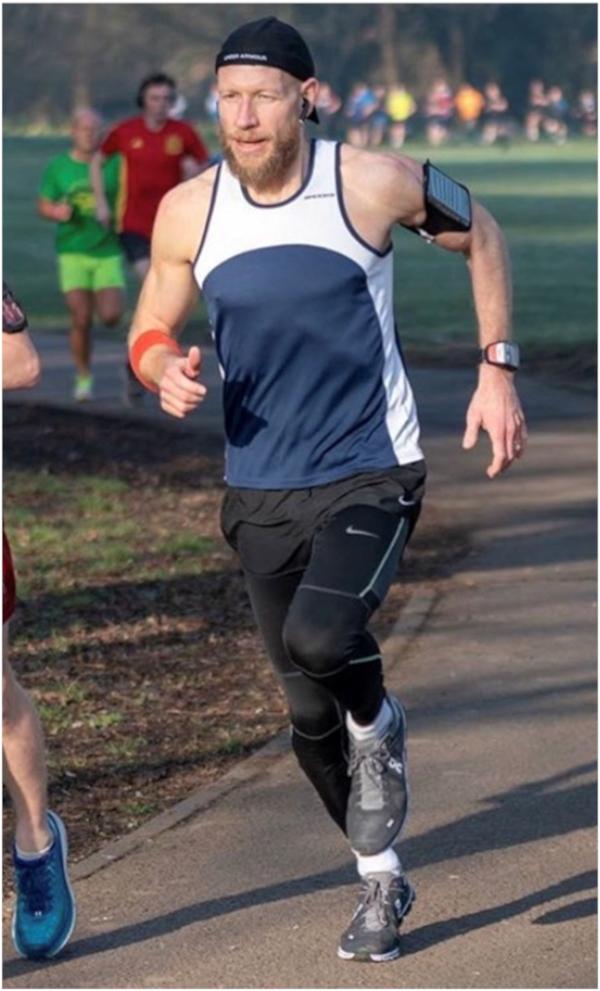 Conclusion
If you are looking for a reliable, fast, light and interesting shoe for middle and longer distances and you can forgive the lack of traction on some of the more greasy services in wet weather, then this is the shoe for you.
The Cloudflow are different and exciting, and I am convinced that they will take me to some new running highs. It can't be any coincidence that GB's Tim Don broke the Ironman World record in a pair…. can it?
When I first saw these shoes, I see a model that inspires confidence due to its modern appearance of exterior design. This shoe can be declined in six duos of colors, for men and women, which makes it rather diversified in its personal aesthetic choice.
The product of the Swiss brand pushes appearance research and performance to the extreme and makes us question, what is the ideal coating for this shoe? Is this sole sufficiently strong? Is it robust enough? What rendering against the ground will it give you?
There's only one thing to do. Let's try them!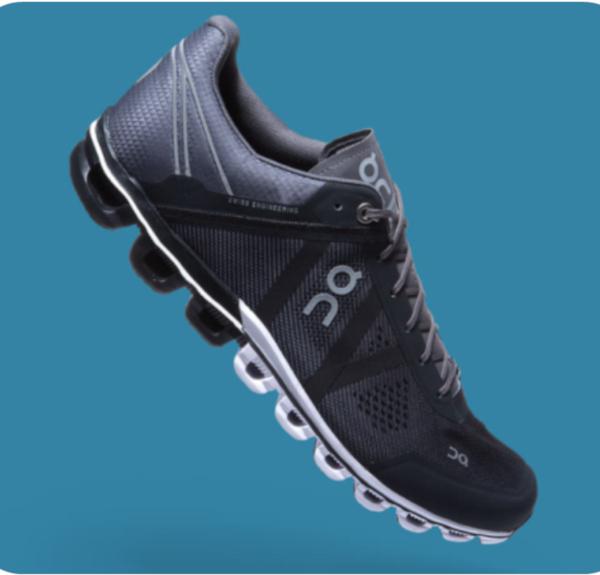 Fit
When donning, one can immediately feel real maintenance in the footwear and especially in the heel cap and topline. The set-laces-tongue-throat brings a real anchoring of the foot with a toe box that is quite spacious.
Everything is very breathable with perforations in the mesh that seems strong despite everything. The walk is nice although the sole seems very rigid. Let's see that with a few strides!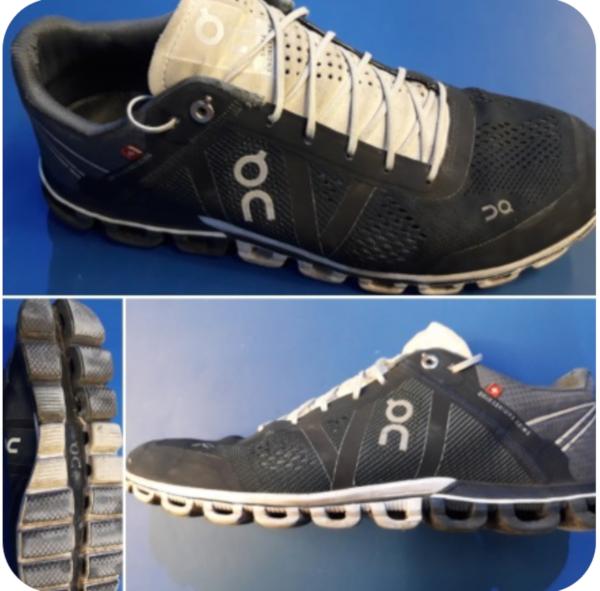 Performance
The result is directly bluffing! From the first steps, the 18 EVA Zero-Gravity clouds take effect. An impression of lightness seizes your stride and the drop of 6 millimeters allows him an attack of the middle of the foot or slightly heel.
They are very pleasant during long races because they bring dynamism to each stride. It maintained a very soft sockliner and the foot remain optimal. Thanks to a heel counter and the robust collar, I feel no inner seams and no friction during the test.
I am convinced that this shoe would be suitable for semi marathoners and marathon runners because it gives continuous propulsion and foot support. The lacing is very robust with seven eyelets and a relatively long tongue while remaining comfortable because it does not rub against the base of the shin.
The outsole lacks sufficient grip on a wet and muddy ground. It is, therefore, to be preferred during summer outings to appreciate it at best.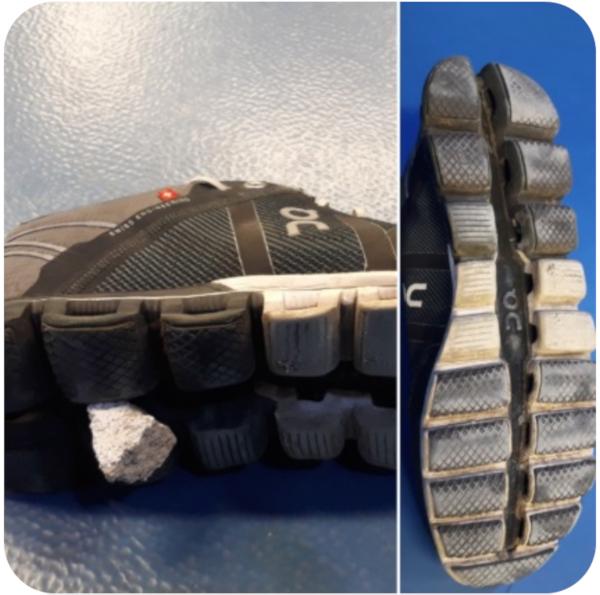 Only (big) flat, this outsole that keeps the thickest gravel stuck in your running. I Cannot continue to run without removing it because it feels in the soles of the feet! Pity!
And what a size defect! Must stop as a direct result of a technological innovation specific to the brand, and other models of the Swiss company.
Rest assured, aside from this defect, and if you run only on a gravel-free surface, you risk only one thing: falling in love with these Cloudflow.
Good points
Overall comfort and especially the overall maintenance of footwear
The mesh that seems very resistant in time
Zero-Gravity EVA 18-leaf outsole provides impressive propulsion and cushioning
Negative points
This outsole which allows pebbles to come and get stuck and alter the run
Overall rigidity of the shoe that remains effective as long as we keep a linear race
Conclusion
To conclude, I think it's a great product; however, it's expensive. It will be necessary to pay the sum of 160 euros to offer itself a jewel of dynamism and technology. Enjoy it!
Good to know
The On Cloudflow is a running shoe that's created for those who want to have faster running outputs. Those with a natural foot-roll are the ones who are going to enjoy what this package has to offer. There are different colorways for both the men and women's versions. They're flashy, but not distracting to the eyes. Top-quality materials were used in this shoe.
The upper unit of this shoe features engineered mesh, which actually resembles woven cloth. It's durable, supportive and it has an antimicrobial finish. Breathability is also at the top of its game because it accommodates the flow of environmental air into the foot-chamber. This model also has a built-in sock, which heightens the comfort felt by the foot. One can even wear it without putting on actual socks first.
The sole unit of the On Cloudflow utilizes the Zero-Gravity EVA foam, a lightweight material that's responsive yet durable. The platform also takes a unique shape, which is visible outside the shoe: 18 semi-circular pods make up the rest of the cushioning system. Called 'clouds', they deliver responsible cushioning from the foot-strike to the toe-off.
Layered underneath the individual 'clouds' is a durable rubber material. It protects the foam material from the abrasive nature of the asphalt. A textured pattern ensures additional traction and surface control.
The outsole unit of the On Cloudflow uses the CloudTec rubber, which is a durable material that covers the cushioning 'clouds'. It's actually also responsive, so it adds a bit more cushioning to the runner and a bit of energy for the toe-off.
A honeycomb pattern is used in the outsole. This design is meant to improve the shoe's grip on the surfaces, not unlike the traction patterns on a vehicle's tire.
Zero-Gravity EVA is the material used for the main sole unit of the On Cloudflow. It's durable, yet it's lightweight and responsive. It delivers reliable underfoot cushioning. It's also the material used for the 'cloud' pods.
The Clouds are pods that deliver additional cushioning throughout the gait cycle. They attenuate the impact shock during the landing phase, and they push off the ground in a responsive and energized way. There are 18 of these 'clouds' on the surface of the sole unit.
The Speedboard is an add-on that facilitates natural foot-motion as the runner goes through the gait cycle, ending with an explosive toe-off. It also delivers torsional rigidity, which is helpful in reducing the strain and fatigue felt by the muscles of the underfoot. This midsole element is also used in On Cloud and other well-known shoes from ON Running
A cushioned sock liner has been added to provide additional underfoot cushioning. It's been treated with an anti-microbial coating to prevent the buildup of odor-causing bacteria.
The upper unit of the On Cloudflow features engineered mesh. It's a breathable material that has the feel of a woven cloth. It wraps around the foot securely, but it allows the runner to move as naturally as possible.
The perforated tongue permits additional airflow into the foot-chamber. It's thin, but it doesn't easily fold over itself.
This running shoe has a built-in sock in its inner sleeve. It makes the interior environment more comfortable and secure. Also, it won't allow the foot to slip around while inside the foot-chamber, thus preventing skin irritation or deviation in the running output.
The upper has been treated with an anti-microbial coating, therefore effecting a clean and healthy running experience.
A pull-loop in the heel area allows the runner to wear and remove the shoe easily.
Rankings
How On Cloudflow ranks compared to all other shoes
Popularity
The current trend of On Cloudflow.