The Nike Winflo 8 is a relatively cheap, daily trainer that doesn't do anything particularly well. There isn't much cushion, the shoe isn't responsive and doesn't have any energy return when you run, and doesn't seem very versatile. However, they are stable and durable which would work for a new runner or someone running low weekly mileage.
Pros
Comfortable upper
Breathable
Durable
Affordable
Good traction
Awesome colorways
Could be a great gym/ casual shoe
Cons
Not very cushioned
Too heavy/clunky for speed work
Laces are pretty short
Nike Air Zoom Winflo 8 review
Unfortunately, I would say these are the worst shoes I've ever run in, which is disappointing because of how GREAT they look. I will say, I enjoyed wearing them around the gym because of that swagger factor and they're comfortable enough to do some upper body workouts in, but not squatting/deadlifting or plyometrics.
I think the Nike Winflo 8 is a no-go for running purposes if you're a serious runner or training for a race. They serve no training purpose (track workouts, tempos, long runs, etc.) and would be a bad daily trainer at best.
Who should buy it
I think this running shoe is marketed towards brand new runners who don't have experience running or know what more reportable running shoes might be. The price point compared to most other brands (Brooks, Saucony, New Balance, etc.) would probably convince a lot of people to buy these, especially since they look so cool and everyone loves wearing Nike swag around town.
If you're just looking for a cool-looking gym shoe to wear around, they could also serve that purpose.
Who should NOT buy it
This shoe is not for you if you:
are looking for a lightweight, fast shoe (the Nike Zoom Fly 4 is worth checking out)
want a responsive shoe (the Nike Epic React Flyknit 2 is incredibly responsive)
need a stability shoe (pick a pair from the Nike Structure line)
Comfortable but not a "wow" fit
I loved putting on the shoes for the first time. The Winflo 8 has that "sock-like" insert where your foot slips right in and it feels great. I had some issues with the length of the laces and a 13 was a bit loose as I had heel slip when I ran, which is the first time a size 13 hasn't fit me.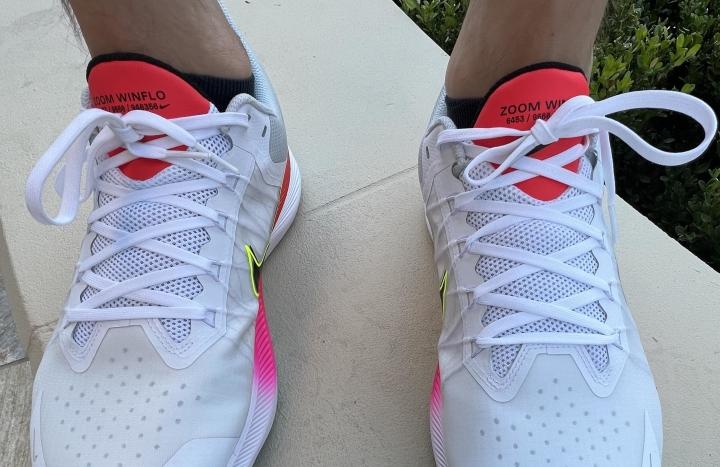 I also felt a bump on the medial aspect of the middle of the shoe, which was uncomfortable to feel when I walked and ran. It has a comfortable upper and doesn't feel tight on the foot at all.
Not a comfortable running/walking shoe
l, walked or jogged around for a bit, and thought "WOW! I love these." Well…the opposite happened. Probably the most unremarkable shoes I've ever worn. I didn't feel much cushion, there was no bounce or energy return when my feet hit the ground and were pretty firm/stiff.
Running felt like a chore. The shoes felt even worse with more high-intensity exercises like sprinting, sled pushing, and plyometric exercises like box jumps.
Plodding, stiff ride in the Winflo 8
The runs and overall feel of the "ride" were pretty miserable. A very dull, unenergetic ride that dragged on and on. For a guy 10+ weeks into marathon training, I have some serious "marathon legs" and these shoes sure didn't help alleviate any of that dead feeling. I felt slowed down and like I was working harder than usual to maintain my easy pace.
Walking was uncomfortable compared to any other running shoes and they really performed poorly during sprinting due to the heel slip and lack of energy return. There was no "roll" feel to the shoe, so if you're a heel striker like me then these shoes emphasize that because they're so dull.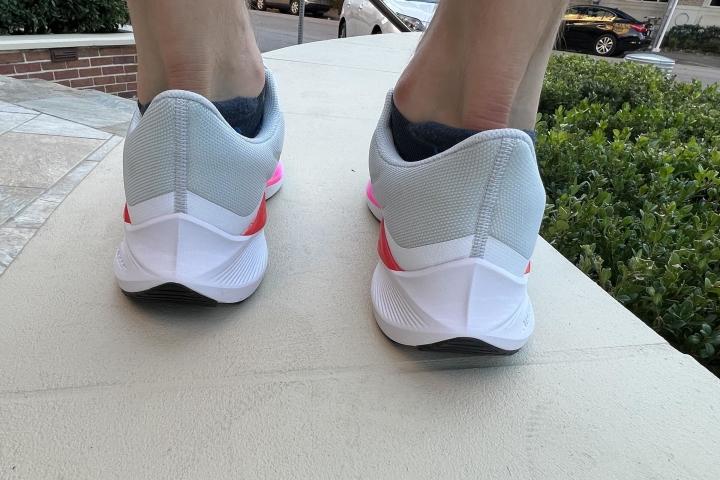 The Winflo 8 softens over time
They felt very hard and stiff at first, but over time did loosen up a bit and feel a bit more comfortable. However, the shoe is a loose fit overall and that didn't change even when I tied the laces as tight as I could.
The Winflo 8 is heavy and clunky
As I described the run as dull and plodding above, I think it's in large part due to the shoes feeling pretty heavy. The heel is clunky and I could feel it dragging on the ground when I ran. There is no foam or bounce to propel you forward to alleviate any of that extra weight feeling.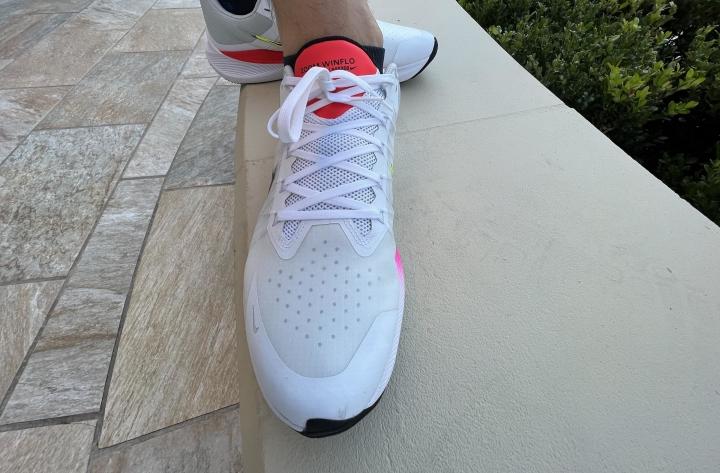 Impressive durability
Maybe the one redeemable feature of these shoes is they are quite durable. They didn't mark up much running on the street and I didn't notice any wear. The materials seem sturdy compared to other shoes I've worn and I can see these lasting quite a while for a low mileage runner. No tears or noticeable wear.
Solid grip in the Nike Winflo 8
No noticeable grip issues running on a treadmill, pavement, asphalt, or grass. I didn't test them on wet roads or a trail, but I don't think anyone running on those surfaces would reach for these shoes anyway.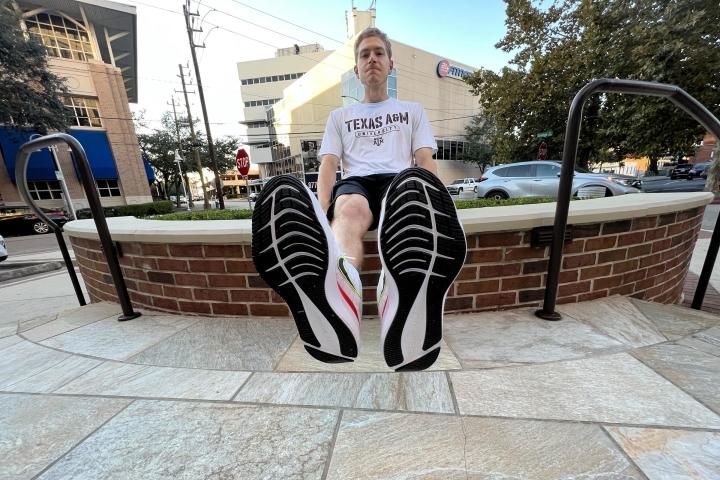 Not suitable for long runs or speed work
I ran easy runs (8:40-9:00 min/mile) with tempo paces (7:15-7:30 min/mile) worked in as well as sets of 20-second sprints. The faster I ran, the worse they performed. I think they were just fine at the easy pace, but they definitely don't make my feet happy running in them and I didn't have a good time. The clunkiness and lack of energy return make it so that the faster you go, the worse they feel.
Great breathability with the mesh upper
The upper is great! That's one thing Nike does very well from the Pegasus to the Invincible to the legendary Vaporfly. The Winflo 8 upper is comfortable, breathable, and the mesh feels great. My runs were in 50-degree and 70-degree sunny weather, so I don't have any Texas summer runs to really put it to the test yet.
Problematic lockdown
Tight laces are a must for these shoes to secure a good lockdown. Maybe the size was too big for me, but they were not secure to my feet. I had heel slip almost the whole time and when the laces loosened, the problem worsened. The toe box width is fine, no issues there.
The price is pretty good
Most reliable daily trainers run about $130 unless you buy older versions, so the $90 price is pretty good. The design is beautiful and the white with the pink really pops. The neon green Nike check on the medial side of the shoe adds that extra swagger that makes it a Nike shoe. I will say, I wore them to my gym for a workout and multiple people complimented my shoes, which has never happened before!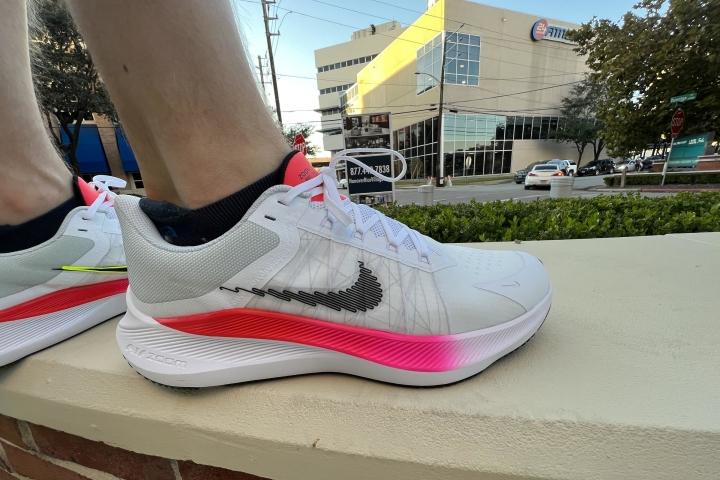 Conclusion
If you're a runner, I highly recommend spending an extra $40 for the typical price of a good daily trainer from a more tried and tested shoe or even head to some secondary markets to buy older versions of those shoes for the same price point of the Winflo 8. I so wanted to love these shoes because of how they look, but my feet don't know how to lie to me and they were not happy exercising in any form in the Winflo 8.