Looking for a modest shoe, without fluff, that will last for miles? Then take the Merrell Vapor Glove 4. For a minimalist shoe, it gave our feet sufficient protection and loads of ground feel. And of course, it's super light, it felt like we had no shoes on! Even with its stripped-down construction, it's extremely hardy! If we had an issue with it, it's more on its roomy fit in the heel and midfoot.
Pros
Incredibly lightweight
Spacious fit
Exceptional flexibility
Very responsiveness
Resistant, dependable upper
Grippy and durable soles
Cons
Too much space in heel/midfoot
Missing a heel tab to help get it on
Merrell Vapor Glove 4 review
Merrell Vapor Glove 4 is a commendable minimalist, zero-drop trainer that exceeds at providing the right amount of protection and proprioception.
The shoe delivers a lot of value for its $80 price point and should last many, many miles before needing replacement. For road and light trail use it's a gem and you could probably keep yourself out of trouble on some serious trails if you're careful.
Merrell's combination of Vibram soles with a Cordura mesh upper offers substantial protection while remaining featherlight and ultra-responsive. For the experienced barefoot runner (or those willing to take on the learning curve) this is an essential shoe.
Let's start from the bottom up and see why.
Vibram outsole magic
The Vapor Glove 4 keeps the Vibram industrial and safety TC5+ rubber blend of its predecessor, offering 3.5mm of thickness though a 1.5mm web and 2mm of lugs. The traction is fantastic though you will feel rocks and roots as you go over them.
The ground feel is similar to the Vibram V-Alpha's if you are looking for a closed toe shoe that keeps the excellent proprioception offered by this style of sole.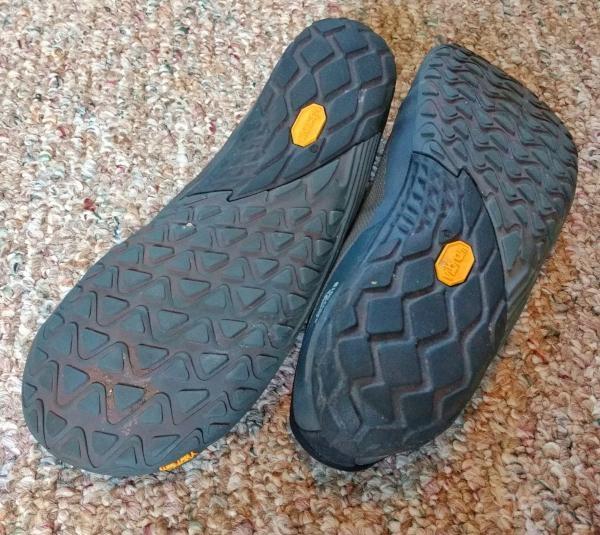 The front end is wrapped off with a toe cap of the same rubber for a little extra insurance, however, it will not protect you enough if you kick a rock so watch where you're going with these shoes!
No noticeable difference in wear versus the Megagrip compound on my other Vibram soles, all which have held up over many, many miles thus far.
Is there a midsole in the Vapor Glove?
As you would expect in a minimalist shoe, there's not much to talk about in the 3mm insole other than the fact that it's stitched into the shoe and therefore unremovable.
If a removable insole is a must for you, I would recommend taking a look at the Xero TerraFlex.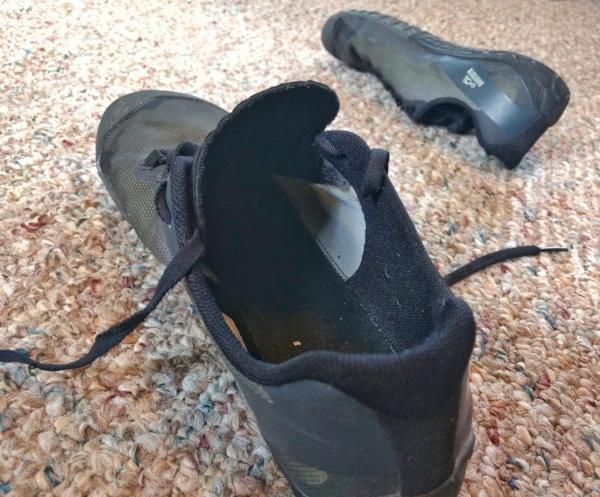 This version loses the rock plate/trail protection feature in other shoes from Merrell and instead sports the Merrell Barefoot 2 design for the midsole. Revel in the fact that the collapse of fancy midsole foam will not be the death of this minimalist shoe.
Although M Select™ FRESH antimicrobial agents are included to help reduce shoe odor, I would hold my breath if I chose not to wear socks with this shoe. Nothing particularly outstanding but made well enough to earn high marks.
Glove-like upper
On the lightweight chassis, you get a sturdy Cordura mesh upper with TPU reinforcements on the inside arch, outside pinky toe area, and heel.
The Hyperlock™ heel counter is subtle and effective at providing just enough stability for your heel. No heel cup here.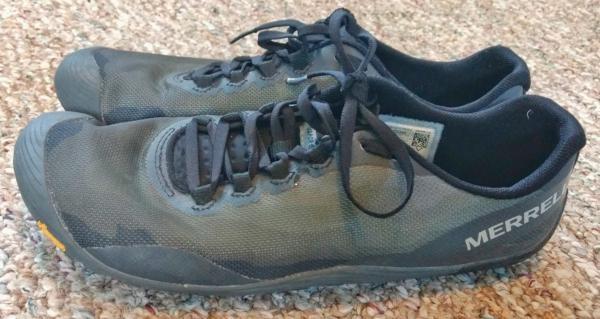 I had a small fit issue with my heel moving around but a heel slipping lace adjustment quickly solved the problem. Check out RunRepeat's YouTube channel for a plethora of videos that detail lacing techniques before deciding any shoe just doesn't fit!
Normally a traditional lace closure with such a minimal upper is room for concern, however, the Cordura mesh is uber strong and offers exceptional breathability.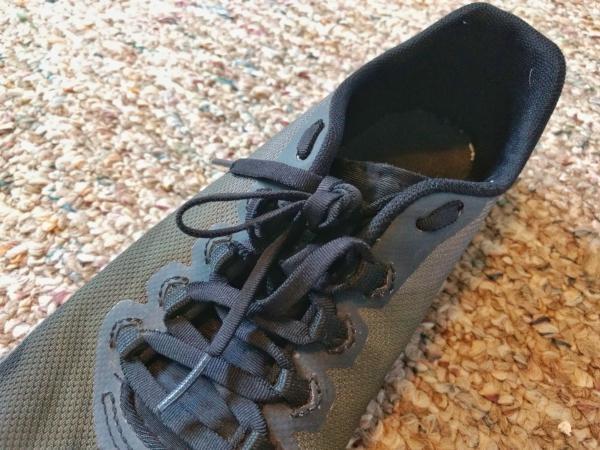 A roomy toe box allows for plenty of splay and a sockliner feature around the ankle adds a touch of comfort without restricting the joint's movement.
I did miss the burrito tongue closure sported by the trail Glove cousin but rest assured there is enough padding to offer protection and comfort without the bulk.
Fit of the Merrel Vapor Glove 4
Since I couldn't find these shoes locally, I ended up having to order online and found out I needed a half size down from my Trail Glove 4 size.
Do yourself a favor a do a proper measurement of your foot before ordering these shoes - check the Japan shoe size which is just a centimeter measurement of the foot - before hitting the buy button on these shoes if you're ordering online.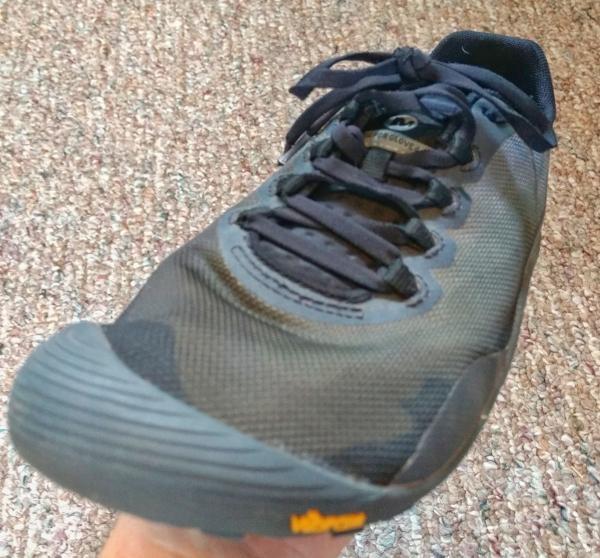 The Barefoot 2 execution on the midfoot comes out a little loose if you're used to a snug, arch wrapping support.
Despite these concerns, I never really noticed a huge detrimental impact on my running and I even suspect the slight differences in design from other barefoot shoes helped strengthen the little bones and muscles in my feet even further. Lower marks for the initial hassles for an otherwise great fit.
Gait Cycle Performance
With the shoe weighing in at 6oz and sporting a 6.5mm stack height, it should come as no surprise that your body is expected to do most of the work in this shoe. You're unable to overstride as it will be rather painful in this shoe.
I did notice that the front half of the foot has a slightly muted proprioception during foot strike and toe-off with the closed toe when compared to a Vibram Fivefinger and having free little piggies.
The shoe is ultra flexible and responsive for the support/midstance phase of your stride.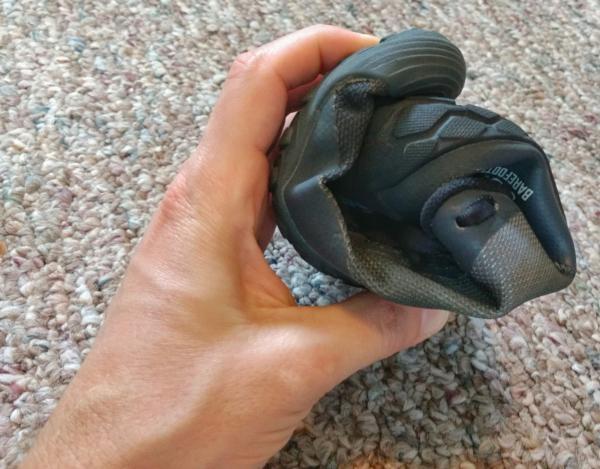 The natural flattening of your foot and plantar flexion of the muscles in the back of your leg provides the second half of the power needed in your running gait naturally...without much aid from this shoe.
If you're new to barefoot running try and watch a couple of videos and let this sink in before running multiple miles in this shoe. You will get a feel for running in these shoes quickly, just don't overdo it once it clicks!
Best uses for the Vapor Glove
The Vapor Glove 4 excels for everyday road use and well-groomed trails. You will need to be very aware if you're using these shoes on rough terrain as stepping or kicking big stones and roots can hurt.
On the roads, I suspect outsole durability may be the factor limiting the lifespan of these shoes, but the outsole will certainly outlast the midsole foam in an average running shoe. Gym workouts and easy treadmill miles are smooth.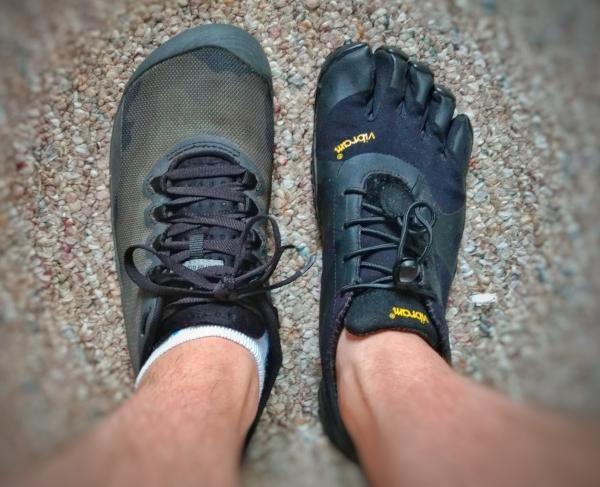 Basically, I use these shoes interchangeably with my Vibram V-Alpha's for track repeats, my local sandy running trails and generally whenever I want to be conscious of my form and mechanics.
You will get a ton of ankle and foot strength if you use these shoes properly and I can't recommend them enough if you're willing to take the mileage hit to get a proper transition into barefoot running.
For those already transitioned, definitely grab a pair of these as a closed toe go-to shoe for your runs as well as most cross-training activities.