If you want to explore barefoot running,
the Merrell Trail Glove 4
is the shoe for you. Stick to nice trails while your body adapts and cut back the mileage. This is a great transition shoe that should last with proper care. Experienced trail runners may find this shoe a little too light compared to
North Face series
, but it's certainly a step up from the Vibram Five Fingers in terms of support and protection. For an enjoyable run in less than extreme conditions, be sure to check this shoe out.
Pros
Durable outsole
Grippy
Barefoot feel
Good looking
Protective
Cons
Poor breathability
Not for rugged terrain
Merrell Trail Glove 4 review
I have to admit I was a little apprehensive about the Merrell Trail Glove 4 when I pulled them out of the box. They were exactly what I wanted: light and flexible with a durable Vibram sole to keep out rocks and provide traction. However, based on my previous experience with a pair of Vibram V-Run, I had my concerns about support.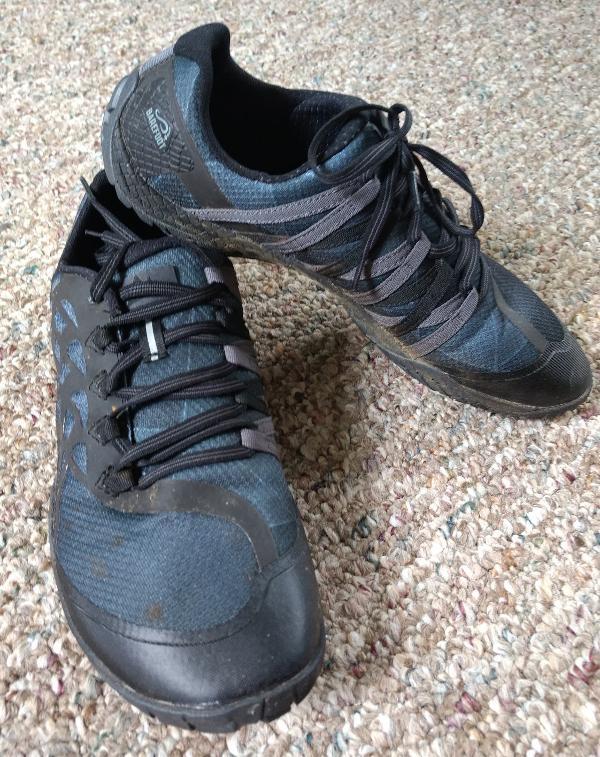 Fit of the Trail Glove 4
Slipping them on, I noticed the new wraparound tongue and immediately enjoyed the way in envelops your arch.
With my initial fears dispelled, I took a quick walk around the room and was impressed with the snug fit that did not inhibit the natural movement of the foot. The toe box was also noticeably ample compared to traditional running shoes.
Excellent traction and durability
Now, after a month on the trails, I have to say that I am a big fan of these shoes. The Vibram TC5+ outsole surpasses expectations of traction and durability, not surprising as Vibram excels in its construction of quality soles.
The Trail Protect Pad does an excellent job of keeping the foot protected at the expense of a true barefoot feel, but the enhanced ride of the shoe is well worth the sacrifice.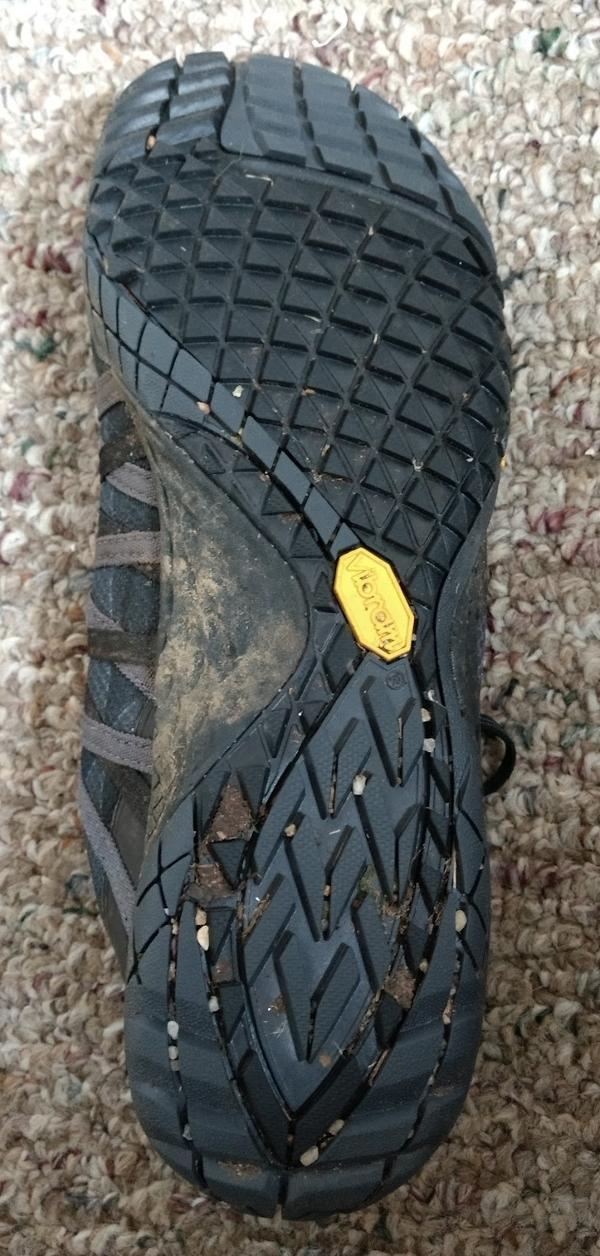 Since the midsole is stitched into the shoe I couldn't "look under the hood" or test out individual aspects of the shoe as I like to do, but the molded EVA foam midsole is a welcome upgrade from the bare minimum feel of a Vibram Five Finger midsole.
The cushion is not what you'd require from a traditional support shoe, but the additional responsiveness compensates you adequately. That said, I'd stick to the trails for long runs if you have a need for more support.
Upper of the Trail Glove 4
The mesh upper delivers improved breathability exactly as you might expect, though the TPU overlays feel like they might be the weak point in the armor of this shoe.
The inner side of the shoe has some durable nylon straps so no worry about broken eyelets on that side. Functionality aside it's an absolutely beautiful shoe with an attractive design that successfully incorporates aesthetics into a hard working shoe.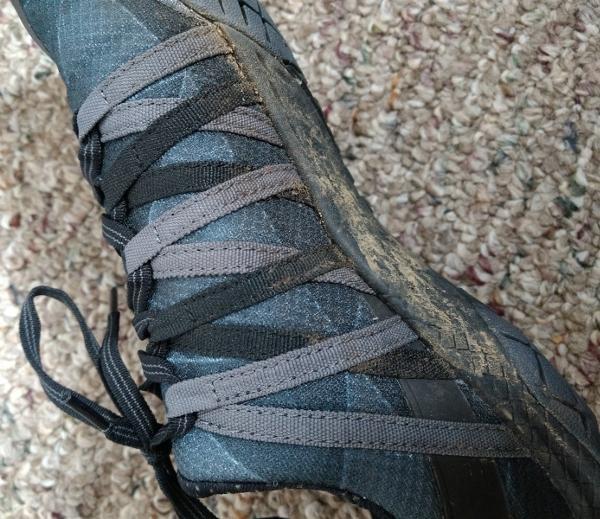 As for the overall ride of the shoe, after logging a few runs on different types of terrain (road, cinder, wooded trail, stony trail), I'd definitely say these shoes excel in a groomed or well-worn trail situation.
Traction is fantastic, support is adequate but running on roads or mountain trails will take further practice with my sub-par form. If you're already a seasoned barefoot runner, however, I'd say these shoes are a must for the rotation.