In all, the Jordan Zion 1 is a trustworthy performer for me due to its reliable traction, forefoot cushioning, and excellent lateral support. The sole area of warning is fit, which I'd strongly recommend trying in stores before purchasing to make sure getting it right.
Pros
Reliable multidirectional traction
Superb lateral support
Great impact protection
Minimal break-in period
Lightweight
Reasonably priced
Cons
Awkward sizing
Not durable for outdoor play
Jordan Zion 1 review
Zion Williamson's first signature basketball shoe catered well to players of his profile - providing strong support, cushion, and responsiveness. The shoe plays best on indoor hardwood gyms but is still performant outdoors with less durability.
Zion's first basketball shoe was an explosive and supportive option for me that I thoroughly enjoyed, and found to bode well for the future releases in his series!
Who should buy Zion 1
Do buy this shoe if you are an explosive guard/forward who handles the ball, attacks through contact, and loves to get in the paint.
Who should NOT buy it
Do not buy this shoe if you:
are looking for outdoor hoop shoes (in this case, consider the Why Not? Zer0.5)
prefer a mid-top basketball shoe (the Jordan 37 is worth checking out)
Awkward sizing (try in store if possible)
Reading other online reviews, there seemed to be a note of extra space in the forefoot so as a wide-footer I went down a half size and they were a strong fit - not much noticeable extra space in the forefoot and lockdown was good.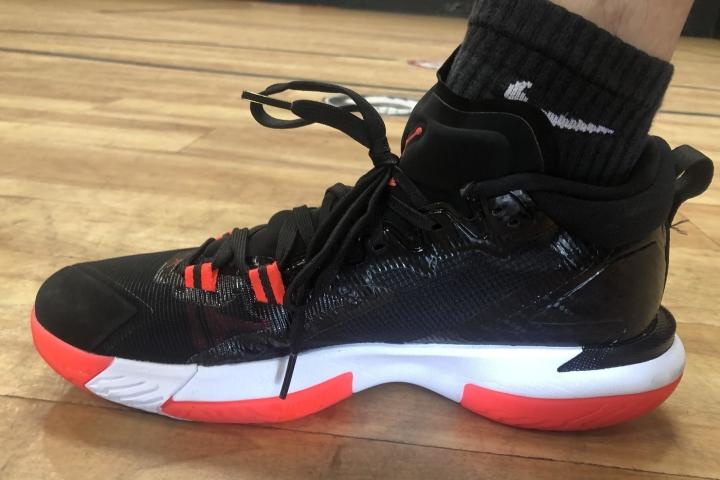 Heel lockdown was good, but the forefoot definitely seemed to run long for its size - my broad recommendation is normal/long footers should go true to size and wide footers should go down, but this is definitely a shoe that is best tried on before purchasing.
Superb lockdown in both the heel and lateral positions
Lockdown for me on these was very solid with no weaknesses. There was a heel counter that steadily kept my backfoot locked in place and there also exists a sizable outrigger to keep your foot protected in lateral movements. There was no noticeable sliding through any of my workouts, and both the lacing system and softly padded tongue did a good job of locking the foot in place as well.
Epic plush cushioning
The cushion on the Zion 1 was excellent - the combination of the full-length Phylon, Air Strobel, and forefoot Zoom unit was simply a beastly and propulsive experience. The forefoot Zoom unit was nicely felt and provided some great shock absorption while the full-length phylon and Strobel layers kept the heel and midfoot adequately supported.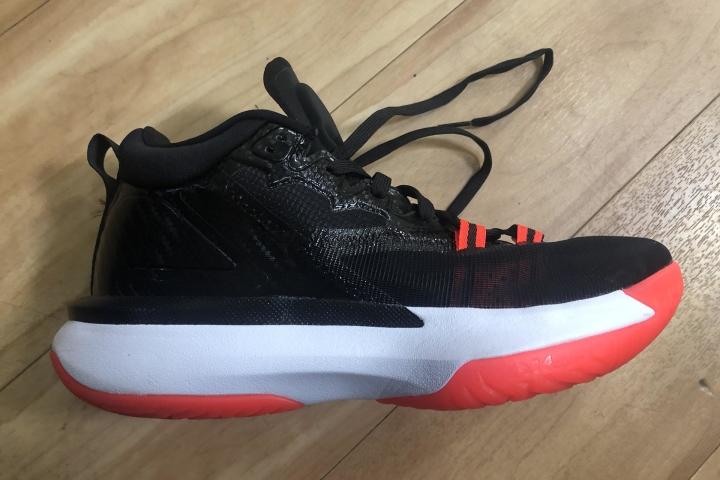 Stable, powerful ride
The ride on these was a soft, stable step, being comfortably cushioned and feeling surprisingly lightweight. The multidirectional traction empowered me to move well in any direction and lockdown was snug where there was no iffy extra space or foot sliding on aggressive movements.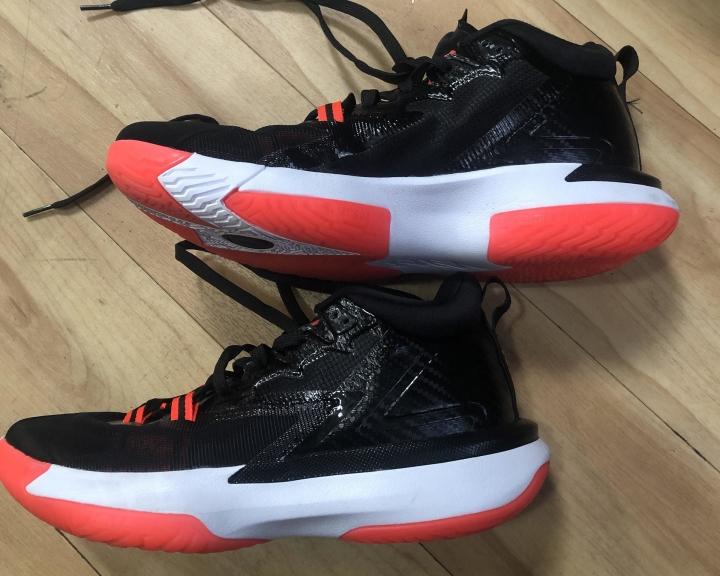 Minimal break-in time needed
The traction, cushion, and support all worked well fresh out of the box and there were no noticeable differences in my 4th/5th session wearing these than the first. The mesh and fuse upper material had no sense of pinching and wrapped my foot snugly from the first wear!
Weighs slightly light for a basketball shoe
The Jordan Zion 1 weighs 12.1oz/343g, on the light/medium-end for basketball shoes (low-top basketball shoes have an average weight of 12.7oz/359 g), which surprised me with its multiple-layer cushion setup.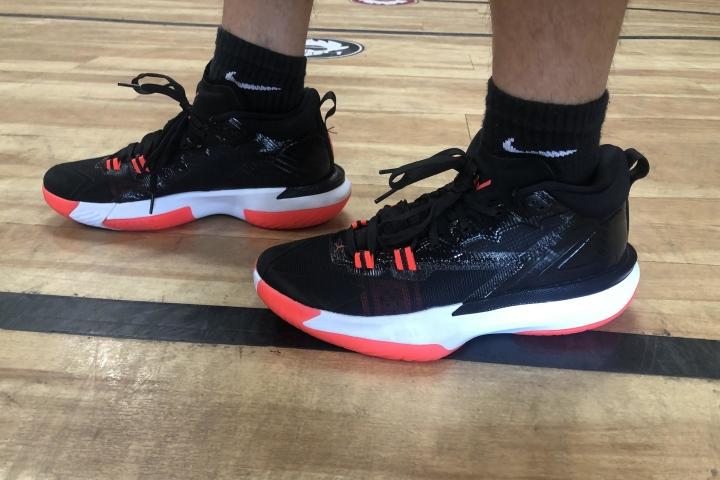 Expectations-wise, I expected the Zion 1 to be a heavyweight but pleasantly noticed the minimalistic upper that allowed it to stay light despite its thicker cushion. Its weight sits in the same range as the popular Nike KD/Nike Kyrie/Nike PG/Under Armour Curry releases.
Keep the Jordan Zion 1 on the hardwood if possible
I would recommend the Zion 1 mostly for indoor play, due to the thinner grooves used on the outsole. The shoe will still play the same outdoors but won't last an impressively long time if that's what you're seeking.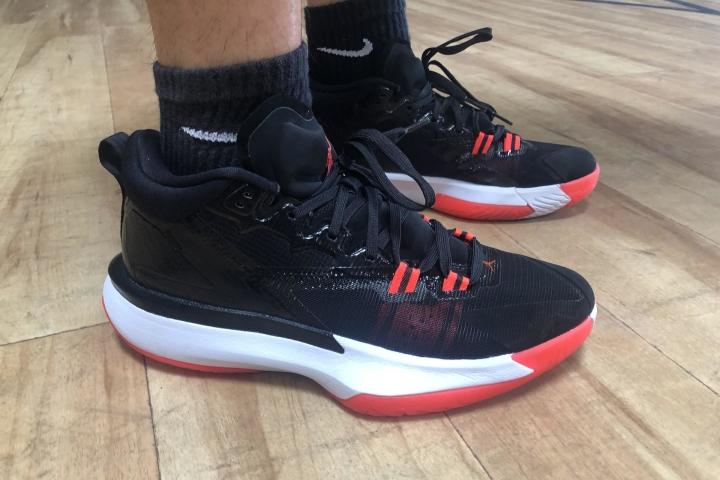 For me, the cushion was also adequate to handle the harder landings of concrete surfaces which many other shoes are not well suited for.
Solid traction but needs wiping from time to time
I tested the shoe in both some workouts/shootarounds on an indoor court as well as a few on an outdoor court. Overall, the traction was solid - despite the indoor gym floors being dirty/dusty(think local community gym), the traction gripped the floor consistently and had a noticeable bite moving in any direction.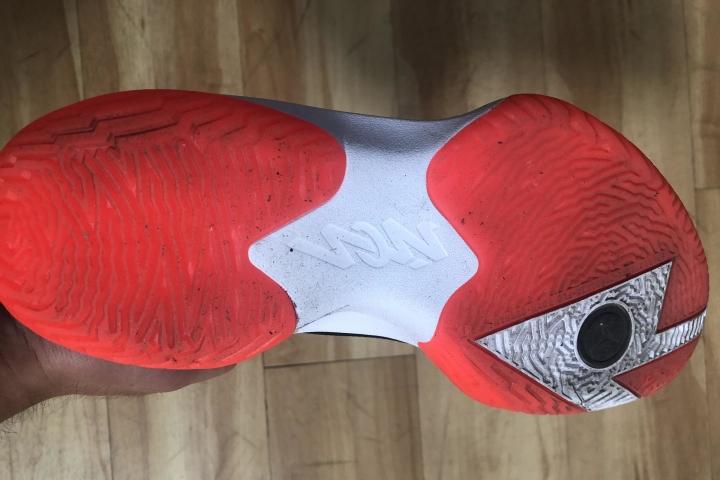 There is a small note of dust collecting on the bottom of the shoe and affecting the traction but wiping the bottoms every few plays should handily clean off any captured dust for the most part.
Breathability is average
The upper of the Jordan Zion 1 uses a mesh and fuse upper which has average ventilation despite feeling highly breathable in hand. I used these for a few workouts ranging from 1-2 hours and had decent ventilation in the forefoot but mediocre ventilation in the upper heel area with the shoe being noticeably wet from absorbed sweat.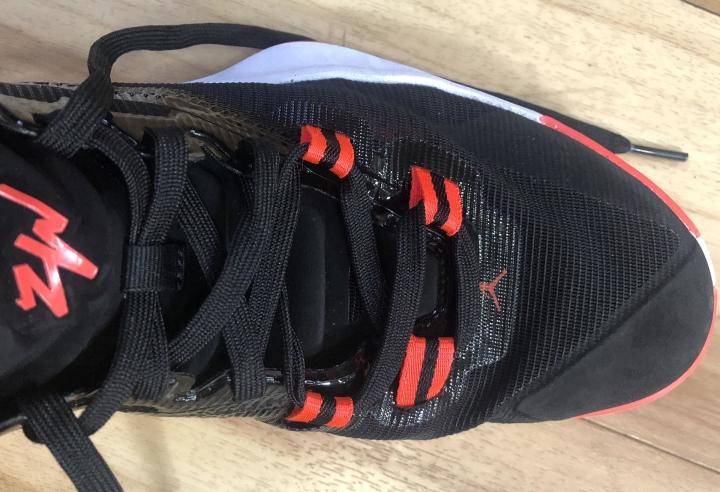 This did not affect the performance for me nor bother me but I do want to call this for those who may dislike this attribute.
A fair price with pleasing aesthetics
The retail price for the Jordan Zion 1 is $120 USD, which to me is a fair price for these (low-top basketball shoes have an average price of $122).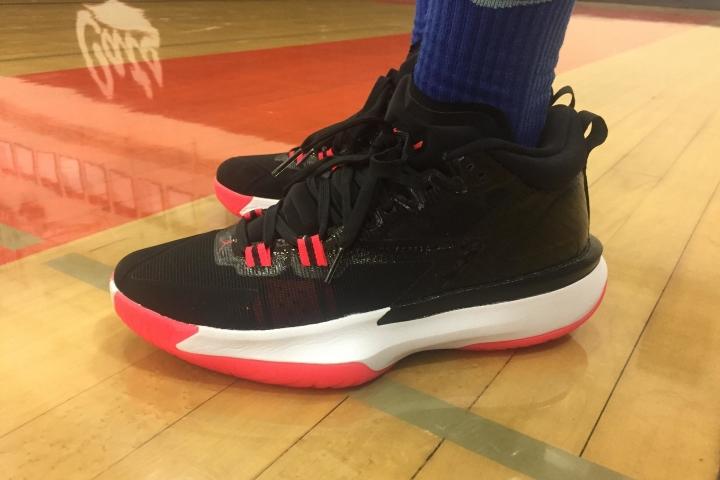 The shoe does contain a phenomenal cushioning setup with good grades across the board besides the fit. The aesthetics were pleasing to me, with the sleek silhouette bearing a big 'Z' to honor Zion and some flashy fresh colorways released.