Marathons are hard. Tackling 26.2 miles takes a lot of training and grit to accomplish, but all marathons are not created equal. There are different levels of toughness when it comes to the penultimate race distance in the world.
We've dug around and found the hardest marathons on the planet for those of you that enjoy the suffer more than the rest of us.
Inca Trail Marathon
The course traverses over a hand-laid, 500-year-old, cobbled path that's just 4-6 feet wide and incredibly uneven, steep, and rocky.
There are steep drop-offs and four high points to conquer, two mountain passes at 13,000 ft and 13,800 ft, and two other peaks at 11,950 ft and 12,000 ft.
The trail is known for slippery descents out of the Peruvian cloud forests.
The race starts at 4 am at nearly 8,700 ft.
There will be hikers and other pedestrians to navigate around as the trail is not closed for the marathon race.
There's a staffed camp for those that cannot finish the race in one day and you are allowed to finish the race on day two.
To complete the race in one day the cutoff time is 13:15 hours.
The course record was set in 2015 by Mick Clifford (GB) at 6:33:05 and every year there are runners who take upward and beyond 16 hours to finish the marathon.
The Inca Trail Marathon has approximately 10,400 ft of elevation gain and 11,000 ft of elevation loss.
Registration costs are $2965 for a complete race package.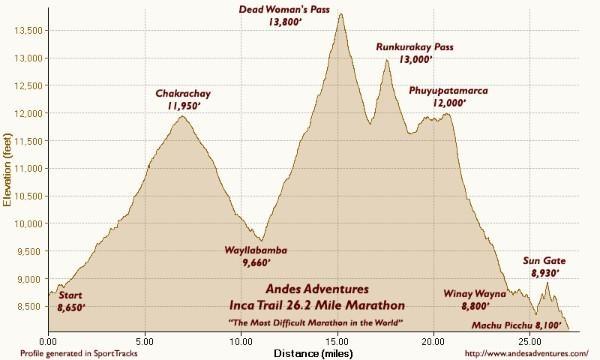 Pikes Peak Marathon
Possibly the hardest marathon in the US reaching a top elevation of 14,115 ft.
Total elevation gain of 7,815 feet over a distance of just 13.3 miles, in a single uphill push until the turnaround point at the summit.
Just reaching the halfway point takes most longer than finishing a whole marathon on level ground.
Runners must complete a qualifying event before they can register for the race to prove their fitness.
The trail is narrow and winding and mostly gravel, rock, and dirt, with an average 11% grade.
The top 3 miles are above the treeline and require mountain scrambling skills.
The course record was set in 1993 by Matt Carpender (US) with a 3:16:39 however many racers take 8-10 hours to complete the race.
The marathon started in 1956 and was the first marathon to allow women competitors.
It costs just $200 to register for the Pikes Peak Marathon.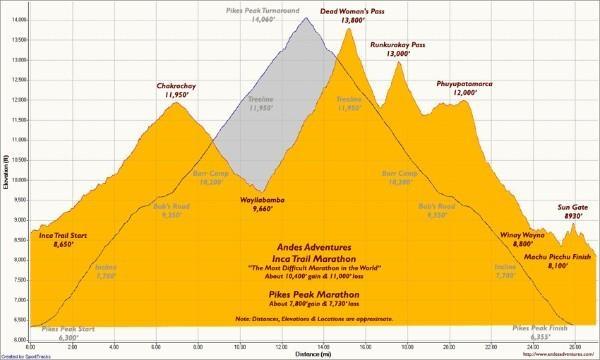 Kilimanjaro Marathon
The Kilimanjaro race is the highest organized marathon in the world topping out at 19,341 ft.
Acclimatization on the mountain a few days before the marathon is highly recommended.
The race starts at 4 am on race day.
There is no cutoff time for this race.
You are provided a drop back for additional summit gear that you'll need as temps drop significantly at the higher altitudes.
Temps drop below freezing at night.
The course record is 8:48:20 set by Jackson Oleku (TZ) in 2019, however, many people take 15-20 hours to finish the Kilimanjaro Marathon.
Registration costs are $3795 including a travel package and accommodations.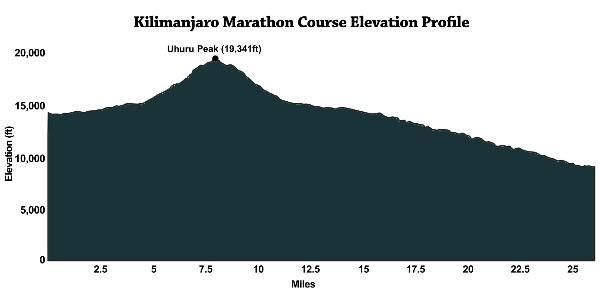 Antarctic Ice Marathon
The Antarctic Ice Marathon is the southernmost marathon in the world.
The course record is 3:34:12 set by William Hafferty (USA) in 2019.
Runners run on a groomed snow course that's similar to running on sand.
The possible -25°c temps mean cold-weather training is important. The lowest temperature ever recorded on earth was in Antarctica in 2010 at -94.7°C (-135.8°F).
Katabatic winds can reach 300 km per hour (185 miles/hour).
Antarctica has an average altitude of about 7,000 ft, however luckily the race is held around 2,300 ft.
There are usually less than 50 competitors, and the majority finish the race in five to seven hours.
The cost is $17,900 if paid in full upon registration, or $18,900 if paid in 3 installments over time and includes a private jet from the southern tip of South America to the race.
Great Wall Marathon
There are 5,164 steps along the course from 2-16 inches tall throughout very steep inclines and declines.
Temps can soar into the 90s on race day.
Some sections are so slippery and narrow it's impossible to pass other racers.
The top finish time is just 3:30:43 but the majority finish the race in five to seven hours.
There's a cutoff time of 8 hours.
Registration starts at $1650 for non-residents.

Tenzing Hillary Everest Marathon
The Everest marathon is the highest marathon in the world with the start line at 5,356m (17,572 ft) at the Khumbu Icefall.
The race starts at the Mt. Everest Base Camp and crisscrosses the high Sherpa trails of Khumbu valley.
The course record is 3:28:27 set in 2006 by Deepak Rai (NEP) but regularly runners can take 10 to 15 hours to finish the race.
Participants are required to be in Nepal for three weeks prior to the race to get acclimated to the altitude.
Everest Marathon runs through glaciers, moraines, monasteries, monuments, shortens, suspension bridges, exotic places, and beautiful landscapes.
The race traverses through Sherpa village trails of Lobuje, Pheriche, Dingboche, Thyangboche, Khumjung, Khunde, to Namche Bazaar.
You will spend two nights at Everest Base Camp where normally only expedition climbers are allowed to camp.
The cost starts at $999 to sign up for the Everest Marathon and meet at basecamp or you can trek in on a 19 day, 20-night adventure starting around $2500.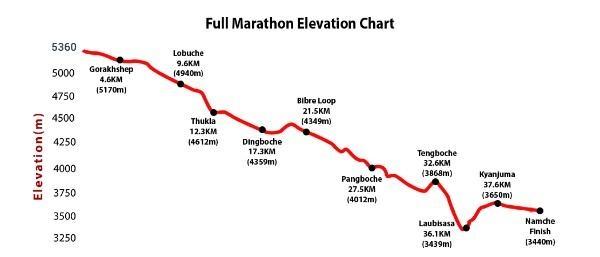 Blue Ridge Marathon
The Blue Ridge Marathon has the most elevation change of any road race in the United States.
There's a total elevation gain/loss of 7,430 ft.
The cutoff time is 7.5 hours with a 6-hour cut-off time at mile 22.
If runners do not maintain a 16:20 min/mile pace then course marshals reserve the right to pull you from the course for your safety.
Roanoke Mountain ascendant is approximately 780 feet in two miles with multiple switchbacks.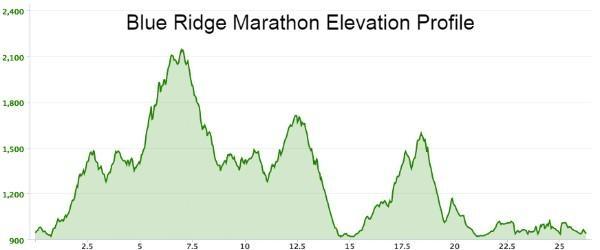 Jungfrau Marathon
The famous Interlaken race climbs 1,829 meters (6,000 ft) from start to finish from the town of Interlaken up to the back of the Eiger.
There are two cut-off times for this marathon, one of 4:25 at 18.9 miles (30.5 km), and the other of 5:50 at 23.8 miles (38.4 km), after the personal start has taken place.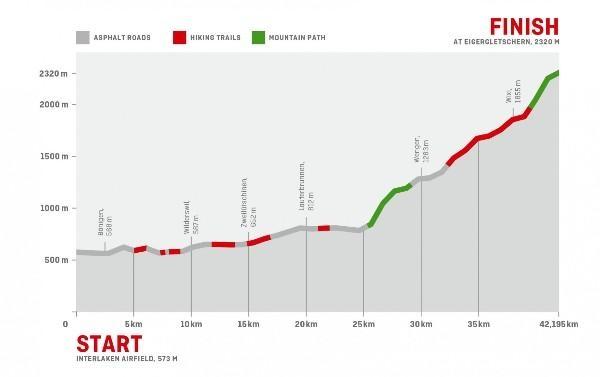 Sahara Marathon
A full 26.2 miles across the open expanses of the Sahara desert in western Africa.
The course will be marked with piles of stones, flags, and other temporary markers.
The terrain is mostly compact earth, sand, and rocks with some areas of soft sand.
Sunglasses and a hat or headscarf are recommended to provide protection from the sun, sand, and wind.
All participants will be split into small groups of 4-5 and will be hosted by Saharawi families in their tents.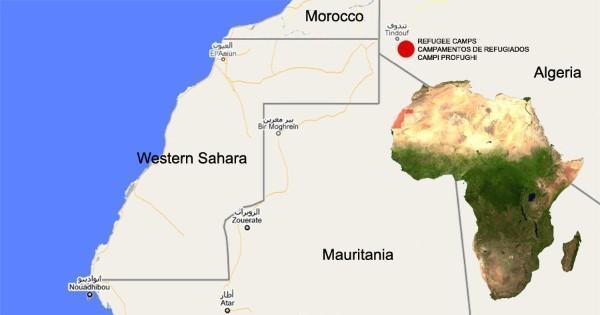 Baikal Ice Marathon
This is the world's only marathon run on ice, over the frozen lakes of northern Siberia.
The surface of the frozen Lake Baikal is covered in 'hummocks', small hills of ice rubble.
The surface of the lake is hard and uneven and mostly covered in a soft layer of snow with patches of highly polished ice.
Strong winds may often add to the already bitingly cold temperature and provide serious resistance to progress across the Lake.
The utterly featureless landscape gives little or no sense of perspective to competitors, offering them nothing to focus on but how far they are from their goal.
Safety vehicles are hovercrafts.
Non-Marathon Distance Extreme Races
Of course, there are extremely challenging races out there that are not the standard 26.2-mile marathon distance. Some ultra races are designed not only to test the body and mind but even push it to or beyond its limits!
Races to look into if you want a true challenge that's longer than 26.2 miles.
The Hurt100
A very difficult and technical ultramarathon takes place through pig trails, rain forests, and single-track paths located in the insanely steep and wet mountains above Honolulu. This Oahu race is designed for the extremely adventurous and well-prepared ultrarunner.
Grand to Grand
The G2G is a self-supported 275 km race through the Arizona desert in 6 stages, over 7 days.
Hardrock 100
Head to the high country of Colorado for 100.5 miles and 34,000 ft of climbing for one of the hardest races in the world which tops out at 14,048 ft.
UTMB
The Ultra-Trail Du Mont Blanc is 106 miles of steep rugged terrain with over 32,900 feet of elevation. This trail takes most hikers 9 days to complete, but runners aim for under 24 hours.
Marathon Des Sables
A 7 day, 250 km, self-supported race through the deserts of Morroco where nights are spent with the local Berbers or out in the open desert and daytime temps can reach into the 120°s.
Western States
This iconic American ultrarace is 100.2 miles, with 18,000 feet of climbing and a 30-hour cut-off. Not anyone can sign up, and the odds of getting a spot are under 5%.
6633 Arctic Ultra
A 250-mile race with over 12,000 ft of elevation through the arctic in the northern Yukon territory.
Dragon's Back Race
200 miles of off-trail running through the hills of Whales England. Don't be fooled, England is not flat and this race has over 50,000 ft of climbing.
Barkley Marathon
Notoriously one of the hardest races on the planet the Barkley Marathon is a mind twister, with unknowns start times, unknown routes, unknown overall distance, and added route-finding, off-trail running, and treasure hunting thrown in for good measure. Elevation gain is near 60,000 ft, with over 120,000 ft total gained and lost. Only 15 people have ever finished.
Moab 240
A grueling 240 miles through the Utah desert including over 29,000 ft of ascent, two mountain ranges, endless slick rock, and multipole canyons to traverse. The cut-off time is 112 hours.
Badwater 135
The brutal race covers 135 miles through the hottest place on earth, America's Death Valley, starting 280 feet below sea level and climbing three mountain ranges for a total of 14,600 ft (4450m) of cumulative vertical ascent and 6,100 ft (1859m) of cumulative descent, and ending at 8,300 ft at the Whitney Portal.
About RunRepeat
We love adventure at RunRepeat, and nothing sparks our interest like a true challenge. Running marathons takes dedication and hard work, especially when you get to the level of extreme marathons. RunRepeat is here to help you find the right shoes for your months of training and come race day. Whether it's marathon shoes, race-specific shoes, carbon-plated shoes, or obviously trail-specific shoes we want to help you do your best next time you're out on adventure running around the world.
Interested in learning more about shoes? Check out our shoe buyer's guides or our pages on road running shoes, trail running shoes, or even just sneakers.
Use of content
We are happy to give interviews on the topic at any time. For this purpose or for print-use questions please reach out to Paul Ronto at paul@runrepeat.com.
Feel free to use material from this page in any web coverage of the topic, we just ask that you refer, and link back to this original source.
References
https://www.tifosioptics.com/2021/03/24/the-worlds-most-difficult-marathons/
https://www.eriksadventures.com/inca-trail-marathon-race-to-machu-picchu-peru/
https://www.andesadventures.com/IncaTrailPikesPeakComparison.htm
https://www.andesadventures.com/photo.asp?id=55
http://www.eriksadventures.com/kilimanjaro-marathon-trail-race-worlds-highest-elevation-marathon/
https://www.runfuntravel.com/event.php?e=57
https://www.icemarathon.com/?kui=m663fEePPyMuct0woGlEJg#_ts=1467399189359
https://great-wall-marathon.com/
https://www.pikespeakmarathon.org/?kui=7EWF3eJqc3g7zKtm9up_sw#_ts=1467411249336
https://www.pikespeakmarathon.org/
http://everestmarathon.com/faqs/
https://www.28degreescard.com.au/travel-inspiration/hardest-marathons-in-the-world.html
https://www.runnersworld.com/races-places/g21781996/worlds-hardest-races/
https://adventure.howstuffworks.com/outdoor-activities/running/events/toughest-marathons.htm
https://runnerclick.com/americas-10-most-extreme-marathons/
https://raceraves.com/toughest-road-marathons-us-canada/v
https://marathonhandbook.com/worlds-ten-toughest-races/
https://blueridgemarathon.com/
https://www.jungfrau-marathon.ch/en/Course.htmlc
https://hurt100.com/about-hurt100/
https://m2multra.com/m2m-registration/m2m-about-the-race
https://g2gultra.com/g2g-homepage
https://www.marathondessables.com/en/marathon-des-sables/race
http://www.saharamarathon.org/en/thetravel_en/
https://www.baikal-marathon.org/
https://www.6633ultra.com/
https://www.badwater.com/event/badwater-135/